How To
Main Steps To Create A Secure Custom Accounting Software And Make A Go Of It
The right approach to monetary issues means a lot. Money begets money. If you control your income and expenditures wisely, you can always be aware of your current financial situation. But today you cannot rely on your brain only, digital technologies like accounting software can help manage all funds. However, not all existing software can meet all types of business and many entrepreneurs are looking for more advanced solutions. This is a niche you can occupy.
Challenges accounting software solves
Why do people need accounting software? Well, for a start, it is simply impossible to do business without accounting, it is a fundamental truth. Web-based accounting software helps track all incomes and expenditures, and data received by accounting department make it possible to determine how business is good (or not so good). Accounting department collects information, strikes balances and analyzes financial information of an enterprise.
All entrepreneurs hire accountants, but people cannot become a substitution to software. Accountants always use special software, and there is a wide range of accounting software types. They can be both for small business and for large enterprises. But what specific problems can accounting software solutions solve? Here they are.
Accounting software as a solution
Time-saving
As a fact, finance and accounting software helps save not only money of business owners but also their time. The software can automate many financial processes and make them flowing continuously without a special interference by a human. Even if entrepreneurs have an accounting department with high-skilled specialists, it is impossible to take into account all nuances of financial activity.
Fast data processing
It is very important to have data processed fast and in a high-quality way. Owners don't have time to wait when accountants will process all papers. They need to get information about the financial situation timely. That is what financial accounting software does - it allows users to get quick access to an important information.
Mistakes prevention
Unfortunately, sometimes people can make mistakes unintentionally. But it is not about software. It can do calculating and processing operations accurately and dispassionately. And using custom accounting software, all accountants can rely on its accuracy.
Efficiency
Accounting software stores a large amount of data, it memorizes all changes easily and it allows accountants to operate with all necessary information.
Automation of reports
All accountants must create monthly, quarterly and annual reports (the number depends on business area) to send them to tax service. Accounting software for medium sized business or for a large business allows specialists to automate this process and make it much faster.
Integration
Specialized software for accounting usually is compatible with online banking services and electronic filing systems. It also simplifies the workflow of accountants.
That is the list of main advantages of accounting software services. Of course, there is no one universal solution that can be adapted for all types of business. But your custom accounting software that is built with a clever approach in mind can help many companies improve the process of working with financial documents.
Now let's take a short view of the main types of accounting software.
Types of accounting software
There are different types of accounting software and we can divide them as follows: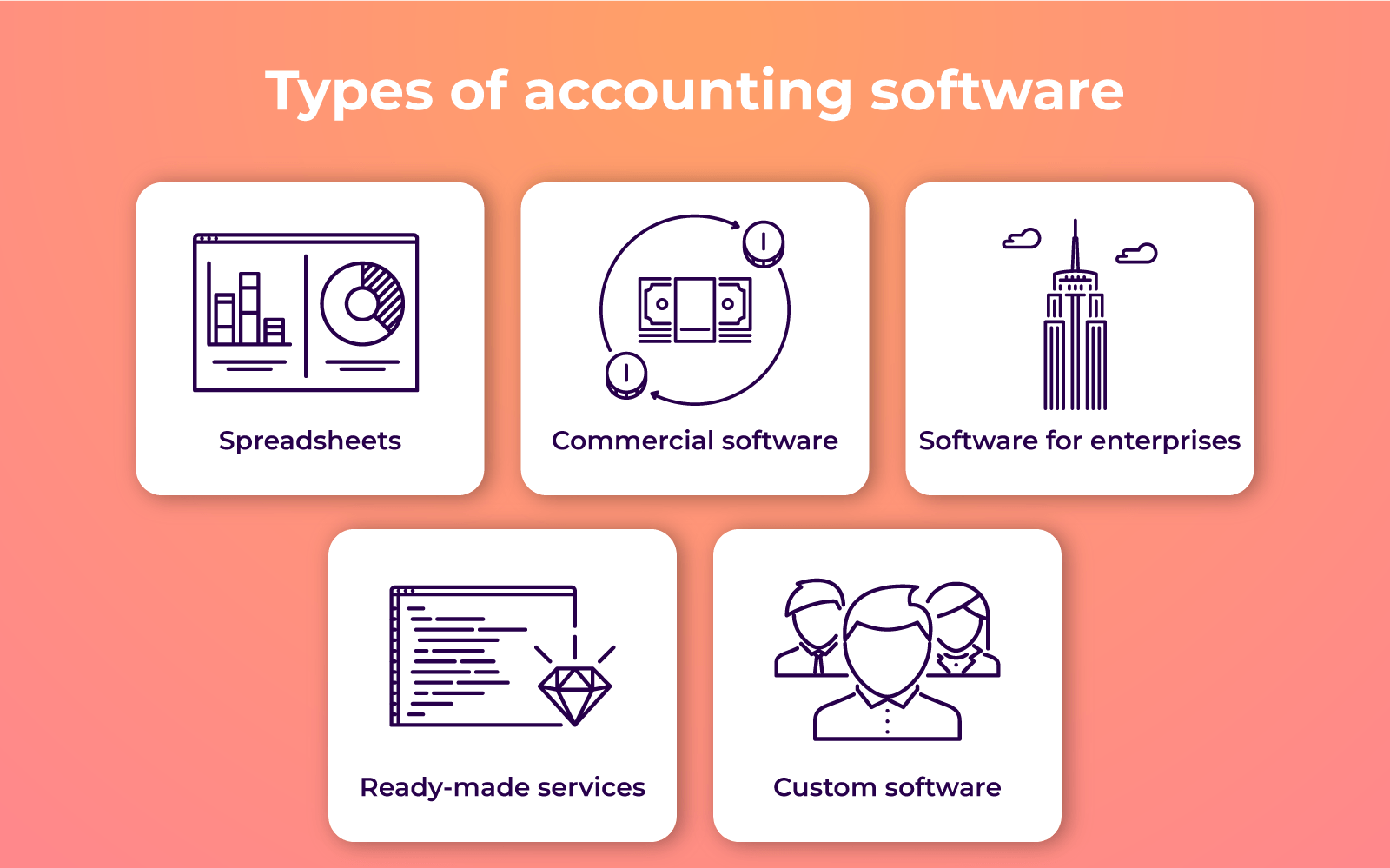 Existing types of accounting software
This type is considered to be the simplest software for accounting. Excel from Microsoft or Google Spreadsheets is the great example. In fact, these are tables where users can input necessary data like figures and text. Spreadsheets make it possible to calculate data, create lists, put everything in order. It is a very good solution for simple tasks, but it will not be a solution for anybody who has a mid-sized business and larger.
Not very large companies can benefit from this type. Such accounting software offers their users set of the most widespread features to perform accounting tasks. Users can prepare tax reports using this software, send reports, check for new changes in law, auditing process is also very simple. Peachtree is one of the most famous accounting software of this type.
This is where large enterprises can do their job efficiently. Large companies deal with a large amount of information and they need software that is capable of processing all this information. And, as usual, customized accounting software for enterprises serve as ERP solution since it offers planning features, workflow optimization, integration with other required financial systems.
Also, accounting software can be sorted by the development type:
If you intend to develop accounting software, then this type is definitely not acceptable for you. This is an accounting software that has a common set of features and it can be customized according to specific needs, but on the whole, it has many limitations. Since there can be a range of features some people don't need, and third-party systems are rather difficult to deal with due to a complex system.
Well, if you don't want to puzzle out how third-party services work, then it is better to create custom service according to all your specific needs. A custom accounting application software will help you and your users get a more productive experience of working with financial documentation. Custom software is easy to use, it has high performance, and it can be competitive to existing software on the market.
As you see, Cleveroad provides you with strong reasons why you need a custom accounting software and how it can help your future users simplify and speed up their work. Cleveroad developers can create a high-quality accounting software for you according to your requirements.
Steps to accounting software development
When you chose the type of accounting and management software you plan to create, it is necessary to think over all necessary steps with the developers. As for accounting software, we usually take the following steps to develop it.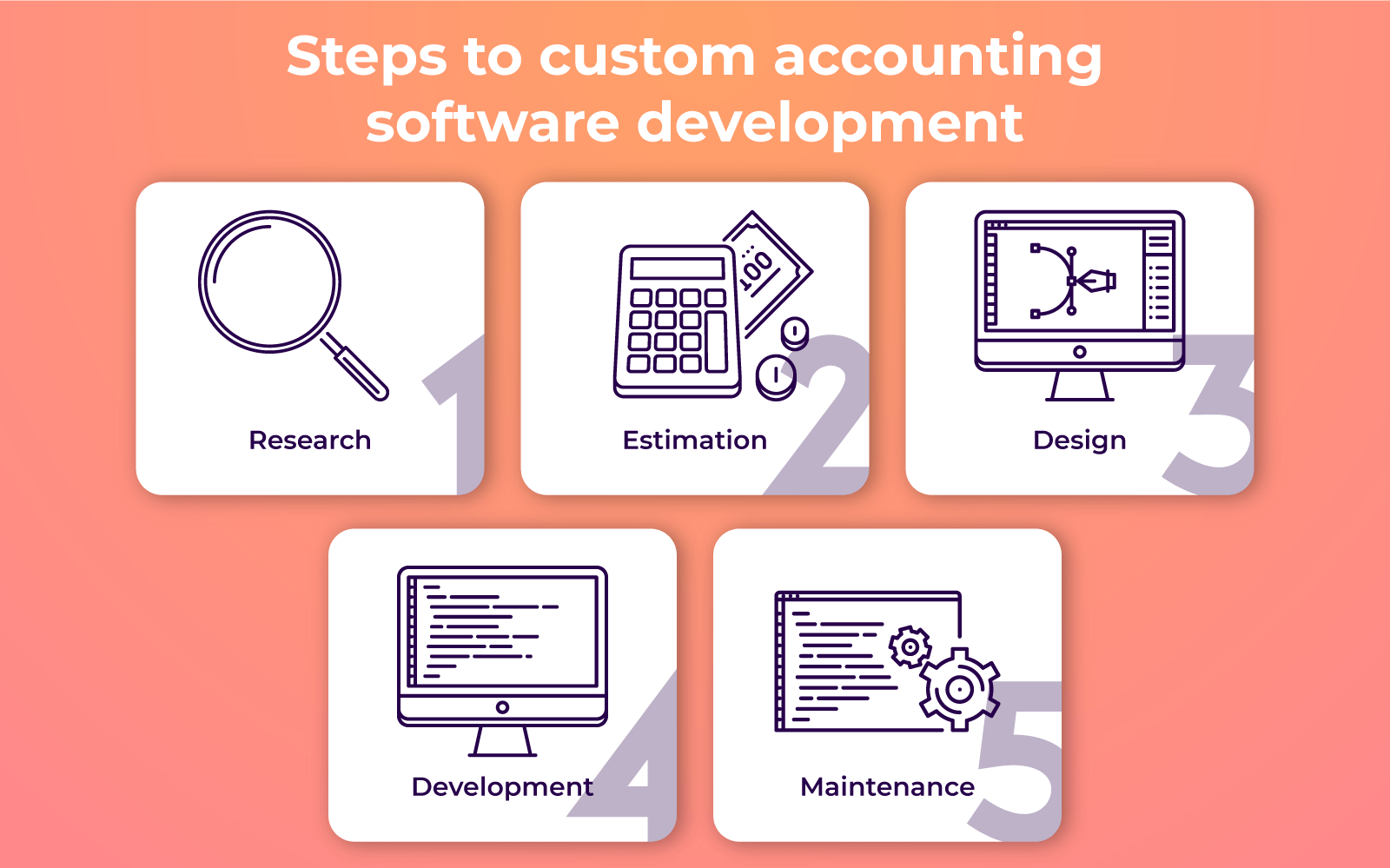 What you should do to create an accounting software
First, the goal of a developer to find out everything regarding the future software. Developer and customer should discuss each issue concerning the functionality of the software. Then, a development team needs time to conduct research and find out all strong and weak sides of such software. Having completed this stage, it is the time to proceed to design stage.
At this stage, when the estimation of the project is completed and the budget is drawn up, it is time to create wireframes and prototypes of accounting software. By the way, the cost of accounting software development will depend on your personal requirements. When creating first sketches of a software, it helps both you and developer understand how a software will look. At this stage, you can provide your feedback regarding the design, recommend what to add and what to remove. When the skeleton of a software and its potential design is approved, the next stage is the main and most important - development itself.
As the development of bookkeeping and accounting software comes with many complex features, it takes rather much time to create a high-quality software. Developers start creating a functioning version of accounting software. If you consider it necessary, accounting software can be developed using test-driven development. It means that developers and QA engineers write test cases for software before a software will be developed. It helps avoid possible bugs in future.
Also, our developers always try to be in touch with all new trends, and accounting software can be developed using continuous integration development practice. It also guarantees that you will get the product which was built properly. But all development steps and technologies to be used should be discussed before the development starts. Your task is just to share your idea with us.
Do you know that the software development cost in Europe is very good? Watch our video as a proof:
The Cost of Software Development in Europe
If you want your software to function properly during the course of time, mind to entrust the maintenance of software to the development team. Since your product is an accounting software, it needs to be updated from time to time due to new changes in the accounting market. So your users can make use of software easily, but it will always be under control of development team if something is to be changed.
Basic features of accounting software
And now, finally, let's check it out what basic features your accounting software products should include.
VAT calculations
As it is an accounting software, it should undoubtedly calculate all VAT payments after each tax period. It will save the time of accountant and it will help avoid unnecessary mistakes.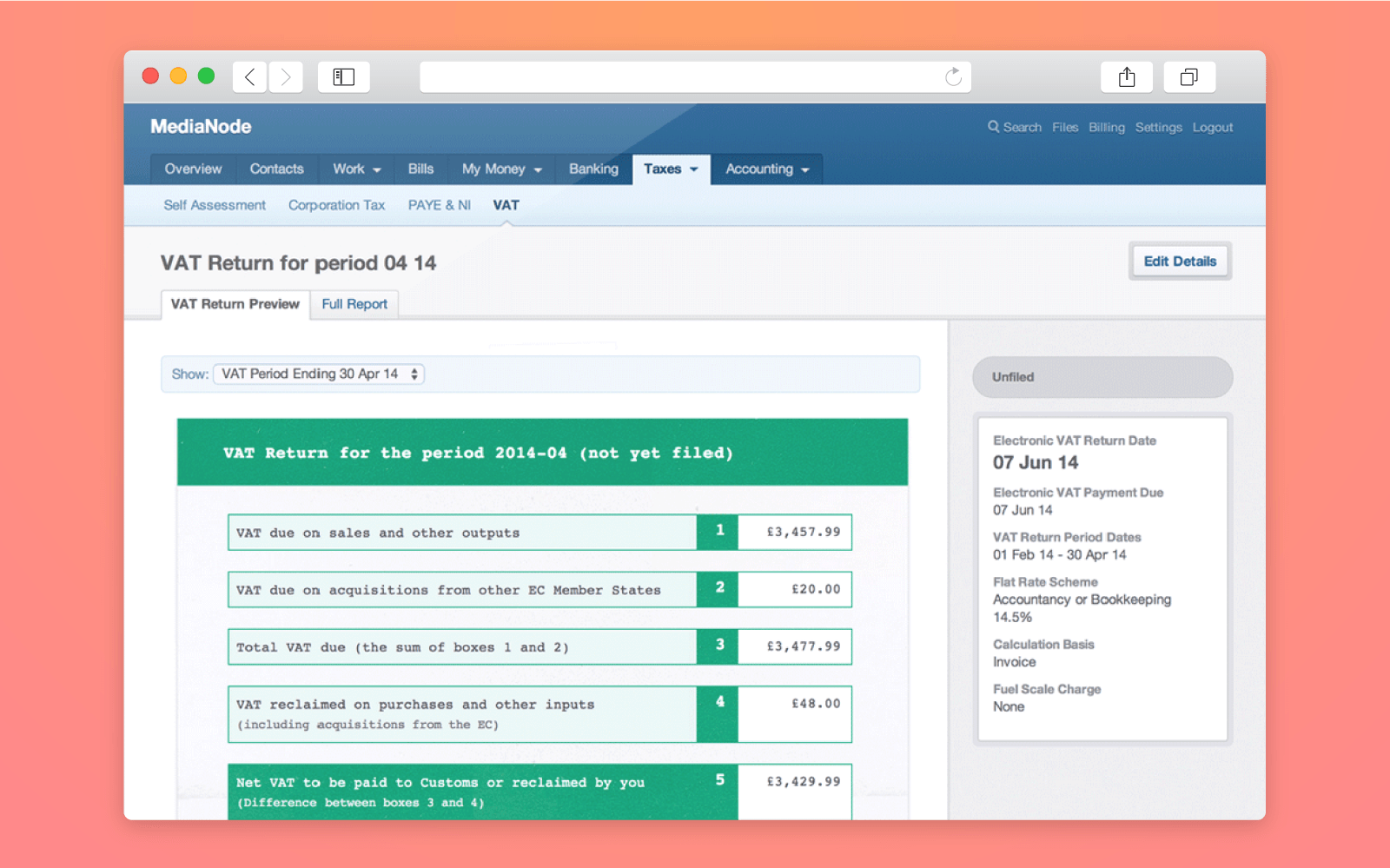 Payroll processing
All companies have employees that do different types of work, and owners should pay them a salary. Users can input necessary salary amount per day or per month for each employee, and software will help calculate total salary for the indicated time period including bonuses (if they are) and with tax deductions.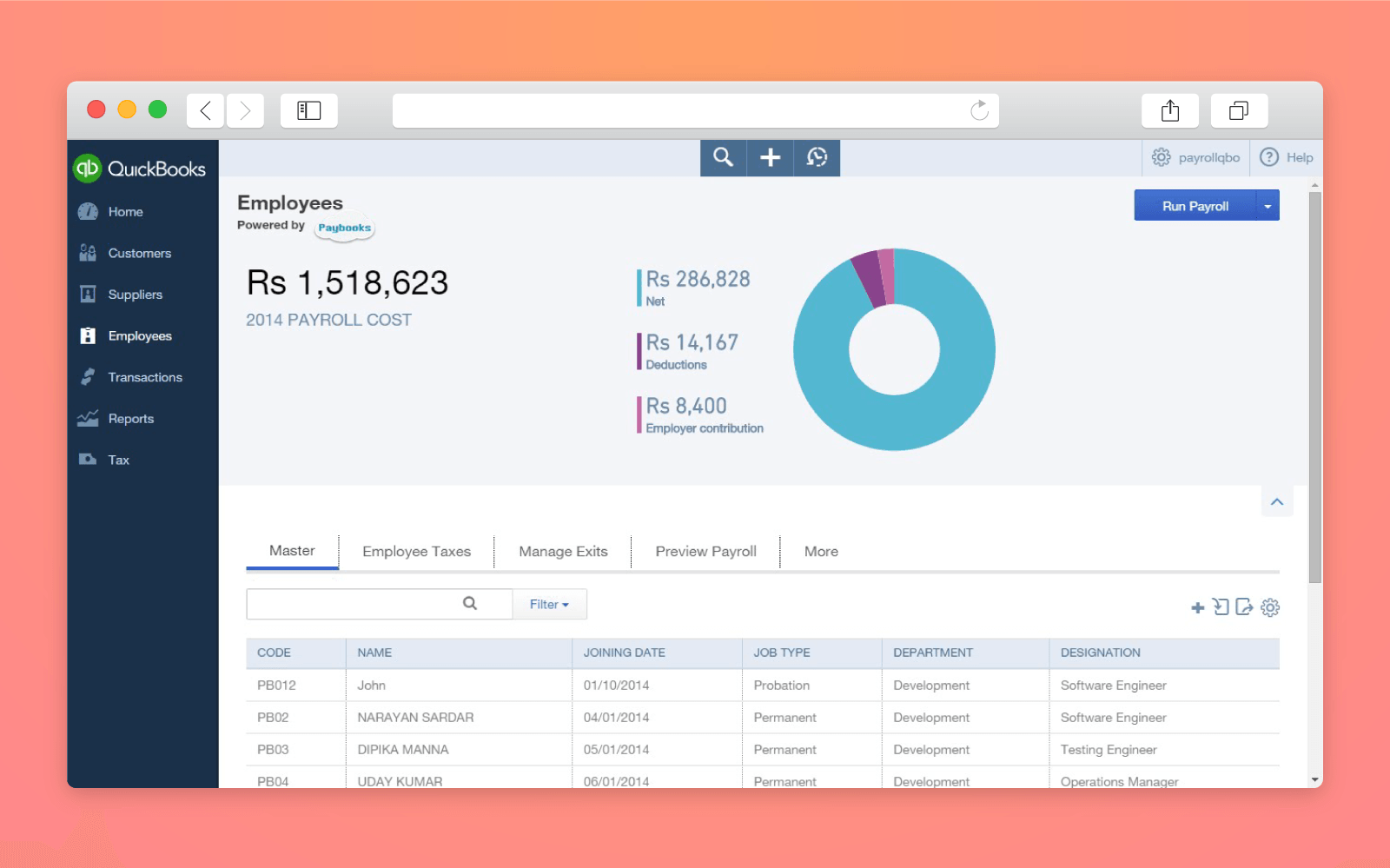 Processing of payrolls for each payment period
Reports
This feature is aimed at improvement of financial activity of the enterprise since it allows to draw up accounting reports and manage them faster. Then, the system allows accountants to send reports to tax service.
Processing of invoices
Accounting software should make it possible to deal with invoices. It will let users handle all invoices easily and it will put all them in order. Also, add Print button to print invoices. Using software, specialists will be able to send invoices. In addition, advanced accounting software can store all names and addresses of customers with other common information.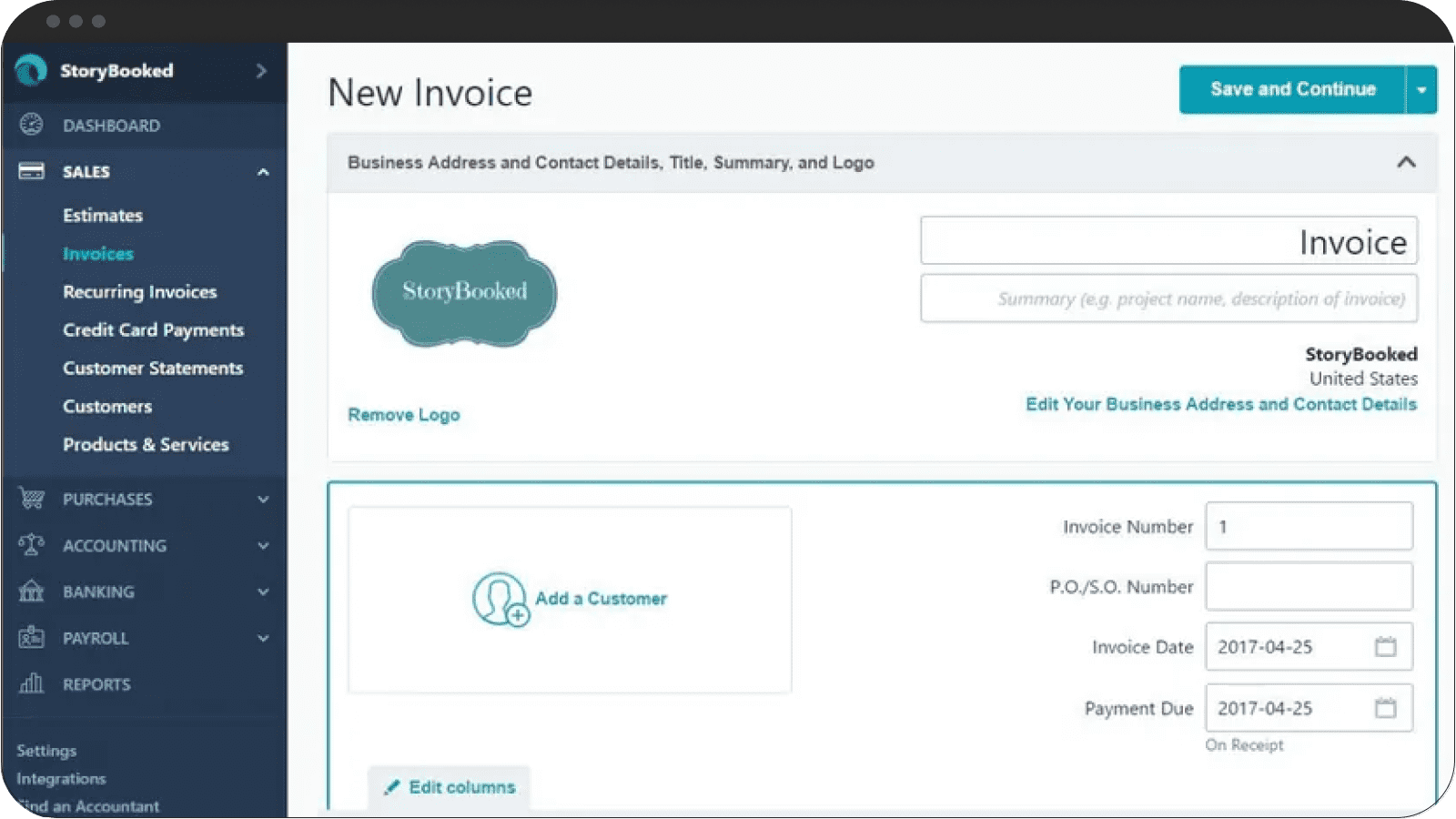 Handling invoices in an accounting platform
Credit monitoring
A feature that helps enterprises control credit limits of their customers. It can be a handy feature for owners of P2P lending apps. It makes it possible to control debts of customers and send them automated reminders.
Integration with other systems
It is much more convenient when custom accounting software can integrate with other financial systems like CRM or e-commerce services.
Expenses tracking
Business can be successful only if all expenses are controlled. That is why accounting software should make it possible to put in order all receipts, calculate expenses on the basis of regular payments and so on.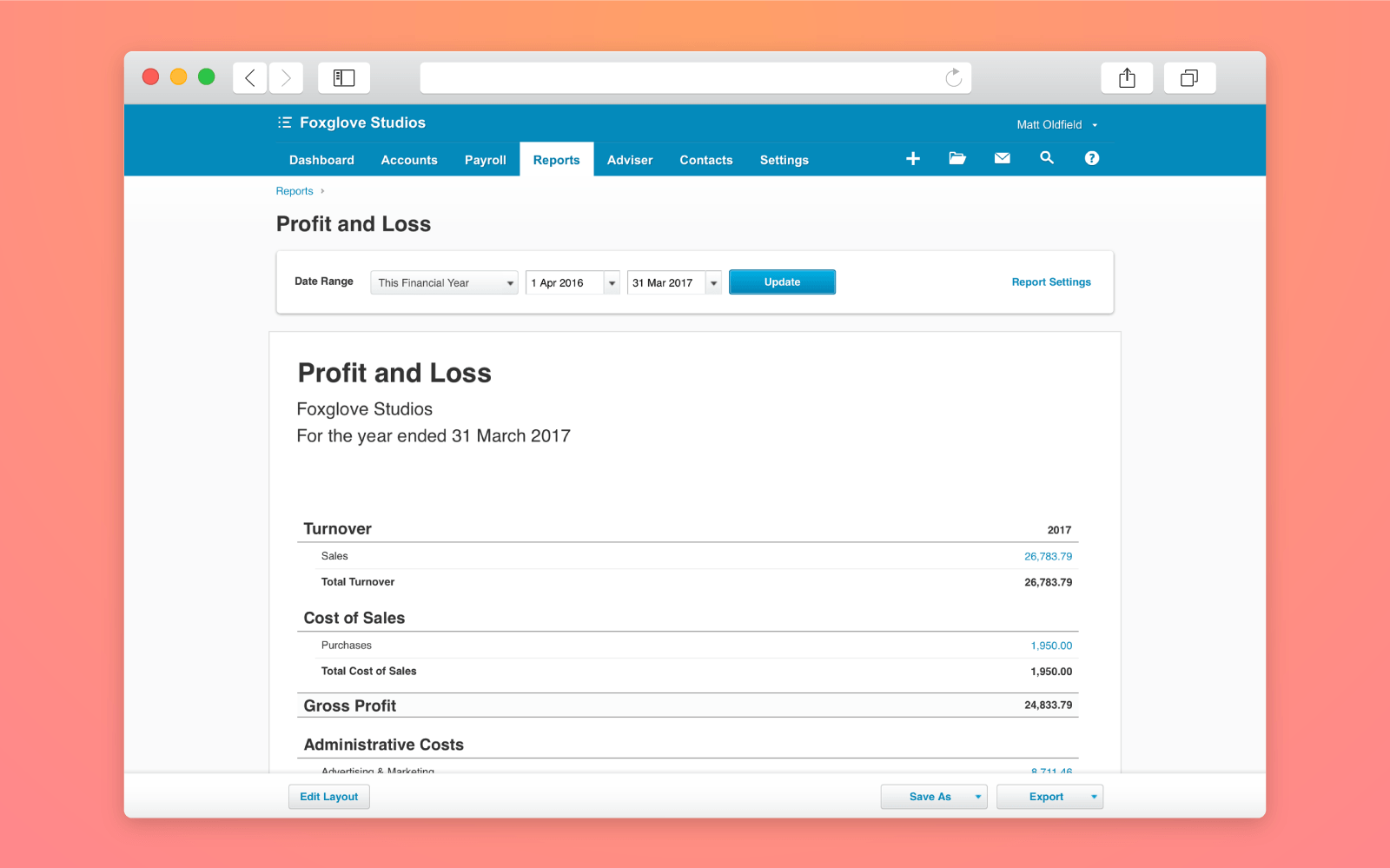 Control all your expenses
Linking of bank accounts
Of course, this feature is one of the must-have features. When users can link bank accounts of the enterprises, it gives them an opportunity to deal with funds on all accounts quickly and efficiently, sending money without delays.
Graphics
And the last but not the least feature is the conversion of figures in graphics. When accountants have a lot of figures in their reports, it is very good when figures can be transformed into pie charts or any other type of graphs. Thus, an accountant can see a structured report in one graph.
Accounting software security to consider
Don't forget about security. Accounting basic software is tightly connected with financial information, and its loss or damage can lead to serious consequences. That is why mind to discuss with developers this issue. Network firewall protection and protection from malware are a must-have to be integrated.
Also, financial data that is transferred using your software should be encrypted - it will increase the trust to your product from future customers. Authorization via password should be available by default. To increase protection from unwanted hackings, it would be better to add authorization using a special question or sending an SMS to a mobile phone of the users. It will help prevent dangerous situations.
That is the full list of what you should take into account if you plan to create your custom accounting software. It is not easy and fast process, but if your approach is clever, then the final product will be really competitive and advantageous on the market. Everything you need is to hire a team of skilled developers like Cleveroad. Contact us and our sales managers will help you make the right decision. Mind to subscribe to our blog - you can see a button on the right side.