Field Service Mobile App Development: A Business Guide
B2C businesses strive to make their services more personalized and available for every customer. So, the quality of the field services is more critical than ever. This is gained by developing a powerful mobile solution that will help entrepreneurs to deliver client-oriented services.
Read this article to learn about field service management and how to perform it through the appropriate field service mobile app development. Start reading this article to discover all the peculiarities of the matter!
How Can Software Digitalization Help With Field Service Improvement?
Before diving deeper into field service digitalization, let's start with the fundamentals.
Field service means performing any kind of company activity on the customer's side. This way, contractors, dispatchers, or other specialists intended to work out in the field come to the client to perform different operations (e.g., sell, launch, maintain or fix) with equipment or software systems.
This client-oriented business done by field service engineers is popular for customers in the healthcare domain, enterprise IT, industrial hardware, etc. In other words, field services are capable of assisting you wherever you have products set on the client's premises. Field services are quite in-demand among the clients of various businesses, proven by the appropriate statistical data. Thus, according to MordorIntelligence's data, such popularity is proven by the market growth: the researchers forecast that the field service market will increase to more than 15% from 2022 to 2027. But even such a prospective service can have its own problems, and we'll list the major of them below.
Major field service issues to solve
Company issues to solve
Businesses of different sizes face problems connected to field service. We'll tell you further about these problems as well as software ways to solve them.
Small companies and Small and Midside Businesses (SMBs) usually try to manage their activity in a paper document view. So, they don't have a complete customer database, and their accounting and dispatching managers are overloaded with different papers. That's why their data security is suffering.
Large companies can have enough tech workers to take and accomplish jobs, a big fleet, and easily deal with many orders. Meanwhile, they require quick and straightforward scheduling as well as thorough dispatching to solve such problems as expenditures connected with the waste of fuel or idle time, poor communication between field workers and office managers, manual data transferring between the corporate platforms, etc.
Technicians' issues to deal with
Technical engineers performing field service activities also have their problems that require an immediate solution to boost working productivity and client satisfaction. Among such problems, there are the following ones:
No chance to tell of a delayed arrival
Routing resulting in time loss and technicians' lateness
The technician's skills are not accurately assigned duties
A lack of interaction with other technicians for guidance
No online access to the client's history or the components inventory, and others.
Customers' problems to solve
You should also be attentive to customers' problems when sending workers to handle them. The most common of them are the following ones:
Security. To feel more protected, customers typically want to learn more about the technicians (e.g., their experience or even the photo).
Scheduling. People want to schedule an appointment immediately, pick a convenient time for the service call, and receive notifications in case of any modifications or delays.
Personalization. All the clients need a personalized approach to their problems and solutions from the technician.
Every of the said issues is connected with each other. The powerful Field Service Management (FSM) system — the software platform helpful for making company field services more effective — will help you solve the enlisted problems, and discover the bottlenecks in your company that prevent you from expanding and generating more money. So let's talk more about field service app development necessity for your business.
Reasons to Start Field Service App Development
How do the FSM platforms help entrepreneurs to beneficially manage field services? There are a lot of situations people apply to field service app development. We'll tell you about the most common ones.
Limited control (or even the absence of it) over the field service performers
Lack of control over the personnel and subcontractors' activity is one of the main problems of the field service managers during their work. They need working transparency and flow optimization to boost this kind of service. FSM can give it to them through field engineers' routes enhancement, sharing real-time ticket status updates with all team members and subcontracting partners, and automation of order scheduling procedures.
Poor asset management and monitoring
Insufficient asset care may lead to problems with equipment identification, absence of data on this equipment's condition, or more downtime while looking for appropriate machine details. Moreover, it will reflect on your budget, causing higher replacement expenditures. Automating and digitizing asset information through field service mobile app development is crucial to prevent such scenarios, service interruptions, and inventory misuse.
Disparate information sources
These days, centralized data access and storage are more important than ever for business success in any domain. In other words, you should have admittance to the needed data gathered under one roof. FSM is the very same unified source of your business data. It represents info (e.g., the priority and scope of the issue, the service history, inventory tracking, freight management, etc.) that can boost consumer satisfaction and response times.
Paper documents management
Handling paper orders can cause repeated human mistakes, requiring more time to deliver the ordered software or hardware. However, using an FSM platform will help you decrease the time needed for billing or reporting operations and speed up order accomplishment.
Insufficient interaction with the audience
The businesses that render field services should always put their clients first. Building trust and value with your customers requires keeping them fully informed in real time throughout the overall process.
The field service app development will enhance the role of experts, handle industrial issues, and expand your field service activities. Real-time asset tracking, remote operation monitoring, and giving employees the tools they need to operate remotely are all undeniably competitive advantages that also improve your company's capacity to compete and draw in new clients. This project realization will be successful in cooperation with a skilled software development vendor who will create a digital solution adapted to your business needs.
Reasons to order a FSM application
We've listed some of the typical reasons to use field service solutions for your staff and customers. Looking at them, it becomes clear that FSM software (especially mobile apps, due to their convenience and reliability) is highly required to manage such a complex process as rendering field services to boost your consumers' satisfaction and increase profit.
Business Opportunities for Field Service Mobile App Development
We'll give some more proof concerning the FSM business benefits for the companies. Moreover, you will find out more about the advantages of field service mobile app development.
Enhanced performance of your field staff
Thanks to the mobile FSM application, you may increase data accuracy as well as streamline your workflows. Thus, your field staff will not need to pick up the paper orders each morning but just check them in their mobile solutions. Your essential documents won't be lost; the staff will better adhere to your company flows, decreasing mistakes due to improved data availability. As a consequence of a field service app development, your customers will be more satisfied due to the in-time order delivery.
Customer satisfaction is important while performing field service activities. Kerry Stokes, Australian entrepreneur, and Seven Group Holdings founder, reminds us about it the following way:
Kerry Stokes

Australian entrepreneur, and Seven Group Holdings founder

The most important adage and the only adage is, the customer comes first, whatever the business, the customer comes first.
Quicker tasks accomplishment
Such activities as scheduling operations or defining preferred routes require a lot of time for your field service technicians. As a field service manager, you understand that every minute counts, so that FSM will be your reliable helper in these circumstances. The software will house all your company information in one location, helping to solve the clients' issues quicker and boosting your workflow effectiveness. It's important because satisfied customers are key to your business's future success.
Thorough tracking of teams and resources
Mobile apps' capacity to monitor resources and teams' location is also beneficial for entrepreneurs, as it helps them effectively deploy their staff. Calling workers to listen to their reports will no longer be necessary, because the mobile application will allow them to constantly monitor their progress, fleet position, and other criteria.
Moreover, the mobile FSM system created within the field service mobile app development process will be easily managed as if the engineer is in the office. It is convenient that all the data is represented in a real-time mode.
Extended field service workflow digitization
The GPS technology is undeniably essential to use in field service management. Let's say your technicians are en route to the client but lost their way. So you'll be able to call them and forward them to the right address.
However, it is not the only feature that can be used to enhance the field service processes. Mobile applications offer access to many other smartphone features (e.g., barcode scanner, camera, etc.) helpful for staff to track the inventory and perform other operations. Consequently, the flow will be sped up and rather straightforward.
Seamless access to all the needed data
The smartphone applications for field services and inspections give users access to service histories, plan tasks and incorporate push alerts to boost efficiency. Thus, the technicians will be able to manage their time more effectively and complete their tasks quicker, delivering orders and retaining clients. The information should be accessible even offline to help the workers not to depend on the Internet connection and check the necessary data wherever they are.
Enhanced communication between dispatchers and technical workers
Your team will have more knowledge and current information on hand to finish a project faster and more effectively. Without picking up the phone, dispatch will also have immediate access to job updates from the field and the technician's position due to push alerts. All this is because mobile apps eliminate confusion and mistakes by removing the need for in-the-field technicians to check in with dispatchers for task updates.
Looking through the said benefits, you can see that the field service mobile app development is a great option for field service management. It changes business flows, allowing your employees to react quickly to customers' orders as well as increase clients' satisfaction.
How Do You Determine Which Field Service App You Need to Develop?
Field service management systems enhance the lives of entrepreneurs and companies dealing with such kind of services. This is high time to find out what types of field service management software you can use, what features these solutions contain, and other essentials for field service app development.
Major types of FSM solutions
Let's discuss how you can optimize your investments into field service management and what solutions will help you accomplish business aims as quickly as possible.
Connected FSM software. The information, like customer details, project specifics, asset history, and warranties, is available to representatives, dispatchers, and mobile staff. To achieve first-visit resolutions, they may work in real-time on the same platform with colleagues while viewing inventory to make sure the appropriate equipment is in the warehouse. It can be taken to complete a particular task.
Digital instruments for remote collaboration. Such a solution may help the staff solve the clients' problems without coming to their side. This way, the technicians can remotely contact the customer (e.g., via video call) and give them necessary recommendations to guide them through troubleshooting.
Customer service channels. Clients often use social networks and messengers to get essential information, and it's an opportunity for you to make your own channel connected to field services. You can place such information about technicians' arrival time, the current specialist, and so on. Moreover, you can contact the customers through such a channel to inform them more about the requested matter.
Self-service software alternatives. You can also give the clients the data they need by creating your company's FAQ page, information portal, or develop a chatbot. But keep in mind that you should constantly update your created self-service resources with the most relevant information as to the matter.
Dispatching software. This solution allows teams to perform their work more effectively, streamlining their processes and avoiding errors in scheduling. It is possible because the dispatchers can automatically schedule orders accomplishment based on the staff skills and availability, their real-time location, as well as other points.
Route management solutions. This kind of software offers workers routing and navigation capabilities. Due to it, the technicians can choose the best possible way to save time while accomplishing the order. Furthermore, the software automatically reacts to timetable changes (e.g., item delays, and order requests).
Custom or ready-made solution — what to choose?
You have greatly thought out the type of solution you should select for field service mobile app development according to your business needs. But how to create it? You've got two variants to choose from.
Use ready-made software. Such an option can save you resources and time. But you should remember that this digital solution usually has limited functionality, which can be insufficient for your business, particularly the field service team.
Creating a custom software product. You can contact the outsourcing IT experts and order them to create a solution that fully fits your business needs and expectations. It can be costly, but it pays off due to its flexibility, convenience, and opportunity to be customized to your business requirements.
Key approaches to FSM software creation
The feature set to select for your custom field service app
Now we'll talk more about the functionality your custom FSM app requires to effectively manage the rendered field services, and that should be implemented during a field service mobile app development.
Core features you need to add to your FSM solution are:
Dispatching and scheduling allow you to assign the most qualified workers for order accomplishment based on their experience. Moreover, you can prioritize and line up the orders to advantageously plan your employees' working time.
Data collection and management are crucial to enhance your company activities' visibility. Time/expenditures tracking, customized client forms, and reporting will help you successfully collect and manage the data you need to successfully render the services.
Route management helps you forward your technicians to the most optimal routes reducing the order delivery time and enhancing team efficiency.
Fleet monitoring provides you with an opportunity to monitor fleet data (such as location, fuel level, and so on) to understand how fast your drivers will be able to get to their destination point.
Order management makes estimating and invoicing easier for you and your field service team. So, you can calculate the order cost, form the billing and send it to a customer to pay.
When you realize the software product is viable with core functionality, and the early customer feedback is positive, you can discuss it with your outsourcing FSM software vendor the advanced features to add during the field service app development, and they will start working on this task.
The additional functionality that can be added to the field service management solution is the next one:
Inventory tracking lets you know the quantity and quality of a company's equipment and tools needed to complete the orders and fix the particular customer's problem.
Employees/subcontractors management offers you an opportunity to track and record your team or subcontractors data. It's essential for effective planning of the work scope.
Route optimization will help you quickly identify the best possible routes in case of any changes in your working timetable.
All the information given above should be thoroughly discussed with your software development partner, that'll carefully guide you through your digital solution's creation process from a concept to full-fledged application delivery.
Feature set to implement in FSM solution
How to Get the Field Service App Fitting Your Particular Business?
To create an efficient FSM application you need to first choose an outsourcing software development vendor who will turn your app ideas into a powerful solution fully matching your business requirements. Below we will tell you more about how field service app development cooperation will pass on the example of Cleveroad.
After you submit a request containing the brief information as to your upcoming project on our web resource, our specialists study it, and schedule a Solution Design meeting for you.
Solution Design
The main purpose of the current step is to profoundly discuss your project and clarify requirements. The Solution Team (typically containing Business Analysts, Solution Architect and a designer of needed) also defines a future project's scope of work, main concerns, fundamental quality attributes and so on. Based on this information, the specialists make a project timeline, a composition of a software development team that will work on your project, and a rough estimate.
Discovery Stage
This stage of field service mobile app development assists you in converting project needs into a detailed strategy. Here, we go over the initial needs that were gathered, including platforms you wish to support, features to include, external services to connect and more. In other words, the Discovery stage is intended to start forming an accurate app "portrayal" containing all the requirements, integrations you want to include, and other necessary details. Moreover, Discovery is the time for developers, designers, Business Analysts and a Solution Architect to create a detailed estimate of your future app.
The specialists also make a feature list for your future FSM software solution. At this time, the designers work at creating UI/UX design concept, UX map, wireframes and other essential components of your future system's interface.
Creation and Launch of Field Service Mobile Application for Your Business
After the UI/UX designers finish their work creating the user interface screen by screen, they handle the project over the developers.
Product development and QA
The field service mobile app development team works on implementing the earlier composed feature set. This process is divided into sprints — short time periods (approximately about 2 weeks), after which the team can represent a separate feature or a full software functionality encoded. All the development flow is headed by a Project Manager (PM) who also deals with the sprint backlog, making changes to an existing functionality list, adding new features, or handling bug fixes.
The product is thoroughly checked for bugs by QA engineers. If the bug is found, the QA team makes a bug report and sends it to developers to make hotfixes. Remember, that the product quality also depends on whether the logistics software development company offers the full-cycle services to their clients starting from making business analysis and passing through the discovery stage. Cleveroad is the partner that can help you make well-analyzed decisions as to the FSM solution creation and turn it into a custom application fully fitting your business.
Project release
After fixing all the bugs found and completing all the necessary checks by the QA team, the software development specialists are ready to release your field service app publishing it in Google Play or App Store. Then, if you're satisfied with the outcome, the project materials (e.g., links to specification, project plans, design, etc.) are handed over to you.
Maintenance and support
Keep in mind that the field service mobile app development cooperation with your vendor isn't finished after the FSM application is developed and released. Cleveroad software development and QA engineering experts continually check your solution for bugs and provide it with the most relevant upgrades.
To give you more understanding as to the time and money required for FSM app feature implementation, we prepared a rough estimate for you to consider.
FSM app development: approximate timeline and cost

| | | |
| --- | --- | --- |
| Features | Approximate time (hours) | Approximate cost ($) |
| Dispatching & scheduling | 152 | 6 840,00 |
| Data collection & management | 140 | 6 300,00 |
| Route management | 82 | 3 690,00 |
| Fleet monitoring | 128 | 5 760,00 |
| Order management | 104 | 4 680,00 |
| Inventory tracking | 80 | 3 600,00 |
| Employees/subcontractors management | 74 | 3 330,00 |
| Route optimization | 96 | 4 320,00 |
| TOTAL | 856 | 38 520,00 |
Remember that the estimate includes only the costs for the front-end and the backend development. To build FSM software, you'll also need the services of the specialists like BA, QA, and UI/UX designers. However, their work is priced separately, and it's not included in this estimate. You may apply to our experts, and they will eagerly consult you on the matter.
Field Service App Development From Cleveroad
Such a process as a field service mobile app development deeply involved in the various business processes requires sufficient expert support. Cleveroad is the very same company capable of creating, launching, and implementing such a complex solution as a field management system. Let us represent this company to you.
Cleveroad is an outsourcing web and mobile development vendor that efficiently assists startups, SMBs, and large corporations to accomplish their aims, gaining competitive edge and boosting profitability. This provider is located in the CEE region, and has 120+ qualified specialists working on creating the top-class solutions meeting the business needs of our clients.
Collaborating with our certified specialists, you'll get:
Qualitative mobile development services: creation of native iOS/Android solutions with unique UI/UX design to attract new customers to your business
Software development team quickly reacting to changes and adapting to clients' timetables
Cutting-edge tech stack and innovative development approaches
Upgrading the logistics solutions that already exist according to the latest logistics standards as to usability, data protection and interoperability
Product quality assurance at all the stages of software development
Boosting performance of the client's logistics software via automating manual flows
Fast software creation flow without any bureaucracy
Post-development maintenance and support as well as advertisement services for our clients, etc.
Our solutions like FSM, TMS, SCM, ERP and others help our clients decrease operational expenditures, enhance supply chains and logistics workflows. You can also use all these benefits for your own business — just contact us to get a profound consultation as to your project, and start a field service app development cooperation. Moreover, you can get acquainted with our portfolio to know more about the already developed projects. Cleveroad team is eager to answer your tech questions and develop a full-fledged logistical solution that will meet all the needs of your particular business.
Skilled FSM vendor is ready to help
Digitize your field service management with Cleveroad experts to enhance workflows!
Frequently Asked Questions
Field service means performing any kind of company activity on the customer's side. This way, contractors, dispatchers, or other specialists intended to work out in the field come to the client to perform different operations (e.g., sell, launch, maintain or fix) with equipment or software systems.
A limited control (or even the absence of it) over the field service performers
Poor asset management and monitoring
Disparate information sources
Paper documents management
Insufficient interaction with audience
Dispatching and scheduling
Data collection and management
Time/expenditures tracking
Route management
Fleet monitoring
Order management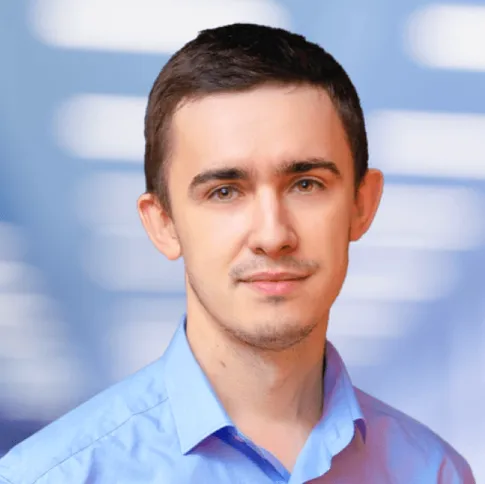 About author
Evgeniy Altynpara is a CTO and member of the Forbes Councils' community of tech professionals. He is an expert in software development and technological entrepreneurship and has 10+years of experience in digital transformation consulting in Healthcare, FinTech, Supply Chain and Logistics
Rate this article!
762 ratings, average: 4.87 out of 5
Give us your impressions about this article
Give us your impressions about this article