Trucking Dispatching Software: Why It Is Required and How It Should Be
Trucking is quite a valuable business process in logistics, as it brings a lot to business. According to statistical sources, the revenue of $255.5 billion a year comes to logistical organizations (and trucking software companies) worldwide. However, managing the trucks and monitoring their routes is quite challenging without specialized software. It helps the trucking dispatchers remain afloat, allowing them to perform multiple tasks at once that was earlier impossible.
The current article will unveil the essence of trucking companies software, talking about the flows which can be controlled by the customized solutions, its common use benefits, steps you should pass through before such product development, and many more. So let's start highlighting the theme.
Truck Management Software: What is It, and How It Works
First, let's dive deeper into the essence of the trucking management software. This is a digital platform intended to automate routing and scheduling workflows as well as efficiently manage the company's trucking for quicker deliveries and more customer satisfaction.
Why is trucking dispatching vital for logistics companies? It wouldn't be worthless to recollect the pandemics' influence on logistics and supply chain flows. The COVID restrictions proved: there is a deep necessity for logistics digitization and flow management, namely issues connected to the trucking dispatch.
Fleet management app development comes in handy in cargo delivery and transportation management, helping the drivers obtain accurate tasks, track their performance in real-time, and increase consumers' satisfaction. As a consequence, your company's reputation will be kept while you're duly performing all the delivery time commitments.
It should be mentioned that trucking deliveries closely relate to the Transportation management. However, there are some peculiarities that differentiate trucking from it and make us look separately at such a kind of delivery. They are as follows for trucking dispatch software (TDS):
Fleet dispatching software: trucking transportation peculiarities
Order formation is performed beforehand. Moreover, ready orders are automatically distributed among the drivers in advance (at least by the beginning of the working day). There aren't any new orders throughout the day in trucking software.
Route duration defined. Trucking may not have last mile delivery management. It can be as the routes from one warehouse to another, as the travels of several days if the order consists of long-distance transportation.
Caring about driver's rest. While calculating the route and ETA, the truck dispatch software leaves a period for the driver's sleep and rest while completing the order. In addition, the hours spent by one driver behind the wheel without a break are also strictly controlled as well as their vehicle speed to prevent accidents and save people's strengths.
Features only for the dispatcher. Some trucking app development features are shared with transportation systems (e.g., GPS navigation, POD, or real-time tracking). However, they are available only for the dispatchers to care about the cargo safety and security.
What facilities can be available to all the customers via trucking management software? Depending on the type of solution the entrepreneurs choose, the following capabilities are accessible for common use:
Route enhancements
Customized processes
Better communication for the parties involved
Dispatching performed manually or automatically
Access to analytical data, etc.
There are only some of the numerous facilities the customers can use through trucking dispatch software. Let's look at how such a workflow is passed.
The truck dispatching software makes carriers' work more straightforward, allowing them to perform their orders more thoroughly and make deliveries quicker. This is possible due to the dispatchers' coordination of the process. Particularly, the system may record the incoming calls of the customers, leaving them on your job record or dispatch board. Moreover, the solution lets the dispatchers send automatic emails or set reminders for the customers in advance.
What Processes Does The Truck Dispatching Software Cover?
After the brief overview of the trucking software's aims and facilities, let's talk more about the functionality of such a digital product, looking at the processes performed and the modules that help companies deliver cargo faster.
The activity of transportation dispatch software typically implies the following flows:
Shipment and delivery
Tracking and routing
Accounting
Business intelligence
Fuel and driver control
Vehicle maintenance, and so on.
These processes should be covered by the trucking company software modules that can assist the drivers faster and more efficiently complete the orders, and the logistical companies — track the vehicles' condition, get the analytical information and finish other work related to trucking deliveries.
Common modules of dispatching software for trucking
Below are some of the most standard trucking dispatch software modules for your consideration.
Management. The management modules imply tracking and solving different issues of the truck dispatching workflows. This way, through such a kind of logistics software, you can manage such points as:
Vehicle management. Thanks to that module, you'll be able to track your fleet condition in your truck routing software and repair it when needed. Furthermore, the truck's characteristics can be saved to identify each vehicle and find its exact location accurately.

Fuel management. With the help of the freight dispatch software, you can check the fuel to timely remind the driver about its lack. Moreover, you can be aware of the expenditures needed to plan your company budget properly.

Document management. Such a module of software for trucking companies lets you always have the essential documents, like receipts, tickets, or legal documents, nearby and check the currently crucial data.
Order processing. Using EDI or manually entering an order is now possible via an order processing unit in your trucker software. It includes all the details and functions required to create a complete order processing system for the trucking sector, covering direction, date, time, and other criteria.
Less than Truck Loads (LTL) order module. This module accounts for truck space use, making it possible to move cargo effectively and profitably. Moreover, the number of stops and clients is limitless through each LTL load on a truck.
Money operations. There are several modules helping you control your trucking delivery expenses. We'll mention some of them that can be in your trucking dispatching software:
Billing & invoice. Generating accurate invoices and billings to your consumers is possible just in a few clicks, and send it automatically to a pre-written address. Moreover, you can get the paid invoices with the help of this module of the dispatch trucking software.

Payroll handling. Salary payment to the office workers, drivers, and other staff gets automated for the entrepreneurs, avoiding any paperwork.
Knowledge Point Indicators (KPI) module. To maintain profitability, it enables you to examine your company and identify its benefits and drawbacks. Additionally, it supports managing your gross margin for each load via the freight dispatching software.
International Fuel Tax Agreement (IFTA) module. IFTA-specific reporting option lets you view your fuel and kilometers per location represented in nice charts that will aid in business analysis.
Start building a dispatch app now
We'll help you with the modules choice and implementation in the best possible way!
Remember that the modules' implementation into the trucking logistics software depends on your particular business circumstances. To define them all and make the most efficient modules list possible, you should apply to the experienced logistics software development company that will help you seamlessly handle such a task.
How Does The Software Help Improve Trucking Dispatching Workflow?
Thanks to logistics company establishment, you can gain multiple business aims, satisfying clients and growing your profits bigger. But how to benefit more from the company activity? Trucking dispatch systems development is the best for that purpose. Let's discuss the essential advantages of such a solution creation.
Typical benefits of the transportation dispatch software
Cost cutting. Implementing a truck dispatching solution for your business assists you in cost-cutting to save your budget and make your income higher than expenses. How does it happen? First off, the truck dispatch system gives you information about the costs of your truck maintenance, fuel, and the number of salaries you should pay to your drivers and other company employees. This information will assist you in wise budget planning and avoiding excessive spending.
Enhanced effectiveness. You must guarantee that your company delivers superior services to its competition. The trucking dispatch system will help you. It maintains track of all the tasks your company completes so you can figure out how to boost staff performance. Your earnings will quickly rise as a result of the workers' higher productivity.
Quick and straightforward dispatching. Keeping a closer eye on how all deliveries are being sent is one of the most challenging aspects of running a trucking business. However, you don't have to worry about dispatching matters if you use the software for trucking. You'll have an opportunity to automate the solution of management issues (e.g., the vehicle availability or the appropriate driver's choice), allowing you to expand your company quickly.
Easy management. Dispatch software for trucking companies is an excellent method to manage your business deliveries. You may expand your enterprise to the next level by using such a system to position all of your staff where they will work at their peak efficiency.
Thorough monitoring. The ability to offer all the vehicle information as well as the time of delivery is just another fantastic advantage of employing truck scheduling software. In addition, real-time tracking gives your consumers power over the whole process, which they may use to their advantage.
Learn how you can improve real-time tracking with API trucking
Time tracking. Finding out how your team spends its time is one of the main advantages of employing dispatch software for small trucking companies or the big ones (depending on your organization's size). You will benefit from knowing what adjustments you may make to increase your business' profitability so you can succeed in business quickly.
The enlisted benefits are the most common ones, which can work only with the properly chosen software. Let's talk about what points should be considered while looking for a dispatching solution for your transportation fleet.
What Ready-Made Trucking Business Software Can You Consider?
Trucking app cost is one of the quality points of good software, but not the only. So, choosing the finest solution for trucking management, you should research and find out whether the truck dispatcher software has the functions discussed below.
Usage easiness. The app should have an intuitive and user-friendly interface that will satisfy both the drivers and dispatchers.
Flawless operational features. For instance, you should have seamless communication with drivers during their order completion. Moreover, the time monitoring should also be available for you through the truck driver scheduling software.
Straightforward scheduling. The future deliveries should be easily planned and automatically distributed to their performers.
Moreover, it should have positive user reviews. The satisfied customers characterize the software in the best possible way with their feedback. The flow participants should also be satisfied and happy with the trucking software programs, as well as with the ongoing process. Tim Dreyer characterizes this point in the following way:
Tim Dreyer

the Transportation Dispatcher, Patene Building Supplies

Nowadays it's not about trying to move as fast as possible, it's about keeping the drivers happy. It's about keeping the product moving, and if you the drivers are happy the drivers are moving.
The Famous Trucking Solutions You Can Choose From
We've told you about the basic functions the truck route planning software should respond to. However, bear in mind that you can also choose ready-made solutions in order to gain these purposes. To help you consider, we'll represent you some of the well-known dispatch software for trucking companies:
McLeod
McLeod can help you improve working rates and customer support, recruit and retain outstanding drivers, as well as other business activities so you can focus on the big picture. It is also well-known for its driver app, back office features, and simple BI reports.
McLeod commercial truck routing software has made it easier than ever to find solutions for trucking dispatch operations management, freight shipment management, fleet management, documentation imaging, workflow control, and automation of business processes.
Axon
Axon has made accounting, dispatch, maintenance, fleet management, transportation management, ticket software, and IFTA reporting simple for customers who transport big loads, cattle, cars, trucks, oilfield equipment, and truckloads. This trucking company management software integration is also easy.
Dispatch, billing, driver pay, fuel management, fleet maintenance, and accounting are all automatically updated as information is gathered in real-time mode and uploaded into the platform.
The TMW
The TMW corporation provides their truck route software as an item specifically designed for dispatch, fleet upkeep, or bookkeeping in the field of transportation management. The truckload transporters, freight brokers, waste management, ready-mix, and construction industries are all suitable customers for their software.
Routing optimization, safety provision, administration of transportation (including trucking) and other characteristics are a few of its notable functionalities.
Onfleet
Onfleet is ideal whether you are an international carrier, retailer, or distributor to on-demand delivery companies. You can streamline operations, and simply connect Onfleet (in a view of a website, online ordering system, ERP, mobile app, or inventory management system). For top-notch customer service, software for trucking business from Onfleet offers real-time vehicle monitoring, proof-of-delivery, and feedback gathering capabilities.
When Should You Create Your Own Trucking Dispatching Software?
Trucking dispatching solution use is obviously beneficial for logistics enterprises, and companies strive to have it. However they should realize that when planning the software to develop they have to choose between two types: ready-made digital products for trucking or customized ones. Let's analyze the applicability of both the variants.
The ready-made software (another called out-of-the-box, or off-the-shelf) is perfect when you require managing processes of the small company having strict development aims. Moreover, the set of the implemented functionality fits different fleet tracking processes. The digital product of this kind will be quite cheap for you but you should be ready for the drawbacks that may appear.
First of all, the experts are sure that the off-the-shelf logistical products are easier to be hacked, as their creators don't guarantee the high degree of security.
The customer support is given restrictedly. So, there may be some questions beyond the active functionality of the solution, and these questions may remain without an answer.
And last, but not the least — the ready-made trucking software for small companies isn't able to be compatible with the unique processes. In case it's not proper for you, think about the building of the customized trucking dispatching software.
The customized software is the best choice for organizations that need an original approach to solving their problems. Regardless of its expensiveness (in comparison with an off-the-shelf small trucking company software), the customized dispatching app will totally pay off. And we'll give you the most vital reasons why it's so.
You need the current functionality list to be extended and adjusted to the arising needs and demands (for example, add new trucking schemes, or change the existing ones). It is possible due to the custom dispatching software's scalability.
You can integrate your truck driving software with the existing logistics platforms of your company (e.g., Transport Management System, Fleet Management System, Warehousing platform).
Your company is better protected from data breaches and information leakage.
The developed custom solution's source code is fully controllable.
You can participate in the development lifecycle, communicating with the developers or making necessary adjustments.
How to Prepare for a Truck Dispatching System Development Flow?
The development of a powerful digital software trucking business may need, is quite complex. There are a lot of points that should be considered before the start of the building process. We have analyzed such information for you and made our own set of the common steps that should be passed through before you begin a project development.
How to prepare for a transportation dispatching software development
Define your requirements to the upcoming solution
Your preparation for the logistics project development should be started from defining requirements to the future solution. You should analyze the following two groups of requirements:
Functional (consisting of the particular information like features, behaviors, rules, etc.):
A list of functionality your future trucking route software will support
Circumstances under which there will be more profit and more clients attracted
Features that will interest the stakeholders the most, the reasons why, and so on
Non-functional (implying additional expectations from the trucking industry software, environment where it would function, or its possible qualities that will be visible through particular circumstances):
The usage straightforwardness
The speed and efficiency of the platform's work
Reaction to particular commands
Data architecture including considerations of the info collection, storage, etc.
Select the software development format
Preparing a trucking system software concept and defining reasonable requirements for it is only a start of your journey to creating a reliable digital helper. Keep in mind that you also need to hire specialists capable of giving your idea a proper embodiment. The options you should consider are given below along with their use pros and cons:
Applying to in-house developers' help. This option implies you hire local professionals with enough expertise to complete your software for truckers project, and compose a team from them. You'll be able to directly communicate with such specialists fully controlling their performance and solving problems in real time.
However this development format will only be available for you if the project budget allows it. Let us give you an example for your better understanding. PayScale mentions that the yearly salary of a software engineer is equal on average to $71,508, where expenditures (such as sick leaves, vacation or onboarding) are not calculated. Moreover, you have to always care about your in-house team's professional education, and dedicate your time and financial resources for such a purpose.
Outsourcing your logistical project. It means you entrust your big/small trucking business software development (or a part of it) to another software development company. Such an alternative has successfully proved it's fully operational being applied by such technology giants as Slack or Google. It will also be perfect for you as you'll be allowed to have access to a wide pool of specialists around the world even if you need ones with rare technology experience. Moreover, you'll be able to reduce operational expenditures selecting a vendor from a region with the best quality to price ratio.
Choose the appropriate IT logistics vendor
After you've chosen an outsourcing software development option, you should think about finding a proper vendor for partner relationships. Be ready to spend much time on it because selecting the very first result from a search rank won't help you achieve the desired outcome.
There are the following points you should consider while choosing a technology partner for development of trucking company software programs:
After you've chosen an outsourcing destination with particular hourly wages, you should analyze the price for the chosen vendor's services. Making that remember your initial demands and aims for not to overpay the future trucking computer software. Moreover, signing an agreement, always read the small print: this way, you'll notice the hidden charges and additional fees.You can know more about Cleveroad service costs by applying to our Business delivery managers who will prepare a rough service estimate for you: clear to understand and free from any hidden costs.

Get acquainted with their earlier developed products and their experience of building logistical products (such as truck load dispatch software). A lot of IT outsourcing vendors' company sites have a portfolio section where you can look through their previous cases description, business domain they were developed for, etc.

Check the ratings on platforms like Clutch. They are capable of giving you not only the information about your potential logistics solution provider but also reviews offering you more information from the previous clients that have already worked with the chosen IT company. You can contact them to know more about their experience.
Work upon the communication scheme and obtain a proper result then
You've chosen a particular vendor, and established a meeting. Where should you start from to successfully organize a future communication and get a corresponding result in a view of a properly functioning trucking database software?
First of all, you should ensure that all the outsourcing team can establish free communication with a foreign customer, and there would not be any communication barriers between you and your personnel during the project development. For example, all the Cleveroad IT experts can write and speak English sufficiently to understand any of your requirements and needs said or written.
You should also pay attention to the working hours of your team as well as timezones and other issues. This problem is very essential to solve, as your outsourcing vendor can have a time difference compared to your hourzone, and the project deadlines will highly depend on it. By the way, Cleveroad got accustomed to this problem, completing schedules that allow the specialists to check time and remember about all the appointed meetings.
Don't also forget about the communication issues. For being able to constantly monitor the team's progress and obtain reports as to the performance, you should choose the messengers you both may connect through. Cleveroad IT staff typically use the following ones:
Google Meet, Zoom, Facebook Messenger
Slack
Jira, Figma, etc.
You should bear in mind that it's not the end of the collaboration when your logistics platform is released and integrated into your business flows. The outsourcing vendor will also care about your trucking software solutions support and maintenance constantly searching for bugs, fixing them or upgrading the platform's functionality.
As you can see, the logistics software development needs time and money resources as well as accurate homework and efforts from your side to succeed.
Cleveroad Experience in Trucking Dispatching Software Creation
When you look for an appropriate option as to trucking scheduling software development, you should definitely pay attention to developing a powerful digital solution. It will solve your issues connected with the transportation management, being customized to your particular needs as well as deeply integrated into your business.
Such a product creation will be available if you ask for assistance from a skilled IT tech partner with a deep expertise in bringing into life logistical solutions (e.g., dispatch software for trucking needs). It's a high time to do that right now, as Cleveroad is that very experienced IT vendor that can help you facilitate the proper realization of your dispatching software concepts. Let us give you more information about this company.
Cleveroad is a competent outsourcing IT provider from Estonia specialized on creation and delivery of the logistical software platforms. They improve the business flows' efficiency and help the companies win the competition. For more than 10 years on the market we've been helping startup companies, SMBs and large corporations gain their aims. The result is expressed in our portfolio containing 170+ projects and we don't stop on such a mark.
Our current software solutions are developed with the help of 120+ certified and agile-minded engineers who are capable of accomplishing full-fledged digital platforms that will be perfectly fitting your company flows.
Working with us, you'll get:
TMS, LMS, SCM, truck dispatch systems and other logistics software to reduce operational expenditures, speed up the flows (e.g., warehousing, freight delivery, inventory) on different segments of the supply chain
In-depth consultation from the accredited experts (such as business analysts, project managers or a solution architect) as to all the issues concerning the implementation of the truck dispatching system
Initial project estimates from our Business delivery managers
Signing Non-Disclosure Agreement (NDA) to protect the uniqueness of your truck company dispatcher software concept per your wish
Software development services performed on-demand: creating a digital solution from scratch, updating an existing one, legacy systems modernization
A team of highly skilled professionals being able to easily adapt to changes and existing workflows
After-release support, maintenance and advertisement for our customers
Innovative technology stack (as well as cutting-edge building approaches) to bring your digital ideas into life, etc.
Going to start building profitable and modern logistics software to manage your business transportation needs and boost your company activity? Don't hesitate to accomplish this goal, and apply to us. We are ready to breathe life into your truck driver dispatch software concepts of any degree of complexity — all you need is to message us to describe the future product details. Let's start the cooperation productive both for you and us, and lead your business to new heights!
Skilled IT vendor is ready to help
Apply to us, and boost your company activity with a newly developed cutting-edge trucking solution!
Frequently Asked Questions
This is a digital platform intended to automate routing and scheduling workflows as well as efficiently manage the company's trucking for quicker deliveries and more customer satisfaction.
It gives the companies cost-cutting advantages, as well as enhanced effectiveness, quick and straightforward dispatching, easy management, thorough monitoring opportunities and time tracking for the most effective business establishment.
Define your requirements to the future system
Select the software development format
Choose the appropriate IT logistics vendor
Work upon the communication and receive an outcome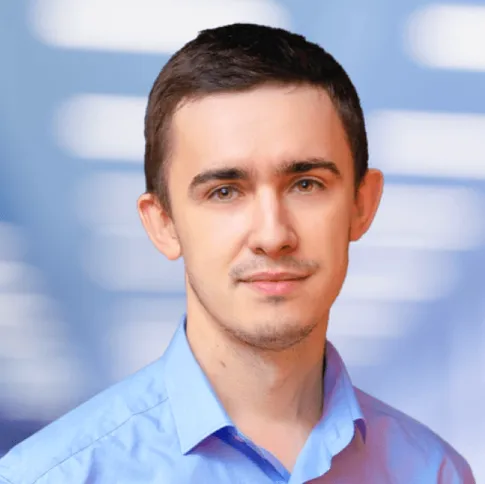 About author
Evgeniy Altynpara is a CTO and member of the Forbes Councils' community of tech professionals. He is an expert in software development and technological entrepreneurship and has 10+years of experience in digital transformation consulting in Healthcare, FinTech, Supply Chain and Logistics
Rate this article!
873 ratings, average: 4.59 out of 5
Give us your impressions about this article
Give us your impressions about this article