How to Master Route Optimization Software to Get the Most of It
Due to digitization and the broadening of business globally, manual route optimization has become inefficient and challenging. This represents one of the key factors pushing enterprises worldwide to implement route optimization software: it can increase operational efficiency by accurate route planning and freeing up time spent on goods deliveries.
Poor weather forecasting, traffic delays, driver idling time, no-entry time windows, inefficient fuel consumption, and vehicle crashes — their frequency only reinforce the need for a custom solution for route planning. As for the potential of this niche, the global route optimization software market is projected to reach $17.7 billion by 2027.
This post will introduce you to the essence of routing software, the reasons to build one, and how to implement it to make the most out of your logistics business.
What is Route Optimization Software?
First of all, let's determine what exactly route optimization stands for and why businesses relying on transportation and delivery need routing software.
Route optimization itself can be defined as the process of determining the most effective roads to reduce fuel costs, save time, and economic resource consumption. However, a manual approach to delivery route planning under rising order volumes is an arduous task, unless you're aided with a specialized digital solution, such as route optimization software.
Routing is the process of finding the most efficient way to visit a set of stops. Scheduling is the process of arranging stops in the best possible order while accounting for factors such as traffic patterns and customer availability. These concepts are actively used in logistics, and have been subject to increasing digitalization recently.
Routing and scheduling software is an intelligent solution that assists logistics experts in determining the fastest and cost-efficient itineraries to an end destination even with multiple halting in between, finishing delivering orders on time. This type of software enables route planning under different variables, such as proximity, traffic, weather conditions, receiving hours, truck capacity (as a part of truck dispatch software), drivers' time spent at each stop, etc. So, instead of spending hours planning itineraries for your delivery business, you can do it by clicking the one down button and having it optimize all the routes at once.
Routing app integration consulting
Book a call with our Solution Architect to get consultation on route plan software development
Before integrating routing software, there are two questions to consider:
When do you need route optimization?
What type of route management solution is required?
If you're one or two trucks, there may be no need for this digital solution. Instead, you can continue to plan itineraries by hand to save cash flow and reinvest in your company. After your business scale, you should consider routing optimization app development. However, a route optimizer software is required if you are a mid-sized or large delivery or transportation company with fleets between 3 and 50+ trucks. It will help you address increasing delivery volumes and calculate the most accurate routes, including cross-border shipping.
The type module of route optimization software depends on the scale of your transport operations.
Single depot. The transit is performed from one warehouse to one location, and the aim here is to decrease planning time and transportation costs.
Multi depot. It's associated with multi-site operations when you have a couple of websites/warehouses, drivers, and vehicles at multiple locations. The routing planning software is needed to handle a single task's route scheduling for different sites/warehouses. The main goal is to facilitate route planning.
Integrated fleets. It relates to enterprise-level supply chain processes with multiple warehouses, production platforms, third-party carriers, and numerous distribution operations. All the vehicles, operators, and drivers are treated as integrated transportation resources. The software will let staff manage fleets that perform work between different locations, taking advantage of available trucks and drivers.
There is also a separate solution called fleet management software that allows for better control of the fleet of vehicles. Check our guide to learn more!
To get more insights about fleet route optimization software, let's consider its three most common capabilities:
Route optimization. Streamlining your multi-stop, multi-driver routes in the most cost-effective way
Route monitoring. Tracking ongoing routes to boost transparency and take the inefficiencies out of the route planning.
Delivery constraints. Planning itineraries considering specific constraints, such as vehicle size, strict time slots, vehicle capacity, type of cargo, etc.
Route optiization capabilities
It's worth mentioning that we've described the critical functionality of routing software. The set of additional features will depend on your business needs and requirements. If you face challenges in deciding on functionality, you can appeal to a professional IT vendor, like Cleveroad, with proven expertise in Logistics software development services.
Why Route Optimization Software: Reasons to Implement Innovative Solutions
Delivery route optimization software can be advantageous for delivery and transportation businesses as it saves fuel costs, cuts overtime costs, and minimizes human dependency. We'll highlight the key reasons why you should build a route planning system and incorporate it into your company's workflow.
Route Optimization to Requirements
Whether you deliver a few or a hundred orders per day, it's essential to be delivered on time and at the best possible cost. While planning the routes manually can result in improper ETAs (estimated time of arrivals) and vehicle idle overtime. The specialized software contains a set of different optimization algorithms enabling it to meet the most diverse planning requirements, including fuel efficiency, speediness, clients' whereabouts, and much more. You can also integrate route optimization APIs to design the route based on various parameters, such as all existing routes, bridges, one-way sections, etc.
Better Drivers Management
The best route plans won't give you successful outcomes if your drivers ignore the routes assigned to them. The custom delivery route software will allow fleet managers to track if their drivers are actually following the scheduled courses by tracing order statuses and locations in real-time mode. Moreover, equipping drivers with mobile applications will provide fast access to routes, instructions, and notes. It also makes it possible to collect real-time proof of delivery (as a document, photo, video, or signature), which is often unavailable in ready-made software.
Dynamic Re-Routing
How to react efficiently to unexpected events to provide seamless delivery to your customers? With the dynamic routing features, your staff will be able to set up the most effective routes under hot water (e.g., traffic and weather conditions, capacity, receiver preferences, etc.). Routing programs for delivery also serve as a multi-delivery route planner to guarantee optimized routes between distinct delivery fall points.
Reduced Operational Costs
Transportation and delivery companies struggle to reduce operational expenses, especially those operating in large cities. Optimizing the routes will allow you to cut costs on multiple variables, such as fuel cost (up to 20%), vehicle maintenance, hourly wages, idle time, and other factors. Moreover, automation and digitalization can lessen the wear and tear of your fleet, resulting in lower fuel usage and administrative overhead.
Enhanced Delivery Experience
Imagine your customers are forced to postpone their planned activities because of the inaccurate expected time of arrivals (ETAs). Would it increase customers' loyalty to your company? Most likely, no. With the right route plan software, you'll be able to determine the best delivery schedule for your shipping, considering the business hours of your customers and many other delivery restrictions and requirements.
Reasons to implement routing software
Top 5 Best Routing Programs Examples to Learn From
More and more companies that rely on transportation have already realized all the benefits of optimizing routes for both businesses and customers. So let's take a quick look at the best software for route planning to learn from their concept and features included.
Route4Me
Route4Me is a full-scale route planner solution with a lengthy series of add-ons for the delivery service business. It enables automated route planning, so that companies can dispatch cargoes quickly with built-in navigation. Thanks to its marketplace catalog, the route optimization app is prevalent, setting off meaningful customization.
Among the exciting features are:
In-app voice-guided navigation
Sign-on-glass verification
Maps and routes for every country
Three tier pricing plan (depending on features required)
OptimoRoute
OptimoRoute is a user-friendly logistics solution allowing delivery businesses and field service providers to optimize and schedule routes in seconds. The logistics managers can generate weekly schedules for drivers considering date range and order type on tasks, enhancing overall business workflow. It also has a separate mobile application for drivers with location-based app support.
Among the valuable functionality provided:
Customer updates (ETA)
Live tracking
Pricing per driver per month
API integration
Proof of delivery
Upper Route Planner
Upper Route Planning is a web- and mobile-based route optimization software that makes it possible to simultaneously build multiple routes for multiple drivers. It allows managers to upload up to 500 routes instantly. The service covers more than ten industries, including food delivery, pharmacy delivery, retail delivery, etc.
Among the most interesting features are:
Multi-stop route planning for multiple drivers
One-click driver dispatch
Schedule routes for months in advance
Import addresses using Excel
Reports & Analytics
MyRouteOnline
MyRouteOnline is a cloud-based platform, allowing for single or multiple routes building at once with any layer of complexity and for all kinds of users. Route planners can audit journeys, share route data with carriers and customers through emails, and send route information to different navigation platforms, like Google Maps or Garmin. Additionally, drivers can check assigned routes, add or delete locations, and obtain real-time notifications about stops.
Here are some features provided:
Map with turn-by-turn driving directions
Export your routes to excel
Save and reload routes online
Print a large map
WorkWave Route Manager
WorkWave closes the top five routing programs. It's a cloud-based service that enables route planning for couriers and field service providers, driver monitoring, and flawless communication between all parties involved. It also allows businesses to schedule around service time slots and client requests, handle schedules/routes on demand, confirm driver EATs, etc.
Among the features offered are:
Manage schedules
Capture proof of delivery
Track locations via GPS
Driver mobile app
It's worth mentioning that this type of software should be flawlessly integrated with existing business systems, while ready-made solutions make it difficult or impossible. So it's better to focus on custom app development to get software highly adaptable to your enterprise's business processes and units.
How to: Route Optimization Software Implementation Process
The proper development and integration of route optimization software is key to the success of your company's activity. So, let's see how it's done.
Define Business Strategy
Many enterprises fail by not having an established strategy in place. Thus, make sure you know where you're going and begin working toward that destination. Start with defining the product's requirements and critical business objectives: what business challenges you want to solve. It's not limited to goals like "route optimization" and "efficient route planning."
For example, you may want:
Save time and gas spent
Decrease delivery turn-around-time
Improve KPI benchmarking
Automate work allocation
Reduce risks concerning parcel delays, idling, vehicle crashes, etc.
Understanding what business issues have to be addressed would set up the direction of your further advancement. Besides, successful automation technology implementation is based on data about your ongoing delivery processes. Therefore, you need to collect information about your current workflow and scrutinize your infrastructure to adopt logistics routing software.
Picking Credible Vendor
As we mentioned earlier, it's better to go custom to cut costs in the long run. However, creating vehicle route planning software is a tricky process that should be taken professionally. So you need to employ a dedicated team with affirmed expertise in the relevant industry. There are many hiring platforms, like Clutch, that will provide you with thorough information about the company services, project budgets, and real clients' feedback.
When it comes to creating effective multi-tier supply chain management solutions, the best way is to web development outsourcing to a reliable IT provider. This model implies cooperation with a remote software development company. Doing so, you get a composed team of certified experts required to build routing software agreeing with your budget, time, and requirements. All the peculiarities concerning the development are taken over, from management to the coding and product release.
As for the web application development cost, it will depend on the vendor's location. We highly recommend considering specialists from Central and Eastern Europe. This region is known for affordable costs for IT services and a wide range of high-level experts to select from. For example, software engineers from Estonia charge approximately $50-$80 per hour. In comparison, the IT development agencies in the US or Canada tend to take $120-$300 hourly for the same quality rating.
Development Process
The development stage is about building and designing the software under approved requirements. Let's see how the traditional SDLC process for route mapping software development is going on.
Discovery phase. This stage is the heart of the project lifecycle. Logistics business analysts compile various documents including feature breakdown list, project plan, etc. Designers create wireframes for each app screen or web page. These processes go simultaneously. Also, you get more detailed estimation at this stage.
UI/UX design. UI/UX designers make a product's prototype (screen by screen) based on the wireframes approved in the previous stage.
Development. Software developers transform mockups, functional and non-functional requirements and architectural decisions into functioning apps using an appropriate technology stack.
Quality assurance. Your product goes through a series of tests to guarantee its operability, responsiveness, and safety.
Release. You receive a top-notch app with all the project materials required.
If there's an established business process with other systems, your service routing software should be correctly integrated. Here is the example of systems you may require consolidation with:
Field Service Management (FSM) System created during field service mobile app development
Enterprise Resource Planning System (ERP)
Warehouse Management System (WMS)
Last mile delivery software
Freight management systems
Load planning software
Two-side integration will allow you to centralize and interconnect all your logistics tools and avoid data duplication and loss.
Learn how Last Mile Delivery Software will help you make the last mile more efficient, cut costs, and enhance profitability by meeting customers' demands
Maintenance and Scalability
The cooperation with your IT vendor doesn't stop with the last stage. As with any other logistics management system, routing software may require multi-tier technical support options due to solution complexity and interconnections. This work is connected with support for integrated software, adding more sophisticated features, version upgrades, code optimization, etc. These actions work for the system scalability, and your app will be able to keep up with the latest client and market demands and drastically improve user experience.
Personnel Onboarding
Adopting new technology solutions can positively impact the quality of your business flow. However, introducing something new is associated with some employee acclimation challenges. Hence, it's essential to think of effective onboarding practices to ensure your team is prepared for the tools and programs they will use, as well as all needed technology is set up correctly.
Routing software implementation steps
How to Simplify the Transition to Route Optimization Software?
The route optimization software is complex and should be deployed and integrated correctly like any other logistics solution. So, it is possible to switch to digital solutions as painlessly and profitably as possible only with the support of an IT vendor with a deep understanding of the logistics industry.
Cleveroad is a professional logistics software provider headquartered in CEE region with 10+ years of relevant experience and 170+ successfully implemented projects in the portfolio.
Our team has in-depth competence in the creation of custom transportation management and logistics solutions, like Transportation Management System (TMS), Supply Management System (SCM), Enterprise Resource Planning (ERP), and other robust logistics software and mobile apps. So, we are ready to take on the development of routing planning software to help you automate and streamline your company's workflow.
Collaborating with us, you'll ensured of the following benefits:
Solid software development expertise across multiple domains, such Logistics, Fintech, Healthcare, Retail, and other business domains
Software engineering team consists of certified, secure-oriented professionals.
An in-depth consultation about your project with our Solution Architect and Business Analysts.
Full-service development, including UI/UX design, application modernization services, cloud-based solutions, and other IT-related services in one place.
Signing Non-Disclosure Agreements (NDA) per your request
Transparent and result-oriented testing services

Interface of TMS designed by Cleveroad
Our team of 13 members was challenged to:
Automate the route planning to streamline employee's workflow
Develop a turnkey transportation management system
Integrate a solution with established business processes
The system needed to help the client reduce costs and time spent on route planning, optimize fleet maintenance costs, and get an interconnected business system to cover all the logistics operations.
How we did it:
We've entirely re-built the existed routing planning software to make it auto-suggested. We've also provided fleet managers with the "routes' adjusting" option to allow them to correct the path manually in navigation concerns or lack of ready-made maps. Finally, to improve the communication process with stakeholders, we've created a separate route planning app for truck drivers' (with a wealth of navigation features).
To cover all the supply chain processes (including, Last Mile Delivery Service) our team has delivered end-to-end TMS, containing the following modules (but is not limited to them):
Fleet management module
Helps the company track and manage fleets. For example, fleet managers can create a group of vehicles utilized in transportation flow and modify it due to changing business processes.
Delivery points management module
Allows TMS users to determine everyday work location and track data changes in real-time.
Access system for company staff
Enables access level management according to the employees' role (RBAC approach).
"Jobs for delivery" module
This functionality allows integration with existing WMS and CRM systems for smooth data transmission.
Finally, we've integrated our solution with the existing logistics management system to centralize all the operations.
Our solution allowed the client to:
Optimize delivery time thanks to service routing software and custom adjusting.
Reduce logistics costs by 27-36% due to automation, precise route planning, and improved vehicle control.
Increase gross profit thanks to optimized fleet maintenance, cargo delivery, and warehousing.
Make your transportation and delivery services more effective by benefiting from our hands-on experience. Cleveroad experts are ready to develop powerful route management software aligning with your business needs, time, and budget. So let's cooperate and get complete assistance.
Get route optimization software now
We'll assemble a team for your project in the shortest time and build routing app meeting your needs
Frequently Asked Questions
Fleet route optimization software is an intelligent solution allowing dispatchers and fleet managers to plan the most efficient routes as possible.
Among the core benefits of routing software for delivery and transportation businesses are route optimization, better driver management, dynamic rerouting, reduced operational costs, and improved delivery experience.
Route4Me, OptimoRoute, Upper Route Planner, MyRouteOnline, and WorkWave Route Manager are the leading software for route planning on the market. However, ready-made route optimization software may not always satisfy your unique delivery and transportation needs. So it's better to consider custom software development services to meet your business requirements and fast-changing market demands.
Automated route planning & optimization enables planning tons of orders in highly efficient delivery routes in a couple of clicks. With the help of routing algorithms, delivery managers pre-defines the most cost-effective routes scrutinizing many factors such as traffic congestion, weather conditions, sudden road closures, number of deliveries on a single route, delivery urgency, etc. This leads to freeing up time for more daily driver stops, thus, speed up the package's delivery process.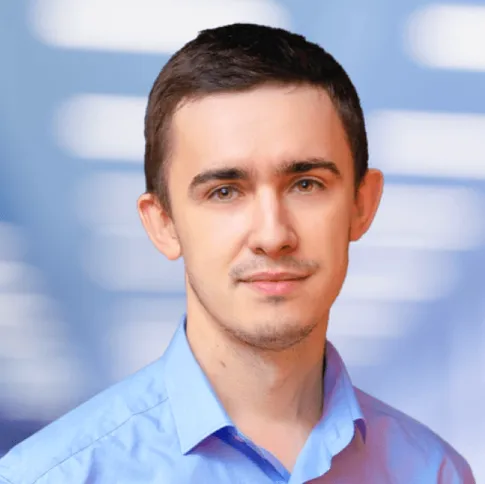 About author
Evgeniy Altynpara is a CTO and member of the Forbes Councils' community of tech professionals. He is an expert in software development and technological entrepreneurship and has 10+years of experience in digital transformation consulting in Healthcare, FinTech, Supply Chain and Logistics
Rate this article!
977 ratings, average: 4.91 out of 5
Give us your impressions about this article
Give us your impressions about this article