How to Find Programmers For a Startup and a Company
Finding a programmer takes time, resources, and no one guarantees that the one you find is an expert. Especially if you have no tech background to verify it.
So how can you find a good coder if you're not a programmer?
We created this guide to give you an idea of how to find programmers for your startup or a company. What to pay attention to, what are the options, and how to verify programmers' skills—even if you're not a coder.
Here's what we're going to review:
How to Find Programmers for Your Startup
Finding a programmer may be tricky even if you're an CTO of a big company. Not to mention non-tech people—especially startup owners.
Many specialists make software for different platforms with different programming languages and frameworks. And before rushing and grabbing just any programmer, you must figure out what precisely you need.
Start with answering these questions:
What's your target audience?
How will your app stand out from similar solutions?
Who are your competitors? What unique features do they have?
Are you going to earn money with your app? How?
What features (payments, search, authorization via Twitter or Facebook) you want to implement?
Do you want an app for iOS or Android?
Don't have answers yet? We've explained how to choose platforms and analyze competitors in our guide on how to create an app.
Programmers work on ideas. They may understand your project but not be familiar with the market. So you have to find a programmer and provide them with the market insights you've gathered.
At Cleveroad, we pick startups from an idea stage—do competitive research, help with documentation, and business planning. But having a solid idea is still required.
Ideally, you should also have:
A list of core and unique features of the future app
List of platforms to cover: mobile, desktop, wearables, TV
UI design of the future app
Let's see what else to do before finding a programmer.
Step #1. Make a List of Features
No matter what developers you're going to hire—freelance, in-house, or outsource—they'll ask you to provide a list of app features.
You may split the list into two parts:
features to develop first (MVP) for reducing time to market
advanced features for winning more users in the future
MVP stands for developing minimum viable product. It means you include only must-have features. For example, if you're making a video streaming app, you need a search screen, video playback page, a page on which users choose billing plans.
Other features—like skip intro button or coming soon page— can be developed after you gather user feedback.
Our Business Analysts can also help you turn your list of features into a specification that contains every piece of information about the project.
Step #2. Define Platforms
Figure out what platforms your app will run on: web browser, mobile (iOS, Android), desktop (macOS, Windows, Linux), wearables (Wear OS, watchOS) or smart TV (Android TV, Tizen, WebOS)
And look up the technology. If you're making an Android app, find programmers that know Kotlin or Java. Want to cover iOS—look for Swift or Objective-C programmers.
Same thing with other platforms:
iOS—Swift/Objective-C
Android—Kotlin/Java
web—AngularJS, React, Javascript, HTML5 & CSS (front end) + PHP, C#, NodeJS (back end)
desktop—Java, C#, Python, C++
How to find a programmer? Specify the platform you want to cover
Or delegate the task of finding programmers for a startup to a software development company. Name the platforms, and the company will put together a team that will work on the project.
A little tip: if you want to save time and money (crucial for startups), go for cross-platform development. It's when a programmer writes code once, then applies it to multiple platforms—mobile, web, desktop.
Our developers use Flutter framework. It works for a number of platforms, and Flutter-powered apps run as good as native apps do.
Want to make a cross-platform app? Find a programmer who knows Flutter
If you want to try Flutter, you need to find someone experienced in iOS/Android app development, Dart programming language, and Flutter SDK itself.
Step #3. Find a UI Designer
If there's no user interface (UI) design, programmers have nothing to work on.
Design isn't a secondary thing for pretty looks. It's an overall style of the app, including color scheme, fonts, buttons, and widgets the user will use.
UI/UX designers carefully pick those elements—and think about how they affect the perception of the product.
Often, they start with wireframes, a schematic layout of the future design.
Wireframes show how users would interact with the app
Then design the product screen by screen, showing what happens after a user clicks on each UI element.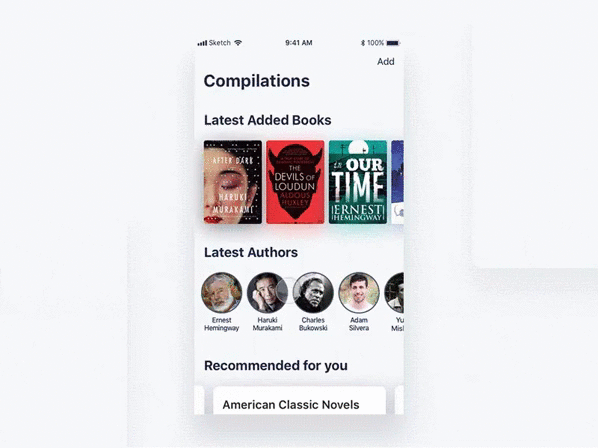 First, find a UI/UX designer, then find programmer for startup
Designers and programmers need to work together. Developers may ask them to make another set of icons, clarify colors or sizes, or add a missing placeholder.
If you're going to work with a freelance designer, make sure they won't go on vacation after finishing your project design. Or you'll have to look for another one, and fast.
It's much easier to work with an in-house or offshore team. In-staff designers may have finished working on your product, but they still support programmers—answer questions, draw missing elements.
Even if your offshore team's designer went on a vacation, their colleagues or a Team Leader wouldn't keep the developers waiting.
Where to Find Programmers: Freelance vs. In-house vs. Outsourcing Companies
We've just discussed some of the 'where to find a programmer' options, and it's time to expand the topic.
There are three main hiring options:
Freelancers—individual programmers (usually found on platforms like Upwork/Toptal)
In-house developers—employees of your company that work from your office
Outsourcing companies—a company you delegate the development to, located in another country
Let's talk about each.
Freelance
Need to find programmers to make a landing page, quickly fix something in an existing app, or integrate PayPal payments? Freelancers are perfect for that.
The problems begin when you're making a large product from scratch with a team of freelancers. They don't communicate with each other, so you'll have to be one hell of a manager to keep everything under control.
Advantages of working with freelancers
Cheaper—lots of freelance programmers work for $15-20/per hour
Good for simple one-time tasks: fixing bugs, minor updates
Large pool of specialists—from JavaScript to Scala developers
Drawbacks of working with freelancers:
Narrow specialization: need to hire at least two freelancers to cover iOS and Android, plus a UI/UX designer
No guarantees—may quit your project anytime, no verification of the end result
Time management complexities if it's 10AM where you live and 8PM where the freelancer lives
Interviewing issues—you need to be tech-savvy enough to verify their skills
Where to find programmers:
Upwork

Youteam

Toptal

Fiverr

Peopleperhour

Freelancer
US-based freelance developers, cost per hour (Source: arc() (formerly Codementor))

| Developer | Hourly rates (US) |
| --- | --- |
| Front end | $61-80 |
| Back end | $61-80 |
| Full stack (front+back end) | $81-100 |
| iOS | $81-100 |
| Android | $61-80 |
In-House Team
An in-house team is a team that works from your office. It's the best option if there are years of work ahead, and you want to keep everything under control.
But it brings quite a few drawbacks, too, especially in terms of costs. First, you have to find programmer and a bunch of other specialists—UI designer, QA, DevOps—interview, and train them. Which takes time.
Next, you pay for the office rent, furniture, equipment, taxes, insurance, any repairs or maintenance. Not to mention sick leaves and vacations. Costs a lot, if you live in the US or Canada.
Advantages of assembling an in-house team:
Cultural fit—in-house developers tend to pay more attention to the specific needs of the company
Face-to-face communication—you and your team have the same working hours and work from one office
Quick changes—it's faster to change something in a project or check an idea with programmers
Disadvantages:
Cost—you pay a competitive salary to programmers, and cover expenses like rent, taxes, software, hardware
Staff turnover—your employees may quit, and finding a replacement will take time
Lack of local talents—it may be tough to find a programmer for your project if you're living in a small town
Where to find programmers:
Indeed

Glassdoor

LinkedIn

Dice
Average salary of US programmers in Seattle, WA (Source: Glassdoor)

| Developer | Average salary (per year) |
| --- | --- |
| Front end | $86,669/yr |
| Back end | $94,342/yr |
| Full stack (front+back end) | $97,967/yr |
| iOS | $108,379/yr |
| Android | $108,379/yr |
Outsourcing Company
Basically, outsourcing means you're delegating the development of your software to a company located in another country. For example, it's when you live in the US but find programmers that live in Germany, Poland, or Ukraine.
Pros of working with an outsourcing company:
Get a full team right away—designers, programmers (any technology you need to cover), QA testers, DevOps
Start at any stage: with the ready-made specification, wireframes, or just an idea
Everything is formalized—companies prepare documentation, signs a contract, and constantly approves the work with you
Organized development process, controlled by a Project Manager that reports to the client
Tech specialists with different skills and technologies—iOS, Android, Flutter, front end, back end
Cons:
More expensive compared to freelance developers (cheaper than in-house development, though)
Cultural gap—true for some east companies from India or Asia
Slower communication compared to an in-house team (need to make an individual schedule of meetings)
'Where can I find programmers?' Check these resources:
Clutch

GoodFirms

ITFirms

LinkedIn
The final choice always depends on the type of product you're making.
Want to make a couple of changes in an existing app? Find a programmer that works as a freelancer. Have enough resources to cover an in-house team and project that requires 24/7 monitoring? Go for in-house development.
And if you want to combine affordable cost with good quality work and a team provided right away, outsourcing development is the best option.
Offshore software dev rates (Source: Clutch & GoodFirms)

| Development | United States | Germany | Ukraine |
| --- | --- | --- | --- |
| Web | $100 - $149/hr | $50 - $99/hr | $37 - $49/hr |
| Desktop | $50 - $99/hr | $50 - $99/hr | $37 - $49/hr |
| iOS | $100 - $149/hr | $37 - $99/hr | $25 - $49 / hr |
| Android | $100 - $149/hr | $37 - $99/hr | $25 - $49 / hr |
How to Interview Programmers
Had an eye on a promising programmer? Interviewing will help you figure out if they are as good as they seem to be.
If you hire a software development company, they'll select and interview developers for you. But if you work with freelancers or in-house employees, this task falls on your shoulders.
I've divided the interview process into two sections:
checking hard skills—related to specific technical knowledge (programming languages, frameworks)
checking soft skills—personality traits (communication, time management)
Both are important if you want to find programmers that'll finish the work.
How to Evaluate Soft Skills
Here are some questions worth asking when interviewing a programmer:
How do you change your schedule when something unplanned happens?
How do you prioritize your work if you have several pending deadlines?
How do you keep up the motivation when working on a project you have no interest in?
Do you have multitasking skills?
What are your stress management techniques?
One more thing: if you want to find programmers that work as freelancers, check what their clients say. Often, clients pay more attention to a person's soft skills, such as cooperation or response time.
How to find programmer? Check what their clients say
You may check these details in the review section on the programmer's page. Or contact their clients and talk to them directly.
Want more tips on how to choose a tech vendor? We've made a thorough guide and a checklist. Check it here
How to Evaluate Hard Skills
Hard skills depend on the type of programmer you want to hire. iOS, Android, front, back end, or Flutter—all these programmers need different skills.
We've already described programmers' hard skills according to their specialization:
Most companies have a CTO whose job is to find a programmer and evaluate their tech skills. But not all the startups do.
That's why I've collected a few tips on evaluating the tech skills of a programmer, even if you have little to no tech background.
#1. Ask a programmer to help you
The best way is to get help from someone who knows a great deal of programming and has good people skills. It may be a former colleague or a good friend of yours.
#2. Download the apps they've made
Most software development companies have a portfolio of apps on their website. Look through it, check if there are products similar to what you want to make, and download a couple of apps on App Store or Google Play to see how they work.
#3. Ask about additional services
In addition to strong development, ask whether your tech partner ensures quality testing, code reviews, security protocols, and DevOps services.
#4. Check their programming portfolio on GitHub
People that are on a hiring panel look at GitHub accounts for potential candidates. GitHub exposes all the git commit history, and it's a good sign if your candidate has a project they grow over time. Rather than a single commit with "here's the code" message.
Where can I find a programmer? Don't forget to look on GitHub
Hard Skills Interview Questions: Examples
We've also prepared a few lists of interview questions you may use to evaluate the hard skills of your candidates.
Again, if you have no programming experience, it's better to ask more experienced developers to watch over the interviewing process.
Why Find Programmers at Cleveroad
At Cleveroad, we make mobile and web apps, provide UI/UX design services, and our QA engineers make sure the software works as expected.
We work on projects of any size and complexity: you can find programmers for a startup or for expanding an already existing app.
If you're starting out just from an idea, we have a bunch of additional services like SWOT analysis, UX prototyping, helping with a list of MVP features and preparing project specifications.
And provide Flutter development services for those, who wants to cover two platforms (iOS+Android) for the price of one.
Projects We've Worked On
The best way to get acquainted with a company is to look through their portfolio.
Here are some of our recent projects:
Need to find programmers?
We have 140+ software engineers and help you choose the ones required for your project.
Frequently Asked Questions
Study the options. Are you going to hire an in-house programmer? Outsource development? Or ask a freelancer to help you?
Check resources like Upwork, Toptal (freelance), Indeed, Glassdoor (in-house), or Clutch, GoodFirms (outsource).
Check programmers' portfolios on resources like GitHub.
Interview your programmers—pay attention to both hard and soft skills.
Depends on the type of programmers you want to hire.
You can hire freelancers on resources like Upwork, Toptal, Fiverr, Freelancer
In-house developers—Indeed, Glassdoor, LinkedIn, or Dice
Outsourcing companies— Clutch, GoodFirms, ITFirms
Hard skills questions differ depending on the technology and programmer's qualification. Here's the list of common question to test soft skills:
How do you change your schedule when something unplanned happens?
How do you prioritize your work if you have several pending deadlines?
How do you keep up the motivation when working on a project you have no interest in?
Do you have multitasking skills?
What are your stress management techniques?
If you're a startup, it's better to work with an outsourcing software development company. They often provide additional services for startups like SWOT analysis or business planning, and have cheaper prices compared to in-house employees.
You may find them on Clutch, GoodFirms, ITFirms.
Depends on their specialty. For example, iOS developers need to know Swift or Objective-C programming to create apps. Android programmers use Kotlin or Java, web—AngularJS, React, Javascript, HTML5&CSS (front end) or PHP, C#, Node.js (back end).
To find a programmers for a starup, you should prepare:
A list of core and unique features of your product
List of platforms you want to cover: mobile, desktop, wearables, TV
UI design of the future app
Rate this article!
841 ratings, average: 4.76 out of 5
Give us your impressions about this article
Give us your impressions about this article