Healthcare CRM Implementation: Essence, Importance, and Tips
Within today's market dynamics, we can observe the tendency of customer experience prioritization. Modern marketing dictates its own rules of business development, making interaction with customers the key to prosperity and profitability. The aspiration to deliver flawless services and attract a broader audience motivates many entities to adopt Customer Relationships Management (CRM) solutions. This on-demand technology helps provide an individual approach to every consumer as well as maximize the delivered satisfaction rate.
Such types of systems perform a vast number of functions, different depending on the domain of adoption. Among the sectors where the degree of client-organization relationship "sensitivity" is extremely high is primarily healthcare.
Let's delve into the details of CRM software development for healthcare, the system's significance, potential, and implementation process.
What Is Healthcare CRM and How Does It Differ From Others?
Customer Relationship Management (CRM) solution refers to a solution for controlling and operating all your business relations, communication, as well as interactions with clients and possible consumers. We may formulate the primary target from the technology's concept: to enhance the customer satisfaction from the delivered services to progress your company.
A CRM software implementation is a robust innovation path for entities to keep up with dynamic client requirements, optimize the workflow, allocate available resources more reasonably, and substantially increase the income. Due to the products' and services' relevance, the audience will expand within the shortest time possible, bringing high business profitability.
Covering the entire notion of such systems, we traditionally consider that it concerns a digital instrument for sales management, contact management, agent productivity, etc. However, modern CRM products are able to operate consumer interactions and behavior within the whole customer lifecycle, embracing its integral parts like sales and marketing, digital commerce, as well as client service communication. The target audience of CRM software is not limited to medical establishments and scientific studying organizations. It incorporates insurance companies and specialized hospitals, like hospice care institutions. Such elements as pharmacies, biotech, and clinical research institutions are also included in the list of those who stick to medical CRM systems adoption.
Enhance services' personalization
A custom medical CRM will increase client satisfaction, rising your business competitiveness
Customer Relationship Management is a great assistant for concentrating on your enterprise's interconnection with a more personalized approach spanning services delivered to consumers, your team, and personal or customers - covering the whole business lifecycle with them, attracting the potential ones, turning them into the devoted audience, and ensuring consultations and supplementary offerings within the interactions.
A CRM system is promising and profitable for a wide range of industries. Building a Customer Relationship Management system for healthcare helps medical vendors to obtain, sustain, attract clients, as well as deliver personalized services.
The medical CRM isn't bound to exceptional services providing - it manages healthcare clients, financial flows, and pharmaceutical establishments. In other words, it supports the entire healthcare industry. The most successful illustration of such a product for this specific sector incorporates users' medical, financial, demographic, psychographic, social, behavioral, and other additional details in a full-fledged solid software. Such functionality provides a broad and comprehensive view of the patients, their activities, behavior, and habits.
The insights state the following forecasts: the healthcare CRM market value is projected to amount to $17.8 billion by 2025, with a CAGR progress of 9.1%. The growth's driving factor is the growing average aging of the population which is a growing trend in many countries due to increased lifetime.
National Library of Medicine research: U.S. medical CRM market size
The increase of chronic health issues in the global society has raised the need for continuous medical conditions' monitoring. According to the National Library of Medicine insights, 25% of individuals under 45 years of age claimed to suffer from chronic problems. The age gap from 45 to 65 comprises approximately 50% of persons having such problems, and with 65 and older, this indicator rises to 81%.
The constantly increasing number of patients is the key factor that determines the necessity in the medical sector workflow streamlining and promotes the obligatoriness of medical CRM solutions.
How medical CRM system operates: workflow example
Within the booking of a new appointment, the CRM software automatically reminds both patients and healthcare providers, supporting multilingual notifications. In practice, some clients' consultations require a translator. In such circumstances, the doctor receives a notification via email or a text message as well (according to settings). Each vital occasion (rebooking, cancellation, patient absence, and others) drives notifications' delivery to corresponding parties.
After that, in case customers have completed the appointment successfully in the physical medical establishment, they are provided with a post-consultation survey link in the form of a text message or email list. Such an interview comprises the questions concerning how convenient the appointment booking was. Besides, it queries about the facilities' quality, the satisfaction of consultation with the medical expert, etc.
Patients who have missed the scheduled consultation receive a laconic survey incorporating questions regarding robotized reminders, absence motivation, and feedback on customer experience enhancement.
Healthcare CRM operation principle
What makes a Healthcare CRM system profitable?
Let's discover some more opportunities provided by the healthcare CRM implementation to define how it enhances the medical sector.
Accurate reports
A healthcare CRM is a tech tool that assesses the efficiency of your client acquiring as well as retaining strategies. For it, you are delivered with customizable insights assisting you in building the proper and relevant tactic tailored to your specific medical business. With the help of CMR, you are also able to classify and organize the client base to conduct an in-depth study and then accurately comprehend their requirements.
Enhanced communication
Forehanded specialists may benefit from a medical CRM to evaluate and monitor multi-channel sales indicators, such as SMS notifications sending, email, and conventional surface mail. (In practice, clients of an older age are adjusted to traditional printed mail post delivered to their address, whereas the audience of a younger age will prefer an electronic version of this data.)
Efficient marketing strategy
The medical CRM allows for creating a proper roadmap for your business's marketing campaigns more effectively. This is due to precise reports of the customer data the product assembles and analyzes. It's an immensely profitable point for building a solid plan for your business expansion.
Interactions personalization
Individual approach towards each patient with a healthcare CRM is possible since it enables adaptive and individual communication with each patient personally by name and in conformity with the chosen segmenting (according to the information the CRM extracts and keeps regarding every client). As it was mentioned earlier, your business possesses a robust reporting solution for the information, with insights to be built on the indicators and aims the healthcare company and all engaged parties set.
Third-party products' integration
With healthcare CRM implementation, you are able to get a full customer understanding since this solution assembles data from diverse sources (it may be the already existing EHR of your company, customer satisfaction surveys, etc.)
Healthcare CRM value for business
A medical CRM system's main purpose is to deliver customized reports and insights, perform direct mail campaigns, operate in conjunction with your existing digital solutions, work on several platforms, and ensure utter client management services.
Common Approaches to Healthcare CRM Implementation
There are several options for CRM development and implementation. The most common are the custom and off-the-shelf approaches.
Custom CRM architecture
The development from scratch is the most profitable option of all described. This approach allows the implementation of a healthcare CRM system comprising all the required features in accordance with your company's needs. The functionality will include only the necessary elements while being able to add the necessary advanced tools in case of a necessity. A one-time financial investment in healthcare CRM implementation will quickly be recouped, as such a product will help attract a large audience and expand your business.
Custom software development is considered better than off-the-shelf solutions for a few reasons:
Tailored fit. Custom software is designed and developed specifically to meet the unique needs and requirements of a particular business or organization.
Increased Efficiency. Custom software can automate specific business processes, leading to increased efficiency and productivity.
Competitive advantage. Custom software can provide unique features and functionality that sets a business apart from its competitors.
Scalability. Custom software can be easily scaled up or down to meet changing business needs.
Flexibility. Custom software can be easily modified and updated as business needs change, while off-the-shelf solutions may have limited customization options.
However, it's important to note that custom software development is often more expensive and time-consuming compared to off-the-shelf solutions, and may require ongoing maintenance and support. However, bespoke solutions will save you costs, time-to-market, and effort in the long run and allows business scaling.
Why is the last option not worth your attention? Off-the-shelf healthcare CRM solutions may be considered as irrelevant for several reasons, such as:
Lack of customization. One size does not fit all, and off-the-shelf healthcare CRM solutions may not be able to meet the unique needs of each healthcare organization.
Inadequate security measures. Healthcare organizations deal with sensitive patient data and must comply with strict data protection regulations. Off-the-shelf healthcare CRM solutions may not provide the level of security required to protect patient data.
Limited integration. Off-the-shelf healthcare CRM solutions may not integrate seamlessly with existing systems and processes, leading to a fragmented user experience.
Inflexible reporting and analytics. Healthcare organizations require accurate and detailed reporting to monitor performance and make informed decisions. Off-the-shelf healthcare CRM solutions may not provide the level of reporting and analytics required.
Higher total cost of ownership. Off-the-shelf healthcare CRM solutions may have hidden costs, such as the cost of customization, integration, and training, that can add up over time.
Ultimately, the effectiveness of a healthcare CRM solution depends on the needs of the organization, and off-the-shelf solutions may not be the best fit for all organizations.
CRM module integration
If you have a healthcare business product, you have the opportunity to increase its potential and usefulness through the implementation of a CRM module. That way, you don't need to develop a standalone solution, which requires a solid financial and time investment. You get a module with the functionality that brings the above benefits.
Off-the-shelf software
Currently, you can find a lot of ready-made solutions that can be integrated into your healthcare business workflow at reduced costs. However, it is worth remembering that such readymade products will not be tailored to your business-specific requirements. In addition, the lack of custom functionality leads to the fact that some of the features of the system will not be needed, and some of the necessary ones will be absent, which is a serious disadvantage.
A basic healthcare CRM system will enable medical client data processing, communication, task operation (covering charts, timetables creation, and notifications), analysis, and insights generation. The aforementioned features incorporate a range of capabilities that may vary in accordance with your demands.
Basic Healthcare CRM Functionality
Below we've prepared an exemplary list of essential features you should take into account when developing healthcare CRM software from scratch.
Patient data management
The essential elements of client information operation and processing are patient record storing, modification, and tracking. For this, the medical CRM should comprise the two databases:
Centralized patient database. This is a storage that keeps patient data, such as contact data, insurance, clinical data, analysis results, and pharmaceutical treatment.
Template documentation database. It provides an opportunity for the healthcare vendors to deliver customers with diverse forms that should be completed quickly. The format of a template guarantees that no vital information is missing.
The patient's personal details, insurance and billing information, and appointment history are all securely stored by healthcare CRM software. Medical personnel can access, modify, and use this data from any location at any time, which improves record accuracy and consistency, frees patients from filling out paperwork at each appointment, and makes communication easier.
Interactions
This feature's main aim is to establish quick and easy communication between the medical vendor and patients as well as apply digital marketing tools.
Call operation. The system robotizes the processing of incoming calls. In combination with showing relevant details concerning the client, available physicians, and their timetables within the communication session, the CRM software is able to deliver voice messages recorded previously as well as bots.
Newsletters and mailing lists sendings. The product is able to conduct structured automated and personalized mailing lists sending depending on the goal (individual offers, marketing, premium programs, etc.)
Patient segmentation. CRMs allow medical staff to group patients based on their behavior, demographics, treatment plans, examination results, and other criteria for more personalized service delivery and marketing.
Rates and reviews assembling. A CRM solution may be embedded in a web platform of your company to collect feedback from customers. This way, you may come up with new strategies concerning how to enhance the medical services provided by your entity.
Task operation
The implementation of this feature allows assigning and monitoring the internal processes' performance. With it, the process of team management, as well as steps of work completion tracking, are more straightforward. Integrated dashboard. This function aims to obtain online customer information changes, assignments, booked consultations, and other data concerning the medical workflows.
Consultations' booking. The medical customer relationship management software streamlines appointments' reservations and allows easy-to-use schedule monitoring and modifications' conducting. The feature may comprise instruments for marking, and grouping booked consultations with the help of an implemented filtering system.
Schedule and reminders. An integral function that assists healthcare employees quickly and easily operating and changing calendar events and set automatic notification sending to remind both parties regarding the upcoming consultation and track calendar changes (if any).
Performance observation. The essential element of every CRM solution is the feature that allows tracking staff productivity. This tool provides employees' efficiency insights, via which you are able to set key performance indicators according to the peculiarities of your company. Therefore, it allows for tracking the performance and demand of each medical specialist, as well as the necessity in a specific service type.
CRM users can keep on track by receiving reminders about upcoming events, urgent tasks, scheduled maintenance, training sessions, etc. by automating routine activities. It enables departments to send tickets, exchange requests and information, and get the assistance they require immediately. To properly allocate the workload, managers can check the status and schedule of their team. A mobile CRM app enables secure and legal communication between professionals working in various locations.
Sales and marketing automation
Healthcare CRM systems can give marketing teams data for effective patient segmentation and promotion targeting. It makes gathering input easier, which aids in understanding correlations between patients' demands. While doing so, firms can enhance their performance, spot high-risk patients, and lower turnover by monitoring patient satisfaction. One of the key functions of medical CRM is lead management, which enables prompt follow-up on leads and identifies any persistent lead nurturing problems.
Customer service integration
Client service representatives have immediate access to pertinent patient data and staff schedules. As a result, they can efficiently respond to patient inquiries via any channel, including phone calls, text messages, social media posts, live chat, and email, and schedule appointments with the appropriate specialists and other informed actions.
Referral management
All-round patient journey data is contained in CRM for doctors. With this knowledge, hospital staff may set up a referral appointment automatically, remind patients if they don't show up, and follow them up on the following stages. Such information can be safely shared across departments, healthcare facilities, and practitioners by simply exporting it from the hospital CRM.
Document management
In CRM, all patient management documentation may be safely kept and promptly made available upon request. Documents like invoices and certificates can be quickly, conveniently, and legally created using a range of built-in templates. Your workers will be able to concentrate on patients and high-alert work while reducing operational costs by reducing paperwork and automating record-keeping activities.
Insights and analysis
CRM software for the medical industry may evaluate data from customer service, marketing, and sales processes, and provide key results. It aids in measuring campaign outcomes, identifying the most effective acquisition strategies, and tracking marketing and sales performance. It also aids in identifying conversion-influencing elements. Analytical dashboards can offer a clear and thorough overview of the leads, opportunities, patients already on the books, and patients who have been recommended.
Custom reports completion. The main purpose of a client relationship management solution is custom insights creation based on your business requirements. To illustrate, the indicators and metrics analyzed by the CRM may relate to the number of clients by the healthcare establishment, the regular time required for each medical session, or the most common health issue diagnosed by your experts.
Analysis instruments. Such tools assist in preparing reports and precise analytics based on the set metrics. To illustrate, this feature allows assessing and tracking one-time or regular outgoings related to medical services delivery and estimating budgets for the healthcare business's promotional campaigns.
Solid security. Sensitive medical data of patients must obligatorily be protected with a robust safety system for health record security. For this goal, you may implement functions like access management and two-factor authentication.
Last but not least, if you have other stand-alone medical solutions, such as an e-prescription or EHR, your healthcare CRM system should easily integrate with them for secure data sharing and processing.
The range mentioned above doesn't represent any advanced features, so the sophistication of your CRM isn't limited. However, the list comprises key functionality which is implemented in each solid system of this type.
Modern Solutions to Improve Customer Relationship Management
It's time to discuss the technologies that will make your healthcare CRM state-of-art, implementing the latest market trends.
Cloud-based solutions
Cloud-based software for healthcare solves a row of frequently faced issues and assists healthcare vendors in concentrating on the primary aspect: client satisfaction.
The cloud serves as storage with solid protection for keeping and accessing patient data regardless of the device, time, and location. Non-cloud products store these details via a physical hard drive or internal server. When it comes to the cloud, on the contrary, it enables information to be kept and maintained on a global network of secure data centers.
Deep learning
Deep learning is a model of machine learning and artificial intelligence (AI) that simulates the way people obtain specific types of knowledge. Deep learning is nowadays considered to be a crucial part of data science, the main target of which is to include insights accompanied by forecast creation. Such an opportunity is highly promising and advantageous for medical data scientists, the main responsibility of whom lies in assembling, processing, and interpreting vast data loads. All the mentioned tasks are much quicker and simpler with deep learning.
In other words, deep learning is a smart tech tool for predictive analysis automation. In contrast with conventional machine learning algorithms, the deep learning operation model is dynamic, delivering more and more accurate outcomes.
Telemedicine and telecare
Telemedicine implies the remote delivery of medical services (to illustrate, patient monitoring and consultations) and the interaction of medical professionals with one another by means of telecommunications technology. The application of such solutions is borderless and is nowadays utilized in a range of global medical corporations, especially within the COVID-19 global pandemic, which has forced a rapid digitalization process. You can integrate such software with your custom healthcare CRM solution and extract the essential details about your customers to bring your patient serving to the next level.
Lynda Peel

Program Manager, Data and Process St. Luke's Health Systems

Telehealth is not going away, and COVID has really brought that to the surface. Students should be learning about telehealth when they're experiencing it in the clinical setting.
Electronic document flow, medical education, remote patient monitoring, consultations, in-app prescription providing, and many other integral digital and telecommunication technologies have already become an indispensable part for many healthcare providers to deliver top-class medical services and expand their business.
How to Implement CRM in Healthcare Avoiding Problems?
We've prepared the most common challenges you may face within the architecture and ways to properly handle implementing CRM in healthcare.
Medical environment cohesion
Healthcare CRM implementation is a pretty challenging task due to the complex basis of the medical market sector as well as the issues such software products are striving to overcome. When it comes to healthcare, it's vital to understand that this domain's institutions adapt to the patients, fully reflecting their particular requirements and problems.
The medical industry is a separate environment that constantly processes and exchanges medical data, so there are no standalone organizations that completely retain the client. This sector operates almost as a living organism, with specific elements like a clinical center, support department, marketing hub, financial one, and many others. They all function in conjunction to deliver a seamless experience to the audience and provide an individual medical patient journey for each customer.
Therefore, it's vital for medical establishments to exclude fragmented data and apply a joint model to get an utter across-the-board study of the clients, accessible to all medical workers. This approach delivers enhanced unity of the audience, medical vendors, and B2B organizations.
Proper healthcare team training
One more issue may be the medical staff and the solutions they should know how to work with. Healthcare employees should be aware of what the CRM system implementation can deliver and may just stick to previous workflow methodology without involving the software. To show all the opportunities and efficiency of the product, you should conduct comprehensive team training and guidance to make sure each specialist knows how to execute the given responsibilities correctly with the healthcare CRM.
Adhering to the right implementation pipeline
Proper project roadmap and gradual implementation are vital for CRM product quality. The main stages of the customer relationship management system implementation are as follows:
Planning
Analysis
Design
Implementation
Maintenance
Apart from this, it's vital to choose the appropriate tech stack complying with both the industry and the business peculiarities. For the web-based CRM, the set of digital tools may be relevant:
Frontend:
JavaScript
HTML
CSS
TypeScript
React
Backend:
Please remember that the stated solution stack is exemplary and may vary within the healthcare CRM implementation according to the specific project requirements.
Turnkey Custom CRMs for Healthcare Businesses
The Healthcare industry is a sector that requires a high level of in-depth expertise when it comes to digital product development. Therefore, choosing a software development vendor is a crucial aspect of future medical CRM system quality.
Cleveroad is an IT outsourcing company specializing in the creation of technical products for a diversity of domains, including healthcare. As for telemedicine, Cleveroad's specialization covers custom CRM, EHR, EMR, ERX, and other tech products for the healthcare industry.
Our primary objective is to deliver healthcare entities such as hospitals, laboratories, and pharmacies, with turnkey tools that will optimize internal medical business processes.
QMS from Cleveroad
To illustrate our capabilities for customers, let us introduce one of our projects similar to CRM in the medical industry.
Quality management system from Cleveroad is a B2B SaaS product, the main aim of which is to streamline and robotize the document flow. Custom web-based QMS solution tailored to our customer's requirements ensures a high clearness and transparency for the business workflow, enhancing the quality of delivered medical services, as well as meeting FDA and ISO certifications guidelines obligatory for the healthcare sector.
Healthcare Quality management system from Cleveroad
We'll gladly develop a similar product for you (and healthcare CRM is also possible as it's similar by its logic complexity), meeting the company's goals of your healthcare establishment and reflecting your business context.
Optimize your healthcare business
Cleveroad tech experts will eagerly build sophisticated CRM features for excellent patient journey
Frequently Asked Questions
A CRM software implementation is a robust innovation path for entities to keep up with dynamic client requirements, optimize the workflow, allocate available resources more reasonably, and substantially increase the income. Due to the products' and services' relevance, the audience will expand within the shortest time possible, bringing high business profitability.
Proper project roadmap and gradual implementation are vital for CRM product quality. The main stages of the customer relationship management system are as follows:
Planning
Analysis
Design
Implementation
Maintenance
Accurate reports
Enhanced communication
Efficient marketing strategy
Interactions personalization
Third-party products' integration
Here's the exemplary tech stack for a web-based healthcare CRM system:
Frontend:
JavaScript
HTML
CSS
TypeScript
React
Backend: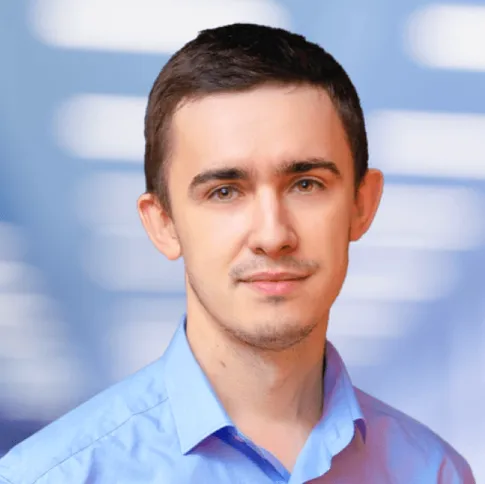 About author
Evgeniy Altynpara is a CTO and member of the Forbes Councils' community of tech professionals. He is an expert in software development and technological entrepreneurship and has 10+years of experience in digital transformation consulting in Healthcare, FinTech, Supply Chain and Logistics
Rate this article!
856 ratings, average: 4.70 out of 5
Give us your impressions about this article
Give us your impressions about this article