How Much Does It Cost to Design a Mobile App: Instagram and Uber Examples
The point is this: similar-looking apps flood the application marketplaces. For example, there are more than 1,8 million apps in the App Store, and Google Play offers about 2,47 million apps. So, if you want to get a top-class interface, you should invest money in your mobile app design price. Why is it so important?
People might be attracted by application functionality, but the design is the very thing that makes them hold attention to your app for a long time. Working through the app user interface/user experience (UI/UX) features, you can understand the customers' problems and solve them to build a best-selling software. On top of that, you can leave your business competitors far behind with the help of exceptional design.
But how much time will UI/UX creation require? How does the design creating process go? And the essential thing, how much does it cost to design a mobile app? In the article, we'll answer these questions and present the estimated app design wages of such well-known apps as Instagram and Uber.
The Stages of UI/UX Design Process
To define the development stages and the app design cost, you should choose a mobile application type:
Native Mobile Apps
Such applications are built up for Android and iOS specifically. That's why they can function quickly and flawlessly on a picked platform only. Though native mobile app development requires much time, money, and people resources creating several versions for different operating systems.
Web Applications
If you want to obtain a lower mobile app design cost with qualitative results like for native applications, you may choose web apps. They can look like native ones but function with the mobile browser's help without installing on the user's gadget. Thus, they can be combined with several platforms and updated immediately.
Cross-platform solutions
They can mix the features of native apps and web ones. That's why cross-platform apps are quick and easy to maintain. So, their application design cost is also lower than for native mobile apps.
Now, after an app type has been chosen, let's concentrate on the workflow. App design is commonly represented by a user interface and user experience. But every software development team or company works on its creation differently. We'll illustrate below how the software companies create design through the Cleveroad workflow example.
Stage #1: Immersive Research
At the beginning of the UI/UX development process, our design specialists analyze the competition, business objectives, and target audience of the upcoming product. This way, the team identifies the users' needs to create the future design adapted to them. After an information gathering, the UI/UX specialists start developing an app design.
Stage #2: Building up Wireframes
It should be noted first that every software development company should have a specification or set of requirements for wireframes building.
A wireframe is represented as a conceptual scheme of all the elements placed on the app's screen. It helps users realize the future look of the app and offer their amendments. Cleveroad team builds several design models per request using the InVision design platform, Figma, and Zeplin. The customers also can follow it and comment on the process or choose the most attractive design sample according to the situation.
So, the wireframes can serve as a fast instrument for creating a solution visualization. Moreover, they are efficient and easily changeable.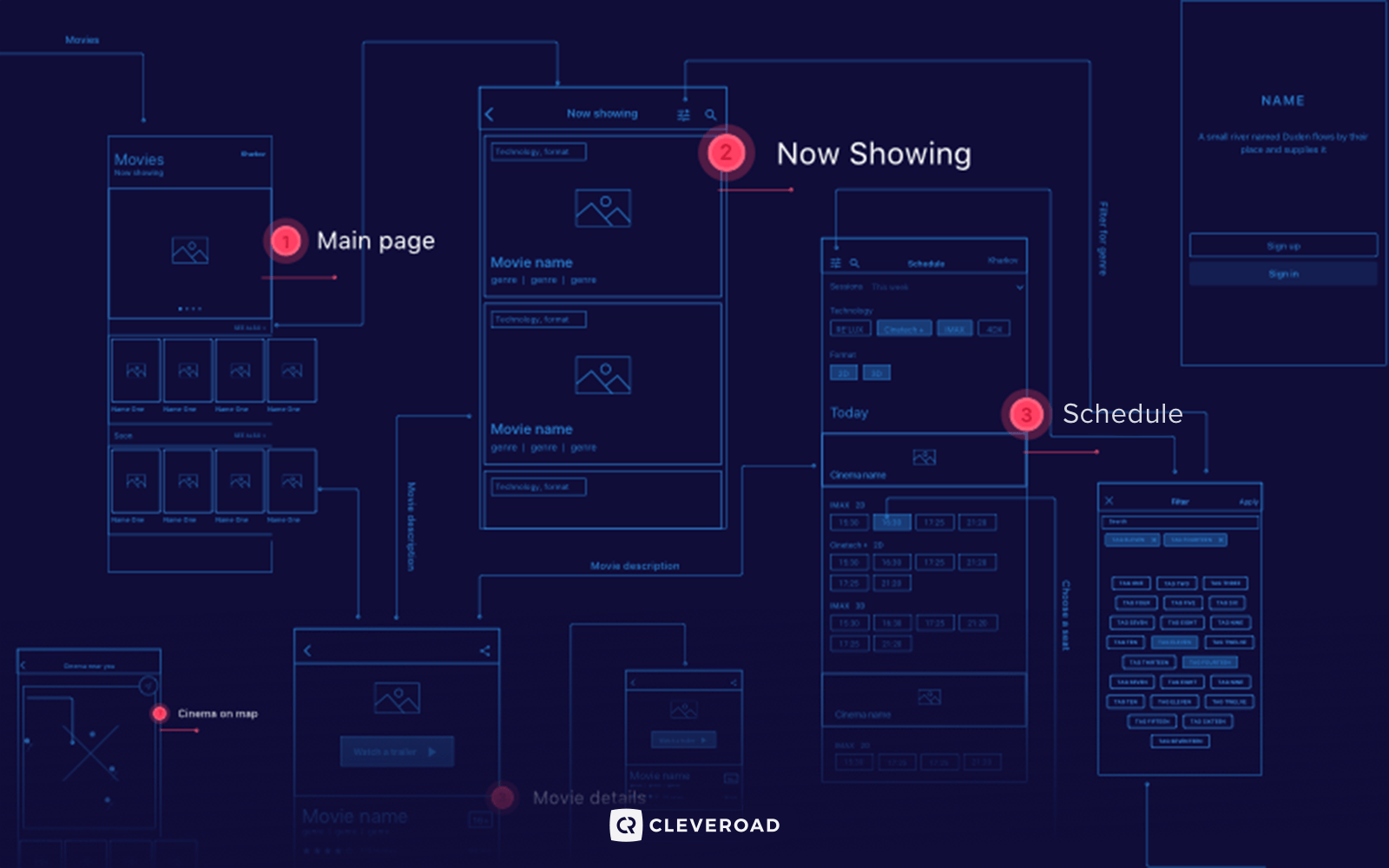 Wireframing process at Cleveroad
Stage #3: Prototyping
Prototypes are the model sets of the app's final look, which serve as the basis for the whole UI development. Each application screen is prototyped separately.
Let's view the UI/UX creation peculiarities according to mobile operating systems and gadgets where the app will be used. The experts usually start preparing the UI design version for iOS and Android for the project intended both for two platforms. UI/UX versions for tablets, phones, and other devices are created together with the main design but estimated individually.
At this stage, the customers can also offer their amendments, give feedback in InVision or Figma, and choose which prototype is the most appropriate for their application. Cleveroad, as most companies, can provide clickable or static prototypes upon your request.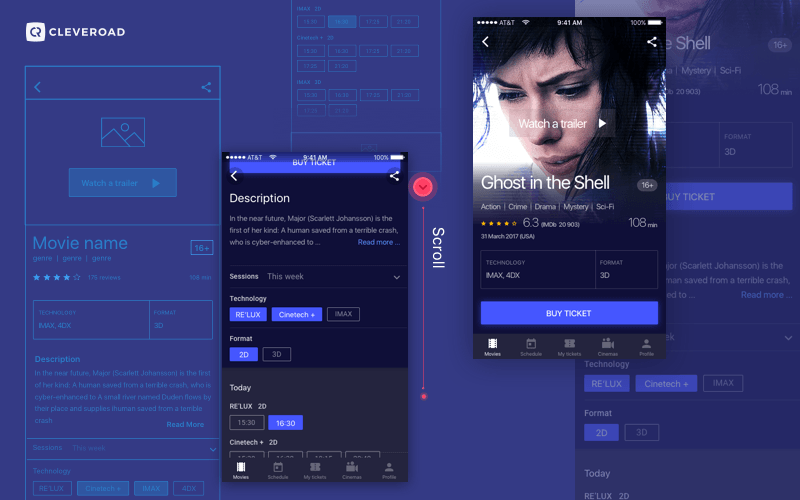 App user interface design process at Cleveroad
The other stages consist of building up graphic elements such as icons and illustrations or preparing complex animations and individual evaluation of mobile UI design costs.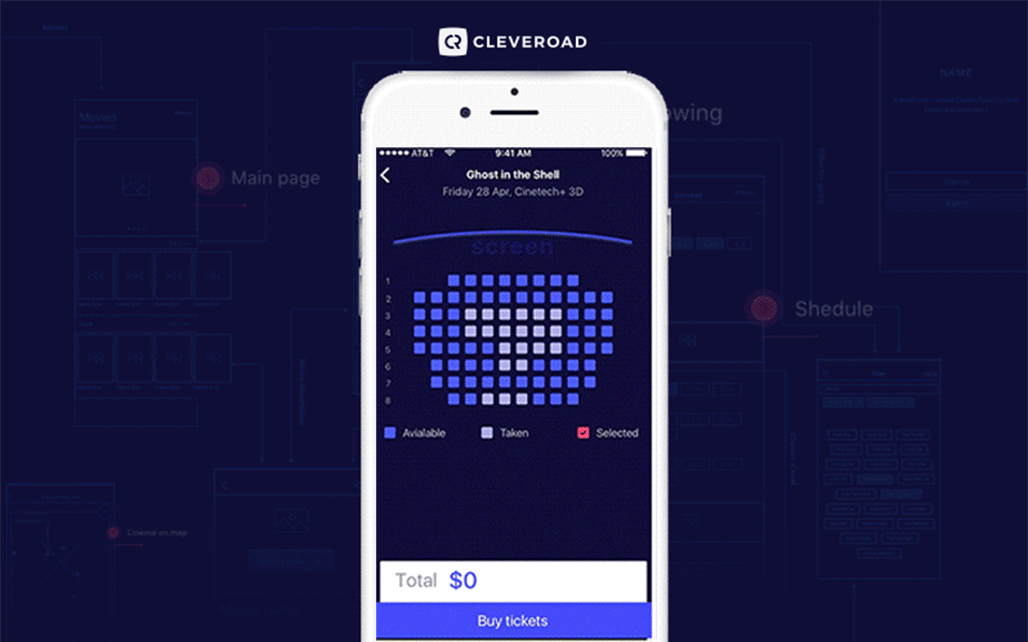 App animation by Cleveroad
App Design Costs By Region
How much is it to design an app in different countries? Each IT company evaluates the processes differently, but most companies follow this evaluation sample:
hourly rate х number of hours spent = application design charge.
Imagine that you develop an Uber-similar solution, outsourcing the design features to Ukraine. Some approximate estimates: 246h (max time for design) x $50 (Ukrainian hourly mean wage) = $12,300 (for Android and iOS solutions)
Though, you will obtain an Uber app design cost in detail a little later. Now it is time to clarify some important questions. What if the price for building an app interface seems heavy? Qualified UI/UX specialists' work has to be well-paid because every software expert's service has a high price tag.
For instance, the cost of top design services may include hourly amounts to $150 in the USA or Canada. That will be up to $36,900 for the Uber-like iOS and Android UI/UX design. Here's the thing: if you don't have well-skilled design specialists around (or the app designers cost too high), you can use the services of software development companies abroad.
How much does an app designer cost? It depends on the company residence place. So, to assist you in the outsourcing destination choice, we have made up a list of the design wages from different countries on such platforms as GoodFirms or Clutch.
The average design rates by countries:
United States, Canada charge $100 - $150/h;
Australia gets $100 - $149/h;
Western Europe & UK asks for $50 - $99/h;
Eastern Europe (including Ukraine) delivers great design at $25 - $49/h;
India works at $25 - 49/hr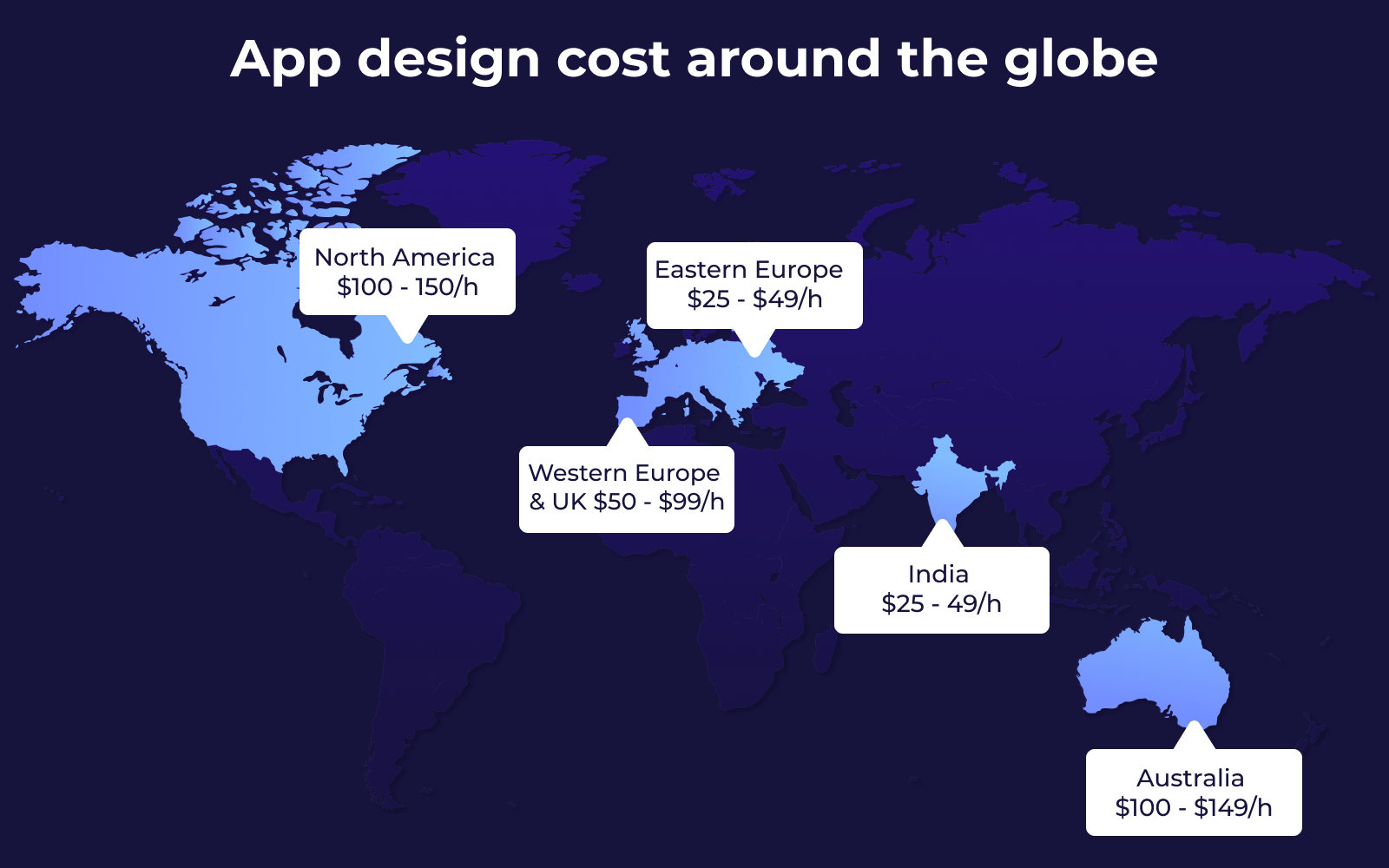 How much to charge for app design: costs it different regions
But the best cost should satisfy the best quality. So look for it, investigate the marketplace for a better quality-to-price ratio, and carefully read all the company information. After that, the question of how much does app design cost will not be so sharp, and you'll be able to avoid unexpected moments.
Picking a trustworthy service provider, do the following steps:
Examine the portfolio of the chosen firm as well as app design company cost
Observe company reviews published on GoodFirms, Clutch or IT Firms
Discuss the cooperation experience with the company's prior clients
Check confidentiality matters (signing NDA, etc.)
Uber and Instagram: Design Cost Evaluation
Among the most influential apps of the decade, Instagram and Uber take pride of place in their innovative UI/UX design. For this reason, we will look in detail at these solutions. Furthermore, you'll figure out their app design pricing for every screen.
Uber
Founded in 2011, Uber changed from a locally known San Francisco taxi service to a global transportation system. During the fourth quarter of 2020, Uber had made over 1.44 billion trips.
What is the reason for such popularity? Thanks to their intelligent and straightforward app interface, taxi calling activity turns into a video game, and the users love it very much.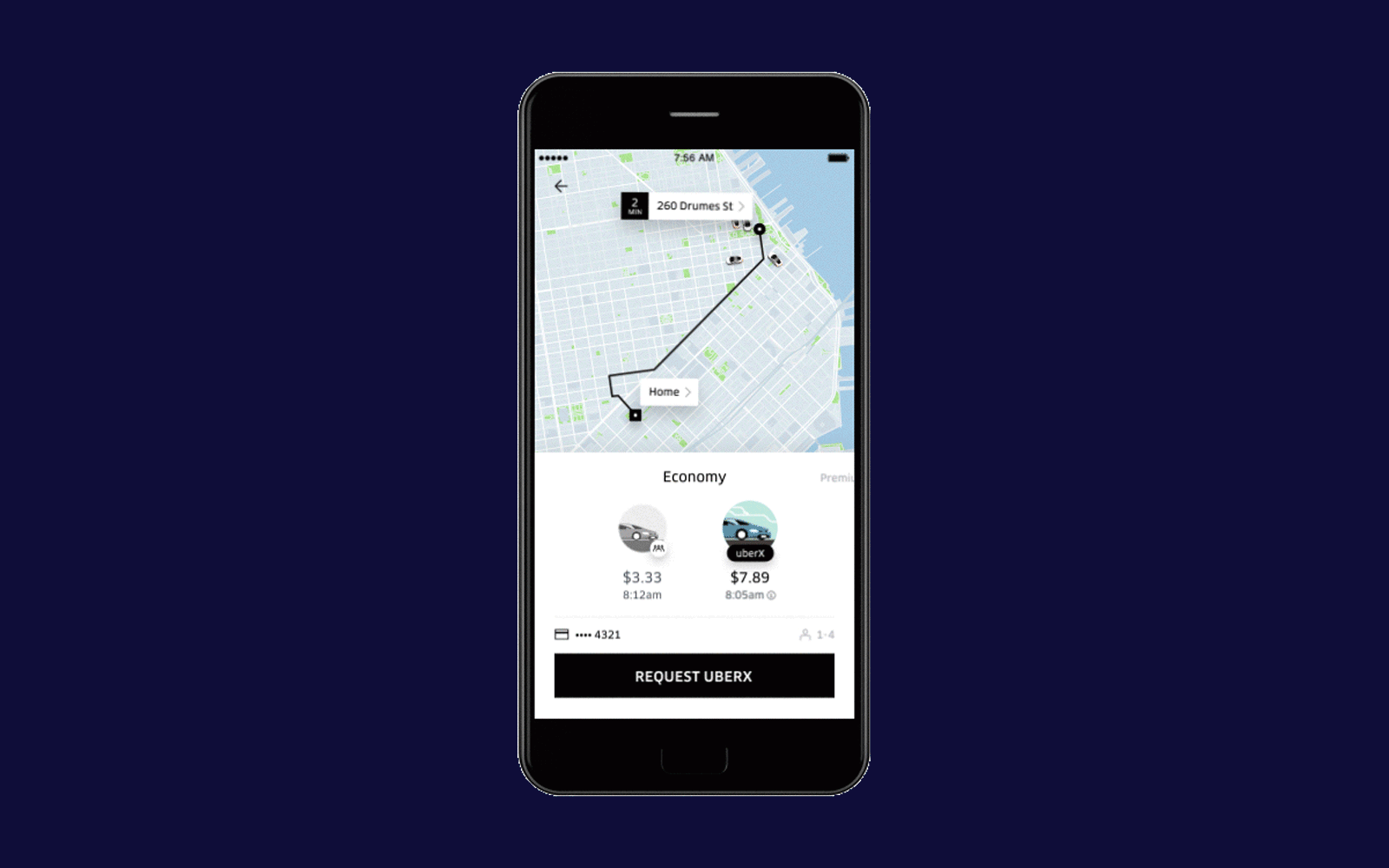 Moreover, by creating an easy-to-use interface, Uber has cared about both the passengers and drivers. Though, all the complexity is hidden inside the app.
Our business analysts gave time estimations for creating a UI/UX design of both Uber apps – for riders and drivers.
Uber UI/UX design evaluation:

| Platform | Passenger app | Driver app |
| --- | --- | --- |
| iOS | 126h | 120h |
| Android | 88h | 84h |
The data indicated above shows approximately the design building time for Android and iOS operating systems. There is no admin panel info because it is usually represented just by a web version.
The designers usually create the entire UI/UX interface for one operating system (generally, iOS) and then adapt it for the second (Android). According to such information, the Android interface takes 60-70% less time than iOS.
It is also a rough calculation because the precise wages are influenced by UI/UX interface complexity. At the same time, the MVP version design will be cheaper.
Now, let's check how much Uber's iOS and Android app design cost in different regions:
US/Canada. $20,900 - $62,700
Australia. $20,900 - $62,700
Western Europe. $20,900 - $41,800
Eastern Europe. $10,450 - $20,900
India. $8,360 - $20, 482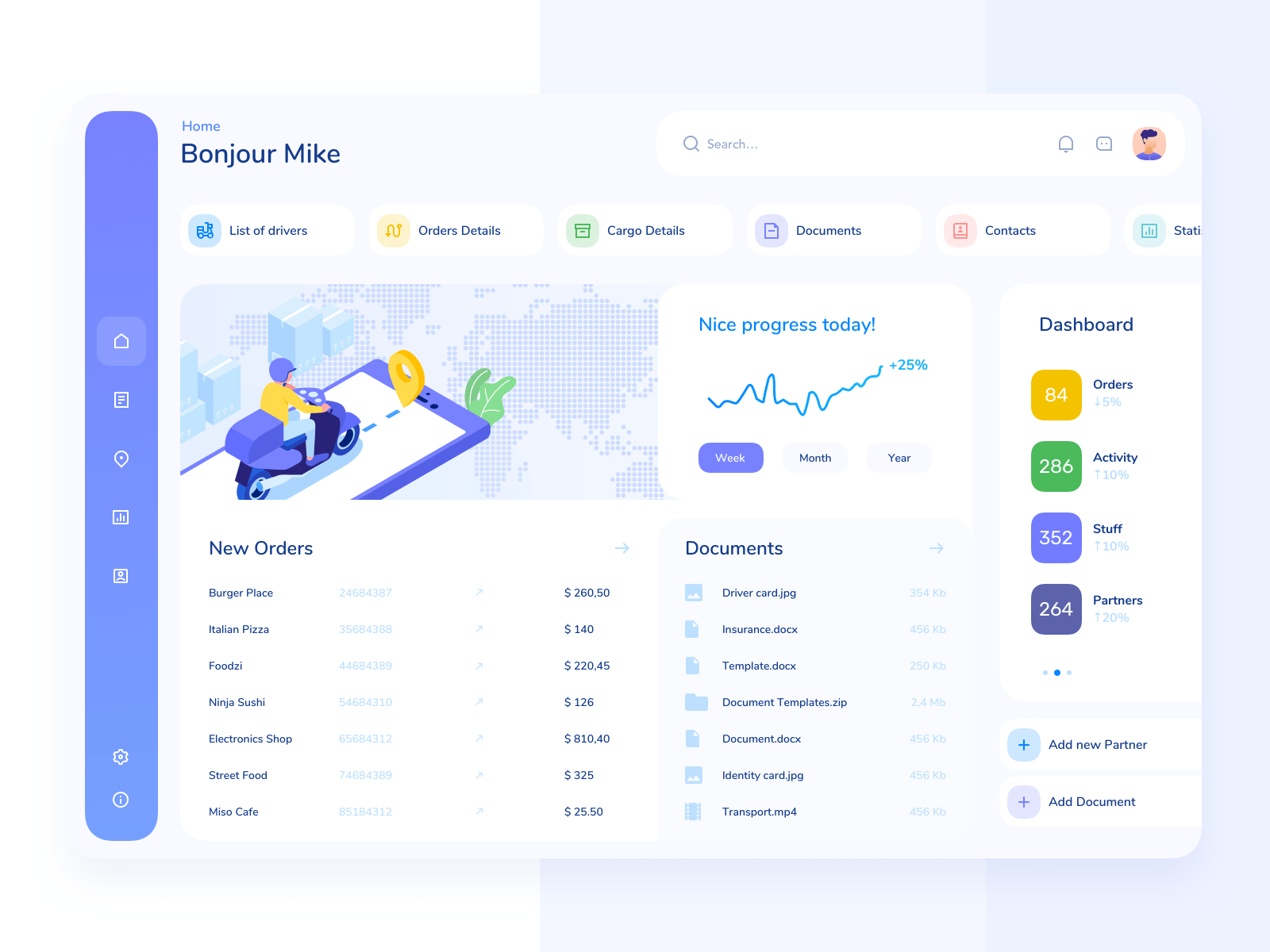 Cleveroad Dribble concept: admin panel for on-demand delivery service
Instagram
If the application is oriented to graphic content, its UI/UX interface can't be poorly created. So, the Instagram designers acted responsibly, investigating users' psychology, art, and science. And the result is that the app has an average of 4.5/5 stars due to its well-worked design. Moreover, the users love it despite bugs, improvements, and crashes.
The time estimation of Instagram UI/UX interface development:

| Platform | Hours |
| --- | --- |
| iOS | 214,5h |
| Android | 150h |
Here is the average app design cost for Instagram-like solution estimated for specific countries:
US/Canada. $18,250 - $54,750
Australia. $18,250 - $54,750
Western Europe. $18,250 - $36,500
Eastern Europe. $9,125 - $18,250
India. $5,300 - $17,885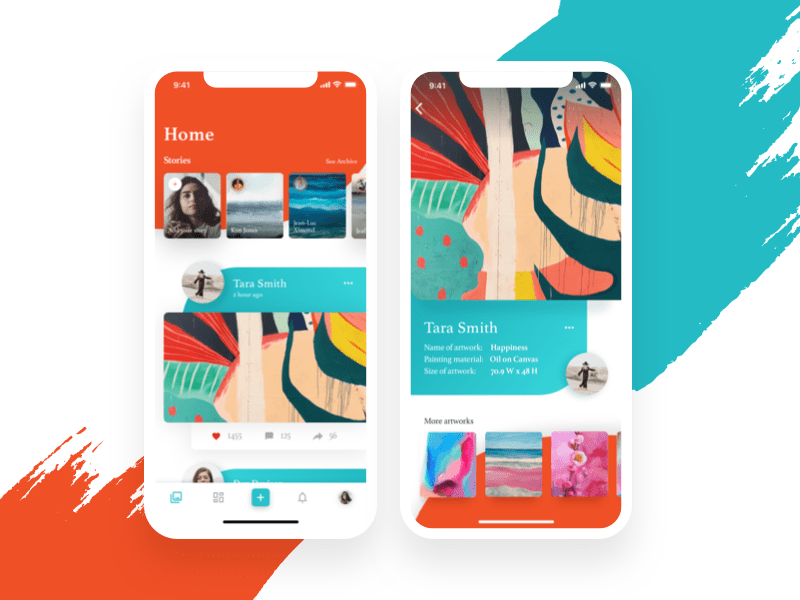 Our concept of a social media mobile app
Our Expertise
Here, in Cleveroad, we have 10+ years of experience in providing high-end UX/UI design services. Our design specialists start working from the very beginning of the application building. During the workflow, they cooperate with different specialists, such as developers, business analytics, and QA engineers, to reply to lots of questions like "how much does an app cost to design?" while planning an application budget and other ones. For creating interfaces and cooperation with clients, the designers use Sketch, InVision, and Figma.
To demonstrate our design specialists' work results, we want to share one of our cases – RetailOps redesign. RetailOps is a unified SaaS platform for the back office that offers various tools for retail companies.
The iOS platform is constantly improving, so the design requirements for its apps also change. That's why the RetailOps owners wanted to redesign it and turn the interface into a more helpful and convenient one. Thus, our designers clarified the mobile app UI design cost, and then they built from scratch the mobile app UI/UX interface to become more user-friendly and well-known among the retailers.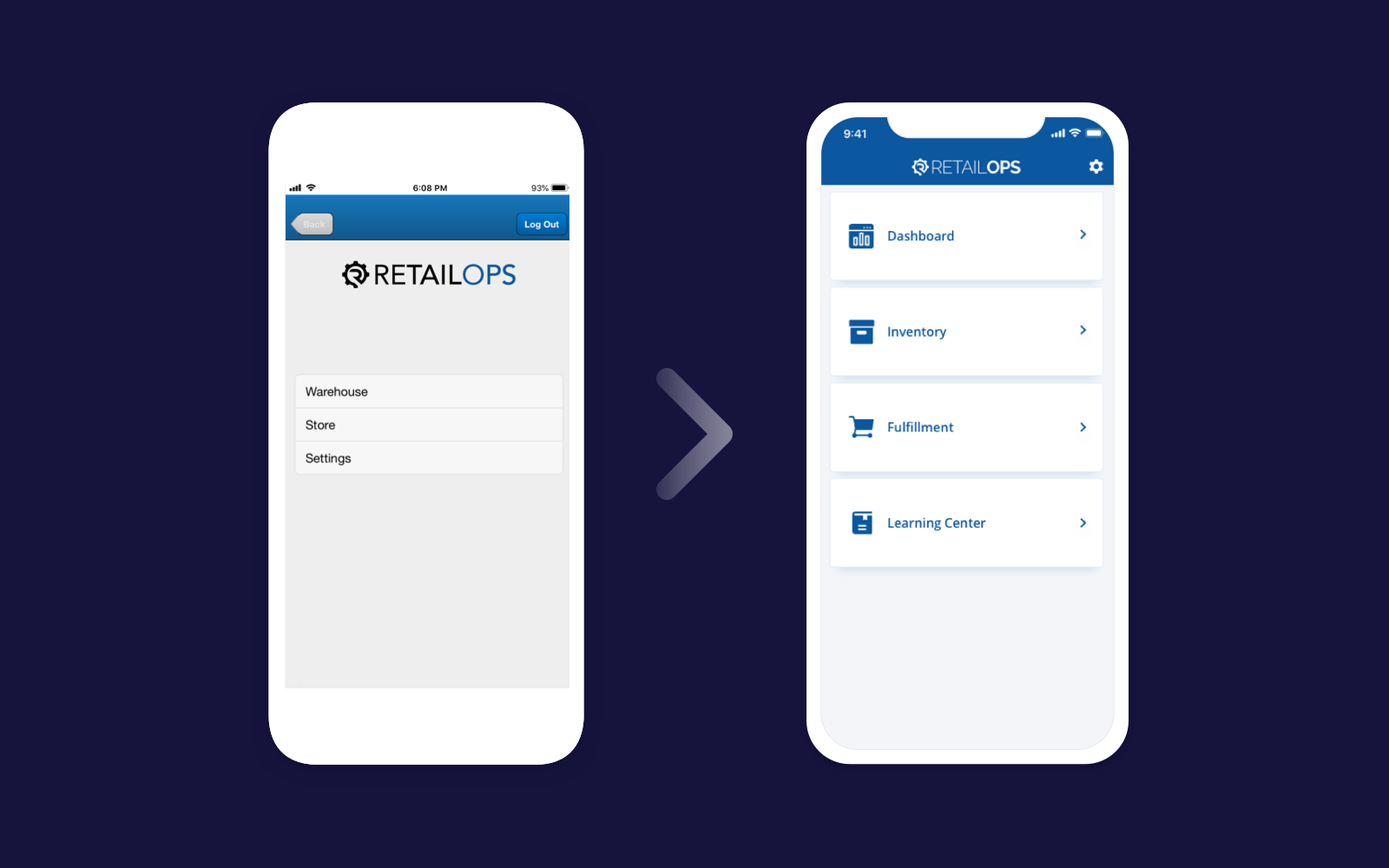 Thanks to the given example, you can see that the exceptional design and the correct approach may help you gain success and constant popularity for your business.
Want to see more of our works? Take a look at our portfolio! Or check Dribble and Behance accounts to see our brand-new shots and works.
Frequently Asked Questions
It relates to the complexity of the upcoming project. For example, such apps as Uber or Instagram can take up to 400+ hours to build a high-quality design.
Though, the initial MVP interface will be ready in a few working days.
Use this formula for the cost calculation: hourly rate х number of hours spent = app design cost.
For instance, if you need UI/UX app design close to Uber's and your designer charges $50 per hour x 246h (max design time) = $12,300 (UI/UX design of iOS and Android apps).
Hourly rates often depend on the designers' location. For example, in the United States and Canada, UI/UX designers charge $100 - $150 per hour. European designers work for $50 - $99/hr while in India UI/UX design services cost $25 - 49/hr. So, the question of an app designer cost for an hour is clarified.
We follow these steps:
Step #1: Research
Step #2: Creating wireframes
Step #3: Building a prototype
Step #4: Handing the project over to developers
Rate this article!
22052 ratings, average: 4.96 out of 5
Give us your impressions about this article
Give us your impressions about this article
Amelia Richardson
04.08.2021 at 09:13
Thanks for sharing this informative post!!And I am clear with "How much does it cost to design a mobile app" great job!!