How To
Disclosed: How Much Does It Cost to Make an App Like Instagram in 2018?
The photo sharing phenomenon is becoming more and more popular over the years and, therefore, the demand for engaging social media platforms is on the rise. Its no surprise Instagram has conquered the market of photo sharing platforms and the love of users. Whats more, thanks to Facebook, Instagram also became a powerful marketing tool for individual and business use.
Such a stunning success and ever-growing demand for interesting products have made many entrepreneurs think of how to make Instagram app of their own. If youre one of them then youre at the right place.
To calculate the cost of the project, you need to be clear as for functions and features it will have. Basing on the fact that the future applications star is going to be an Instagram-like, let's look at what the app building is actually about and what its main features are.
The evolution of Instagram
Successful digital products never stop evolving. Except for multiple new features which have appeared over the years, Instagram has undergone a variety of design changes which were both minor and major.
It's needless to say how important the user experience is for driving new users and retaining the existing ones. Nowadays, UI/UX design is just one more component that helps to stay competitive by delivering a good experience to app users. If you look at apps like Instagram, Facebook or Snapchat, you will notice that their technically complicated features are wrapped into an easy-to-use sheath due to their harmony with the design.
So, all the features your app is packed with should also be wrapped into an aesthetic design to enhance the user experience. Correspondingly, if you want to create app like Instagram you have to be ready to invest not only in the technical side of your product but design as well.
However, the design isn't the only thing Instagram has improved over the years. There is also an impressive list of technical features introduced to the app between 2017-2018:
Stories Highlights -- a section where users can import their ongoing and past stories so that others could see them on a constant basis.
IGTV -- a YouTube rival with horizontal videos.
Shoppable posts -- business accounts are now able to mark their goods on photos.
Explore page -- it was rethought and redesigned.
This is far from the full list of features arrived for this period of time. As you see, constant product development is a must if you want to create an app like Instagram that's capable of competing with other big players.
We built a variety of photo sharing apps for customers from all around the world. And one of the things we've learned is that photo sharing apps have to stand out from the crowd and offer unique features. For example, the app Fademarks we were working on is designed to place user photos on a map instead of a traditional feed which is a more convenient way of sharing photos for certain audience. Such a step has helped this app to find its place in the overcrowded market.
Think of the uniqueness of your app and what new opportunities it brings to users. That is the only way to create something worthy.
Instagram technology stack
Even if you're a non-technical founder, the knowledge of IT basics and technologies your app is running on will be a huge plus for you. In this section, we define the Instagram technology stack which might suit your app too or at least provide guidance for you.
Technologies used for Instagram app development
Languages:
JavaScript
Python 3
Java
Objective-C
DevOps tools used for Instagram app development
Webpack

-- JavaScript module

bandler

.

Babel

-- JavaScript compiler.

Sentry

-- cross-platform application monitoring.

HAProxy

-- load balancer and proxy server.

Jest

-- JavaScript unit testing.

Nuclide

-- Integrated Development Environment (IDE).
Instagram technology stack
As you see, Instagram has an extensive infrastructure, which is not surprising in view of the engineering need for withstanding heavy loads as well as the company's ever-growing demand for rapid mobile development. The last is the reason why they have chosen React Native as a part of the technology stack.
However, to build app like Instagram you should also consider computing power required to maintain the app. For example, Instagram uses the following cloud computing services:
Amazon S3
Amazon EBS
Amazon EC2
!
Note: Consult with professionals concerning tech stack for your project. The final set of technologies to build your own Instagram app should be selected based on its technical needs and peculiarities.
Create Instagram app: Basic features and their development time
It's time to dig deeper into the topic of this article and understand how to build an app like Instagram. In most cases, it's more reasonable to start off of an MVP (basic app features) and gradually add new functionality.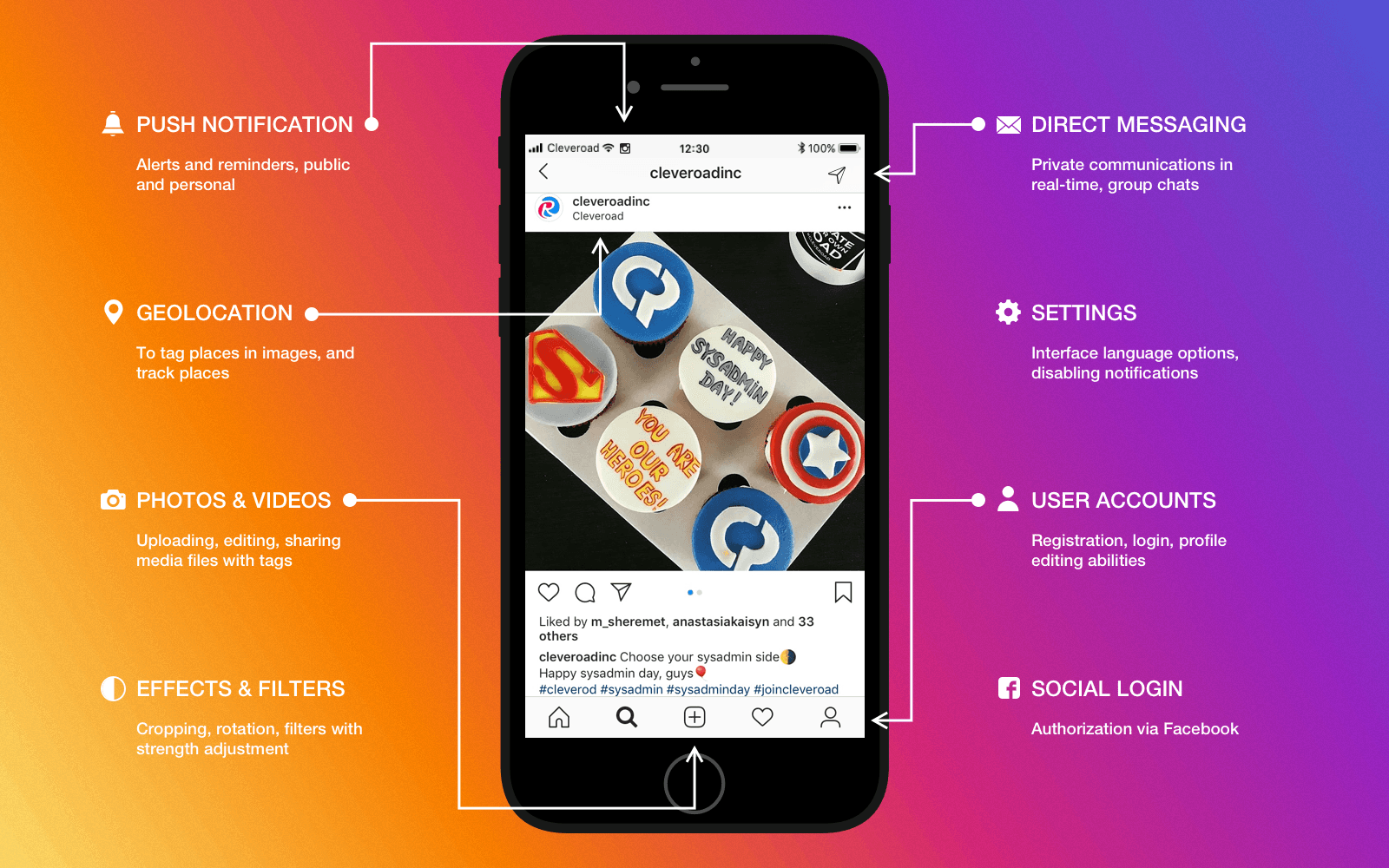 Must-have features to make an app like Instagram
It may take hundreds of thousands of dollars of your budget and months (if not years) of development to build Instagram clone application empowered with all features this platform has nowadays.
Things are getting simpler with MVP. You spend much less money to build Instagram-like app's skeleton and launch it. Then you just track user reactions, analyze them, and make informed decisions concerning the further development steps with ROI in mind.
Why Should You Start Your Business from MVP?
Taking these into account, we focus on basic features to give you the understanding of how to make a social media app like Instagram.
!
Note: The period of time required to implement a part of the functionality is measured in man-hours. The estimates we list below are based on the following development formula: user interface engineering + business logic (these two form a mobile development section) and back-end development. Each table contains the estimate for one mobile platform. If you want to get the estimate covering both platforms (iOS + Android) -- multiply those numbers by two.
This is a common option for almost every user-oriented application and if your goal is to create Instagram-like app, you should offer your users at least two ways of authorization:
Create a new account using a phone number or email.
Sig

n in with existing social media account (Facebook).
In addition, there is an option allowing users to reset the lost password via email, phone or their account in the social media.
The user data is stored in a database. When a user creates the new account, a new register entry is added to the database. In case registration is carried out via the phone number, the app should have access to user's SMS.
If the user logs in with the help of social network credentials, the operation is carried out via open authorization protocols like OAuth. In simple words, this option allows logging in the application under the existing account in social media. The app won't remember the social media account credentials, though.
Give your users some room for adding, customizing, and changing their profile information (e.g. bio, profile picture, etc.) Customization options are always a good idea.
All the manipulations with profile data can be implemented via the client and server-side interaction.
A real-time messaging is the answer to question how to build app like Instagram and the proven way to give users what they want. Don't forget that push notifications are the main component for this as they notify about all incoming messages.
The client-side of the application occasionally sends requests to the server for tracking new messages. In order to avoid overloading, this can be implemented via RESTful API over HTTP instead of using permanent socket connections. By default, polling may be done each 10 or 15 seconds. If users are chatting actively, the client-side may reduce the polling interval and access the server more frequently (e.g. every 2 seconds).
If you build an app like Instagram, it's important to think through setting options to enhance the overall user experience. Give users an opportunity to adjust the app's features: enable and disable push notifications, use different modes (e.g. private posts on Instagram), and so on.
In order to enable push notifications, the app server should establish the connection with Google or Apple servers. Then, the device is registered on Google or Apple servers and an appropriate ID is assigned to it. The ID will be used by the app server to send notifications. Such a mechanism can be implemented via GCM (Google Cloud Messaging) or APN (Apple Push Notification) services.
Uploading photos & videos
How to create Instagram app clone? Enable users to easily share their photos and videos to the feed and other places. Also, ensure that sharing facilities are well-designed so they could successfully rival with other photo sharing apps.
For implementing photo and video upload on Android, developers can make use of the following:
android.hardware.camera2 API;
Camera API;
SurfaceView;
MediaRecorder classes;
etc.
What concerns operating system from Apple, iOS developers can use UIImagePickerController which is a part of UIKit Framework.
Photo editing capabilities
Whether you want to build Instagram app clone or custom photo sharing application, you have to work on the photo editing capabilities in order to attract users and withstand competition. For example, if your goal is to build Instagram-like app, you should add filters, rotation, straightening, and other editing capabilities.
You can use standard filters or create your own ones. To use standard filters, it's enough to copy a ready-made source code into your project. In case you want to create your own filters, the source code should be written from scratch. When a user applies filters to the image, the action happens on the client-side of the application. To implement rotating direct pixel manipulations can be used if no predefined methods are employed.
Linking with social networks
You should carefully examine the publishing mechanics of the original app to understand how to develop an app like Instagram. For example, Instagram doesn't restrict the spreading of user content to other social networks. Users can easily link their Instagram profile with other social media accounts like Facebook, Twitter, etc. The linking enables them to choose whether to repost their publication to other social networks or post it on Instagram only.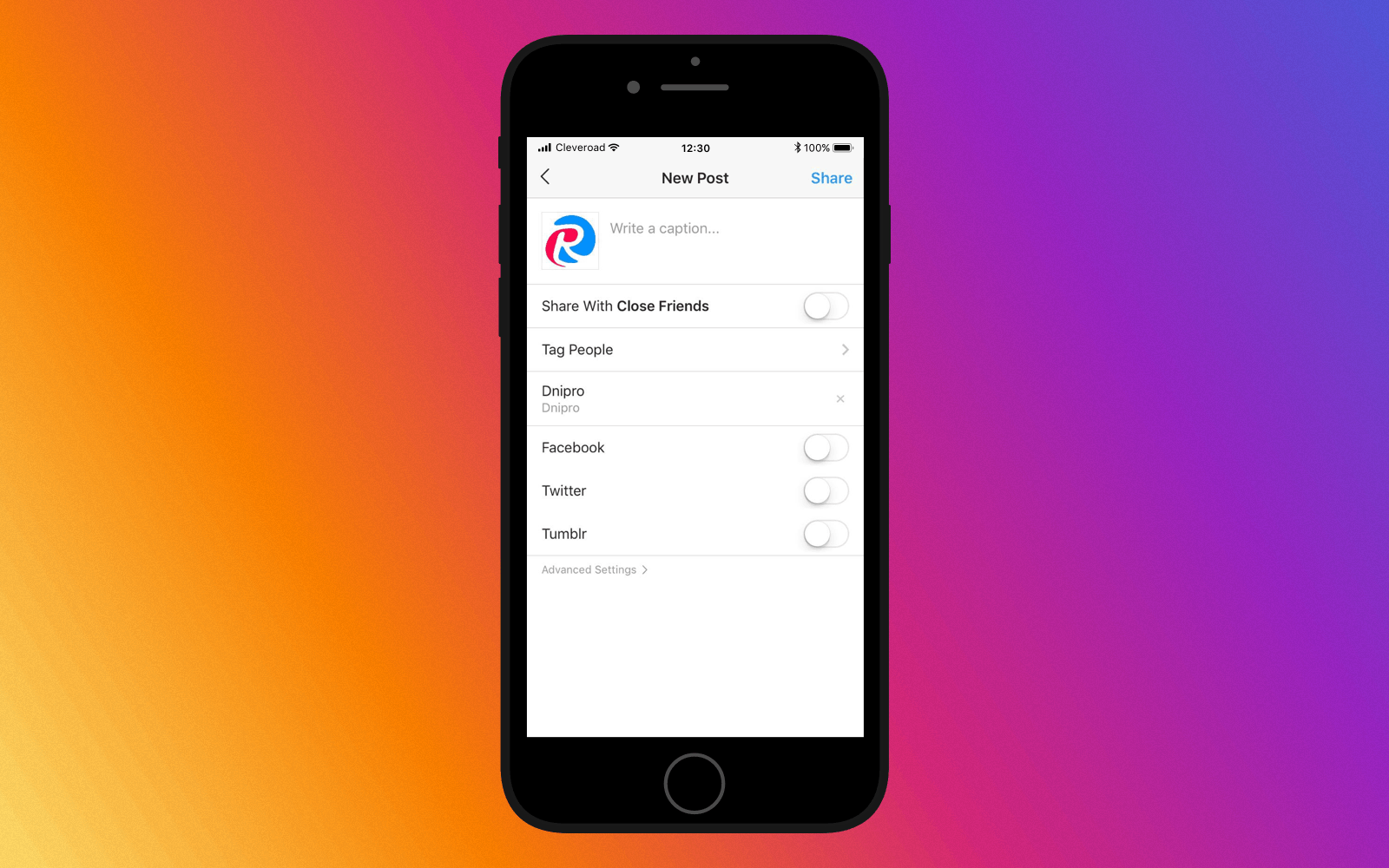 Instagram app development: How the link with other social media works on Instagram
To link the photo sharing app with other social media networks, developers have to establish a connection between the app account ID and social media account ID. It's usually implemented with the help of OAuth on the server-side of the application.
The time developers require to build this feature depends on the number of social networks you want to be linked with your photo sharing app.
Geolocation is a must-have feature in case you want to build app like Instagram. Users should have an option for indicating where one or another photo was taken. Besides, other users should be able to see that place not only tagged on the photo but on a world map too.
Geolocation can be integrated into mobile apps with the help of various specialized APIs. Which one to use depends on a platform and feature you need to build.
On Android and iOS, it can be done with the help of Location and Maps services. Location services on Android are reached via the classes of android.location package, maps services -- via MapView class. Location services on iOS can be integrated via CLLocationManager Class, maps services work via the Map Kit framework.
Once the data from a sensor is obtained by the client side of the app, it's sent to the server. Usually, the user's confirmation is required to proceed with sending the data. On the server-side, the data is saved and the photo is returned to the client-side with the location mark.
You should also take care of search feature to make an app like Instagram. It should be convenient and useful so that users could find anything they need.
Additional costs to build app like Instagram
In order to understand how to make a social media app like Instagram, you should be aware of all the additional expenses you may face throughout the development.
We would like to remind you that the aforementioned estimates are calculated for one platform. They also don't include preparational development steps like project setup and database architecture that typically take up to 150 hours. The cloud computing expenses also should be calculated separately, but you can check the Amazon AWS pricing here.
Other expenses we haven't mentioned previously are UI/UX app design and admin panel development. They are both obligatory for every app.
Finally, some software development companies charge for testing services additionally. So you should clarify this aspect beforehand with your software development partner or hire a qualified QA engineer to your in-house Instagram app development team.
Instagram-like app MVP development cost
Now you know how to build Instagram app what means it's high time to calculate its MVP development cost. Remember, this estimate includes only basic features which, though, are a good start for any photo sharing app.
If to add up all the aforementioned features, you will get around 1,180 hours of development for each platform. In order to transfer man-hours into dollars, you should multiply this figure by an hourly rate of your employees or software development agency rates.
!
Note: Typically, the development time for the Android platform is 5-10% higher compared to iOS due to fragmentation reasons.
This way if we take $50 as an hourly rate, which is an average rate of Ukrainian developers, and it by 1,180 hours we'll get $59,000 in total for each application. Talking about North America, you should multiply this figure by $150-200 and the final cost of one application will range between $177,000-236,000+. This price without design services and admin panel development.
For your convenience, we've designed a comprehensive infographic covering the development cost of Instagram-like app MVP.
Underneath, we've presented a step-by-step mini guidance on how to create an app like Instagram. We hope, these simple steps will help you make a start of the Instagram app development.
How to create an app like Instagram
Follow these simple steps to build your own alternative to Instagram:
Step 1. Research the market and learn your competitors.
Step 2. Define your target audience and features they might like.
Step 3. Consult with a reliable specialist or company.
Step 4. Define your budget prior to the development and be ready to attract funding if you exceed it.
Step 5. Hire developers or dedicated company to build an MVP for you.
Step 6. Make sure your app has something unique to offer its users.
Step 7. Test it to avoid major bugs in the final version.
Step 8. Maintain and never stop evolving.
Instagram gained the worldwide popularity due to its simple interface, good performance, and interesting features. To make an app like Instagram on your own, you should go through a long trial-and-error path, so be ready for overcoming complicated challenges and studying hard.
Our company has an extensive expertise in developing photo sharing apps. We can help you build an app like Instagram and launch it. Drop us a line to learn details regarding cooperation with us and get a free custom estimate of your idea.
Also, subscribe to our newsletter if you like this article and want to receive more content like this in your email inbox. We send one letter a week with the most relevant content created by our team especially for you.