How Much Does It Cost to Hire App Developers in 2022?
There's a high demand for mobile app development in the world. While users want to solve certain problems, companies use applications for doing business and delivering a better experience to customers. So, how much does it cost to hire an app developer?
The answer to that question depends on multiple factors: the hiring option, the developer's country of residence, the level of competence, and skillset.
In this article, you'll learn about such aspects as the cost to hire an app developer, where to find them, and what basic steps you should take before hiring.
How Much Does It Cost to Hire App Developers?
Let's talk about different types of hiring, their advantages and disadvantages, and which countries are the best when it comes to outsourcing or hiring from outside.
In-House
In-house is the type of hiring where the employee works in the office, uses all its resources, has its own workplace, and the company is responsible for employees' social benefits.
Pros:
Employment protection
Faster response to urgent tasks
Fast adaptation of employees
Cons:
Office expenses (e.g. rent, equipment)
You spend extra time to build process from scratch
Higher salaries for specialists (in some countries)
Outsourcing
Outsourcing is a type of hiring when you hire a third-party company to create an application or a separate part. The best countries for outsourcing are emerging economies like Ukraine, India, Argentina, and Poland.
Pros:
Lower operating costs
Saving time on employee training
Working with experienced specialists
Usually costs less compared to in-house teams
No expenses on social benefits, paid vacations and sick leaves
Cons:
Information leakage risk
Risk of poor performance
May be difficult to hold an outsourcer accountable for violations
So, then let's talk about freelance to understand how it differs from outsource.
Freelancer
A freelancer is a self-employed person who offers various services including software development. Freelance is actively developing all over the world, which is great for most SMBs and even some enterprises.
Pros:
You only pay for the amount of work done
No expenses on social benefits, paid vacations and sick leaves
Cons:
Hard to control the work
Confidentiality risks
Project abandonment risks
Team Augmentation
Team augmentation is a flexible strategy that lets you hire specialists from all over the world to work as a part of your in-house team. You can hire them temporarily and long term, reduce or expand when it's necessary. Team augmentation practice implies that you hire developers from other software development companies. Mexico, Argentina, Brazil, Ukraine, Poland, and Croatia are one of the most popular destinations for team augmentation.
Pros:
Developers are dedicated to your project
Cost efficiency
Intellectual property rights reserved
Faster hiring process
Opportunity to scale the team up and down
Cons:
Requires training for new employees
Vulnerability to internal errors
The types of hiring a mobile app developers
App Developer Salaries by Countries
Now that you know what hiring option is right for you, it's time to answer the question "how much does it cost to hire a developer". The country of residence is one of the main price drivers, which includes subsistence level and taxation.
Let's consider how much it costs to hire an app developer in different countries.
The USA
If you need a full-time employee in the USA, you should be ready to pay the following amount and additional payments annually to hire an app developer. Cost depends on their experience and skills.
This cost includes:
Salary from $63,735 to $139,148 per year (based on seniority level)
Social security tax - 6.2%
Medicare - 1.45%
Paid leave - 7.1%
Pension fund - 3.8%
Benefits - 7.6%
The UK
In the UK, you should also be ready for high salaries to hire an app developer. Costs range from $47,000 to $92,000 per year. The additional costs include:
Income tax 20% of the taxable amount for annual income between £11,800 and £46,300, 40% for income over £50,000
Pension is automatically credited, while the employee pays 5%, the employer - 3%
National insurance - 12%
Besides, the employees receive the standard Personal Allowance, which is £12,500 annually. It's the amount of income the employees don't have to pay tax on. If they claim Marriage Allowance or Blind Person's Allowance, it may be higher. If the income is over £100,000, it's smaller.
Netherlands
Mobile app developers in the Netherlands receive between $56,000 and $99,000 per year before taxes. So, the average net developer salary in the Netherlands will be somewhere between $37,000 and $67,000 per year. Additional payments include:
Income tax on profits below €68,507 (for software developers who belong to Box 1) - 37.35%
Pension fund payments - 5%
Annual vacation pay - 8%
Germany
Mobile app developers in Germany earn between $66,000 and $95,000 per year. These payments include:
Net annual salary - $49,000 to $68,500
Personal income tax - 14%
Tax-free benefit up to $10,312 per year per employee
Church tax - 9%
Various types of insurance - up to 21.8%
You should also know that Germany has the most complex taxation system in the world. The amount of tax-free benefits is influenced by the employee's geographic location, age, and marital status. As in the Netherlands, the amount of tax in Germany is influenced by the fact that two companies can be registered at the same address.
Ukraine
The average net developer salary in Ukraine ranges from $18,000 to $50,000 per year. Basically, developers in Ukraine pay a 3% VAT or 5% of income.
Here are several reasons why you should consider Ukraine for outsourcing or hiring a team:
Low cost of living
Simple taxation system
Large number of technical specialists
One of the most affordable offshoring destinations
More than 100 global companies like Boeing, Samsung, Microsoft, Huawei, and Oracle are concentrated in Ukraine. This country is also known for its startups: Grammarly, Spark, Looksery, and CleanMyMac. Moreover, Ukraine hosts pan-European and global IT events such as Lviv IT Arena, The Games Gathering, IForum, and Agile Eastern European Conference.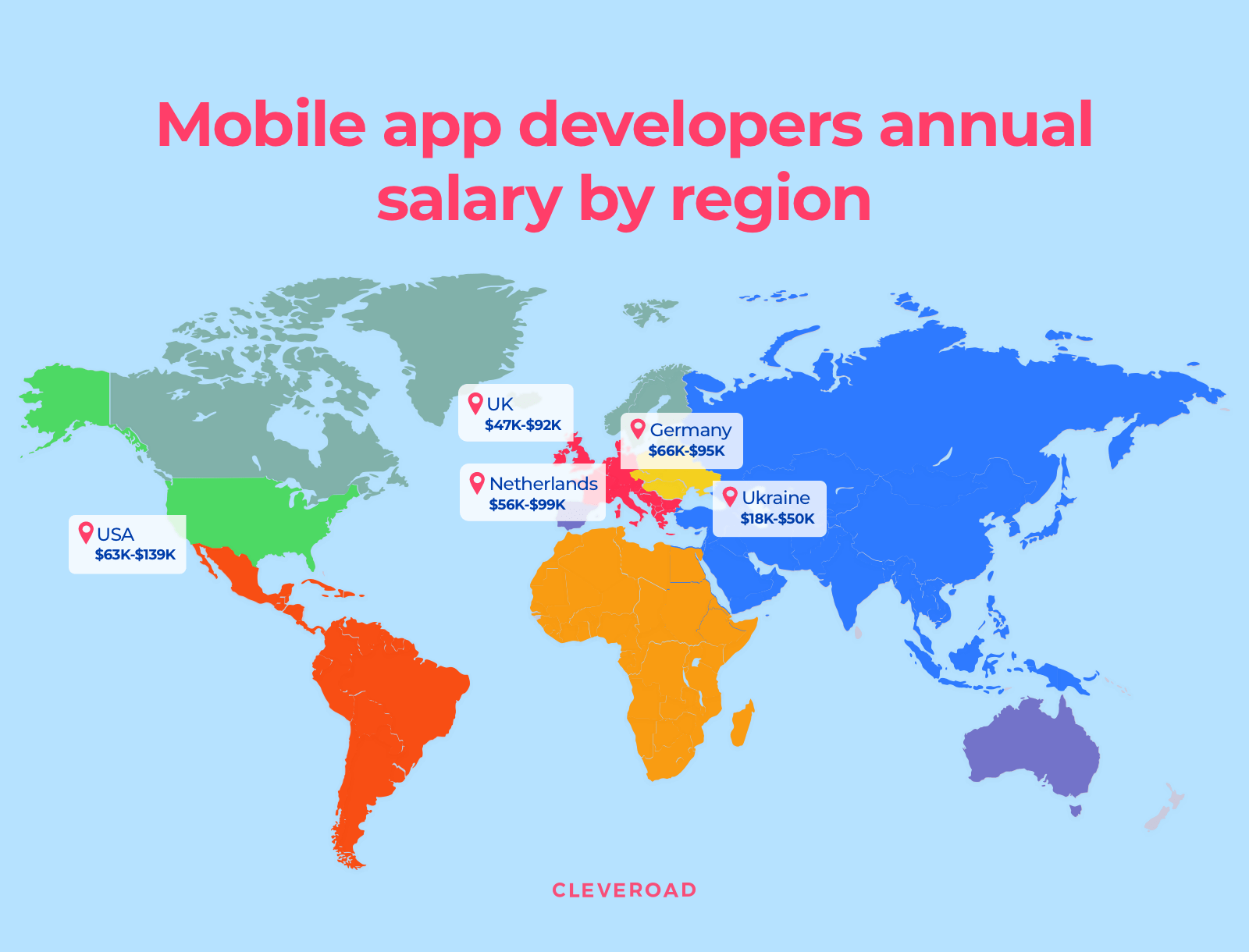 Mobile app developers salary by location
Seniority Level
Seniority level is another crucial price driver you should know about to hire an app developer. Costs depend on the developer's knowledge and qualification.
So, let's check the knowledge that app developers should have on each seniority level.
Junior
Junior specialists unusually light work on simple tasks with little impact on the final product and doesn't develop architecture.
Here is a set of possible technical knowledge and skills for junior developers:
Understanding of how to work with commonly used API
Basic database design knowledge, ACID properties, and transactions
Knowledge of at least one programming language
Experience with some popular frameworks
OOP knowledge
Middle
A middle specialist has already worked on many projects, and can be a mentor for a junior developer. However, they may also need consultation of a more experienced specialist in solving more complex problems.
The middle app developer must have the following knowledge and skills:
Working with multiple database management systems
Deep knowledge of basic APIs
Simultaneous execution of several tasks
Modification of the program code to make it more efficient and detect errors
Creating and writing simple unit tests
Senior
Senior developers are more experienced, and their main task is to make effective technological decisions in a project. A specialist like this has the following skills and knowledge:
Solving complex problems
Deep understanding of SOLID
Regular code reviews
Creates and writes complex tests
Deep vision and understanding of project development
Guides junior and middle specialists
Team Lead
Team Lead is a highly experienced specialist which forms a development team, assigns tasks, and is responsible for completing these tasks. They're responsible for:
Estimation of volumes, timing, and budget
Project planning and implementation
Creation of the project architecture and its development
Writing technical specifications for developers
Code reviews
Team Lead must have deep knowledge of server technology, required programming languages, and popular development methodologies.
Architect
Software architects design software solutions from scratch, make high-level decisions throughout the process, lead a team of engineers working on a product, create design documents.
Here are some things software architects should know:
Extensive software development and project management experience
Understanding of various development platforms and programming tools
Have experience with version control systems
So, having figured out the difference between software development specialists, you can choose the option that suits you best and hire an employee whose competencies correspond to your company's needs.
How Much Does It Cost to Hire a Developer Depending on the Skillset?
As you're reading an article about application development, then chances are you want to hire a mobile app developer for iOS or Android. These specialists work with such programming languages as Swift, Kotlin, or Flutter (if you're considering cross-platform development). The cost of hiring a developer often depends on the programming language they work with.
Let's take a look at how much is it to hire an app developer according to the average hourly rate by languages:
Swift:
In the USA - $37-$58 per hour
In Ukraine - $25-$50 per hour
In India - $18-$40 per hour
Kotlin:
In UK - £19-£33 per hour
In the USA - $51-$97 per hour
Flutter:
In the USA - $75-$120 per hour
In Eastern Europe - $45-$65 per hour
In India - $35-$40 per hour
If you want to create an app with complex functions based on AI or ML, you'll have to look for other specialists. Сonsider their experience, region of residence and hiring options discussed above.
For example, the average hourly rate for an ML Engineer in the US is $75 per hour, in Canada - $64 per hour, and from €10 to €50 per hour in Germany. AI developers from the USA and Canada earn an average of $46 per hour, in Germany - €41 per hour.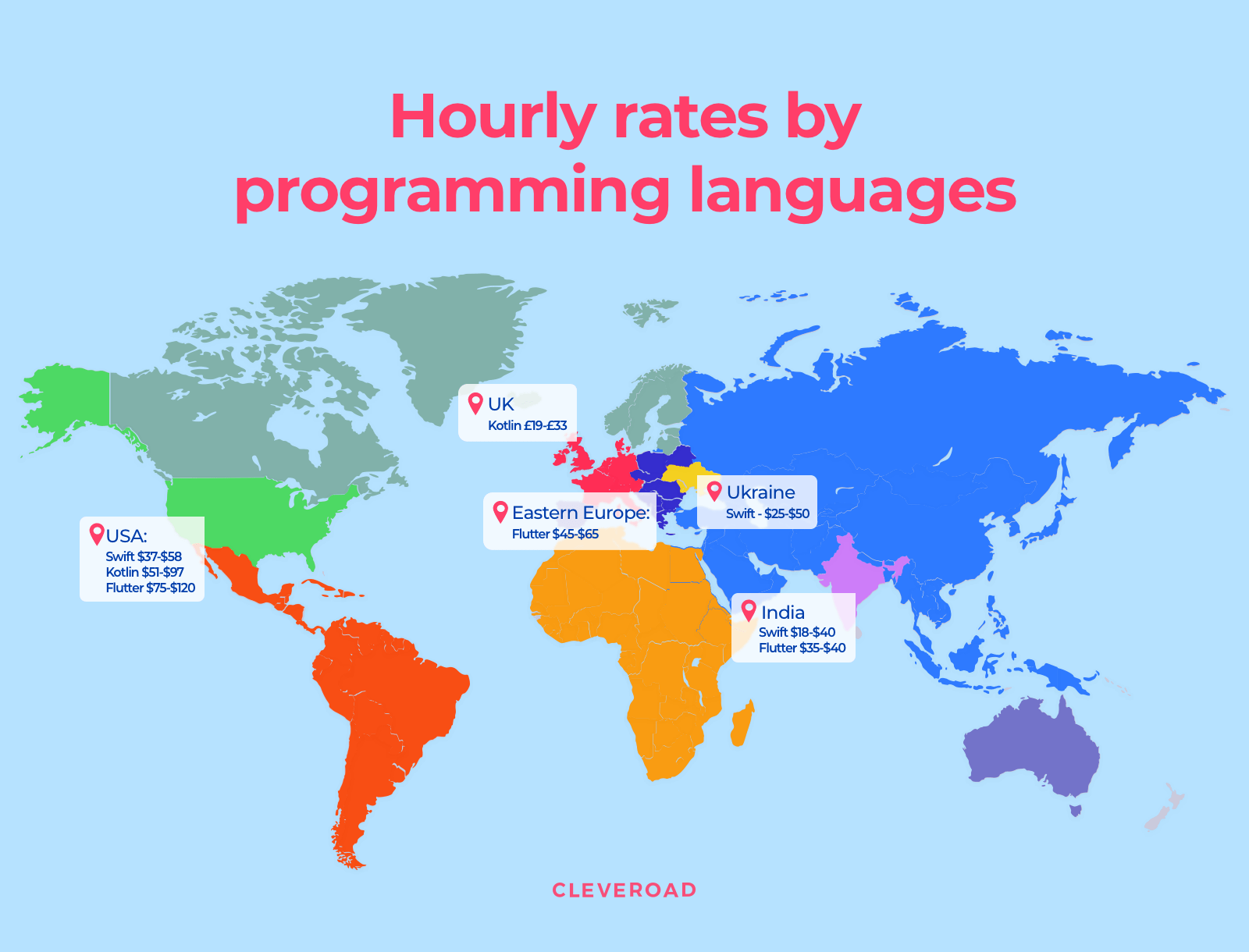 Mobile app development cost by programming languages
Where to Look for Mobile App Developers?
To find the right mobile app developer, you need to know which channels to use.
In-house
If you need to hire a staff member in any country, you can search on LinkedIn, that will help you find the right specialist and create your own network of contacts from various specialists to view information about their skills and refer to them in the future if you need a new one.
Outsourcing and team augmentation
It is better to look for employees for outsourcing or in distributed teams on GoodFirms or Clutch. If you are looking for experts from Eastern Europe and Latin America, for example, YouTeam is perfect.
Hiring a freelancer
You can read information about work experience, freelance skills and find the best freelancer on Upwork. If you want to hire a developer to do small jobs, use Fiverr, where freelancers indicate their experience, knowledge, and the work, they want to do. This platform is great..
Main Things to Consider Before Hiring
If you're thinking of developing a mobile application, you should also pay attention to things that'll help you hire the best team, find answers to the question of "how much should it cost to hire an app developer," and succeed.
Here are the main things to consider when hiring a mobile app developer:
Choose location
Decide on the type of hiring
Analyze their experience and knowledge
Take into account the ability to work remotely or in the office
Discuss the prospect of long-term cooperation
Check the portfolio
Now that you have figured out all the nuances of developing your application and choosing a platform for it. Let's look at what minimum knowledge about iOS, Android, and cross-platform developers should have.
iOS Developers
So, here are the minimum knowledge and skills that an iOS developer should have:
Xcode IDE
Fluency in Swift programming languages
Knowledge of UX/UI design principles
Excellent knowledge of Git
Human Interface Guidelines
Knowledge of the Core Data structure
Working with APIs such as UIKit, Cocoa Touch
Understanding of RESTful APIs
Experience with Metal or OpenGL
Android Developers
When you decide to hire an Android developer, you must be sure that they have the following skills and knowledge to get the job done:
Knowledge of Kotlin
Android SDK
Experience with API and databases
XML technology
Material Design
Android Studio
Cross-Platform Developer
Сross-platform developer must have the experience with:
Mobile development services for Android or iOS
GoF templates
Programming in Kotlin or Swift languages and knowledge of the Dart programming language
Here are some basic knowledge a cross-platform developer should have:
Git
Flutter framework
Knowledge of software development life cycle and different architectural approaches
Good knowledge of networking technology
Summing Up: How Much Should It Cost to Hire an App Developer?
Looking for mobile app developers, you should certainly pay attention to their technical skills. So, how much should it cost to hire an app developer? It's a hard question to answer without knowing the seniority level, technical knowledge, and country of residence you're looking for. Application and your budget also matter a lot.
Earlier, we talked about how much a developer from Ukraine needs to pay. According to data for 2020, more than 200,000 technical specialists live in Ukraine, 35% of which are highly qualified developers with vast experience.
At Cleveroad, we've been developing mobile applications in various industries for over six years. Our developers are fluent in Swift, Kotlin, and Flutter technologies. We can turn your ideas into a unique product for Android and iOS.
Henrik Loop CTO Blockbuster, TDC gives feedback about cooperation with Cleveroad
Frequently Asked Questions
It depends on the country they live in and, accordingly, on the standard of living, the amount of taxes, the programming language which they write, qualification level.
The average salary of Ukrainian developers is from $18000 to $50000 per year. It also depends on seniority level and programming language. For example, the Swift developer earns $50 per hour, the Flutter developer - from $2500 to $4000 per month, and the Kotlin developer average wage can be $15852 per year.
The cost depends on the country in which you are looking for a developer and hiring type. The best choices for in-house hiring are Poland, Hungary, and the Czech Republic. Wages include rates per hour, taxes, and other surcharges and benefits.
If you want to create a cross-platform app, you should decide your app type, design, and at least the basic functions it should have.
Rate this article!
613 ratings, average: 4.96 out of 5
Give us your impressions about this article
Give us your impressions about this article