What It Takes to Build the Next Free Stock Trading App Like Robinhood
The evolution of mobile technologies has affected many areas of our lives, including trading in the stock market. Now, mobile apps perform any task you can imagine. With it's help, making a smart investment is as easy as working with a fitness tracker. One of the best examples in this sphere is Robinhood app which allows anyone to trade stocks and make investments for free without the slightest experience. If you want to know what is Robinhood app, how does Robinhood app make money and what it takes to create an app like Robinhood then stay with us because we are going to walk you through this.
How does Robinhood app work?
Before starting the development, let's take a look at it and figure out how Robinhood app works. Robinhood is a free application for stock trading which offers interest-free trading in stocks and exchanges funds with a high rate of execution, and real-time information.
Who can use the app?
As far as Robinhood trading app is very simple, both the investors with great experience and beginners can use it successfully. Robinhood targets on inexperienced investors and offers them stock trading for free. This approach helps the app to compete with such giants as E-Trade or Charles Schwab. And the secret of it's success lies in the absence of commissions for transactions, as well as the requirements for minimum investment to start investing. For example, if you want to start on E-Trade, your minimum deposit should be at least $500.
What problems does it solve?
When you start considering how to create an investment platform like Robinhood, you'll see that such platforms are very attractive for novices because they are very easy to use and a person doesn't need to have much investment experience to start making money on the market. Which means the app removes a rim for all beginners.
What is the secret of success?
It's hard to ignore a fact that more and more young people without any economics background use stock trading apps rather successfully. There are several reasons for that:
How to build an app like Robinhood
No experience required
Inexperienced users can try a role of a trader without a risk of losing their fortune. It is possible because Robinhood app is based on a passive investment strategy that involves a large number of different stocks, which means a user can buy shares for any minimum amount, and neither experience nor knowledge in this area is needed.
Current data tracking
Such applications provide data connected with 'the hottest' investment opportunities in a real-time mode. A user does not need to keep an eye on the information all the time. Here, customers can also track a history of changes in certain stocks and their relevance to date.
Mobile orientation
Modern customers prefer their smartphones to computers and landline phones. Robinhood app took this into account when they were developing the app and made it's interface really simple for everyone. You need to think about a mobile version if you want to attract young to your product.
Target audience of Robinhood app
It is worth mentioning that the number of people who make investments in the stock market is different in various countries. For example, there are about 55% of people in the USA who have the investment in the shares. In Europe, this figure is less, in Germany it's only 13% and about 18% in the UK. This data gives us an answer to a question what target audience to choose. Of course, it should be America! At least, this is the country you should start with. Later, you can extend your audience, but your launch should cover the biggest market. We can divide this target audience into three categories:
Target users of a free stock trading app like Robinhood
Inexperienced youth, who want to try a role of a trader. They won't invest much but consider stock trading as a hobby.
Investor beginners. These people don't have experience and skills yet, but they want to start straight away and learn how to do it professionally.
Professional investors. Such customers value their time and appreciate the ability to see all data on the screen when and where they need it.
Now, it is time to understand what features app like Robinhood offer to attract all three categories of users and satisfy their needs equally.
Features of a successful stock trading app
While developing an app like Robinhood, you need to perform a precise analysis on it. Check it's functionality and find out what are the pros and cons of Robinhood app. We've already done that, so here are the features of Robinhood app which you can implement in your application too:
Robinhood app feature list
Investment portfolio
A user can create a passive investment portfolio. Which means a customer has a choice to rely on an automated algorithm or to do all the purchase and sale of shares by himself.
Latest market data
The app pulls data in a real-time mode. Such an approach gives users a chance not only to monitor changes in their portfolio (falls and rises) but also to make purchases and sales more consciously. The data in the app is well structured and well-organized. You have to think about this issue as well because beginners will find it difficult to read tonnes of figures and analytics.
Notifications
The app sends notifications about dividends on investments and about different upcoming events. In such a way, the app keeps in touch with customers and remind them to open the app. You can also use this trick to inform your users about 'hot' investment opportunities or about shares fall. The most important here is to give users a chance to choose what notifications they want to get and which ones don't.
Learn more about Wireframes, Mockups and Prototypes and why they all are so important for a perfect design in our short video!
Wireframes, Mockups, Prototypes: How They Serve For Perfect Design?
Free stock trading
Unlike other brokerage applications, both Robinhood and it's paid version Robinhood Gold allow customers to manage free deals with no minimum down payment. Removing the initial deposit barrier, you can acquire those users who do not have experience in trading on the stock market. For more experienced traders, you can provide additional deals with higher risks, charging commission or interest, when the transaction exceeds a certain threshold. In a premium account of Robinhood Gold, users have to pay for extended trading hours and purchasing power.
Data protection
Robinhood app security system encrypts all confidential personal information to protect the most sensible users' data. The increased level of security and encryption allow users to control their accounts. All personal data, like balance, transaction history and so on, should be encrypted in your app as well. Otherwise, you can not attract long-term users.
Take these features as a base when you plan your own stock trading app. To make your app interesting and attract experienced traders you can include trading tools, extended order types, detailed schemes, complex transaction and options. Apart from the main functionality, you should also take into account the comfort of your customers. That's why we offer you to think the following issues through:
How to improve a stock trading app
Educational resources for beginners
If your app is going to target beginners (and it should) some educational materials have to be provided to help beginners navigate the stock market better. Robinhood application doesn't have this feature and it is a huge disadvantage which gives you a chance to create the best stock trading app.
Intuitive user interface
It is a fact that the majority of all brokerage company applications are oversaturated and often confusing, so make sure that the interface of your app is as easy to use as possible. Robinhood app design was created to target novices from the very beginning, that's why it's design is very qualitative, logic is simple and graphics are clear. You also need to make the UI of your app as clear as possible to compete with the giant.
Of course, it's not the full list of what the app has to include, however, we've described the most important features which are needed for the development of trading app like Robinhood.
Things to consider before the development process
Any software development always causes some of issues you need to cope with. A stock trading app is not an exception. We've collected the most significant pitfalls you can face below. And believe us, all these problems are better and much easier to solve during the preparation stage rather than during the development one.
Pitfalls to consider during a stock trading app development
Platform
You need to choose if it will be a mobile or tablet or a web application. Think how many platforms it will cover and what devices it will be compatible with. All these details matter. Because the size of screens should dictate the interface, functionality, and content of your application. Robinhood mobile app has a very intuitive and well-considered UI, that's why you have to discuss these topics with your development team to make sure that the app would look great on every chosen device.
Business model
How does Robinhood app make money? First, the business itself is really very small, there are no offices, staff or massive public relations campaigns. And second, It's a paid version of the application, which brings a lot of profit. In this case, you should decide if you can work without a commission, maybe a small charge would be a reasonable solution for you?
Technical requirements
All stock trading applications have to provide information in a real-time mode, you will face a problem here because of the limited market hours when you can buy and sell shares. To solve it, you need some complex technical solutions. As an option, you can use third-party APIs in your app.
Yet, at Cleveroad we believe that the technical complexities can be easily overcome if you have a plan. To make such a plan you have to, first of all, think about your users. Robinhood app was focused on the novices who did not have any experience in trading on the stock market. The mobile orientation, as well as the ability to start without any minimum down payment and experience, led the application to success. If you want to compete with this giant and are ready to create a great stock trading app, write us, we have tonnes of ideas to make your app viral!
Did you like this article? If you want to get fresh reviews, articles and investigations on the latest technologies then subscribe to our blog and never miss a thing!
Frequently Asked Questions
First, the business itself is really very small, there are no offices, staff or massive public relations campaigns. And second, It's a paid version of the application, which brings a lot of profit.
Robinhood is a free application for stock trading which offers interest-free trading in stocks and exchanges funds with a high rate of execution, and real-time information.
There are steps to follow:
Create a list of the required functionality.
Form an in-house team or get a software development company to help you develop an app like Robinhood.
Calculate the time and price to build the solution.
Deploy and enjoy.
To calculate the price of an app like Robinhood, you need to provide the development team with the list of required features.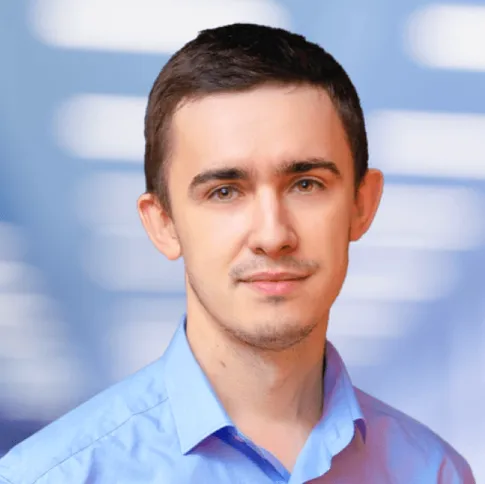 About author
Evgeniy Altynpara is a CTO and member of the Forbes Councils' community of tech professionals. He is an expert in software development and technological entrepreneurship and has 10+years of experience in digital transformation consulting in Healthcare, FinTech, Supply Chain and Logistics
Rate this article!
3382 ratings, average: 4.84 out of 5
Give us your impressions about this article
Give us your impressions about this article