How to Build a Marketplace Website in 2021: Core Features, Steps, and Cost
The global COVID-19 has made people shop online. In fact, 40 % of consumers are purchasing online more than they had done before.
The best thing about the marketplace platform is that anyone can enter the market and become successful. Building an online marketplace, you don't need to own any goods. Instead, you offer other people's goods to users and simplify a transaction. The Sharing economy market, which peer-to-peer marketplaces are about, is expected to reach $355 billion by 2025. Isn't that a significant reason to give your idea a start?
Let's delve into how to create an online marketplace website, how to estimate your budget and what you can do right now to make your service prosperous.
Before You Build Your Own Online Marketplace: What Is the Potential of Your Idea?
Not every marketplace startup starts with a superb idea. Sometimes this idea needs to be adapted to the needs of a specific market to become successful. So, it's vital to analyze the market volume before actually testing an idea. It'll help you to determine which part of the market you'll target.
What Is the Potential of a Marketplace Idea?
Online shopping is one of the most widespread online activities worldwide. The Global retail e-commerce sales are forecasted to grow to 5.4 trillion US dollars in 2022, with marketplaces taking a tidbit of these extra sales. Let's take a look at the statistic:
The global marketplace market size was valued at

$3.67 trillion

by the end of 2020. Moreover, it is forecasted to expand at a compound annual growth of 9.7% from 2021 to 2028.
The world-leading online marketplaces have sold $2.67 trillion in 2020.
Sales on P2P marketplace platforms like eBay, Amazon, Airbnb accounted for

62%

of overall online sales in 2020. In fact, they're expected to make over

$7 trillion

by 2024, accounting for 90% of global web sales.

U.S. Marketplace market size
The main factors that have contributed to the rise of the marketplace market across the globe are:
An increased amount of digital buyers
The convenience of shopping online due to the ease availability of mobile devices
The shift in consumer shopping habits during the pandemic
The lack of a well-organized offline retail sector
Wide AI implementation
Above all, this growth is driven by more and more entrepreneurs considering marketplaces as the best platform to streamline online sales, accelerate cross-border expansion, raise product range, boost logistics, automate operations, and reduce costs.
Key Benefits of Building an Online Marketplace
Considering marketplace growth and its potential, business startups can utilize the marketplace business model and design their own custom solution. Below are the top benefits of setting up a marketplace website.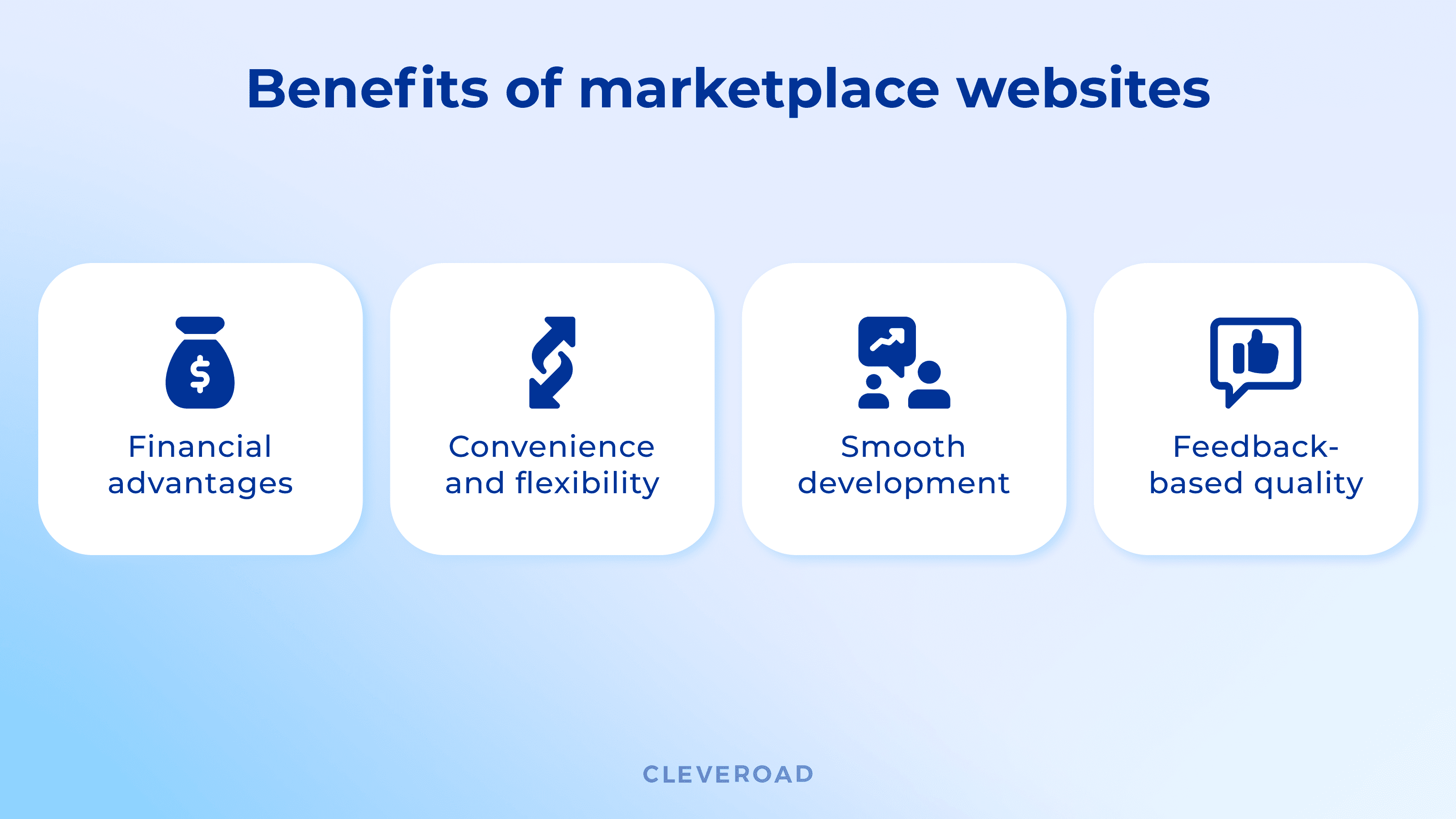 How businesses can benefit from creating a marketplace website
Financial advantages
Marketplace websites enable you to generate income with minimum effort. There is no reason to organize production or be concerned about delivery. All you need to do is launch a high-quality software solution, add unique features, and attract your first clients. Afterward, they'll handle the rest. In turn, you can focus on making improvements while your bank account grows.
Convenience and flexibility
P2P marketplace platform connects people who produce value and people who need that value. But how do you, as an owner, benefit from it?
Marketplace users attract each other. High-quality products make customers pay attention to your marketplace, and sellers come to your website due to a constant increase of potential buyers. For this reason, your marketing campaigns will be more effective compared to the promotion of independent web stores.
Marketplace platforms provide flexibility in terms of choice. Since you don't need to invest in production, you're flexible enough to choose niche, industry, or product specifics.
Smooth development
Many specialists can implement your marketplace idea. However, suppose you want to get a superb online marketplace without being involved in the development process. In that case, you can hire a dedicated software development team who has experience in building marketplace websites.
Feedback-based quality
As a marketplace owner, you are not the one in charge of product quality. However, you can provide users with extra functionality, enabling them to value the product they buy by themselves. For instance, build a rating system or allow them to post a product's review (text, photo, video) to get another significant advantage.
As you can see, the potential of the marketplace software is huge. You have an opportunity to enter the market with minimum effort and generate income in a short period.
How to Start an Online Marketplace Website
Follow these steps to find out how to create a marketplace:
Step 1. Research that includes diving into basics of building a marketplace business
Step 2. Validate your idea to analyze the market and then start a marketplace website efficiently
Step 3. Planning stage helps you draw up all requirements for your marketplace startup
Step 4. Development of MVP marketplace with basic features
Step 5. Build a right team to create a marketplace website from scratch
Step 6. Determine a final cost of marketplace website building
Step 7. Elaborate a marketing strategy to lead your marketplace website to success

Stages to start an online marketplace
All these stages of marketplace software development have their peculiarities and winning strategies. So keep reading, and we'll discuss them one by one.
Research: Getting and Validating Your Idea
So, you've decided to build your own online marketplace. But, before you get down to choosing the right marketplace type, platform or technologies, take some time to research whether there is a demand for the software you want to build.
That is why the first step should be defining the value proposition for your potential users. As for marketplaces, it's usually solving a real problem. For example, Airbnb solves the problem of expensive hotel rooms for travelers, BlaBlaCar is a response to inflexible routes and schedules, and so on.
When you define a problem worth solving, take a look at competitors and market leaders. In a broad sense, all potential niches may already be covered. So you will have to think narrower and find your focus in a preferable niche. For example, Amazon started by only selling books. In any case, your idea seems perfect for you as you have the right background and industry-changing intentions. Still, the competition is too high, narrowing your focus geographically and in terms of the offered products or services.
The next step when you start your own online marketplace is to know your target audience. Again, careful analysis and research are worth efforts and time as in the result you get a segmented audience, the list of their expectations that can be easily turned into features, and prove of demand.
Take a look at a detailed article devoted to targeting audience research and analysis.
How to Validate Your Marketplace Idea
After you get an idea to build an online marketplace of a particular type, it's time to validate it to ensure that you're moving in the right direction. Such research takes a considerable amount of time, but it pays off and lets you avoid some of the common mistakes. So, here is a list of questions you should be able to answer honestly before moving to a planning stage.
Would you use this product and how often?
What is the feedback from the interviewed a group of potential customers
How well they understand the purpose of your product?
What is the size of the total addressable market?
How dependent are you on the external resources?
To answer the questions above, you will have to brainstorm with your partner(s) if you have one, gain feedback through interviewing your potential customers and make some manual research. Note, you shouldn't involve your family and friends to the interview if you want to get unbiased insight and find out how to build a successful marketplace.
Planning
The planning stage is the foundation of your project's successful delivery and performance. Every company organizes it in its own way. As for Cleveroad, we set aside the planning stage of the entire development process, providing our customers with a tangible outcome. Here is what our customers get during the planning stage.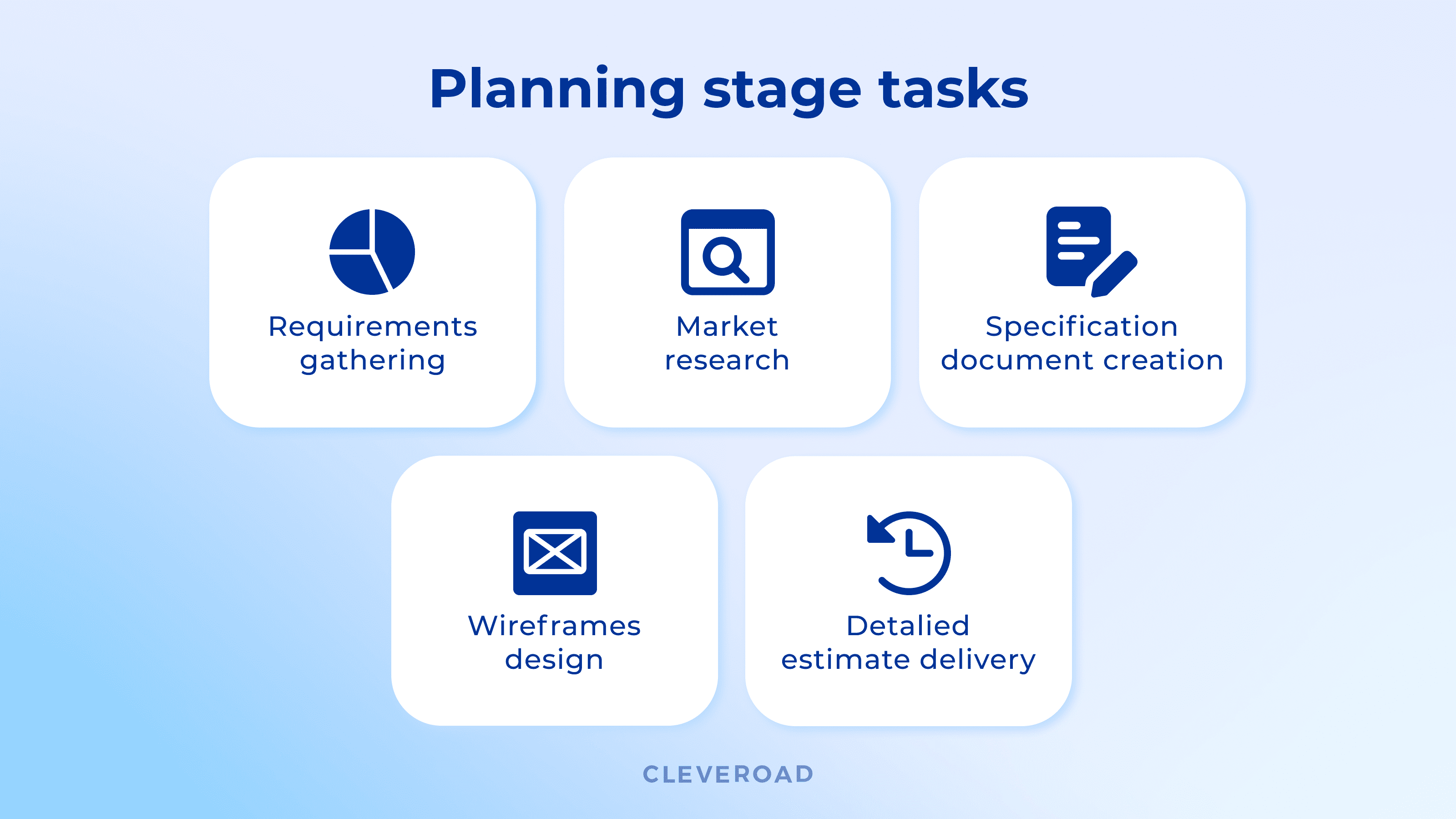 Development project planning stage
A complete requirements list gathered and structured by our Requirements Analyst;
Market research report and recommendations;
Specification document which contains user stories, technical, functional and usability requirements;
Wireframes based on the specification;
The detailed estimate produced with the assistance of our software engineers, designers and project managers that provides an estimation of every feature implementation time.
Later on, our customers have a choice whether to continue cooperation with our website development company or postpone the development stage or switch for another service provider will all necessary documents. Considering the issue of how to create an online marketplace, let's see in details what the price for a marketplace website consists of.
Development: How to Build a Marketplace Website
There are two approaches to marketplace website development:
Development from scratch
Development using one of the existing marketplace platforms
Each of these strategies has its pros and cons. A platform-based development is a good choice if you're limited with a budget of $5,000, and you want to incorporate the website into the business processes as soon as possible. In turn, custom software will respond to all your business needs, including features, design, logic.
To create a marketplace website from scratch, you need to go through the following points.

Development stages of marketplace website
Step #1. Make a Prototype and Test the Idea
Firstly, you need to create a prototype (simple visual model) of your future marketplace website. You can start with an ordinary pen-and-paper sketch or design an interactive HTML model.
However, prototyping is a time-consuming process that requires specific skills. So it's better to work with a web development company to design a first-class marketplace website prototype.
A prototype is a perfect way to validate your idea, attract first users, and gain initial investments. But, a marketplace website model isn't functional. The basic features are built on the MVP (minimum viable product) phase.
Step #2. Make the Project Documentation
Now it's time to prepare a project specification that includes detailed information about your product: number of features and its complexity, design, number of 3rd party integrations, etc.
Clients and software developers might have different visions of required features and how they should be implemented from the technical side. Specification helps to overcome these misunderstandings.
This stage aims to ensure that every team member clearly understands the project's requirements and the client's expectations.
Step #3. Develop a Marketplace Website MVP
Start with minimum valuable product development (MVP). It enables you to validate your marketplace idea and reduce time to the market with minimum investments. The core idea behind the MVP is to make a marketplace website with enough functionality to attract early users and collect initial feedback.
Why should you start your business with MVP? Watch our video below:
Why MVP is important for business success?
Further, when your product makes a profit, you can reinvest it into creating additional features. So now, let's consider the core features of marketplace websites.
User accounts, profiles, and settings
The two-sided marketplace app development implies the creation of two kinds of website users: Buyer and Seller (or Service provider and Service recipient) with their specific needs. Among the important features for Buyers are simple registration, well-designed navigation, search and filtering, and access to information about Sellers. In their turn, Sellers would appreciate features that let them manage their private and public information, create new offers of products or services.
Search and filters
It should be convenient for buyers to search for goods or services on your marketplace website. So, think over a system of filters (location, price range, etc.) and relevant suggestions.
Real-time chats
Choosing the product or service, buyers usually have some questions to sellers. It's crucial to let them get answers immediately and the best way is instant messaging.
Payment systems integration
Our main task as developers is to ensure complete security both for buyers and sellers, especially regarding payments. That's why it's important to implement transparent and trustful payment system like PayPal or Stripe.
Reviews and ratings
After the deal is over, buyers should be able to leave their feedback about it and rate the seller.
If you want to develop a marketplace website with more sophisticated features, here are a few ideas for you.

Core marketplace features
Advance features for buyers:
Price comparison
Advanced search and sorting
Wishlist
Sharing in social networks
Gift certificates
Push notifications
Advance features for sellers:
Statistics of buyers' behavior
Advanced products management
Step #4. Expand Your Online Marketplace Client Base
After you release the product, you expect many users, both sellers and buyers. However, it requires some time and effort to transform your marketplace into a lead generation machine. That's why it's vital to increase the user base long before your full-fledged website is made.
Ensure that on launch day, your website won't be a blank slate without any users. This makes it difficult for you to engage new users and lowers trust in your marketplace. So, put some effort into creating a loyal community before realizing your website.
Key Points to Build a Marketplace Website
To create a marketplace website like Amazon or eBay, you need to think of the following things:
A domain name (For example, cleveroad.com)
Web hosting account (Here are your website's files are stored)
SSL Certificate (To secure payments)
CMS (Content management system)
Payment solutions
Let's consider each element in detail.
Domain Name
The domain name is the address of your marketplace website that makes it easy for users to find and connect to your platform on the internet (e.g., amazon.com). Here are some tips on how to select the domain name:
It should be associated with your brand
Keep it short
Don't use numbers and hyphens
Make it SEO-friendly (use keywords, stay relevant)
There is no one "ebay.com" marketplace, so you'll need to look through many domain name marketplaces to choose the right option. The price starts from $14.99 per year.
Web Hosting Account
Web hosting is a place where all files of your marketplace are stored. When people type your website name in a browser, it's converted into the IP address of your web hosting provider's computer. This computer holds your website's files, and it transmits them back to the users' browsers.
The most popular web hosting providers in 2021 are Bluehost, Hostgator, and Hostinger. Web hosting price ranges between $2.95 and $9.99 per monthю
SSL Certificate
SSL Certificate provides increased security, privacy, and data protection for your marketplace and users' information. Every time you transfer data between a marketplace website and web server, an SSL certificate is applied. Moreover, if your website is SSL enabled, Google will rank your marketplace higher.
Content Management System
CMS allows shop owners to make, edit, and publish digital content without coding. It also enables users to change the online store's look (e.g., modify product page layout, add advertising banners or add new website sectors).
There is a lot of ready-built CMS software like Shopify, WordPress, Joomla, etc. They are developed to reduce development hours and low the cost to build a marketplace website. But as any out-of-the-box solutions, they are limited in functionality and vulnerable to security threats.
Payment Solutions
There are three ways your website can process transactions from your buyers to your sellers:
Direct payments. Direct payments mean that your platform isn't involved in the transactions. But in this case, you have limited options of charging fees and managing returns and refunds. Besides, they won't allow your clients to purchase goods from various sellers simultaneously and request them to pass through the checkout process for each seller individually.

Aggregated payments. The aggregated payments imply that your platform combines the buyers' money and later distributes funds between vendors via payouts. They create an opportunity for single checkout and enable you to own the transaction. But you need to monitor the vendors' finances and regular payouts on your website.

Parallel payments. This method is associated with payment services. The payment providers split clients' payments at checkout and distribute them among sellers and your platform. In this case, the providers are in charge of security compliance. The best payment solutions for marketplaces are PayPal, Dwolla, Stripe, and Braintree.
The Team You Need to Create Your Own Marketplace Website
The project team that helps you to build a p2p marketplace consists of:
A project manager who knows exactly all the details of how to create an online marketplace and manages the processes and team members;
UI/UX designer;
Web developers;
QA engineers.
If you are serious about building an online marketplace, you surely want to know its development price even before the planning stage.
Price of Building a Marketplace Website
So, what is the cost of creating an online marketplace in 2021? Roughly speaking, you may expect to be charged from $30,000 to $200,000 depending on the desired functionality and vendors you cooperate with.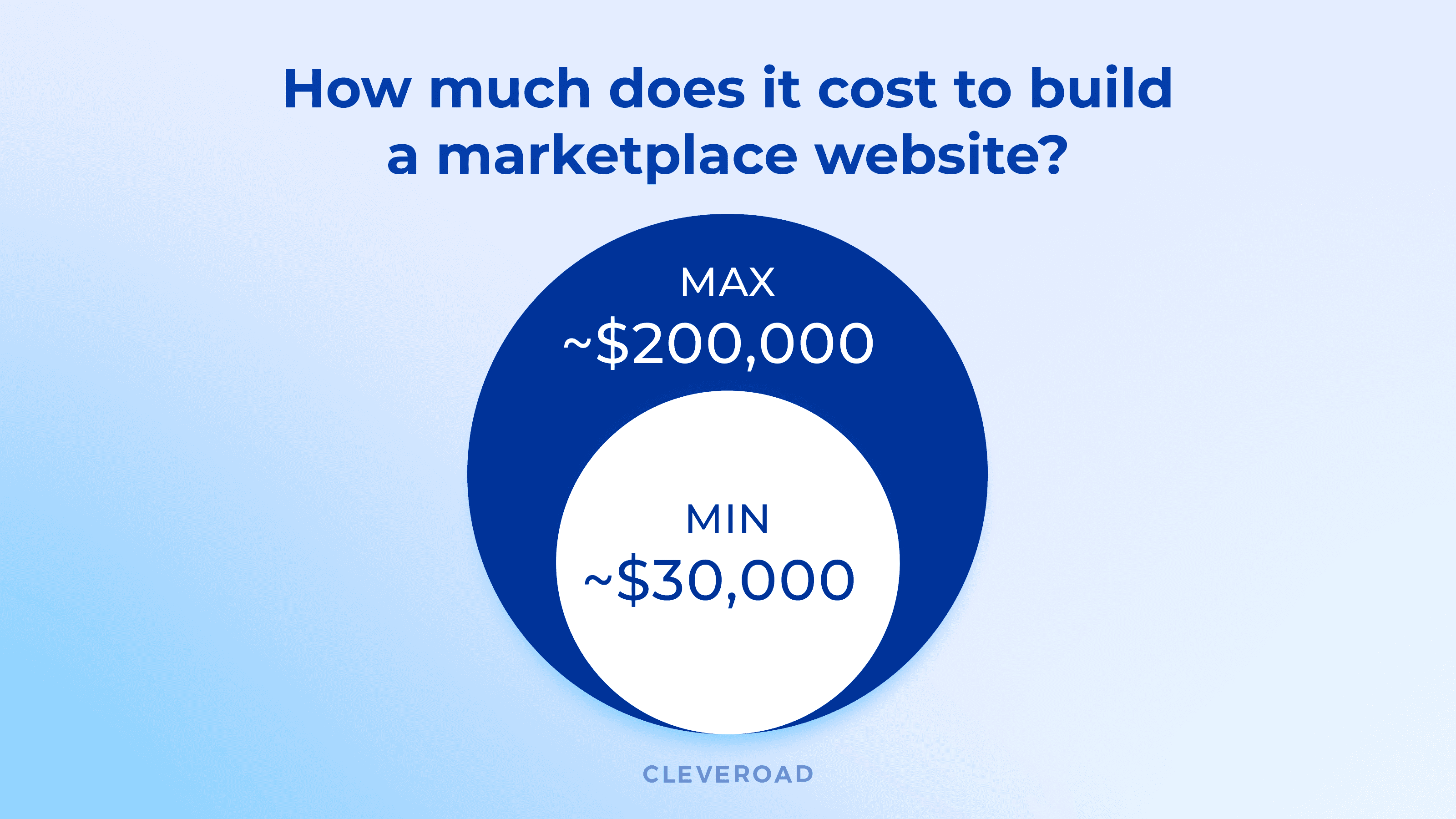 Marketplace website development cost
Let's review where these numbers come from.
Development cost is based on the development and non-development time required to implement product's features. The number of hours is estimated regarding the complexity of features, including frontend and backend development.
At Cleveroad, we provide the precise numbers in the Detailed estimate document during the Planning stage. The document has a minimum and a maximum number of hours required to implement each piece of functionality. If you want to get a detailed estimate of your idea, please get in touch with our managers and they will eagerly help you. In case you don't need the precise figures, you can try our app cost calculator to know the rough cost to build a peer to peer marketplace.
After you know how much time is needed, you can calculate how much money you'll need. Just multiply the number of hours by your vendor's hourly rate. Take a look at the following table that shows how your budget of a sophisticated and fully-functional marketplace project can vary by developers' rates. The table includes the average time for design, project management, and quality assurance, as well.
Average marketplace development price

| Designation | Minimum time (h) | Maximum time (h) | Average time (h) |
| --- | --- | --- | --- |
| Development | 900 | 1600 | 1300 |
| Design | 180 | 220 | 200 |
| Total | 1080 | 1820 | 1500 |
| | Price at $30 | Price at $50 | Price at $150 |
| Development | $27,000 | $80,000 | $195,000 |
| Design | $5,400 | $11,000 | $30,000 |
| Total | $32,400 | $91,000 | $225,000 |
You can read the details about what the hour rates depend on and how to choose a software development company for your website development in our blog post.
Post-development Actions to Make Your Custom Marketplace Successful
After the development stage, you expect to release your project. However, there is no need to rush. Instead, it's essential to think about how to start an online marketplace website effectively and attract first users.
Who should these users be: seller or buyers first? The best thing to do is start forming the base of sellers who are able to suggest goods or services without expecting to get any sales at once. Before the launch, you should communicate with sellers and explain to them that your platform can become a permanent source of future income for them. Here is what you can do to find sellers:
Contact those sellers who are active on competitive marketplaces
Use business directories and Google search to find providers for your unique niche
Look through online forums and Facebook groups
While you let the providers be the first users of your marketplace website, it's a good idea to perform some work with potential buyers and build loyalty to your platform in advance. There are a few tips on how to do it effectively.
Set up a pre-launch landing page to gather emails
Participate in topical discussions (online forums, communities, groups) and start mentioning your marketplace
Contact influencers of your target audience and try to make them your early ambassadors
Start your blog or online community in case there are no suitable communities
After you have a list of interested users, you are ready to launch. A well-prepared pre-launch stage can help your service get an initial boost and continue working on building supply and demand.
What can you do next to grow your marketplace after the launch? You will need to set up some KPIs to track the performance and find the areas for improvement:
Usage metrics, such as conversion rate and bounce rate
Transaction metrics, like provider-to-customer rate and repeat purchase rate
Business metrics, for example, customer acquisition, revenue, and ROI
By taking a close look at customers' behavior, you will identify the areas that need improvement. So, now you know the basics how to build an online marketplace website. If you need our assistance, please, contact our managers. They will eagerly help you solve any issue.
Top 5 Marketplace Platforms
Now, let's consider the most popular marketplaces based on four main areas: profitability, client service, communication, and usability.
Amazon
Amazon is a world-leading marketplace platform with a market share of 9.4% globally. The main advantage of selling on Amazon is that you can get access to 100 milion Prime members base. They spend about $1,400 a year on the website compared to $600 spent by regular customers, making Amazon an attractive place for retailers. Besides, Amazon mobile app may serve as a successful illustration of how to make a ecommerce app due to the laconic and user-friendly interface.
Amazon's individual selling plan is the right option for sellers who want to set the work immediately. However, if you sell specific products in niche categories (e.g., fine art or collectibles), you need to subscribe for a professional plan and request permission.
Professional retailers need to pay $39.99 per month, plus fees per item-selling, depending on the category, variable closing fees, and referral commissions. The individual selling plan is $0.99 per sale plus selling commissions which also vary by category.
eBay
eBay is the world's second-largest marketplace with a great market share (3.3% global traffic). It's an expensive option that enables access to 168 million experienced buyers worldwide who together make $95 billion annually.
The platform offers two sorts of selling fees:
Insertion fee
Final value fee when the product is sold
However, you don't need to pay for initial setups or pay monthly /annual commissions.
Walmart
Walmart provides access to more than 440 million active buyers. Additionally, you can participate in affiliate programs that enable you to get commissions from sales when you send customers to the platform. The platform doesn't charge the commissions for setups, monthly or annual usage.
To start selling on Walmart, you need to get an invitation. It'll give an extra time to launch. Moreover, you can add your products to Walmart's portfolio of goods. All you need to do is fill out the form.
Etsy
Etsy is an online platform that focuses on selling vintage, unique, handmade items. The marketplace attracts creative people (both amateurs and artists) by enabling them to present their masterpieces to the world.
If the buyers have some questions, they don't need to contact the support manager. Instead, the platform makes it possible for personal communication between customers and creators. Etsy it's a kind of community for creative people to talk, share experiences, and encourage each other. This is a unique feature of the marketplace.
The primary revenue models of Etsy based on the following:
Sellers pay as little as $0.20 for listing items on the website. This price is valid for 4 months.
Apart from that, the marketplace charges sellers 3.5% per sale. The retailers can put their own sale price, but the platform reduces a commission of 3.5% from the sale price before sending money to the vendor.
Sellers can access additional features by paying an extra price (e.g., advertising options).
Taobao
Taobao is a China-based platform that takes no fees for transactions both from buyers and sellers. Instead, it generates money by taking vendor fees for SEO-like advertising (same as Google works). As a result, Taobao's business goal is to attract as many sellers to the website as possible so that they can compete for buyers' attention and the platform can charge promotion fees.
In 2008, Taobao initiated Tmall (B2C platform Taobao Mall) to supplement its existing C2C offering. Tmall enables Chinese and international businesses to sell branded products to Chinese citizens.
Taobao generates money on Tmall by charging companies fees for verifying and establishing a store on the website. The retailers need to pass verification and then pay a fee to Taobao for every further sale. The commission is around 5%. For instance, the sunglasses store Lemon Optics paid a commission of $25,000 to open a shopfront on Tmall.
Alipay (a Chinese online payment platform) also charges sellers fees for its services. Merchants need to pay a 0.55% fee for every closed deal. If the withdrawals are under 3,000 USD, the system will charge no commission. Above this sum, sellers need to pay a 0.1% fee.
Expertise from Cleveroad
Recently we have released a web solution (both iOS and Android apps are also available) called AYIO - a marketplace to find a specialist in different fields. It is a good service if something is broken, you need to repair it, and AYIO will help you hire a skilled specialist.
This social business platform was developed for one year, and it includes such features like complex search system, payments, activity tracker, scanning of documents, docs upload, and others. To find out more about the development process, you can check our case study and look through portfolio page.
Ready to build a marketplace?
Leave the tech part to us. Our specialist will consult you and estimate your project for free.
Frequently Asked Questions
From $30,000 to $150,000 and up. Everything depends on the website functionality, design, and vendors you cooperate with.
You need to consider adding features for both buyers and sellers.
For example, sellers should be able to check their earnings, manage listings, see statistics of buyers' behavior, and have an option to chat with customers.
Start with research. Study your competitors and their offers, and find out what your target audience loves.
Draw up all requirements. What features you want to see, how many users you expect, how your website should look like.
Find a reliable software development team. Hire in-house devs (work from your office) or outsource to a tech company.
Calculate the development cost. And make sure you have enough funds to cover the desired functionality.
Develop an MVP marketplace with basic features. It's cheaper to build and faster to release. Good, if you're only testing your idea or need the website fast.
Create a marketing strategy to promote your website.
Platforms like Etsy charge a selling fee (Etsy charges $0.20 for listing). Amazon offers a professional sellers' account (for $39.99/month) + charges additional selling fees.
Some marketplaces offer premium listing, charge demand fees, or sell ads.
Basic features:
User accounts, profiles, and settings
Search and filters
Real-time chats
Payment systems integration
Reviews and ratings
Advance features:
Price comparison
Advanced search and sorting
Wishlist
Sharing in social networks
Gift certificates
Push notifications
If you have limited time, you may develop the website using one of the existing marketplace platforms.
But it works only for small-scale marketplaces with a couple of features. To make something more complex and tailored to your business, focus on development from scratch. To speed up the time to market, you may start with an MVP.
Rate this article!
4832 ratings, average: 4.92 out of 5
Give us your impressions about this article
Give us your impressions about this article