How to Create Ecommerce Mobile App: Trends, Cost, and Development Tips
In 2005, when e-Commerce was only gaining momentum, the most significant issue for shop owners was whether they needed to build an e-Commerce website. And in 2023, this question certainly sounds rhetorical. Since e-commerce is massively going mobile nowadays, a similar question arises: 'Do you need an e-Commerce mobile app for your store?'. And it is steadily becoming rhetorical as well. But while every existing shop owner hasn't got his/her hands on these apps, now is the perfect time to develop a mobile e-commerce app and gather the biggest profits.
Due to the constant progress, almost any retail software development company offer solutions that drastically change this industry. For instance, nobody is any longer surprised by using AR, which allows observing the desired product inside your own home. To keep this pace, you should definitely get acquainted with the latest trends in development and design to find out how to make an ecommerce mobile app successful and stay in demand. Also, if you already have an e-commerce mobile application, you should consider updating it to comply with these up-to-date trends.
So what are the integral steps of mobile app development for ecommerce?
Step 1. Find a tech partner with the relevant experience and specialization to support your product implementation, from strategy planning to deployment and support.
Step 2. Go through the discovery phase with the development team to decide on product's requirements.
Step 3. Cooperate with the Solution Architects to select the appropriate technical stack to be used during the design process.
Step 4. Apply to MVP development services to create and test your e-commerce application comprising the most valuable and essential features.
Step 5. Based on the users' feedback, your IT partners keep upgrading the e-commerce app's functionality to keep it up-to-date and advance your product.
What Ecommerce Apps Stand For?
E-commerce apps stand for electronic commerce applications, which are software solutions designed to enable online buying and selling of goods and services. These digital platforms allow businesses to set up an online store, manage inventory, process financial transactions, and fulfill orders. Aside from that, they also provide a convenient shopping experience for customers, who can browse and purchase products from their mobile devices. Popular e-commerce apps include Amazon, eBay, Shopify, and Alibaba.
Types of eCommerce apps
Let's see what are the most popular e-commerce app types:
E-commerce apps for retail
Platforms for retailing allow the process of the products and services delivery from businesses to buyers. The key features required for it are the online shopping carts and e-catalogs. Currently, software engineers implement diverse artistic shopping carts and product lists into the retail app development. There is a wide range of retail solutions. Yet, such software is crucial for any e-commerce business. Due to this fact, the popularity of electronic retail income keeps increasing.
Financial e-commerce apps
Nowadays, e-commerce and finance are closely intertwined with successful businesses. Companies and financial institutions use e-commerce solutions in various aspects of their operations. FinTech solutions have also enhanced their services through online banking, allowing customers to track balances, pay bills, and execute other banking tasks applying utter financial e-commerce apps. In addition, financial e-commerce solutions allow businesses to streamline their financial processes, such as payment processing and accounting, increasing efficiency and reducing the potential for errors. The integration of e-commerce and finance has greatly impacted the way businesses operate and serve their customers. It has enabled companies to grow, compete and succeed in today's digital landscape.
Manufacturing e-commerce apps
Manufacturing e-commerce platforms streamline the production process by converting raw materials into finished products and distributing them directly to consumers. These digital products help reduce the time and effort involved in traditional manufacturing processes. From making products to distributing, every process is time-consuming to perform. But with the help of digital applications and software, as a manufacturer, you can make it much easier. Moreover, e-commerce apps can provide a more efficient and effective way for industries to manage their manufacturing operations, from product creation to distribution. By automating various tasks and reducing manual labor, companies can increase productivity and competitiveness in the market. Additionally, e-commerce apps can offer a convenient and accessible platform for consumers to purchase products, thereby expanding the reach of the business.
E-commerce app for marketing
An e-commerce app for marketing is a digital application designed to promote and sell products or services online. It typically includes features such as product listings, shopping carts, payment processing, and customer management. The purpose of a marketing e-commerce app is to provide a convenient and accessible platform for customers to purchase products or services, and for businesses to market and sell their offerings. This type of app can be used by businesses of all sizes, from small startups to large enterprises, to reach a wider audience and increase sales.
Online shopping e-commerce apps
Going online or digitizing is a key factor for the success and demand of many companies. The growth of online shopping popularity and need has been made possible through the development of marketing e-commerce applications. This has made shopping more comfortable, convenient, and cost-effective. Market giants such as Amazon, and eBay have achieved great success through their e-commerce businesses. The rise of e-commerce has been evident in recent years and has played a significant role in the success of many businesses.
What Are the Benefits of M-commerce App Development?
Due to the research, in the USA, the daily mobile usage time has increased to 234 minutes this year, and the users' number consist of 5.22 billion. This makes it possible to confidently say that the evolvement of this market will continue with leaps and bounds.
Online retail sales have progressed 3.5 times within 5 years. An excellent user experience attracts more and more clients to make purchases in such a convenient way. E-commerce applications provide users with all the essential details for ordering products/services. What's more, the global pandemic also guarantees success in this market. Nowadays, every up-to-date retailer offers products on the Internet. This way, the business is expanded due to the number of available technologies which allow the creation of an e-commerce website and mobile app meeting the requirements of every customer.
The advantages of mobile commerce app development
High demand
According to Diebold's report conducted in 2019, 63% of users of m-commerce mobile apps were utilizing them to compare prices, search for special offers, read product reviews, and eventually buy online. It's also known that 9 out of 10 customers have their phones available in their pockets 24/7. Since customers are more likely to use mobile devices than desktops to buy products, store owners should keep that in mind when considering how to build an ecommerce mobile app.
Accessibility
In addition, mobile leads to a higher rate of impulse buying since reaching a shop or carrying around a sufficient amount of cash is no longer needed. Purchasing a product is available all along and takes just a few taps on your smartphone, and this fast process creates ideal conditions for impulse purchases.
Customer attraction
What are the advantages of mobile ecommerce development right now? It's because if you don't, you may actually lose your customers! 40% of customers prefer to make purchases if the experience appears to be mobile-friendly, according to Diebold's research. Building a responsive website may seem quite a reasonable decision, but it can't display content as quickly and simply as native apps can. And if you don't invest in your ecommerce application today, your customers may switch to your competitors who have it already.
Startup advancement
Ecommerce mobile app development is a great way to scale your newly established business. Thus, your application will come in handy for a wider audience, increase sales and promote your project. Moreover, the app availability increases customer loyalty towards both startups and old market players.
Data obtaining
To evolve the business, it is quite beneficial to gather valuable data defining the behavior patterns of clients. It allows adjusting a targeted advertisement and personalized offers to users.
Push notifications
The application is another form of marketing channel allowing customers to receive personal discounts, promo codes, above-mentioned target offers, etc. In essence, such mailings via app achieve better feedback in comparison with email ones.
If you want to know how to build a quality e-commerce app, we've prepared the video about the trick for successful implementation of this product. Watch it to get some hints, recommendations, and the other useful details:
Mobile Commerce Trends in 2023
Before developing an e-commerce app, you should first check out the latest trends to make it more competitive.
Chatbots
Famous e-Commerce companies, including Lyft, Spotify, and Pizza Hut, massively started to use chatbots for their businesses. Why? First of all, 54% of users favor messengers to communicate with brands over both phone calls, emails, and even online chats (46%). Moreover, this mobile commerce technology enables them to automate communications with their clients on a 24/7 basis.
Mobile commerce trends: chatbots
Another reason is since such technologies as AI and ML became available, bots can almost immediately learn data about customers. Thus, it enables one to anticipate what will be the next question from a customer or what product he/she will order later on to provide them with a personalized shopping experience.
As a result, such digital assistants are attractive to customers. Many companies have already benefited from chatbot development by optimizing business processes and expanding their client base.
AR Enters the Marketplace
In 2017, AR technology only started to appear, but in 2023 it is going to be highly publicized. If you want your e-commerce mobile application to stand out and receive significant competitive advantages in one step, then integrating Augmented Reality is what you're looking for. In fact, many shoppers can't wait to enjoy how the desired product will look in their homes or workplaces using AR:
41% of mobile users stated that if they observe merchandise via AR before buying, they will make a purchase;
60% of customers favor businesses that utilize AR over others;
70% of customers sense greater commitment to the software that provides an AR experience.
Unfortunately, not every marketplace app development company has started working with Augmented Reality so far. At Cleveroad, we help clients build AR and computer vision-based solutions.
Wish list
This striving trend is able to save items for later purchases and increases sales by making consumers return to your store. It is an extremely convenient feature that enhances the customer experience. 40% of users claimed that they highly appreciate the availability of wish lists in ecommerce apps. What's more, push notifications may inform the client in case of the item from the wish list is on sale.
Geofencing
It's a mobile ecommerce trend of promoting goods according to the location of the user. It is reported that famous shops received no less than 18% of growth in sales thanks to geofencing.
Why use geofencing? With the help of GPS, this mobile e-commerce technology allows monitoring of the user's location every minute. When you specify a requirement such as 'within 800 meters of shopping centers, you can be sure that your app receives every benefit of the timing as well as the buying intent of a user. Geofencing supports such technologies to track locations like Wi-Fi, GPS, RFID, and Beacons.
Omnichannel shopping experience
Omnichannel strategies retain 89% of customers and raise extra store visits by 80%. In 2023, businesses are heading towards forming a unified shopping presence of their store by combining various channels, including physical and digital shops as well as mobile apps.
Mobile ecommerce trends: omnichannel shopping experience
The reason for this mobile commerce trend is the increased competition in this field. To effectively find new customers and then retain the existing ones, you should use all possible channels and provide a unified experience through each of them.
Voice assistants
Voice shopping is forecasted to reach $40 billion by 2023. Assistants like Alexa and Siri are highly popular nowadays, and they are not only in use for inquiring about recipes or turning on some music on request. Voice searching technology has brought convenience to online shopping, used by 51% of customers for searching for goods and by 22% for placing an order.
One-click purchasing
Google and Apple had their hands tied concerning single-click payments because Amazon had a patent on this technology. But it expired in autumn 2017 which promises a pile of one-click payment solutions to appear soon.
The convenience of this mobile commerce technology is undoubtful since users don't have to retype data over and over or perform a lot of steps to make one payment transaction. 97% of customers have abandoned the purchase process due to the absence of this advantage, and 83% of clients stated that online shopping convenience is more significant nowadays than it used to be five years ago. By demanding fewer steps from a user, single-click payments are about to boost the number of impulse purchases on mobile.
Shopping personalization
One of the currently well-known engagement mobile commerce trends in 2023 is content personalization. Such an approach raises customer satisfaction levels by 20%. In 2023 the trend of personalization is evolving, and lots of businesses are about to invest heavily in personalized marketing.
Now businesses won't only aim to examine user data from their app. The data will be taken from various websites, including social networks and messengers. The use cases for this vary from sending personalized emails based on users' previous purchases to AI that will predict the product they will buy next. One way or another, the mobile e-Commerce field is sure to grow the popularity of personalization in 2023.
Big Data
Big data algorithms have become more and more valuable for e-commerce since the number of customers in this industry is steadily growing. For instance, Amazon will have 175 million users in 2021. Big data enables us to receive valuable insights and predict tendencies that are only beginning to show up. It also allows calculating a suitable product price on the basis of hundreds of prices put by your competitors. Big data allows you to pack your store with demanded goods by anticipating the latest mobile ecommerce trends and user preferences.
Things To Consider Before Creating an E-commerce App
There are some certain points that you should think over before proceeding to the development process. Let's consider them.
Business models of an eCommerce mobile app
To start with, let's define the way of cooperation with your consumers by selecting the one among various business models:
B2B (business-to-business). This model implies offering goods and services from one business to another. The products are usually raw materials utilized for manufacturing.
B2C (business-to-consumer). This option is the most widespread one. Simply put, products are bought by customers online.
C2C (consumer-to-consumer). To illustrate this notion, we may consider Amazon or eBay, where users are able to place their goods and sell them to each other.
C2B (consumer-to-business). Such a concept is not that well-known but is highly significant for its audience. Like in UpWork, consumers facilitate businesses with their products and services.
Platform
Choosing between two well-known platforms is an essential point to consider when it comes to application development. The most efficient way to choose a more relevant platform is by defining the target audience. Statista states Android possesses 87% of the global market share, but iOS users make purchases more often. What's more, iOS is widely used in such regions as the United States, Canada, Australia, Japan, and Western Europe, whereas Android is popular in Central and South America, India, Africa, China, the Middle East, Russia, Eastern Europe, and some other countries. The platform also may be chosen by an application type:
Native app. This type is developed exclusively for one platform.
Web-based app. It is available via the network connection with help of HTTP.
Cross-platform app. It combines two previously-mentioned types together (putting web app to the native app shell).
Security
Confidential data protection in such applications is vital. Clients provide the platform with their private information while shopping, such as a home address, credit card details, email login info, etc.). To demonstrate high credibility in the eyes of consumers, you should guarantee data privacy. Obviously, it's impossible to set up a 100% secure system. Nevertheless, the more you invest in protection against hackers, the higher the safety level will be.
Scalability
Scalability indicates the capability of your app to cope with the higher workload as the app attracts more clients and comes in handy for a broader audience. A successful ecommerce platform should be able to process lots of user requests simultaneously. So make sure to create an app with a surplus band rather than dealing with the inoperable one. As the operation load rises, the scalable app may maintain its performance or even function more efficiently.
API integrations
Making purchases online essentially requires payment gateway integrations. On top of that, customers should be able to submit their payments inside your application by filling in the payment info without any redirections. Thus, clients are fully content with a smooth, high performance. Despite the convenience, such a method is not the safest one. The client's confidential data is kept on the app's servers, and to secure it from fraud, your protection should conform to the Payment Card Industry standards.
Seamless work
There are no bugs and crashes in successful ecommerce apps. Quality Assurance services (QA) can help to fix all the issues before the app is launched. App testing detects crashes and regular updates help to enhance the app's function. Multiple iterations may require more time. On the other hand, the more feedback is received, and bugs are fixed during the development stage, the fewer problems you will face after the app release.
How to Create Ecommerce Mobile App Design That Converts?
UI/UX development services are an indispensable part when we consider how to make an ecommerce mobile app. It's intended only for aesthetic purposes and a friendly user experience. Its primary function is to effectively convert visitors into customers and establish trusting relationships with them.
Provide zooming product photos using touch gestures
A UX research by Baymard Institute revealed that the majority of mobile users utilize gestures like pinching to examine product details. The inability to find out about the product specifics frequently decreases the confidence in purchasing this product, so the customers don't buy it. Customers can see a picture of a product as a whole when looking at a large image. But they can't conveniently explore the product details, make sure it has no damages, etc.
Ecommerce mobile UI design tips: zooming via touch gestures
However, 40% of ecommerce mobile websites don't support double-tap or pinching gestures to enlarge pictures, according to Baymard Institute. Meanwhile, websites that contained close-up photos of goods generally received high bounce rates as well. It can only lead to one conclusion: providing products zooming is vital in thinking over how to make shopping app. If your ecommerce mobile UI design supports either double tap or pinches at least, this will put it in the list of 60% dominating ecommerce apps.
What else is needed to ensure product zooming?
Product photos should have a high resolution, or zooming them would be worthless. To put it simply, low-sized images don't offer a high definition to correctly display product specificities when watching them close-up;
Only half of the apps that support zooming gestures notify their users about this feature. Although some tech-savvy users may know about these gestures, there's always a share of those who don't. Don't waste your technical work on making this gesture function but not demonstrating that it is supported by your app.
Enable saving shopping cart items
According to the above-mentioned Baymard, ~68% of prospective customers abandon their online shopping carts. The reasons for this are different, but the unfortunate fact is that after so many efforts, e.g., finding your e-Store and obtaining the product they like, two-thirds of your customers won't buy it.
Ecommerce mobile UI tips: "save for later" button
The design of your application should include a feature for saving the shopping cart contents to buy them later instead of just emptying a cart automatically. Permanent carts enable purchasers to resume shopping anytime and eliminate the boring process of adding the same products once again. Another great idea would be to send email notifications to customers with saved items from their shopping carts.
Make Your App Look More Secure
Mobile commerce security is one of the major pains for users since they entrust your app with the privilege of transferring their hard-earned money. And if your app looks secure, this makes it a lot better in the eyes of your users and increases such an important indicator as conversion rate. Here are several workable methods to do this:
The buttons should create a desire to tap on them and contain clear text explanation about where the user is going to be redirected;
Use words such as 'protected' and 'encryption' as they greatly boost users' psychological comfort. You can also utilize lock symbols for the same purpose;
Add security trust marks provided by such security vendors as Comodo, GeoTrust, SSL Value, etc. Thus, users will see that your app has been checked by trusted security companies.
Make the checkout process fast
Checkout is the most nerve-consuming stage of shopping via the internet. Baymard's survey has shown that 35% of cart deserting happens due to the demand to register a new account before buying.
And more than 61% of customers had trouble locating guest selection options when choosing an account during checkout. Thus, web design for mobile ecommerce apps should comprise a guest checkout feature. Moreover, it ought to be clearly seen and easily available.
Your app design should let them know that the checkout process is not endless and is soon to finish. Your app should display the total number of steps and the currently active ones. Another good way of doing this is by showing a visual progress bar;
Give users an opportunity to choose whether they want to register and sign in when the checkout operation is underway or not;
Utilize the benefits of progressive web apps to pay more attention to improve user experience and speed up content loading time by ~33%.
Enable automatic suggestions
Did you ever feel angry because the search query that you've typed hasn't found the needed product because of one wrong letter? Now imagine what swear words your users may express when they do so. In this case, auto-suggestions come to the rescue to speed up the process of filing various forms and focus more on the end result of doing it.
Another useful autosuggestion solution is payment card autodetection. It greatly simplifies the buying procedure by offering instant feedback that results in boosting conversion rates.
Address lookup also quickens the checkout procedure. There are diverse APIs that allow a simple realization of this feature like Address Doctor, CapAdresse, PCA Predict, and many more.
To deliver the best UX, your mobile ecommerce design should include an in-app error checkup feature. It is supposed to give users feedback in real time when they type and especially when they commit an unintentional mistake. This enables you to correct mistakes instantly, which boosts user convenience.
Make a search bar to be clearly visible
One of the main purposes why customers launch m-commerce mobile apps is to buy the specific products they want. Thus, a search bar becomes a valuable element of your app. In certain cases, searches that took only 10% of online traffic brought up to 40% of firms' total earnings. And 73% of users will leave an app within 2 minutes if they aren't able to find what they need. However, a survey of the 50 largest ecommerce websites by Baymard Institute, including BestBuy, Gap, and Urban Outfitters, has shown that 50% of them had poorly noticeable search bars.
Ecommerce mobile UI tips: Search bar
How to gain every benefit from your search bar:
Make it clearly visible
A search bar should be at the forefront of your app's main page. Locating a search bar should be effortless so that users can quickly find and then buy merchandise;
Search filters by various criteria
This is one of the most valuable options that should be included in your ecommerce mobile UI design. It affects whether a user will use your ecommerce app or not;
Query auto-completion
Starting as a distinctive hallmark of Google's search engine, auto-completion became a standard in how a search bar should perform nearly instantly. It's because auto-completion saves users time by anticipating what the users need while they type and allows us to correct mistakes without performing a search a dozen times if there are some.
How to Develop an Ecommerce App: Essential Steps
Let's move on to the eCommerce development flow and overview each stage in detail.
Requirement defining
A thorough project description will be useful to detail your requests to the development team. As a result, the more definition you bring to your requirements of the final application, the closer it will take you to your expectations. So there's no point in being laconic when it comes to elucidating the features, interface, and design elements. Yet, you can always apply with the minimal list of requirements and define them more in-depth while consulting with your tech partner.
Market analysis
This stage is integral for future app success. It comprises your tech specialists studying your competitors and their benefits, defining the needs and pains of your target audience to make your solution meet all their requirements. For this, they can conduct online surveys to find out detailed requests of your potential clients. To evaluate the competitiveness and originality of your project, your IT experts may apply different analysis methodologies. A really successful and famous one is SWOT analysis:
S for Strengths. Features that make your idea stand out from the crowd.
W for Weaknesses. Flaws that obstruct the success of your application.
O for Opportunities. The solutions allowing to make all your ideas a reality.
T for Threats. Outer hazards which affect the project regardless your actions.
Team gathering
After understanding your requirements and objectives, your vendor delivers a team for your project. You can see the list of essential team members who are required to create the eCommerce app below:
Project Manager
UX/UI Designers
Database Specialists
Delivery Managers
Quality Assurance Engineers
Backend Developers
Frontend Developers
IOS Developers
Android Developers
Flutter App Developers
Here are the three main options to choose from when hiring software development team:
Freelancers
Despite the popularity of this option, it is not that advantageous for ecommerce app development as the quality and deadline guarantee is absent. What's more, it is difficult to build a prolonged partnership.
In-house teams
Here, the control of the development process lies on your shoulders. However, the average cost of app building by such teams goes through the ceiling. Besides, the level of your management responsibilities impacts the final product.
Outsourcing companies
This beneficial option implies that the team of high-qualified specialists will eagerly take over all the development flow at an advantageous price. You will receive the report from the project manager to keep up with the development flow. Despite the great chance to reduce mobile app development cost, the performance is high, as well as the quality.
Find out more details about IT outsourcing in our full guide on how to approach it
Tech stack selection
An up-to-date solutions stack is a key point in the efficient and fast app development flow. Your software engineers choose the most relevant tech tools to optimize the workflow and achieve the high product quality. You can find a list of optional technologies below:
Frontend
The frontend is an application part accessible to the user. Here is an example of commonly used tools and technologies:
Flutter
HTML
CSS
JavaScript (utilized libraries: React, Vue, Angular, jQuery)
Backend
The backend incorporates application servers, unreachable for clients. Its functions are storing, managing, and providing the data on request and making the whole application work. The most popular programming languages for the backend are:
APIs
API integration provides users with a broader spectrum of features. APIs allow exchanging of data among their frameworks. Thus, the following APIs help to easily implement important features into the product:
Amazon S3
PayPal
Stripe
AWS
Twilio
MVP development
MVP is some kind of main features kit that will be tested by the users to collect feedback. To develop an MVP for your app, your partners choose and consult on the list of the major functionality first. You can overview the kit below:
Client's functionality
Registration/Signing up (manual/ authorization via Google/Facebook)
Personal details (Address, payment methods, email, password management)
Homepage (Goods list & categories)
Goods details section (photo and video materials)
Personalized recommendations
Filtering system
Shopping cart
Delivery status tracking
Vendors' ratings
Admin panel
Registration/ Log in
Store management
Order and catalog management
Goods Details Section
Client management
Filtering System
Sales, promotions, rewards management
The main advantage of an MVP is the opportunity to release the app in the shorter term. In addition, you can always implement extra features after launching. Their list is also placed below:
Product videos
Chat Implementation
Switching account type
Loyalty programs
Multilingual & currency
App building and implementation
So what are the essential steps of an app development flow fulfilled by the team? Let's observe a brief list to find out the stages of building an app from scratch:
Wireframe. This primary stage includes the development and approval of your application's wireframe.
UI/UX design. Here, specialists create app icons, screens, buttons, and other elements on the basis of your preferences and tastes.
App development. During this step, the coding process happens to implement the required functions and essentially build the app.
QA testing. All types of apps require checking how they perform for detecting bugs or any other issues and fixing them to achieve the highest quality.
Deployment. When all the bugs are fixed, the app is ready for deployment. Depending on the chosen platform, you should launch an app on the market (Apple Store/Google Play) in accordance with their requirements.
Post-release support
The last step is application launching. Developers deploy the app on the market according to the chosen operating system. For this, the e-commerce solution must comply with the guidelines of App Store (iOS) or Google Play (Android). There are certain peculiarities of this process:
Promotion. It also brings you into marketing due to the fact that the newly released project requires promotion and advancement. It may be realized by social media, video or Google ads, mailings, etc. By doing this, the application will attract a broader audience and evolve your business.
Updates. Another tip to make your app in demand is to analyze the users' feedback and make regular updates implementing their wishes for a higher satisfaction level. When cooperating with a reliable IT partner, the app will continuously expand its functionality and offer fresh, engaging features, not to mention bug fixing.
These steps will keep your ecommerce app advancing in the long term.
Best platforms which allow to build mobile ecommerce app without coding
How Much Does It Cost to Build an Ecommerce App in 2023
First of all, to develop your software we use the Agile approach. This means that you don't pay a big sum for the whole app once. Agile approach implies dividing the whole app development process into short sprints. Each sprint has its pre-specified price at the end of which you receive a fully workable part of your app.
As you may know, ecommerce mobile app price evaluation with defining time required for the development team to spend on each feature. The more features an app contains and the more complex they are results in more time consumption.
Approximate ecommerce app development time and costs estimate

| | | |
| --- | --- | --- |
| Feature | Time required | Cost |
| Registration | 25-40 hours | $1250-2000 |
| Product catalog | 15-20 hours | $750-1000 |
| Help screen | 15-20 hours | $750-1000 |
| Main screen | 30-45 hours | $1500-2250 |
| Profile | 30-45 hours | $1750-2250 |
| Product details | 30-40 hours | $1500-2000 |
| Cart with payment system | 80-110 hours | $4000-5500 |
| Push notifications | 10-20 hours | $500-1000 |
To calculate the total time on developing an e-commerce mobile application and also see a development process structure, it can be divided by different work types:
Design: 100-150 hours.
Android/iOS (frontend): 450-550 hours.
Backend development: 320-400 hours.
Non-development and meetings: 200-250 hours.
So the total development time for building an e-Commerce mobile app is about 1090-1400 hours. Of course, you can add or remove some features, as all of them are fully negotiated. Planning what features your app will contain is very important in calculating marketplace development costs because it helps you define the features that are mandatory and the ones that are unnecessary. Wise planning requires taking into account user demands, your budget, and business goals.
The final step in calculating the cost of mobile app development for ecommerce is multiplying it by hourly development rates. That's why choosing a reliable software vendor is crucial concerning your app quality and cost. To calculate the cost of every feature on the following image, we've used an average hourly rate for Eastern Europe that amounts to $50.
For instance, you can order software development from a company in India for ~$25/hour but receive communication problems because of poor language proficiency and mentality differences. The other extreme is to hire a development vendor from the U.S. for $150/hour but overpay a lot of extra finances for it. The truth lies somewhere between those two options, and that's why an increasing number of customers choose to outsource software development to Northern Europe.
Among the most significant benefits of outsourcing to Ukraine:
High qualification of Northern Europe's developers;
A large pool of IT specialists;
Low cost of living and, therefore, lower hourly rates on development;
High dedication and responsibility of Ukrainians. Taking orders via outsourcing allows them to earn more than the average salaries offered in their country.
We have successfully developed hundreds of apps, explored a wide range of technologies, and made numerous clients happy. Make a first step towards creating your e-commerce mobile app and contact our Delivery managers to discuss any detail of your project.
Ecommerce App Development With Cleveroad
Cleveroad is a trustworthy software development company with headquarters in Central Europe. We specialize in delivering cutting-edge solutions to startups and businesses of all sizes by applying technologies for over 10 years. Cleveroad's expertise comprises a wide range of IT-related services in various domains, like Healthcare, Retail, and FinTech. Our products help in optimizing workflow efficiency, overcome business challenges, and endow competitive advantages. Apart from other benefits our clients receive by collaborating with our company, Cleveroad offers different flexible cooperation models suitable for every project and its requirements:
Time and Material. Time and Material make it possible to start the project development by having only an approximate estimation of undefined requirements. Thus, this option is beneficial in case the scope of work is unclear and the software's requirements are dynamic.
Fixed Workscope. The Fixed Workscope agreement is a one-time contract for the Discovery Phase that includes a detailed estimate, well-defined requirements, and strict timelines. This model is ideal for clients with a clear vision of their product who want to ensure that the final outcome meets their expectations. The focus on meeting deadlines means that delays are rare. If they do occur, the team will work outside of regular hours to complete the work.
Dedicated Team. With a dedicated team, you can cooperate with developers experienced in a particular niche your project requires. Expand your in-house departments with additional staff, gather an agile-oriented team, and start a new product development or maintain and update the existing software. We offer solid technical expertise in more than 6 domains and a huge talent pool to hire and sign a non-disclosure agreement on request.
Renovate your eCommerce business
Cleveroad ecommerce expertise will help bring all your project ideas to reality
Frequently Asked Questions
To calculate the total time on developing an e-commerce mobile application and also see a development process structure, it can be divided by different work types:
Design: 100-150 hours.
Android/iOS (frontend): 450-550 hours.
Backend development: 320-400 hours.
Non-development and meetings: 200-250 hours.
Total: 1070-1350 hours
To calculate the development cost we've used an average hourly rate for Eastern Europe that amounts to $50. As a result, the total development cost will be equal to $54,500 - $70,000.
According to Diebold's report conducted in 2019, 63% of users of m-commerce mobile apps were utilizing them to compare prices, search for special offers, read product reviews, and eventually buy online. It's also known that 9 out of 10 customers have their phones available in their pockets 24/7. Building a responsive website may seem a quite good decision but it can't display content so quick and simple as native apps can. And if you don't invest in your ecommerce mobile app today, your customers may switch to your competitors which have it already.
To calculate the total time on ecommerce mobile application development and also see a building process structure, it can be divided by different work types:
Design: 120-200 hours.
Android/iOS (front-end): 450-550 hours.
Back-end development: 320-400 hours.
Non-development and meetings: 200-250 hours.
Total development hours will be equal to 1090-1400 hours.
Before developing an e-commerce app you should first checkout the latest trends to make it more competitive. We can highlight several mobile commerce trends in 2023:
Chatbots
Augmented reality
Wishlist
Geofencing
Omnichannel shopping experience
Voice Assistants
One-click purchasing
Shopping personalization
Big Data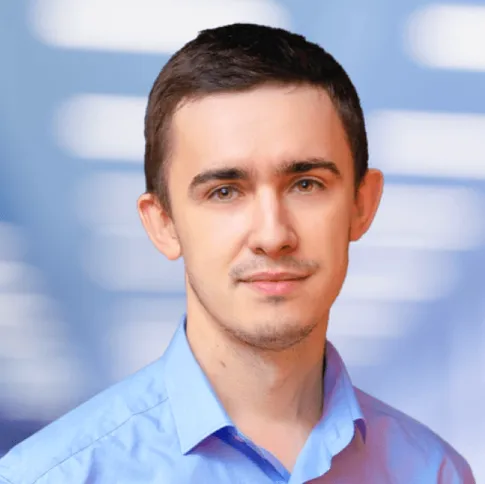 About author
Evgeniy Altynpara is a CTO and member of the Forbes Councils' community of tech professionals. He is an expert in software development and technological entrepreneurship and has 10+years of experience in digital transformation consulting in Healthcare, FinTech, Supply Chain and Logistics
Rate this article!
4224 ratings, average: 4.75 out of 5
Give us your impressions about this article
Give us your impressions about this article
Bhavika
21.02.2023 at 06:33
Hi there thanks for sharing such an awesome blog with us. I was collecting some information for eCommerce app development. I found here all the best information.
Asmika Jain
11.10.2022 at 12:48
Michael Larbi
18.04.2022 at 10:23
This is the best article so far as the others I read gave bit and pieces about some aspects of mobile app development but this one gives almost all I needed. Thank you.