How To Create A Loan App: Actionable Tips To Start And Promote New Business
3452 Views
|
24 Oct 2019
|
14 min
Today you can borrow money from almost any bank. It can give you a large sum at a specific interest rate or provide you with a credit card for daily use. Anyhow, many people use these services and sometimes it can be very convenient. But even 10 years ago you had to visit the bank, stand in a queue etc. In other word, waste your time. It was not convenient but people had no choice. However, now there is a very good alternative for now.
P2P lending websites and apps make it possible to lend money simply sitting in your armchair. These apps are becoming pretty trendy in the FinTech world. Would you like to find out how to arrange P2P lending app development services? Stay with us and we will show you how interesting this process is.
What is peer-to-peer lending app (aka loan app)?
P2P lending is usually spelled out as a "peer-to-peer lending" or "person-to-person lending". This term means issuing and receiving loans by individuals directly without the use of conventional financial institutions such as an intermediary. Commonly, P2P lending is performed with the help of special peer to peer lending sites where users can be both lenders and borrowers.Also, some specialists call it a loan app.
The majority of credits (loans) issued in such services are performed by private individuals, but in some cases, companies as an entity can participate in such processes as well. P2P loan rates can be both fixed or assigned with the help of a reverse auction. As for the latter, potential borrowers assign the maximal rate level they want to take a loan at, and potential creditors bargain with each other offering funds at a lower rate.
Need a P2P lending app right now?
Collaborate with our development team
Companies-intermediaries that create peer to peer software get income from fixed payments, borrowers or in the form of a small percentage from the sum of the loan taken both from the borrower and creditor. It provides you with an answer to the question "what is P2P lending app?".
P2P lending app advantages and disadvantages
Like every technology, the P2P trend has its strong and weak sides. Let's consider pros and cons for P2P lending app.
Advantages of P2P lending app
We will start with advantages first to give you the whole picture.
Lack of an expensive intermediary
Peer to peer lending platforms has a few significant differences from a conventional bank. First, there is neither a bank nor expensive intermediaries, and customers don't need to pay for banking services, visit branches, convince the creditor to issue a loan for your since you are solvent and trustworthy. The system is completely carried in an online environment, and all operations are performed via Internet platforms that exist at the expense of minimal fees for applications or monthly fees. No large sums, no deposits and guarantors are the main advantages of the peer-to-peer system.
The British company Zopa was the first entity that offered the capability of peer-to-peer lending investment in 2005.
Creditor and borrower determine the conditions
Both the investor (creditor) and borrower can choose the conditions for the future bargain - the deadline, sum and interest rate. The provider monitors how participants abide by the accepted rules. For example, one person can apply for only one loan issuance. He or she has no right to request for a new loan if the previous one is not paid off.
To become a participant, a user just needs to register and fulfill a special form. And it would be better for the borrower to fill in as many points as possible - it will increase his chances to get a loan. A special rating shows the user's solvency. That is how peer to peer technology works.
A potential borrower should upload scanned copies of his or her passport and tax identification number. Also, such individuals can submit materials proving their solvency like copies of documents, pictures, videos etc. Best peer to peer lending apps always provide users with high level of trust.
The provider will offer to raise your rating and your personal data will be tested in the bureau of credit ratings. It doesn't cost too much but it will have a substantial influence on potential creditors, so it is one of the best benefits of peer to peer lending app.
A high interest rate in banks is caused by high prices for the services of banks and microfinance companies. They need to pay a premise rent, employees' salaries, finance the development of new products etc. But everything listed is absent in a person to person lending platforms. No premises, no thousands of employees, no office equipment. Thus, P2P lending can really become beneficial! Bingo!
Disadvantages of P2P lending app
In whole, we can see the main advantages here. But if we speak about disadvantages, there some of those also.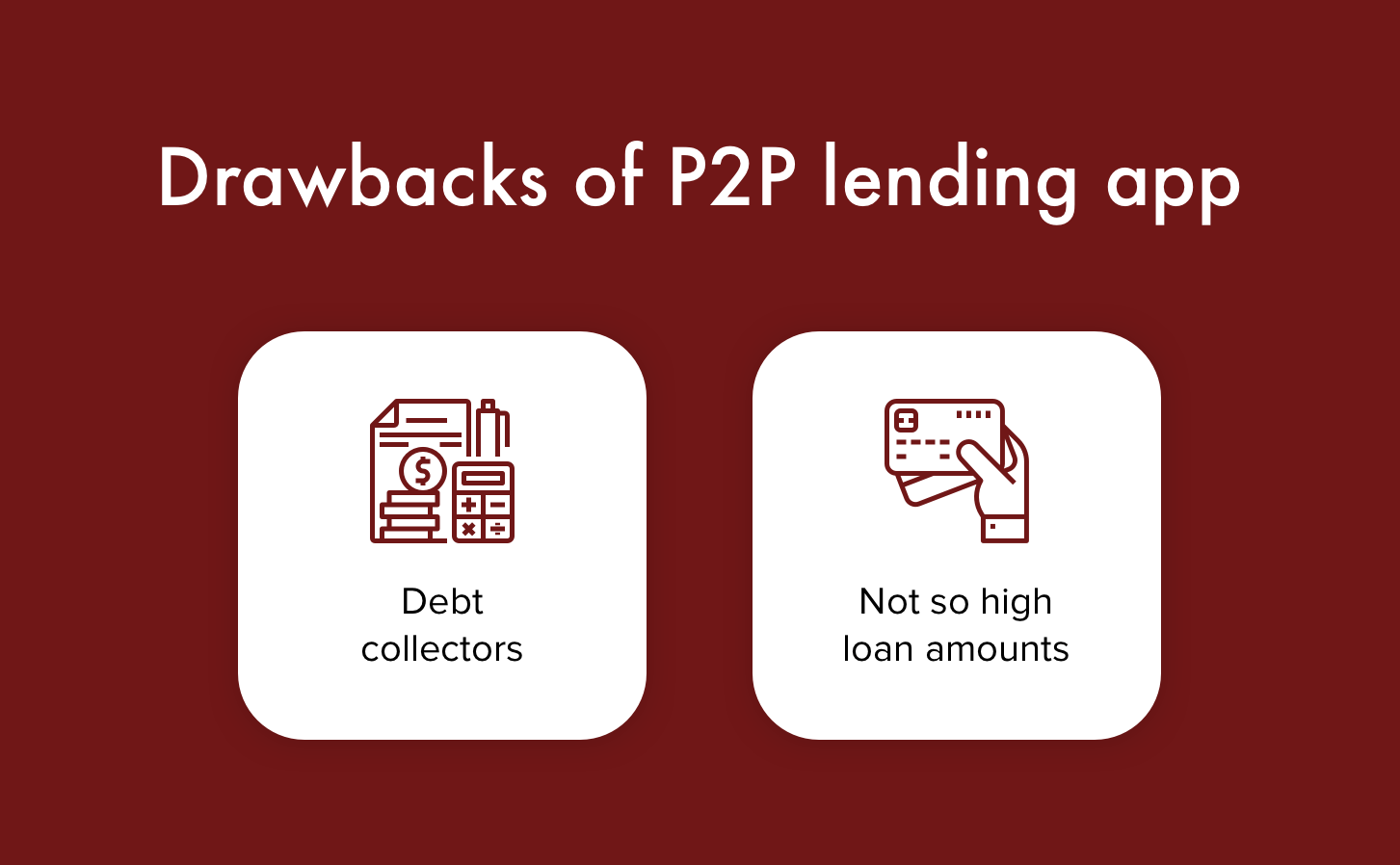 Dsiadvantages of money lending app
If the borrower doesn't pay off his or her credit on time, debt creditors can come into play to make the user pay this money. It is not a pleasant procedure, especially in its moral aspect. But the same can happen when you cooperate with conventional banks.
Loan amounts are not so high
Since P2P lending platforms are rather new, not all creditors are ready to issue millions of dollars to the invisible borrower. So at the moment, loan amounts in peer to peer programs are usually limited to $50,000. Moreover, this amount is not so low as well.
How to create a loan app: what to start with?
Now let's discuss what you should do first if you want to create your own P2P lending app. How to create a money lending app? The process won't be easy and fast but the result is worth the candle.
Start with a business registration form. You need to choose how to register a legal entity. That is why you need to choose what type is more appropriate for your business.
For example, if you register your legal entity like a corporation or LLC (limited liability company), you will protect your business against creditors if any force majeure or bankruptcy occurs.
If you choose a corporation form, then mind that corporation implies more requirements than LLC like tax reporting/accounting.
In LLC profits and losses are distributed according to the agreement, whereas a corporation should perform it following the share of ownership of each participant.
Register your business name. As it is a financial structure, you must choose the necessary service and register as an entrepreneur. You will need to follow all governmental requirements in this issue in order not to break the law if you are looking for ways on how to create loan app. Also, don't forget that your business name shall be absolutely new to avoid repeated names of peer to peer lending companies already registered in this system.
If you create a business in the USA, then make sure that the name you want is free on uspto.gov. And brand name must be different from the domain name.
The domain of your platform should be rather short and memorable, and, of course, it must be unique. The cost of domain registration may vary from $20 to $100, and higher. Everything depends on the value of the domain. Consider it during loan lending app development.
Initial capital.As in the case with any startup, you will need a specific amount of funds that you will spend for the development of your app. But also you must share some funds for the first loans. Why? Because if new borrowers start getting loans, such measures will help attract investors.
Which is the best way to raise initial capital? We can offer you three options:
ICO. Initial coin offering or ICO will help you attract investments if you sell investors a fixed number of new cryptocurrency units (tokens).
Venture capital. You may try to attract venture capital. To do it, you should create a business plan and pitch deck to show it to investors. If they are interested in it, they will invest money in the development of your project, but they will have their share in your business. Or you will have to pay a fixed amount with the agreed interest.
Take a loan. Yes, to start the development of a loan app, you need to take a bank loan. But if you succeed, you will return this loan rather quickly.
Also, you will need money to start cooperating with the bank where you will keep your money for P2P lending loans.
UI/UX design. As usual, your product cannot be a difficult-to-understand peer to peer architecture. The simpler it is, the more people will feel comfortable using it. So you'd better integrate all basic features, make interface user-friendly and not overloaded with icons and pictures. It must contain all MVP features and maybe some additional ones if your budget has reserved funds. Think as a customer. All actions the app performs must be clear and simple. By the way, you may find out how we create UI/UX at Cleveroad.
Software development. The core issue of our article. For a start, you need to build a website to gain more trust and users. The next step should be mobile lending app development for iOS or Android platform. It is much more convenient due to mobility and quick access to the app.
So what do you need for the development?
For the very beginning, you need to determine how your app will be created. You can make everything from scratch if you have a large team of programmers skilled at various programming languages. The last and the most acceptable way to develop an app - to order the whole development from software companies on a turnkey basis. They will do everything starting from creation to post-release support.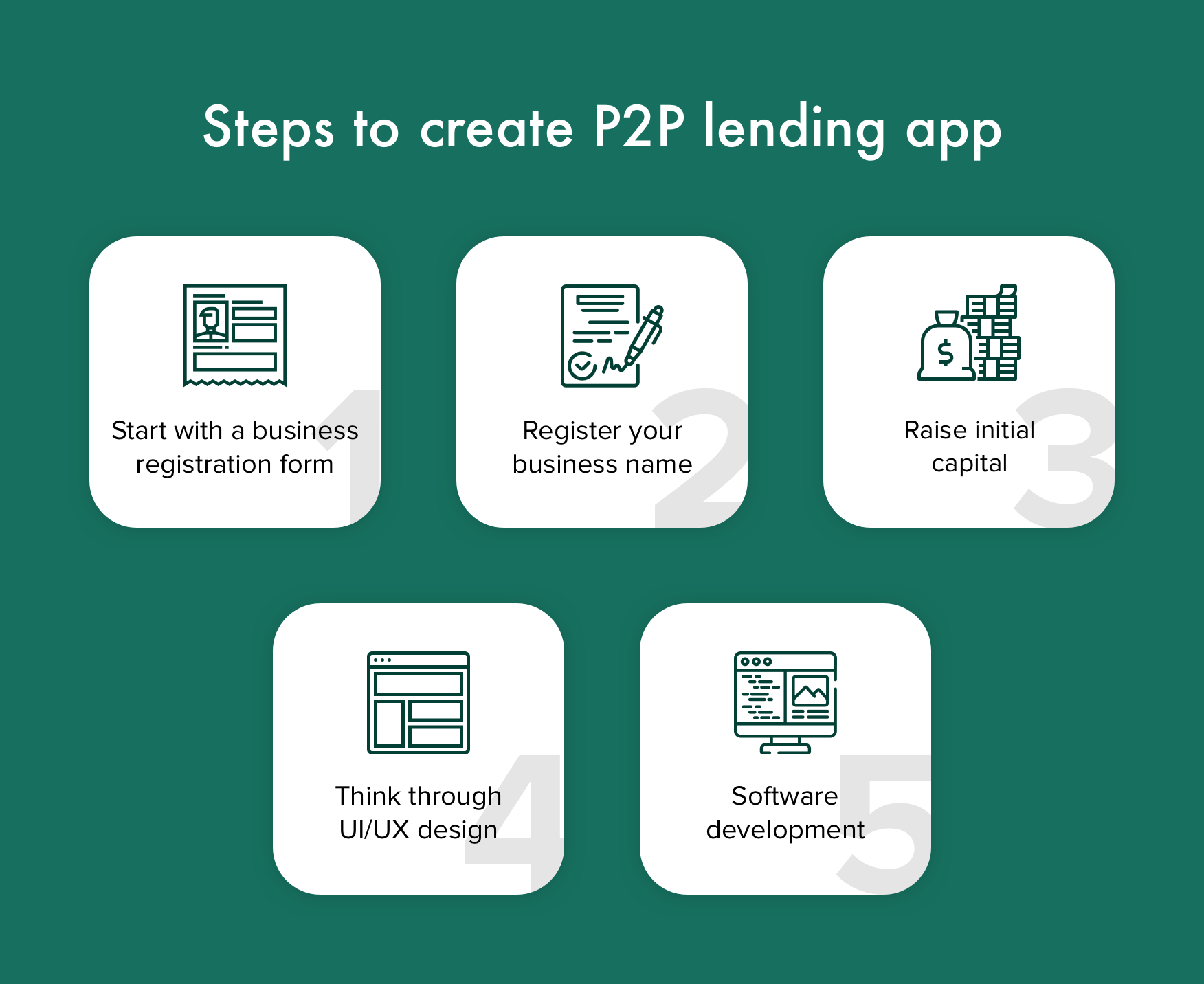 Steps to build a peer-to-peer lending app
These steps are essential and you need to know them when you start to create a loan app.
Important aspects to consider during the P2P app development
Unfortunately, you should always be on the alert. Some difficulties are waiting for you on your way to the P2P lending Olympus. We will list the most common of them.
Find a good lawyer
In some other types of business, you can work without a lawyer at all. But as for the lending business, you need a skilled lawyer that will be able to settle all legal issues concerning peer to peer investing and explain how to act correctly. Otherwise, you can break the law and your activity will end with judicial proceedings.
Hire financial specialists
Apart from the lawyer, financial specialists are also required. They will monitor all your policies and procedures to make them up-to-date and meet financial regulations. Ideally, this specialist must be highly skilled and have great experience in working in the lending banking sector. He or she will help decrease risks concerned with P2P lending process.
Make a loan agreement
It is also necessary to consider the drafting of the loan agreement when establishing P2P lending startups. Users will need to get acquainted with all terms and conditions. Besides that, the agreement must comply with governmental financial regulations. Here good experience financiers will come to the rescue as well.
Find a bank partner
You will need to cooperate with the bank you will choose by yourself. The services of this bank are necessary for keeping your money there, as well as the money from investors and borrowers. In addition, this cooperation will help you resolve many issues with your new loan products since the bank already have a compliance procedure in place. But it doesn't mean you are restricted with only one bank - you can partner with a few banks to gain more advantages. However, it will be more expensive.
Mind local and international laws
Don't forget that you need to comply with all local and international laws in your case you intend to build a product that is targeted not only at your region. You need to find out how to comply with all legal issues during loan app development. But we will spell out this point in the next section.
Regard multiple integrations
Your loan app should be prepared for integration with third-party solutions since it is inevitable. Payment systems, wallets, banking providers, and so on. So your app must be scalable for the integration with different third-party APIs.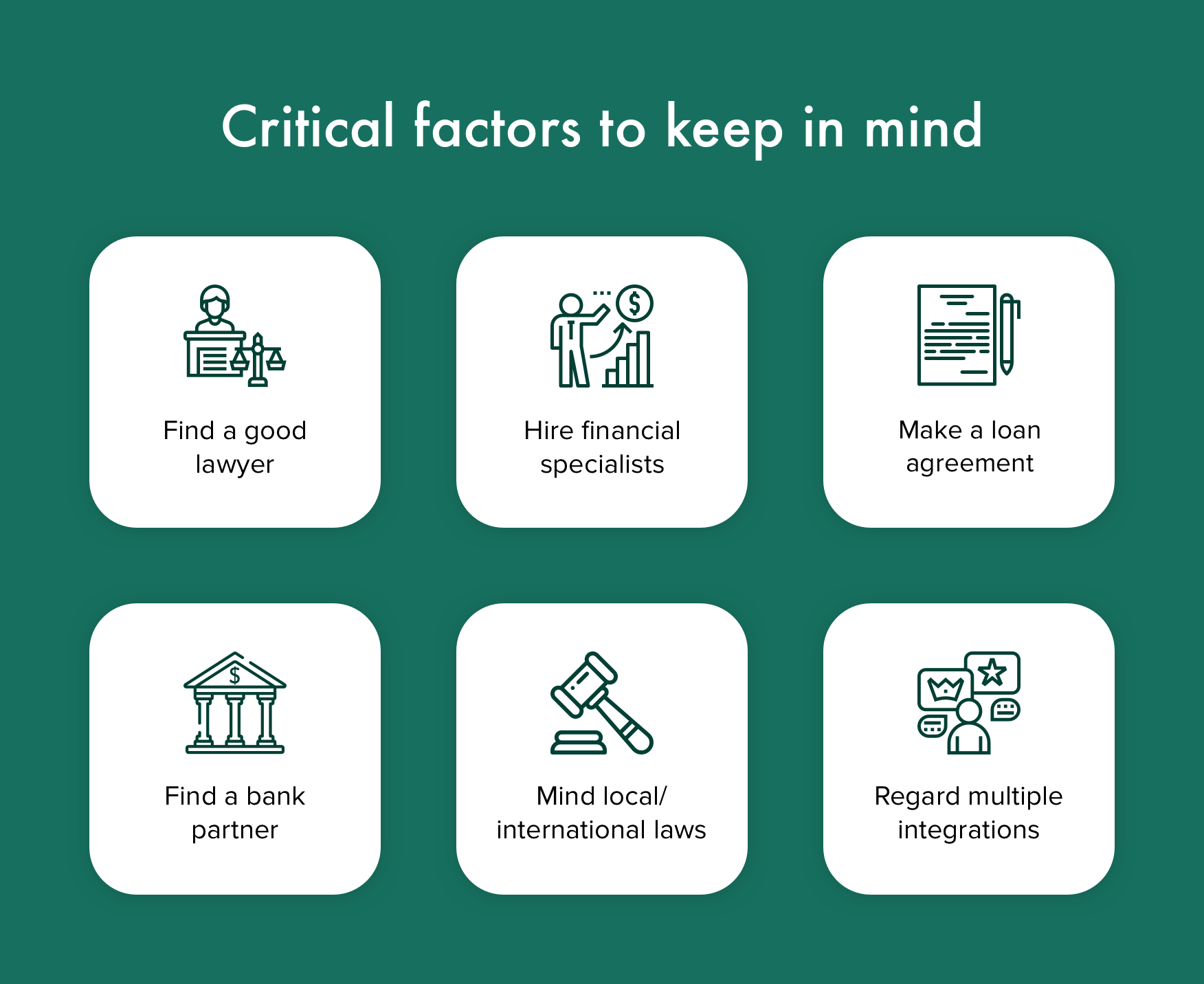 Important aspects to consider during P2P lending app development
Legal compliance and encryption
These points must be discussed in a separate section since they are critical if you want to do your business legally and avoid fines and penalties. Besides, you need to protect a loan app and website to make sure it won't be hacked by malefactors.
Fault tolerance must be ensured. Developers need to consider that your P2P lending app should be fault-tolerant. It means it will work uninterruptedly even if heavy load due to a large number of simultaneous operations may occur. That is why developers need to use a special tool that will handle fault tolerance.
Security comes first. Both your website and mobile app should be secured enough, and you need to protect your software from the most widespread risks like XSS (cross-site scripting), SQL injections, sensitive data exposure, broken authentication, and so on. To encrypt all personal data of users and lenders from a third party, you will have to apply all modern encryption techniques and signature technologies. Also, all users should have encrypted authorization via PIN codes, passwords, and even biometric authentication. So here you need to pay much attention to the security issue.
GDPR compliance. If you create software for the EU market, you need to make your lending app GDPR-compliant. GDPR, that stands for General Data Protection Regulation, became effective on May 25, 2018. This detailed guide will help you follow all rules to the protect personal data of users properly. It is a vital step you cannot ignore or bypass if you don't want to be fined.
CCPA compliance. California Consumer Privacy Act (CCPA) is the act that you are obliged to keep up with if you build software for California residents. The main goal of this law is to give users more control over their personal data. CCPA becomes effective since January 1, 2020, and if California is your target market, you need to make your P2P lending app CCPA-compliant. To find out all details about CCPA, read our recent article.
Don't forget that local laws and regulations may vary, everything depends on the location where you plan to create a P2P lending app for. So if Asia, United Kingdom, Australia or other regions - pay rapt attention to local regulations of each region.
How to promote your P2P lending app?
Your app is developed and waiting for somebody to use it. But how can you promote it? You should undertake a few strategies to deal with such challenge.
App originality. Although this technology is not old, the number of P2P mobile apps and websites is growing every year, so your new app must become something different from other top peer to peer lending apps available on the market. There are some ways to do it:
For instance, you can choose only one type of lending for a specific purpose. That is, your app can give loans to students for education or medical loans for treatment;
You should always do a market analysis to understand what apps prevail. It will help you not to become one of many but to stand out from the crowd due to something new in your app;
You can try to focus not only on personal loans from one person to another but also on business loans to entities. It will be a hard-to-implement process, but beneficial for you and give you a competitive advantage in the business world.
Involve the press. Mass media is one of the best ways to attract people to some new product. Everybody knows it. So you may involve the press to tell the whole world about your new P2P lending app.
If you are able to cooperate with the press, it will help you draw the attention of potential investors to use your platform for lending money. Nobody wants to lose their money so if the press starts spreading news

about your app - it will give investors and borrowers more trust in your service;

Or you may find an opportunity to cooperate with already popular and known financial platforms that will show your company in a good light.
Good old advertising. This alternative can be referred to the mandatory way to promote your app. Nobody will install and use your app if there isn't any word about it, right? So you will have to place your ad on as many websites and other web services as possible. Of course, it would be better to target financial services to find the required audience.
Never forget about social media! Today many people spend a lot of time there so this tool is great for searching for new customers. Be brave and may the odds be ever in your favor!
Now you see the main steps you need to undertake to create your own P2P lending app. The process is not easy and you will face many problems during its development. But nothing ventured, nothing gained, keep it in mind. Our company can help you with the development and creation of loan app for you. Contact us and share your project ideas!
Rate this article!