How to Make a Peer to Peer Payment App That Meet All Your Requirements
Are you a FinTech business wondering how to make a p2p payment app? In this article, we will provide you with an overview of the process and share in-depth insights on how to achieve this goal successfully.
As an experienced IT provider with 10+ years of experience in FinTech software development, we will guide you through the peculiarities of building a robust and legally compliant peer-to-peer payment application. You will discover the required functionality, types, cost, , and other valuable points. Let's explore the key steps and considerations on how to make a peer to peer payment app.
What Are P2P Payment Apps and How Do They Work?
Peer-to-peer payments (P2P), also known as person-to-person payments, are transactions transferred from online or mobile app to another app. P2P payments can be payments for car rent, lunch, or ride. One person can transfer funds from his or her banking account or credit card using an appropriate mobile app.
PayPal is one of the first services that occupied the niche of P2P payments long ago. Today PayPal is used in many apps. However, many other platforms enter the world market P2P payments market.
P2P payment app development is essential to make it possible to transfer funds between banking card owners even if they are clients of different banks and different payment systems like Visa or MasterCard.
How P2P payment apps operate
How P2P payment app works
It is quite simple to set up P2P payment accounts. It doesn't matter what platform you use, it is necessary to sign up for an account, and then you need to link your bank account or card to the service account. Many P2P apps require to add some personal information, memorable words, and passwords to increase the security level. When everything is done, you can find other persons by emails, phone numbers, or names.
To send or receive money, users need to make a few clicks. You need to choose a recipient, the amount of money, add the purpose of payment if necessary (it is an optional feature in many apps), and click the Send button. In most cases, to confirm the transfer procedure you will need to confirm the password, and this is good, it is an additional protection layer. The time for funds delivery may vary - a couple of minutes or days, depending on what service and transfer options you use. When funds are delivered, the user can withdraw it to the personal banking account if necessary.
Reasons to Create a Custom P2P Payment App
According to Heliyon, customers' roles have shifted from passive receivers of services in a transactional connection to active players in deciding service experience, and your app can become truly relevant, since you'll be able to bring the following list of benefits:
Offer personalized financial services. You can offer users something unique and unusual within your custom P2P payment app development they won't find in other services. Or you own a financial organization that demands the availability of P2P payment service that will be used for internal purposes. Anyway, a custom solution may provide you with features that will meet all the requirements of your business.
Costs decrease. P2P payments are advantageous for their cost. It means that there are no intermediaries. All transactions are made electronically, directly from sender to recipient, that is why there is no need to use third parties, and transaction fees are meager very low, or there is none at all.
Transparency. Besides that, many users like transparency in P2P mobile app. For example, if you need to exchange currency, you will likely find a reasonable rate in P2P payment app since it is determined by overall demand, not by banks or governments.
Robust security. As a rule, P2P payment app development ensures solid security. Since it is a financial software, developers usually add a few protection layers to encrypt transfers and make sure that malefactors will fail in their attempts to steal money.
Anonymousness. Finally, some P2P apps provide users with anonymous transfers, and it is especially popular in payment apps that work with cryptocurrency. This feature allows users to protect their financial privacy and conduct transactions without revealing their identities, making it a go-to option for those who value discretion in their digital transactions.
Types of P2P Payment App
When we have determined all reasons and benefits to build a P2P payment app, let's review all the types of such apps and their particularities.
Standard P2P payment apps
Standard P2P payment app type has become household names in the world of digital finance. This type offers a straightforward and user-friendly interface that allows individuals to send and receive money effortlessly. Standard apps typically link to users' bank accounts or credit/debit cards, enabling seamless fund transfers. They excel in domestic transactions, making them ideal for everyday use like splitting restaurant bills or sending birthday gifts to friends. They often offer additional features like request payments, bill splitting, and peer-to-peer messaging, enhancing the payment experience. PayPal and Venmo are great examples of how to make a P2P payment app within this type.
Mobile wallet apps
Mobile wallet apps, including Apple Pay, Google Pay, and Samsung Pay, have revolutionized the way we make payments. Such apps store users' payment card information securely on their smartphones. Users can then make contactless payments at physical stores equipped with NFC (Near Field Communication) terminals. Additionally, they facilitate online shopping by allowing users to pay within apps and websites with just a touch or a click. The integration of loyalty cards, rewards, and boarding passes further enhances their utility, making them versatile tools for modern consumers.
Social P2P payment apps
With this type, users are enabled to send money to friends and family while adding notes, emojis, or comments, creating a more engaging and personal experience. Such platforms are commonly used for splitting bills, sharing expenses for group activities, and even reimbursing someone for a meal or a gift. Their social feed-style activity logs make payments more transparent and foster a sense of community among users. Apps like Venmo and Splitwise blend financial transactions with social interactions.
International P2P payment apps
The international payment apps stand out for offering competitive exchange rates and lower fees compared to traditional banks, making them a cost-effective choice for international transactions. Users can transfer funds to different currencies quickly and securely, often with options for bank transfers, mobile wallet deposits, and cash pickup at designated locations. These apps are invaluable for individuals and businesses engaged in global commerce or supporting family members abroad. International FinTech apps, such as Wise (formerly TransferWise) and Remitly, specialize in facilitating cross-border money transfers.
Cryptocurrency P2P payment apps
The apps for cryptocurrency transactions, like Coinbase Wallet cater to users interested in the world of digital currencies. They provide a platform to buy, sell, and exchange cryptocurrencies like Bitcoin, Ethereum, and more. Beyond trading, users can also send and receive cryptocurrencies directly to and from others. This fosters a decentralized approach to financial transactions, allowing individuals to have full control over their digital assets. Such apps often come with built-in security features and wallets to safeguard crypto holdings.
These various types illustrate how to create a P2P payment app and cater to different needs and preferences, allowing users to choose the one that aligns best with their specific financial requirements.
The Most Successful Examples of P2P Payment Apps
Let's explore some of the most successful P2P payment apps, each with its unique set of features and offerings.
PayPal
PayPal, a household name in online payments, has remained a frontrunner in the P2P payment landscape. It is a widely recognized and popular online payment platform that allows individuals and businesses to make and receive electronic payments over the internet. This example of peer-to-peer app development has become one of the most commonly used methods for online transactions, enabling users to send and receive money, make purchases, and conduct financial transactions securely and conveniently.
Its killer features include:
Ease of use. PayPal's user-friendly platform makes it effortless to send and receive money, whether for personal or business purposes.
Purchase protection. Buyers benefit from secure online transactions and protection against unauthorized payments.
Venmo integration. PayPal's acquisition of Venmo offers a seamless bridge between the two platforms, allowing users to split bills and share expenses effortlessly.
Venmo
Venmo, which is a subsidiary of PayPal, shines with its social and mobile payment features. It is a peer-to-peer (P2P) mobile payment application that enables individuals to send and receive money quickly and easily using their smartphones. The platform has gained popularity, especially among younger users in the United States, for its social and user-friendly features.
Here are the core features of the platform:
Social feed. Venmo's social feed feature adds a touch of social interaction to payments. Users can share and like payment activities, making transactions more engaging.
Bill-splitting. Venmo simplifies splitting bills among friends, making group payments a breeze.
Venmo card. The Venmo debit card links directly to the app, allowing users to spend their Venmo balance easily.
TransferWise (Wise)
TransferWise, now known as Wise, aims to make international money transfers more transparent, cost-effective, and efficient for individuals and businesses, while offering competitive exchange rates.
Its killer features within peer-to-peer app development include:
Transparent exchange rates. Wise offers real exchange rates without hidden fees, ensuring users get the best value for their money.
Multi-currency account. Users can hold and manage multiple currencies in a single Wise account, simplifying international financial activities.
Borderless account. Wise provides users with account details in various countries, enabling them to receive payments locally, even in foreign currencies.
Cash App
Cash App, developed by Square, Inc., is a mobile payment service that allows users to send, receive, and manage money digitally. It provides a simple and user-friendly platform for peer-to-peer (P2P) transactions and financial activities.
Here are some key features and functions of Cash App:
Cash card. Cash App users can obtain a physical debit card, making it easy to spend their Cash App balance.
Bitcoin trading. The app offers a straightforward platform for buying and selling Bitcoin directly within the app.
Direct deposit. Cash App allows users to set up direct deposit, making it a convenient option for receiving paychecks and government benefits.
Square Cash
Square Cash, also from Square, is a mobile payment service developed by Square, Inc. It allows individuals and businesses to send, receive, and request money from one another using a mobile app. It is available for both iOS and Android devices and has gained relevance for its simplicity and ease of use.
Let's discover its features:
Square register integration. Square Cash seamlessly integrates with Square's point-of-sale system, providing businesses with a unified payment solution.
Instant deposits. Users can opt for instant fund access for a small fee, ensuring fast availability of funds.
Customizable invoices. Square Cash allows businesses to create and send invoices directly from the app, streamlining the invoicing process.
These examples of payment P2P app development have achieved success by addressing specific user needs and providing standout features.They can serve as valuable examples for developing your custom P2P payment solution.
How to Build a P2P Payment App with Basic Features
To provide users with the flawless quality, your custom P2P payment system should include a few must-have features.
User digital wallet
Digital wallet is a space for a user where they can keep their funds and cards data, make electronic transactions, and so on. A user digital wallet also includes other features that we will list below. By the way, if you need a mobile wallet as well, we may provide you with a with a comprehensive guide "How to build mobile wallet app".
Send and request money
Everything is simple - users should have the capability to send money or request the required amount from other users.
Send bills/invoices
To create a P2P payment app you need to add the capability to use the camera to scan bills and then send them to other users. Besides that, person-to-person payment apps should make it possible to generate invoices as well and submit them.
Push notifications
Notifications pop up on the main screen of a mobile device when any activity occurs. For example, new funds are received, or it is the due date to pay bills. Also, if there are new special offers or discounts, a user will be notified.
Unique ID/OTP
If users plan to make any transaction in P2P payment app, they need first to verify and confirm unique ID and OTP (one time password). It is required to increase security and prevent unwanted or occasional transactions. If the device has an integrated fingerprint scanner, they may confirm a transaction with fingerprint scanning as well.
Transfer to a bank account
Users may transfer their funds to a banking account or card using your peer-to-peer mobile payments.
Chat
A chatting feature will be good if users need to clarify specific details concerning payment, and they can do it directly in P2P payment app. Besides that, it will reduce the number of possible mistakes.
History
And the last but not the least must-have feature is the history needed to create a P2P payment app. Users will be able to see all their transactions, received and sent payments, dates, and correct time. If you don't add, the app will become quite inconvenient, and users will abandon your app.
Admin panel
This feature is required for you as the owner. Developers need to create a web admin panel that will allow you to manage the app, edit, remove, and so on.
Payment app interface example built by Cleveroad. Source: Dribbble
We think you understand that these features are basic, and most P2P payment services have more specific features. Your service may also require additional and unique features none of your competitors have. And a software development company will help you turn it into reality.
Here's the list of possible advanced features you can add into your P2P payment app:
Two-factor authentication (2FA)
Biometric authentication
End-to-end encryption
Support for multiple payment methods
Integration with real-time payment systems
Instant payment notifications
Contacts and social integration
Payment requests and invoicing
Currency conversion
Multi-currency wallets
Advanced bill-splitting algorithms
Group payment features
QR code scanning
How to Create a Mobile Peer-to-Peer Payment App in 9 Steps
First, let's outline the essential steps you need to take to understand how to create a mobile peer-to-peer payment app:
Step 1. Define your Unique Selling Proposition (USP). Identify the user problem your app aims to solve
Step 2. Market analysis. Analyze competitors, target market, user preferences, and P2P app development trends
Step 3. Choose a monetization model. Explore various monetization approaches and select the one that suits your app
Step 4. Build your team. Explore the market offerings to find a reliable tech vendor with the experience in fintech app development
Step 5. Requirements discussion with an IT vendor. Collaborate with a vendor to define product's specifications, platform, features, tech stack, security measures, and payment gateway integration
Step 6. Design UI/UX. Work with design team to create an intuitive and user-friendly interface for your app
Step 7. Development and QA. The development team will build a Minimum Viable Product (MVP) to verify the idea feasibility and gather the feedback from the first users and conduct Quality Assurance services for the flawless app performance
Step 8. Security considerations. Prioritize security measures, in assistance with Solution Architect to apply the best protection strategies
Step 9. Launch, gather feedback, and monitor. Release your app, collect user feedback, and monitor its performance closely
Now, let's delve into each step in more detail:
Step 1. Define your Unique Selling Proposition (USP)
Begin by thoroughly understanding the user pain points your app intends to solve. Conduct user research, surveys, and market analysis to pinpoint the specific problems users face when it comes to peer-to-peer transactions. Outline such details as competitors, target market, user preferences and demands, as well as trends in P2P payment app development. Your USP should encapsulate what makes your app unique and why users should choose it over existing solutions. Consider factors like speed, security, ease of use, and any innovative features that set your app apart.
Step 2. Market analysis
Market analysis is a crucial step in determining your app's viability. Research your competitors to understand their strengths and weaknesses. Analyze your target market to identify user demographics, preferences, and behaviors to create a P2P payment app successfully. Stay updated with the latest P2P app development trends and emerging technologies. Use this information to refine your app's features, design, and marketing strategy to align with market demands.
Step 3. Choose a monetization model
Selecting the right monetization model is essential for sustaining your P2P payment app's growth. Explore different revenue streams such as:
Transaction fees. Charge a small fee for each transaction conducted through your app.
Subscription plans. Offer premium subscription tiers with additional features and benefits.
Advertising. Display relevant advertisements to generate revenue.
Evaluate which model aligns best with your app's user base and market positioning. Keep in mind that your monetization strategy may evolve as your user base grows.
Step 4. Build your team
When assembling your team for the mobile P2P payment app development project, focus on expertise in FinTech software creation, security, design, and project management. Seek professionals with prior experience in payment app development, effective communication skills, and agility in adapting to changing requirements. For instance, you can consider outsourcing software development to Central and Eastern Europe for a cost-effective, high-quality talent pool with a strong focus on data security, compliance, and cultural compatibility. This choice can streamline the development process and provide access to a skilled team ready to meet your project needs.
Step 5. Requirements discussion with tech partner
Collaborate closely with your chosen vendor to define essential product requirements. This includes determining the platform (iOS, Android, or both), specifying features, selecting the tech stack (programming languages, frameworks, databases), establishing robust security measures, integrating payment gateways, and ensuring compliance with industry regulations, like AMLD, MiFID II, PSD2, and MiFIR. Effective communication and a clear understanding of these requirements are crucial for a successful project. This phase lays the foundation for your mobile P2P payment app's development, ensuring it aligns with your vision and user expectations.
Step 6. Design UI/UX
Invest time and resources into designing a user interface (UI) and user experience (UX) that enhance usability and engagement within your P2P payment app development. Consider aspects such as:
Intuitive navigation. Ensure users can easily navigate through the app.
Mobile responsiveness. Design for various screen sizes and orientations.
User feedback. Incorporate user feedback loops to continuously improve the app's design and functionality.
Step 7. Development and QA
Initiating the peer-to-peer app development process may involve creating a Minimum Viable Product (MVP), a pivotal stage in building your app. The MVP focuses on implementing core features essential for your P2P payment app's functionality, allowing you to test its viability and gather initial user feedback.
During MVP development, prioritize the features that form the backbone of your P2P payment app. This could include account creation, fund transfers, and basic security measures. By concentrating on these foundational elements, you can swiftly launch a functional version of your app for testing.
Rigorous quality assurance (QA) and testing should be an ongoing process to identify and resolve any issues or bugs. Regular updates and feature enhancements will help refine the app.
Step 8. Security considerations
Security is paramount in payment P2P app development. Implement robust security measures, including data encryption, secure authentication mechanisms (e.g., multi-factor authentication), and adherence to industry standards and regulations (such as Payment Card Industry Data Security Standard - PCI DSS). Regular security audits and updates are essential to protect user data and financial transactions.
Step 9. Launch, gather feedback, and monitor
After thorough testing and refinement, launch your app to the market. Encourage user feedback through ratings, reviews, and customer support channels. Monitor app performance, analyze user behavior, and track key performance indicators (KPIs) to identify areas for improvement. Iterate on your app based on real user feedback and emerging trends in the P2P payment industry to stay competitive.
By following these detailed steps, you can create a mobile P2P payment app that not only addresses user needs but also stands out in a competitive landscape.
Peer to Peer App Development Legal Compliance
As any FinTech app, it should meet the financial regulations and standards of the region the app is developed for. And a person-to-person payment system is not the exception. -
APAC region (Asia-Pacific). If you create an app for the Asian sector, then you need to get approval from FinTech Committee under the People's Bank of China (PBOC), if your target market is China, FinTech Center under the Financial Services Commission (FSC), if your market is Korea. To put the app on the Australian market, you will need to solve legal issues with Innovation Hub by Australian Securities and Investments Commission (ASIC).
It is a much more complicated situation with the US region for building P2P applications.. The matter is that there are more than eight federal agencies that are engaged in regulatory compliance. Moreover, the US has 50 states, and each state has its financial regulations. Thus, you need to consider it if your market is the USA.
European Union regulations concerning FinTech apps and P2P payment apps, in particular, are described in Directive (EU) 2015/2366. Apart from this, all apps that process personal data of EU-based citizens should comply with GDPR rules. Our detailed guide about the general data protection regulation rules will explain to you everything on how to make your app GDPR-compliant.
And the FinTech market of the UK is regulated by the Financial Conduct Authority.
Pressing Challenges to Consider and Deal With
There are some pitfalls you should take into account to give users a better experience and improve customers' loyalty.
Geo limitations
Different regions have different rules and regulations, and it is impossible today to build an app that will match all financial standards. So there are certain geographical restrictions that must be taken into account during the app development process.
Disputes settlement
Sometimes troubles with transactions may appear. When a sends any money amount to another user, and the recipient doesn't receive it. And the technical glitch may be the reason for it or some other problems. What should they do? You should implement the availability of financial support in your peer to peer payment app development where the special department will sort out this issue and settle the dispute to return all funds to the recipient.
Conservatism
A peer-to-peer money transfer app should be credible. Not all people feel comfortable using mobile payment services, especially if they are new. They feel better using conventional cash. So you will need to work hard to attract more users and convince them in the trustworthiness of your app.
Currency conversion
All P2P payment apps come across this challenge. There are more than 160 different currencies in the world, and currency conversion in real-time mode is not always available in such app type. So you need to think through this issue of peer to peer application development.
Security
Ensuring the security of financial transactions and user data is paramount. P2P payment apps handle sensitive information, making them attractive targets for cyberattacks. Developers must implement robust encryption, (PCI DSS, PA-DSS, KYC, GDPR, ePrivacy) authentication mechanisms, and fraud prevention measures to protect against threats.
Financial data synchronization
Maintaining real-time synchronization of financial data across devices and platforms can be challenging. Users expect up-to-date info on their transactions and balances, requiring software engineers to design efficient data synchronization processes that minimize delays and errors. Handling synchronization complexities is vital to providing a seamless user experience.
The one who owns information, owns the world. If you know all these challenges, it will be easier for you to deliver a robust P2P payment app.
Peer to Peer Payment App Development Cost
For your better understanding and guidance, we've compelled the rough estimate for the peer to peer application development by the complexity levels. Then, you'll disclose the factors that form the costs.
Simple P2P payment app development cost: $40,000-120,000
Medium-complexity P2P payment app development cost: $120,000-200,000
Complex P2P payment app development cost: $200,000-300,000+
When estimating the cost to create a P2P payment app, the following key factors should be considered:
Features and сomplexity. The number and complexity of features significantly impact the cost. Basic apps with limited functionality cost less, while advanced apps with numerous features require a more substantial investment.
Platform. Developing for a single platform (iOS or Android) is typically more costly. In case you'd like to create a payment app for both platforms, you should opt for cross platform app development for cost optimization. Consider your target audience and budget constraints.
Design and UI/UX. High-quality design and a user-friendly interface contribute to user satisfaction but can increase development costs.
Security measures. Implementing robust security features, such as encryption and authentication, adds to the development cost but is essential for trust and compliance.
Tech stack. The choice of programming languages, frameworks, and third-party integrations impacts development costs. Some technologies may require higher development skill levels, affecting rates.
Location of the development team. Labor costs vary by region. Hiring local talent or outsourcing to regions with competitive rates, like Central and Eastern Europe, affects the overall cost.
Regulatory compliance. Ensuring compliance with financial regulations and obtaining necessary licenses may involve legal and regulatory expenses.
Cleveroad as Your Assistant in Building Peer to Peer Application
Cleveroad team has more than 11 years experience in software development, and the FinTech area is also included in our scope of activity. We provide financial software development services that are aimed at processes automation, enhanced transaction security, leveraging the cutting-edge FinTech technologies to enhance your business.
To demonstrate our experience in creating an eBanking software system we would like to acquaint you with one of our FinTech cases:
Online services ecosystem for European investment bank
Our client, a Swiss bank catering to both B2B and B2C clients with online investment, loan lending, and trading services, faced limitations in their existing banking system that hindered business expansion. They sought a technology partner to develop a new, adaptable system capable of accommodating a growing client base. To address the business needs, our team:
Develop an eBanking software that facilitates straightforward investment and account opening processes, ensuring clients can effortlessly navigate the entire procedure
Support the current functionalities of the banking system while enhancing them through the creation of new modules from the ground up and the automation of internal business processes
Retain the system's business logic and technical specifications to ensure compliance with investment banking regulations (namely, FMIA) within our customer's existing license framework
As a result, the client has received an eBanking ecosystem that enables a transparent and user-friendly sign-up process, incorporating efficient identity verification and streamlined account creation. This led to the attraction of new clients and a notable increase in client retention rates. The development of a comprehensive ecosystem, covering digital account opening and fulfilling all necessary operations for the B2B and B2C customers , enabled the bank to optimize its workforce, reallocating staff to other essential tasks. The developed software successfully complies with the requirements stipulated by the Financial Market Infrastructure Act (FMIA), allowing the investment bank to operate seamlessly.
To satisfy the requirements of our customers, we offer a range of cooperation models, adapting to your requirements:
Time and material
In the Time and Material approach, our focus is on transparency and adaptability. We meticulously plan each sprint while remaining open to adjusting the project scope as needed for dynamic projects. You maintain complete oversight of the development process, while we ensure quality, track timelines, and manage deliveries. The cost is determined by the actual hours worked and the materials utilized, providing a clear and fair payment structure.
Managed IT services
Our managed IT services provide a dedicated team of professionals, customized to meet your specific requirements. They effectively become an extension of your workforce, guaranteeing the smooth execution and successful completion of intricate projects. You maintain full control over the team with the added benefit of accessing our extensive technical knowledge across various industries, all at a predictable monthly cost.
Staff augmentation
Staff augmentation is a collaborative arrangement in which Cleveroad supplies proficient experts to integrate seamlessly into your team. You retain complete authority over team size, allowing for flexible scaling. This approach streamlines the hiring process by offering pre-qualified specialists, while confidentiality is maintained through a Non-Disclosure Agreement (NDA). Payments are typically structured around defined timeframes, commonly on a monthly basis.
Cooperate with experienced FinTech IT vendor
As IT vendor with 11+ years of domain experience, we're equipped to help you make a robust P2P payment app
Frequently Asked Questions
Peer-to-peer payments (P2P), also known as person-to-person payments, are transactions transferred from online or mobile app to another app. P2P payments can be payments for car rent, lunch, or ride. One person can transfer funds from his or her banking account or credit card using an appropriate mobile app.
To build a P2P payment app you have to follow these steps:
Choose P2P payment app type
Draw up the features for P2P app
Consider all security issues
Build a user-friendly interface and UX
Conduct proper testing
P2P payments are used for transferring money from one online or mobile app to another.
To send or receive money, users need to make a few clicks. You need to choose a recipient, the amount of money, add the purpose of payment if necessary (it is an optional feature in many apps), and click the Send button. In most cases, to confirm the transfer procedure you will need to confirm the password, and this is good, it is an additional protection layer. The time for funds delivery may vary - a couple of minutes or days, depending on what service and transfer options you use. When funds are delivered, the user can withdraw it to the personal banking account if necessary.
One of the most important steps in P2p payment app development is feature list. Here are the basic feature that every P2P payment app should have:
User digital wallet
Sending and requesting money
Sending bills/invoices
Push notifications
Unique ID/OTP
Transfer to a bank account
History
Admin panel
It is quite simple to set up P2P payment accounts. It doesn't matter what platform you use, it is necessary to sign up for an account, and then you need to link your bank account or card to the service account. Many P2P apps require to add some personal information, memorable words, and passwords to increase the security level. When everything is done, you can find other persons by emails, phone numbers, or names and send or request payments.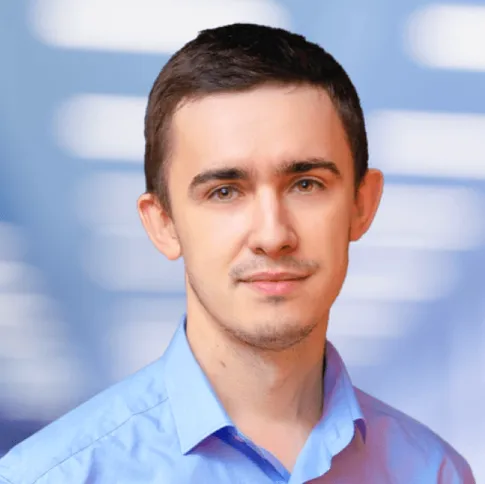 About author
Evgeniy Altynpara is a CTO and member of the Forbes Councils' community of tech professionals. He is an expert in software development and technological entrepreneurship and has 10+years of experience in digital transformation consulting in Healthcare, FinTech, Supply Chain and Logistics
Rate this article!
6123 ratings, average: 4.65 out of 5
Give us your impressions about this article
Give us your impressions about this article
Kyle Davidson
12.02.2021 at 05:53
Whats the average cost to build an P2P app

Vitaly Kuprenko
19.02.2021 at 06:10
Hi, Kyle! It depends on many factors. Please, contact us for more details.
Company
22.07.2020 at 08:45
Need a website based p2p system

Vitaly Kuprenko
27.07.2020 at 10:49
Hi there! Please, feel free to contact us for more information.
Very nice article !! Ty <3

Vitaly Kuprenko
15.06.2020 at 14:27