How to Create a Concierge Service App: Costs and Features Revealed
410 Views
|
19 Feb 2020
|
10 min
With a modern pace of living customers value time more than money. Clients appreciate the comfort that technologies can bring them. The concierge app is an outstanding example of how to improve customer experience.
Hotel chains like Marriott, Hilton, and Conrad Hotel & Resort already have their digital concierge apps. The Marriott chain owns one of the best concierge service apps on the market that brings significant part of annual profit. Other companies also use virtual concierge apps, but each of them develops specific features for their needs.
What's the Purpose of a Concierge App?
It's a personal assistant that is always at hand allowing customers to make reservations and access information they need as fast as possible.
To be exact, hotel concierge apps allow clients to see how the hotel looks from within, helps with booking a transfer, keep in touch with a room service, and be aware of tourist destinations in the area.
With such a vast range of features, it's not a surprise that concierge apps are gaining popularity. Clients are satisfied with the service, while hotels stand out among the competition.
Let's take a closer look at types of concierge apps for hotels.
Front-desk concierge application. This one serves as a real concierge. It can help your guests order room services, check in and out, get a transfer and information about prices.
Travel assistants. This one has a payment system and allows customers to book flights, city guides, view suggestions on nearby restaurants and activities.
Conference managers. The last type is for taking care of events for you. It deals with any tasks that concern meetings and conferences. This may be temperature regulation, beverage serving, and so on.
Main types of concierge apps
Despite the difference in types, you should understand that versatility is above everything. As George Corbin, ex-vice president in digital marketing of Marriott International, said:
"Customers expect more service to be handled through their devices. It's about utility, not any specific feature. We want our app to be open during the whole trip, not just in the stage of booking, and we want to meet more of our customer's needs when they're on the go."
As it was mentioned in the beginning, Marriott gets a vast part of their profit from the application. And that's not only because it has a booking option. The variety of features provided by the Marriott concierge app meet all the customers' expectations convinces customers to install the app on their phones and book accommodation in this hotel chain.
Concierge App Market Analysis
When setting up a business plan, the first thing to think about is market research. Since you already have a general understanding of the hotel concierge mobile apps, it's time to come through the statistics.
As you provide services that require payment details and personal data, users should be able to sign up and sign in. It's difficult to deny that entering the same information over and over again is irritating. On top of that, registered users can receive personalized notifications about special deals only for them.
According to Statista, the global revenue of mobile applications will reach $935.2 billion in 2023. Compared to the current rate of $461.7 billion, we can see that the industry will grow more than twice.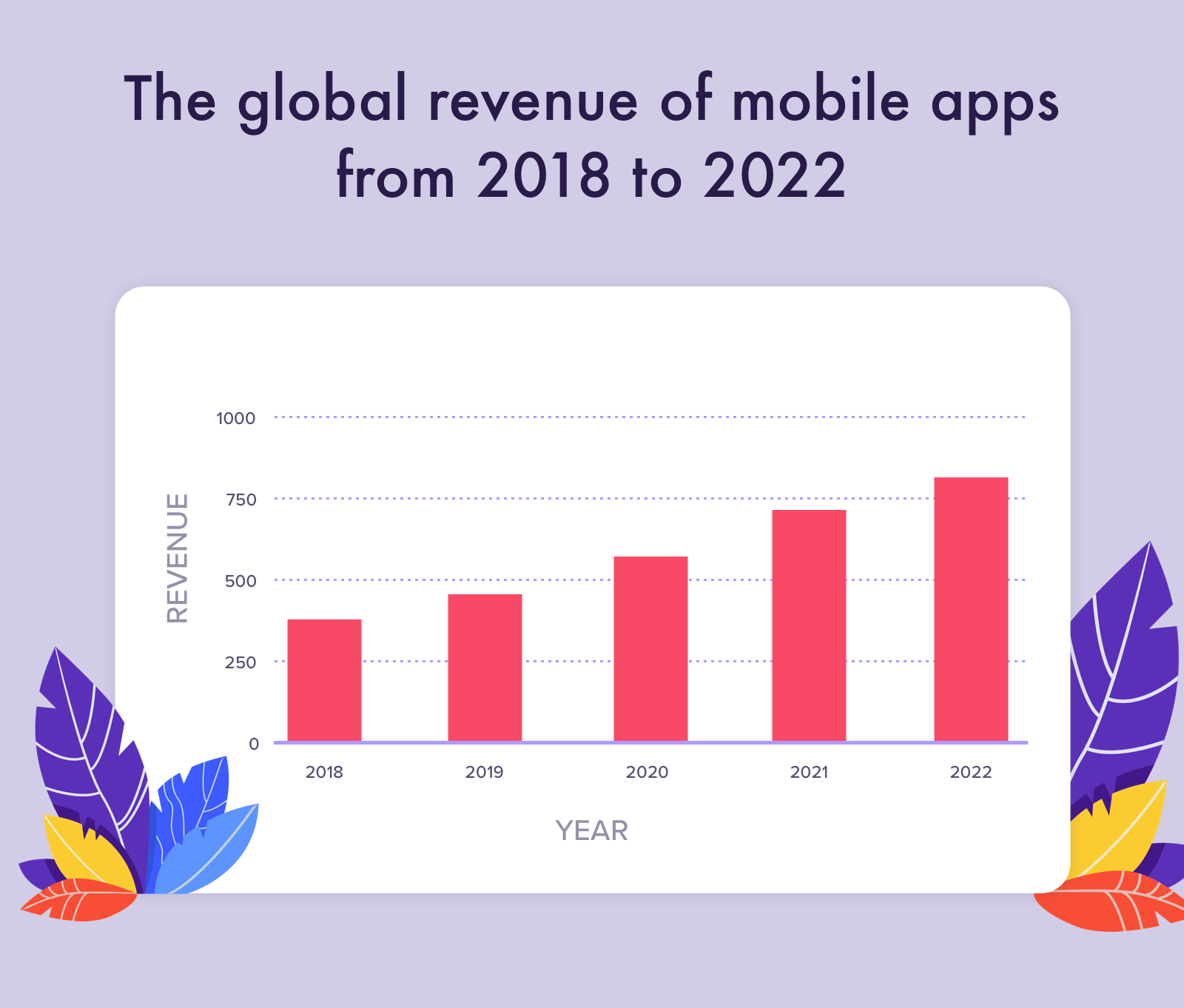 Complete statistics of mobile apps revenue for 5 years
But it's not that simple. The amount of applications available on the App Store and Google Play is 4,5 million as of the beginning of 2020. With that being said, the competition is enormous.
However, the field of concierge applications is assumed as "developing". The fact that travel applications have the highest penetration rate of 95% makes it a reliable field for investments. Moreover, the estimated annual growth of the concierge applications category in 2020-2024 will be 8.52%.
In addition, according to the United Nations World Tourism Organization the number of people that take international flights will get close to 2 billion by 2030. More than half of flights will be purchased by millennials. Since most millennials book flights on mobile devices, we can't deny that travel applications will only be growing in popularity.
Based on this information, we can make a conclusion that concierge application development is a promising niche for businesses.
Basic Features for Concierge App
It's time to go through the basic features any concierge app can't survive without.
As you provide services that require payment details and personal data, users should be able to sign up and sign in. It's difficult to deny that entering the same information over and over again is irritating. On top of that, registered users can receive personalized notifications about special deals only for them.
Concierge apps are most suitable for hotel chains. If you have several properties in your possession, users should be able to choose one that matches their needs. It's impossible to achieve without the search system.
This one is a complicated and multi-layered feature. When reserving a room, users make the decision based on the price, accepted number of guests, location of the hotel. Next, clients should be able to use their bonuses and promos if they have any.
Also, you should describe additional services like meals, gym, swimming pools, parking, and others. Make sure to specify what services are included in the payment and what should be paid individually. At last, a user confirms all the information received and here comes the payment.
It's no use for creating a digital concierge if customers have to pay cash. It's up to you whether to develop a custom payment service or use third-party systems. Whatever option you choose, take the security very seriously. When using third-party services, cooperate with reliable providers only. If you decided to make your own payment system, make sure it meets all up-to-date security protocols and data regulations.
I'd like to believe that in the nearest future, digital concierges will be able to solve all the clients' issues. But for now, we should have backups. Therefore, add a button named "Contact us", so customers could ask staff for a favor.
The final MVP feature concerns all the internal processes of your application. When it comes to data managing, income tracking, observing reservations, the admin panel steps in. Actually, it can have a vast amount of features, but that depends on your needs.
For now, these are the basic features needed for a concierge application.
Basic digital concierge app features
Advanced Features for Digital Concierge
Let's admit that today's level of progress can offer your guests much more opportunities than those described before.
If you want your mobile app development company to build an all-in-one solution, read the section below. I'm covering more features that can be used in the hospitality industry.
How can a digital concierge call himself a concierge without providing room service? You can replace calling to the reception with an in-app list of services. In several touches, your client receives the bottle of champagne they ordered. Your employees aren't distracted by phone calls.
With this feature, users get personalized suggestions based on their recent in-app requests and other activities. In other words, the app can segment out different target audiences and offer what's the best match for them.
Automated Check In and Out
NFC technology has become popular in the last few years. Now, you can not only pay with your phone but also open the doors with it. By utilizing NFC-equipped locks, travelers can get into the room without standing at the front desk.
In addition, when checking out, your customers won't need to pass the keys back, so this process becomes fully automated.
For entry level navigation, it's enough to add a simple map of your hotel to the app. It can display every floor of the building if it's needed. But for the top tier experience, you can implement geofencing technology or use iBeacon or Eddystone for indoor navigation. Such a feature suits companies that own large, multistorey hotels.
Third-Party Services Integration
To make the app even more useful, it's possible to add other services you don't provide. Guests could book a restaurant, rent a car, find local sights, and more.
Advanced features of a concierge app
The last thing to consider is the interface. Even if your mobile concierge service has every feature from this list, it won't succeed without a good layout and user experience. So, choose a company providing UI/UX design services carefully.
Decide on a Technology Stack
Now that you already know what features should be in the digital concierge app,it's time to decide on technologies.
!
The tech stack below is approximate and may vary depending on your requirements.
Swift
Google Maps API
Apple MapKit
Core Location API
Core NFC API
MySQL database
Java
Kotlin
Google Maps API
Proximity Beacon API
Google Location Services API
MySQL database
Basic technical stack for a concierge app development
These are the main technologies your team of developers will use for building a concierge service app.
What tech would your app require?
We'll be glad to help you with the tech part of your project. Get a free consultation and estimate.
How Much Does It Cost to Develop a Concierge App?
The price of developing a concierge app may vary depending on your requirements. This price is calculated by multiplying the rate ($50 per hour for Eatern Europe) by the amount of hours needed for the development. The final charge includes the app for iOS and Android with back end and UI/UX design.
The cost of building an application depends on the number of hours developers will spend on the project.
The time and expenses required for concierge app development
| Feature | Approx development time | Approx cost ($) |
| --- | --- | --- |
| Authorization | 79 hours | $3,950 |
| User profile | 73 hours | $3,650 |
| In-app search | 104 hours | $5,200 |
| Reservation | 75 hours | $3,750 |
| Payment system | 148 hours | $7,400 |
| In-app messenger | 291 hours | $14,550 |
| Admin panel | 219 hours | $10,950 |
| Suggestion system | 27 hours | $1,350 |
| Push notifications | 48 hours | $2,400 |
| Automated check in and out | 317 hours | $15,850 |
| Frameworks integration | 74 hours | $3,700 |
| Third-party services | 11 hours (per each service) | $550 |
| Total | 1466 hours | $73,300 |
Still, it's hard to estimate all the expenses without any specific details. So, these numbers are approximate.
The price also heavily depends on the region. I've estimated how much the same scope of work (1466 hours) would cost in other countries where you order the development or hire an in-house team:
The USA. $220,000 (based on $150/h)
Eastern Europe. $73,300 (based on $50/h)
Australia. $146,600 (based on $100/h)
Central and Western Europe. $146,600 (based on $100/h)
We were recently working on the app for travelers with booking functionality. It's TrainAway, an app that finds gyms nearby to let travelers work out regardless of where they are in the world.
TrainAway is meant to help users keep fit while they're traveling. This application deals with payments and uses Google Maps for finding and choosing a gym.
TrainAway's home screen and filters
We used Stripe for the payment system, Google Maps API for locating gyms, and Segment for data management. You can find more details on this project in our case study.
The application is available on Android and iOS.
Let's build your app!
We can help you build your app idea. Get a tech consultation and project estimate for free.
What is the best concierge app?
How much does it cost to develop a concierge app?
Rate this article!