Insurance Agency Management Software: Selection Criteria, Types, and Advantages
With a growing number of clients and increasing amounts of data, insurance agencies find it hard to handle all everyday tasks. Today these companies, no matter big or small, need a comprehensive space to communicate, collaborate, follow up their leads, answer emails and make calls. And that's exactly what insurance management software can help with.
Find out how to pick the right software solution for an insurance agency, what benefits these systems bring, and check our ready-made vs custom software comparison.
The Core Criteria of Insurance Agency Management Software
Insurance management systems combine the features of CRM software (used for serving clients) and ERP software (for internal company's purposes).
These tools enhance effective business management. Their main goal is to assist staff with improving client relationships. Besides, insurance solutions take care of commission processing and automation of other working processes.
Within the insurance agency, it's the sales team who benefits from insurance software development the most. The system allows staff members to maintain accurate information about current and prospective clients they can offer services to.
In general, it helps businesses of any size track and maintain relationships with customers, improve marketing and sales processes, and monitor the sales performance of the agency.
In other words, insurance applications boost the efficiency of insurance teams.
One of the must-have features of insurance software are:
Storage of data related to agency and its clients (e.g. policy documents, notes, statements);
Tracking of key processes like sales or transactions;
Analyzing insurance commissions;
Drawing reports of sales performance and analyzing the account status;
Support integration with third-party tools (e.g., document management systems, payment gateways, KYC/KYB & AML solutions, electronic signature solutions, CRM, ERP);
Provide control over the workflows and automate them.
Insurance agency software solutions can be applied across the whole company or used on a case-by-case basis. And it's either a standalone solution or a part of an insurance suite (all-in-one solution managing the whole agency's lifecycle).
Insurance management suites often vary by features and intended use. Still, there are four main adoption criteria a company's decision-makers have to mind.
Agencies should pay attention to the four criterias when choosing the software
1. Adaptability
When it comes to the insurance sector, the main criteria of the future solution is its adaptability to rapid changes (e.g., connected to business goals or working environment) - it implies the opportunity of the solution to track its own activity and make enhancements due to the modifications performed by the system users. After all, it partly depends on the software – whether the business will become agile or locked in the cycle of strict systems and processes.
2. Sophisticated business rules
Insurance management system should be able to turn business objectives and policies into standardized business rules.
A proper insurance system expands users' capabilities by capturing best strategic and operational thinking of the business and turning them into automated processes.
3. Payback guarantees
Today's insurance software, both ready-made or out-of-the-box, is quite expensive. And each expenditure needs to return the investments and do it quickly. That's why agencies pick systems that will be up, running, and profitable fast enough.
4. Proven result
Surely, it's better to look for software with a proven record of delivering advantages to insurance companies. But if managers prefer solutions built from scratch, they properly check the expertise of the company that provides software development services.
Pros & Cons of Insurance Agency Management Systems
Insurance management software brings benefiеs to both employees and users. Staff members take advantage of better automation and, thus, less time spent on routine tasks.
Now, let's take a more detailed look at the benefits the insurance business software can bring.
So here are the pros insurance systems offer us:
Benefits insurance software brings to all-size agencies
Deep analysis
The software has built-in options for searching and sorting information and generating reports based on this data.
Workflow automation
Creating reports, emails, notifications and their delivery become much faster and easier thanks to these systems. Besides, insurance software is capable of creating key documents automatically, by arranging data and using templates.
Full control
The system reduces the number of human errors by monitoring all the processes within an agency. It's mainly focused on monitoring transactions, user requests, and calculations.
Integration capabilities
Insurance agency software works with other systems, spreadsheets or analytical tools. Besides, it connects to third-party services like telephony.
Security
The system keeps each and every bit of information protected. It stores clients' sensitive data and staff members can access these details only after authorization.
So ready-made insurance software solutions have a number of visible advantages. But they are not easy to build and adopt.
And it's when business owners may face the following issues:
What issues insurance software owners may face
Tech errors
No one is safe from tech issues like bugs, errors, and breaches that may come out during implementation or usage. No one is safe from tech issues like bugs, errors, and breaches that may come out during implementation or usage. Sure, fixes and updates may solve these problems. QA services rendered during software development flow will help you make sure there are no bugs and imperfections in your app.
Staff training
No matter how sophisticated and well-designed the system is, it'll do no good if employees don't know how to use it. So it's better to collect their preferences and ideas beforehand. And don't forget about the training part.
Unsuitability
For example, if the agency purchases a cheap solution, it may lack the features their business needs. And vice versa – some top out-of-the-box programs may have dozens of modules no one uses.
These are the main problems that often lead to financial losses. And that's why agencies must pay attention to tech aspects, their staff, and business objectives.
If at least one thing is missing, the software may turn out to be just an expensive toy.
Out-of-the-Box vs. Custom Solutions
Previously, we've figured out what to pay attention to when choosing the right software. Now it's time to find out what works better – ready-made solutions or custom-built suites.
Ready-Made Software
Today, there are lots of out-of-the-box solutions for any-size companies. Bitrix, A1 Tracker or Applied Epic work best for large companies, while EZLynx and Indio are rather small insurance agency management systems.
Some of these solutions are open-source, others require monthly or yearly license fees.
And these suites have obvious benefits. They are easy to install and use, have lots of in-built features and even adapt to a company's needs.
For example, AgencyBloc is the right solution for life and health insurance agency. What's more, ready-made suits seem to be much cheaper compared to building a custom one.
Today, there's a big choice of insurance agency software solutions, but the top three products are:
Bitrix24
Bitrix24 is a highly secure and customizable CRM, suitable for small and medium-sized businesses. It's designed for more effective collaboration and communication within a company, knowledge management, and business processes automation. Bitrix24 is available on iOS and Android platforms.
Bitrix has a demo and cloud-based versions, but the on-premise solutions prices begin at $1,370.80/month (up to 12 users). And if we take into account a mid-sized insurance agency (between 1,000 and 5,000 workers), the Bitrix software will cost them up to $44,990/month ($539,880 annual).
For now, only paid Bitrix24 editions give access to the source code, along with free updates and priority support for the first 12 months. And if customers need updates and support after the first 12 months of use, they have to purchase a yearly subscription.
Insurance management features:
Contact Management
Commission Management
Document Management
Quote Management
FreeAgent CRM
FreeAgent is a marketing and CS platform that assists companies with achieving and maintaining quality relationships with customers.
This insurance client management software offers records, policies, commissions, phone calls and documents storing in a fully secure cloud-based space. The platform has Android and iOS apps.
FreeAgent offers to try its free version or charges $99/user monthly for their business pack (10+ users). So for a middle-size insurance company, it may cost from $99,000/month.
Insurance features:
Commission Management
Contact Management
Document Management
Policy Management
Contact management in FreeAgent CRM
Indio Technologies
Indio makes insurance processes more simple and fast for both brokers and their customers.
The software offers more than 5,000 digital insurance forms and applications, an e-signature solution, and completely secure document sharing.
For now, there's no mobile version available.
Insurance industry software solutions often miss mobile apps. Check out our guide to find out how to build an insurance app and use its strengths to the fullest.
Features:
Contact Management
Document Management
As you can see, top ready-made solutions are not that cheap (especially if we take into account monthly payments per user). If the software is provided for free, support, customization, and maintenance may be very costly.
Besides, out-of-the-box insurance systems often have a number of excessive features which may be related to user experience. They will rather confuse the staff and slow down the processes instead of bringing real profit.
Here are the most common issues users of ready-made solutions face:
Features are missing or not clear enough
Limited integration with third-party software
Menu items hard to read
Navigation is confusing
No customization
Too expensive
Need to undergo training
Poor support system
Custom Solutions
It's simple: if agencies want an app that perfectly suits their needs, they better ask insurance software development companies to build it from scratch.
The customized AMS software needs to have the following features:
Management of Claims - intended for management of risk assessment, claims reporting, etc.
Management of Policy - makes client policies and management capabilities accessible at the touch of a button
Tasks Processing - smoothly organize work between clients
Mobility - the agents may easily work with their customers from wherever they need to be
Invoicing - sending bills and invoices directly to the client through the AMS system.
Payments - safe payment for services through AMS
Common features to Add in AMS
It's not the entire list of functionality: it's composed due to needs of every customer. As a result, they'll get a unique solution tailored to their particular wishes, besides saving money, time and nerves on customization and staff training.
So here's what custom development offers:
Adjustment to the company's needs. There will be no extra features, just the ones the agency requires. This results in better integration with existing operating systems. Plus less time will be spent on training personnel.

Scalability and modification. Software owners can watch their business grow and add new features to the existing software solution.

Security. Ready-made suits can be purchased by anyone and this threatens cybersecurity. Instead, custom solutions have only one owner and can protect sensitive data more effectively.

Competitiveness. Off-the-shelf tools offer the same features and capabilities to all buyers. And custom suite may include features competitors simply don't have which puts the company well ahead.
Finally, it takes less time for experienced insurance software developers to build a new small system than to customize a large one.
Let's Build It
Cleveroad is a full-cycle software development company, experienced in bringing all-size solutions to life. We create products for finance, healthcare, education, sports, business, and other industries.
For example, here's a concept of a CRM for a logistic company created by our designers.
Check more works on our Dribble profile.
So if you need any assistance with bringing your custom, mobile, desktop or cloud-based application to life, just contact us. We'll get back to you in less than 24 hours!
And if you want some real examples, take a look at our portfolio to see the projects we've developed.
Build unique CRM for your business
The experienced vendor will help you build a modern insurance app fully fitting your business
Frequently Asked Questions
There are lots of out-of-the-box solutions:
Bitrix
A1 Tracker
Applied Epic
FreeAgent CRM
EZLynx
AgencyBloc
Indio
But if you want software that suits your specific business needs, it's better to build it from scratch.
Depends on the software and your company's size. Software like FreeAgent costs $99/user monthly (10+ users).
Bitrix24 prices begin from $1,370.80/month (up to 12 users). It'll cost up to $44,990/month ($539,880 annual) for a mid-sized insurance agency (between 1,000 and 5,000 workers).
If you want to create a custom suit, the cost depends on the features you want to include and the region you hire developers.
Insurance management systems combine CRM software (used for serving clients) and ERP software (for internal company's purposes)
An insurance management system combines the features of CRM and ERP software. It helps businesses of any size track and maintain relationships with customers, improves marketing and sales processes, and monitors the agency's sales performance.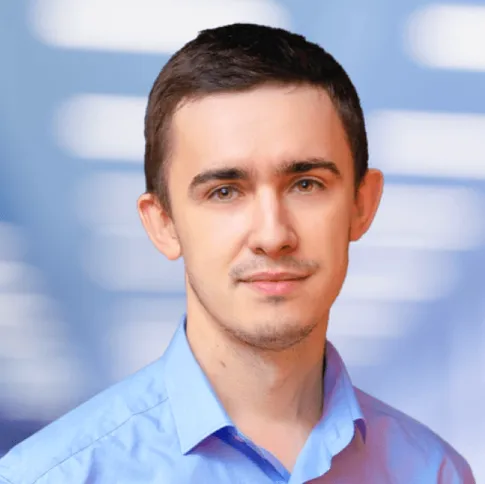 About author
Evgeniy Altynpara is a CTO and member of the Forbes Councils' community of tech professionals. He is an expert in software development and technological entrepreneurship and has 10+years of experience in digital transformation consulting in Healthcare, FinTech, Supply Chain and Logistics
Rate this article!
2365 ratings, average: 4.74 out of 5
Give us your impressions about this article
Give us your impressions about this article
ShopNZ
11.01.2023 at 06:13
Thank you for posting this informative blog keep sharing.