Health Insurance Software Development in 2023: A General Guide
Health insurance significance has substantially risen, especially within the post-pandemic world state. Remote lifestyle has drastically changed interactions with clients, making global businesses adopt digitized healthcare service delivery. Due to this fact, health insurance software development is today's highly demanded solution which introduces valuable benefits to the medical market sector. This point has driven the need to build such solutions to stay competitive and comply with ever-changing patient requirements.
This article will disclose the profitable points delivered by the health insurance software development, integral steps to take to build such a solution, capabilities it brings, as well as existing successful market illustrations.
What Is Meant by Health Insurance Software?
Health insurance is one of the insurance kinds that defray outgoings associated with therapy that emerge owing to health-related issues. Such expenses may imply hospitalization costs, spending on medications and drugs, as well as physician appointment fees.
The global healthcare insurance market is forecasted to exceed $4.15 trillion by 2026. The worldwide pandemic has substantially raised the need for such services and consequently aggravated the question of methods to optimize this sector.
Healthcare insurance market size in the USA
Currently, the health insurance industry keeps implementing relevant software to achieve higher productivity and performance outcomes. Health insurance software is a solution designed to perform and streamline medical services providing as well as assist healthcare business.
Health insurance software development notion represents the following aspects:
Functionality tailored to particular health insurance sector challenges
Collecting and analyzing customer data
Complying with essential legislative regulations
The crucial objective of health insurance software development is to deliver a product that will play a role of an intermediary for the client base, medical vendors, and insurers, optimizing the interactions for all sides. Why is it valuable for the healthcare sector?
Robotized workflow
Simple, streamlined operations
Decision-making process assisting
Enhanced client experience
Samuel Wilson

Director of NIEHS and the National Toxicology Program (NTP)

To maximize our potential to enhance our health and our knowledge, we should remain open to new understanding and evolving technology or resources that might inspire a change in our approach to these important questions.
Health insurance software types
The prevalent part of existing healthcare insurance solutions incorporates a great variety of instruments in terms of their operation. The development approach may be direct to the architecture of full-fledged software or the one aimed at specific processes. Owing to this fact, let's single out the key types of health insurance software development:
Claims processing software
The claim operation process can cover consulting, lawsuit, claim consideration, policy data, and arrangement negotiation. Medical insurers are able to substantially optimize claim operation as well as processing by applying solutions that allow robotized claim document production, operation of the compensation flow, and claim adjustment.
Agent management solution
Indemnification is not the only process that relates to insurance. Agents require handy software to raise their productivity as well. This type of health insurance software development can comprise a range of capabilities:
Automated promotion campaigns
Client relations operation
Data processing
Analyzing and reporting
Sales department unifying
Payment gateway integration
Company internal processes' management
Policy operation software
Policy management platforms' main function is policy designing and governance. The essential opportunities include policy issuance, guidelines operation, requests monitoring, billing and accounting, and client gate.
Document processing solution Centralized space for the bureaucratic processes ensures solidly protected and clear availability of signed policies and ongoing claims, client claim proofs, policyholder conventions, etc. Integral features of such products are document capturing and processing, copy-proof monitoring, paper indexing and issuing, records operation, and safe file deletion. Furthermore, the robust protection of such software liquidates potential information violations.
Lead management CRM
Similar to all the existing sectors, an underwriter should profit from a powerful flow of lead obtaining and operation, turning the newly-attracted audience into dedicated customers. Due to this aspect, health insurance software development may comprise a database, sales channel, insights delivery, and reports generation. Instead of applying a conventional CRM system, it would be more beneficial to develop software meeting obligatory health guidelines and regulations due to the private medical data processing.
Data processing instruments
Artificial Intelligence and Big Data adoption deliver a huge potential to health insurance software development. Integrating the aforementioned technologies and receiving real-time data processing can assist you in defining new progressing strategies much quicker. Moreover, such software provides valuable market reports and generates tailored policy offers meeting the personal requirements of any separate client.
Risk assessment solutions
Unfortunately, fraudulent actions are inevitable for each sector embracing financial flows. Issues associated with this fact may spoil your trustworthiness in the eyes of the customer base, which results in competitiveness level reduction. Consequently, insurance entities should leverage solutions for risk evaluation to detect potentially dangerous clients and avert possible fraud.
The range of tools engaged is pretty long. Apart from this, each specific business may require an even more expanded one for the product implementation, according to the set goals and plans. Yet, the primary fact to remember is that the most successful custom software should embrace the instruments to perform such assignments.
Why Does a Company Need to Develop Software for Health Insurance?
Recent insights generated by  UK's Health Insurance Market serve as a straight definition of health insurance software development demand and potential. The health insurance sector is projected to amount to $151.8 Bn in the current year and will grow to $245.7 Bn by 2027, progressing at a CAGR equal to 10.11%.
The raised demand for health insurance services driven by the global pandemic motivates more and more companies to architect such solutions, delivering high satisfaction rates to their clients. The technological perspectives of health insurance software development are powerful; let's list them:
Smart medical assist
The valuable function of health insurance software for patients is to help choose maximally relevant medical institutions by delivering details concerning the registered healthcare establishments. Such an intelligent consultant helps find clinics and hospitals meeting customer requirements as well as automate the process of selecting with an embedded filtering system.
Data analysis
An indispensable benefit of health insurance platforms is the vast amounts of clients' data. Collecting, analyzing, and reporting helps you build an enhanced and relevant business strategy and deeper comprehend the challenges that health insurance carriers face. Also, information analysis tools can successfully help in identifying ways to resolve them with appropriate functionality implemented in your software, making your company stand out from the crowd of competitors.
Personalized interactions
The data assembling process mentioned above allows catering for each of your customers, delivering an individual approach to each one. In-depth details about the customizer behavior pattern are the key to a personalized experience and enhanced satisfaction for your health insurance business. Depending on the platform's concept, the assembled information may differ within the health insurance software development. Relevant marketing campaigns, individual offers, and personal discounts raising the demand for your services are just a few examples of how broad the spectrum of such software capabilities is.
Telemedicine solutions
Telehealth, as well as telemedicine, are technologies providing the opportunity for doctors to observe a patient's health conditions remotely. Integration of such solutions helps optimize the process of conducting consultations and receiving prescriptions distantly. With telemedical technologies, all therapy details are recorded, tracked, and securely stored, which is vitally important within the insurance services delivery.
Top List of Health Insurance Software Solutions
These days, the modern medical market already has excellent illustrations of health insurance software development solutions. Let's get acquainted with the list of most prosperous and successful practical instances a little bit closer:
PLEXIS
PLEXIS has introduced a full-fledged solution, which is the premier claims adjudication and enhanced digital administration platform. Catering to a huge customer base of healthcare payers for the previous two decades, PLEXIS streamlines and robotizes core administrative processes for health insurance establishments.
Cegedim Healthcare Insurance Management
Cegedim Insurance Solutions is a great assistant for organizations in the medical insurance field (insurers, mutual and eventual entities) experiencing significant modifications in administering as well as competitive conditions to perform new technology projects. The support of a range of languages, currencies, and multi-branding opportunities cuts down time-to-market, brings enhancements to the platform's mobility, and helps swiftly meet regulatory alterations.
iNube Software Solutions
iNube's electronic insurance instruments are targeted at the primary challenges of every part of the insurance ecosystem (medical as well). The organization is directed to each verge of the insurance value chain, increasing client attraction within diverse sources by offering handy and straightforward interaction points, accompanied by the digital optimization of fundamental processes, eliminating fraudulent activities.
HIPS
HIPS is an across-the-board and compatible product that handles each point of health insurance guidance. From credentialing vendors to claims recovery and digital payment, this solution is architected to raise scalability and cut down guidance expenses within the operation in easy-to-use web infrastructure.
Advantages and Drawbacks of Developing Health Insurance Software
The requirement for health insurance software development is conditioned by integral advantages for each party involved- clients and vendors. The major objective of health insurance solutions is to serve as an intermediator for physicians, patients, and insurers, optimizing interactions among the engaged parties. The medical software comprises the set of tools and features for the business operation progress and establishing durable and profound data transmission among customers and healthcare experts. Let's consider some more profitable points delivered by health insurance app development:
Workflow automation
The operations of health insurance vendors incorporate several flows, like partnerships with hospitals and patients, complicated financial processes, and more. Besides, they comprise fundamental company operations such as HR and employment, accounting, and compliance. You should adopt a range of software instruments to streamline all the workflows.
Robotization of various activities delivers a range of benefits. To illustrate, when all the health insurance data for each claim is ensured by default, and the system checks the claim's validity, it supports real-time decision-making. Therefore, businesses can manage their resources in the most efficient way. When opting for health insurance software creation you substantially cut down the risk of manually made errors, time, expenses, and contribution, delivering the high satisfaction rate to clients simultaneously.
Optimized interactions and communication
Health insurance solutions serve as a core solution for interactions among such parties as insurers, clinics, and patients. This implies that each engaged party is in the two clicks easy access, while the whole communication history is saved and kept for further audits. For this, you can implement live chat, video calls, emails, co-browsing, chatbots, or route clients to phone calls with a contact hub.
Streamlining the decision-making process
Digital products allow you to get the simple access to the entire history of claims and reimbursements to optimize the decision-making process. Elimination of the physical documents and easily accessible, standardized data is an immense enhancement in contrast to outdated and tiring emails and calls.
Refined client journey
With health insurance platforms, patients are now able to fulfill insurance-associated processes in just a few screen taps.
Choosing physicians among their vendors's network or discovering clinincs and pharmacies covered by their insurance plan should be allowed for the clients in your platform.
Medical vendors should also be able to fulfill their part activities using the full-fledged health insurance software. Healthcare establishments take their advantage from automated claim management opportunities, since with it, fewer resources are required, while delivering a projected reimbursement process.
Boosted client retention
Attracting a new audience may require higher expenses in comparison to retaining the already generated audience. That is why, each business concentrates on the maximal customer retention as on the one of the major objectives. Quick insurance claim reimbursement and optimized processing ensures evolved customer experience and satisfaction, significantly rising the retention rate.
Key values of health insurance software development
Main challenges of the health insurance software development
It is worth confessing that the insurance software development process is pretty complex. Regards that medical is uneasy to administrate, the institutions are not that fast in the decision–making process, and those are just a few obstacles to deal with when it comes to architecting a health insurance software product.
Exchanging data with patients, insurance solutions, and partners
A couple of years ago, the CCM survey revealed that approximately 30% of healthcare establishments haven't managed to ensure solid enough communication even within the frameworks of their work environments.
Transmission of the medical data to the other engaged sides was considered efficient for less percentage. Data fragments are distributed for several institutions, and it is not simple for vendors to optimize vast data loads assembled for long periods of time.
Integration challenges of health insurance software development may be overcome by open and from-scratch APIs that:
Streamline data exchange process across digital products;
Enhance interactions and client service
Enable interoperability with platforms and systems that assist in arranging physicians' reception and operating chronic health issues like diabetes.
Data processing safety
Sensitive data safety is an issue of primary priority for all telemedicine and insurance vendors. Essentially, the software must embrace an irreproachable privacy policy, and the provider should ensure access to it before the product comes into use.
Below are some methods to set great security within health insurance software development:
Solid password guidelines, verification via Touch or Face ID, etc.
Secure Sockets Layer (SSL) leveraging - a safety protocol that ensures privacy, identification, and integrity to online communications of clients and the server;
Role-powered verification and access control
Suspect actions and rough authentication defining and elimination.
EHR interoperability
Regardless of EHR solutions enhancement, their joint work remains a challenge. With medical insurance software, it is complex to define a specific customer's data in the EHR platform. This is due to the absence of detectors and indicators for the target audience. To analyze and explore all digital health records as well as detect data concerning a particular individual, healthcare employees should perform a long process. API integration may serve as an optimal way to ensure a quick connection with electronic records and remaining data.
How to Benefit From Health Insurance Software?
Health insurance software development is primarily associated with an "ecological" and human-oriented approach to generating profit. The principal peculiarity of the medical insurance business model implies securing patients from health-related issues and helping them to overcome such problems successfully by delivering financial reimbursement in case they arise.
Business model conception
Undoubtedly, we can't consider insurance to be a new concept- it has been in commerce for many years. Within healthcare, insurance is a way to protect yourself and your health state. In case an individual faces a medical problem and requires a treatment procedure, health insurance software solutions allow one to request this insurance to be reimbursed.
The business model of insurance companies is aimed at generating income at the expense of risk. In general, the business model of medical insurance companies performs around pooling payer risk and then redistributing that risk across a broader field. Bills for procedures are paid by the health insurance company, with the client's financial investments as a premium contribution.
The company with which you are insured assumes responsibility for paying the reimbursement amount for any loss or damage to the insured. Customers must pay a certain amount of money at established and pre-negotiated intervals. This is called a premium. The company keeps this amount and will reimburse clients with this investment in case there is a health-related issue that requires therapy as well as hospitalization.
Apart from the business model, we would like to acquaint you with the main existing monetization models bringing profitability to the insurance platform:
Registration fee
The first model is one of the most widely-applied ones among the others allowing health insurance platforms to obtain income. Put it in brief, the medical vendors like companies, wellness specialists, physicians, and the other parties engaged in healthcare services delivery are charged a particular amount to create an account on the platform. Next, users are all set to benefit from the offered functionality.
Subscription fee
Health insurance software development may comprise the model according to which users must pay a minimal subscription fee to make use of the insurance platform's services. You may implement several subscription plans like quarterly, half-yearly, or yearly, with diverse opportunities and prices due to the offerings' amount.
Advertising on a platform
Promotional banners have become an integral element of solutions across diverse domains. Traditionally, such a model enables outer companies or brands to receive promotional services within your platform. Thus, healthcare providers (hospitals, medical institutions, etc.) invest in the advancement of their services or products to place the ad in your solution.
What to Consider When Creating Software for Health Insurance?
There are some points within health insurance software development that should be thought out ahead prior to the project building begins. Let's take a look at those vital questions that must obligatorily be considered:
Guidelines and regulations compliance
For the legal performance of your health insurance software, it is worth familiarizing yourself with guidelines and regulations obligatory to comply with according to the location your platform is architected for. What's more, such details as the product concept, service type, and many other details impact the type of compliance essential for your project case. Due to this fact, it would be useful to consult with an experienced software architecture company with a proven experience in health insurance software development to meet legislative requirements.
Health records storing
Medical organizations require data storage solutions to raise data capacities for further processing and meeting data security and privacy guidelines and regulations with current healthcare compliance.
Besides, it would be wise to consider a cloud infrastructure for healthcare as it enables expanded data proximity regardless of the device, location, and current time, as well as access management based on the user role and position.
Interoperability and integrations
To deliver your clients with an utter solution allowing them to perform a great variety of operations without leaving the platform, you may think of enriching and advancing the functionality with integrations. Primarily, it should be a payment gateway to make it possible to complete policy renewals and purchases within the software. Apart from this, you may connect the existing solutions like EHR systems, e-prescription apps and implement insurance systems too with a variety of plans and offers.
Features to implement
The primary aspect to think over within the health insurance software development is to come up with the functionality to implement. The list of features is highly variable and mainly depends on the type of insurance app you are willing to design. Still, we've prepared a possible set of instruments that will successfully satisfy your audience:
Operation of health ID cards. Health insurance software should ensure safe access to medical ID cards, which are electronic profiles of insured users incorporating all the data associated with their therapy and insurance details.
Chosen insurance plan coverage. Insurance coverage details and conditions of any selected insurance plan should also be delivered by the platform. With this feature will assist your audience in choosing the relevant plan that covers requirements.
Claim management. Your product should enable to check the full range of opened claims, filter them by the applied criteria and reimburse them through protected implemented payment services. 

Naturally, as it involves handling sensitive insurance-related data, claim management requires secure document storage and authorized access. This includes using strong encryption and configuring a granular role-based access process.
Range of medical vendors and doctors. This feature implies a user-friendly range of all the physicians comprised by the specific medical insurance policy. Consequently, your software should allow easy search and sorting within the network of experts. Customers should also be able to choose medical provider based on their insurance policies.
Prescription details. Insurance solutions should deliver the details concerning the prescribed medicine, show the pharmacies where the needed drugs are in stock, filter them by prices, etc. This function requires API integrations with a great variety of pharmacy and e-prescription apps.
Data confidentiality and privacy
The architecture of the platform must include a robust security system. You can read more about the methods we suggested in the previous sections of this article, or you can contact a qualified software development vendor who will provide you with recommendations on protecting sensitive user data.
Health Insurance Software Development Process Step-By-Step
It's time to disclose the key phases of the health insurance software development and its roadmap. The essential steps are as follows:
Choosing the tech partner and cooperation model
Having the idea of the health insurance product you want to implement in your head, it's worth finding a reliable software development partner that will successfully turn your most complex technical solutions into reality. Start your search with platforms like Clutch or GoodFirms, where you can find experienced vendors and check verified feedback, rating, and review from previous customizers. It's also worth choosing a cooperation model from the existing major ones:
Dedicated team
Great for fast building of high-quality solutions to get the first profit within the shortest time. Hiring an already assembled and experienced team helps businesses delegate complex tech tasks as well as augment the current expertise.
Staff augmentation
In case your project requires the technical specialization you are missing, this sought-after option is for you. Qualified developers deliver the rapidity, digital discernment, and catering adjustability essential to meet deadlines and cut down time-to-market.
Full-cycle outsourcing
Such an approach implies a team of tech professionals taking over the entire project development. In the case with health insurance software development, such vendors will perform all the responsibilities across the whole SDLC Agile.
Discovery phase
At this stage, the partnership with the technology vendor is concluded, and there is a proceeding to the collection and analysis of client requirements, business goals, as well as their target audience. In the process of consultations, information such as the project concept, the type of software solution, and the other indispensable product details are identified.
Architecture and tech stack defining
According to the insurance software type as well as the functionality you would like to implement, the architecture type and set of tech tools are picked. This stage is very significant for the healthcare industry, as it predetermines the security robustness as well. Besides, to get an even more sophisticated health insurance solution, you may benefit from the following state-of-art technologies:
Artificial Intelligence and Machine Learning will assist in rapid and simple defining of customer and market dynamic requirements. Raise your competitiveness with AI algorithms that will conduct exploration and insights generation (such as risk assessment, valuable forecasts, market development vector detection, etc. ) without a breach of continuity.
Internet of Things (IoT) is perfect for connecting to telehealth and telemedicine software enabling substantial workflow optimization. Raise the productivity of your medical employees by ensuring device interconnection as well as fast and simple data transferring across connected gadgets.
Big Data is a relevant decision in terms of health insurance software development, as its potential for the generated client data is a key to prosperity. With this technology's predictive insights and customer analysis, you are able to raise the efficiency of the decision-making process and develop a proper business roadmap.
Blockchain's decentralized data recording cuts down data violation risk almost to zero, enhances transparency, and consolidates security. Integration of this booming technology brings an entirely new degree of information, records as well as financial flow protection.
UI/UX designing process
To create a qualitative design, the user experience is analyzed, and based on the output, the interface UI is designed. As a rule, designers are guided by the already existing palette of brand colors of the brand/company and offer several possible options for the appearance of the platform. As part of the healthcare industry, it is worth taking care of interactions with patients with disabilities, giving them the opportunity to adapt the interface to their specific needs and medical peculiarities.
Product implementation
Leveraging the defined solution stack, frontend and backend software engineers pore over the functionality as well as business logic implementation with third-party services integrations.
Quality Assurance testing
Prior to the health insurance software launching, it's vital to conduct numerous testing alterations to make sure that the solution operates smoothly, eliminating any faults.
Deployment
At this stage, a team of tech specialists launches the product, making it accessible for the first users to try it and share their feedback for further platform enhancements.
To summarize, we would like to note and emphasize that health insurance software development should be accomplished using an exceptionally custom architecture approach. This is conditioned by the obligatorily required solid security due to the wide parties' spanning. In addition, the from-scratch developed product is entirely tailored to your medical business workflow, makes it easier to provide functionality updates, support, and entirely exclude any dependence on third-party off-the-shelf tools. For this, you should thoroughly choose the tech development provider and verify the expertise in telemedicine of each candidate.
Health insurance software from scratch: benefits
Cleveroad Telehealth and Health Insurance Expertise
Cleveroad is a software development company, delivering a great diversity of IT outsourcing services. A proven in-depth experience across a wide range of on-demand market sectors and constant qualification enhancement is one of our fundamental progress vectors.
EHR, EMR, and ERX products addressing the demands and business goals of our clients, as well as other telehealth and telemedicine solutions, are integral to our experience. We provide medical vendors such as hospitals, laboratories, clinics, and pharmacies with turnkey software to renovate and optimize the healthcare domain.
TapGP for Healthcare by Cleveroad
One of our successfully accomplished projects in the telehealth industry is tapGP. Within the project execution, Cleveroad team of professional software engineers has designed and delivered a platform for delivering and receiving medical services remotely, covering telemedicine appointments. We've created a product that complies with guidelines and regulations of the UK local authorities. Apart from this, one of our major goals was to implement easy-to-use appointment management for each engaged party, such as patients, physicians, and administration, which was also performed successfully. Our client has received a solid telehealth solution that reflects the requirements of all parties and allows automating medical workflows, resulting in refined business efficiency.
In case your health insurance business requires solid software streamlining the workflow, Cleveroad will eagerly become your partner to assist you in project fulfillment from requirements generation to deployment.
Get custom health insurance product
Our proficient team is ready to become your partner in health insurance software development
Frequently Asked Questions
Health insurance software is a solution designed to perform and streamline medical services providing as well as assist healthcare business.
The health insurance software development notion represents the following aspects:
Architecture tailored to particular health insurance sector challenges and demands
Assemble and analyze clients' data
Meet compliance and guidelines requirements
Profitability for customers:
Simple physician choosing in the insurance environment and connection with all medical professionals
Authorized and protected allowance to text the physician
The physical travel to the medical establishment and waiting in queues is liquidated
Decreased stress level before the appointment
Cut down operational expenses and enhanced usage simplicity with software supporting any device
Issuing and receiving the insurance and coverage eliminating fatiguing bureaucratic processes;
A personal therapy pipeline that complies with the client's demands.
Advantages for medical businesses:
Expansion of the target audience spanning and retention due to remote consulting and therapy operation
Enhanced client catering with no time-consuming waiting, cancellations, and skipped consultations
Higher productivity in local as well as distant workplaces and the opportunity to establish partnerships with a range of experts
Employee streamlining driven by a decrease in support and assistance department since each team member is able to consult a bigger number of customers
Optimized compatibility with electronic health record (EHR) and other existing medical solutions for simple and secure data transfer between customers and insurance organizations;
Opportunity to serve a bigger number of patients at once, engage new customers, scale the whole company, and grow the income.
Choosing the tech partner and cooperation model
Requirements generation
Architecture and tech stack defining
UI/UX designing process
Product implementation
Quality Assurance testing
Deployment
We've prepared a possible set of instruments that will successfully satisfy your audience:
The suitable insurance plan offers
Purchasing and updating policies
Payment gateway integration
Physicians search with a filtering system
Self-serving appointment scheduling
Pharmacies production section
Diagnosis identification via questionnaire
Medical documents storage
Notifications and reminders for upcoming consultations
Frequently asked questions part
Assistant and support department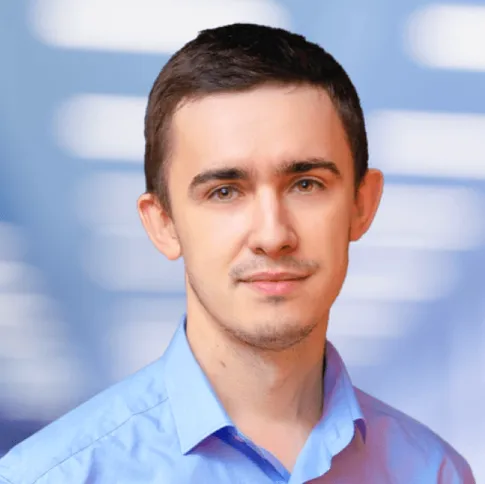 About author
Evgeniy Altynpara is a CTO and member of the Forbes Councils' community of tech professionals. He is an expert in software development and technological entrepreneurship and has 10+years of experience in digital transformation consulting in Healthcare, FinTech, Supply Chain and Logistics
Rate this article!
834 ratings, average: 4.72 out of 5
Give us your impressions about this article
Give us your impressions about this article