Steps To Choose A Trustworthy Software Development Partner
What is the most crucial thing in cooperation with software development companies? There is no one thing. There are many important nuances and steps you need to follow if you plan to find a trustworthy partner. This article will cover the preparation stage, all the steps, and what services a reliable partner should provide you with. We mean additional ones apart from the mandatory web or mobile app development services. But less talking, let's move on!
What you should start with or Preparation stage
Research for a dependable company is not the first step you should take. Even if you already know what company you prefer cooperating with, you need to spend some time and write down project ideas, features it should have, and maybe some sketches to show UI/UX designers what you exactly need. The more information you will provide software development partner with, the higher the chances that your future product will entirely meet all your expectations.
Besides, you will save your time. So it is preferable to contact software development partner when you prepare all the necessary information. Let's consider more details about the info you'd better prepare to.
Define the goal of your software
You probably know what target audience you want to reach, the primary purpose of your software, how it should be used, and the main tasks a software should perform. It will be much easier for the development team to delve into the process and understand your goal.
Define the project scope
Feel free to prepare a visual presentation of your software. You don't need to be skilled in design or software development. It will be enough to write down the project scope, show visually what result you want to get, and so on. In case you don't want to create presentations, you may write in docs some user stories - a description of the activities a user may perform in your software.
Define technical details
For example, you may already have software that other developers started creating, but due to some reasons, you don't want to keep on cooperating with them. Therefore, you need to describe what your software already includes and what you want to add. A new software development partner will save yours and their time, and they will start the development faster. Also, mind to add info about what platform you need (iOS or Android or both), front-end/back-end, and so on.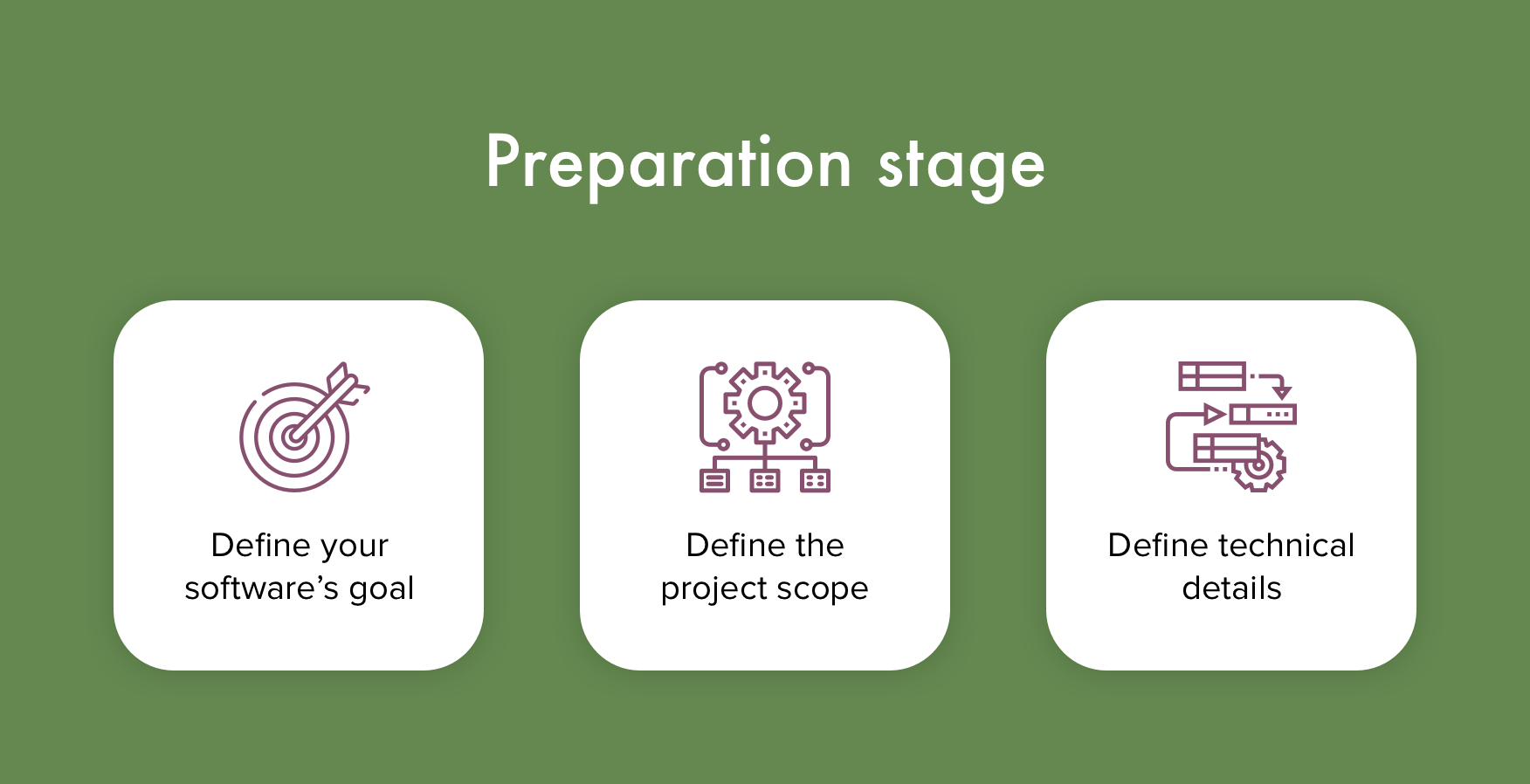 Preparation stage to start looking for software development partners
The more detailed your description is, the faster your software is created.
Finally, don't hesitate to create a list of preferable criteria to choose the dream team and the most exceptional software development partner. This list may include such points as hourly rate, country, tech stack, time zone, etc.
When it is done, you may take the following steps to choose the best software development partnership.
Nine steps to consider when you choose a software development partner
You have prepared a presentation or other documentation, and now you may follow these nine steps that will help you find a good and robust software development company.
Do your research
The Internet is a global network where you can find everything. That is why you can use it for research and sort out software development companies. But what is an optimal way to do it? I think when you are looking for software development partners, you need to use appropriate portals like the following:
Using them, you may sort companies by ratings, countries, a number of reviews, hourly rates, etc. The main advantage of this website is utterly correct information. It is impossible to post false information since the administration of portals verifies everything.
When you selected a few companies, you check their websites to make sure they look professional, well-thought-out, and provide users with a crowd-pleasing UI and UX. And then you may proceed to the next step.
Check their experience
To evaluate the company's skills, you need to check their portfolio. Many software development companies create a relevant section on their website where you can find the list of previous projects made by them. It is an excellent proof of expertise, and you may also evaluate their technical level. But keep in mind that the portfolio usually doesn't contain all projects. For example, at Cleveroad, we add to the portfolio the projects that are designed for public use, and a client agreed to share it with visitors. However, the majority of our projects are created for internal use, and due to non-disclosure agreement (NDA), we are not allowed to post any information about it. Everything depends on the customer's permission.
So you should ask the company directly about all the nuances interesting for you. Moreover, if you also want to protect your idea from being copied or stolen, sign an NDA or software development partnership agreement before you start sharing your idea.
Explore their software development process
Find out how the software development process is going in a chosen company. What it starts with, who is in charge, who is a contact person, how meetings are held, and so on. As a rule, IT companies have relevant articles that describe a software development process, and we are are not the exception. You can check out in detail how a software development process is performed at Cleveroad.
In case you need more detailed information, you need to contact the requirements manager of the company and ask them your questions. If a company is reliable, it will provide you with comprehensive information.
Choose your methodology
You need to determine what methodology is preferable for you and whether the selected company uses it. If you want to keep a high quality of your future software and make sure that everything will be done on time, you need to focus on Agile methodology. The development process is divided into sprints, and each sprint is agreed with a customer separately. Agile provides more flexibility to changing circumstances, and it helps avoid unwanted bugs. Thus, a customer evaluates the functionality of each sprint, all bugs are fixed, and the development of the next sprint isn't started until there is an approval by a customer.
Agile methodology implies permanent communication between a customer and service provider, and it is vital.
Determine a pricing model
If you didn't know, there are three main pricing models in software development - Fixed Price, Time and Material, and Dedicated Team Model.
Fixed Price is a good option if you clearly know what you need, you have definite requirements and features, and strict deadlines. You get estimation with a fixed price, and if you agree, everything is created within the set budget.
Time & Material is a no less popular option than a Fixed Price model since you pay only for hours spent. If you don't know how large software should be, how many additional features you need, and other details - you need to focus on T&M model.
Dedicated Team model is an excellent option for a long-term partnership. You hire a team of developers, designers, QA engineers who work only on your project. You have total control over the process, you distribute the workload of each specialist, and flexibility is in your hands.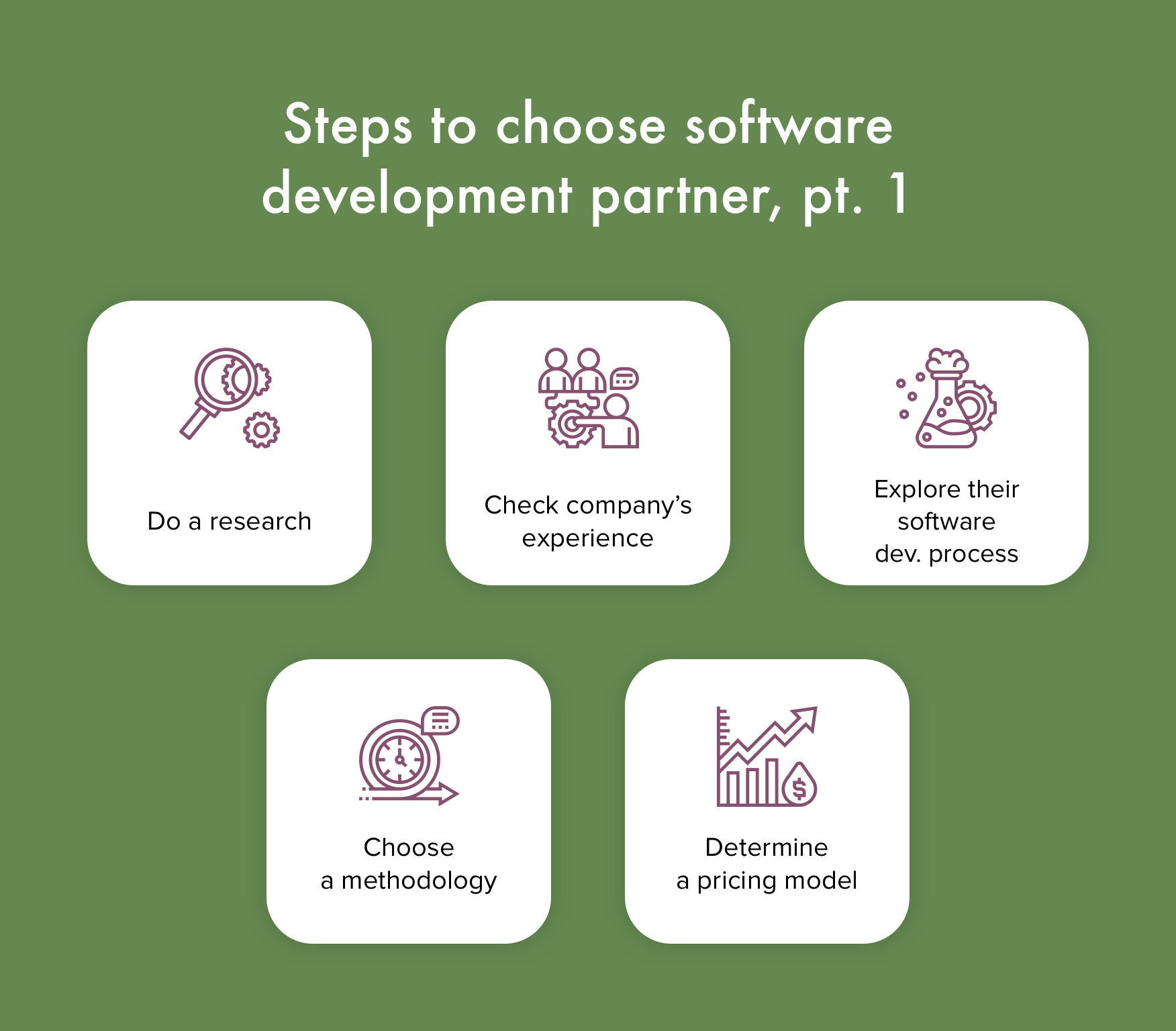 Steps to find a software dev partner, pt 1
Delve into the technical experience
If you are a little bit skilled in programming tools, and you know how one or the other tool is used, you may choose an appropriate and preferable tech stack for your project. Once you did it, your next step is to find out whether a selected company may provide you with developers who are experienced in these skills and ready to build software for you.
However, if you are far from technical aspects, you need to get a consultation from the company's managers who will help you choose an optimal tech stack for your future project. Moreover, they will explain to you all the pros and cons of each technology.
Analyze communication level
It doesn't matter how tech-savvy company is and how many projects they created if their communication skills leave a lot to be desired. You need to make sure that communication with this company will be flawless and without obstacles. You should see that the project management team is good at communication, and you won't face any issues. Besides that, a software development partner should speak English very well since it is an international language that is used worldwide. The first impression is vital. That is why you need to organize a meeting by Skype (or even meet personally) and evaluate their communication skills. I am sure the first meeting will speak for itself.
Learn more about the country
You need to know more about the country where a selected company is located. It will help you organize your process more efficiently, and understanding of a culture will be a good assistant during cooperation.
First, find out how fast Internet connection speed in that country. It is essential since online calls should be performed like clockwork. Otherwise, you won't be able to communicate with a software development partner properly.
Then, the English proficiency level is also essential as we mentioned before. Also, discover more about national holidays since you need to know when the company has days off.
Finally, get acquainted with the business culture of the country. You will understand your partner, and you will be prepared for unwanted challenges.
Transparency is a must
And the last but not the least step is to make sure that there is transparency in your partnership. Software development company should provide you with transparent processes, but so do you. All issues and nuances should be discussed at the meetings, and a dependable service provider is always ready to listen to you and take into account your remarks. And all information about the rates and development process generally must be clear and precise.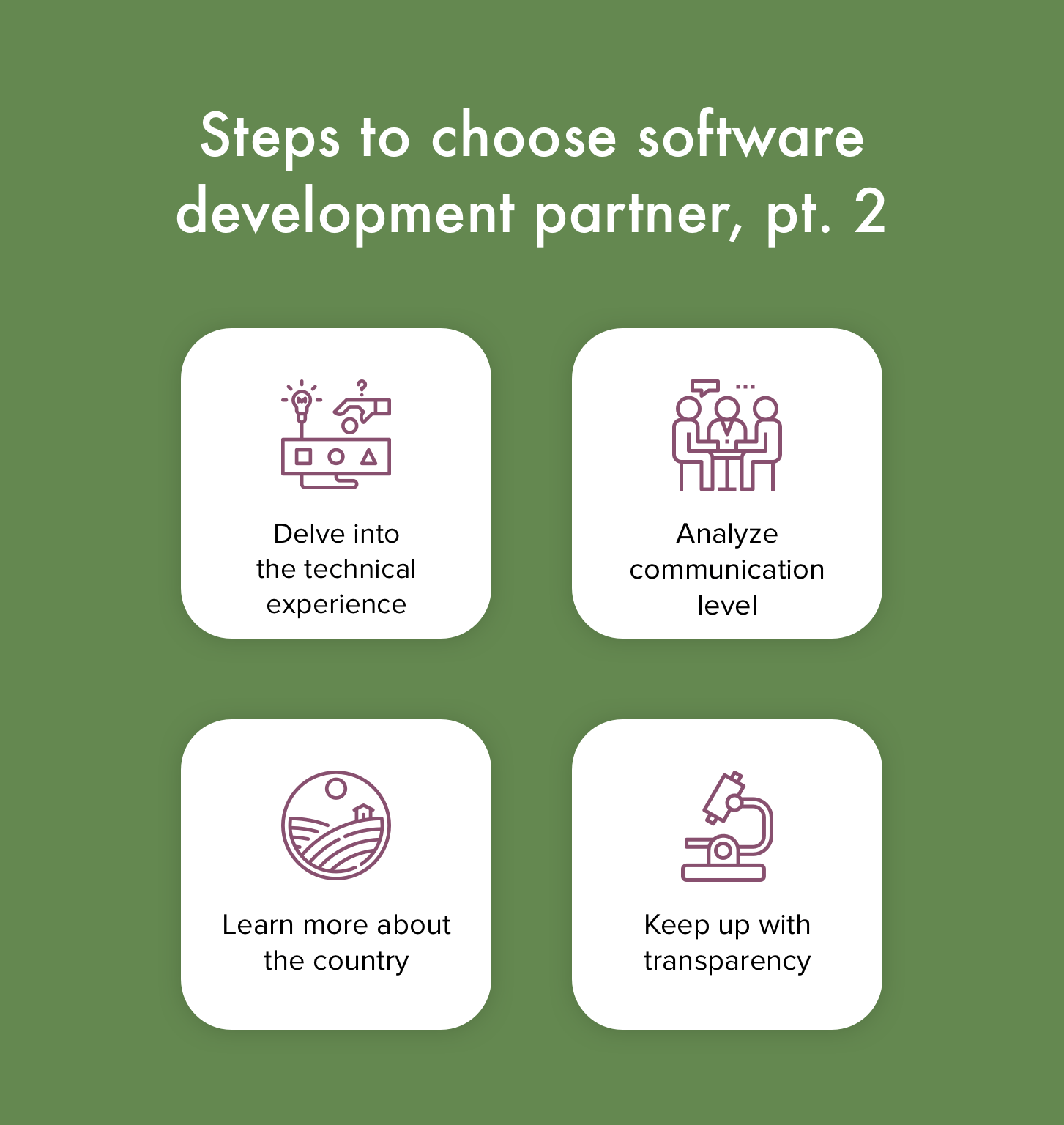 Steps to find a software dev partner, pt 2
I am sure if you follow these steps, you will likely find a top-notch and robust company that will completely meet your requirements and expectations.
Three crucial things a trustworthy software dev partner should provide you with
Transparent processes are essential. But there are some additional services a reliable company must offer. We will check them out.
Encryption and regulation compliance
First, a software development partner should care about the proper protection of your software. If it is a financial software and it works with personal data - the protection level must be high. Software developers should ensure that a product is secure and protect it from any vulnerabilities. If it is a website, SSL encryption should be added. Then, regulation compliance is also required if your app is processing personal data. It should be GDPR-compliant if it is created for the EU regions, HIPAA-compliant (if it is a healthcare app for the US market), or it should comply with other regulations and directives depending on the world region. The dynamic development team should consider all this stuff when creating your app.
Scalability
Your software is recommended to be scalable if you plan to develop your business and meet growing demands. It means that your software should be created considering growing capacities and workloads during a specific period. It makes your app or website competitive and gives you more perspectives. Smart developers will offer you build scalable software since they are aware of business market demands and will help you choose the right approach.
Post-release support
Many software development companies provide customers with post-release support services if you need them. It means you will get updates when necessary, and developers will maintain your software. If any bugs appear after deployment, developers will fix it. Thus, your software is always under the protection and in good hands.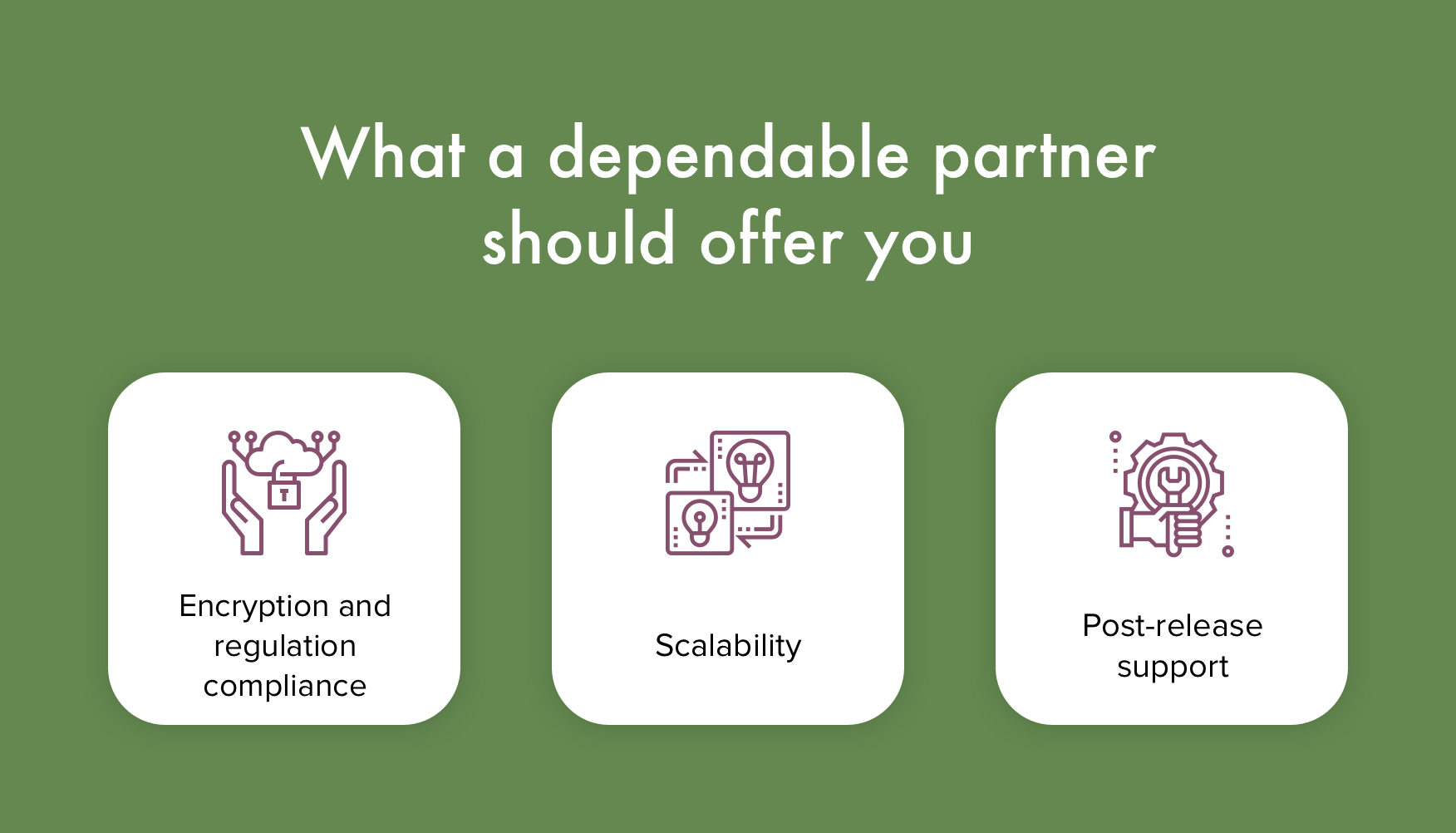 Three features that may enhance your software
Wrapping up, I'd like to add that all reliable software development partners will always keep you updated about all changes. You won't need to contact them on your own every day to find out the status of your project. Agile methodology implies meetings after each sprint, so you will delve into the development process deeply,
When in-house practice is better than outsourcing and vice versa - let's find out
Cleveroad provides high-quality outsourcing services, and our experienced and large development team offers a wide range of skills and technologies. iOS, Android, web, .Net, DevOps teams are at your disposal. Do you have any questions? Drop us a line, and our managers will spell everything out for you.
Frequently Asked Questions
To find the right software development partner you have to conduct a research. Then, single out several companies that match with one or several of your criteria. Come up with a feature list of your project and contact the company to get a rough estimate.
Pros:
Cost-effectiveness
Time-efficiency
Full-cycle support
Guidance through all stages of the project
Cons:
Remote location from the contractor's country
Some regions (Asia, Africa) have insufficient experience with English language. This fact ruins communication and client service.
The main aim of the outsource software development partner is to deliver a quality software for a reasonable price within a specified time frame.
To evaluate the company's skills, you need to check their portfolio. Many software development companies create a relevant section on their website where you can find the list of previous projects made by them. It is an excellent proof of expertise, and you may also evaluate their technical level. But keep in mind that the portfolio usually doesn't contain all projects.
Encryption and regulation compliance
Scalability
Post-release support
Rate this article!
1504 ratings, average: 4.95 out of 5
Give us your impressions about this article
Give us your impressions about this article