Outsource Software Development to Ukraine: 7 Reasons to Choose It
When deciding to outsource software development, one of the first questions that comes to mind is, "What is the best country for price-quality ratio?"
From this perspective, Ukrainian software companies are what you're looking for. And thousands of pleased clients all over the world prove this state.
Here's what statistics say:
Ukrainian IT companies are among the

top 6 tech outsourcers worldwide for 2021 and 2022

.
In 2021, Ukraine had a 20% IT Services market progress rate and 200,000+ tech-savvy experts to meet the growing global demand for software engineers.
The latest

research

indicates that more than 100 Fortune 500 companies have selected Ukrainian IT services in 2021.
Why do companies outsource software development services to Ukraine? There are a significant number of reasons, but we've gathered seven of the most popular ones.
Reason 1. IT Education
Ukraine's software industry starts with education.
There are 208 universities in Ukraine that educate students of IT-related fields. Each year, 20,000+ bachelors graduate from top Ukrainian universities with Computer and Information Technology degree.
What's more, software development companies in Ukraine also play a big part in educating students. They hold traineeship activities, give lectures, offer mentorship programs, and many more.
Best students get offers from IT firms and become full-time programmers, QA testers, or UI/UX designers.
For those who don't like traditional education, there's a large pool of IT courses. In Kyiv (the capital city) alone there are 120+ programming courses, 26 that teach QA testing, 63 – UI/UX design.
When it comes to the latest technology outsourcing trends, local IT clusters do a lot too. They launch edu programs at the top tech universities and introduce new disciplines like Big Data, machine learning, IoT, and AI.
More than 20 Ukrainian cities have their own IT clusters and actively develop them. The largest – Kyiv IT Cluster, Dnipro IT Cluster, Kharkiv IT Cluster, Lviv IT Cluster, and Odessa IT Cluster.
Tech education for developers in Ukraine
IT committees at the American Chamber of Commerce (ACC) and the European Business Association (EBA) also play an active role in supporting IT education. With these organizations, Ukrainians lobby for the interests of their IT community, train newcomers, and support startups.
Reason 2. 200,000+ Talents
There are 205,000 IT specialists who live and work in Ukraine. Today, it's the third largest pool in Eastern Europe, giving way to only to Russia and Poland. And this number is constantly growing – by 2025, it is expected to reach 242,000.
Ukraine software industry: number of IT experts by cities
According to the 2021 Tech Market Report, 18,4% of Ukrainian programmers write in JavaScript. Java holds its second position with 15,4%. The third place with 14% goes to C#. Other popular programming languages include Python, PHP, and C++.
Software developers from Ukraine are always aware of up-and-coming languages and frameworks, and apply them to build competitive and highly-performance software.
Top 10 programming languages Ukraine developers use
What about their skills? Also good – IT Skills report 2021 places Ukraine on the 6th position among countries whose developers scored the highest on coding tests.
Reason 3. 1,198+ All-Size IT Companies
According to Clutch, there are 1,198 firms that provide web development services. In addition, 737 IT firms have expertise in building mobile apps. It's a large pool of Ukraine software outsourcing agencies of any size – from small teams with ten members to companies with 7500+ employees – that provide specialized services for any business domain. Thus, you can easily find an IT vendor aligning your project requirements.
Ukrainian IT companies are actively growing in numbers, increasing their staff and opening offices in new locations. The most popular cities – Kyiv, Dnipro, Lviv, Kharkiv, and Odesa. The startup community is also active in these cities. Plus, the government announced a $18 million fund to invest in startups in 2020.
That's a huge boost, still, the majority of Ukrainian developers (60%) works in IT outsourcing companies. Their main clients are the USA, Canada, UK, Germany, France, and the rest of Europe. Often, software development companies in Ukraine that work for Western clients grow into fully-fledged R&D centers. Microsoft, Google, Apple, Samsung – they all have R&D centers in Ukraine and actively collaborate with local developers.
Companies that outsource development services to Ukraine
As I've said, Ukraine is a good destination if you're working with brand-new technologies – AI, ML, data science, and others. Ukraine is in the top three countries by the number of software development companies specializing in Artificial Intelligence.
Another great thing is that if you pick outsourcing software development to Ukraine, you have access to a bunch of services. Not just programming but UI/UX design services, iOS and Android development, QA testing.
Reason 4. Active Growth of the IT community
Ukrainian developers actively establish international and domestic contacts to advance their technical expertise and acquire hands-on experience in diverse technologies and business domains. By doing so, they improve their knowledge and skills more quickly than their colleagues in Silicon Valley or any other popular tech hub.
Every year, the Ukrainian IT community holds 1,000+ events about technology, startups, and investments. In Kyiv, it's IForum, IT Talk Kyiv, IDCEE, Outsource People Kyiv; in Lviv – IT Arena and GDG DevFest.
Other popular IT events:
Dev Challenge 12
Agile EE Conference
iForum
JEEConf
Mobile Beach Conference
IT Weekend Ukraine
The biggest events gather over 7,000 attendees and speakers that work in Skype, SAP, Dell, and IBM.
Reason 5. Soft Skills
Here's the truth: customers are not always looking for developers that can just write code. Instead, they need clever, creative people who can solve their business problems. Here are the additional reasons to choose Ukraine as the main software development outsourcing destination.
High involvement in the project
Ukrainian programmers aren't just performers. They think from the client's perspective and make suggestions. If there's any problem with your product, Ukraine developers will warn you in advance. That's not because your team has no idea what you're talking about. But to define all the sides of the future project and find the best approach to it.
Great English level
About 85% of Ukraine's tech specialists report having a high English proficiency level. The majority of Ukrainian software companies provide free language classes for their workers, which increase their English skills. Nevertheless, the country took 44th out of 100 in the Education First 2020 ranking of English proficiency.
Effective communication
It may be pretty uncomfortable to communicate with the IT vendor if you are located in different time zones. However, being one to two hours ahead of most European countries makes Ukraine an excellent choice for nearshoring as it provides smooth communication between geographically spread teams.
Besides, if you're located in the US, sharing only three business hours, software companies in Ukraine know how to work out that issue and often schedule a communication plan with clients to hold meetings at a convenient time.
C-level executives with a global mindset
Business processes, communication flow, and corporate policies don't differ much from Western Europe or the USA. After all, Ukraine is a Western-orientated country, especially when it comes to software engineering.
Ukrainian tech specialists and top managers are open-minded, ready for discussions, and they're interested in the project's success just as their clients are.
Middle and senior developers work better when provided a certain level of independence. Fortunately, Ukrainian IT companies abandoned strict hierarchy and formal communication. Moreover, many of them are headquartered in Eastern Europe or the US, facilitating the outsourcing of software development to Ukraine from a legal perspective.
Reason 6. Affordable Rates, Low Taxes
Skills do matter, but sometimes it's the cost that decides. Custom software development in Ukraine works great in terms of price and quality. Let's see why.
How much software development costs in different regions
First, in Ukraine, outsourcing rates don't exceed $25 - $49 per hour. And here are the software dev costs in other popular outsourcing regions. You can observe a more precise price comparison in different countries below:
Software dev hourly rates (Source: Clutch)

| | |
| --- | --- |
| Country | Cost per hour, $ |
| Austria | $45 - $85 |
| Belgium | $60 - $90 |
| Canada | $85 - $120 |
| Denmark | $60 - $99 |
| UK | $71 - $110 |
| Estonia | $45 - $60 |
| Finland | $100 - $149 |
| Germany | $120 - $140 |
| Israel | $100 - $149 |
| Italy | $50 - $99 |
| Latvia | $60 - $99 |
| Luxembourg | $59 - $80 |
| Netherlands | $50 - $99 |
| Norway | $50 - $99 |
| Portugal | $100 - $149 |
| Spain | $35 - $60 |
| Sweden | $100 - $149 |
| Switzerland | $60 - $99 |
| United States | $130 - $160 |
Second, the average monthly salary isn't that high in Ukraine. Developers get $2000+ (middle-level programmers) per month; senior engineers – $3500+.
Devs' salaries in Ukraine, by programming languages

| | | | |
| --- | --- | --- | --- |
| Language | Jinuor | Middle | Senior |
| Java | $800 | $2200 | $3800 |
| JavaScript | $730 | $2000 | $3775 |
| C#/.NET | $800 | $2100 | $3500 |
| PHP | $650 | $1800 | $3300 |
| Python | $770 | $2100 | $3950 |
| C++ | $900 | $2150 | $3850 |
| Swift | $600 | $2200 | $3650 |
| Ruby | $800 | $2300 | $4000 |
| Kotlin | $620 | $2000 | $3500 |
Right now, these salaries are quite compatible, compared to European companies. But they're still high compared to other salaries in Ukraine.
What about the taxes?
For IT-related companies, they're quite low. Ukrainian legislation allows IT firms to work with self-employed specialists. They only pay 5% of the total income and a unified monthly tax (22% of the minimum wage – ₴1040 or $40).
Reason 7. Country Opened To Global Partnership
Ukraine is the largest country in Europe, and it has a beneficial geographical location for IT development outsourcing and business trips.
Visa-Free Country
Most likely, you'd want to meet the team in person. To discuss the terms, to get acquainted with the people and see how they work. If you're outsourcing software development to Ukraine, visiting your team is no longer an issue.
Want to know how Cleveroad devs work? We're describing the process in the 'App Development Team' article.
Ukraine International Airlines and many other Ukrainian and foreign air carriers offer regular flights from the world's top tech hubs – London, Berlin, Amsterdam, and many more – to Kyiv, the capital city, and the biggest IT clusters all over the country.
Ukraine is generally visa-free for visiting, and the travel prices aren't too high.
Here are the flight costs to Kyiv (one-way ticket):
Paris, France – from ₴5,742 – $230
London, UK – ₴6,104 – $244
Berlin, Germany – ₴3,329 – $133
Amsterdam, Netherlands – ₴5,077 – $203
San Jose, CA – ₴18,679 – $746
Washington, DC – ₴15,749 – $629
Seattle, WA – ₴18,679 – $746
UIA and other carriers offer regular flights to Ukraine
And if you want to invite devs to your office, it won't take long for them to come. Visiting EU countries is twice as easy for Ukrainians – since 2017, they take advantage of a visa-free travel regime.
Ukraine Is Part of European Community
Another reason to choose outsourcing software development to Ukraine is that the country is a primary partner for the European Union and actively integrates into its community. In fact, about 60% of Ukrainians tend to join the Union as Ukraine's major integration area.
According to this fact, Ukrainian software agencies are very European in their approach to run business. It implies that everybody, from an accountant to engineer, is ready to go the extra mile to get the job done.
Moreover, being located in the center, Ukraine absorbed different cultural aspects from many countries, making the nation flexible and adaptable to any progressive changes.
Technical Excellence
The world is making a turn against the COVID-19 pandemic. Some industries like travel and aviation have been affected harder. Others, including the IT companies, still confront some financial dangers caused by the virus and uncertain macroeconomic trends.
However, software outsourcing companies in Ukraine have already taken critical steps to avoid disruptions in operations and guarantee business continuity. Moreover, they have already experienced collaborating with distributed teams and have all required infrastructures and processes working during the quarantine.
So how do Ukrainian IT companies respond to the new reality?
Even if we withstand the coronavirus outbreak in the next couple of months (in the best-case scenario), businesses will deal with its consequences long after it's gone. That's why most Ukrainian software organizations have a long-term business plan to ensure the continued delivery of high-quality software products to clients worldwide.
High technical level and stable internet
Software developers from Ukraine are some of the most skilled specialists globally and have diverse tech competence. Moreover, they regularly improve their expertise and pass specialized courses to boost business performance and tap into digital transformation.
Ukrainian programmers are extremely interested in the final results and, thus, tend to respond to messages or calls after working hours or on weekends. Moreover, most of them have rich experience running freelance projects. All these factors, along with the great internet connection, allow them to work remotely flawlessly.
Daily communication with the employees
It's vital to ensure that everyone is on the same page. So every day team leaders hold meetings with the team to discuss what they're planning to do today, what issues they've encountered, and make sure all relevant workflows are considered.
Why Outsource to Cleveroad
Cleveroad is a Ukraine-based outsourcing company that has been providing software development services for startups and businesses of various scales applying cutting-edge technologies since 2011. We have a broad experience in ensuring a great diversity of IT-related services and software solutions. They optimize workflow productiveness, cope with business problems, and help to obtain competitive advantages.
By choosing us, our clients receive a row of benefits:
A thorough consultation on your project from our Business Analysts is absolutely free
We sign non-disclosure agreements (NDAs) on customers' request
Three adaptive cooperation models: dedicated team, fixed price, time & materials
Product quality assurance and control at all development phases
Post-release support, maintenance, and promotion services for your digital product
We have customers around the world
What do our clients say about our cooperation? Check our Clutch and GoodFirms profile for verified clients' reviews!
Our developers deliver products of any scale and complexity. From video-on-demand apps like Blockbuster to SaaS retail solutions like RetailOps.
Want to see our projects? Take a look at the portfolio!
Looking for a tech partner?
We're here to help! Describe your business idea, and we'll get back to you in less than 24 hours.
Frequently Asked Questions
Ukraine offers more than 192,100 IT talents, and 1,110+ software development companies are working in the country. The prices they set don't go exceed $25 - $49 per hour, and Ukraine is generally vise-free.
There are 208 tech universities and hundreds of IT courses in Ukraine. What's more, Ukrainian IT companies hold traineeship activities, give lectures, and offer mentorship programs. Best students become full-time employees.
Sure! Ukrainian IT firms work under NDA (if asked), and they work under contracts. Ukrainian legislation allows IT firms to work with self-employed specialists, and they take tax obligations seriously.
As of 2020, 192,100 IT specialists live and work in Ukraine. The number is continuously growing – in one year, it grew by 7,400.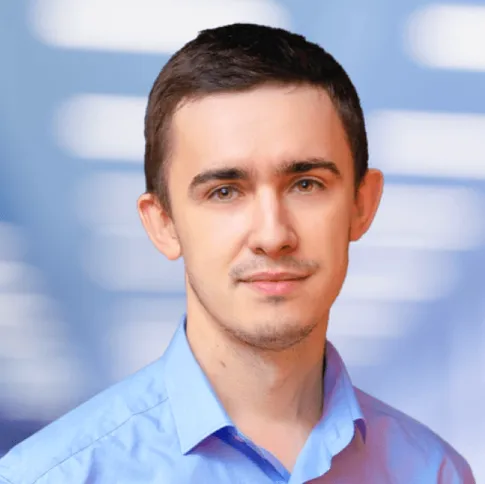 About author
Evgeniy Altynpara is a CTO and member of the Forbes Councils' community of tech professionals. He is an expert in software development and technological entrepreneurship and has 10+years of experience in digital transformation consulting in Healthcare, FinTech, Supply Chain and Logistics
Rate this article!
2292 ratings, average: 4.57 out of 5
Give us your impressions about this article
Give us your impressions about this article