What Does a Solutions Architect Do? Roles and Responsibilities
10 JUL 2020
3319 VIEWS
9 MIN
According to the Pulse report, only 62% of projects met original goals, 53% were completed within the original budget, and 49% were completed on time.
In the case of enterprise software projects, these overruns may lead to huge financial losses.
That's why companies need IT solution architects—to make sure the product will meet their requirements, and there won't be any time or budget overruns.
What is a solutions architect, their roles and responsibilities, and how they're different from software engineers and Project managers—find out in this article.
What is a Solution Architect?
A solution architect is a person who finds the best tech solution to clients' business problems.
They bridge business requirements and tech means developers need to use to meet these requirements. Architects speak both 'technical' language with developers and 'business' language with clients.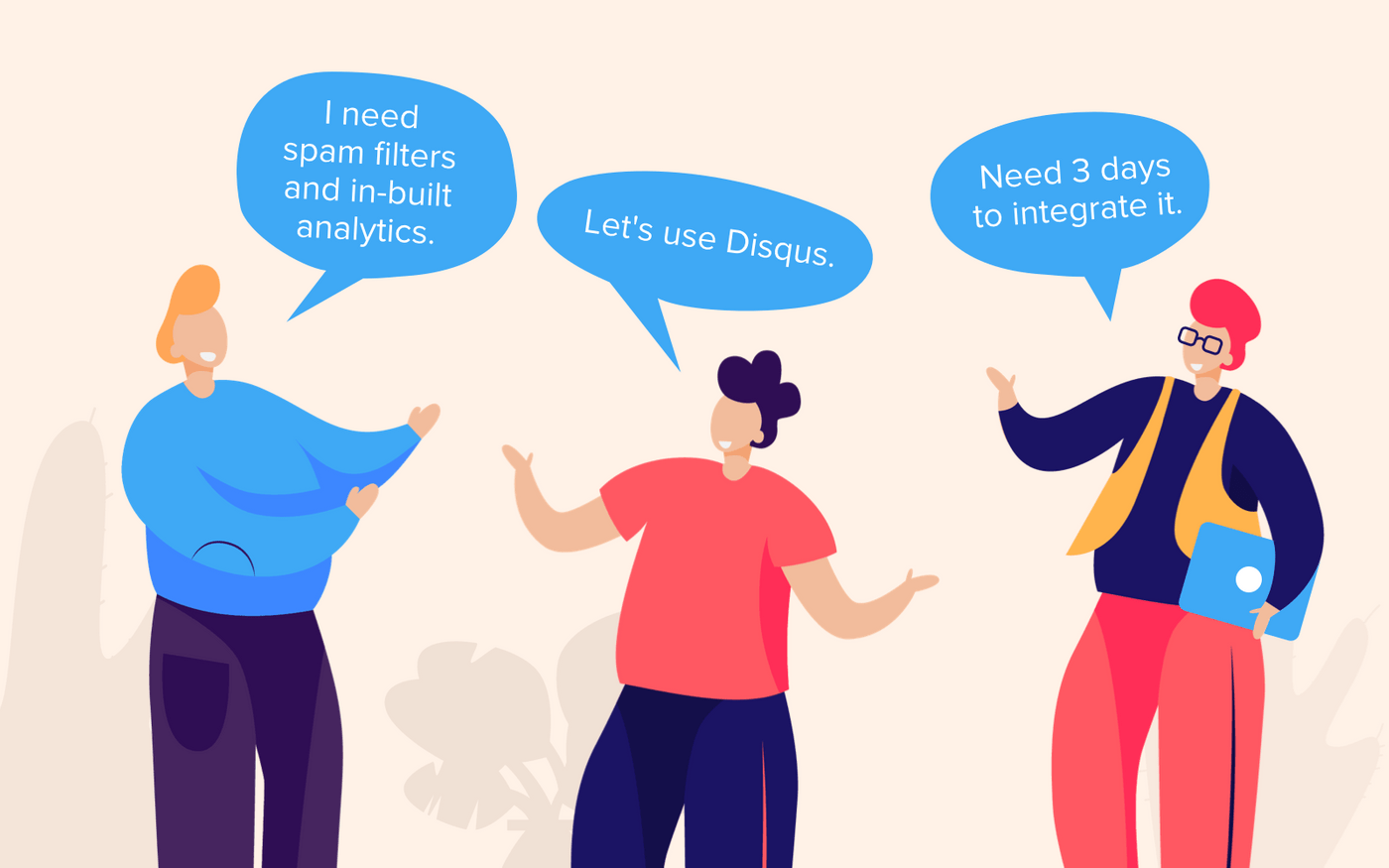 What is a solutions architect? A person who bridges business and tech sides
For example, a travel provider like Booking.com wants to create an app to let customers book flights, hotels, and cabs from mobile devices.
A solution architect's job here is to explain how this app can be built, what tools—programming languages, frameworks, APIs—should be used, and how much time this process will take.
For that, architects do some solution architecture—draw diagrams to understand which components are required for this app. And what tools they're going to use to implement them.
Here's a simplified example of such a diagram: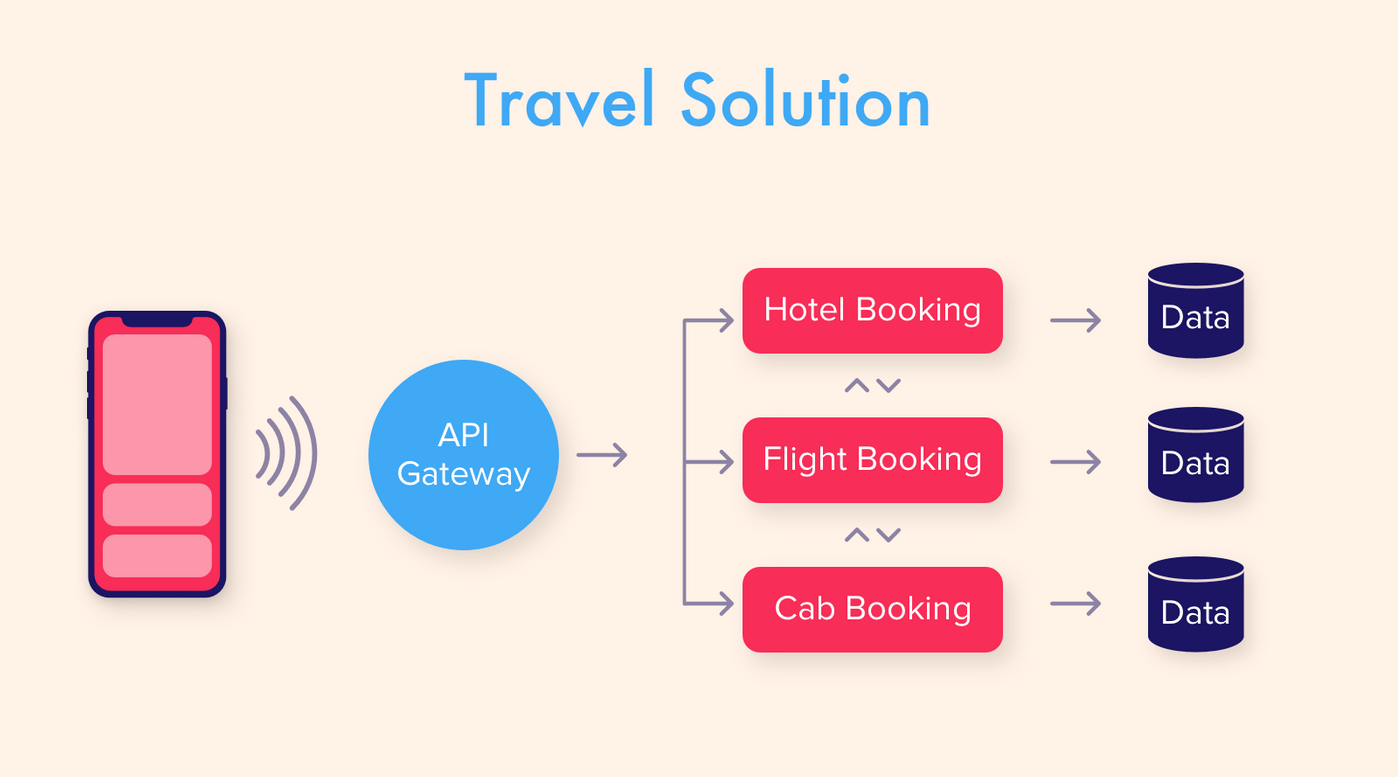 Solution architect work: basic travel app concept
Besides picking the technologies, IT solution architects define the development stages the team will go through and help with calculating the product's cost.
As the solution architect knows the architecture components, they know what people—front end, back end, iOS, Android developers—they need to involve.
They're not Project Managers though; they're project leaders.
Project managers watch over software development process—monitor tasks, ensure the team meets deadlines, and report to clients.
Solution architects lead the process—they make sure the software will work as stakeholders expect, meet their tech and non-tech requirements, won't exceed budget, and will be released in time.
But solution architects aren't the only architects when it comes to software development.
Types of Architects
There are three roles related to architecture:
Enterprise architect—monitors how the solution is built in the enterprise's architecture and connected with its other components
Solution architect—bridges the gap between business problems and technology solutions
Software architect—mainly in charge of engineering problems and software architecture
They are similar, but not quite the same.
Solution architecture is focused on details and solution technologies to address a specific business problem. They are mediators between enterprise architecture (global business perspective) and software architecture (dealing with tech issues).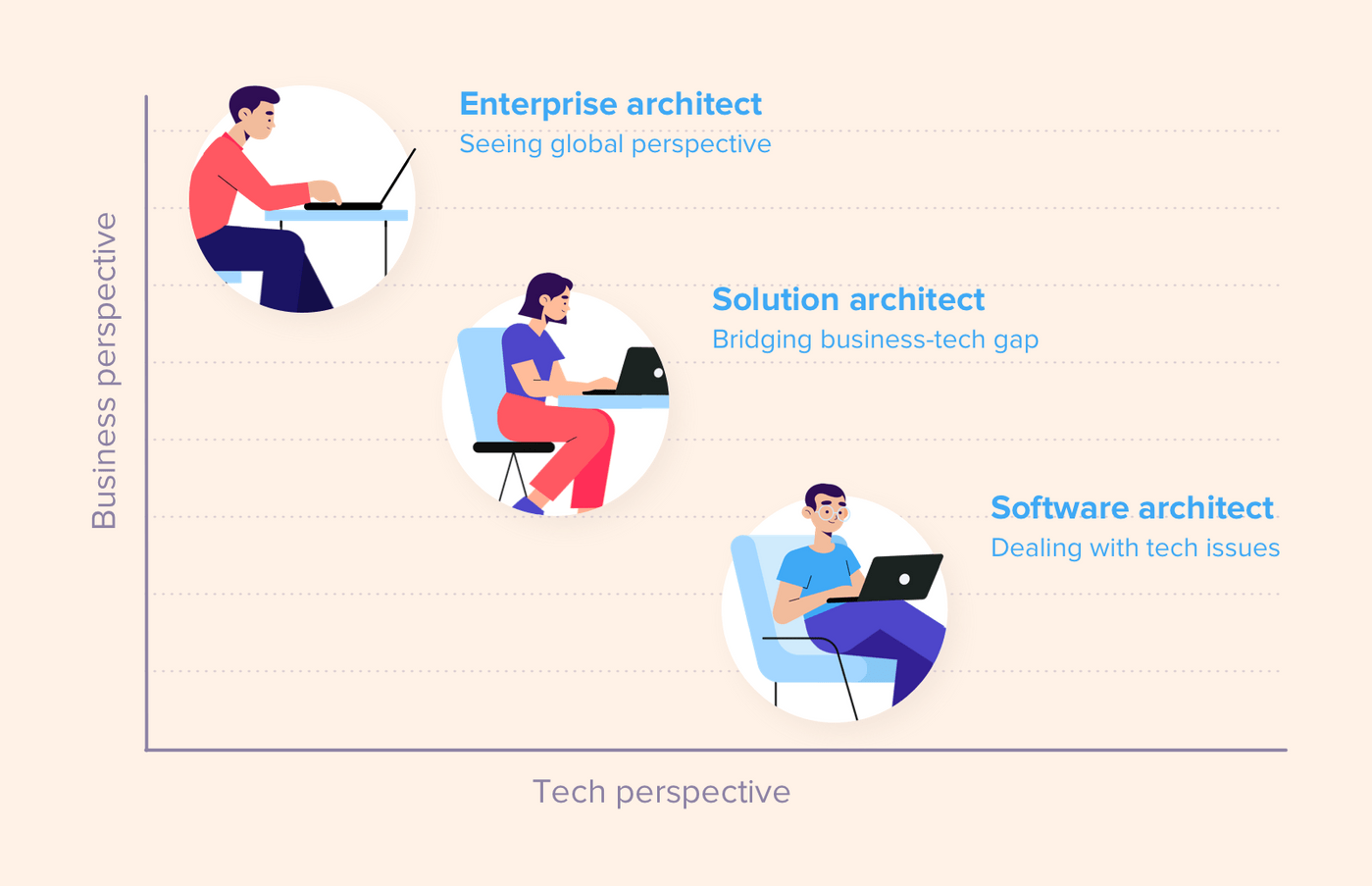 Solution architect in IT often works with both enterprise and software architects
Sometimes infrastructure architects are also mentioned. These people work in big organizations that maintain complex hardware infrastructure.
What Does a Solution Architect Do? Roles and Responsibilities
Let's talk a bit more about solution architect responsibilities and roles before and during the development process.
Solution Architect Roles
The main role of a solution architect is to ensure the product meets business requirements and requirements from other stakeholders.
First, they create a technical vision to show how the software will cover business needs.
Next, they pass their tech vision to the development team who starts working on the solution.
If the team follows the Agile methodology, the solution architect's role is to support the development team, accompanying the project at the implementation stage. At the same time, they can create prototypes to identify tech limitations or delve into product design.
Let's say a hospital chain wants to expand its software and make a telehealth solution to keep in touch with its patients. What would the solutions architect role be?
First, business analysts collect requirements and provide solution architect with inputs like:
functional requirements ('we need text and video chats')
non-functional requirements ('we need English and French localization')
constraints ('the app must comply with HIPAA').
(We're going to talk more about these requirements later on).
The architect then works out the tech vision of the product, explains what solution they need (website, desktop app, mobile apps, or all together). As well as how to build it and what technologies to use.
Next, an IT solutions architect helps to assemble a development team—define how many developers they need, as well as where each of them should start.
During the development stage, the solution architect delves into each of the product areas. They have to explain how to make each part of the software so that everything fits into a single product.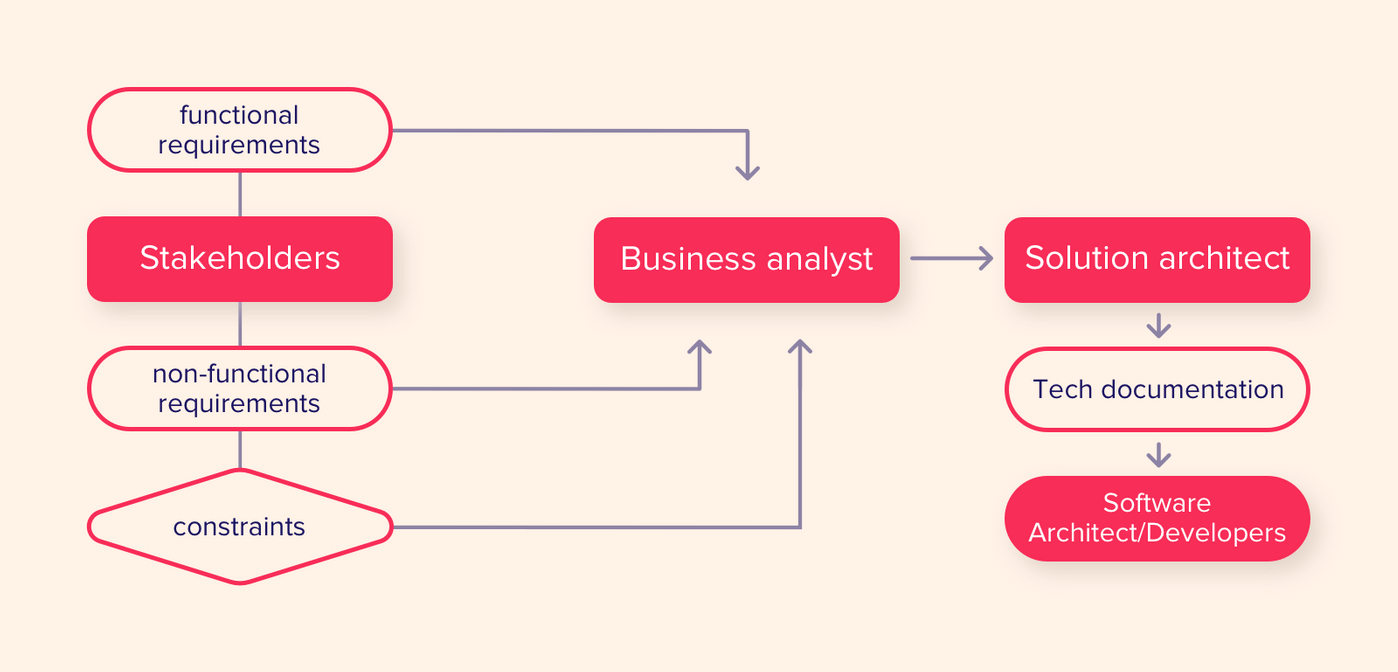 Role of a solution architect—to transform business requiremenets into a detailed tech guide
Solutions Architect Responsibilities
Now, let's move to the responsibilities of a solution architect. I've selected four main processes architects are responsible for.
Meeting functional requirements
Any requirement that specifies what software should do is a functional requirement. For example:
The website does not support offline mode. Users can not use the website if there is no internet connection.
The mobile app should have some function in an offline situation.
When a new user signups, an email is sent to their email address
Among the responsibilities of solution architects is making sure the software they work on meets all functional requirements.
Meeting non-functional requirements
There also are non-functional requirements that refer to how the software performs a certain action. For example, you want the team to create an admin panel and let your employees log in. Are you okay with a login that takes 20 minutes?
It's a solution architect's responsibility to ensure that the login process goes as fast and seamless and possible.
Examples of non-functional requirements:
Use English, Russian, and Italian localization; default language — English
Mobile app must support portrait mode only;
Application supports native fonts only
Both functional and non-functional requirements are written down in a project specification. Click here to see how it looks like.
Decide on a technology stack
The tech architecture strategy directly depends on the technology stack architects choose.
There are many different programming languages, frameworks, libraries, databases, architectural patterns, and standards. The responsibility of a solution architect is to pick the most suitable tools for a particular project. Which requires decent tech skills to assess and compare tools.
For example, here's the tech stack we used while working on Blockbuster, a video streaming platform. Lots of languages, libraries, and tools.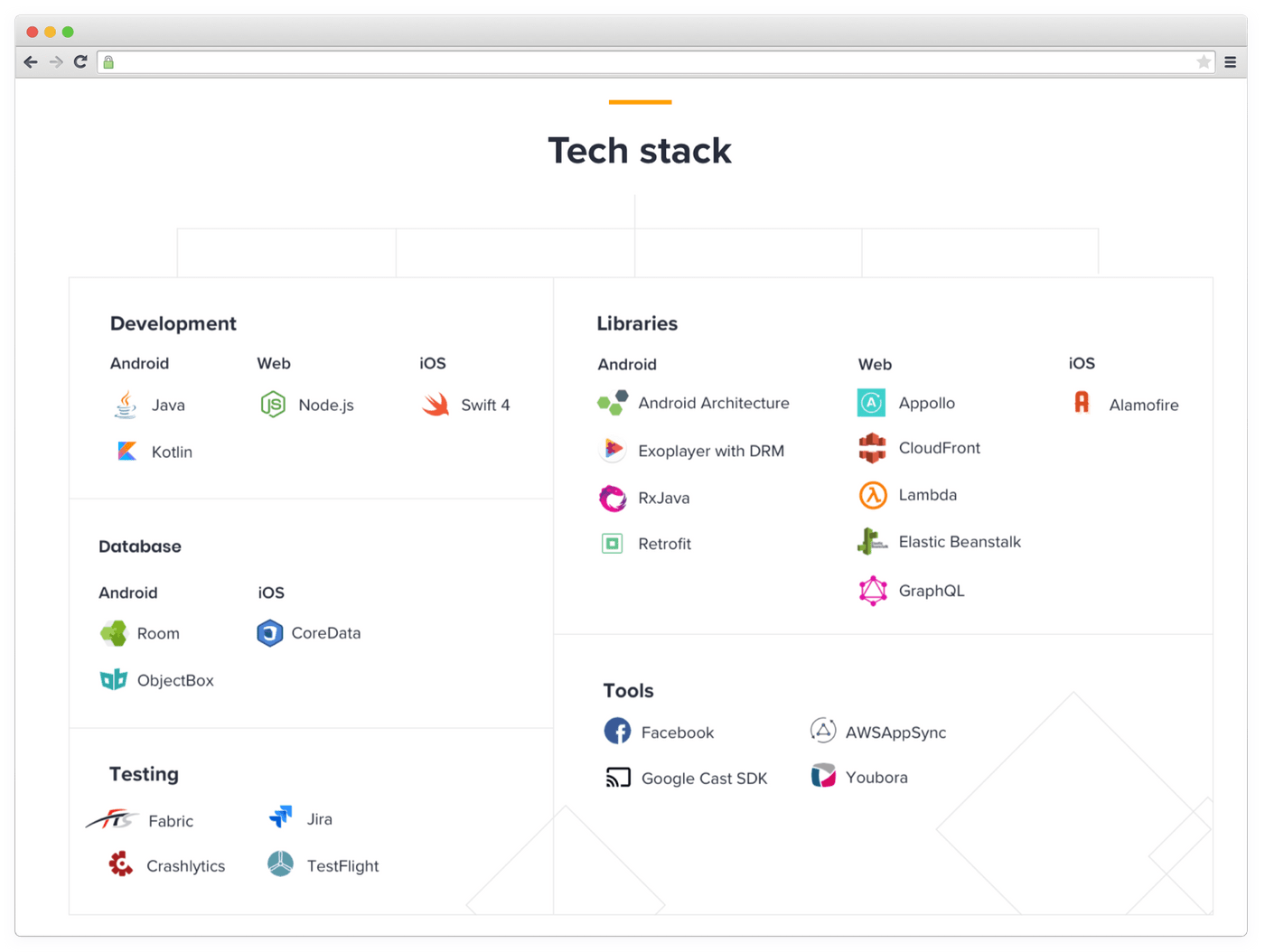 Solution architect technical skills help them to choose the best-fitting tools
Deal with project constraints
Each project has constraints—time, money, limitations, risks, licensing.
If you're making a healthcare app, it must comply with HIPAA. If you want to launch a streaming service, you must own the copyrights and content licenses.
Or maybe you only have six months to spend on development.
These limitations may change the product a lot—and thus change its cost and time to market. What do solutions architects do in this case?
As architects know the field, they're aware of these constraints and ways to deal with them. And the faster you deal with them, the faster and cheaper the product will be delivered.
Solution Architect Skills, Experience, and Background
Solutions architect skills include technical knowledge, communication, and leadership skills. But their experience with commercial projects is the key to getting the job.
It's like hiring a super-senior developer but with deep expertise in a specific field—healthcare, education, traveling, or any other. For solution architects, the business side of the product matters as much as the technical side.
Here's the list of skills solution architect should have:
Experience in software engineering and design architecture
Practical experience with projects in relevant engineering domain
Knowledge of cloud computing—Microsoft Azure, Amazon Web Services
Knowledge of typical enterprise integration patterns
Be familiar with principles of computer networks and IT security management
Understanding of business analysis techniques and processes
Strong organizational, analytical and system thinking skills
Excellent interpersonal communication and negotiation skills
Often employers ask candidates to provide certifications like:
AWS Certified Solution Architect
Axelos ITIL Master Certification
Google Professional Cloud Architect
Microsoft Azure Architect
Usually, it's senior developers, team leads, and project managers who have skills required for a solution architect. They have the needed tech background, business expertise, and are excellent communicators.
A roadmap to becoming a solutions architect: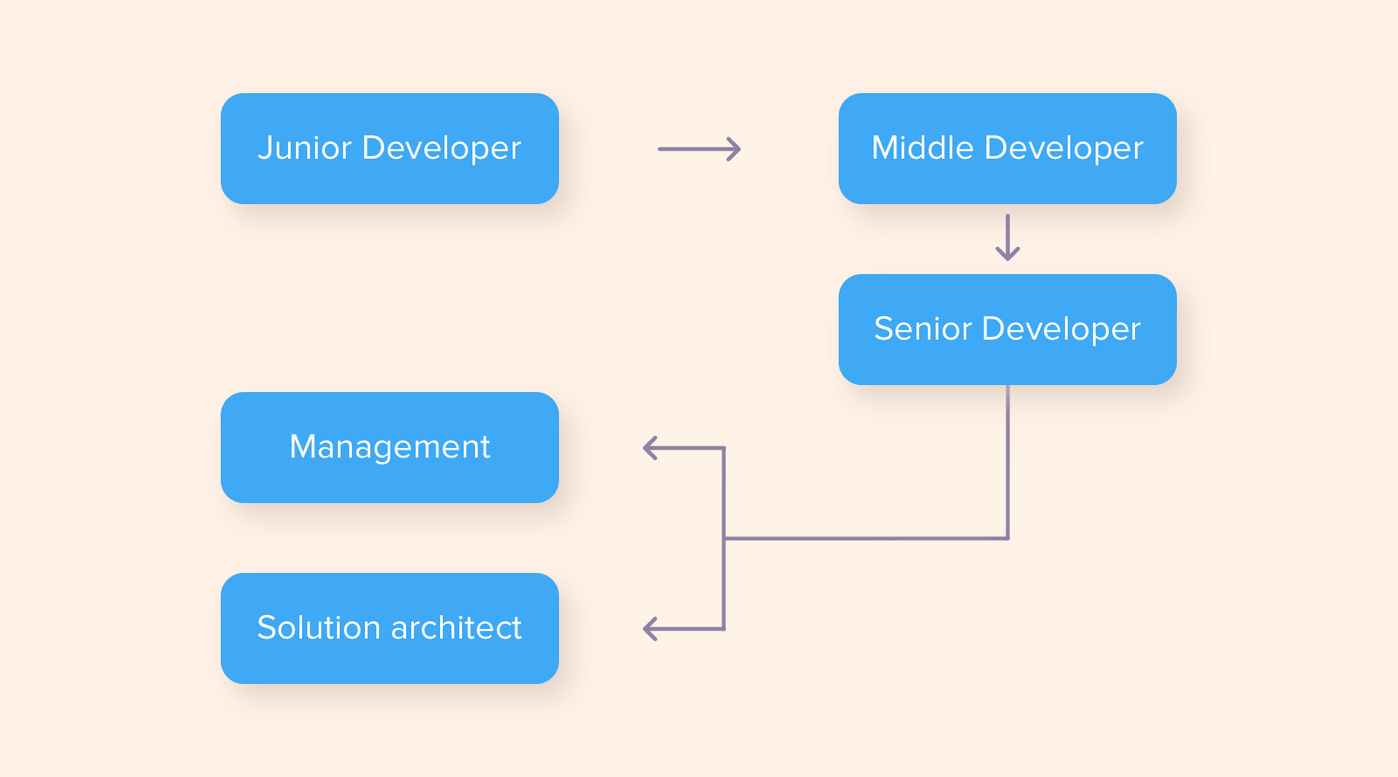 How developers become solution architects
Basically, as soon as a software engineer starts thinking about business needs, they are on their way to becoming a solution architect.
When Do Companies Need a Solution Architect?
Of course, you don't need a solution architect for each product. Companies look for people who perform solutions architect duties only when their projects become more complex and challenging.
If you build landing pages, integrate small modules, or make minor improvements, you don't need a solution architect.
But if you aim at enterprise-level solutions or want to grow your existing product, you may want an IT solution architect to lead the process.
Solution architects position appeared in сompanies that create software on an industrial scale. They needed someone who could communicate with their clients while the contract is being prepared (solution architecture as a service). Or someone who would overlook the architecture from start to finish.
Here are the most popular cases when you need to involve a technology solutions architect:
You need to fit new software into an existing system
Usually, a product never exists alone. It must fit into the current enterprise architecture—the software the company's been using before.
For example, if you use legacy software, your brand-new admin plan should fit right in and communicate with that legacy system.
Architects consider the existing company's architecture to make sure the new product will work in the existing ecosystem.
You need to show a product roadmap
Having a full plan of future software and a list of technologies is always better than having a bare idea. You have more chances to impress investors if you know what product you're making and what problem it's going to solve.
A solution architect will match product requirements with ways to implement them and explain everything in clear business terms.
You have a large-scale project
If many teams are involved in the process, you may need an IT solution architect who'll manage software architects to produce a quality outcome.
Need a solution architect?
Describe your product, and we'll plan its architecture from the ground up.
Frequently Asked Questions
The primary role of a solution architect is to ensure the product meets business requirements and requirements from other stakeholders.
A solution architect is a person who finds the best tech solution to clients' business problems.
Solution architects make sure the product meets business requirements, will be delivered on time and within budget.
First, they create a technical vision to show how the software will cover business needs. Next, they pass their tech vision to the development team who starts working on the solution.
The role of a solution architect is to ensure the product meets business requirements and requirements from other stakeholders.
Their responsibilities include:
Meeting functional and non-functional requirements
Deciding on a technology stack
Dealing with project constraints
Software architect should have knowledge of:
IT architecture and cloud development (Microsoft Azure, Amazon Web Services)
Engineering and software architecture design
Computer networks and IT security management
Business analysis process, DevOps practices
There are a few reasons a company may need a solutions architect:
They want to fit new software into an existing system
Need a product roadmap to pitch to investors
Need managers for a large-scale project with few development teams
Rate this article!
2655 ratings, average: 4.77 out of 5
Comments
Thanks for your information