Warehouse Automation Explained: Benefits, Technology, and Preparation Steps
Warehouse automation became widely recognized over the last few years. Manual operations go hand in hand with human errors resulting in delays, improper time and resource management, low productivity and margin. All this ultimately leads to unsatisfied business partners and customers. And while some think of automation as applying autonomous vehicles and robots, others choose to start with software. As always, the truth is somewhere in between.
Full warehouse automation covers many aspects and operations, from automatic data entry to goods storage and delivery. In this guide, we're explaining its main layers - automation basics, hardware and software solutions, their advantages, and featuring some real-life cases to check.
What is Automated Warehousing
Warehouse automation is all about uncovering repetitive tasks and finding ways to automate them. Modern warehouses are full of cases – from manual data entry to picking, storing and shipping of goods done by hand.
A large part of retail companies' success lies in their ability to create effective supply chains, cut costs and thus expenses. In turn, this can be achieved with the help of an automated warehouse system covering the most important warehouse operations. They often include inventory and back-office management, picking and delivery, barcodes scanning, handling charges, etc.
So far, we can define four layers of warehouse automation:
Basic automation (use of specific scanners, applications, printed papers)
Sysеem automation (use of WMS, mobile radio frequency, voice-directed technologies)
Mechanized automation (conveyors, AS/RS)
Advanced automation (automatic sorters, palletizer, robotic picking, AGVs, and AGV software)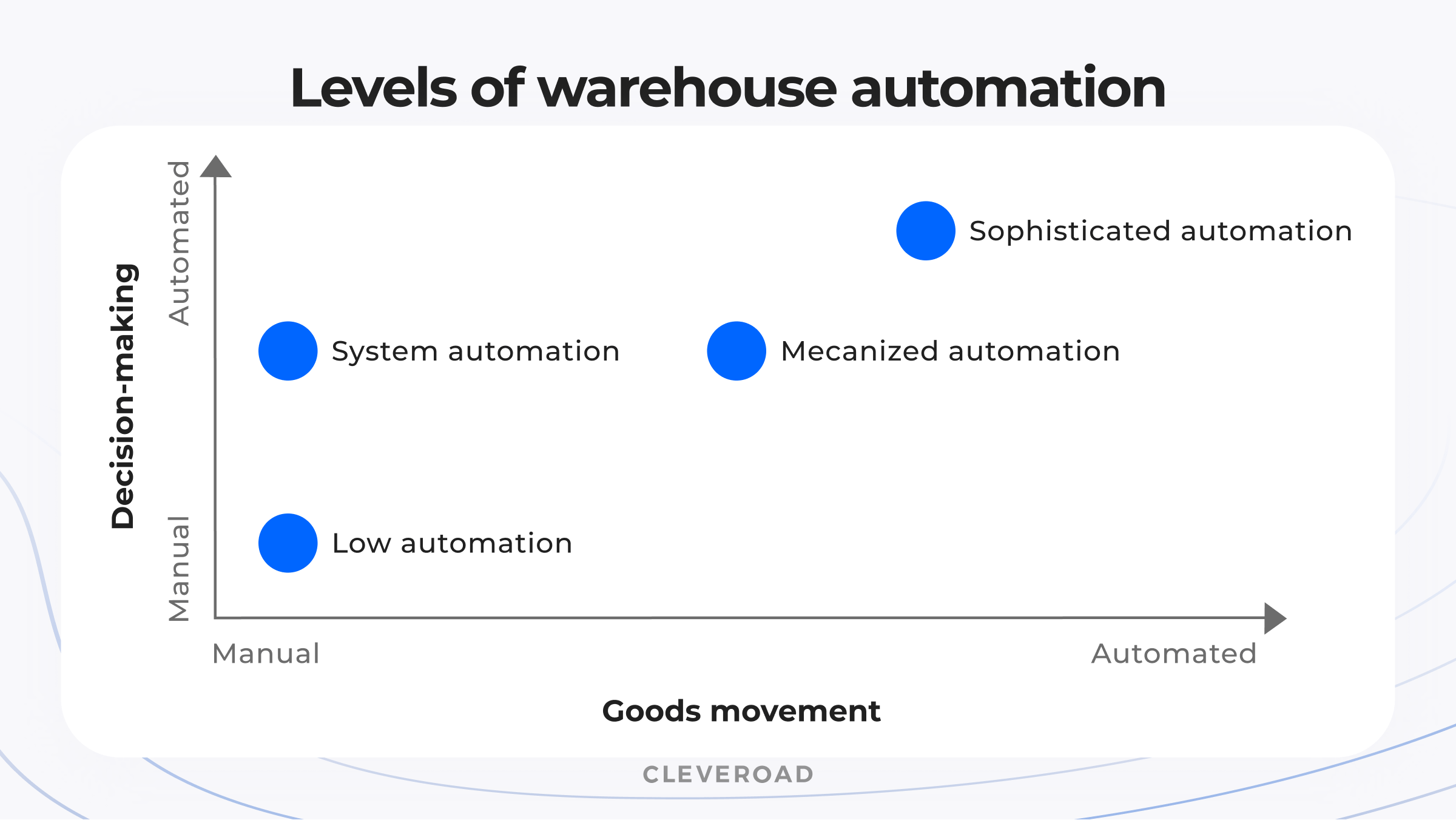 Four layers of warehouse automation (Source: Westernacher Consulting)
As you see, there are various automation solutions, some of which we're going to review later on. So to choose the right one, you need to be fully aware of the company's current baseline, future goals, and budget limits. Moreover, such solutions refer to Logistics. It's a time-consuming and specific area, requiring unique expertise. So it's better to turn to a software development company experienced in this niche.
How Do Automated Warehouses Work?
Let's say, operators load a robot with large bundles. The robot takes the cargo from one point of the warehouse to the dispatching zone and warehouse software tracks the cargo's movement, updating data regularly. However, not all warehouse solutions need robotic automation. In some cases, they are limited to utilizing software to replace manual tasks.
Warehouse automation intends to guarantee that the enterprise-strategic operations of your company satisfy consumers' demands. All the repetitive tasks, data gathering, inventory control, and maintenance data analysis are automated by a warehouse management system (WMS). These systems easily integrate with different solutions (e.g. warehouse inventory management software) to computerize and handle supply-chain workflows.
Warehouse Processes That Gain From Automation
The powerful warehouse management software enables you to cover every aspect of the order lifecycle. But how exactly does automation impact different warehouse processes? Let's see.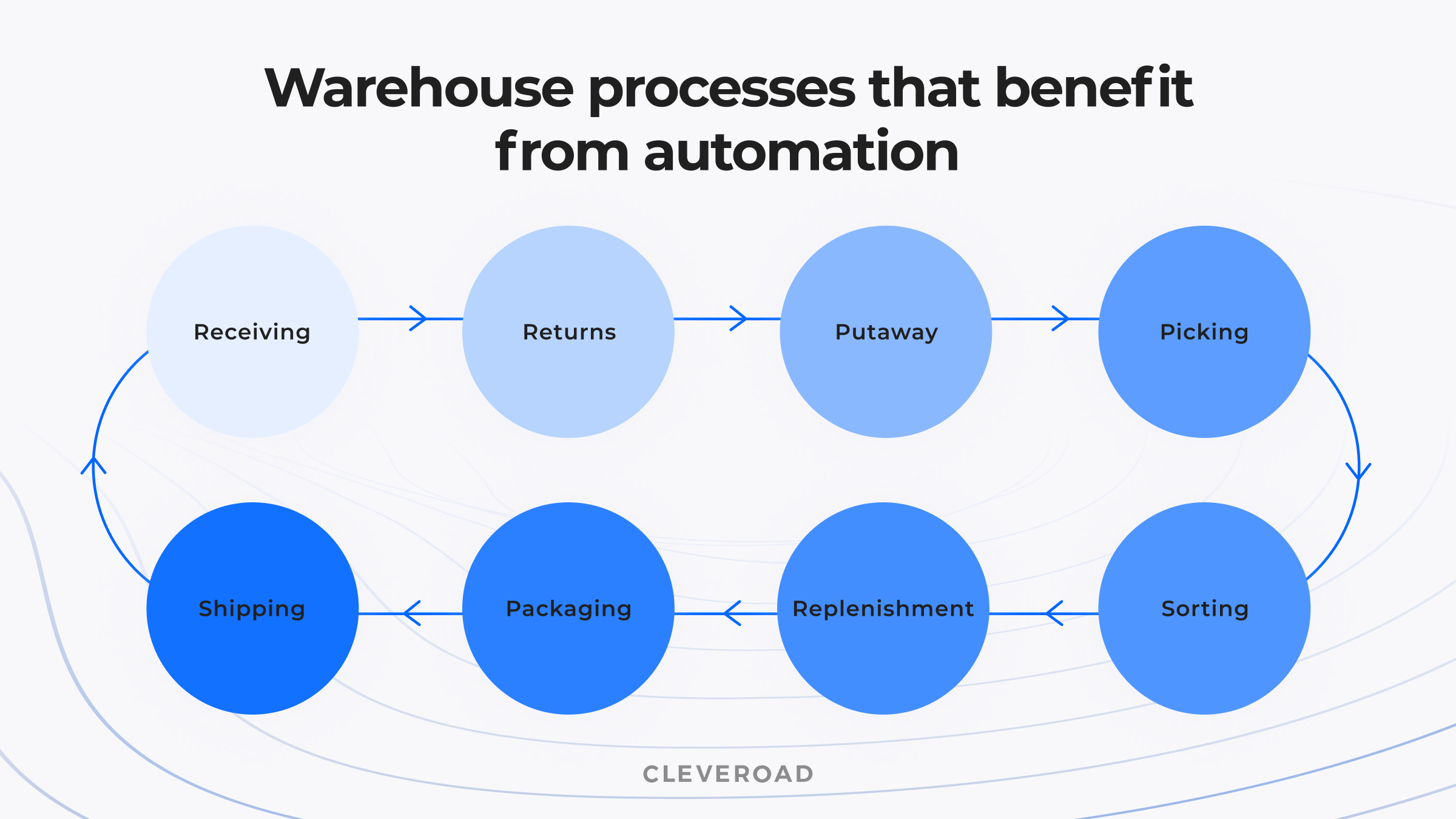 Warehouses processes that can to be automated
Receiving
You can employ smartphones to gather goods receiving-related data. Integrated software will allow managers to collect, handle, and keep information that affects current and further automated workflows.
Returns
Return procedures can be automated by autonomous vehicles like lifters or conveyors. They can be applied for sorting, returning stocks to shelves, or placing them in assigned inventory locations.
Putaway
Putaway implies the products change status from "receiving" to "storage". Automated putaway process can also simplify cross-docking — the practice of rapid unloading freight from trucks and loading it onto an outbound truck that's headed towards freight's final destination bypassing the warehouse.
Picking
Manual package picking is a costly task. It takes approximately 50% of the working hours for operators to travel through the warehouse. Mobile robots will contribute to the increased freight delivery speed: from goods locations to complete clients' orders.
Sorting
Operators spend considerable time and efforts to sort and consolidate inventory when it can be automated. Warehouse automation technology like AS/RS systems enhances stocks control and quality monitoring by identifying and managing small stocks separately.
Replenishment
When a stock item reaches the assigned nominal level, the WMS systems automatically create a dispatching request. Automating replenishment procedures result in preventing overstocking and stock loss. Thus, lowering warehouse maintenance costs.
Packaging
Behind the packaging automation lies unique algorithms that define the optimal freight packaging types, analyzing product attributes such as longevity, dimensions, and material prices. The systems also consider the impact of those materials on the environment.
Shipping
Warehouse equipment coupled with modern technology and mobile apps makes it possible for transportation organizations to define available carriers, estimate freight costs and put labels on bundles for dispatching.
How to Understand That You Need Warehouse Automation
When is the time to automate warehousing? Unfortunately, there is no standard answer since it depends on various factors. You'll need to assess both external and internal processes, scrutinize your supply chain, hire experienced specialists, and identify whether your current technologies are enough to meet your short-term and long-term objectives.
To make it easier for you, we've prepared six-check questions you should consider before introducing warehouse automation:
Do you witness the orders' delays due to limited staff members?
Do your existing warehouse operations have a labor-intensive nature?
Is the number of work orders completed decreasing?
Are your inventory counts incorrect?
Do you still rely on outdated warehouse management software and use spreadsheets for inventory management?
Do clients' satisfaction data show the weak spot in the supply chain?
If you've answered "yes" to any of the above questions, then it's time to think of warehouse automation.
Benefits of Automation in Warehouse
Implementing automation to enhance warehouse processes bring significant benefits to logistics companies: from increased efficiency to human error reduction. Moreover, modern inventory management systems can cut labor costs by up to 60% while increasing output capacity. Let's consider the core advantages of warehousing automation.
Increasing speed
Different technologies under warehouse automation allow operators to identify the items' location in seconds. Better yet, WMS coupled with advanced technology enable transportation companies to accelerate multiple tasks such as order fulfillment or inventory accounting. As a result, the employees' productivity and efficiency will rise.
Maximizing space
Warehouse systems optimize warehouse space thanks to implementing automated guided vehicles that are responsible for product retrieval and storage. AS/RS systems (automated storage and retrieval system) also employ conveyors decreasing the amount of space needed for aisles.
Inventory optimization
By minimizing human factors, warehouse automation contributes to optimized inventory control, allowing for more precise inventory counts and inventory data.
Strengthened safety
Warehouse automation software brings products to the managers. As a result, the amount of employees and equipment across the facility is reduced, increasing common safety.
Warehouse Organization to Reach Optimization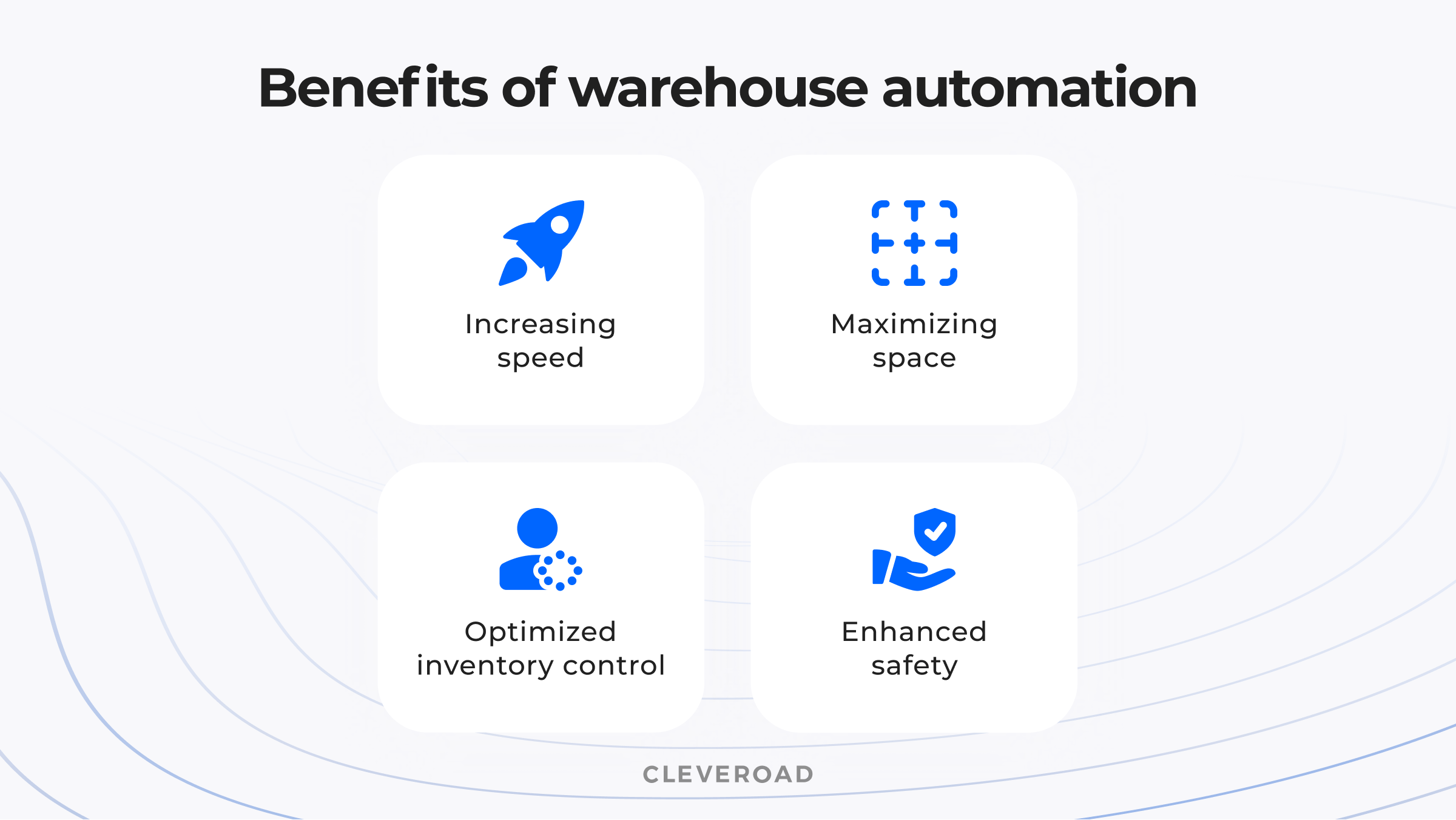 How companies can benefit from warehouse automation
Warehouse automation begins with it's optimization which is the key to effective management of all-size storages. The industry standard is organizing the inventory from the bottom up. This approach leaves more free space and helps to create organic paths for machinery placement which impacts on picking accuracy.
In addition, storages make use of vertical space and adopt layouts to keep the optimal traffic flow. Layout optimization supports the primary functions of the warehouse, including:
Cargo storing
Incoming (reсeipt, returns of goods) and outgoing processes (picking, shipment)
Other operations (labeling, applying price stickers, etc)
Here are some tips on improving a warehouse layout:
Change aisle widths
By moving storage shelves together, staff can find lots of free space to place other goods. Just make sure the aisles are wide enough for staff convenience and safety.
Re-organize inventory
Lots of companies make the mistake of placing similar goods together. Instead, the better way to store them is according to demand. So it's always better to place fast-moving goods closer to shipping lanes.
Remove unsold goods
If the company's running for more than a few months, managers and staff members already know which items sell fast and which don't. The solution is removing non-needed items and thus saving enough storage space for high-selling products.
Measure the travel time
Sometimes the more free space there is, the more time pickers need to reach items. So check how long it takes to travel within the warehouse and locate areas to be improved.
According to the 'Warehouse/Distribution Center Survey', average warehouse space utilization has risen to 85% in 2020 compared to 78% three years before. It seems that it is difficult to operate a warehouse efficiently under such a load. However, to make the most of warehouses, companies need to collect relevant data about the facilities first and then choose the best layout depending on it.
Challenges and Best Practices of Warehouse Automation
Despite many advantages for logistics businesses, automation solutions have some pitfalls that you should be ready to deal with. For instance, it requires considerable investments to launch and run, and skilled expertise to set up and maintain the system, which some organizations need to recruit. Besides, you can face equipment failure resulting in idling and repair costs.
The best way to address those challenges is to implement warehouse automation best practises. Here are some successfully implemented ones.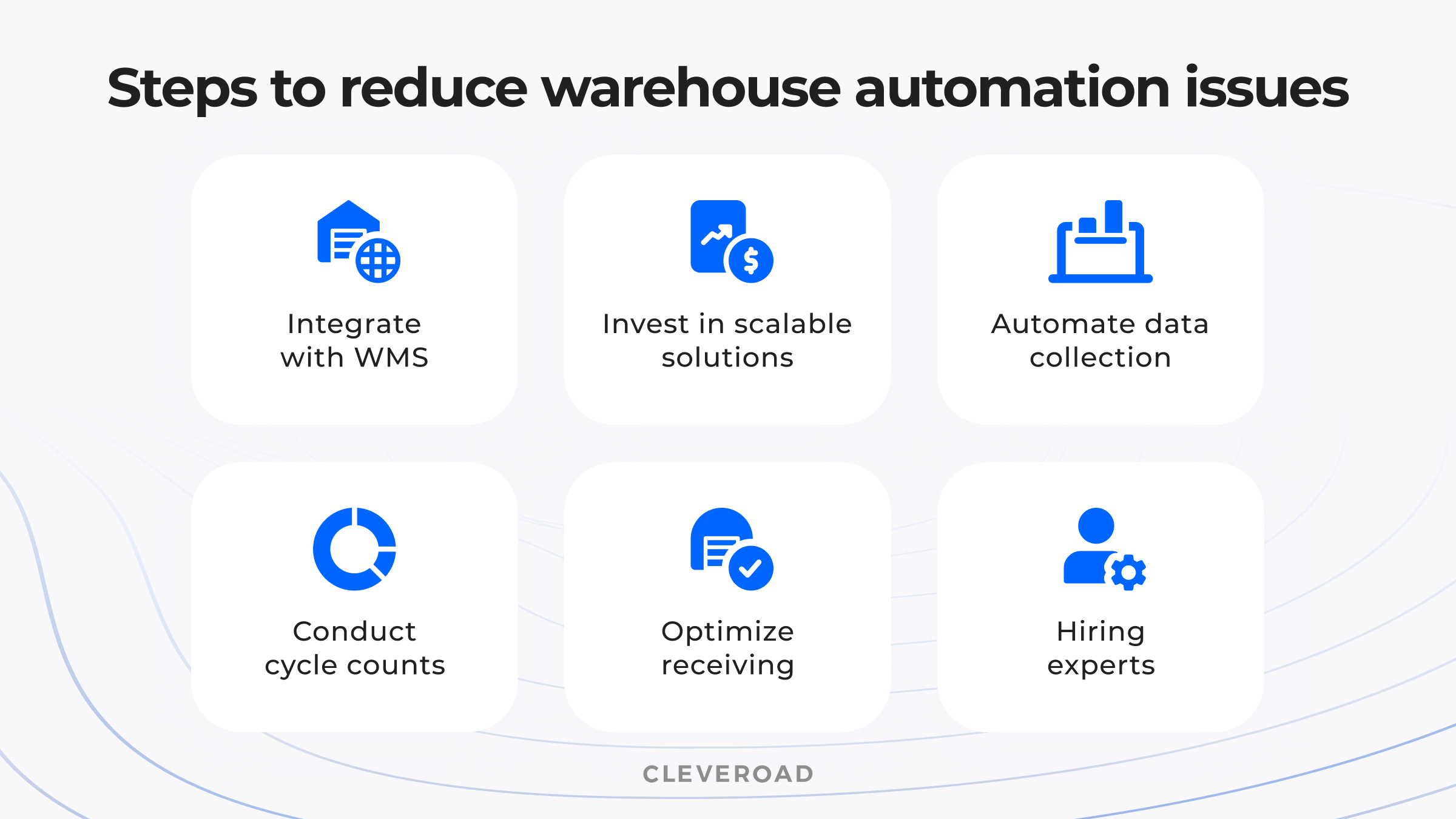 How to cope with warehouse automation challenges
Integrate with WMS
Your warehouse automation systems have to merge with the warehouse managment system (WMS) platform. Choose a solution that can automatically handle inventory control, monitor stocks, track and report the staff costs, and incorporate dashboards.
Invest in scalable solutions
Your technology needs to scale as the business grows. For example, the system has to consider adding new warehouses, workers, and equipment. Even though scalable solutions require high upfront costs, they'll pay off over time.
Automate data capturing
Most likely, you invest for the long term. So it's better to begin with solutions that automatically gather, transmit, and store data. For instance, cloud-based solutions coupled with mobile barcode scanners will help you automate warehouse processes with minimum costs and risks. Moreover, such solutions contribute to reducing human mistakes, collecting essential performance and inventory information, and keeping those data in the central cloud database for further research.
Conduct constant cycle counts
Cycle counts are the core WMS feature. They monitor stock levels based on stock data recorded. Once you set up an automated data capturing system, cycle counts can be automated with mobile barcode scanning or RFID-based sensors. Then you can employ dashboards to examine the stock discrepancies.
Streamline receiving
Any data gathering begins with receiving. So, it's vital to deploy a system that will be able to capture a vast amount of information in advance for optimized warehouse workflow. Scrutinize the incoming products, then lay down rules in your warehouse management system that describe how to control them, where to keep them, and to apply available resources to ship them rationally.
Contracting experts
The warehouse automation process is a laborious and challenging task, requiring constant maintenance. So it's better to cooperate with an experienced vendor to ensure ongoing warehouse system functionality.
The Automation Foundation: Barcode Labels
There are several warehouse automation solutions, but the easiest and cheapest trick is barcode labeling. By using labels, retailers reduce the number of errors while tracking or shipping goods, or entering their details into the system.
Barcode labels are used for inventory tracking, and this is the basis of the whole automation process. After all, if there's no possibility to track items on their way through the facility, there can be no warehouse automation.
Barcode labeling technology brings lots of benefits, some of which are:
Goods are often lost soon after their arrival due to picking or ordering errors. By monitoring each inventory movement from it's arrival to shipping, staff leaves little chance for the goods to be lost.
Automatic data collection leads to better preparation and planning. For example, operators can easily check if the shipment inventory arrives at the dock at the same time cargo does.
Improved picking efficiency
Having all the needed data in-hand, operators ensure timely departure and delivery of every item. They can also reallocate workers to high priority areas preventing delays due to staff shortages.
Warehouse signs can be used to speed the cargo flowing through the facility. They also work for optimizing the traffic flow and help workers to identify specific areas and shelves for unloading or picking.
No 'out-of-stock' situations
As software tracks goods on all the stages and these details are synched with WMS, there will be no 'out-of-stock' issues. The system will automatically re-order items when their amount is close to a pre-defined threshold.
Software and Hardware Solution for Automation
No matter how advanced the technology is, there can be no automation in warehousing operations without hardware and software to control it. When it comes to software solutions, companies need to choose one of the three options: WMS (warehouse management system), WCS (warehouse control system), or WES (warehouse execution system).
Let's find out what are they, and what's the main difference.
Warehouse Management System
A WMS is a specialized solution that manages inventory flow (to, within and out of a distribution center), labor tasks and orders. The main use of the model lies in inventory management, tracking, and control across multiple channels and customers.
Warehouse Control System
A WCS is an integrated control application which manages the flow of goods, cartons, and pallets when they're being moved by automated equipment (conveyors, sorters, ASRS, etc.) The system's used for real-time communication exchange, processing commands, and material optimization.
Warehouse Execution System
WES is an 'all-in-one' solution, combining some WMS and WCS features. The system is applied for light task management, inventory management, goods picking, and shipping. WES works for small and mid-sized retailers, managing the fulfillment to both customers and shops.
So what system to choose? It depends on the way inventory moves through the warehouse. For non or low-automated facilities, WMS appears to be the best software solution while highly-automated warehouses can rely on WCS or WES.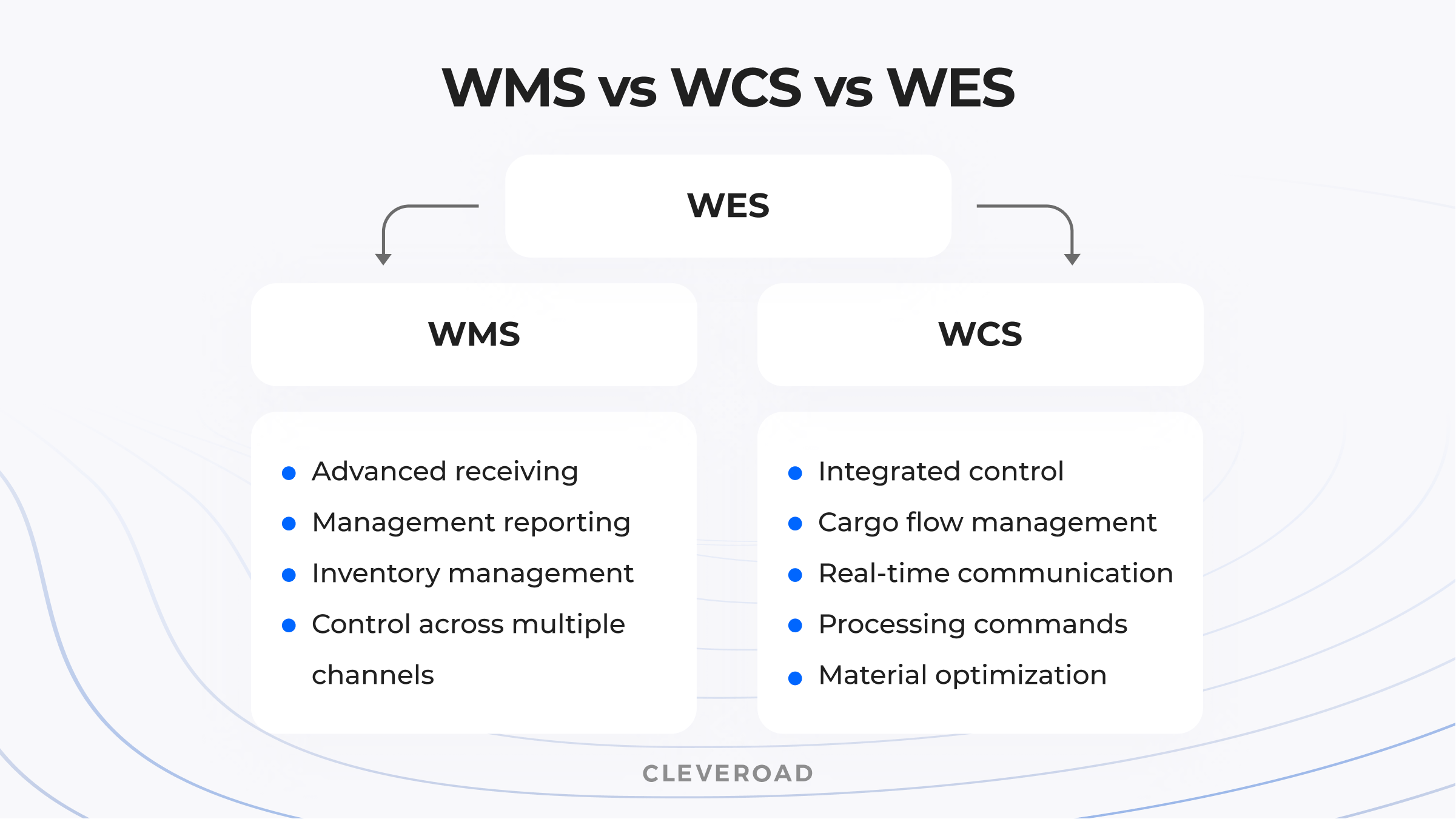 Warehouse software comparison
Got lost?
We'll consult you on warehouse optimization and help to draw up the best software solution.
Finally, let's check what hardware is required for warehouse automation. The most common devices include:
Portable data terminals
Barcode scanners
Label printers
Rugged tablets
Fixed mount computers
When choosing software and hardware, pay attention to their compatibility and performance. Well-fitted solutions are fully compatible and work seamlessly, making the warehouse well-established and set up.
Best Warehouse Automation Examples
According to Hokey Min research, companies that applied warehouse management software observed a 25% gain in productivity, 10-20% improvement in space utilization, and 15-30% reduction in safety stock.
Still, it's always better to take a look at real examples. So here's our list of top 3 companies that automated warehouses.
Amazon
Amazon has one of the largest storage spaces (about 150 million cubic feet), and such volumes do require an advanced management system. So the company uses inventory management software for checking where every item is shelved and making routes for pickers to collect items in the shortest time.
How Amazon warehouse works
Nike
Nike makes use of warehouse hardware and software to operate it's two-million-square-foot distribution center. Their Crisplant's LS-4000 handling system and it's controller (interfaced to Nike WMS through a warehouse control system) combine precise control of machines with system-wide visibility of workflows, ensuring faster throughput and higher productivity.
IKEA
And if you're the world's leading home furnishing retailer, an automated inventory management system is a must. That's why IKEA's managers use software to make sure everything is in place and each product is tracked. Their supply chain management system is powered by automated software. This allows the company to save on warehouse space, collect accurate data, and ensure on-time delivery.
Warehouse Automation Process
Now, let's discuss what steps you should follow to automate your warehouse operations.
Build an Implementation Board
Create an advisory group aware of current warehouse operation, its capabilities, and possible risks and comprehends the existing digital gap. It's also needed to involve third-party specialists who understand supply chain automation and have relevant industry expertise.
Gather Critical Data
Warehouse automation is based on information about your ongoing distribution chain and strategic warehouse processes. To embed automation technology successfully, you need to establish a data gathering workflow and evaluate the current infrastructure. In fact, it's better to delegate data migration to experienced IT vendors.
Assess Your Inventory Controls
Inventory management is at the heart of every warehouse operation. Before implementing a supply chain automation solution, defining and improving your standard operating procedures (SOPs) for inventory optimization is vital. SOPs need to be included for purchasing, dispatching, receiving, clients' enjoyment, and inventory loss.
In addition, critical key performance indicators (KPIs) should be determined to measure the progress of automated inventory management processes. Finally, the current inventory accounting method needs to be assessed to understand how the automation will affect it.
Adopt a Warehouse Management System (WMS)
Warehouse management system or WMS comprise software and processes that assist employees in controlling and monitoring inventory, handling warehouse operations, and cutting labor costs by reducing human involvement, and enhancing clients' service. Modern WMS interact with smartphones and should be able to support your current enterprise software.
Decide What Kind of Warehouse Automation You Need
Let's say you want to optimize the manual data entry or lower employment costs connected with accounting. Or you're planning to expand the warehouse area or open new distribution points, and you decide it's time to implement, for example, goods-to-person solutions (GTP) to automate physical operations and speed up your overall business processes. Of course, the selected type has to comply with your enterprise goals and market demand.
Warehouse Automation Technologies
There are many technologies that help employees manage a variety of logistics-related tasks. We've rounded up the trending ones that you can apply to streamline supply chain processes.
Goods-to-person solutions (GPT)
GPT technologies are designed to help managers assemble and pack goods. All the needed materials are brought by robots. Such solutions encompass automated storage and retrieval systems or AS/RS systems. They consist of machines that move up and down storage aisles, placing or retrieving items. These systems help save on inventory storage, as a better-staffed warehouse — both vertically and horizontally — results in better storage density.
Such solutions help operators find the right items to carry out the orders. How does it work? The worker scans the barcode attached to the shipping cartons. Then, the system lights the path to lead the worker to the stated storage location. After the manager picks the needed items and puts them in the container, they press the confirm picking button. Pick-to-light systems enhance employees' productivity since it allows managers to locate the goods faster.
Voice picking technology or voice-directed warehousing (VDW) enables picker-tasker communication. Using wireless headsets, taskers guide the worker to the indicated place and inform them in picking tasks. Every operator carries a headset with microphone, mobile device, and, in some cases, a barcode scanner. The tasker instructs the workers about which picking tasks need to be fulfilled and where.
Sortation systems involve mobile sort stations composed of smart kiosks, mobile put-to-light systems, and robots. Such solutions allow warehouse associates to pick and sort the incoming goods for returns, picking, or packing. Once the operator scans the item's barcode, the system's alphanumeric display illuminates, lighting up the correct shelf or bins to place the item.
Drones, set up with barcode scanners, are used in warehousing to run inventory counts and alert the warehouse associates about the items that need to be restocked or relocated. Besides, some logistics companies consider using drones and unmanned aerial vehicles for deliveries.
Even though different technological solutions are created to accelerate warehouse processes, the final choice will depend on your business goals.
When it comes to software, warehouse automation has a case by case basis. For example, ready-made applications often miss features like printing barcode labels, bulk options or integration with other systems. And that's the time for custom software development to take the lead.
So the best way to start and – what's more important – successfully finish warehouse automation is to contact an experienced vendor and discuss your plans and ideas with them.
How Cleveroad Can Help You
Cleveroad is a software development company from Estonia helping businesses to create any-scale software solutions. With over 10+ years in software development, we have built up expertise in multiple domains, including e-commerce, retail, education, healthcare, finance, and Logistics software development.
Our team create powerful software that helps you improve warehouse performance, customer experience, and business cost-efficiency.
We work with three types of contracts – Time and Material, Fixed Price, and Dedicated Team. Our development approach slightly differs for each of them.
Time and material. We give a client an approximate estimation of the scope and start a project without having an exact scope of work in hand. We plan each sprint and agree on all the project details with the client. According to this approach, we can make changes even in the middle of the software development process.
Fixed Price. This model implies a fixed scope of work, detailed estimations, clear requirements, and strict deadlines.
Dedicated team. This type of contract is the right solution for large-scale and complex projects like warehouse automation. We agree on cooperation terms and submit software developers to the client's project.
For this time, our team developed and released many software solutions for logistics companies. The latest ones — RetailOps.
RetailOps
Platforms: iOS, desktop
RetailOps is an intuitive and unified SaaS platform for back-office. Offering WMS, IMS, PMS, and other solutions.
It's main features include warehouse management, inventory management, tracking, receiving, and many more.
We've integrated the platform with the Socket Mobile barcode scanner, connected printers available on PCs to portable data terminals. And ensured inventory tracking – from the moment it arrives on a warehouse to the minute it ships.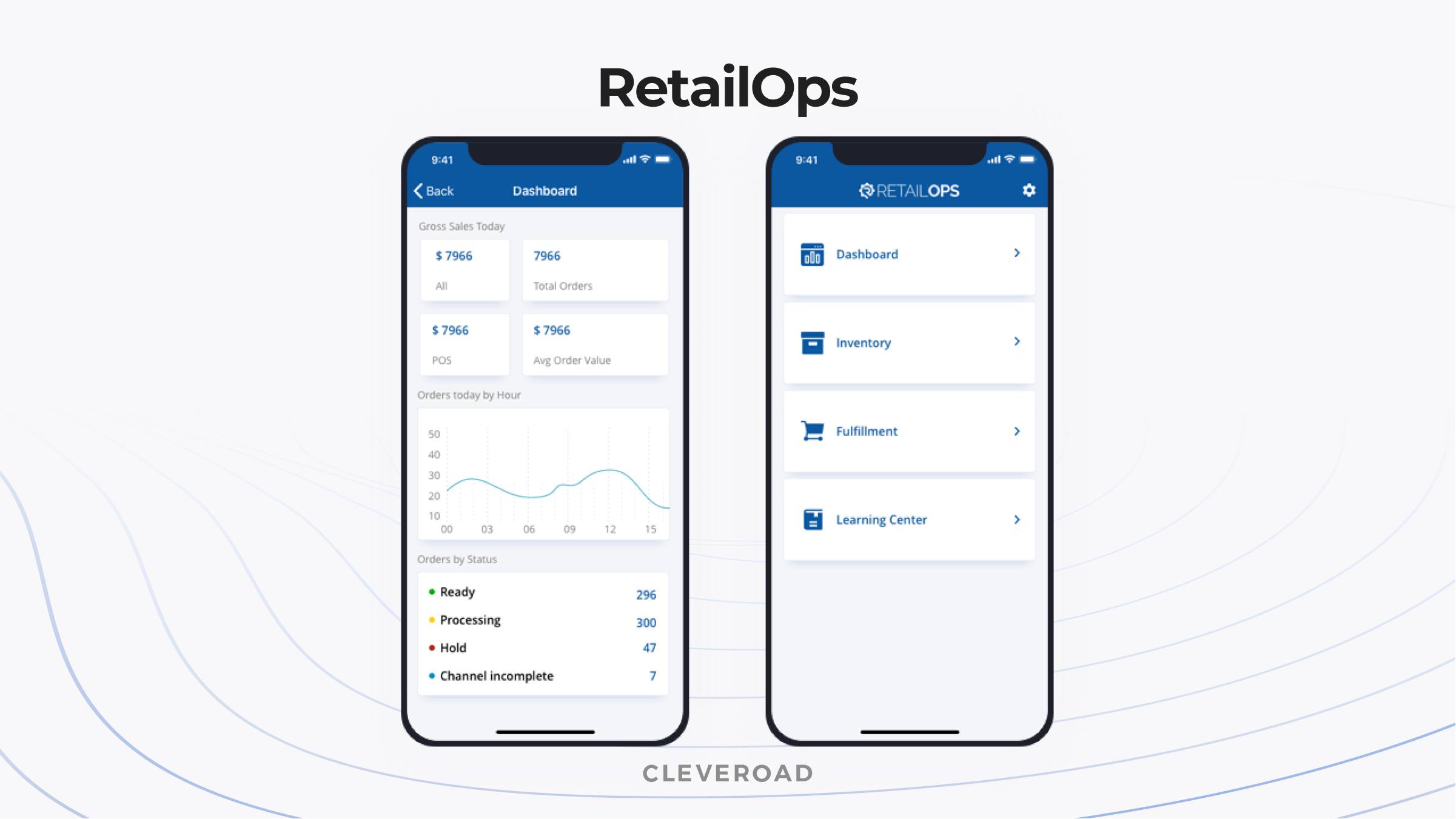 When it comes to software, warehouse automation has a case by case basis. For example, ready-made applications often miss features like printing barcode labels, bulk options or integration with other systems. And that's the time for custom software development to take the lead.
So the best way to start and – what's more important – successfully finish warehouse automation is to contact an experienced vendor and discuss your plans and ideas with them.
Optimizing warehouse management?
Get a WMS tailored to your workflow! We'll help with development and estimate it for free.
Frequently Asked Questions
Warehouse automation is all about uncovering repetitive tasks and finding ways to automate them. Modern warehouses are full of cases – from manual data entry to picking, storing and shipping of goods done by hand.
Warehouse automation begins with it's optimization which is the key to effective management of all-size storages. The industry standard is organizing the inventory from the bottom up. This approach leaves more free space and helps to create organic paths for machinery placement which impacts on picking accuracy.
Warehouse automation solutions reduce the expenses and put the workflow optimization on a brand new level. Time-efficiency and reduced workload of your employees lead your company to success.
It depends on the way inventory moves through the warehouse. For non or low-automated facilities, Warehouse Management System appears to be the best software solution while highly-automated warehouses can rely on Warehouse Control Systems or Warehouse Execution Systems.
Rate this article!
5306 ratings, average: 4.79 out of 5
Give us your impressions about this article
Give us your impressions about this article