Warehouse Inventory Management System: Purpose, Development, and Usage
Does it sound familiar to you: you have too much inventory, and don't know what to do with it? Or how about when a customer places an order and you don't have those items in stock? So if you're a retail outlet, eCommerce entrepreneur, wholesaler, or manufacturer and you deal with problems like these, that's because you need to improve your inventory management.
Stock control processes are now shifting towards a digitally linked ecosystem of hardware and warehouse inventory management software. That's because such digital solutions help companies:
Improve inventory planning and control
Optimize stock management for cost-effectiveness
Avoid overselling and stockouts, and much more
Additionally, tracing inventory is not only beneficial for businesses; it's also required to comply with SEC and SOX regulations for public organizations.
In this article, we'll discuss the essence of the warehouse inventory management systems, features to include, values for businesses, and implementation steps.
What is Inventory Management, And How Is It Different From Warehouse Management?
Before discussing the necessity of warehouse inventory management software, it's worth starting with the basics: what inventory management is and its conceptual difference from warehouse control.
Inventory management (stock management or stock control) is a systematic approach to acquiring, storing, allocating, and tracing inventory for storage space and cost optimization. All of which directly affect fulfillment, shipping, and the clients' experience.
Whether you use raw materials in the manufacturing process or send parts and finished goods to be shipped — stock management deals with supervising products at any point. The purchasing managers also make use of seasonality and historical sales trends to predict demand. The core objective of stock control is to achieve satisfactory customer service levels while keeping inventory costs within reasonable bounds.
Having effective inventory management, it really is at the core of the supply chain and that is making sure that you've got the right product at the right price with the right consumer at the right place
Inventory management vs. warehouse management
Both inventory control and warehouse control are the processes that assist enterprises in shipping their freight from supplier to end customer effectively. Each engages in storing, moving, and sorting items. The shared characteristics are:
Both rely on software solutions, radio frequency identification (RFID) and barcode tools to boost performance and accuracy.
Both ensure visibility and shipping transparency into all goods, either for one shorehousing or the entire organization.
However, while stock management provides an in-depth view of all inventory, warehouse management keeps tabs on the nuances of the stock movement. Here are the main distinctions:
Inventory management
Centers on overall stock levels and their statuses
Supply data to calculate sales trends, profit margins, and holding expenses
Displays the inventory record and keeps stock availability status for the realization
Warehouse management
Trace the flow of goods and their location within the warehouse
Scrutinize sales trends, profit rates, and holding costs
Provide opportunities to optimize warehouse-related tasks (e.g., warehouse automation technologies)
Why Build Software for Warehouse Inventory Management
According to McKinsey research, about 70% of US-based shoppers have faced out-of-shelf products over the last year. It resulted in disappointed customers becoming "lost sales", costing retailers $82 billion in 2021 alone. The current market situation demonstrates that apart from a warehouse management system , there's a need for integrated software for handling inventory to provide additional supply chain values.
Why build warehouse inventory management software
The warehouse inventory management system relates to the software tools that assist companies in managing and tracing warehouse stock during purchasing, production, storing, and utilization. For instance, it can help you optimize and expand your storage space and free up space for new goods. The system also assists in effective stock usage and matching services supply with demand fluctuations. It focuses on the entire product lifecycle, from buying to selling to the last mile delivery.
So, put simply, this solution is designed to ensure the company has the proper stock levels in the right place and within a given period.
The warehouse management system (WMS) and inventory management system (IMS) aim to improve supply chain operations. However, these terms are often used interchangeably; that is a mistake. Let's figure it out.
WMS focuses on administering the whole storehouse, where stock management is one of the main activities. In other words, warehouse management is the broad term covering all warehouse-related operations, while inventory control implies a narrow specialization in logistics. Since WMS and IMS can be stand-alone programs, let's see the key features they might include. To make it easier, we've compiled all the info in the table below.
WMS vs. IMS: Comparison

| | |
| --- | --- |
| Warehouse management system | Inventory management system |
| Streamlining of stock allocation and selection of picking methods | Ensuring all the items are stored in its place within warehouse |
| Using specific techniques (e.g., IoT devices) that enable detection of current packages location | Supplying barcode scanning of items and unifying this data with shipments, financial procedures, etc. |
| Allowing carriers to quickly find the fitting loading bay and supporting them in cross-docking | Approving inbound orders and getting them ready for fulfillment |
| Generating bills of lading, packing slips, and invoices for deliveries, dispatching of shipping notifications | Using inventory auditing methods that enable stock accounting to keep the amount up-to-date |
| Managing inventory putting away and retrieval; controlling picking and packing operations to ensure its effectiveness | Gathering and analyzing goods-related info to boost performance and making data-driven decisions |
Generally, the difference between WMS and IMS has a case-by-case basis. For example, warehouse management systems are commonly designed for big corporations running at least one giant warehouse or several distributed locations. Meanwhile, small to medium businesses tend to apply warehouse inventory tracking systems. That's because small retailers may not just need all the functional capabilities WMS offers.
Why businesses need warehouse inventory systems
Warehouse stock management systems can help you cut operational costs and sustain the correct stock level. However, you can experience more benefits when integrating this tool into your business flow. For example, with this kind of software in place, you would be able to:
Automate inventory control
The significant gain to the warehouse inventory system is automation. Such systems can perform repetitive and lower-value tasks without human interventions — once a command is set, the process starts. In addition, it contributes to increased stock visibility as inventory level is automatically counted once a sale is made.
This feature is vital not only for accurate predictions but providing an excellent customer experience by preventing overselling. These solutions also submit real-time data on where the products are placed. It's essential mainly if you store goods in multiple warehouses or/and physical stores; or if you have more than one distribution channel.
Prevent goods overselling
Overselling is one of the most common problems for businesses, especially eCommerce ones. When you don't keep stock records, it becomes easy to run out of goods. It results in an inability to meet clients' demands, marketing budget overflow, and increased customer acquisition costs. Warehouse inventory management solutions enable product monitoring across different selling channels, so you'll know when to refill stocks and buy how much.
Decrease business costs
Warehouse inventory management software development can reduce labor costs by up to 60% while raising output capacity. Advanced reports show what you have in the storehouse and what amounts, so the warehouse team isn't wasting time seeking assets that aren't actually in place. In addition, it allows for streamlining the pick, pack, and ship processes, accelerating the performance of the orders. Another way to cut expenses is to limit the order of goods with low sales volume. Using accurate data and insight reporting, you'll be able to define which products are in demand, thus, satisfying consumers' needs.
Improved inventory planning
Successful business performance depends on a deep interpretation of data points. They tell you how well your enterprises work and what should be done to bring added commercial value. Warehouse product tracking systems create opportunities to quickly unite distinct parts of information (derived from multiple sources), ensuring data accuracy and real-time visibility across your business. In addition, featuring analytics-ready data will allow you to improve stock planning and forecasting without wasting resources on storing unsold stock or keeping them in the wrong locations.
What Can a Modern Warehouse Inventory Management System Do?
After the overview of the essence of warehouse inventory software and its importance for businesses, let's talk about the vital functions of such a digital solution that will help you keep track of the stock level of your products.
Inventory control
This module is at the core of every warehouse inventory control software. It allows for goods administration that is already available at the warehouse. Inventory control tools can sort the products by location, type, and SKU (or serial number), scrutinize data, create real-time reports, search, filter, and view items.
Inventory management
Primarily, inventory management features administer the data from other system modules, like inventory control. But it also manages business operations that take place before the stock arrives at a warehouse and how items reach the end destination. In addition, these features engage tools for multi-warehouse management and integrations with other business solutions, such as ERP platforms (for instance, making purchase orders).
Inventory tracking
To enable inventory control, you need to monitor the status of materials and finished goods. Stock tracking features allow for automation manual tasks. For instance, the system can automatically produce tracking numbers when it makes an invoice. In addition, monitoring integrations with third-party logistics partners (3PL) coupled with email solutions allow companies to improve customer experience by informing what's in stock or transport time.
Stock barcoding
Barcode solutions help minimize data entry errors and automate business processes that require interaction with other system modules. Barcode apps can integrate with electronic documentation and reporting features (e.g., touchscreen signatures). Properly organized digital stock data will speed up processes relating to stock handling. Additionally, mobile barcode scanning devices increase stock accuracy, streamline back-office operations and inventory replenishment and support paperless documentation.
Inventory optimization
Take stock planning to the advanced level with inventory optimization. Instead of a standard ordering method, you can employ tools that submit automated reports and stock trends and reflect changes across the supply chain. This data enables a tight match in supply and demand so you can streamline the inventory on-site.
Inventory alerts
Various modules spark off stock alerts enabling minimizing waste, streamlining inventory financials, and managing clients' demand. These features contain automated email or SMS notifications that alert you to low stock levels, transportation, and supply chain delays. Inventory alerts also provide a solid level of operational control for sales predictions, resource planning, supplier administration, and shipping logistics.
Challenges that can be addressed by integrating IMS
Technologies Used For Warehouse Inventory Management
There are many technologies that can assist you in managing inventory-related tasks. We've rounded up the three trending ones that can help you to optimize your supply chain operations.
Barcode system
Barcode technology is the basis of the whole automation process. Barcode stripes must be scanned to record the item's data into your warehouse inventory management system. Wearable barcode readers accelerate the inventory tracking process, allowing operators to cut scanning time by seconds per item.
One of the benefits of such systems is that input data converts into valid digital format, so the counting is real-time. Their core goal is to ensure that stock is correctly registered in the accounting system. Knowing how much inventory you have enables informed purchasing/sales decision-making based on stock levels.
RFID stock tagging and tracking
Just like barcode labels, RFID (Radio Frequency Identification) tags allow tracking stock through the entire supply chain loop and enhance item location visibility. The difference between an RFID tag and barcodes is an RFID doesn't require to be brought to a scanner to be read — all the data is transmitted through an antenna attached to a microchip so that tags can be read at a distance for fast stock processing.
RFID tags come in two configurations: active and passive. Active systems utilize tag readers installed within the warehouse. The data is relayed via electromagnetic waves and is broadcasted from the readers to a warehouse inventory tracking system. Passive systems are read-only, and they require hand-held devices to be activated.
Autonomous robotics
Implementing autonomous robotics, such as warehouse robots and drones, aims to make manual efforts easier while leaving inventory control to humans. Their core function is to merge GPS navigation and sturdy hardware to effectively identify and move stock around a storehouse. In addition, most enterprises use autonomous robots for picking-and-packing processes to enhance operational efficiency and minimize order fulfillment times.
What technologies can be used for IMS
Things to Consider Before Creating Warehouse Inventory Software
The development of the warehouse inventory system the business needs is not that easy. There are many points that should be accounted for before kicking off the building process. To assist you, we've analyzed those needles and shaped a set of common steps that should be passed through.
Ready-made vs. customized solution
When planning to create warehouse inventory programs, you must choose between out-of-the-box digital products or bespoke ones.
Off-the-shelf solutions are typically great for small businesses. It provides a faster and easier setup than a custom inventory warehouse system. However, in some cases, the implementation costs may reach up to $750,000, making them an even more costly solution for your business. Moreover, ready-made digital products offer a fixed number of features along with those that your business may not require. Still, you'll be charged for the entire package of functions.
Another issue to consider is integration capabilities. You may need to combine your inventory warehouse management system with other essential software (e.g., CRM, ERP). But, out-of-the-box solutions are harder to integrate (sometimes, it's impossible) with existing business ecosystems.
Personalized software is a perfect approach to solving business-specific needs. Creating warehouse inventory management systems from scratch is a long process (on average, 6-9 months). Still, the price will depend on the number of features and their complexity, customization of visual design, required backend architecture scalability, etc. Moreover, customized systems will totally pay off, and here are the fundamental reasons why it's so:
The system's functionality can be easily extended and adapted to changing business goals and requirements. It's possible due to custom solution scalability.
You can integrate your warehouse inventory software with other enterprise systems, such as CRM, ERP, freight management software, etc.
It enables increased system security and corporate data protection.
Remember that custom warehouse inventory system implementation will succeed only in cooperation with an experienced vendor, like Cleveroad, who has practical expertise in the logistics.
Defining business requirements
Any warehouse inventory control system is created to meet specific needs and automate storage operations. For this reason, you need to determine your current corporate challenges that should be completed by creating custom logistics solutions tailored to your unique business model. For example, you want to speed up the freight delivery by automating manual package picking. Or you need a tool to manage inventory transactions from shipping to the last mile. Understanding what business issues must be covered would set the direction for further development.
Choosing an IT provider
Deciding on a warehouse inventory control system concept and determining reasonable requirements is the start of your journey. Now, you need to select a suitable cooperation model. When looking for a tech performer, ensure the company has proven expertise in Logistics software development services. Besides, pay attention to the number of successful projects, their complexity, and what technologies were applied during the development processes. The most obvious way is to check hiring platforms, like Clutch, that provide lists of IT companies. You can learn information about the company services, project budgets, and real clients' feedback.
Outsourcing software development is a common practice among entrepreneurs due to its varied advantages like cost-efficiency and wide expertise availability. Outsourcing companies already have a team of all required specialists who will rapidly deliver your warehouse inventory management software matching your requirements, time, and budget expectations.
Although it's easier to work with slight time differences, the outsourced team knows how to address that issue and often creates a personalized communication plan. For example, the Cleveroad team sets up a meeting calendar and keeps at it to stay in touch with customers and have video calls at suitable times for our clients.
Now, let's take a quick look at the traditional SDLC process. This information will help you understand how your project idea is turned into a full-fledged warehouse inventory software.
Discovery phase. Business analysts make a project specification that details each feature and tech aspect. Next, designers create wireframes for each app screen. Both processes go simultaneously.
UI/UX design. UI/UX designers create an app's prototype (screen by screen) based on the wireframes approved in the previous stage.
Development process. Software engineers convert mockups into a working product using the appropriate tech stack.
Quality assurance. QA engineers conduct thorough testing of all functionality implemented to ensure the product is bug-free and works as expected.
Release. Developers transfer the product to the client with all the project materials.
This is a conventional approach to software development. The number of stages and work scope can vary depending on your requirements.
Planning budget
It's vital to properly plan the software development budget to build a successful digital product. This way, you'll understand what expenses can be cut down and what not. But how do you forecast that your budget and time expenses will reach the target and that your efforts will be worth the candle? First, build MVP. Such a solution will contain only the most critical functionality required to satisfy end-users needs. For instance, only one payment method and one way of user registration. MVP creation intends for idea validation, risk mitigation, fast product launch, and better feature prioritization.
How to Get More Out of Integrating IMS Into Your Business?
Considering all the mentioned, you can understand how to deliver a well-designed inventory warehouse management software and why your business needs so. However, creating such a tool is just the beginning. To make the most of the solution developed, you can account for the tips below.
Integration with existing business solutions
Your newly built solution should be centralized with other enterprise software to ensure data consistency, avoid disruption in the supply chain and increase workflow efficiency. For example, warehouse product tracking systems include information, such as sales invoices, purchase orders, supplier details, and client data. Interlinking it with accounting software or custom order management software will allow your finance team to keep using their specialized app without entering the same information into multiple programs.
Using SKUs to optimize operations
Warehouse and inventory management systems employ product codes called stock keeping units or SKUs. It helps operators to find items' locations in seconds. SKUs are critical for effective inventory control, allowing workers to alleviate the stock tracking. You can find and sort packages based on their specific characteristics, such as size, seasonality, color, etc. Additionally, you zone space based on picking options (e.g., single picking, cluster picking) to facilitate the preparation and re-slotting of orders.
Proper data analysis
Logistics corporations generate a vast amount of data that needs to be analyzed. Investing in supply chain analytics, IoT, cloud computing, and blockchain solutions will revolutionize logistics operations. For instance, implementing IoT-connected devices enables increased warehouse visibility along with complete transparency across the supply chain network. Using sensors, logistics operators can locate the items faster, trace the products' conditions in the store, track the conditions during shipping, keep control of trucks, and much more.
Investing in automation
About 78% of business owners indicate that automating tasks within the enterprise enhances business productivity for everyone involved. Inventory management in warehouse operations is one of the areas requiring improvements due to its highly labor-intensive nature and increased need for accuracy and real-time updates. In fact, 5% of inventory inaccuracy is only due to manual processing. Therefore, adopting emerging technology, such as robotics, VR, and AR, is critical. It will allow you to make your business more cost-effective, streamlining its outcomes. This will allow you to make your business more cost-effective, streamlining its outcomes. Studies show that 77% of the companies are serious about implementing warehouse robotics to perform their supply chain management faster and efficiently.
Why Create Warehouse Inventory Software With Cleveroad
So, inventory optimization is the right step toward addressing most challenges, such as inventory failures, stock-outs/overstocks, inventory discrepancy, lack of stock visibility, and much more.
The best way to implement such a digital solution is to enlist the support of an experienced tech partner with proven expertise in delivering logistical solutions. And Cleveroad is that competent IT vendor that helps you design a robust warehouse inventory management system that will help you tighten your inventory control, improve manufacturing planning and employee effectiveness.
Cleveroad is a professional outsourcing web and mobile development company headquartered in Estonia. By choosing us, you get to work with professionals who have been delivering logistics software development services at scale for global transportation providers since 2011.
Collaborating with us, you'll obtain:
Support of the company with more than 10 years of experience in the market
End-to-end software development: from Discovery Phase to creating bespoke software and post-production support.
A team of certified experts for a specific project: business analysts, developers, solution architects, developers, UX/UI designers, QA engineers, DevOps, or other specialists
An optimal ratio of price and quality: as an outsourcing provider, we offer reasonable prices for high production value and different cooperation models
All guarantees for your corporate information security and NDA upon request
Our specialists developed and released many software solutions for logistics companies for this time. The most representative one — Transportation Management System (TMS). Our team of 13 members was challenged to automate the route planning, build a turnkey transport management system, and integrate it with the established business processes, including the warehouse management system. As a result, our client got a full-fledged TMS allowing them to reduce cost and time spent on route planning and increase revenue from transportation services.
If you're ready to create your own warehouse inventory management software or modernize the existing ones, reach out to Cleveroad representatives to get in-depth expertise.
Improve your inventory management
Get a full-fledged warehouse inventory management system to accelerate your inventory turnover
Frequently Asked Questions
Warehouse inventory entails goods, work-in-progress products, raw materials and finished items that compose the stock that is prepared for sale.
The core reasons why companies need to integrate warehouse management software for their inventory are automated stock control, improved inventory planning, and ability to avoid overselling problems, thus, reducing business costs.
First, you need to study the market of warehouse inventory management solutions: their main features, trends, and solid and weak sides. Careful analysis will allow you to determine your business model and integrate the functionality to meet your enterprise needs. After that you appeal to an experienced software development company and your digital solution for warehouses goes through the traditional SDLC process.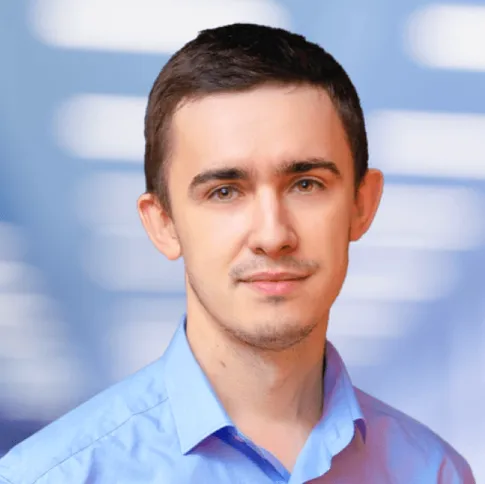 About author
Evgeniy Altynpara is a CTO and member of the Forbes Councils' community of tech professionals. He is an expert in software development and technological entrepreneurship and has 10+years of experience in digital transformation consulting in Healthcare, FinTech, Supply Chain and Logistics
Rate this article!
907 ratings, average: 4.57 out of 5
Give us your impressions about this article
Give us your impressions about this article