The Essentials of Warehouse Management System, ERP, and the Difference Between Them
In business management practice, concepts of Warehouse Management System (WMS) and Enterprise Resource Planning (ERP) are often mixed up. It is a case even for the logistics companies tailored for warehousing, which mistakably define these terms as synonyms. However, it's not entirely correct. Each of the said platforms (WMS and ERP systems) has its peculiarities and use goals, so you should know them to select and integrate the best-fitting software for your company correctly.
To help you consider the essential moments, we have prepared the current post where all the most common information is gathered. Start reading it to make the right choice between ERP vs. WMS for your company.
How is the Enterprise Resource Planning Software Used?
There are many questions arising during the WMS/ERP choice to properly monitor and coordinate the activity of warehouses. One of the points the entrepreneurs should look through is whether using the specialized ERP modules is enough for businesses dealing with warehousing issues.
Wayne L. Staley suggests the following about the importance of ERP:
Wayne L. Staley

Founder of Affinity Systems LLC, author

A company may employ the most sophisticated software in the world, but unless information is managed, timely, accurate, and complete, the system serves little purpose.
That's why we'll delve deeper into the ERP notion. So, the Enterprise Resource Planning (ERP) platform is a set of modules integrated into a company workflow to keep track of resources and optimize their storage. Moreover, the ERP assists the logistics experts in lowering the human factor's negative impact and enhancing and synchronizing the flows of multiple company departments. How, in particular, does the Resource Planning system perform that?
Here are the most typical functions of ERP in warehouse management and in total:
It easily integrates with various software to provide all your company departments with a seamless and reliable source of business data.
ERP also provides straightforward access to analytical data and equips you with digital instruments to process such data to boost your corporation's performance and productivity.
The ERP reporting functionality helps you transfer the results of your analytics research in a view of a comprehensive report to the end user.
The system also assists you in communication with clients if you build a custom CRM software.
Financing functionality is capable of dealing with payment processing, helping with tax regulations, and managing funds-related risks.
ERP system warehouse management typically needs is essential in the fight against supply chain management bottlenecks. That's why organizations get affordable pricing quotations from suppliers, cut waste by improving manufacturing procedures, and so on.
Resource planning systems automate routine flows (e.g., accounting, invoicing, order processing, etc.), making them quick and avoiding any errors caused by humans.
However, you should keep in mind that implementation of such ERP warehouse functionality requires work establishment with personnel and customers to be fully completed and solve the problems it's intended for.
Need the ERP for your business?
Our experts will fully consult you and help you bring your ERP concept into life!
What issues can be solved with the help of ERP? We've conducted our own research and finalized the following:
ERP solves issues with collecting and systematizing data (e.g., the balance of items in warehouses, goods movement) essential for decision-making.
It helps save time while preparing accounting documents.
The system automates a bunch of tasks to free up your staff's time for more complex activity.
The resource planning platform also unites the processes that are managed through too many digital products, etc.
If even one of the above reasons is valid for you, it's high time to deeply analyze your organization's workflows to find out what will change after ERP implementation. Then, you should understand what type of planning system should be built.
Thus, the classification of ERP is typically made according to the following criteria:
ERP system warehouse requires: classification according to common factors
Keep in mind the resource management solution is typically used by large enterprises and those who need rapid development. So, such software implementation would be a huge financial waste if you only had a tiny assortment of goods; but there is one exception. If an organization operates in a highly competitive climate and requires a significant advantage, competent activity automation through ERP for warehouse management will assist in staying ahead of competitors.
What Processes Does the Warehouse Management System Automate?
Businesses around the world need to effectively store and manage their stocks. It is gained by client service enhancement as well as warehouse space optimization, and WMS will be a powerful helper there. Let's talk more about its essence and role in logistics flows.
A warehouse management system (WMS) is a digital solution created for the needs of retail and manufacturing businesses to help them monitor and manage the resources transfer and storage in the warehouse.
Would you like to know more about WMS processes and their benefits? Check our recent article and read it!
The WMS is famous for monitoring the items and materials in your warehouse and consolidating the employees' activities (such as picking goods or processing orders). Moreover, the warehouse management platform performs the following functions:
Offering workers complete information as to the item in the warehouse. It is essential to pack the orders and to save staff's effort and time.
Tracking the merchandise flow to identify the ones that are sold the best. That will be helpful for further warehouse optimization.
Monitoring the raw materials and providing them with the best storage conditions,
Streaming real-time data which saves the staff's time and makes workflows more straightforward,
Tracking products and raw materials condition in the warehouse,
Finding compatibility with barcodes and RFID tags,
Giving the stock location recommendations, etc.
What WMSs offer such benefits to entrepreneurs? We'll dive deeper into their peculiarities and tell you more about their standard classification.
Types of WMS software you can use for your business
Integrated/standalone
An integrated WMS is usually given as an add-on by your current warehouse ERP provider. With such a kind of WMS, you may refill an item with a higher profit but somewhat lower sales if it is selling well but has a low-profit margin; in addition, you will have access to the other financial analytics data and be able to monitor them.
A standalone WMS implies a full-fledged and customizable piece of software containing complex analytics options that might raise the bar for your warehouse.
Cloud-powered/on-premise
On-premise WMS lets you fully control hosting, software, and hardware connected to your platform. However, such total monitoring will cost you a pretty penny. You'll also be obliged to maintain an on-premises WMS yourself as well as care about its security and uptime.
Cloud-powered WMS platform frees you up from the neсcessity to keep everything under control, as it is deployed on the remote services, and the cloud service vendor takes care of upgrading or bug fixing — you have only to pay for the rendered services on a subscription basis.
Choose WMS type with experts' help
We'll compose a team of analysts to study your idea, and help you deliver the seamless end product!
After we've enlightened the basics about ERP and WMS, let's compare them and identify their significant differences to find out what system to choose for your business.
What is the Common Difference Between WMS and ERP Systems?
Looking for the most appropriate software to manage the warehouse-connected activities, the businesses find an enormous variety of the digital products differentiating by the feature set and price. ERP and WMS systems are among the leading ones intended for the stock management needs.
Many customers ask themselves what of the options will be the best for their particular business. Let's analyze the WMS versus ERP system key differences to answer this question.
Different prices for the platform's creation. Warehouse software solutions can be several times more costly than ERP systems. WMSs are built for complicated operations and come with high upfront and ongoing expenditures, thus not every warehouse requires one. Many ERP systems cost less. But you should pay attention to the functionality matter: if the feature set is equally appropriate for your company purposes in both WMS and ERP solutions, think about what software option is more affordable for your budget.
The major goal to accomplish. The WMS is aimed to control the items' storage and movement (e.g., choosing, packing, delivery and receiving) to and from the warehouse. The said activities lead to better visibility and show more opportunities to optimize the warehousing workflow. A warehouse ERP system, in its turn, strives to provide company's departments with a seamless data flow as to the stock management by automating the related working processes across the departments.
The usability points. WMS perfectly centralizes the management of items and raw materials which are stored in the particular warehouse. It's possible due to a proper monitoring of item locations and inventory levels. The Enterprise Resource Planning system makes planning of the item, as well as its creation, financing and marketing more straightforward.
The type of the digital product. ERP is represented as a platform containing a set of modules that can be integrated with other software. However, the WMS is a standalone digital solution that can be integrated with an ERP software for warehouse management or supported by any other systems.
The activity scope. The resource planning system can be applied to all kinds of the supply chain activities. The WMS is developed only for managing flows in or among warehouses, being adaptable for real-time data entry, inventory changes, and stock transfers.
Flexibility peculiarities. The warehouse management/ERP software flexibility is also different in both of the cases. ​​ERP systems work best in situations that are chronologically organized and linear, with few deviations. Your best choice is a WMS focused on real-time operations if your company is sensitive to frequent changes in priorities.
WMS vs. ERP: Common Distinctions

| Difference criteria | WMS | ERP |
| --- | --- | --- |
| Prices | Expensive | Less costly |
| Goals | Storing & monitoring items | Providing company with data |
| Usability | Items & materials management | Easier item flow planning |
| Type | Standalone software | Can be integrated |
| Activity | Warehousing flow management | Management of different SC flows |
| Flexibility | Real-time operations | Linear and organized situations |
We've researched and found out the most common differences between ERP and WMS. So, now it's the high time to decide which of the systems will be the best-fitting for your business.
What Kind of Software Will Suit You Best?
Your choice made between creation of an ERP/Warehouse Management System for your business will have a great impact on its efficiency. The correctly selected software for the stock tracking and management will make your workflows more straightforward, cut operational costs, enhance the client services and assist you in the aims achievement. So, let's discuss how to choose the very platform (e.g., Warehouse Management System/ERP) for your business flow optimization.
First off, these are the questions you should answer beforehand:
What do you need the ERP/WMS systems for? Determine your business long-term aims.
Considering aims you want to accomplish can help you get there. A WMS as a full-fledged system aimed for warehousing workflows management will be more beneficial for you if you want to improve warehouse management and gather real-time inventory data. But if your firm requires overall streamlining, warehouse ERP systems with "light" ERP services may be appropriate.
Which one of your current flows should be enhanced with Enterprise Resource Planning or Warehouse Management Software?
Most companies have a problem that has to be fixed. A highly customizable WMS may be required in place of an ERP if your warehousing procedures are ineffective. WMS platform implementation will help you monitor and enhance your resources transferring timely proceeding the customers' orders.
What Return On Investment (ROI) will your WMS/ERP systems deliver?
Though the return from both the systems might be astounding, their setup and running costs aren't necessarily equal. So does the ROI. Even if one option can appear to be less expensive at first, you must take into account the "full picture": for instance, the staff training and other costs required.
This is not the entire question list you should keep in mind. You can message us, and we'll assist you in forming requirements to your future system and making a right choice. Since each of the business situations is individual, you should know more about the peculiarities of when to apply to one system, and when — to another.
Also, we've found the most common reasons to stick to systems for warehouse management/ERP.
The most common use cases of WMS and ERP
So, you should apply to WMS platform in the following cases:
You need to increase the productivity of your warehouse employees. Increased productivity is a result of WMS systems' complex functionality, which not only maximizes effectiveness and worker safety but also speeds up inventory rotations and offers precise worker accountability. Moreover, WMS platforms deliver rapid feedback on work to your employees and their supervisors helping you investigate their performance results and realize what to enhance.
Your deliveries require reworking to boost client satisfaction. You can deliver finished orders on schedule thanks to the precise order picking capability of current warehouse management solutions. A more efficient overall process reduces cycle time, leading to more on-time shipments. Furthermore, the WMS functionality automates your staff's actions protecting them from human errors.
You have to minimize the resources spoilage and shrinkage in your warehouse. In order to prevent spoiling, The First In First Out (FIFO) rotation method may be enforced and real-time monitoring made possible via WMS solutions. High levels of worker responsibility also provide you the capacity to spot shrinkage issues and solve them in time.
The space in your warehouse requires optimization. WMS platform may enable controlled stock rotation, smart picking directions, automated consolidation, and cross-docking to maximize the scarce warehouse space usage. On the basis of precise, up-to-the-minute information regarding the level of bin utilization, the system also guides and streamlines put-away.
Some of the most common reasons to work with warehouse ERP software are the following:
You need to provide your personnel with the one informational source for more coherent activity. Thanks to ERP software developed, information only needs to be entered once. Each department has access to the precise original data, and this data is sent across the whole system. Furthermore, utilizing a Resource Planning system allows you to significantly reduce human error.
The collected supply chain data needs structurizing. Companies still frequently use many spreadsheets, but as your business has developed, you likely have too much information for your current spreadsheets to handle. The ERP system has long since eclipsed the humble spreadsheet as a great modern tool for storing your data and even offering analytics tools to process it.
Your company's stock management requires more traceability. You'll need an ERP software for warehouse to give complete traceability, manage your stock levels, arrange your production floor, and handle various other tasks if you want to have success in your logistics company activity and attract more customers.
Your goal is to expand and raise the value of your business. By using an ERP system, business owners may increase order and control, decrease inventory, optimize procedures, and accelerate the flow of work through the organization, all of which boost the bottom line.
How the ERP software works and when can you apply it in the most beneficial ways? Our article will answer your questions!
Summing up the topic, we should say that you should apply to WMS/ERP software concerning your current business situation and after its thorough analysis. So, if you require a full-fledged platform intended for warehousing purposes, an ERP module or several ones won't be enough for you. Even while ERP warehouse management software will have certain WMS capabilities, they won't be as extensive as those of a complete WMS. In this case you'll need Warehouse Management Software.
How to Select a Warehouse Management System for Your Business?
After you define that you need a WMS system and weigh its pros and cons, you should analyze the aspects that will be critical while developing a software platform for warehouse management.
The WMS cost should be precisely analyzed. The more the complexity of the WMS, the greater the expense associated. It is essential for companies to comprehend how much money they may invest in WMS without sacrificing quality. Therefore, before choosing the best WMS, businesses must carefully consider how to strike a balance between the functionality and the cost.
WMS needs to be straightforwardly organized. A WMS solution is deemed to be properly built if it can be set up quickly, if customers can readily adjust to it, and whether the warehouse duties can be easily handled with it. The chosen WMS should make it simple to enter data, view data, and provide data reports, as well as train staff for performing all these activities.
It should be highly customizable. The WMS that can manage the most warehouse procedures with the least amount of human involvement should be sought after by businesses. In addition to meeting current needs, the WMS must also be flexible enough to meet future ones. So, select a system that can be easily modified to suit company requirements.
The system should be adopted to the size of your warehouse. The more expansive the warehouse, the more intricate the operations would be, necessitating the need for increasingly intricate WMS systems. The smooth flow of the merchandise within the warehouse would demand greater care as the warehouse's size was increased. Therefore, WMS needs to be selected with this aspect in mind.
The WMS should give greater customer service. The primary goal of adopting automation software to manage routine warehouse tasks is to give clients the level of service they want. Businesses should find out the flaws in their current warehouse operations and choose the finest WMS that can assist them solve these issues and provide greater consumer care to their clients.
We've prepared some information for you to consider about the already built and successful WMSs from well-known companies which analyzed all the above criteria before creating their own software.
Softeon
In comparison to some of its rivals, Softeon's WMS solution might provide a lower overall cost of ownership due to its strong integration with material management automation systems. Being a more specialized WMS vendor, it offers its customers a more individualized level of service.
Fishbowl
Small and midsize distribution organizations frequently utilize Fishbowl, one of the more well-liked WMS systems. Though it's quite easy to use, it is capable of handling increasing businesses' more complicated requirements, such those involving various currencies and warehouses. Companies with ERP systems that have limited WMS capabilities also frequently employ it.
Manhattan Associates
A .NET-based Manhattan Associates WMS has a singular focus on providing complete supply chain management and warehousing services. It is frequently very helpful for businesses in the grocery, food, retail, and omnichannel industries. The fact that it excels in shipping and logistics makes it a great alternative for retail and distribution companies as well.
HighJump
Another strong warehousing system in the small company to mid-market segment is HighJump bought by Korber. It excels in warehouse management for retail distribution, and sister products in the Korber network can handle more advanced shipment, vessel, and port planning demands.
You can know more about the said solutions to use them in your business as the ready-made ones or just for your inspiration. However, you should remember that the already existing systems don't give such a level of flexibility you may need for your business. That's why, building your own WMS platform highly customizable to the company demands and requirements will be the best of your business decisions.
Innovative Logistics Software From The Experienced IT Vendor
Both the discussed digital platforms require a professional approach to their development and implementation. That's why, when preparing to develop the required platform (such as ERP/WMS software), you should pay attention to the vendor you're going to collaborate with, as well as their expertise.
A unique combination of a profound expertise, high quality of the developed product and a price optimal for your budget can be found with the help of IT outsourcing. So, the best decision in this case is to apply to the skilled outsourcing software development vendor having enough experience in the business domain you need as well as a modern tech stack to bring into life software solutions of any complexity.
Cleveroad is a perfect candidate for such a role, and we'll tell you why.
We are an outsourcing IT provider headquartered in Estonia and competent in building competitive and profitable software systems for your logistics needs (such as WMS, ERP, TMS, LMS, SCM, and others). The created solutions help the startups, SMBs and large enterprises connected to logistics cut operational costs, and enhance the logistical and the supply chain workflows.
Moreover, collaborating with us, you will obtain a bunch of benefits (including but not limited to):
Proven expertise in creating digital products for logistics domain as well as cutting-edge tech stack to create even the complex software platforms
A profound consultation with one of our experts (e.g., Project Manager, Business Analyst, or a Solution Architect) as to the peculiarities of your project
Non-Disclosure Agreements (NDA) signing per your need to protect your software concept uniqueness
Fast software creation workflow with no bureaucracy or hidden costs
A team of certified and agile-minded professionals capable to quickly react to changes and adapt to existing schedules
Quality Assurance at all the stages of a product development performed by highly qualified experts
Post-release support, maintenance, advertisement services for our customers.
Cleveroad will thoroughly assist you throughout the cooperation process starting from the deep and knowledgeable consultations and finishing by delivering a full-fledged and sustainable product fully responding to your business requirements. So, let's start our collaboration striving to new business heights!
Logistics IT vendor strives to help
We're ready to consult you about the WMS or ERP choice, and build a beneficial business platform
Frequently Asked Questions
The Enterprise Resource Planning (ERP) platform is a set of modules integrated into a company workflow to keep track of resources and optimize their storage. Moreover, the ERP assists the logistics experts to lower the negative impact of the human factor as well as enhance and synchronize the flows of multiple company departments.
Warehouse management system (WMS) is a digital solution created for the needs of retail and manufacturing businesses to help them monitor and manage the resources transfer and storage in the warehouse.
These two systems have got differences in the following points:
Prices
Goals
Usability
Types
Activity
Flexibility
There are the following factors you should pay attention to while implementing the WMS:
The WMS cost should be precisely analyzed.
The solution needs to be straightforwardly organized.
It should be highly customizable.
The system should be adopted to the size of your warehouse.
The WMS should give greater customer service.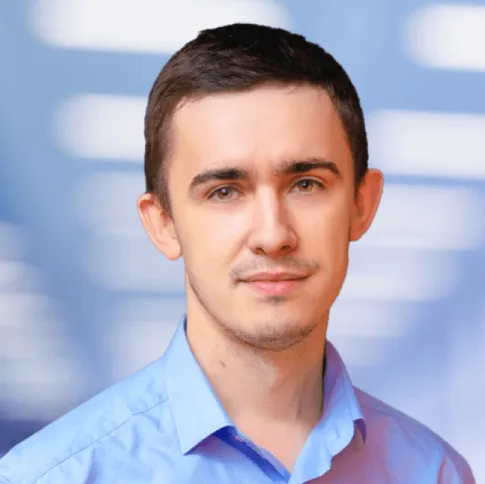 About author
Evgeniy Altynpara is a CTO and member of the Forbes Councils' community of tech professionals. He is an expert in software development and technological entrepreneurship and has 10+years of experience in digital transformation consulting in Healthcare, FinTech, Supply Chain and Logistics
Rate this article!
538 ratings, average: 4.78 out of 5
Give us your impressions about this article
Give us your impressions about this article