What Is a Warehouse Management System: Parsing Its Features, Essence, and Examples
Global logistics markets are constantly growing. In 2021 the e-commerce commodity circulation cost was over 441 billion euros. By 2026, impacted by the increase in online sales, it is predicted to increase to approximately 770.8 billion euros.
Delivery issues for ordered goods are becoming more complex, which is reflected in logistics, which have already suffered from the pandemic. As the scale grows, it can turn into a challenging task. So it is crucial to organize the storage and distribution of goods properly, keep records and systematize their flows. All this is included in the concept of warehouse management, and digital systems help to solve this problem by automating operations.
Reading this article allows you to learn what a warehouse management system is, what benefits it has, what features include advanced solutions, and how to select the best WMS for your company.
What Is WMS and Warehouse Management?
Warehouse management is the process of determining the location of goods and maintaining the storehouses' work. For example, it covers operations performed by warehouse workers, processing and storing data on suppliers and goods throughout the supply chain.
Standard Warehouse Workflow
To clearly understand warehousing, we can represent it in the form of six processes, namely:
Receiving: an operation that includes ordering products, unloading, and controlling the delivery of the accurate amount of suitable goods to your storage.
Putaway: goods' delivery to a suitable location in the storehouse. It regards the specifics of the supplies, storage conditions, dimensions, etc.
Picking: the procedure of compiling goods according to the customer's order. It demands the most time and money and has the highest probability of errors.
Packing: grouping products according to orders into suitable packaging, inspecting the completeness and quality.
Delivery or dispatch: transferring an order from storage further up the supply chain.
Returns: an undesirable but still influential part of the supply chain. Therefore, the control of returns and repayments also needs exceptional attention.
David Sobie

Co-founder and CEO of Happy Returns

About 5 to 10 percent of in-store buys are returned, which grows to 15 to 40 for online purchases
Now, let's look at strategies employed to supervise the overhead processes and how warehouse management system capabilities deal with them.
Strategies in warehouse management optimisation
Efficient warehouse administration is quite challenging and demands high optimization. So, here are some crucial moments you should focus on:
Optimal layout. For effective operation, your warehouse must balance the storage and office zones (a software for yard management in warehouse can also help you with that). It's vital to maintain enough area for both the workplace and the receiving, packing, and shipping zones.
Zone marking. Your employees shouldn't have difficulties determining the proper location of a particular product quickly. It helps to keep your business running efficiently by saving much time. The most effective solution is to use combinations of letters and numbers indicating the area, row, shelf, and place.
Organizing goods. To lower the packing duration, analyze sales statistics and break down products into groups — from the most favored and marketed to the least prevalent. Then, arrange them, so frequently bought goods are nearer to the packaging area.
Order picking system. To assemble orders as fast as possible, you need to select a method based on the specifics and dimensions of your storage. So, in small volumes, orders can be compiled one at a time, or you can simultaneously operate batch picking of several orders. For giant storehouses, zone packing systems are suitable when the charge passes through each area and is replenished with goods as necessary, or the wave method when each area provides the required products, which are then sorted into orders.
Packaging optimization. Packaging is an essential aspect of order assembly. You have to be sure that you are dispatching the correct items and that they will be delivered safely and sound to the right address. Accordingly, it is necessary to think about the size of the box and choose a few of the most commonly used for yourself. It is also critical to select packaging material that helps to lighten the general poundage of the box, will not take up too much space, but, meanwhile, protects the goods from possible damage.
The pace of receipt, unpacking, distribution of items, order processing, and delivery is also very influential.
However, in all these cases, automation is necessary. Using WMS software enables you to optimize processes and bring their efficiency to a brand new level.
What is a warehouse management system
A warehouse management system (WMS) is an operation optimizing software. It tracks supplies and commodities in a storehouse as they arrive and are shipped. Thus, warehouse management systems can perform many functions, such as material tracking, order packing optimization, warehouse navigation, automatically matching orders and stock, sending notifications for new orders, and many more.
The WMS system today is not just transferring information about goods and their location but a broad functionality relying on the necessities of the current storage. And regardless of the chosen type of warehouse system, you should determine the required level of control.
WMS warehouse's tires
Let's consider the most commonly used WMS tires. We will pay special attention to the functions of goods receiving, placing, and sending.
This grade can help with automating the warehouse, but it is very limited in capacity. For the sample, the computer will be able to record the location of each item by assigning it a specific number, but the placement will look random. Such simple systems are more likely to help optimize individual tasks but are not full-fledged warehouse management systems.
Medium and large enterprises usually implement such systems. Their functionality is sufficient to fully manage all warehouse processes, such as receiving, placing, assembling, and shipping, including address storage and batch accounting of commodities. However, they do not support fine-tuning business processes and complex storage systems.
WMS of the first tier is operated by the largest warehouses since they usually get the maximum benefit from the software of this complexity. However, such systems are created for bulk storehouses that actively cooperate with several enterprises and have many branches, workers, and orders. In addition, first-level tools can also interact with robotic equipment, wave assembly, and more, supplying exhaustive warehouse management.
Thus, the required level should be defined based on the extent of the business and the essential features of WMS.
Warehouse Management System Benefits and Drawbacks
So, before you decide to implement WMS warehouse management software, you ought to comprehend what advantages such a solution has and which daily difficulties it allows to solve effectively. Then let's consider which issues different WMS types can solve.
Human errors
One of the aspects hindering expansion is errors forced by the human factor. Warehouse automation using the WMS computer system will help significantly reduce such errors and improve efficiency.
High time needs
Receiving an order, finding all the needed products, and completing and shipping the order takes much time. When same-day-dispatch has become the standard in modern realities, you cannot waste extra time on paperwork. You can find various solutions using different types of warehouse management systems, such as order acceptance automation, storage optimization, and others.
High processing costs
Based on the previous point, you can significantly decrease costs by lowering the time for collecting and packing orders and other storehouse operations such as receiving and packaging.
Organization of storage
For an effective warehouse operation, having enough storage space and a particular approach for ordering supplies is critical. The warehouse management system's advantages also include automating the receiving and organizing storage and inventory accounting, making it much easier to deal with commodities.
These are far from all the usefulness of WMS warehouse software, but only the most general ones. Nevertheless, pros highly rely on the software's functions in many ways, so let's look at what basic features are used for WMS management.
Must-Have Warehouse Management System Features
WMS features highly depend on the type of the system. Consequently, there are several classes of such software. Each has its advantages and disadvantages.
Standalone system
A local software deployed on a single device and in the enterprise network. Such systems can give specific errors and repetitions during integration. However, they require the least long-term cost but have fewer benefits than more integrated WMS.
Cloud WMS
A web-based software as a service (SaaS) model using enterprise cloud technology, also called an online warehouse management system. Compared to the previous ones, they are more flexible and safe. Also, there is no necessity to update such solutions: it happens automatically.
ERP modules
A warehouse management system built into an ERP solution. Such software provides built-in EDI, accounting, sales orders, MRP, and shipping management. Using barcodes, you can move from papers to a digital WMS that eliminates data re-entry and human error while allowing real-time control of all operations.
It is pretty challenging to choose exactly the one that suits your business from a wide variety of solutions, so here are some key features of the warehouse management system that should be included in your software.
Automation of the major operations
Above, we have already discussed which warehouse operations are primary. In addition, the WMS functionality checklist must contain automation items for each process to reduce errors and costs.
Tracking and organizing delivered goods
Already at the stage of receiving supplies, you can use such warehouse management features as tracking delivered goods and automatic replenishment of commodities by scanning barcodes during unloading.
With many orders, the WMS functionality checklist must include functions for quickly obtaining all order data. It is also necessary to track the order's status from when it is received to delivery to the client. Businesses often use CRM systems for successful order management.
Although many e-commerce companies start with paper documents, it becomes necessary to create digital documents as they multiply. Therefore, whichever warehouse management system you choose, to significantly decrease the time spent, it is crucial to minimize workers' involvement in creating documents.
Easily accessible reports
For successful business evolution, it is crucial to analyze data in dynamics constantly. Hence, warehouse management software features should quickly forge understandable reports based on available data.
Struggling to choose WMS features?
Contact our analysts to determine your business's key features of a warehouse management system
Inventory tracking and control
Another warehouse management benefit is the capability to track goods movements. Thanks to progressive WMS, you can fully manage the quantity of inventory, storage conditions, etc.
Today the WMS system must have access to the cloud. This guarantees efficient and secure data storage and remote admission from and from any place and device.
This is just an example of the features of the various types of WMS. They may differ leaning on the requirements of a particular firm. If you are aware of making a mistake with the choice, you can start by developing a Minimum Viable Product (MVP), gradually adding more new features. This will help you launch your product faster and enrich it with new functionality bit by bit.
Advanced WMS Features and Technologies
One of the primary benefits of a properly designed warehouse management system is that it constantly evolves and updates. In 2022, the industry's potential is enormous, and all the most delinquent technologies are immediately implemented in the newest software. So let's look at the latest trends in warehouse system management.
Internet of Things (IoT)
The optimization provided by the IoT includes:
Real-time inventory tracking. WMS system warehouse with IoT hardware supplies real-time information on the goods' location and details about transportation, packaging, and routes. It guarantees the safety of the commodities.
RFID technology. RFID significantly simplifies the inventory process since it does not require direct eye contact, unlike barcodes. With its help, WMS (warehouse management system) decreases the time and cost of tracking each specific item.
Smart inventory management. Systems can automatically generate alerts when a commodity is out of stock or storing conditions are not met. Furthermore, inventory software development with integration with IoT devices make it more effortless to manage returns because they have appropriate information such as status, location, and disposition endpoint.
The IoT system generally allows significantly downsizing the risks related to transporting and storing goods and simplifying personnel work.
Electronic Data Interchange (EDI)
EDI supplies a paperless exchange of documentation and information between partner companies. Allows all types of warehouses in supply chain management to deliver quality and transparent customer services, significantly contributing to loyalty.
Here's how businesses benefit from using EDI:
Process optimization helps to meet EDI service standards, evade fines due to SLA violations and delays
Automation significantly lowers order processing time
No necessity for manual data entry substantially decreases the probability of errors
EDI solutions are developed to reduce costs, enhance security, and minimize risks.
Cloud solutions
Today, the majority of WMS warehouse management systems are connected to cloud storages. To comprehend the WMS system with the cloud, we need to figure out its features and benefits.
Firstly, cloud capabilities allow integration with the ERP system and automatic equipment. Also, with the help of the cloud, synchronization of the online catalog of your e-commerce website with stocks in the warehouse is automated for the correct display of information, which saves a tremendous amount of time.
The continuous interaction of the WMS warehouse system with other programs using the cloud is vital in optimizing the supply chain.
To define WMS features worth adding to your application, analyze your business strategy. Then, you can turn to an experienced developer who will add to your WMS any modern technology you want.
Examples of Software Systems for Warehouse Management
Before deciding on the need to develop your own WMS, it is worth considering the best of the existing solutions and their key warehouse management system features.
So let's check the Top-5 popular WMS:
The Blue Yonder warehouse management system by Blue Yonder
Allows you to control all warehouse operations in real-time. Provides inventory, employee, and equipment performance data. The system also allows you to monitor costs and maintenance constantly. This WMS is highly customizable and available both on-premises and in the cloud.
Microsoft Dynamics 365 by Microsoft
Allows you to optimize the following warehouse management processes: loading and unloading of goods, delivery, and dispatch, order picking, and inventory. Offers full integration with other applications and types of warehouses in supply chain management. Also, the system can print labels and has advanced counting capabilities. Its advantage is the presence of a mobile application and a wide range of functions for any strategy.
Oracle Warehouse Management Cloud (WMS) by Oracle
Tops the list of cloud-based warehouse management systems. It has many integrated warehouse management system benefits, combining them with an easy-to-use interface, cloud speed, security, and scalability.
K.Motion Warehouse Advantage from Körber
Is an adaptable warehouse management system. WMS features checklist includes built-in integration with ERP systems, material handling equipment, and other company applications based on the client's needs. The contrast of this WMS is the use of HTML5 for the user interface, which allows access from a web browser and device.
SAP Extended Warehouse Management (SAP EWM)
is an application that allows you to manage large-scale warehouse operations. You can choose local or cloud deployment and integrate the supply chain with your warehouse and distribution processes.
In general, there is quite a lot of WMS inventory management software now, and each of them has many different functions. In addition, you can continually develop a personalized system for your business. Let's determine how to make the right choice.
How to Choose a Proper WMS for Your Company?
So, before implementing the warehouse WMS system, you need to concentrate on a few points:
Decide when to switch to digital WMS
When your business expands, and you realize that the number of orders has become large enough, you start thinking about the need to switch to paperless WMS. To ensure this decision is correct, consider how much time is spent manually entering orders, allocating and managing inventory, and booking deliveries.
Automating these processes will significantly reduce your time costs and increase efficiency. In addition, calculate how much time and money is wasted due to data entry and order picking errors that can be avoided with the help of automation.
You can calculate the current cost of processing one order now using the scheme below to calculate the return on investment when implementing WMS.
Calculating Cost per Order
Choose key features of the warehouse management system
When thinking about developing your own WMS, ask yourself what a warehouse management system does. By answering this question, you can define the functions you need specifically for your business. You can start by implementing just a few features, such as stock tracking and delivery control or order receiving and packaging. Later, the system can be extended, and new operations added.
Decide on a vendor who will develop your WMS
When choosing a developer for your software, you will face options such as in-house development, or external software vendors. The supplier may be in your location or you can look for a good deal among outsourcing companies. For the implementation to be profitable, it is worth choosing the option that will bring the greatest benefit at the lowest cost.
Many businesses choose offshore companies for cooperation, for today's global market size of outsourcing services share is $92.5 billion. The reasons for such popularity are:
Cost saving — outsource app development cost are pretty affordable; you can find a software provider that will develop high-quality WMS at a pleasant cost
Scalability — you can change the size of the team at any time by requesting more specialists or reducing their number
Time-saving — you do not need to search for each specialist separately; they are all already selected and hired
A wide variety of technologies — you will get a specialist with the skills that you need for your project without spending time and efforts for hunting
Reasons to choose outsource
It would be best to look at review platforms like Clutch to choose a good supplier. B2B feedback evaluation and analysis platforms rate companies that provide technology services and solutions based on performance, thought leadership, and customer testimonials that could be really helpful. After you have found your developer, it's time to move on to the final stage - the development and implementation of the finished system.
WMS creation and integration
When you have decided on all the details of the future project, you can finally contact your software supplier. First of all, a good company will assemble an expert group for you: they will study your requirements, take into account the business area and find the best software configuration. After that, you will receive an accurate estimate. Further, the project will go through all stages of development, from design to testing possible errors. Eventually, you will get an automated warehouse management system that will fit your business's requirements.
Once your software solution is ready, the software vendor will help integrate it into your supply chain. The implementation process will include:
Software installation
Synchronization of all data
Staff training
Bug fixing after launch
Interface customization
Creation of a single database with other programs, etc.
Further, you can continue cooperating to update your WMS warehouse software and add new features.
Final Thoughts
The best decision when moving to WMS is to turn to an experienced vendor — like Cleveroad. We are a proficient software development company headquartered in Northern Europe, Estonia. With over 11 years of experience, we create various logistics software and mobile apps aimed to simplify the workflows and improve them on all levels.
We offer flexible cooperation models, consultation on your project, proven experience in software development. Our analytical team understands what the logistics industry is, will help you create the best fitting WMS, and find the system configuration. We'll also implement your solution to increase the entire business's value and capitalization — now and in the future.
Frequently Asked Questions
Warehouse Management System (WMS) is a software solution for the optimization of all warehouse operations that tracks deliveries and shipments of goods, monitors stock levels, processes orders, simplifies inventory and automates paperwork.
А warehouse management system could have a large variety of features, which should include tracking and organizing of supplies, order management, inventory tracking, automated reports and statistics and any other feature required for high warehouse optimization.
A warehouse management system (WMS) is software that allows you to control and administer warehouse operations from the moment goods or materials enter the warehouse to their removal.
To implement a warehouse management system you can determine what processes you need to automate and hire an experienced software vendor. They will help you to create WMS according to your requirements and implement it to your business.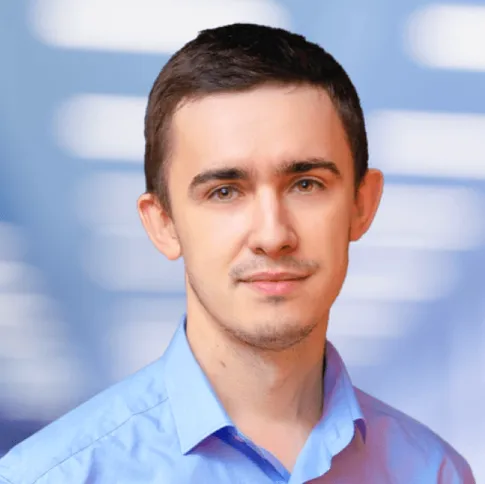 About author
Evgeniy Altynpara is a CTO and member of the Forbes Councils' community of tech professionals. He is an expert in software development and technological entrepreneurship and has 10+years of experience in digital transformation consulting in Healthcare, FinTech, Supply Chain and Logistics
Rate this article!
915 ratings, average: 4.64 out of 5
Give us your impressions about this article
Give us your impressions about this article