The Full Guide on SaaS Development
Software as a Service (SaaS) is advancing by leaps and bounds, offering companies the new approach of creating software. With it, users pay only for services applied, gaining long-term, easily predictable profit. Thus, building a SaaS app can help you with business expansion, and the modern market already has excellent solutions developed with this model. G Suite, Slack, Salesforce, and other SaaS solutions bring a bunch of digital changes to businesses of all kinds.
But why are SaaS apps popular among businesses and service providers? How to build SaaS? How much does it cost to develop a SaaS platform? In this article, we'll dive into all the details of building SaaS applications.
SaaS Market Overview
Software as a Service, also known as SaaS, stands for a cloud-based solution that can be used via mobile apps or browsers. The SaaS platform development implies cloud-based software creation and launching model in which the product is released via the subscription plan and is centrally hosted.
Using such a service, customers don't need to install and configure the app since the software provider handles it. Thanks to the Internet, SaaS is available to users all over the world and from every device. It's expected that more than 86% of mobile startups will develop SaaS application by the end of 2022.
Let's observe some more statistics regarding SaaS applications and their impact on business: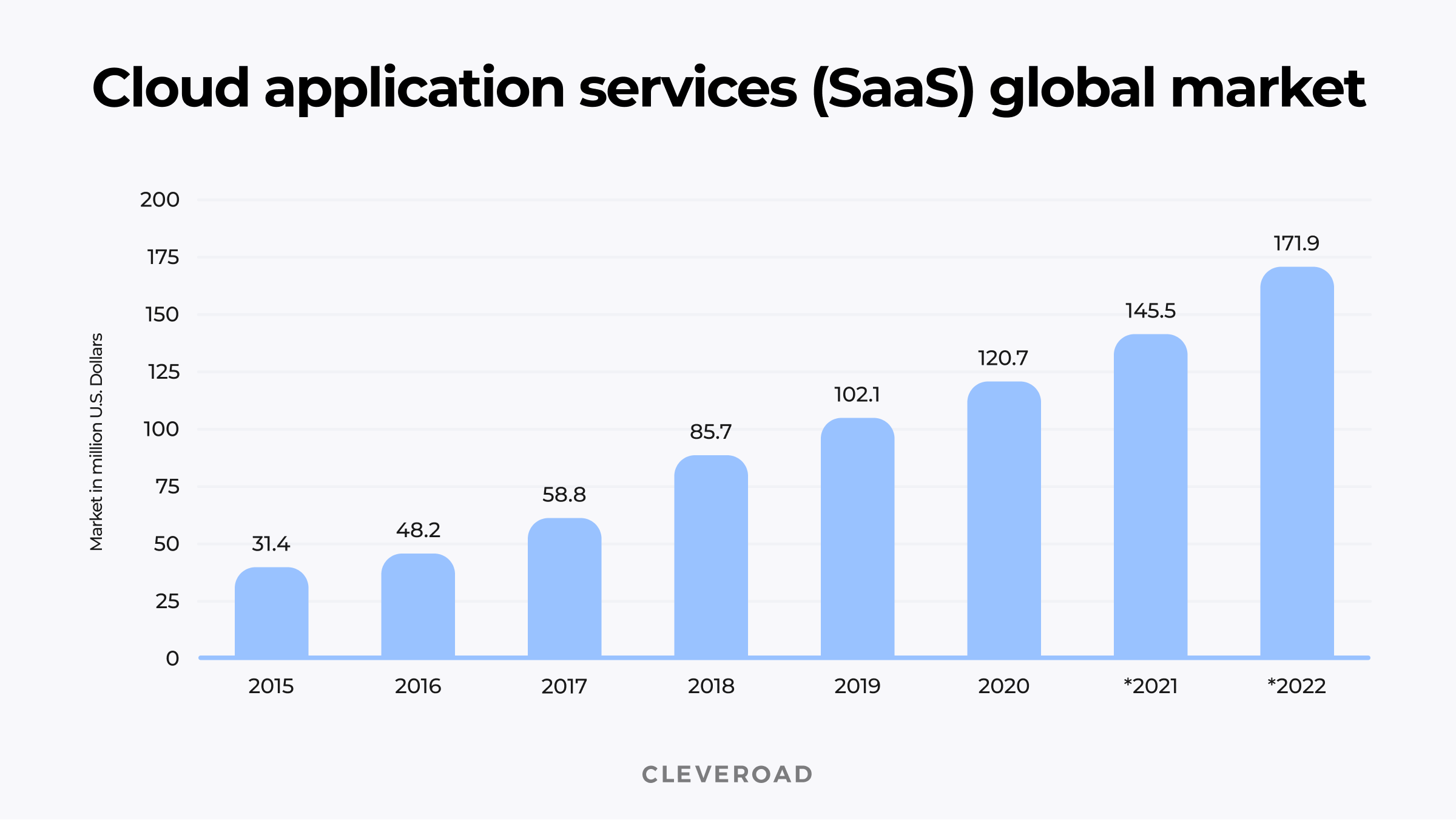 SaaS applications global market value
What Is SaaS: Benefits and Examples
Software as a service is an approach to accessing applications on the Internet. In contrast with the traditional model, the apps are placed in remote cloud storage available via the web or an API. SaaS applications are also known as web-based software, on-demand software, or hosted software. Regardless of what we'll call it, such products are stored on providers' servers. The vendor controls the access to the software, incorporating protection, availability, and operation. And it is the main difference between building SaaS apps and traditional ones.
After releasing a SaaS product, developers continue constantly working on it. It's required to update the service regularly to gain more users and stand up to the competition.
There are a bunch of SaaS products on the market, from office software (GSuite) to messengers for work (Slack). What's more, enterprises like Amazon, Salesforce, and Box have development teams to keep their solutions up to date.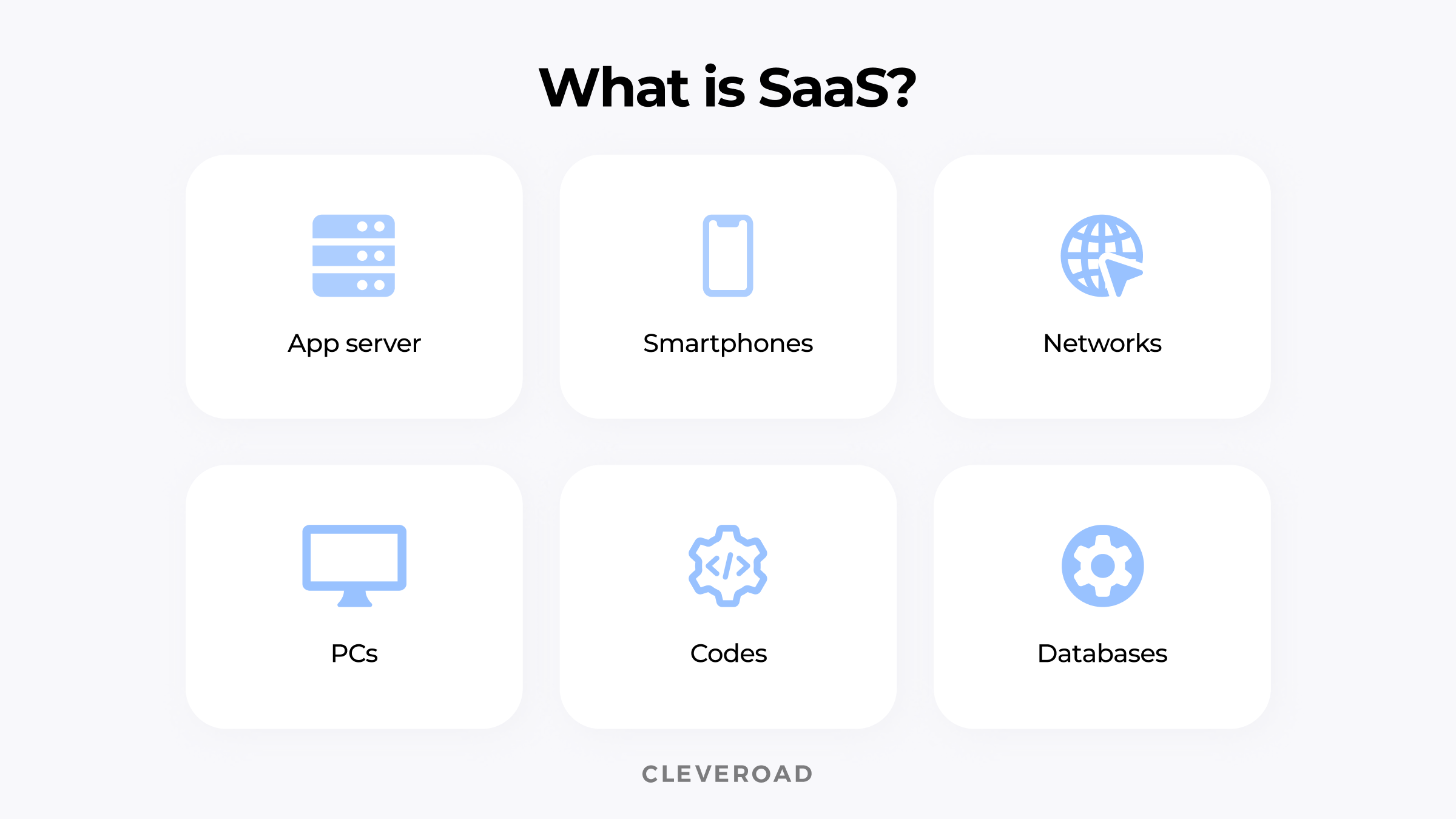 SaaS Technology and Architecture
The qualitative Software as a service development methodology requires involving the latest technologies. At a certain stage, enterprises and private parties move their tech tasks by applying cloud-based services. To update the solution, keep it up-to-date, optimize resources, attract a broader audience and satisfy it, companies have to invest in building expanded functionality for their apps.
Let's now consider what SaaS application development is and which technologies it usually comprises. It should be also noted that they are primarily determined by your project case and the budget limit of yours.
Programming language (Python)
SaaS development requires a potent and, at the same time, uncomplicated programming language which will help in creating a modern and progressive solution. It's no secret that you may face certain difficulties in selecting the one among the wide range of existing languages. JavaScript and SQL are excellent, yet, Python also brings lots of benefits to SaaS creation due to its adaptiveness and readability.
Database (MongoDB)
A safe database is obligatory for every successful SaaS product. Its main peculiarity is its small size and the ability to store data divided by applying it more flexibly. Furthermore, the database may be optimized with such a progressive technology as Python.
Automatic sharding features provided by MongoDB may make it your primary database. It offers high scalability and quick, efficient operation of various assignments.
Queuing system (RabbitMQ)
The Communication protocol, the warp of the software architecture, is called a queuing system or message queuing (MSMQ) technology as well. It enables the software to exchange messages connecting with third parties, like APIs and servers. A message queuing system keeps apps' messages and transfers them.
We've included RabbitMQ into this list as it is stable and scalable. In addition, this system is open-source, free to set up, and can efficiently cooperate with diverse operating systems as well as programming languages.
Cloud Computing Services and CDN (AWS)
The SaaS development platform must-have part is a cloud computing service that makes the implemented features work. Nowadays, one of the most decent options to choose from is AWS (Amazon Web Services), a highly adaptive and utter technology. Its opportunities comprise safe database storing, content delivery, and other features efficient for business progress. The files placed there are available for any device with online access.
AWS also operates excellently with Elastic Compute Cloud (EC2). The AWS EC2 architecture brings in resizable cloud compute capacity and expanded tech resources. EC2 servers' placement is up to you. A content delivery network (CDN) should be thought over as well. It's a special instrument to edit and operate the software's content.
During the project description, it's necessary to draw up a scope of features necessary to proceed to SaaS application development. Business analysts will prioritize them by splitting the functionality list into the must-have and advanced ones.
Here's the basic setup of features for SaaS application development platform:
Functional tools. There are primary features inherent and essential to the SaaS product. For example, Slack should offer an opportunity to send messages and make video calls.
Analytical tools. Any CRM system should offer a bunch of reports, statistics, and more.
Management tools. SaaS solutions should provide an opportunity to choose user roles. Due to the chosen role, they need to have various features and access layers to the SaaS product.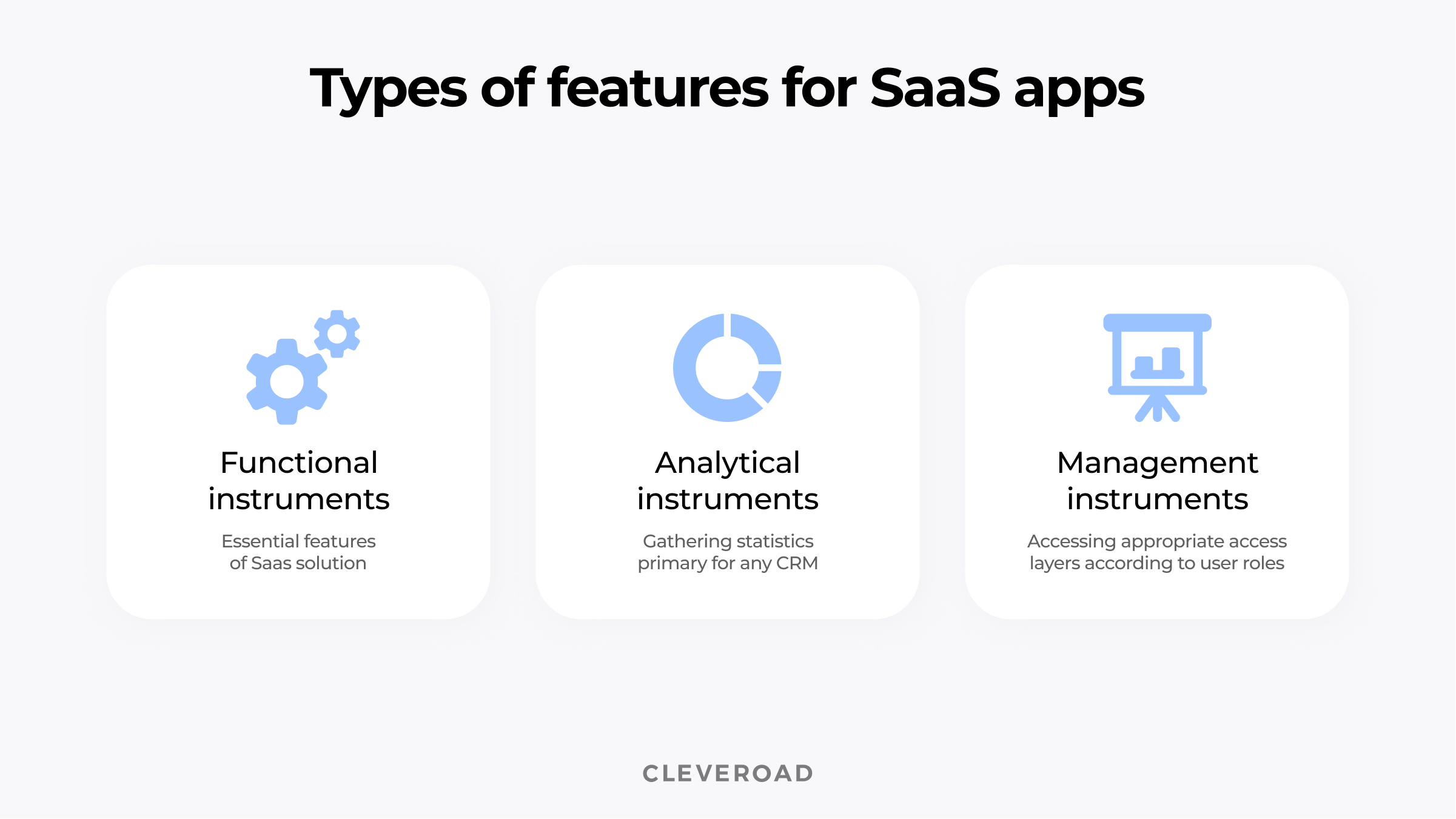 SaaS software features types
Integration of Third-Party Services
To advance any software and a SaaS app as well, you should implement additional functions with the help of specific systems depending on the features' purpose. For example, to enable in-app purchases in your SaaS product, you may need to integrate payment systems.
There are two options on how to expand the functionality of your software, each of them differs due to the time and investments required to create it:
Integrate third-parties. For instance, with in-app purchases, it implies gateway integration. This option decreases the time-to-market and costs. The aim is to include the services provided by PayPal, Stripe, Braintree, or other payment systems into your software.
Build solutions yourself. In case your function has specific peculiarities and requirements, your software development team can build a custom solution from scratch. The development flow requires building and designing, which affect both the time to market and development costs. Within the payment systems, the team should be competent in ensuring safe payment services. Yet, this process is pretty complex.
To integrate more extended and sophisticated features into your SaaS software, you should apply such third-parties as Google Maps, social media sharing, CRM applying. Other extra functions set up on other software are considered third-party integration.
Quality Assurance is an indispensable part when integrating any solutions. It helps to test whether the software operates correctly and efficiently.
Advantages of SaaS Development
SaaS solution development has a high potential for improving the business. We've singled out several advantages:
Cost efficiency
Businesses are free of purchasing and maintaining expensive hardware using a SaaS service. SaaS apps are located in the cloud environment, at a decreased price for hardware and software licenses, contrary to a common model. It's common for SaaS solutions to offer paid subscriptions. So, the company pays for the required functionality and can discontinue paid subscription if the business doesn't need the service.
Keep in mind that, best of all, the advantages and cost-effectiveness of SaaS solutions are revealed when you turn to competent outsourcers who will analyze your requirements for the final product and select the most effective and profitable solution that suits your budget.
Scalability
Ordinarily, SaaS software is placed in scalable cloud environments that can integrate third parties for SaaS products. The main peculiarity of this model lies in the fact that it doesn't require purchasing another server or software. Due to the subscription, businesses can pay only for the services that they need. If requirements change, it's convenient to upgrade the subscription plan with a few clicks. As a result, the adaptiveness ensured by the cloud environments makes it possible to scale SaaS solutions to meet the business expansion.
Reliability
SaaS is a cloud-based solution. A cloud stands for a network of services that can be placed anywhere globally. In case of one server failure, SaaS products still work. Thus, software with such high stability will remain working.
Security
Any cloud service provider tends to consider security issues. They make considerable investments to ensure high services with the highest protection. As a result, all the information is well-protected and is stored in a safe place. However, in some cases, cloud providers can't meet all the company's security needs. Thus, it's essential to monitor possible cloud security risks and their ways of eliminating.
No hardware and maintenance
As it was mentioned before, a great advantage of SaaS applications is no need in huge spendings on hardware and its setting up configuration and local software operation. Apart from this, enterprises don't have to cope with app maintenance, support, and license. Instead, vendors provide all the processing so that companies can concentrate on business. After the subscription approval, the app is launched and can be run.
Accessibility
The cross-platform characteristic stipulates the fact that SaaS apps can be run via the browser, which is obviously available on every modern gadget. This makes all the data accessible despite the location, so such apps are convenient and productive.
Wide range of providers
Business owners are able to select among a great diversity of SaaS vendors and switch between them to find the one who fulfills their needs the most. Enterprises have a cancellation plan of SaaS subscription in case the services' quality doesn't meet their requirements, or they don't need them. In practice, the switching process comprises certain complexities, yet, it's still possible.
Easy Integration
APIs expand the functionality of SaaS software by integrating third-party systems with it. Therefore, companies are able to integrate their own systems with the SaaS vendors. The modern market of SaaS vendors is full of those which ensure enhanced integrations with other systems, and ex.
Why Use SaaS?
Cloud-based solutions are accessible from various devices (like laptops, tablets, and smartphones) from any place in the world. It's important for employees that have a bunch of business trips. They can work anywhere and anytime.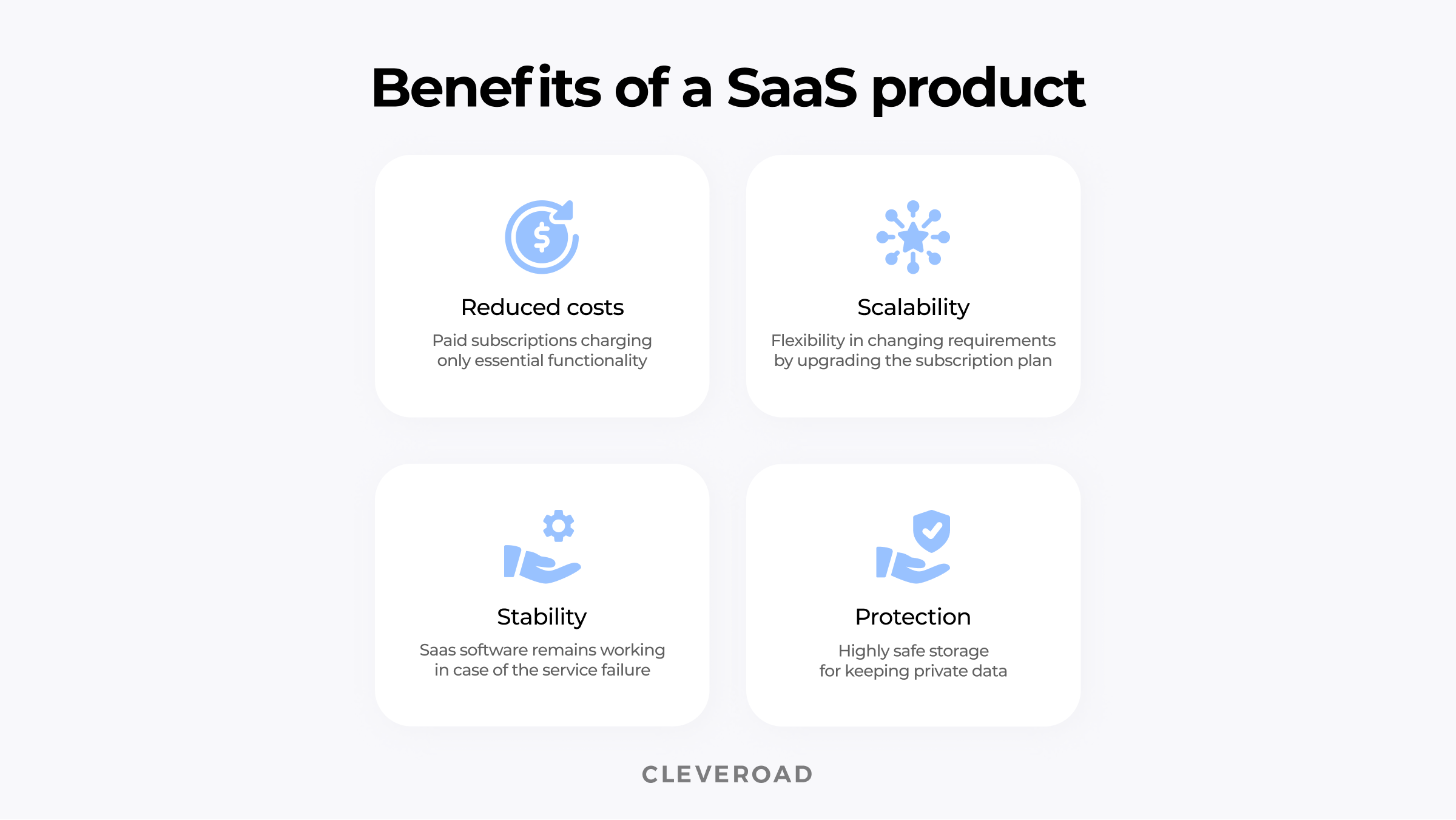 Top Seven Strongest SaaS Providers on the Market
We've selected the top seven SaaS companies to inspire while building a SaaS product. These companies provide their software to many businesses from all over the world. The list is based on customer reviews, social networks, and online sources.
Google
Google owns 137 products that offer Internet-related services for digital analytics, document creation, and others. Google provides a bunch of applications like Google Drive, Google Document, and Google Sheet.
Slack
Slack is a famous chat letting coworkers collaborate with each other. It offers messaging, video and audio calls, and a bunch of useful bots. A lot of enterprises use Slack for internal communication among employees.
Salesforce
This is a well-known SaaS company that helps e-commerce businesses. The service offers multiple solutions for CRM, marketing automation, email marketing, and so on.
Shopify
One more SaaS provider for ecommerce and retail industries. There are three leading solutions — Shopify, Shopify Plus, Burst by Shopify.
HubSpot
HubSpot is a powerful CRM platform that helps manage customers. There are such solutions as CRM, HubSpot Sales, HubSpot Academy, and others.
Adobe Creative Cloud
Adobe is a big market player of creative products allowing the creation of magnificent shots. A Photoshop is an editor which comprises audio and video assembling tools accessed through an annual subscription. The Creative Suite is software allowing to create graphic design, edit photos and videos, Web development, and so much more.
Amazon Web Services SaaS
SaaS from Amazon ensures a platform to build your SaaS software and resell a wide range of SaaS products offered by third-party vendors, a part of which this list comprises.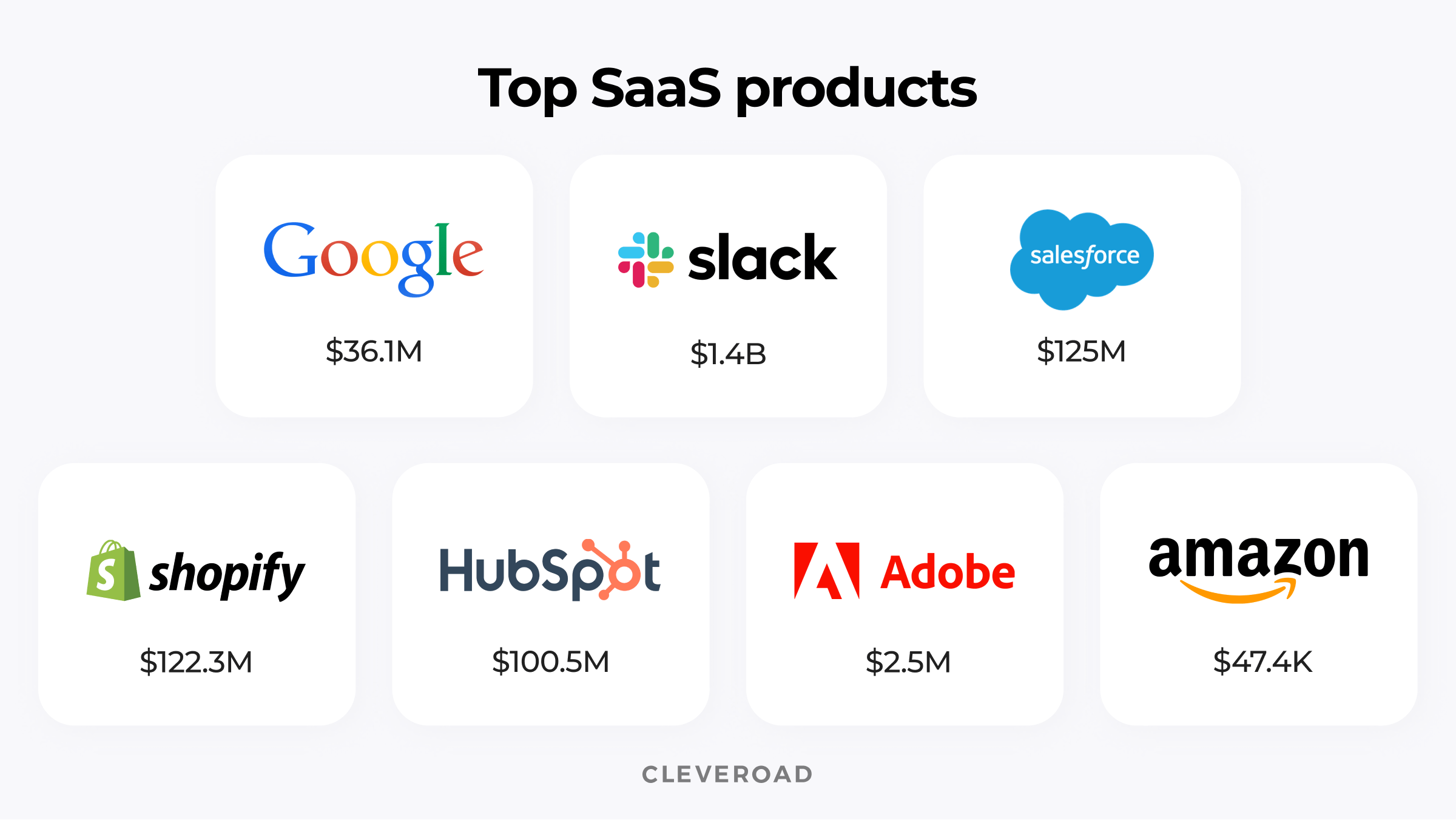 Top SaaS companies and their total funding amount
How to Develop a SaaS Application from Scratch
Building SaaS products differs from usual mobile development services. The primary difference in developing cloud-based solutions is the need for a reliable cloud service provider.
One of the widely-applied providers is Amazon Web Services (AWS) that offers a bunch of cool tools for SaaS developers.
How to create a SaaS platform and reach success? You have to put effort, contribute time, and learn your customers' needs and demands.
We've singled out the six steps to building a SaaS product.
Step 1. Think of the Value You Bring
To gain users for your SaaS product, you need to offer a solid and valuable solution. Customers want to understand the value of the product before subscribing and paying for it.
For example, it's a good idea to offer a free trial period for a certain period of time. In this case, customers can appreciate the use and efficiency that your SaaS service brings them. Also, you can offer to pay for single use of the platform. It'll be convenient for users that don't use the service a lot.
Step 2. Do the Market Research and Consider Your Competitors
Starting to build a SaaS app, you need to know the market and understand your target audience. It's good to analyze competitors, the features of their solutions, business models, and so on.
Having analyzed the market, you can realize how to make your SaaS solution stand out from the existing products.
Step 3. Collect Project Requirements
Before proceeding directly to creating a SaaS application, you have to gather your detailed project requirements.
It's necessary to create a list of features. They can be different. It's common to divide app features into two main groups: basic and advanced. MVP or basic features stand for features that are required to satisfy the user's needs. As for advanced, they add some exciting functions to engage more users.
Step 4. Pay Attention to UI/UX Design
Drawing up a list of required features, it's time to create a great UI/UX design for your SaaS product. Users are quite spoiled these days. They tend to abandon websites and apps with unattractive and unclear designs. So, to make a SaaS app profitable, you need to create SaaS application with a user-friendly design.
Design creation requires time and investment. Everything starts with wireframes. They stand for a layout of elements on the app screen. Wireframes tend to be monochrome and show the screen's connection.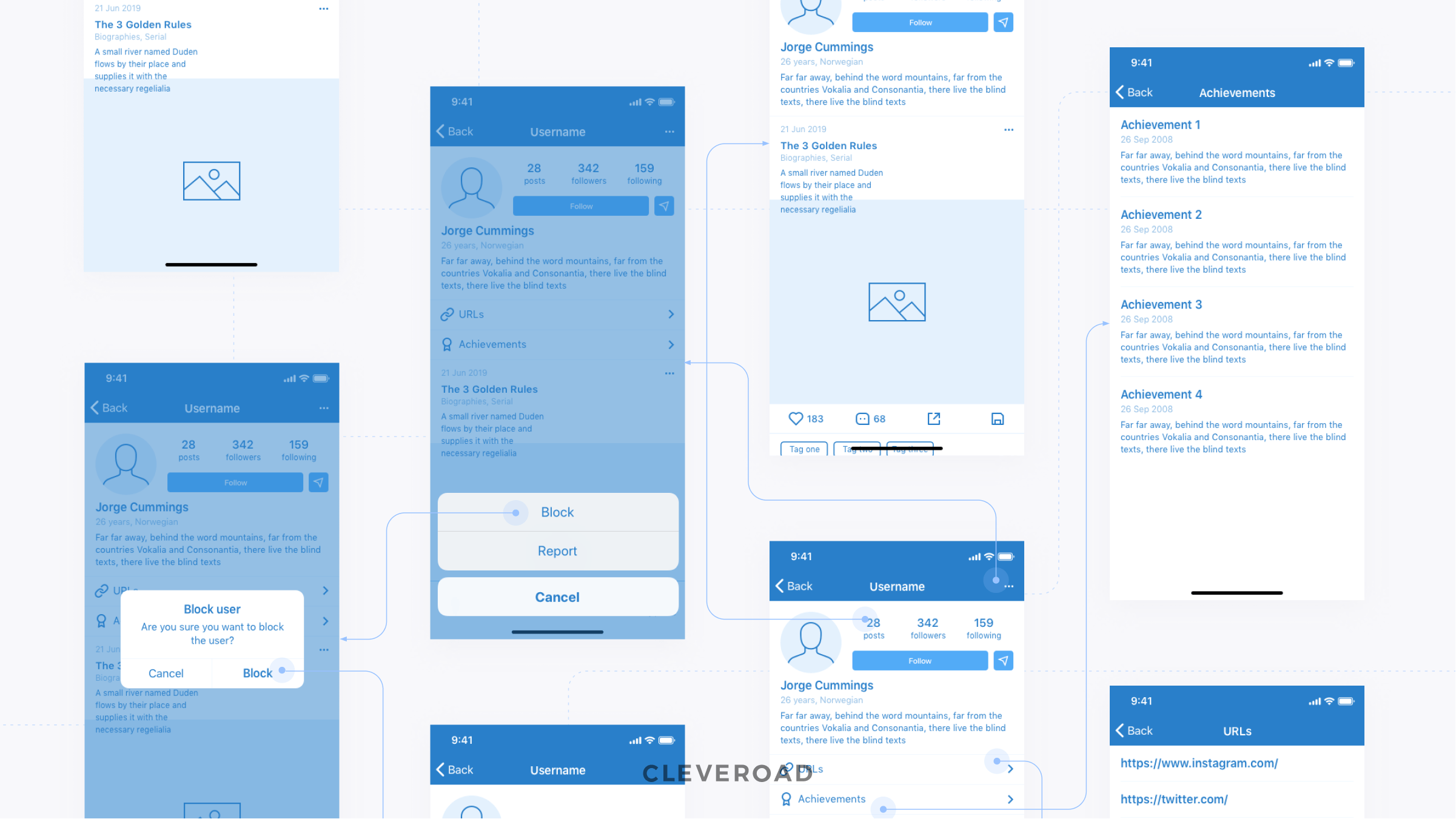 Illustration of wireframes for SaaS applications
After that, designers create a visual style for your future app. They pick the appropriate colors, fonts, and other graphic elements.
It's time to create a design. Designers create all the app screens and their conditions. After that, they make a clickable prototype. The last step of the UI/UX design process is handing over the design to SaaS application developers.
Want to know more about the UI/UX design process? We've created the guide to discuss all the design steps.
Step 5. Work on Your Pricing Strategy
Pricing strategy is a significant part of any SaaS product. It's common to offer a subscription plan. You need to create several plans according to the user's needs and expectations.
Additionally, it's good to add several free functions or provide a free trial period. For example, Google Drive allows using 15 GB for free. However, if you need more storage, you can buy a monthly subscription. Also, SaaS providers offer subscriptions for various numbers of users. There can be from 3 to 1,000 accounts.
Step 6. Define Tech Stack
Choosing the technologies for your SaaS app is a complicated task. You need to show the project requirements, features, and design to the developers. They can select the required technologies to create a SaaS application.
You need to keep your solution up to date, so it's required to pick tools that allow scaling the solution. In addition, choosing the right tech stack for your app determines its quality and productivity.
You can observe how SaaS model software development process happens at Cleveroad and which essential services we can provide in the following illustrations: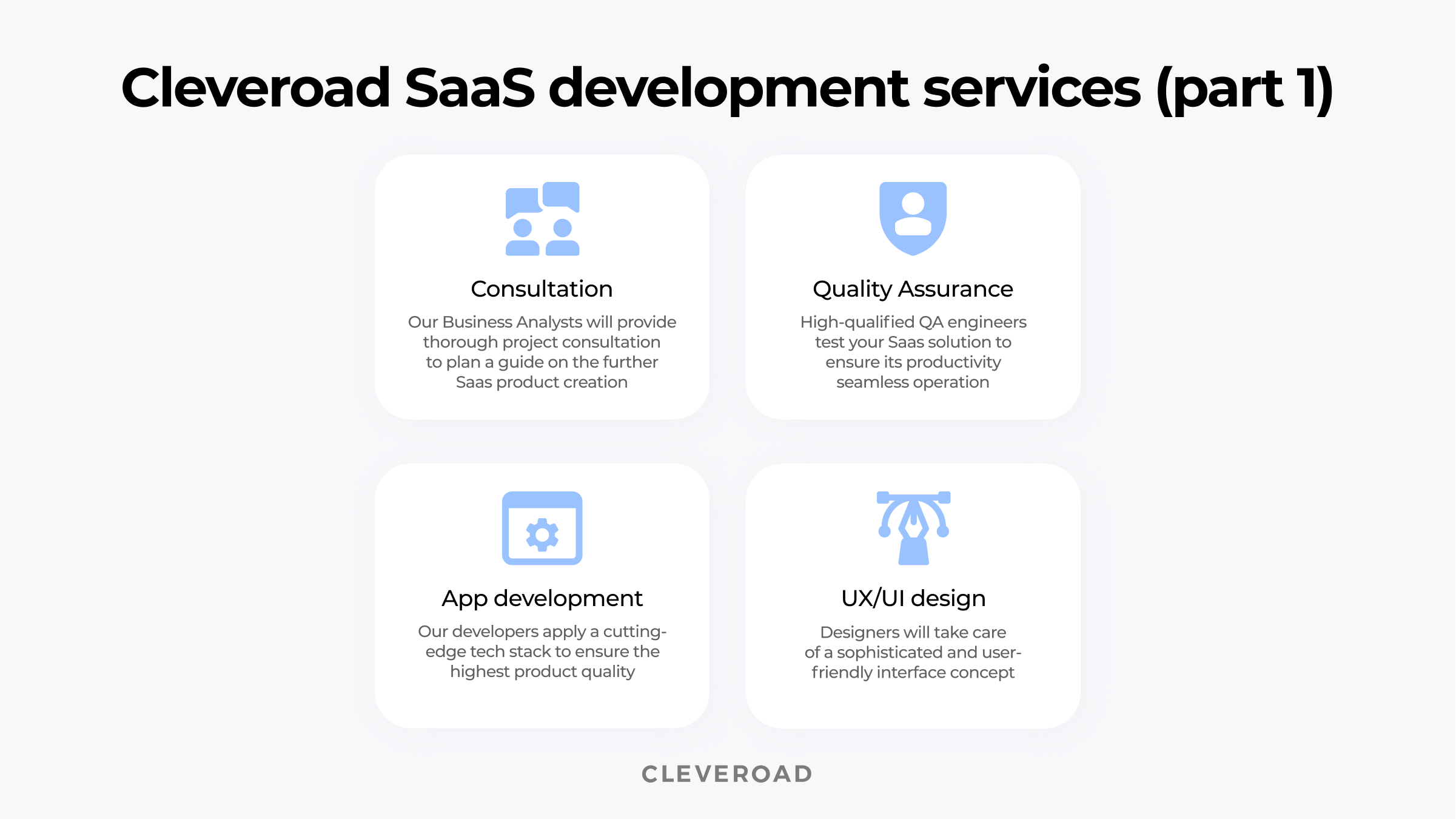 Cleveroad services for SaaS app development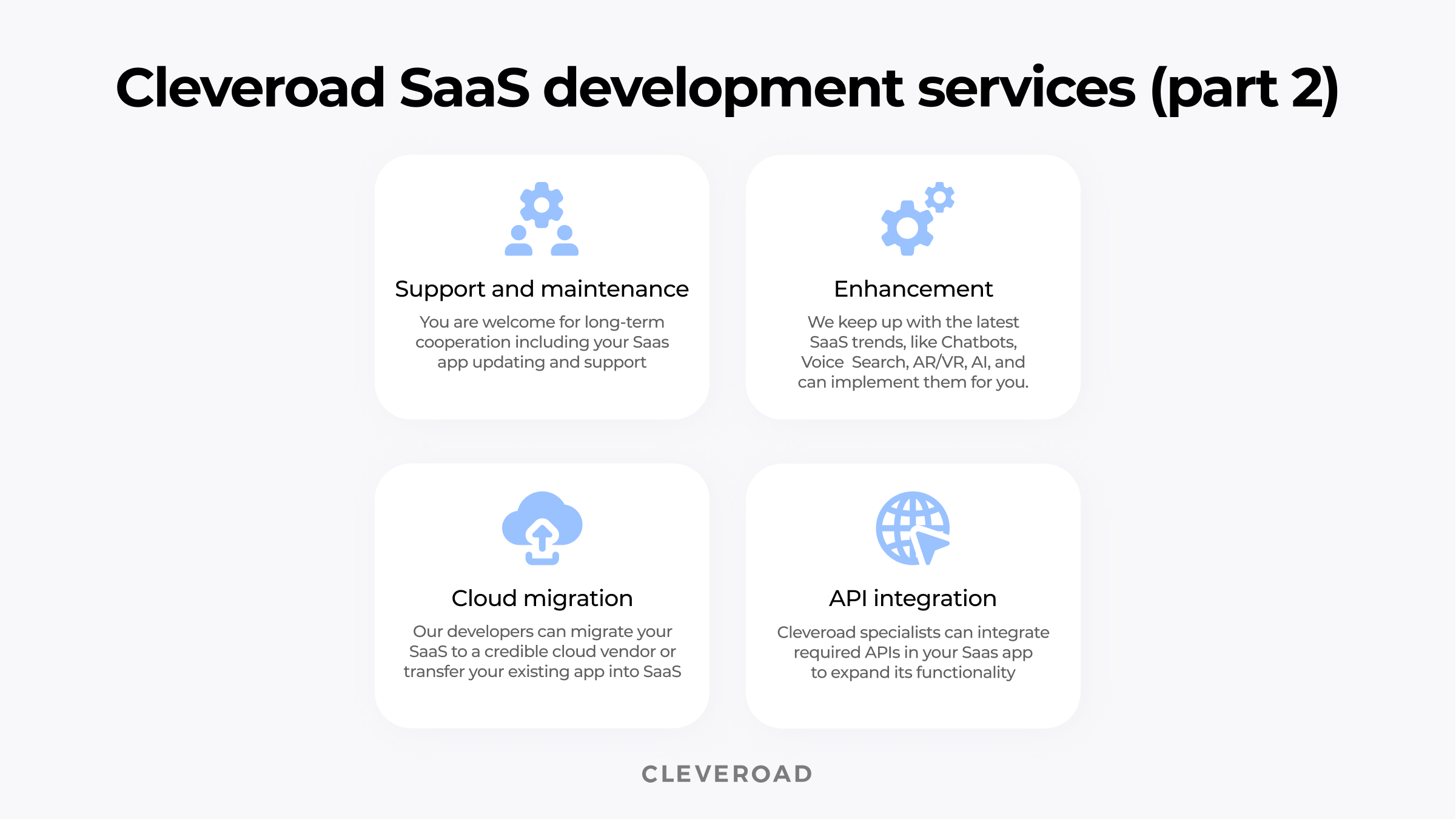 Cleveroad services for SaaS app development
Every business should be aware of how the software development lifecycle happens; let's discuss this process as well.
SaaS Development Lifecycle
Answering how to develop SaaS, it is worth mentioning its development life cycle as well. It provides gradual software development and efficient implementation. The SaaS SDLC (Software Development Life Cycle) comprises the following stages:
Envisioning
The business strategy should be considered far ahead before the software creation begins. You should define business expansion opportunities and methods to gain more clients. Another key point worth consideration is product promotion and advancement channels. After that, evaluate the efficiency your solution will bring to consumers.
Platform evaluation
When selecting a SaaS application development platform, bear in mind that it should assemble high-quality software. The released product should have smooth and productive performance, high solidity, and scalability, so the platform has to comprise essential instruments for it.
Planning
After defining the platform for SaaS app development, you should make up a thorough project plan from the preparation to release and support phases. It has to be split into stages like features implementation, including their costs, deadlines, and experts involved for this.
Subscription model
It is an important step in the SaaS development life cycle to acquire a production quality subscription. To make sure that the cloud platform and the central hosting you've selected meet your requirements, you should test the selected services and gather the necessary documentation. Ensure that you've got the necessary level agreement and the selected subscription plan includes the backup and recovery policies.
Developing and testing
It's high time to proceed to the Saas software development, features implementation, and building scalable software architecture with high robustness. The product should be tested at each stage and prior to launching. This phase should be included obligatory as it determines the SaaS app performance by helping to detect software flaws and bugs.
Operations
Another essential step is the in-app operations required compliance. They should meet the level agreements, protection, compliance, and infrastructure of the cloud services. It should comply with specifications as well with covered methods of service deployment.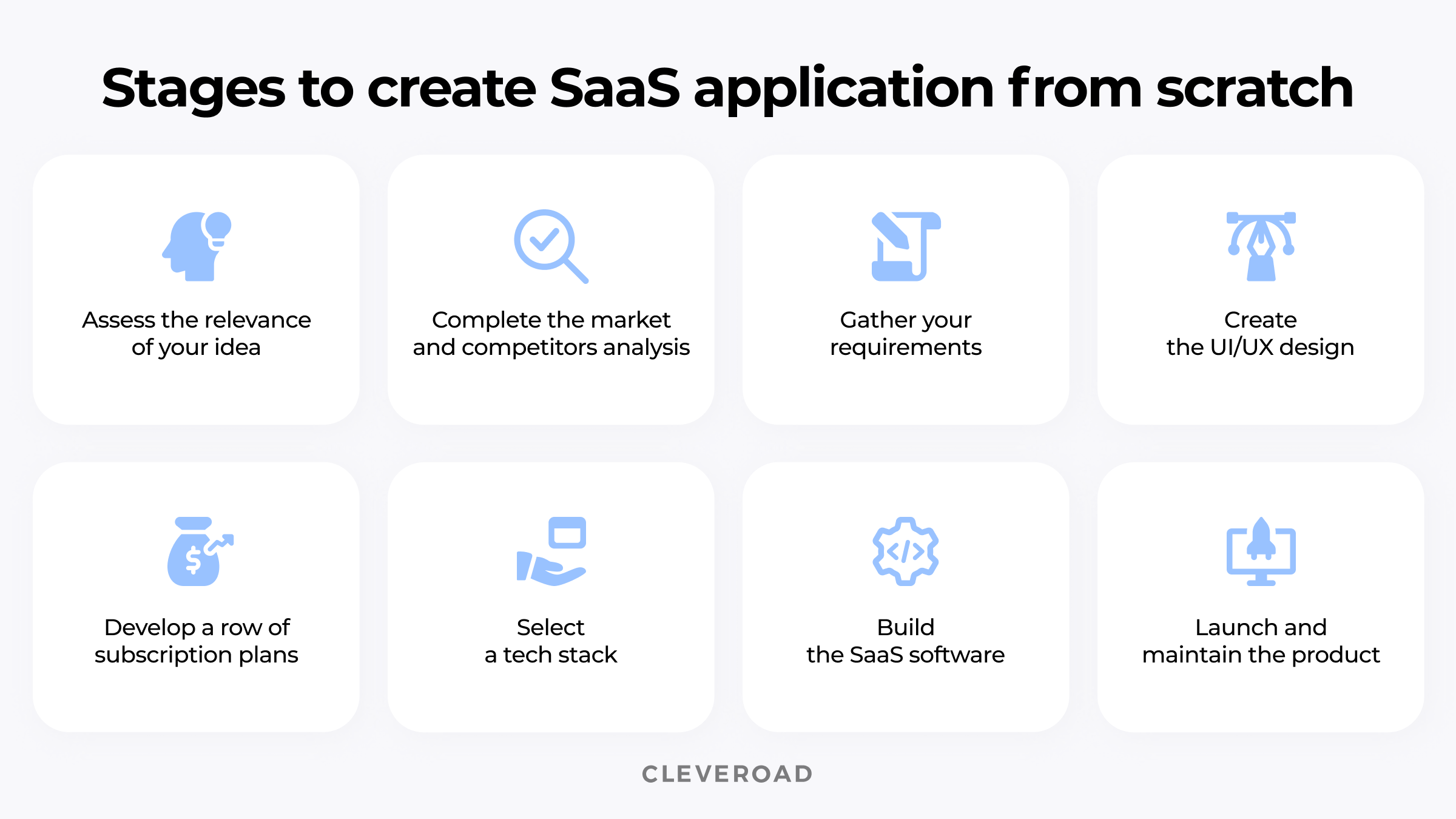 Phases of SaaS app development
Tech Difficulties to Build a SaaS Application
Creating a SaaS product can be challenging due to many difficulties on the tech side.
Techstack
One of the most complicated challenges you will face during the SaaS app development flow is choosing a solution stack to apply for this goal. It may be complicated to define the one with the help of which all the features and functionality elements will meet your requirements, especially if you are lacking a tech background.
Yet, it's essential to come up with the technologies to use as they determine how correctly the set tasks will be fulfilled by the app. To overcome this issue and not to fail, it's better to apply to specialists who will assemble necessary solutions specifically for your case.
To give you a hint on how to create SaaS application, we've assembled the Salesforce tech stack below:
Application and data
Utilities
Google Analytics
Twilio
Optimizely
Heap
Recurly
Zuora
Cyfe
TransmogrifAI
DevOps
Jenkins
Bitbucket
New Relic
Datadog
Puppet Labs
Cloud9 IDE
Sauce Labs
StillAlive
Business tools
Jira
G Suite
InVision
Salesforce Sales Cloud
Balsamiq
DocuSign
UXPin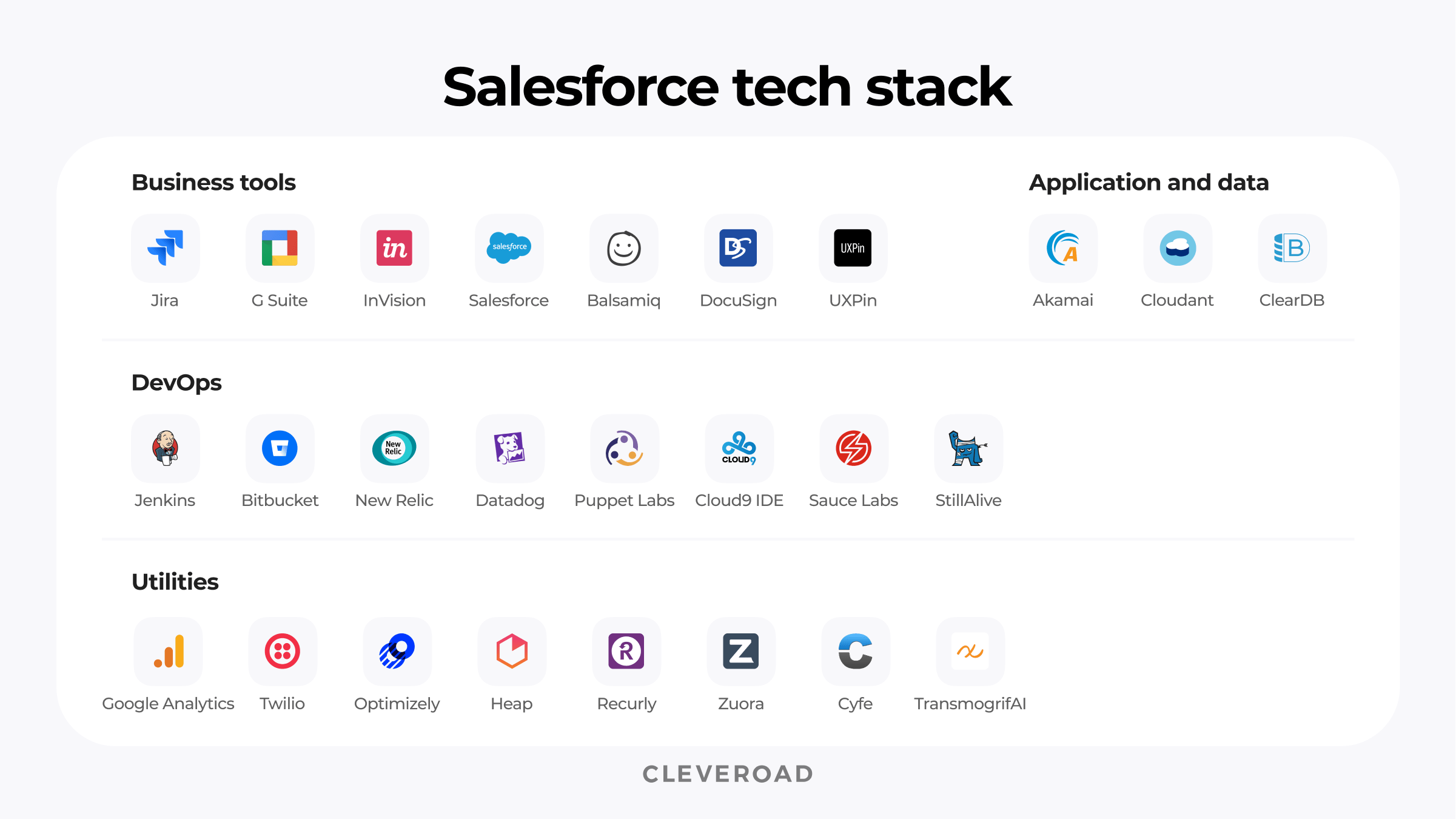 Technologies used to develop Salesforce
Scalability
Let's face it: to make your SaaS product successful, you need to choose a scalable tech stack. A complex solution has to be customizable at each layer.
As a result, developers should consider the following aspects:
Interface
Integrations
A row of features (must-have and advanced)
Page templates
URL structure
Scalable products will let you attract users and bring value in the long run. An unscalable solution stack simply makes it impossible to expand and advance your business. It might become an issue for companies (due to a poor performance with the growing number of customers, and, accordingly, workload) and clients (who won't be able to use the solution in case of the application failure and inability to cope with a higher workload).
Confidentiality
SaaS solutions often work with business segments and process/keep a lot of sensitive information. As a SaaS vendor, you need to guarantee data privacy to your users.
Such information as bank data, personal data, and customers' information may leak due to lack of security. It'll lead to losing your customers and their trust. Additionally, you can pay an enormous fine. Prior to accessing such data to external systems, you should verify the credibility and solidity of the service. Furthermore, access management and identity should be primarily handled as well. You should take strict measures before any confidential data is available for a service vendor.
Robustness
The app runs on physical servers located in a specific region, and if they get damaged (fire, water, explosion, etc.), it may lead to a failure.
In terms of credibility, the AWS platform is beneficial, as it stores the hardware regularly and cares about data security and backups. It also excludes the overload and failure of your SaaS app. Besides, you can upgrade your plan in case your business requires an expended amount of resources.
Credibility
One more challenge is gaining trustworthiness. The private data of consumers is placed in the SaaS application, so they obviously want to be sure that the platform is reliable and lacks security issues. By founding the brand and putting effort into gaining a positive reputation, you will attract a devoted audience. Logo, brand color palette, and UI elements should help you with this. For startups, it is also a great idea to advance your SaaS product to gain users' trust.
Integrations
Every SaaS application has a bunch of third-party integrations like Google Maps, PayPal, and others. As we've discussed previously, any kind of additional features included in SaaS-based application development requires a third-party integration. It requires a lot of expertise and effort to develop a SaaS application well. Additionally, the number of integrations affects the final price.
Applying third parties to a product, SaaS vendors host a row of software solutions, there might appear difficulties in integrating services into the already built in-house application. There's a possibility that data structures and APIs won't correctly respond to the external services. To prevent this obstacle, you should check if the chosen third-party services are compatible with your product's structure.
Subscription
Aiming at saving expenses, many people apply to SaaS product creation. The cost of the subscription for the provider's services should be reasonable and not go through the ceiling. To profit from your software, you should explore the financial capabilities of the users you develop a Saas application for. Consequently, it will be easier to come up with the optimal monetization strategy where the audience's subscriptions comprise the software's updating and support.
Privacy
SaaS app development should essentially foresee compliance with a Privacy Policy and a Terms of Use/Terms and Conditions agreement for your app. Both of those guidelines comprise individual aims.
Within the law, the first act is not obligatory yet, highly recommended. It serves as a legally binding contract between you and your customers. You individually establish regulations for your clients to use the service your SaaS product offers.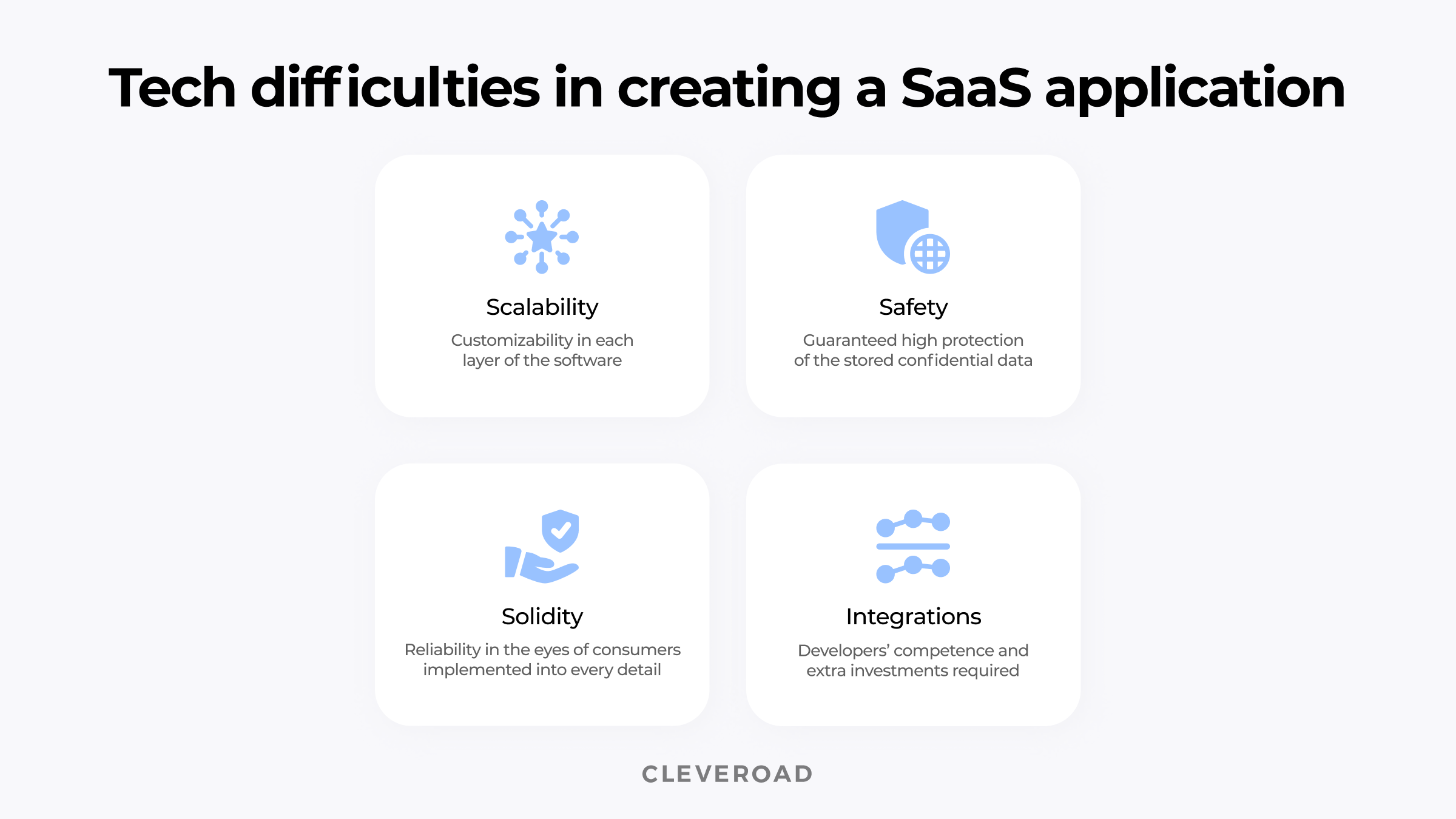 SaaS development tech challenges
How Much Does It Cost to Build a SaaS Platform?
After considering the process and pitfalls of how to develop SaaS applications, let's calculate their final price. The final cost of building a SaaS product varies on the following factors:
The complexity of features
Hiring option
The team's hourly rates
The number of third-party integrations
The Complexity of Features
How to calculate the price of creating a SaaS application? You need to multiply the time needed for development by the developers' rates. The development time depends on the features' complexity. The more complicated the feature is, the more time developers need to implement it. Let's consider Slack as an example. To create an app like Slack (MVP version), you need at least 2632 hours.
You can study the details below.
How much does it cost to create Slack?

| Type of work | Development time |
| --- | --- |
| iOS | 852 hours |
| Android | 852 hours |
| Back-end | 768 hours |
| UI/UX design (for one platform) | 80 hours |
| Total hours | 2632 hours |
We've estimated the approximate cost to make an app like Slack for iOS and Android in different regions of the world:
Eastern Europe. $131,600 (based on $50/h)
North America. $263,200 (based on $100/h)
Western Europe. $236,880 (based on $90/h)
Australia. $263,880 (based on $90/h)
Hiring Options for SaaS App Development
Before diving deeper into the existing hiring options you can choose from, let's primarily define the standard team structure to create a SaaS application. It usually comprises the following specialists:
Project Manager
Business Analyst
UX/UI designer
Backend developer
Frontend developer
QA engineer
So, where to hire SaaS developers?
There are three popular options to employ software engineers — cooperate with a freelance developer, create an in-house team, or find a reliable vendor.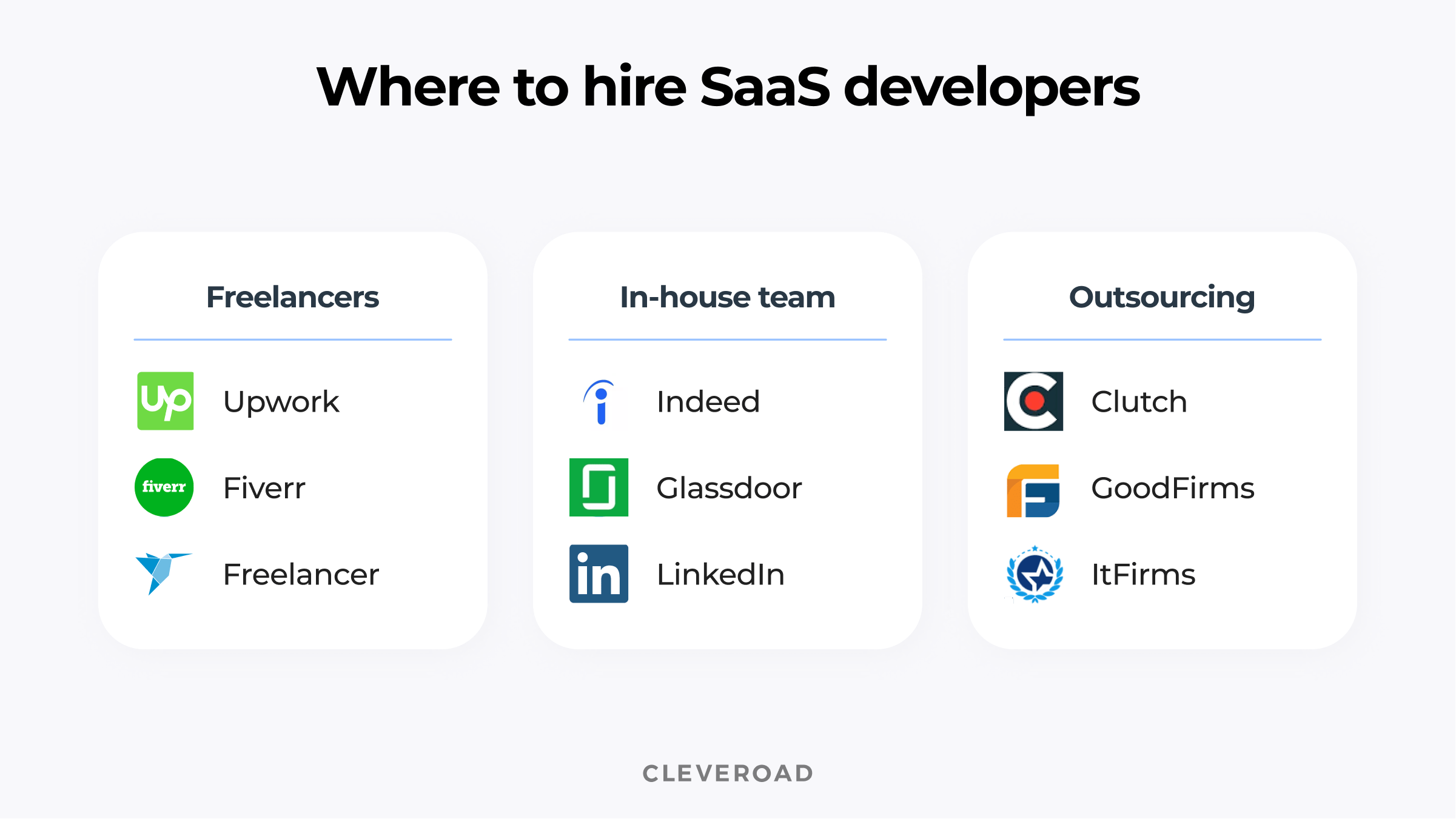 Platforms to hire SaaS app developers
Freelance Developers
Freelance employment is quite widespread these days. However, SaaS development requires long-term cooperation, and that can be complicated with freelance engineers. They can switch to another project and fail deadlines. Additionally, it's challenging to check the knowledge and skills of a chosen SaaS dev unless you're a tech guru.
In-House SaaS Developers
Creating your own development team can be quite profitable if you've already released the product to the market and got some profit. For example, several investors are interested in your solution, and you need to improve the app. However, this hiring option tends to be expensive due to a bunch of additional expenses like office rent, hardware, software, taxes, and so on. That's why it fits best to established companies that need to extend their team. Besides, you should look for specialists competent in developing SaaS applications yourself or pay a tech-savvy person for assistance.
Outsourced Development Team
Outsourcing is gaining popularity due to affordable hourly rates, talented developers, and the high quality of the final product.
There are many offshore software development companies all over the world, so you can hire developers from anywhere to create a SaaS app. Here are the main advantages outsourcing software development companies provide:
Cost flexibility. Eastern Europe's outsourcing market is full of offers suitable for every budget. Many companies have already benefited from their services due to a lot of talents, low taxes, and government support of the IT-sphere. Those countries have both the best value for money and high performance.
Scalability. Depending on the required service, you can outsource any task, like develop a product from scratch, support the existing one, or hire a high-qualified developer required for your project your team is missing. Outsourcing offers a range of partnership models, from dedicated teams to staff augmentation, to ensure clients with optimal and cost-effective solutions.
Faster project delivery. Outsourcing software development provides a complete team of specialists with verified competence, allowing you to cut down the time to market as well as outgoings: you pay only for work done and can overtake your niche competitors.
Huge talent pools. In outsourcing, you can find a great variety of tech-savvy experts with high competence and experience. Besides, you can choose among unlimited hiring opportunities.
The great diversity of technologies. You can hire a software developer depending on your case and its required knowledge. The global market offers a great diversity of different types of specialists.
In our experience, in-house developers or offshore software development companies are the most suitable option to build a SaaS product.
Hourly Rates
Developers usually have an hourly rate. They can vary according to three factors:
Hiring options (freelancers, in-house teams, or outsourcing companies)
Qualification (junior, middle, senior), and region of the world
For example, freelance developers have lower hourly rates than engineers from an in-house team. Moreover, the region is also significant. Developers from the USA have higher rates in comparison to the developers from Central Europe. Junior mobile app developers have lower hourly rates compared to their senior colleagues.
Below you can see the developers' rates in various regions.:
SaaS developers' rates

| Region | Developers' rates ($/hour) |
| --- | --- |
| North America | $150-200/hour |
| Western Europe | $50-$149/hour |
| Eastern Europe | $25-$49/hour |
| Oceania | $100-$150/hour |
| Asia | $20-$40/hour |
| South America | $25-$49/hour |
The estimated numbers are created for your orientance and are approximate. Please note, that you can always optimize your expenditures with no quality loss by applying to a reliable software development vendor from a popular outsourcing region.
Cleveroad Expertise
Cleveroad is a software development company with headquarters in EU, Estonia, with 10+ years of experience. We have been delivering excellent IT-related services, custom-built software products, and SaaS as well. They advance workflow efficiency, help overcome business-related challenges, and provide other competitive advantages. By cooperating with Cleveroad, you'll be ensured with the wide range of benefits, for example:
An in-depth consultation on your specific case from our Business Analysts, which is free of charge
Three flexible cooperation models to choose from: dedicated team, fixed price, time & materials
Product quality assurance and control at every development phase
Proven solid experience in software development across numerous industries, like FinTech, Healthcare, Streaming, etc.
The Cleveroad team is competent in Saas web application development, as well as mobile one, integrating APIs, qualitative data storage, and cloud hosting. Our professionals apply all our resources to guarantee meeting each of your requirements and architect a full-fledged SaaS product.
To prove this, we want to share one of our cases- RetailOps.
RetailOps
RetailOps is a versatile SaaS product that provides a bunch of tools for retail companies. We started redesigning the app to make it more easy-to-use. We've re-engineered RetailOps and made it run on Swift (native language for iOS development) instead of Cordova. The application is integrated with the Socket Mobile barcode scanner utilizing its SDK. That means an iPhone can connect with the scanner via Bluetooth. The application helps track every movement of inventory from the moment it arrives in a warehouse to the minute it ships.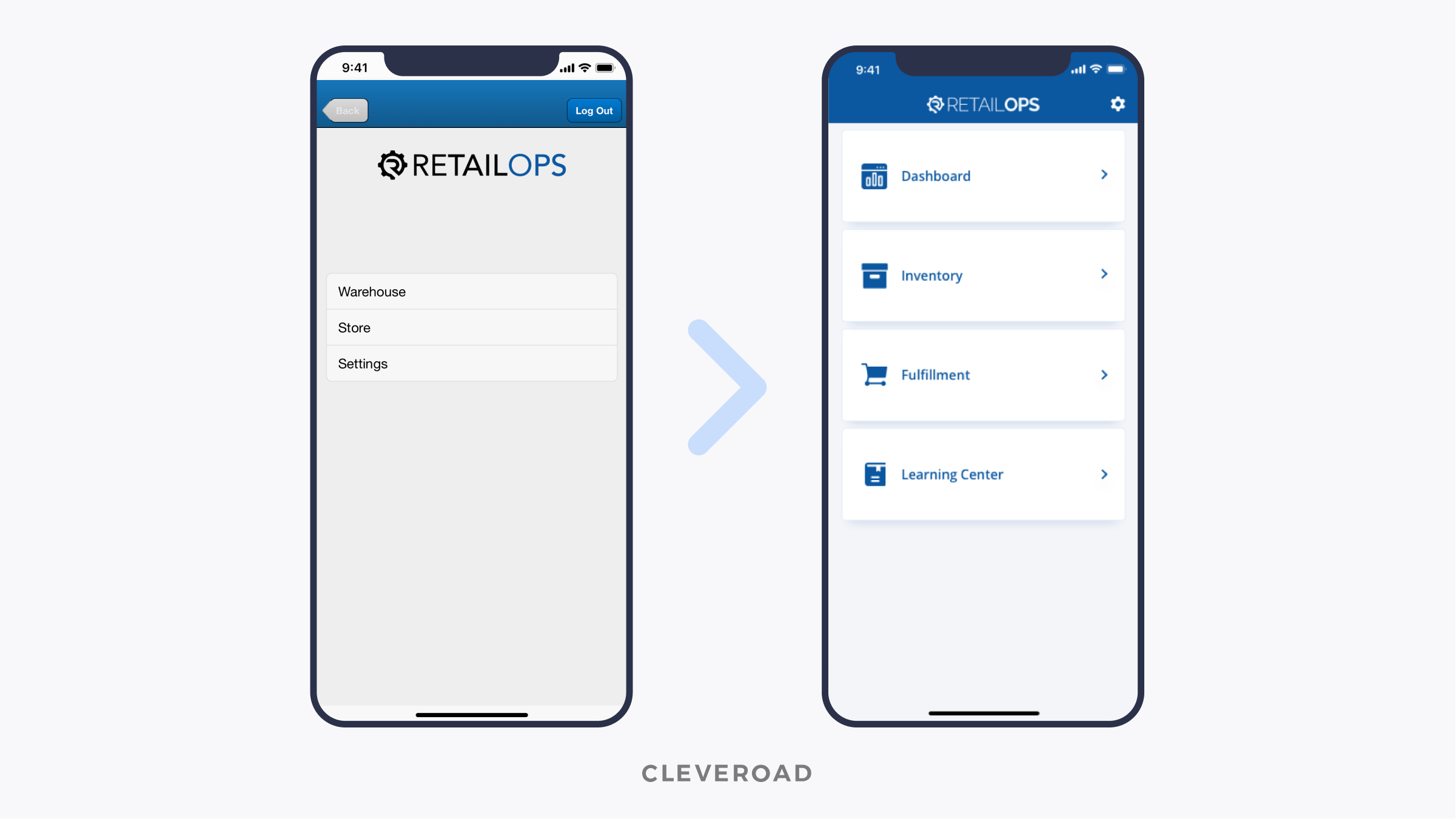 RetailOps is a versatile SaaS product that provides a bunch of tools for retail companies. We started redesigning the app to make it more easy-to-use. We've re-engineered RetailOps and made it run on Swift (native language for iOS development) instead of Cordova.
The application is integrated with the Socket Mobile barcode scanner utilizing its SDK. That means an iPhone can connect with the scanner via Bluetooth. The application helps track every movement of inventory from the moment it arrives in a warehouse to the minute it ships.
Start a SaaS app creation with us
Our specialists will provide you with a detailed consultation to create top-quality software for you
Frequently Asked Questions
The final cost of building a SaaS product varies on the following factors.
The complexity of features
Hiring option
The team's hourly rates
The number of third-party integrations
We've singled out the six steps to building a SaaS product.
Step 1. Consider the Service Value
Step 2. Do the Market Research and Consider Your Competitors
Step 3. Collect the Project Requirements
Step 4. Pay Attention to the UI/UX Design
Step 5. Work on Your Pricing Strategy
Step 6. Define Tech Stack
We've singled out the top seven SaaS companies for you to inspire while building a SaaS product.
Google
Slack
Salesforce
Shopify
HubSpot
Adobe Creative Cloud
Amazon Web Services SaaS
It's impossible to calculate the time required for developing a SaaS without project requirements. It's better to calculate the final time and price with professionals. They can consider all your requirements and business goals.
Software as a Service, also known as SaaS, stands for a cloud-based solution that can be used via mobile app or Internet browser. Using such a service, customers don't need to install and configure the app since the software provider handles it. Thanks to the internet, SaaS is available to users all over the world and from every device.
There are a bunch of SaaS products on the market from office software (Google Apps) to working messengers (Slack).
Rate this article!
3059 ratings, average: 4.70 out of 5
Give us your impressions about this article
Give us your impressions about this article
Priya Sinha
31.05.2022 at 11:25
Thanks for the post, nice information about saas application development… it is really helpful. I will recommend these blogs to others.
Sunil Rawat
30.05.2022 at 08:37
Thanks for sharing a good article,it solved my current needs.
WebGarh
28.05.2021 at 10:32
Thanks for this in-depth SaaS Guidance. As per the market competition, I feel SaaS App development is best for being an industry leader.
Lucas Barnaby
19.01.2021 at 04:14
Hello! I found this article very useful. It is interesting to know how Cleveroad is helps make SaaS solutions for various industries. I think that SaaS apps are profitable for e-commerce and retail.
Thanks for the valuable information you shared with us
Hümeyra Kerremans
04.11.2020 at 08:52
Magnólia Barros
28.08.2020 at 11:13
I want to make a SaaS solution for e-commerce business. I like the piece of information you shared with us. The text is useful and easy-to-read for beginners and startupers.
Emmi Remes
11.08.2020 at 02:32