6 Proven Ways How Blockchain Technology Can Reform Logistics Industry
How do you think, what can be common between blockchain and logistics? In fact, these two conceptions can be united together and provide large benefits to both parties - to the carrier and to the end consumer. However, to turn this idea into reality, it is necessary to pay attention to the right software development that will help make use of blockchain in logistics.
But, first, let's determine why blockchain is good for logistics and what advantages it has.
How blockchain improves logistics
Today supply chains from goods purchase to the end consumer include many stages and participants. That is why it can be rather difficult to ensure the transparency of processes like manufacturing and transportation of goods, provide with quality guarantees and goods origin for the end user. This issue is very acute for food products where a consumer has no an opportunity to find out the ecological situation in the place of food origin. In most cases, expenditures for documents and information processing during the containerization exceed the cost of the cargo transportation almost twice!
Blockchain as the solution
During one transportation there are more than 200 different procedures related to documents and goods, the most important are signatures from three agencies to approve export, drawing up of six documents that confirm origin, chemical composition and product quality, customs formalities and so on.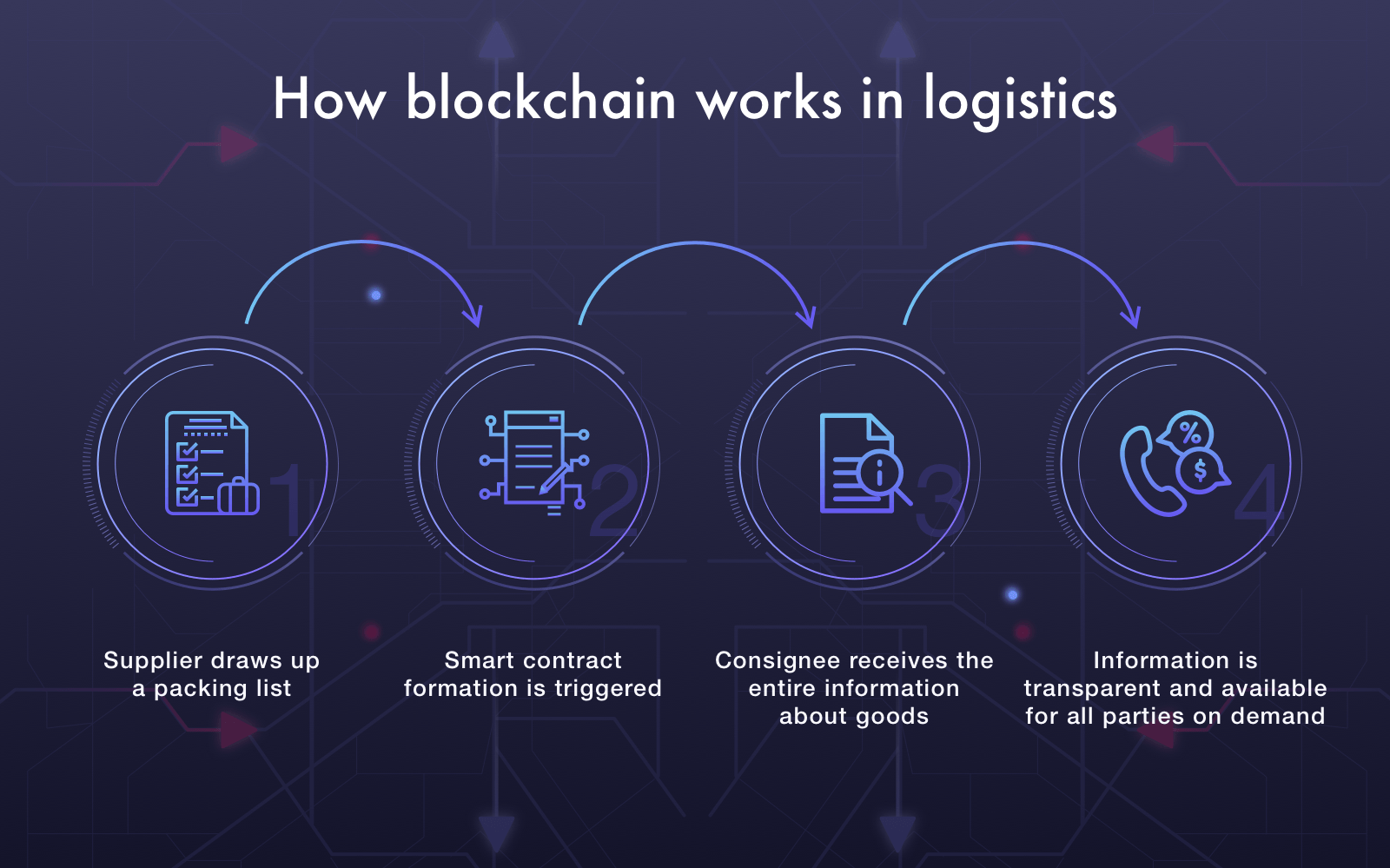 The way blockchain functions in logistics
Applying blockchain in logistics, a supply chain will be modified in the following way:
#1. Supplier draws up a packing list that becomes available for all participants of transportation;
#2. This action triggers the formation of the smart contract that is sent for the reconciliation between three agencies;
#3. Meanwhile, the information about verification of products, loading of the container, approval from a custom house is sent to the destination place, so consignee sees the entire information;
#4. As a result, all activities with documents and goods are committed and free-for-all. The entire information about documents, where goods are located right now, who is a responsible person, and so on.
So, blockchain in the supply chain modifies this process drastically.
Blockchain is similar to container
Half a century ago, a container for transportation has got it's universal shape and since then the intermodal container can be used both for a ship, train or truck transportation. Thus, intermodal container created a protocol for the transportation field, and changes were really revolutionary. The same revolution new digital protocol may bring to the logistics. As a transport container, blockchain in transportation can make all procedures more efficient, standardize cargoes transfer and make it possible for consignee and shipper to track their cargo in a real-time mode.
Many large companies that are engaged in cargo transportation area joined BiTA (Blockchain In Transport Alliance). The goal of this alliance is to create standards for blockchains in the field of transportation. These companies acknowledged that blockchain has a great potential and viability.
Reasons why blockchain should be adopted in logistics
The main advantage of blockchain technology integration lies in the optimization of processes in a real-time mode. Blockchain should increase the level of trust between shipper and consignee, and the decision-making process can be simplified since all parties have constant access to the information.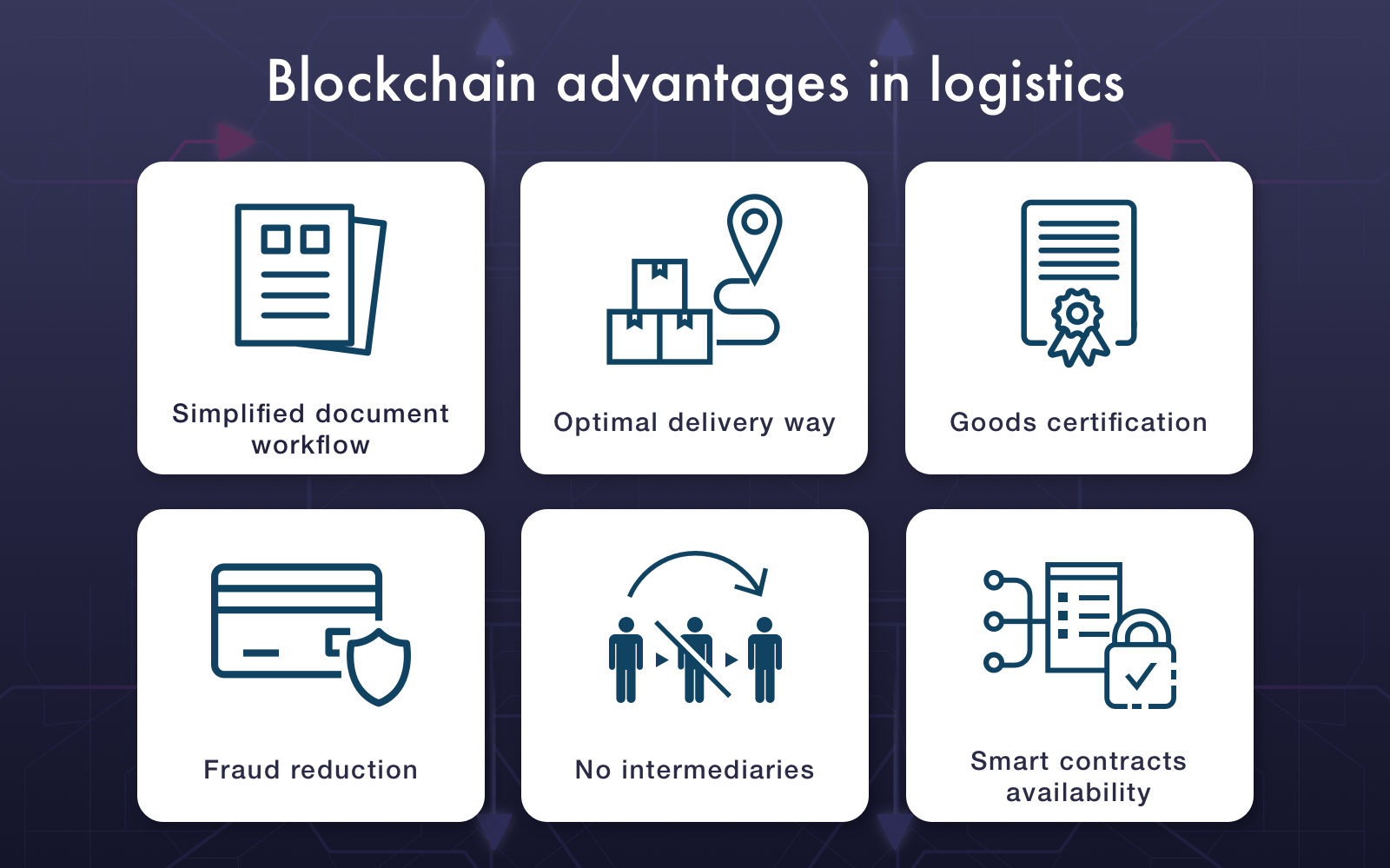 Benefits of blockchain in logistics
Simplified document workflow
One of the main element in the transportation is a bill of lading (B/L). It is an agreement where the entire information about the terms of transportation, conditions and other important details is indicated. Using blockchain, all steps starting from documents signing to the cargo delivery will be recorded to blockchain. The system is transparent and all participants can monitor the chain of cargo transportation. If something goes wrong, recorded data in the system will show all problems. Using blockchain, transportation area will be provided with new additional capabilities.
Flexibility in routes
Route efficiency and quick delivery of cargo become possible due to the decentralization. Smaller companies can compete with giant companies which often offer inefficient and long routes, and smaller companies can offer a faster and more profitable route to accelerate cargo delivery. Blockchain in logistics also facilitates the decentralization of the market. Thus, costs reduction and decentralization will ensure larger flexibility of the transportation area.
Goods certification
Blockchain is also important for goods certification. Together with IoT, technology will be able to automate the certification process, enhance unauthorized access protection, and so on. Smart contracts will ensure timely delivery or funds will be returned back or goods will be replaced.
Fraud reduction
All transactions that are made on blockchain become available for everybody who is taking part in this deal. It is impossible to remove or change something secretly, everything is transparent. So there is no a single chance for fraudulent operations. That is why light-fingered brokers will have to quit and stop their unfair games.
Intermediaries elimination
Intermediaries always take part in the transportation chain as agents to perform additional services that remained necessary until recently. With the development of blockchain, supply chain becomes shorter, some services can be eliminated, and, respectively, some positions will be eliminated as well. It will have a direct impact on paperwork and cost reduction. And blockchain supply chain management can be simplified in a few times.
Smart contracts
The last but not the least benefit is an opportunity to issue smart contracts for logistics procedures. Smart contracts can save your time and money. Smart contracts make it possible for both parties to automate validation, monitor the fulfillment of obligations, and nobody can change it. So businessmen can order the development of smart contracts from software development companies and do their business honestly. Almost all blockchain logistics startups have integrated smart contracts feature.
So, we listed the main advantages of blockchain that logistics has, and we want to remind you that Cleveroad has enough experience in the development of blockchain software. Well, now let's proceed to use cases of blockchain in the logistics area, how your company can make use of it.
6 main blockchain use cases in logistics
It is worth noting that blockchain is a technology with a great potential, so it's capabilities will surely rise. We will show you the main application ways how blockchain can be used today in logistics, and you will see examples of how famous companies already benefit from blockchain.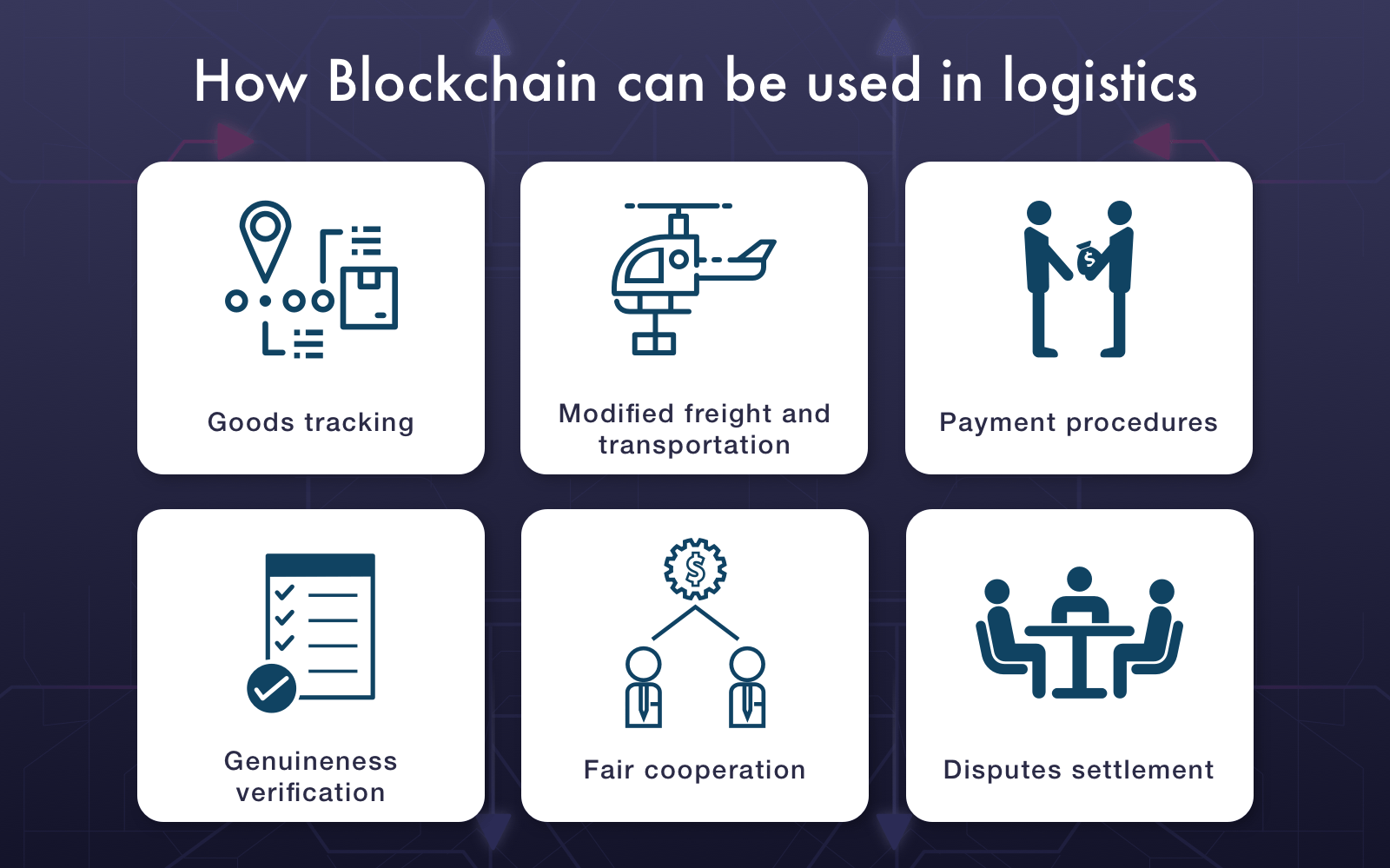 Use cases of blockchain in logistics sector
Goods tracking
Using blockchain for logistics, it will be much easier to track the movement of any goods from A point to B point and so on. Moreover, companies can not only track the movement of goods but also monitor whether everything is fine with all packages. For example, since all packages are recorded to blockchain, it will be simpler to detect if some of the packages are broken or products inside are spoilt or infected. Thus, consignee will be able to remove only broken goods. It will help decrease unnecessary expenditures.
Successful example:
Walmart retail corporation is cooperating with IBM company to integrate blockchain in logistics processes. Now they have more transparency in their supply chains. Employees of the store can now scan any products that are sold in their network, and see where that or another product came from and where it is stored in a warehouse. As representatives of Walmart say, now the process of goods tracking became much faster and it can show maximum transparency so blockchain in supply chain management gives many benefits. Thus, companies will always know what products they have and their place of origin.
Modified freight and transportation
As we noted above, the freight process can be simplified exponentially since it will eliminate the need to use many documents that were necessary before. Freight forwarding companies will be able to save thousands of dollars with the blockchain technology in logistics, and, moreover, the number of possible errors will be reduced to the minimum, delivery terms will be fulfilled more precisely.
Invoicing and payment procedures
Payment processes in any kind of business require the high level of security. That is why in logistics field payment and invoicing should have become as secure as it is possible. That is blockchain can come to the rescue again. For example, all transactions can be made with the help of cryptocurrency like Bitcoin, for example, instead of a common currency. Payment procedures become transparent and more secure, and, in addition, the process of international payments is also improved.
Successful example:
Tallysticks company has created a platform of the same name that is built on a blockchain basis and it's main goal to process invoices and payments for blockchain logistics processes. The platform offers smart contracts that can be issued and customized according to the personal needs of each user. So all logistics companies can make use of it's platform.
Do you want to see more advantages of blockchain in business? Watch our following video:
Blockchain Solutions for Business: Advantages and Challenges
Verification of genuineness
Now not only business people but also end consumers will be able to verify the authenticity of that or another product they use. Some platforms based on blockchain can provide users with a detailed information about the place of origin, quality, fineness and purity (when it comes to gold or other precious metals), and so on. Thus, blockchain also opens a transparency for consumers and creates more trust towards specific products.
Fair business cooperation
Blockchain in logistics will help divide the budget equally according to the size of each company, so expenditures will be fair. As you know, when you hire freight forwarding company, for example, to transport your goods, this company will involve a few intermediary companies to implement the transportation since there are many processes need to be accomplished. Thus, blockchain will give a fair a price both for a large and small company.
Successful example:
ShipChain platform was built one year ago and it is a logistic blockchain startup that is focused on cargo transportation and it makes possible to keep track of delivery from seller's warehouse to consignee's door. The company is already a member of BiTA and it promotes it's product for a wide use by many freight forwarding and transportation companies.
Disputes settlement
Of course, as the transportation process is long and expensive, it can lead to some disputes from time to time due to various reasons - delay of cargo, demurrage, loss of cargo and so on. As a rule, companies hire lawyers that help them settle all disputable issues that arise. But with the help of blockchain, all issues will be resolved quickly. As the process of transportation can be monitored from the beginning to the end, both parties will be able to see immediately if something has occurred and whose fault it was.
Challenges blockchain can bring into logistics
Well, there are still some dark sides that can appear if you study how to implement blockchain in supply chain. Probably, specialists will find the way how to deal with them, but today we cannot ignore these obstacles and we should take everything into account.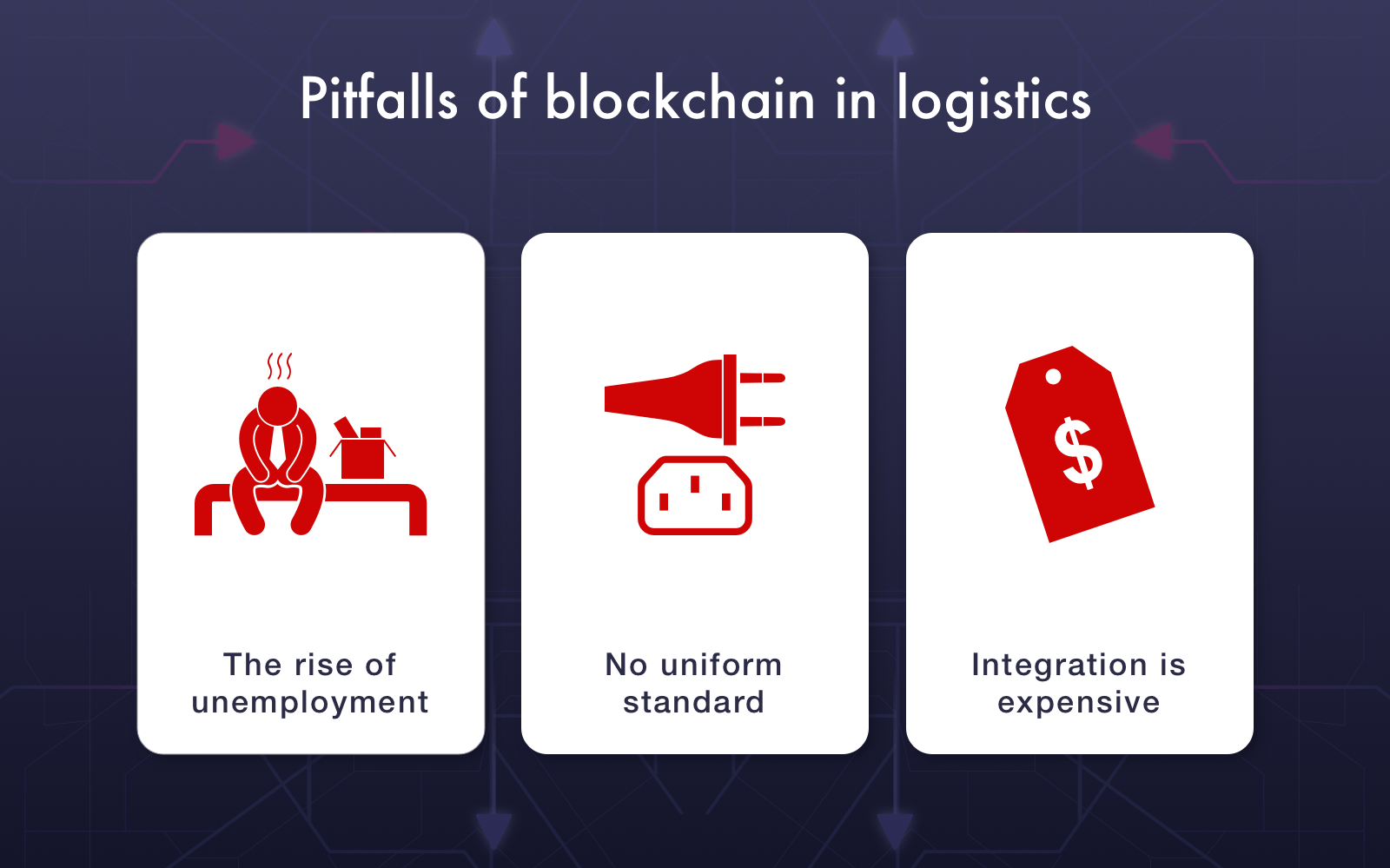 The rise of unemployment
Blockchain will make it possible to automate many processes that required human intervention before. But it can be both good and bad at the same time. Elimination of human resources will lead to the rise of unemployment in the logistics field and it will hit the world economy.
Standardization of business processes
All parties that will use blockchain in logistics should adhere to a uniform standard that is absent for today. And that is why it is highly necessary to build one standard on the governmental level and make it uniform, since lack of standards nowadays may lead to additional problems and discrepancies.
Integration cost
We stated above that the use of blockchain will lead to the cost reduction in the drawing up of many documents, but to integrate blockchain technologies you will need to spend a lot of money. Apart from the development of necessary software, you may need to use high-quality hardware. Also, companies will need to hire a specialist who is skilled in blockchain or they will need to teach a specialist, it also requires money.
How Cleveroad can help you
Probably, when you read this article, you may have come across a thought - what should I start with to integrate the blockchain in my logistics business? Well, this is where Cleveroad can help you.
First, we can build smart contracts for according to your requirements. You can follow the link and read more about smart contracts. Our developers can help you integrate necessary features and create a decentralized ecosystem entirely for your business.
Second, our development team can create cryptocurrency wallet app and use it in your transportation business or any other business type. However, using cryptocurrency in logistics, you can make the payment process more transparent and secure.
In fact, to integrate blockchain in logistics industry, it is necessary to hire an experienced logistics software development company since it is impossible to start integration without proper software. At the same time, blockchain integration will help do your business more efficiently in the future.
Anyway, if you still have lots of questions, drop us a line and we will answer them immediately! Subscribe to our blog, the button is on the right side, and you will not miss other interesting news. Stay tuned!
Frequently Asked Questions
Blockchain in logistics can bring numerous advantages. Here's a short list of blockchain benefits:
Simplified document workflow
Flexibility in terms of routes
Foods certification
Fraud reduction
Intermediaries elimination
Smart contracts
Blockchain in logistics has a lot of use cases. Companies can use to optimize routes, reduce paperwork expenses, and improve the cooperation quality between parties.
CargoCoin is a bright example of Blockchain in logistics. CargoCoin replaces physical paper documents with smart contracts and proves secure payments. Basically, it's a smart contracts platform that implements cryptocurrency for approving documents and securing transactions.
Here are the well-known companies that revolutionize the logistics industry with blockchain technology:
RoadLaunch
CargoCoin
Bonafi
QUASA
Curv
Blockchain makes all logistics processes more effective and transparent. Blockchain improves cargo tracking, contract handling, payments, and other logistics-related operations.
Smart contracts is one of the best blockchain-based technologies for logistics. It simplifies paperwork and makes logistics contracts more transparent.
Rate this article!
1822 ratings, average: 4.80 out of 5
Give us your impressions about this article
Give us your impressions about this article