The Essence and Importance of Digital Transformation in Supply Chain Management
The supply chains (SCs) are getting complex requiring more organizational and management flexibility. Such an aim may be gained by business flow automation which can be given by digital software for complex control.
This article will discuss the supply chain digital transformation: namely, how to optimize SC operations and make them more beneficial with the help of specialized digital solutions. Moreover, you'll get to know more about why the businesses choose digitized solutions, what are the crucial advantages of such a choice, how to prepare your SC for digitalization, and many more necessities.
What is Digital Transformation in Supply Chain?
Every business that wants to be scalable and efficient should work on their logistics and supply chain management issues. This strategy allows entrepreneurs to get more income and customers loyal to their particular items and services. How to gain that? Let's start sorting it out from the very beginning to understand the digital transformation value chain of supplies requires.
The supply chain is a combination of various activities (such as inventory, production, capacity, or distribution running), resources, data, and staff necessary in transferring product from the manufacturer to the end user. The suppliers, managers, and different mediators are the very people who help the item move on the different parts of the supply chain.
Such a chain of supplies is necessary for almost every business. That's why Nadia Kassam mentions the following:
Nadia Kassam

Supply Chain specialist at Sobeys

Supply chains are in every organization. Even a cornerstone has a supply chain. They just might not know it yet.
However, an SC cannot be versatile and appropriate for several items. Each time the businesses launch new products, they also need to establish a new supply chain. Here is the problem: how to optimize such a flow? How to make the product quicker pass through the different SC parts? The Supply Chain Management (SCM) digitalization comes to aid and solve the said issues.
The supply chain digitization is an SC performance increase through the use of innovative digital technologies that will boost the manufacturing, inventory, warehousing, and other business flows, making them more flexible, comfortable, and straightforward. For example, Bluetooth Low Energy (BLE) asset monitoring may offer real-time location updates, even when freight is in route.
Supply chain management digital transformation is quite an in-demand thing these days. So, let's look at statistical sources to ensure. Gartner says that about 40% of companies are making enhancements in SC flows nowadays. Though this percentage will increase till 2024, half of the companies using supply chains in their everyday businesses will make more investments in advanced analytics, AI, and other technologies that will allow their flows to reach a new level.
What were the reasons that aroused such an interest in digital technologies in logistics and supply chain as well as in other business domains? Another Gartner research remarks that the world COVID pandemic was one of the first problems, making about 70% of companies digitize their essential business processes, constructing them as more valuable and practical.
Solving COVID issues also implies personnel reskilling and retraining. E&Y survey proves that 61% of the asked company owners are going to do that with the help of digital solutions. Moreover, digitalization will help businesses make their supply chains more transparent, sustainable, and effective.
The Advantage of a Digital Supply Chain Over A Traditional Model
It's high time to find out more reasons to apply to SCM digital transformation. For this purpose, we'll look at it in comparison with the traditional supply chain model.
The Digital SC vs. The Traditional One
To begin with, the traditional SC is typically a static object while the digital supply chain is a dynamic and quick one. Moreover, traditional chains for supplies function according to historical transactions as the basis of their operating rules. In contrast to them, digital supply chains can easily adapt to the current situation (e.g., pandemic, political instabilities).
The modern digital SC is a client-oriented one considering consumers' needs and requirements, when the traditional chain for supplies operates being focused on manufacturing and provision. Furthermore, they lack smartness to quicker find significant operating errors and enhance time-to-market indications.
Other usual drawbacks of the traditional supply chain are the following:
It has a negative influence on ROI
The flows suffer from the absence of the real-time data
The traditional SC lowers the quality of the decision-making process
It also has limited visibility
The traditional chain of supplies offers higher prices of the sold items and lower incomes
Let's find out what benefits the modern digital supply chain can offer businesses to efficiently produce, store and transport the ready-made items.
Digital Supply Chain's Major Advantages
Value chain digital transformation acts using the cutting-edge technologies (e.g., AI, ML, Natural Language Processing, IoT). That circumstance provides business owners with the opportunity to use more predictive analytics, facilitate and optimize the essential processes related to product creation and shipment.
The other major advantages of your business enhancement through a digital supply chain integration are given below.
The most essential benefits of the digital SC utilizing
Cutting operational costs
Digital transformation in logistics and supply chain provides modern and in-depth data concerning flow conditions, needs, and demands to the managers and other SC participants. Consequently, inventory, forecasting, operational logistics, and other processes may be performed as efficiently as possible, which leads to saving expenses and increased profit.
Quick access to innovations
AI, VR/AR, IoT, and various other technologies allow businesses to detect potential flow bottlenecks and avoid them. Moreover, innovations use helps the SC participants to boost their return on invention and reduce the item's time-to-market.
Routine flow automation
SC paperwork earlier taken a lot of time can be eliminated because of the digital supply chain implementation. Instead, easy access to data is given to the entrepreneurs in real-time thanks to instruments like IoT sensors, for example.
Enhanced visibility
This feature helps both the clients and manufacturers. With more performance data on the suppliers' activity, the companies will be able to detect any flaws and fix them quickly. Furthermore, the businesses will better realize the consumers' needs and enhance the quality of customer service.
Better links with data sources
These days, the IoT technology is the major one helping to enhance the digital supply chain: more effective goods transportation, flow enhancements, and preventive measures for product maintenance are all available due to the Internet of Things. This innovation heavily depends on the data exchange, and the connected gadgets may assist in increasing the information interchange.
The flexibility of the processes
When a company centralizes certain operations using a digital supply chain, it gains significantly from increased value through improved quality and productivity. Given the varied local labor costs and productivity levels across sites, management has more discretion with a digital operating model to select the proper level of centralization required to enable specialization or reduce process costs.
Take advantage of your supply chain
Cleveroad will tell you how to get your company to a new level with the digitized SC solution!
We've enlisted only the most essential advantages of modern supply chain use for businesses. Let's continue talking about what is digital transformation in supply chain, why it's beneficial and what technologies are used for gaining these benefits.
Where is The Supply Chain Digitization Heading?
The changing circumstances make the entrepreneurs look for different ways to optimize activities on various parts of the supply chain. Let's talk more about the digital SC optimization trends that allow the participants to benefit from supply chain use as much as possible.
Digital transformation in supply chain management: the essential trends to use
Circular supply chains gain more popularity nowadays as the government policies prepare stricter rules as to the garbage disposal and recycling, and oblige businesses to comply with them. This trend is twice beneficial because the businesses using such chains are rewarded for their efforts by the state. These businesses will also have fewer expenditures on raw materials, which lowers the danger of price fluctuation and make the products more eco-friendly.
Various integrations are helpful for freighters to transport their items by water and land. Thanks to them, delivery times are reduced and customer experience grows better.
Thus, the companies will use more third-party logistics (3PL) services to increase the effectiveness of their supply chains. The 3PL-based chains of supply may improve freight management and order performance. Furthermore, the digital products using 3PL technologies may also be connected to cloud systems with the help of the shipping APIs (or other API supply chain requires) which assist companies to get to a completely new level.
Elastic logistics assists companies to make their SCs must be adaptable and able to respond to changes in the market. Moreover, an elastic logistics strategy enhances routes, sailing schedules, and so on. It also makes the supply chain expand or decrease simpler in response to market needs. Thanks to technology like artificial intelligence, supply chains may be changed as needed with minimum disruption.
Blockchain technology may assist increase transparency throughout the whole supply chain, reducing interruptions and enhancing the consumer experience. The whole supply chain may be connected onto a single platform using blockchain. This platform can be used by different SC participants (such as service providers, carriers, or forwarders) to offer customers more information about the product condition and location.
The inside data is well protected by Blockchain because of the technology's decentralized structure, which prevents data from being changed. Before any modifications or changes to the data are put into effect, all users must consent.
Artificial intelligence (AI) in logistics and SC may be used by businesses to manage inventory, predict demand for purchases, and identify supply chain patterns. The uncertainty associated with planning and purchasing is removed since planners no longer need to do the same calculations repeatedly.
AR and VR provide a variety of possible solutions to improve the efficiency of digital transformation in the supply chain. For instance, AR technology helps workers multitask better. By considering possible product usage in a real-world setting, firms may utilize these technologies to enhance their product development procedures.
Eco-friendly logistics is one of the numerous supply chain developments that influence warehousing. For example, energy-efficient warehouses have sophisticated energy management systems that employ timers and meters to track how much power, heat, water, and gas are used throughout the buildings.
Businesses that make sustainable initiatives like eco-friendly logistics measures stand to benefit more financially and in terms of client loyalty. After all, more than 60% of consumers are okay with paying more for sustainable goods. More businesses are anticipated to employ eco-friendly supply chain procedures in the next few years as green consumption continues to grow.
We'll provide you with some examples of digital transformation in supply chain by world-known companies that use the SC digitization trends and only benefit from this.
Levi Strauss
Levi Strauss, the clothing manufacturer, closely collaborated with Intel to develop a digital product to control the number of goods at the brand stores for forecasting a short supply and timely restocking. The created system contains RFID sensors gathering information, a filtering gateway and a Trusted Analytics Platform (TAP) working with big data analytics.
PepsiCo
PepsiCo, a prominent food and beverage manufacturer, prepared an AI-driven Snackbot robot. It transports snacks through the University of Pacific campus after the students leave orders in the company's mobile application.
Golden State Foods
One of the largest US beef suppliers called Golden State Foods participated in the creation of a meat quality system for their company. Such a system controls the meat condition from the farm to the end consumer via the RFID tags (to monitor the production location) and the IoT sensors (to track the meat temperature). The Blockchain system helps to transfer the said data to the restaurants. In the future, the consumers will be able to know info about the meat quality which will increase their trust in the delivered product.
Digitization of The Supply Chain: Preparation Steps
Modern SC is a diverse one containing many different processes. That's why you should be accurate when conducting digital supply chain transformation. We've prepared a bunch of essential steps you should follow to obtain an optimized SC result for your business.
Essential steps to digitize your supply chain
Evaluate the system you use for today, defining demands and resources needed for SC digital copy creation. What other points should be analyzed? They are the following:
The current working process of your staff
The systems and tools that you typically apply to (as well as the related issues)
The ways your team adapts to changes
These points' analysis will help you gradually transfer to a digital SC use. Moreover, you'll define the problems you may face after digitizing your chain of supplies.
Identify requirements and modules you'll need to organize the digital supply chain for your business. After you understand all the gaps of the current SC system, it'll be easier for you to organize the digital one. It may include the following points you must think out:
Modules essential for planning, manufacturing and shipment
Resource running areas
Tools required for your digital system management, and links between the used tools
Keep in mind that such an identification will be better if you apply to an experienced logistics software development company who will sufficiently care about all the components your future digital SC should have.
Choose the ways of data gathering and processing. Ask yourself, whether your existing solution can efficiently deal with data generation/collection and system analytics. The information should be easily accessed to be further used for valuable insights.
Supply chain analytics — everything you should know about is gathered in our article! Check it and increase your knowledge!
Care about flow unification. Streamline essential tasks like demand forecasting and planning, inventory management, warehouse management, and logistics by using the increased transparency of a unified digital SCM platform. Enhancing visibility for all roles and processes throughout the extended supply chain is the main goal here.
Think out transitional policies for your upcoming digital SC. You must prepare stringent rules that may define your future supply chain functioning mechanisms. They should be strictly followed for a proper work of your SC system, and timely updated. If you need to know more about them, you can contact the skilled IT vendor who'll give you an in-depth consultation concerning the policies you must care about.
Train your personnel to use the digitized chain of supplies. The supply chain may stay useless even with the innovative implementations if there would be no personnel capable of using the upgraded system. That's why, planning your upgrades for digital transformation in supply chain & logistics, you should also think about how to make the integrated technologies understandable for your working staff and comfortable for the equipment the company has got.
Need logistics and SC app development for your business? Read our guide on logistic app development to properly understand how it is performed.
How Can a Software Vendor Help Digitalize the Supply Chain?
The SC digitalization is appropriately gained by creating a powerful customized software deeply integrated with the internal business flows. Such a thoughtful integration may be achieved by a certified software development provider. The below reasons will assure you why such cooperation will be beneficial and supply chain and digital transformation issues will be properly solved.
Why is it essential to collaborate with IT vendor to digitize your SC
The provider will offer you quality software fitting your supply chain business demands. Moreover, the created digital product will be cost-effective and sustainable, because it'll be built regarding all the market requirements.
You'll be able to obtain accurate advice as to SC modules or a functionality list from certified experts
Your new digital system will have enough scalability. Moreover, it'll be well maintained and timely bug-fixed.
You'll be able to become a participant in a top-class development process, monitoring the flows and approving the finished parts of the project.
IT outsourcing is the perfect way to obtain all the said benefits, as it can offer an ideal quality to price ratio that will be enjoyed by all the supply chain participants. All you need is to find a certified software development provider with a deep expertise in logistics and SCM. Cleveroad is the very candidate fitting the said requirements, and below we'll tell why.
Cleveroad as a Reliable Assistant in SCM Digitalization
Cleveroad is the professional outsourcing IT service vendor with headquarters in Estonia. Our broad range of IT services and cutting-edge solutions help the startups, SMBs and large corporations to perfectly gain their needs, competitive advantages and increase workflow effectiveness.
We also have proven software development experience in several business domains. Logistics is one of them. Thus, our software solutions and mobile apps like SCM, LMS, TMS or ERP reduce operating costs, enhance supply chains, and improve processes for cargo delivery, shipping, and warehouse automation process, among other things.
Working with us, you'll gain:
A cutting-edge SCM solution developed with the help of the perfect tech stack
Building software from scratch, upgrading and legacy systems modernization
An additional consultation as to your project with one of our specialists (BA or PM)
Rough project estimate from the Sales team
Non-Disclosure Agreement (NDA) signed on-demand
A knowledgeable team of agile-minded professionals that will bring your project into life
Certified QA engineers performing product quality assurance and control at all the building stages
Post-release maintenance, support, and promotion for our clients, etc.
It's not even the full range of privileges you'll obtain starting collaboration with us. What else? Let's begin our digital value chain transformation project together, and you'll get to know everything as soon as possible! Facilitate and optimize your supply chain operations with the effective software from our IT experts!
The Future of SCM Digitalization — What to Expect?
Analyzing the tendencies of modern digital solution development for these days in logistics, we can see that the digitalization is the inevitable present of those companies who want to stay at the technological cutting edge leaving the competitors far behind.
Moreover, the near future will only increase the role of Blockchain, deep data analytics, IoT and other SCM innovations. That's why businesses should start delving deeper into them without hesitation.
Frequently Asked Questions
To answer this question we'll start with the supply chain definition.
The supply chain (SC) is a combination of various activities (such as inventory, production, capacity or distribution running), resources, data and staff necessary in transferring product from the manufacturer to the end user. The suppliers, managers and different mediators are the very people who help the item move on the different parts of the supply chain.
The digital supply chain efficiency is increased by a unique IT solution that helps all the SC participants manage the activities performed.
The supply chain digitization is a SC performance increase through the use of innovative digital technologies that will boost the manufacturing, inventory, warehousing and other business flows, making them more flexible, comfortable and straightforward.
The changing circumstances make the entrepreneurs look for different ways to optimize activities on various parts of the supply chain. So, the following trends will be essential to make the digital supply chain modern and fitting to the needs of these days' companies.
Circular supply chains
More integration
Elastic logistics
Blockchain
AI, AR/VR use
Eco-friendliness
Analyzing the tendencies of modern digital solution development for these days in logistics, we can see that the digitalization is the inevitable present of those companies who want to stay at the technological cutting edge leaving the competitors far behind.
Moreover, the near future will only increase the role of Blockchain, deep data analytics, IoT and other SCM innovations. That's why businesses should start delving deeper into them without hesitation.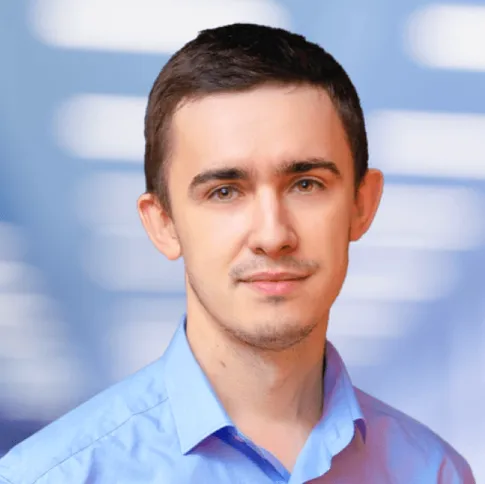 About author
Evgeniy Altynpara is a CTO and member of the Forbes Councils' community of tech professionals. He is an expert in software development and technological entrepreneurship and has 10+years of experience in digital transformation consulting in Healthcare, FinTech, Supply Chain and Logistics
Rate this article!
999 ratings, average: 4.71 out of 5
Give us your impressions about this article
Give us your impressions about this article