Freight Management Systems: How They Help Improve the Transportation Business
Every day millions of diversified freight move around the world, but how would you know you've picked the most efficient way to move it? The flow of digitalization and specialized software implementation can help you address this concern.
Freight management software is a beneficial solution for freight and transportation companies to improve cargo planning, optimize shipments for cost-effectiveness, simplify the RFP process with carriers, and automate document flow. The freight management system market is projected to reach $17.45 billion by 2023, so you have considerable opportunities to make money quickly. Growing transportation challenges, an increase in global trade, and rising logistics costs only reinforce the need for digitized solutions in the freight industry.
This post will discuss the essence of the freight management systems and how to bring added business value through their implementation.
What Is Freight Management System and How Is It Used?
Freight Management System (FMS) stands for the robust platform that allows the user to address critical tasks referring to freight movements. It's built to help transportation companies automate and optimize the shipping process, track deliveries, compare the carrier rates, search all transportation modes, and elude the endless paper trail.
Soren Skou

CEO of A.P. Moller-Maersk

When we talk about 'smart transportation,' it is more than moving cargo from A to B. Digitization within transport and logistics means seamless service to our customers, visibility in the supply chain, and driving a more efficient business.
As a part of logistics flow, freight management covers the whole supply chain process from warehousing to inventory management and client network collaboration. But what is freight management system and which operations does it handle? Here are some of them:
Carrier selection. If you work with a third-party carrier, you need to choose the best deals in terms of rates, terms, and expectations.
Documentation and regulations management. This comprises preparing the needed paperwork, insurance management, and ensuring that shipments are compliant with local and international regulatory standards.
Route optimization. Find the cost-efficient route, pick the appropriate transport mode(s), assign vehicles and drivers, and tune the load.
Tracking freight. This engages ensuring in-transit load visibility and transparency via cargo monitoring.
Data analytics. Acquire insights from gathered data and streamline the shipping process.
Freight management process overview
In addition to optimizing supply chain operations, the freight management platform provides smooth connections between key stakeholders: shippers, freight forwarders, carriers, and receivers. Generally, the system is connected to ERP (enterprise resource planning) from the inside and linked to carriers from the outside. Here's a standard scheme on how it works:
When you have items that need to be delivered, the system generates a pickup request. Some queries are scheduled upfront and some work on a one-time basis.
The system then displays a list of suitable and available carriers depending on defined parameters. You can select the carrier manually or allow the program to auto-pick the best deal.
The forwarder/shipper can then verify if the carrier is available and book the load and pickup time.
A shipper or a broker gets information about the distribution of cargo, assigned carrier, and vehicle, affirm it, and the carrier signs the (digital) bill of lading.
A shipper can monitor the freight on the route and submit this information to the client in real-time.
After the consignee assumes the cargo, the trucking agency is invoiced for its services.
How Can FMS Optimize Freight Management?
Freight management software will be advantageous for transportation companies as it increases the entire logistics system productivity. We'll outline the key reason why you should create a freight system and implement it into your business workflow.
Improved compliance
Compliance with regulations is critical in the logistics industry, and non-compliance can result in fines, penalties, and delays. FMS can help businesses ensure compliance with regulations by automating documentation, providing visibility into freight operations, and monitoring compliance requirements. This can help businesses avoid costly mistakes and improve their reputation in the industry.
Reduced risk
Freight management involves a certain amount of risk, such as theft, damage, or loss of goods. FMS can help businesses reduce these risks by providing real-time tracking and monitoring of shipments. This can help businesses quickly identify and resolve any issues that arise, reducing the likelihood of financial losses.
Improved collaboration
Collaboration between stakeholders is essential in the logistics industry, and FMS can help businesses improve collaboration between their internal teams and external partners. FMS software can provide a central platform for stakeholders to communicate, share information, and collaborate on tasks. This can help reduce the likelihood of miscommunication and errors, improving the overall efficiency of freight management.
Enhanced analytics
FMS software can provide businesses with access to data analytics, allowing them to identify trends, patterns, and opportunities in their freight operations. This data can be used to optimize routes, reduce costs, and improve the overall performance of freight management. FMS software can also provide businesses with real-time alerts and notifications, enabling them to quickly respond to issues or opportunities as they arise.
Greater flexibility
FMS software can provide businesses with greater flexibility in managing their freight operations. FMS can help businesses adjust their operations in real-time, allowing them to respond quickly to changing market conditions or customer demands. FMS can also provide businesses with the ability to scale their operations up or down as needed, reducing costs and improving efficiency.
How Can FMS Be Deployed in a Logistics Company?
Freight management software can be presented as a standalone solution (SaaS platform) or part of a transportation management system (TMS). Shippers often rely on transportation management software to book carriers, trail shipments in real-time, auto-reconcile freight invoices, get valuable insights based on thorough data analysis, etc. In this matter, the system acts as one of the TMS modules addressing all the logistics management-related issues. Meanwhile, carriers tend to apply dedicated SaaS (Software as a Solution) platforms for dispatching and optimizing routes. Such solutions can also be of benefit to retailers, distributors, and manufacturers.
Freight management software as SaaS is a cloud-based solution that helps users streamline freight delivery operations with multiple digital solutions. These systems can be employed to set up FLT (full truckloads shipping), LTL (less-than-truckload shipping), multimodal, intermodal optimization, and other services. The freight management app itself came as a much lower logistics solution than purchasing full-fledged TMS systems. An investment in a standalone freight management program is a beneficial idea for small and medium organizations to eliminate the hassle of some logistics-related processes, such as:
Freight planning
Coordination between stakeholders,
Regulation compliances
Claims management, etc.
In turn, the transportation management system is an end-to-end solution that works perfectly for enterprise-level logistics companies to manage different stages of the supply chain: from route planning to fleet software management and driver control.
Now, let's see how the freight management system interacts with supply chain participants.
Shippers
The essence of freight management is the freight planning, from tender management to the last settlement with the freight carrier. The shipper carries inbound and outbound freight movements into its FMS to provide the most transparent supply chain data possible. In some cases, the shipping companies can outsource the freight management to the logistics service provider (LSP).This way, LSP handles the shipper's carrier contracts on its behalf. At the start of the freight management program, the shipper executes an RFQ (request for quotation) to negotiate the motor vendor's capacity and price. Then, when a load is booked, the shipper can bring information on documents to the FMS system.
Brokers
You can also involve mediators - freight brokers and freight forwarders - to connect with carriers and help settle the transportation. Freight brokers don't actually interface with shipments; they're responsible for managing carriers. Freight forwarders (you can create freight forwarding software to simplify their job) are also actively engaged in load management, warehouse management, and paperwork preparation. Freight management system software makes it easier for brokers to select the best trucking company for each shipment and ensure that all documentation is fulfilled correctly.
Carriers
Whether you use your own fleet or rely on third-party multimodal carriers, a separate FMS mobile application is required. It enables direct communication of " shippers-carriers " and allows the latter to respond to tender shipment queries and report in-transit freight status in real-time. The remote interface is especially vital for the shippers that deal with small trucking companies that don't depend on EDI (electronic data interchange) systems.
Once booked on a cargo, carriers can interact through the FMS app to submit pickup and delivery status updates. Then, linking this data with their own networks, shippers can transfer real-time information directly into their freight management systems. After that, the load is moved from the warehouse to the back of a truck to the end customer.
How stakeholders interact within FMS system
Key Modules of the Freight Management System
Freight management software typically functions to optimize freight transportation. Let's find out what key modules are required for this purpose.
Real-time freight tracking
The freight management program enables tracing and controlling in-transit cargo in real-time mode. This has been achieved by applying specific identification numbers that detail the nature of the goods. This module aims to make delivery more transparent, allowing you to track all the freight journeys at any given time. It enhances control both over transported goods and carriers.
Documentation and regulations management
The transportation industry is firmly regulated and deals with loads of paperwork. The FMS lets shippers enter information on papers, download, email all the needed documents, as well as process claims. The system also involves interfaces for data capture and document sharing to ensure the transported items are compliant with government regulations (including cross-border compliances).
Carrier & modal solutions
The freight management platform allows shippers to choose the proper carriers and facilitators (freight broker and freight forwarder) according to their price and service availability. The relationship between shipper, carriers, and forwarders are also managed within the FMS system. Additionally, based on the shipper's total volume and delivery requirements, the FMS system determines the best possible transportation mode to cut freight costs.
Shipment management
Shipment management is undertaking the process of moving the shipper's freight. This scope of work comprises order management, load planning, appointment scheduling, and event & exception management. Shipment management also implies identifying any disruptions that may put off delivery. In this case, the notifications are sent to any participants who can be impacted by the delay.
Business intelligence and reports
Analytical reports stand for one of the most straightforward ways to comprehend and share critical data. By implementing business intelligence and reporting tools, shippers will be able:
Trail carriers' KPIs and pick the better-performing partners.
Determine customers' patterns and adapt delivery schedules according to them.
Compare the costs of different shipping options and select the cost-efficient one.
Allocate warehouses relying on GPS data from arriving trucks, etc.
Thus, freight management software has to include conventional reporting tools, such as graphs and dashboards, special maps for shipping trend visualization, etc.
Freight audits and payment services
Once freight and transportation invoices are recorded into your accounting system, they go through the verification procedure. After auditing, the invoices are paid. Payment gateway integration will allow your clients to carry out online payments for shipping services. You can use such gateways as PayPal or Braintree to process your freight management system transactions.
Key functionality of freight management software
Notice: Each module consists of various features. The number of modules and features can vary depending on the business-specific tasks and needs. You can book a meeting with our Logistics experts to define the feature set tailored to your transportation needs.
Freight Management System in Action: Solution Demo
Planning to build your own freight management system, you probably want to see it in action to get a sense of its capabilities. Our team has designed a demo version of the solution, so you can see how the software for freight management works.
How to Implement FMS in Your Business to Get the Most Out of It
After you've figured out how your company can win from freight management solutions, the next question arises: "How to develop and implement it into business operations?" We've prepared a step-by-step approach to software implementation success.
Establish Business Strategy
Firstly, you need to define your product's requirements and business goals: what business challenges you want to solve. For example, you want to increase transparency throughout the freight movements to have better control of assets. Or you may need a unified communication platform for all stakeholders. Understanding what business issues have to be addressed would set the direction for further development.
Assembling Project Requirements
This phase is also called the Discovery Phase. Logistics Business Analysts scrutinize your business needs, user and tech requirements. After all the input data is examined, BA draws up the detailed project specification along with a clear development and implementation plan. This document details all the system peculiarities, like features, tech stack, shipping API integration, etc. You should also select software architecture based on your platform and non-functional requirements. Since logistics solutions relate to complex interconnected systems, it's oftenly better to implement microservices architecture to be able to scale your app up and down depending on your requirements.
Development and Integration
During this stage, the team of software developers builds a backend and frontend of your platform as well as a mobile application for drivers and logistics managers. Mobile apps are useful both for transportation companies and end customers. For example, it may include functionality, allowing freight agents to use a digital footprint to any freight item through checkpoint scan or the ability to receive clients' signatures at the place of delivery.
The team also integrates necessary APIs, such as real-time shipping tracking, order fulfillment, that's a must-have for this type of software. After the freight management platform is built, it should be consolidated with key business management systems and tools, such as:
Enterprise resource planning (ERP)
Warehouse management system (WMS)
Transportation management system (TMS)
Yard management software (YMS)
Route optimization tools
Business intelligence tools
Merging different pieces of software into a unified system will allow you to centralize and interlink all your supply chain functionality and tools. This will enhance workflow efficiency and avoid disruption in the supply chain while lowering the cost of shipping freight.
Maintenance and Scalability
The cooperation with your vendor doesn't finish with the final stage. Due to system complexity, it may require multi-tier technical support options and maintenance services. This work may include support for the integrated software, version updates, adding new functionality, code optimization, etc. These actions will contribute significantly to system scalability, and your app will be able to keep up with the dynamic market and changing shipping needs.
Cleveroad — Your Reliable Tech Partner in FMS Development
Cleveroad is a professional web and mobile development company from Estonia (Northern/Central Europe), helping businesses to deliver custom software solutions. With over 10+ years in software development, we have built up expertise in multiple domains, among which Logistics occupies a leading position.
Our team has in-depth competence in the creation of Logistics Management Systems, like Transportation Management System (TMS), Supply Management System (SCM), Enterprise Resource Planning (ERP), and other custom logistics software. We start cooperation with in-depth business analysis to guarantee you concrete business values and high-quality outcomes.
Collaborating with us, you'll obtain:
In-depth, solid software development experience in various business fields
A consultation about your project with our Solution Architect and Business Analysts
Full-service development, including UI/UX design, cloud-based solutions, legacy software modernization, and other IT services in one place
Signing Non-Disclosure Agreements (NDA) per your request
Innovative development approaches and a cutting-edge tech stack
Flexible cooperation models: dedicated team, fixed price, time & materials
Our team has built and released many software solutions for logistic companies for this time. One of the latest cases is the transportation management solution for logistics company. The platform has a built-in automated route planning module to cut costs on planning, optimize fuel management, and create an organic and coordinated logistics ecosystem.
TMS interface designed by Cleveroad
We've successfully delivered end-to-end TMS, including the following modules (but is not limited to them):
Fleet management module
Helps the company track and manage fleets. For example, fleet managers can create a group of vehicles utilized in transportation flow and modify it due to changing business processes.
Delivery points management module
Allows TMS users to determine everyday work location and track data changes in real-time.
Access system for company staff
Enables access level management according to the employees' role RBAC approach.
"Jobs for delivery" module
This functionality allows integration with existing WMS and CRM systems for smooth data transmission.
Route planning mobile app
Makes it possible for truck drivers to navigate through custom routes.
Make your transportation services more effective by benefiting from our hand-on experience. You'll get a sought-after logistics solution, allowing you to increase your business performance by automating the shipping process and streamline communication between stakeholders.
Improve your freight management
Get full-fledged logistics software development services to boost your freight delivery operations
Frequently Asked Questions
Freight management system (FMS) is a platform that allows the user to address critical tasks referring to freight movements. What is a freight management system and what are its purposes? built to help transportation companies automate and optimize the shipping process, track deliveries, compare the carrier rates, search all transportation modes, and elude the endless paper trail.
Freight management system (FMS) is a platform that allows the user to address critical tasks referring to freight movements. It's built to help transportation companies automate and optimize the shipping process, track deliveries, compare the carrier rates, search all transportation modes, and elude the endless paper trail.
Freight management software will be advantageous for transportation companies as it increases the entire logistics system productivity. It allows shippers to keep all operations synchronized, improve communication process between all participants involved, increase traceability and visibility over deliveries, simplify the carrier selection, enhance data-driven decision-making, and much more.
Freight management in logistics is where a shipper employs a logistics service provider (LSP) to effectively and strategically transfer freight across its network of clients (outbound) and vendors (inbound) applying different modes of transportation, intermediaries, and technologies by using their logistics and supply chain expertise and assets.
Transportation management systems allow logistics companies to address freight transportation issues, such as cargo movements and rating, selecting the best routes or carriers, handling the payments and bills, and much more.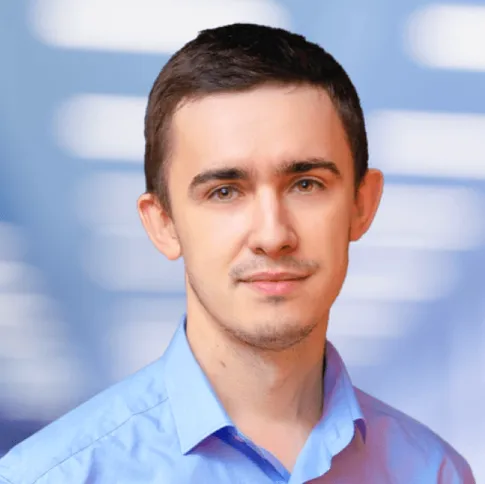 About author
Evgeniy Altynpara is a CTO and member of the Forbes Councils' community of tech professionals. He is an expert in software development and technological entrepreneurship and has 10+years of experience in digital transformation consulting in Healthcare, FinTech, Supply Chain and Logistics
Rate this article!
975 ratings, average: 4.99 out of 5
Give us your impressions about this article
Give us your impressions about this article