Last Mile Delivery Tracking Software: How to Use and What to Consider When Integrating
Companies that consider delivery an important channel are now seeking ways to make the last mile more efficient, cut costs, and enhance profitability. And this goal can hardly be achieved manually without proper technology solutions. And one of them is last mile delivery software.
In this article, we'll discuss why businesses need to center on last mile delivery and how final mile routing software will help boost companies' efficiency.
What is the Last Mile Delivery and Why Focus on It?
Let's discuss what the last mile delivery is all about and its importance for businesses.
Last mile delivery stands for the last leg of transportation to the final recipient. Once a consumer places an order, the last mile delivery comes into play. This process implies the journey of the end product from the warehouse to the customer's door. It comprises different transportation options – by foot, bike, track, or even autonomous vehicle.
Last mile services go along with potential problems, namely optimal route management, fast delivery services, real-time order tracking, transportation as sets, and more. That's why digital transformation of the last mile is a complicated and responsible matter, requiring a high level of IT vendor expertise.
How last mile delivery service works
Business roles in last mile delivery
Let's embark on this journey to discover the key players behind the scenes of last mile logistics and how they contribute to the delivery of goods to our doorsteps. From the delivery drivers who traverse city streets to the data analysts harnessing the power of information, each role contributes to the seamless execution of last mile logistics:
Roles and responsibilities in last mile delivery

Role
Key responsibilities

Delivery driver

Safety load
Transport and unload goods
Utilization of GPS and route planning software
Resolution of delivery-related issues
Communication with dispatchers
Supervisors and other team members
Vehicle maintenance

Fleet manager

Ensures that all vehicles meet safety and environmental standards
Develops and manage budgets for fleet operations
Monitors drivers safety, compliance with regulations and delivery schedules
Adjusts routes in real-time to account for traffic

Dispatcher

Assigns orders or deliveries to available drivers or couriers
Quickly responds to unexpected events or issues
Adjust routes or schedules accordingly
Ensures accurate data entry of delivery information
Ensure that drivers are complying with all regulations and company policies

Supply chain analyst

Identifies and assess potential risks in the supply chain
Generates regular reports and insights for management
Conducts cost-benefit analyses for potential process changes
Leads or participates in supply chain improvement projects
Ensuring they are completed on time and within budget

Sales manager

Identifies and prospects potential customers
Allocates sales territories and set clear sales quotas for each team member
Builds and maintain strong relationships with key clients
Stays up-to-date with the latest capabilities of the last-mile tracking app

Warehouse manager

Receiving and inspection orders
Optimizing the layout and organization of the warehouse to maximize space utilization
Ensuring the proper maintenance and functioning of warehouse equipment
Doing inventory audits

Quality assurance specialist

Evaluate and analyze existing operational processes related to last-mile deliver
Define key performance indicators (KPIs) and metrics
Analyze data related to last-mile operations to make data-driven improvements
Establish clear communication channels for customers to report issues or provide feedback on last-mile deliveries

Supply chain analyst

Develop accurate demand forecasts for last-mile deliveries to optimize resource allocation
Analyze the cost structure of last-mile delivery operations
Identifying opportunities to reduce costs while maintaining service quality
Leverage last-mile tracking apps and other technologies to improve visibility
Track shipments in real time, and enhance communication with drivers and customers
Develop processes for handling returns efficiently, including return-to-origin, recycling, or reselling returned items
How Can Software Solutions Enhance Last Mile Delivery Management?
Last mile software relates to a category of software tools that assists companies in management, tracking, and scheduling last mile delivery operations. This logistics solution focuses on the entire chain of last mile logistics, from order processing to client payment.
However, why implement final mile optimization software? There are several reasons, which stem from the main advantages for delivery companies.
Automated route planning
Manual route planning goes hand in hand with human errors resulting in delays, increased fuel cost, and improper time management. Automated route planning & optimization enables planning tons of orders in highly efficient delivery routes in a couple of clicks. With the help of routing algorithms, final mile software predefines the most cost-effective routes scrutinizing many factors such as traffic congestion, weather conditions, sudden road closures, number of deliveries on a single route, delivery urgency, etc. There is also a separate solution called route optimization software that will allow you to address all the route planning concerns more accurately.
Want to expand the functionality of the existing last mile routing software? Dive deeper into the benefits of the route optimization API as well as its benefits
Order tracking
Modern customers are impatient. As a result, they're not pleased with static tracking numbers. Last mile software will help you provide quick and transparent delivery services. Using the real-time tracking feature, consumers will be able to track their packages in real-time via their smartphones. When their orders are out for delivery, a live tracking link will be sent to them via custom text messages or emails. It will contribute to a better customer experience by giving them real-time visibility into orders and access to correct delivery ETAs.
Improved delivery productivity
Keeping track of individual drivers is relatively easy when you're a small company. But as your business scales, it becomes more complicated. The ecommerce last mile delivery software enhances productivity by ensuring drivers follow scheduled routes. It reduces the chances of unnecessary delays and sends alerts in case of contingencies like last-minute orders, changes, or cancellations. Using auto-dispatching, managers can assign couriers to orders, analyzing planned routes, GPS, driver locations, and client addresses in real-time. Also, the system considers delivery windows of each order to bring it in time. All these speed up the delivery turnaround time and low overhead expenses.
Data-driven decision making
In order to ensure you're on the proper development path, you need to collect and interpret a vast amount of data. Last mile delivery tracking software is powered by machine learning algorithms and business intelligence in supply chain management, enabling companies' leaders to make informed decisions based on data. With the help of an analytics dashboard, you can examine driver analytics and key operational metrics such as distance traveled, on-time performance, number of successful deliveries, and consumer feedback scores — which can be used to define vulnerabilities and opportunities in the last mile delivery processes.
Last Mile Delivery Solutions in Action: App Demo
Planning to build your own last mile delivery app, you probably want to see it in action to receive a sense of its capabilities. Our team has designed a demo version of the application, so you can see how the mobile app for Last Mile Delivery works
Who Can Supply Software for Last Mile Delivery
There are three approaches to final mile delivery software development: out-of-the-box software, own custom solutions, and outsourcing. Let's consider each option in detail.
Ready-made solution
A template solution is an excellent choice if you're limited on budget and want to integrate the software into the business processes as quickly as possible. However, SaaS software solutions don't always cover all the enterprise's transportation needs. That's why it's better to appeal to an experienced last mile delivery software company like Cleveroad that will help you develop a secure and scalable logistics solution fitting your business needs.
Custom solutions
Above all, adopting custom last mile software is an excellent choice to address your exclusive needs and solve business-specific problems. You can decide how your final product will look, and scale it as new tools become available. Even though some ready-made solutions enable a certain level of customization, you may find it impossible to implement with your existing system.
Here are some reasons why to choose personalized software creation:
Complete customization. Making a bespoke product implies building whatever software you like aligning with your organization's business logic, its processes, and units, including your corporate colors, icons, and unique features.
Easy integration. Even though some ready-made solutions enable a certain level of customization, you may find it impossible to implement with your existing system.
Security. Most IT companies pay close attention to software security and data safety to increase customer loyalty. Software developers can implement security features such as two-factor authentication, blockchain, ciphered data to guarantee advanced protection levels and reduce security risks. In contrast, not many software providers focus on delivering highly secure products.
Popular Types of Last Mile Delivery Solutions
Here are five popular examples of last-mile optimization software and their key features you can look at before creating your own logistics solution.
LogiNext Mile
LogiNext Mile is a logistics software solution that offers a range of features designed to optimize delivery operations. Engaging predictive analytics, the software is capable of precisely predict delivery time helping businesses to make more informed decisions.
The functionality of this solution include route planning and optimization, real-time monitoring of vehicles and deliveries, electronic proof of delivery. It's is widely used among businesses to improve the effectiveness of their delivery processes, reduce costs, and enhance customer service.
Track-POD
Track-POD refers to a cloud-based delivery and logistics management platform that helps companies optimize and automate their delivery processes and improve customer service. With Track-POD, companies can manage their orders, routes, track shipments in real time, and improve the efficiency of their delivery operations and reduce costs.
E-Courier CMS
E-Courier's is a cloud-based platform that logistics companies use to effectively track their shipments from origin to destination, ensuring complete transparency and strict accountability throughout the delivery process.
The software's integration capabilities allows smooth collaboration with partners, carriers, and suppliers, streamlining the entire processes in the whole supply chain. Also, the software supports the barcode scanning, in case it's needed to swiftly find the necessary package of even specific items. By using data and analytics, E-Courier empowers businesses to improve route planning, reduce costs, and ultimately expand their logistics operations.
FarEye
Generally, FarEye is a technology company that offers a wide range of logistic tools and even platforms for companies to simplify and optimize their delivery processes. Their platform provides features to facilitate real-time visibility of vehicle and packages, and gives an ability to integrate the software into existing e-commerce solutions and TMS systems.
Besides they engage last mile delivery AI and Machine Learning to predict delivery times and also FarEye software may be customized to the businesses specific needs and branding, ensuring personalized experience.
Last Mile Delivery Trends to Watch For
At the beginning of our exploration, let's take a look at the six key last mile delivery trends trends currently shaping the landscape of the modern last-mile delivery:
Free/low-cost delivery
Free shipping will likely remain the №1 criteria for buyers, and inexpensive delivery will probably stay the central part of the value proposition for sellers. The approach implies delivering cargo for no charge or for a significantly lower price.
Companies utilize this approach primarily for promotional purposes, providing users with the ability to get free shipping on a subscription basis. Nevertheless, this may be a powerful instrument for customer retention or attraction through conducting different ad campaigns.
Faster delivery
Next-day delivery is becoming a common standard, and that same day is limited to specific cases of use in densely populated areas (<5% of volumes).
This service usually becomes available for users on a paid basis. However, after getting the request, the company guarantees delivery within the next 24 hours, which allows users to save time and get needed cargo of items timely.
Pick Up and Drop Off (PUDO) delivery
This delivery type occupies a significant market share - most consumers will probably want delivery anyway at home, but options away from home are gaining popularity, reaching 20-30% of volumes in some markets (or more, for government intervention). This make it one of the most populer feature among all trends in last mile delivery.
The delivery approach implies sending packages to special PUDO distribution centers, like retail stores, post-offices of Bluetooth lockers, that are situated in different locations. Clients can choose the closest PUDO center and pick up the package at any time and day.
Transparency
It's definitely an important convenience index. Consumers want more transparency about their status order and making changes to the order or delivery if it is necessary.
Thanks to real-time tracking provided by multiple delivery companies, it appears possible for customers to know the exact location and status of their package. It brings not only convenience but more transparency and allows to build a stronger trust between the company and a client.
Convenience in returns
Convenience in returns sets one of the leading positions among last mile delivery trends. With the increasing trend of online shopping, customers are more inclined to initiate returns and expect their return experiences to be equally satisfactory. So companies implement new approaches, allowing customers to face fewer challenges in case they decide to return the package.
Prepaid labels. Including prepaid return labels into the initial price of shipment allows customers to return packages with no additional costs for postage
Drop-off points. These are particular local-based stores or offices where the customer can leave the package for return, with no need to go directly into the main distribution center.
Pickup services. Companies often send a delivery driver directly to the customer's address to pick up the item the customer plans to return, freeing them from the hassle of going to drop-off points themself.
Online returns. Companies provide customers with the ability to initiate returns, generate labels, or track the return processing.
Swift refund processing. By enhancing the speed and accuracy of refunding, companies can ensure that the customer receives the costs promptly, enhancing trustworthiness and convenience.
Ecology
Consumers are becoming increasingly aware of the impact of e-commerce (especially regarding emissions, congestion, and packaging) and, most likely, will interfere. Companies are more often deciding to switch to more ecologically safe vehicles mostly powered by electricity or alternative fuel, reducing carbon emissions and air pollution. Nevertheless, they try to find new approaches to optimizing routes, cutting distances to reduce fuel consumption.
There has never been a time of better change for the "last mile." Customers order more stuff online, expecting more transparency, control, and fast deliveries. Therefore, retailers and logistics providers are looking for ways to meet market demands while ensuring their businesses' efficiency. And this is where scalable last mile optimization software comes in handy.
Key Functionality of Last Mile Routing Software by Roles
Now, let's look at the must-have features that should be added to every last mile logistics software. Every last mile delivery software must address the roles of the three different stakeholders:
Consumer
Driver
Dispatcher
So, there are separate modules must be built to cater to the needs of their respective groups.
Modules for consumers
The customer side functionality is essential for users to receive insight about their packages status. Let's see the features essential to facilitate seamless user experience:
Notifications module
This functionality makes it possible to send automated alerts for users. These alerts are pointed at enhanced package delivery status tracking, providing estimated arrival time and notify users about possible route occurrences or delivery delays. The Notification module is essential for enhancement of communication between company and the customer throughout the process.
Real-time driver tracking
This feature makes delivery operations more transparent, enabling you to monitor the courier's location and progress at any given time. In addition, real-time visibility improves control over vehicles and delivery drivers, leading to enhanced efficiency, better customer service, and the ability to quickly address any issues that may arise during the delivery process.
Support
Robust support is always a right approach to building trust with your customers.Moreover, this may help businesses swiftly resolve any arising issues, questions concern that users may experience during the delivery operations. Except enhanced customers satisfaction, you as a transportation business will be capable of reducing workload and optimizing management operations.
What customers expect from last mile services
Modules for Drivers
Functionality module for drivers is essential to facilitate smooth and efficient delivery processes. So, let's discover the purpose of each element of drivers functionality:
Proof of delivery
In the last mile delivery platform, electronic proof of delivery, such as in-app signatures, images, timestamps, and geo-coordinates, is essential for enhancing transparency and customer trust in the delivery process. These digital records not only serve as concrete evidence of successful deliveries but also provide trustworthy verification of receipts, resolution of disputes, and generally safeguards the drivers from the legal perspective.
Route updates
This functionality offers real-time updates to the driver's predefined delivery route. This may appear necessary in case of heavy traffic load on a particular section of a road, road closures, or new delivery requests. This tech solution allows to orient drivers in these updates, through guiding them and giving instruction using GPS or mobile devices.
Live chat
A live chat for drivers allows real-time communication with dispatchers and customers. In case of unexpected schedule changes or road occurrences, a driver can update the dispatcher. Also this feature enables efficient problem-solving, enhances safety, while reducing distractions during driving.
Modules for dispatchers
Dispatchers are the connective link between the driver and a customer. The Dispatcher's module is required to optimize the delivery process by assigning, tracking and coordinating delivery tasks. See the key dispatcher-side functionality below:
Estimated time of arrival calculation
ETA (Estimated Time of Arrival) calculation significantly helps to navigate drivers more efficiently. It enables carriers to stay on schedule, avoid unnecessary rush, ensure safety, and communicate realistic arrival times to customers. All of this contribute to smoother and more successful deliveries.
Data generation
Having data helps logistics enterprises make more conscious decisions. An application generates critical business metrics like success rates, service time, distance traveled, feedback scores. This functionality serves to provide real-time updates, helping dispatchers accurately manage deliveries, track drivers, optimize routes, and ensure timely and precise order fulfillment.
Route planning
This last mile tracking software feature allows the dispatcher to determine the most fuel-efficient paths to the final destination. An automated route planner analyzes many variables, such as traffic congestion, road conditions, vehicle solutions, etc.
Delivery rescheduling
Customers appreciate the opportunity to cancel their delivery and reschedule it in case of emergency, so dispatchers have to try fitting into such requests swiftly. The main purpose of the delivery rescheduling is to enable dispatchers to efficiently adjust and optimize delivery schedules in response to changing circumstances. Moreover, it helps in managing unexpected occurrences, and accommodating customer requests, ultimately improving delivery efficiency and contributing to customer satisfaction.
Real time fleet tracking
This feature enables dispatchers to accurately monitor the exact location of a vehicle. By continuous tracking the dispatcher can ensure that the driver meets the delivery schedule and follows the right and the most efficient previously planned route. The specialist can aslo track drivers driving behavior, ensuring the avoidance of dangerous road situations.
There are a lot of final mile delivery software options on the market. Not all, however, are managed to cover your specific business needs. For example, a solution for last mile logistics in New York City might look very different from the best solution in Paris. So it's better to focus on custom app development to get software fitting your last mile delivery logic.
How to Implement Last Mile Delivery Software into Your Business Processes
After you've figured out how your company can win from last mile delivery solutions, the next question arises: "How to develop and implement it into business operations?". We've prepared a step-by-step approach to software implementation success.
Collect Critical Data
Successful automation technology adoption is based on data about your ongoing supply chain and digital transformation processes. To achieve success, you need to establish an information gathering workflow and analyze your current infrastructure. It's better to appeal to an experienced IT vendor to integrate the software into existing business solutions seamlessly.
Daria Yukhymenko

Delivery Manager

"Organizations need to comprehend their consumer base and their needs to find out what Clients want and expect in terms of delivery time and package tracking. Based on that knowledge, the last mile delivery solution encompasses all aspects of the delivery process."
Decide on Development Option
As we mentioned earlier, it's better to go custom to save your money in the long term. However, building last mile delivery software from scratch can be a resource and time-consuming process. So you should hire a dedicated team with confirmed expertise in Logistics software development service. You can assemble an in-house team or cooperate with a reliable outsourcing company.
The in-house team is a convenient but costly approach. It's associated with additional expenses like office rent, equipment, software, wages, and so on. Nevertheless, it's a good option if you want to be entirely involved in product development and have a high level of control.
The most beneficial way is to outsource software development to one of the popular outsourcing destinations like Central Europe. This region becomes more and more demanded due to affordable prices, a vast talent pool, low taxes, and government support of the IT sphere.
Development Process
Now it's time to talk about the final mile software development flow step-by-step. This information will give you a clear understanding of how an idea can turn into a full-fledged working product.
Discovery phase. Business analysts make a feature breakdown list, impact map and other documents. Designers create design concept and mind map. Both processes go simultaneously. Also, solution architects complete project plan, quality attribute scenarios and provide you with more precise estimation.
UI/UX design. UI/UX designers create an app's prototype (screen by screen) based on the wireframes approved on the previous stage.
Development process. Software engineers convert all documents prepared at the discovery phase into a working product using the appropriate tech stack.
Quality assurance. QA engineers conduct thorough testing of all functionality implemented to ensure the product is bug-free and works as expected.
Release. Developers transfer the product to the client with all the project materials.
After the software is built, it should be integrated with established business processes and systems like:
Freight management system
Customer Relationship Management software (CRM)
Electronic Health Records software (EHR)
Human Resource system (HR)
Enterprise Resource Planning system (ERP)
Warehouse management software
Order management system
Notice: Last mile logistics software is the epitome of complexity. We've described a basic SDLC model for product development, but the number of stages may depend on project requirements.
Support and maintenance
Last mile delivery software development is a complex system that might require continuous support. This work can include version updates, adding new functionality, code optimization, or others.
How Cleveroad Can Help You Improve Last Mile Delivery Services
Like any other logistics solution, the last mile delivery solution is complex and should be deployed and integrated correctly. So the best way to successfully implement final mile process automation is to contact an experienced vendor and discuss your plans and ideas with them.
Cleveroad is a professional software development company from Ukraine helping businesses to create any-scale software solutions. With over 11+ years in software development, we have built up expertise in multiple domains, including e-Commerce, Retail, Education, Healthcare, Finance, and Logistics software development.
Our team delivers robust software solutions that help you reduce operational expenses, optimize the last delivery network, and boost business efficiency. Each of our cases is unique, and we adapt to the client's financial capabilities thanks to flexible cooperation models. For last mile software development Time and Material remains the most profitable option for cooperation.
This model allows our team to start working on a project without having an exact amount of work in hand. Here's a scenario of how the development process goes: under the Time and Material contract:
We make a demo, test it, send checklists and sprint reports to you.
You review all the documentation and give us feedback on our work.
We take the feedback into account when planning the next sprint.
Our team developed and released many software solutions for logistics companies for this time. The latest ones — Transportation management system (TMS). Our team of 13 members were challenged to automate the route planning, develop a turnkey transport management system, and integrate it with the existing logistics management system. As a result, we've delivered a full-fledged TMS that allowed the customer to reduce cost and time spent on route planning and increase revenue from transportation services.
Make your last mile delivery services more effective by benefiting from our hand-on experience. You'll get a top-tier logistics solution, allowing you to increase your business performance by optimizing schedule and route planning processes.
Frequently Asked Questions
The cost depends on different factors, particularly on the choice of a ready-made or a custom solution. So if you choose a ready-made solution, you'll spend around $500-$5000 per month. However, going custom may be more cost-efficient in the long-term perspective and will cost approximately $50,000-$250,000+. Nevertheless the ongoing maintenance and support will take around 20-30% from the initial pricing.
The most notable market players are: LogiNext Mile, Track-POD, E-courier CMS, FarEye.
Last mile delivery software users can seamlessly track their package through a real-time tracking feature. While using it, users can directly see the precise location of the fleet with their package on the map, and estimate the approximate time of delivery. Moreover, the customer constantly receives notifications that are needed not only for package tracking but also to update users about the delivery status: transferred to the delivery driver, the package arrives today, etc.
The most prominent trends in last-mile delivery industry include:
Free/low cost delivery
Faster delivery
Pick Up and Drop Off (PUDO) delivery
Transparency, convenience in returns and ecology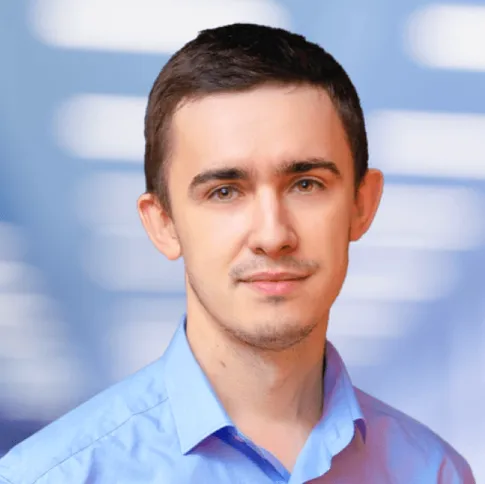 About author
Evgeniy Altynpara is a CTO and member of the Forbes Councils' community of tech professionals. He is an expert in software development and technological entrepreneurship and has 10+years of experience in digital transformation consulting in Healthcare, FinTech, Supply Chain and Logistics
Rate this article!
1306 ratings, average: 4.84 out of 5
Give us your impressions about this article
Give us your impressions about this article