Logistics Management Systems: Trends, Reasons to Create, and More Essentials to Consider
Logistics covers the entire process of storing and transporting items from the origin place to the consumption one. It is an integral part of a global supply chain management workflow that always seemed to be a robust structure. Although, we needed a coronavirus disaster to understand how fragile this system is.
The pandemic violated standard networks between manufacturers and customers. That's why the industry experts were forced to decide how to work under currency fluctuations, international cargo transportation geography changes, and closed borders. However, the implemented modernization measures are not enough for the transportation and logistics field to survive — it requires total changes.
Implementing software solutions for transportation and logistics will help the industry overcome recession and increase customer satisfaction. So, we'll talk more about the Logistics Management Systems (LMSs), their implementation in the companies' flows, and other essentials.
Digitalization of Logistics: Necessity, Profitability, and Trends
The world heads for digitalization, as it gives companies the opportunity to optimize their working processes and break into the leaders. Logistics is not an exception there. Let's have a closer look at its digitalization, necessity, profitability for business in this field, as well as the digitizing trends.
Industry Statistics Survey
Software products successfully help enterprises to gain profit. That's why the domain of logistics digital transformation in supply chain management is projected to grow to $23,607.06 by 2027 year-end, as ReportLinker claims in their research. Such a high-profit mark is connected with the fact that, according to Statista's study, 57% of supply chain experts digitized their business processes in 2020, and this percent is growing with years.
Why do companies adopt logistics software programs? Such management systems assist in optimizing each process' link and influence the operating cycle's length as well as the entire profit. We'll list the most common reasons for logistics application development.
Reasons to Implement Logistics Software
Improving and sustaining deliverables
Custom logistics and transportation solutions make the entire supply chain transparent and sustainable in any condition. It can also lengthen equipment's life and optimize the performed operations.
Providing safety and security
Logistics management system software thoroughly helps avoid risks connected to unreliable third-party suppliers and off-the-shelf data environments. It also deals with possible dangers caused by relatively new technologies implemented to the supply chain for activity boosting.
Gaining competitive advantage on the market
The logistics market is crowded, and the competition there is relatively high. The companies try to gain a competitive edge, adapting the latest technologies to succeed. So, the best way to overcome the competitors is to adjust the newest customized software for logistic purposes.
Mitigating the possible negative consequences
Bespoke logistics software may help company employees find and eliminate inefficiencies, enhance processes and systems, and reduce operating costs. As a result, you can obtain increased transparency and improved management results due to supply chain analytics suited to your needs.
Create LMS that suits your goals
Cleveroad logistics experts will fully consult you as to custom management software and its value
The businesses putting money into logistics and transportation software can gain the leading positions in the industry. Let's talk more about what technologies to implement in the best logistics software.
The Most Common Trends in Logistics Digitization
We'll represent our top list of trends that should be implemented in modern companies' logistical workflows to increase their efficiency.
The most common trends in logistics digitalization and their use cases
Artificial Intelligence and Machine Learning
AI and ML will be significant influencers on logistics soon, helping humans deal with structured and unstructured data.
One of the examples of how AI assists logistics in achieving the set goals is Natural Language Processing (NLP) tools that track the online news or discussions as to the supply chain issues and take appropriate actions. Moreover, NLP is also useful for extracting essential data from invoices to identify budgetary discrepancies, etc.
Logistical businesses may use machine learning algorithms for different purposes. One of them is an identification of patterns (e.g., transportation management, supplier's quality, production planning, etc.) in supply chain data that helps reveal the aspects having an impact on the supply network's prosperity.
Augmented Reality/Virtual Reality
Companies can also use AR/VR for logistical and transportation purposes, making the delivery process safe and effective.
Let us give an example. For a driver, reaching a load would be more comfortable if the essential information (such as blocked/alternative routes, traffic jams, and so on) will be displayed with the help of smart glasses or even straight on the windscreen of a vehicle. Such innovation will save time rather than checking the data on a separate portable gadget.
The warehouse automation technologies implemented in your logistics planning software can enhance working processes and boost operational effectiveness. For instance, it can be carried out through robot usage: according to ABIresearch data, 4 million robots are projected to be implemented to the companies' internal processes.
Robotized solutions (e.g., Autonomous Mobile Robots, AMR, warehouse inventory system) can facilitate repetitive and even risky tasks, like cross-dock transportation, collecting and moving cargo, etc. But keep in mind that warehouse automation technologies have to be managed appropriately to give perfect results.
Warehouse automation — explained! Check our complete guide to know more about its benefits, challenges, implementation steps, and more!
One of the essential Blockchain advantages is that it can make audits more transparent, as well as increase security by making it simpler to detect attempted fraud. Moreover, customers would benefit from more openness if they could observe the whole route a product takes before it arrives with them.
Supply chain organizations may use Blockchain to build trust, allow smart contracts, and make such software logistic operations better protected online payments. According to Bloomberg, global spending for Blockchain would reach $11 billion by the 2022 year-end, growing at a CAGR of 73%.
The Internet of Things techniques are not a solution for every logistical issue; however, they can significantly change the transportation processes transmitting and tracking data from different supply chain sections.
They are also highly adaptable to the company's flows. This way, if you transport sensitive items (e.g., pharmaceuticals or food), IoT sensors will track the humidity level or temperature and inform you if something goes wrong. You can also protect the products from falsification or theft using NFC tags on a smartphone.
Such innovation is expected to lower the number of automobile crashes and keep out of traffic accidents, revolutionizing the whole logistics and transportation outlook. They can also differentiate whether jaywalkers, bikers, or cyclists are nearby and prevent the collision.
Moreover, smart vehicle drivers can be informed about the speed, fuel indicators, and other ones beforehand for taking the appropriate measures.
Why Does Your Business Need a Logistics Management System?
Collaboration with the IT-sphere makes logistical supply chains more coordinated, speeds up the goods delivery, and creates a positive customer experience. A logistics management system is one of the IT instruments working in this direction. Let's find out more about it.
The logistic management system is the means of planning, integrating, and regulating supply chains for shipment, article storage, inventory, including the period from reaching the point to satisfying the customer's needs.
What benefits do companies receive from integrating Logistics Management Systems? Let's consider the essential ones.
Logistics management system benefits
Lowering time and resource spendings
Implementation of the logistics software transmits a part of work earlier performed by humans to machines. Moreover, the software-equipped devices can process data quicker than humans do, and the entrepreneurs can save funds intended for staff salaries, transferring them for other business needs.
Applying to a logistics scheduling software, you've got no need to use various gadgets to control different flows on the supply chain sections. All the processes are gathered in one system, helping you economize your time and enjoy a working convenience.
Logistics software allows companies to provide the best possible service to their clients, tracking drivers' movements and eliminating transportation hazards.
Flawless Transport Management
With the help of a monitoring system, businesses may adequately manage their resources. The usage of GPS and mobile applications for real-time updates and identifying accurate driver location/direction would help companies achieve complete logistical insight about what of the working processes require upgrading.
Better planning and predicting
The logistics management system assists in the development of a proactive supply chain and logistics model through automated work allocation and discharge, consequently giving clients a self-service delivery model that encourages them to write the best feedback. An excellent tool to accomplish this goal efficiently is BI supply chain solution.
Due to the automated job allocation and reduced delivery turn-around time, the users will quickly receive the packages. Moreover, they'll be able to track the delivery in real-time.
What Modules are the Most Often Included in LMS?
Logistic management systems consist of modules that regulate and optimize all the flows from getting an order to its delivery.
Customer order management
Thanks to this module, you can create the most rational and optimal routing plans, sync up the delivery flows for satisfying the consumers' expectations, or deal with the transportation demands peculiarities based on the order types.
Clients or customer support managers may follow orders in real-time from any location using the order management module. This module should also include capabilities to prevent ordered goods from being lost, delayed, or harmed throughout the fulfillment process.
Order management module of the logistics solution created by Cleveroad
The supply chain will be more efficient with a specialized module for domain production management implemented to your logistic planning software with the following functions:
Stock running. This makes keeping the warehouse's stock reserves at appropriate levels easier.

Operations control guarantees that orders are sent as soon as possible, and items arrive on time to meet customer needs.

Asset management lowers costs and risks, increases asset return, and decreases the total cost of ownership.
Manual freight management is obsolete; hence the logistics management platform must include a solid and well-controlled freight management system module.
This module will help you manage invoice disputes with a settlement functionality; furthermore, the carriers will use the self-invoice feature according to their own needs. You'll also be able to calculate freight costs which will assist you in price estimation and financial planning.
Freight running module in TMS created by Cleveroad
As the transportation expenditures are equal to most of any logistics operation's budget, this module aids in keeping track of those expenses across the supply chain.
The performance monitoring feature is critical for determining the fleet's overall efficiency. Bottlenecks can be recognized and rectified by monitoring the fleet's performance. This module will also help in carriers' and their contracts' management and provide a rating carrier feature based on their performance, allowing the company to select the best carriers.
A logistics analytics software's reporting capabilities lead to greater visibility and control over future logistics results.
It helps you control many details, including expenditures of transporting your products to a consumer, carrier reports to find the most cost-efficient workers and track their effectiveness. Moreover, the module can assist you in monitoring the company's overall performance, paying attention to essential metrics.
Receiving products, transferring them, utilizing KPIs to manage warehouse personnel, ensuring safe working conditions, and employing software and technology to find and track objects are all part of the warehouse running module.
The warehouse running helps you maximize storage space, manage inventory placement, and improve the flow of things and workforce. It also tracks the barcodes and directs order assemblers to the required items via an efficient picking path.
A reverse logistics module simplifies repairment, return, and product reallocation operations. This module can help you keep track of what things have been returned, why they were returned, and if they were delivered back to the client.
You will also boost client satisfaction by offering them returns data (e.g., real-time feedback on their order's return activities via the returns site or by e-mail/SMS). Moreover, you'll be able to track quality assurance: for instance, the system will inform the necessary personnel if the item needs changing or repairing.
The essential modules of logistics management system
Remember that you need to customize your upcoming logistics system software for its better flexibility: the system will be adaptable to your present business needs. Such a choice will be more expensive than off-the-shelf products but profitable, and all spending will be recovered.
How to Prepare for LMS Implementation to Benefit From It?
Developing a top-quality Logistics Management System is not enough for its profitable use. Before working on it, you need to make some preparations for it. The experienced logistics software development provider will help you to sufficiently prepare to create a top-quality platform for logistics management which hits the market.
Select a Trustworthy IT Partner
The logistics system software development will be better performed with a skilled IT partner having profound domain expertise. How to find such a partner? To do it, you've got three hiring options: cooperation with freelancers, employing an in-house team and applying to an outsourcing vendor.
Cooperation with freelance specialists, self-employed IT experts is an appropriate choice for performing small activities. However, this variant has its weaknesses: for example, freelancers cannot be very responsible for the project which typically appears too heavy to lift for them. So, they can leave it — even without a word.

Employing an in-house team. This alternative would be perfect if you have years of experience in team management and want to track a development flow. But you should keep in mind that an in-house team hiring can be accompanied by additional expenses (e.g., office rent, sick leaves, etc.) and isn't appropriate for companies with a small budget.

Working with an outsourcing vendor means sending your project development, fully or partially, to another company. The outsourced app development has many privileges, such as affordable costs for IT services, a vast pool of technology talents to choose from, flexible workload. Central Europe has become one of the most popular outsourcing destinations these days due to its quality-to-price ratio, a wide range of talented and well-educated tech specialists, and high level of English knowledge that significantly helps in communication issues.
How to outsource software development and succeed? Discover more from our complete guide!
Define The Essential Requirements And Pains
Now, when you have an experienced vendor's support, it's time to go through other preparation steps.
While having only a concept of the future Logistics Management System, you need to check its viability and evaluate it from your future customers' points of view. What modules will the future system have, and what exact problems will it solve? What will be its advantages and disadvantages? How to cope with the last ones and benefit from the first ones?
These and other questions should be answered entirely. Then, the vendor will help you research the market you'd like to enter (and compare it to your present needs), verify your possible competitors and market leaders, etc. All this will help you better understand how to make the best software for logistics under conditions of the fluid market.
Choose Between Custom And Off-The-Shelf Software
There are hundreds of ready-made logistics solutions on the market — you need only to choose the most appropriate one, deploy it and use it. This option will be quite cheap and convenient for you, in case you need a product for a small business with strictly defined aims.
But if your company requires a complex and flexible product to manage the numerous logistical processes, custom software is the very thing you need. It will be highly adaptable to your company's business goals, allowing you to obtain the most precise data about the performed processes.
Custom software can cost-effectively improve your business flows. Look through our recent article to discover more!
Define The System Deployment Details
There are two types to choose from while building a logistics management platform: on-premises (local) and cloud-based. Although installing software on local services takes a major financial commitment, many large manufacturing and distribution organizations still prefer this form of hosting due to security concerns and the need to monitor servers regularly.
Cloud-based logistics management solutions don't require any new hardware, and the initial cost is significantly lower. Another significant benefit is that all players in the process may access the system quickly and easily from any place.
After that, you should also define which features and modules you'll need for a future platform for logistics management due to the activities you would like to automate. Then, think out the approximate budget you'll need for gaining your aims. You can do it on your own or facilitate your job and apply to an experienced software service provider.
Create a Mobile Version of Your System
Logistics procedures have become more automated, and technologies collect a large amount of real-time data. As a result, all participants must have unrestricted access to the system from any location and use any connected device to obtain data, evaluate it, and participate in the decision-making process.
A mobile application can give this capability. To support smooth transportation and improved customer experience, consider using mobile development services to create native apps for drivers and logistics management.
Steps to Implement LMS in a Logistics Business
Having decided to work with an outsourcing vendor, you should know how the logistics management platform development flow will pass. We'll tell it on the example of the Cleveroad development process.
You can submit a request on our website to start communicating with us. This request should include a brief overview of the logistics management software you want as well as your contact information. Within 24 hours, the consultants will contact you to set up an appointment and learn more about the project. The initial estimates are prepared, and the Non-Disclosure Agreement (NDA) may be signed per your request.
During a series of meetings, IT professionals look further into the material you've presented, estimating an approximate timeline and detailed price estimates. For instance, our Solution Architect can guide you on the feature list (choosing essential and sufficient functionality, or correcting the list that already exists). Meanwhile, the Business Analysts create a project specification. The designers create an understandable and user-friendly system's UI/UX.
Like other IT solutions, logistical systems are typically developed during sprints, which are two-week intervals for certain task completion. Each sprint starts with a planning session and ends with delivering a stable, usable product or feature.
The QA testing process begins after all of the code lines have been written: engineers review the functionality developed during each sprint and work on a project until release. They test the backend and frontend and provide bug reports for the software developers to fix.
When the product is ready to be released, the QA team runs complex tests (such as smoke tests) to ensure that the developed product is stable. If any serious problems are discovered, developers must issue hotfixes.
On the release stage, we'll integrate your logistics management system with existing business systems and check its working flawlessness. The project materials will be passed to you after you are satisfied with the output.
Logistics System Software Maintenance and support
We may continue working on the solution to make various changes based on your feedback and keep your platform for logistics management up to date with new features and updates.
Instruments to Consider While Implementing LMS Into Your Business
The management of logistics processes is a complex task, and you need to use all the possible instruments to handle it. The most widespread ones are listed below.
Cloud storages. Such tasks as monitoring deliveries on different supply chain sectors became quicker and more convenient with cloud storage. Cloud-based logistical systems also reliably protect your data and can even remind you about the necessary tasks to perform (e.g., via push notifications)
APIs. The whole world is digitized, as well as a transport interchange. The task is to collect and properly manage the large piles of incoming data. The APIs are the very instruments to deal with it. This way, shipping APIs can be your reliable helpers for precisely tracking the delivery data and preventing any disruptions in a supply chain.
Payment gateways. Such integration will help your clients make online payments for your services. You can use such gateways as Stripe or PayPal to manage the payment issues in your logistics system. But keep in mind that every project is unique, so you may need the consultation and assistance of an experienced IT vendor during the payment gateway implementation.
Third-Party Logistics (3PL) will help you outsource functional logistics from the warehouse through delivery, saving your time to concentrate on other aspects of your organization.
What to integrate into LMS for obtaining one of the best logistics softwares?
They are essentially crucial in case you decide to outsource some of the business processes to other logistical companies. Preparing for this collaboration, you need to care about easy, flawless, and convenient data exchange between your firm and your partner's one. The listed logistics management platform's integrations can help you deal with it.
How Cleveroad Can Help You Master LMS
Cleveroad is a skilled Estonian software development company specializing in a wide range of IT solutions and cutting-edge services. Our software products are created based on proven expertise to solve various business issues from different industries among which logistics occupies a leading position, improve workflow productivity, and aid in competitive advantages acquisition.
Collaborating with us, you'll obtain:
An initial project estimation from our Sales Managers, without any additional costs
A consultation about your project with our Solution Architect or Business Analysts
Signing Non-Disclosure Agreements (NDA) per your request
A team rapidly adapting to new requirements and modifications
Assurance and control of solution quality at all development stages
In-depth, solid software development experience in various business fields
Innovative development approaches and a cutting-edge tech stack
One of our latest software logistics solutions is a transportation management system (TMS) containing a route planning module intended to cut costs, optimize fleet management, as well as to create an organic and flawless logistics ecosystem.
An interface of Transportation Management System built by Cleveroad
We've built a full-fledged software product including the following modules (but is not limited to them):
A Fleet Management module helps the entrepreneurs manage the vehicle data. For instance, they can create a group of fleets used in transportation flows or adapt information due to changing business processes.
A Delivery points running module assists customers in identifying regular working locations and monitoring all the changes in real-time. Moreover, the characteristics critical for the delivery process can be easily changed.
An Access system for company employees. It lets TMS users manage assessment levels for company employees and edit their data.
Moreover, the system can help transmit warehouse data from the customer's database to our one, add new info and validate it. A "Jobs for delivery" module is integrated with the existing WMS and CRM, allowing users to manage the data in real-time.
How does Cleveroad estimate the work scope?
A rough estimate's objective is to inform the customer about the amount of money to expect and sketch out the general stages of growth.
A detailed estimate is carried out with all developers who will be actively engaged in the product building. Such an estimate is based on a thorough description of the future software solution, including wireframes, specs, and other documentation.
A complex project like Logistics Management System (LMS) can be properly developed only with the help of competent experts. We can help you build a solution of any degree of complexity and make it modern, profitable, and competitive on the market. Let's cooperate, create the best logistics software and strive for success with us!
Digitize logistics flows with us
Get the top-class logistics systems from experts with 10 years of work in the industry!
Frequently Asked Questions
The logistic management system is the way of planning, integrating, and regulating supply chains for shipment, article storage, inventory, including the period from reaching the point to satisfying the customer's needs.
Artificial intelligence and machine learning
Augmented/Virtual reality
Warehouse automation
Blockchain system
IoT sensors
Smart vehicles
Define the essential requirements and pains
Choose between custom and off-the-shelf software
Choose a trustworthy IT partner
Define the project details
Create a mobile version of your system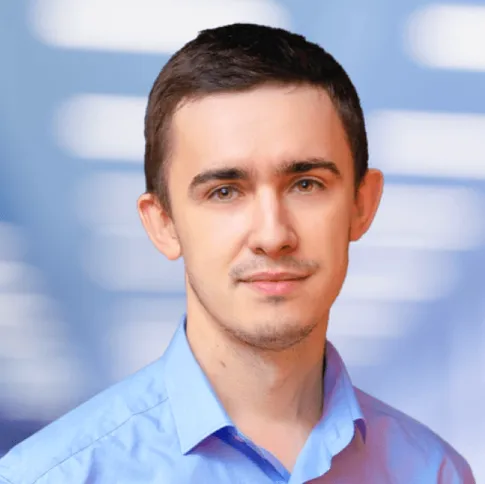 About author
Evgeniy Altynpara is a CTO and member of the Forbes Councils' community of tech professionals. He is an expert in software development and technological entrepreneurship and has 10+years of experience in digital transformation consulting in Healthcare, FinTech, Supply Chain and Logistics
Rate this article!
1152 ratings, average: 4.56 out of 5
Give us your impressions about this article
Give us your impressions about this article