3 Methods To Build A Car App And Make It More Advanced
If you don't know, in the USA only 6% of all car accidents happen due to driver distraction on smartphones. Terrible, isn't it? One more figure to impress the reader - 45% of all accidents associated with phone usage occurs when the driver is answering an incoming call. Note that the legislation of almost all countries in the world prohibits the use of gadgets while driving. Nevertheless, legal norms do not prevent people from calling, unfortunately.
But at the same time, there are many technologies that allow you to use all the capabilities of smartphones while driving without visual and manual distractions. Smart car mobile app development services may be an option. Due to modern technologies, you can be notified about everything that is going on around you. And you can use this technology via a special app. How to build your car app? You will find out it reading this article.
What is a connected car?
A connected car is a vehicle equipped with intelligent systems and services connected to the Internet. The number of connected cars is growing very fast today, although some of these models are in their infancy. For example, autonomous cars were acknowledged as legitimate vehicle in Great Britain in 2015. The same law was passed in some states of the USA. So what is the benefit of this trend for business?
Modern connected cars are equipped with powerful built-in or integrated intelligent systems. That is why the new feature like automotive telematics is gaining popularity. Automotive telematics is a remote transfer of computer data from your car to service providers.
Connected car management system via web browser
Today you can opt for various solutions for your smartphones with mobile development services or check out connected systems of third party developers. It means you can use smart car app and geolocation services that help you avoid traffic jams as well as to evaluate and adjust your driving manner. As car sensors develop, drivers will have an opportunity to connect to cars nearby. It will allow sharing info about car accidents with other drivers, and inform them about non-observance of distance between cars.
Connected cars are very comfortable to use. Equipped with the latest technologies, they allow you to listen to the radio or switch music players via apps, as well as contact your dealer and download software.
The car can be connected to the Internet via Bluetooth, Wi-Fi or wired connection to a USB port or via built-in auto modem.
Capabilities of connected cars
Let's look closer at what capabilities connected car can offer it's users.
Infotainment system
The idea to use mobile devices in your car is very attractive, but, as we noted above, it is the main cause of distraction for drivers. Nevertheless, there are ways to reduce dangerous issues and make driving safer. It can be achieved using voice commands and Bluetooth technology. Also, modern cars have special infotainment dashboards that connect a car to a smartphone whether it be Android car app or iOS app. They provide drivers with access to a range of apps and services.
Dashboard system to control your car
Apps are everywhere
Today you can find tons of auto mechanic apps for drivers that can provide you with the weather forecasts and maps with information about traffic jams and accidents. In the future, this tendency will be developing since both carmakers and tech companies have stake in connected cars.
Monitoring for young drivers
Parents can really worry about their children. Especially when they start driving for the first time. And present-day manufacturers of cars equip their vehicles with the special systems that connect the vehicle to the parents' Android auto app (or iOS, no difference) and allows them to control how the car is driven, set speed limits, and the number of working hours. If your son or daughter takes your car without permission or exceeds the speed limit, parents receive a message immediately.
Fuel usage
Technology applied by many automotive companies may result in lower usage of conventional fuel types. Indicators on car dashboards can be used for monitoring real-time fuel consumption to change drivers' behavior while driving to prevent car accidents. Also, there are some ways that can help reduce fuel consumption including the total car weight, quick gear shifting etc. Such car maintenance app plays very important role in the field of smart cars.
Check your fuel level with the Android app
Blind spots and parking
Phones with built-in cameras are widely used, so it is not surprising that we have the same feature in our cars as well. So when you park your car, you can see all information from your rear view cameras. It won't let you crash into something. Car park app can ialso be used for parking your car without any accidents.
The smart car app will help you park your car
Digital diagnostics
Visual cues for drivers, infotainment - everything listed is cool. But the maintenance of the vehicle is not less important. Car manufacturers connect their vehicles to the Internet and their systems so it allows users to monitor everything from tire pressure to the condition of your brakes. Today via a car dash app, connected cars can notify the driver long before small troubles will turn into big problems.
Steps to make a car app
As in the case with any other app development, before you start creating, you should understand what MVP features your app will have. You can always add many cool and attractive features but only if you have an intention to spend a large sum of money on them. So now, when you build your own car app, you should keep in mind the features listed below.
Remote control. The first important feature. The goal of the app is to solve any issues remotely. You turn on/off music, monitor the condition of your car, adjust infotainment systems etc.
Voice control. This feature plays the same role as a remote control, but here you can control connected car apps by just using your voice. It will allow you to keep your attention on the road, and you will still be able to switch all necessary functions.
Call from the car using only your voice
Access control. Since your car surely plays the same role in your life as your home, you cannot forget about safety. So owners must always be aware of who is trying to use services in your car. So you can add administrator rights to control all actions if you are not the only one who uses your app.
Integration with proprietary equipment. The most difficult feature that you will inevitably face. It is not a secret that many manufacturers of car equipment make their devices open for the 3rd party software. So you will have to find solutions described below.
Thus, there are two options to create your own car app and make it work. You can cooperate with car manufacturers to develop your app for their equipment. Or you can develop the app by yourself, but it will have much more limited functionality. But let's check everything in more detail.
Join the car manufacturer - create win-win apps for connected cars
Automobile manufacturers realize that modern portable technologies rule the world so they are impossible to ignore. So manufacturers also ponder cooperation with mobile app developers. In this case, they can look for good developers and offer them to develop necessary apps for cars.
They can provide you with all necessary technologies and their own APIs to create the app. Unfortunately, as a rule, car manufacturers create their equipment with proprietary software so you won't be able to make this app and install it on your equipment. That is the main (and probably only) problem you will face. And if you decide to partner with an automotive company, you will have to follow specific requirements while you make your own car app.
One of the requirements concerns such MVP features like voice control. It should be the main bridge of communication between users and car infotainment systems that is connected to the smartphone in our case.
No games, videos or texting are acceptable. All control must be performed using voice or minimal touch.
User interface and user experience must be as simple as possible. Here you don't need to think about how attractive the design will be or what the color of this button or that button will be. The less complex it will be, the more chances the custom car app won't distract the driver from the road. Safety comes first - remember it.
Auto companies are also interested in cooperation with software developers. Moreover, some companies like Ford today can propose their own API libraries to build additional features and get access to Ford's connectivity communication system. The construction of different APIs makes it possible to develop cross-platforming solutions. Thus, car system will be able to connect all popular mobile platforms.
So, it makes a sense to cooperate with the auto company because it allows you to control all systems of the car. But if you don't want to and you are ready to start, you have one more option to create a car app.
Use OBD-II - monitor the general state of the car
Many cars are equipped with an Onboard Diagnostic System port that has several upgrades and the current version is known as OBD-II. This port works only one way. It doesn't allow you to control the car. It can only provide you with all the information. But that doesn't mean you have no chance to make use of it.
This port is used at service stations for diagnostics of the car's condition. But today you can use your app to check everything without the necessity of visiting the service station. You can monitor the following car features:
Fuel usage;
See charts and graphics of performance data;
It can help drivers manage their car in a more efficient way;
Condition of the accelerators and brakes.
And you can build car app that will send all this information from the Bluetooth dongle to your app. You will only see the results though. You will not be able to control them. But you will always be aware of how your car is moving, and what it's condition is.
The development of an app for the OBD-II port can be pretty fast and inexpensive. Only if you are not planning on creating a stunning UI and adding some features like Share, Sign-in and so on. But connected car systems won't be available for you to the fullest extent. However, you can get an auto diagnostic app that will help you monitor your car's condition.
Ways to promote your app - pitfalls to consider
When you chose an acceptable option of development, you may come to the conclusion that you want to monetize your app. You have three ways to do it and they are the following:
1) You will conclude a contract with the car maker to install your auto care app on their car equipment or to launch it on the app store of the auto company. It is worth mentioning that this process is time-consuming and you can spend up to half a year for the conclusion of the agreement. But in the case of approval, you will be able to distribute your app on a legal basis, paying agreed percentages from the income to the car manufacturer.
2) You can distribute your app on popular app stores like Apple Store or Google Play on your own. But even in this case, you will have to get the approval from car makers if you use their APIs. So, in most cases, you will have to sign a contract with the auto company to release your Apple auto app or Android app.
3) If you developed the app for working with the OBD-II dongle, you can distribute the app on all major mobile app stores without hesitation. But at the same time, you will have to convince your users to buy a Bluetooth dongle in order to make use of your automobile app. Not everybody will want to buy the dongle in addition.
As we can see, there is no one ideal way to monetize your app. You should choose the most acceptable option in your specific case.
Is it really worth the effort?
Let's think about it. There are 4 key factors that you should realize before you start developing software for connected cars:
The market of connected cars is developing very quickly. And the way of development is very similar to the way of developing mobile devices. In the case of successful promotion, you can earn millions of dollars.
At the moment there are not many serious players in the market of connected cars. So even a small IT company can capture the massive market share of car software and develop serious apps for your car.
Government support is also an important factor. Considering practical use of connected car technologies, the government can assist in the development and promotion.
IT giants constantly share their considerations concerning what software for connected cars should be. Following their advice, you can achieve great success in this field.
Summarizing all the above, we can definitely say that you should never stop if you plan to enter the market of connected cars. Your app may become a really advantageous product that can catch somebody's fancy. Of course, you will need to do your best and put as much effort into it as you can. But at the end of this difficult journey, reward can be waiting for you.
So, if you are far from programming, or you are not skilled in the software development area, you can always find an experienced development company that will always be ready to help you. Contact us and share your idea. Our task is not to let you down.
And sign up for our blog - it is full of useful information!
Manual to Uber-like business development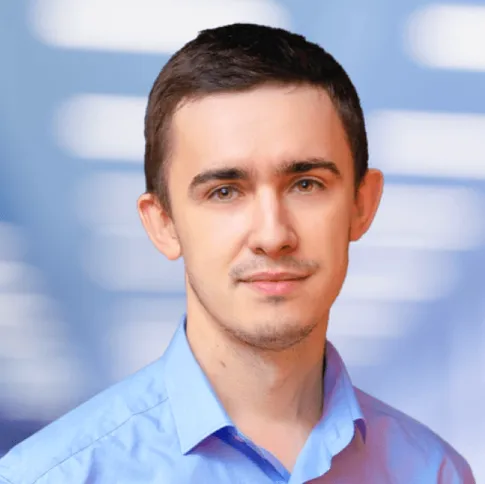 About author
Evgeniy Altynpara is a CTO and member of the Forbes Councils' community of tech professionals. He is an expert in software development and technological entrepreneurship and has 10+years of experience in digital transformation consulting in Healthcare, FinTech, Supply Chain and Logistics
Rate this article!
4126 ratings, average: 4.69 out of 5
Give us your impressions about this article
Give us your impressions about this article