How to Build Freight Forwarding Software and Automate Your Shipping Operations
Many market participants enter the logistics industry with evolving expectations as to the quality and speed of freight shipping. That's why companies look for new strategies to satisfy the needs of their customers. The robust freight forwarding software helps them succeed with their challenges, allowing them to organize workflows on the different parts of the supply chain.
As a skilled logistics software creation provider, we have prepared this guide to show you the basics of the freight forwarding app building. Additionally, you will know more about the approximate cost for this type of logistics software and the core features you should implement for the solution's successful realization. Let's start reading and explore more essentials as to freight forwarding solutions!
What Is Freight Forwarding Software and How Does It Work?
Freight forwarding software is a digital tool that logistics experts and freight forwarders use to track and share cargo information, improving efficiency compared to manual processes. It enables accurate monitoring of incoming and outgoing goods. The software also provides real-time information on item location during transportation, allowing for better customer communication, more accurate shipping estimates, and improved customer relationship management.
Let's learn more about how integrating the freight forwarder software solutions can help you optimize your workflows. First off, such software is an effective way to boost the performance of your cargo management operations by automating repetitive flows and eliminating human mistakes. It can also assist you in concentrating on high-value tasks and offering updates to clients on their freight. Moreover, custom software can easily meet your business's changing needs and satisfy your clients' requirements seamlessly.
You can deploy an online freight forwarding platform in two ways:
Independently functioning Software-as-a-Service (SaaS) platform creation - a cloud-based platform commonly used by carriers to improve route efficiency and manage dispatches.
Be a component of a Supply Chain Management (SCM) System. Shippers who look for enhanced logistics management capabilities often opt for this software.
By the way, Cleveroad is experienced in creating software solutions for the logistics industry. Our team has recently worked on a transportation management system. It's a custom platform with automated route planning that allows organizations to optimize fleet management, delivery points, and other stages of the supply chain.
Transportation Management System interface created by Cleveroad. Source: Dribbble
Now, we'll explore how the freight forwarding platform functions for you to understand its mechanisms better.
How do freight forwarding systems work?
Freight forward software systems are implied to streamline the complex process of shipping and transporting goods internationally or domestically. They work the following way to deliver all the said benefits to shippers and freight forwarders.
First, users input information about the cargo, including its weight, dimensions, origin, destination, and any special handling requirements. The software, in turn, helps people generate and manage the necessary documentation for shipping, including bills of lading, customs forms, and certificates of origin. To perform the said operations, it often includes features to ensure compliance with international trade regulations and customs requirements.
Furthermore, the users can book transportation services directly through the software. The system allows them to choose the most suitable carriers based on cost, transit time, and other factors. Integration with carrier databases or online marketplaces may be included.
Freight forwarding software also provides real-time tracking of shipments. Users and stakeholders can monitor the progress of goods throughout the supply chain, which enhances transparency and helps anticipate delays or issues. Communication among carriers and their clients can be performed through in-app messages, email notifications, and document-sharing features.
What is more, this logistics software can assist with customs clearance and compliance by automating the submission of required documentation and ensuring that shipments meet all regulatory requirements. While operating, users can estimate the total shipping cost, including transportation, handling, and customs fees. Invoicing features generate bills for clients and allow for tracking payments and expenses.
Freight Forwarding Software Features: Key Modules to Include
An effective freight forwarding software should encompass essential processes such as documentation, communication, client and supplier management, invoice handling, reporting, finance, payroll, and more. Thinking out these functions, we've gathered a list of core freight forwarding software features to consider while creating a functionality list.
Shipment booking. It allows users to easily book shipments, select carriers, and schedule transportation services while providing options for various modes of transport.
Shipment management functionality built by Cleveroad
Documentation management. It is built to streamline the creation, storage, and sharing of shipping documents, including bills of lading, customs forms, and certificates of origin, ensuring compliance with regulations.
Quotation management. This module enables users to generate and manage quotes for shipping services, considering factors like cargo type, destination, and special requirements.
Billing and invoicing. It automates the invoicing process, generating bills for clients and tracking payments and expenses, while also integrating with accounting systems.
Cargo tracking and visibility. This module provides real-time tracking of shipments, allowing users and stakeholders to monitor the location and status of goods throughout the supply chain.
Cargo tracking and visibility feature example created by Cleveroad
Security and compliance. This module is necessary to ensure the security of sensitive shipment data and compliance with international trade regulations, incorporating encryption and access controls.
Rates management. It helps manage and update shipping rates from different carriers, facilitating cost estimation for various shipping options in freight forward software.
Reporting and analytics. It's created to offer reporting tools to analyze shipping data, track key performance indicators, and identify areas for optimization and cost reduction.
Admin dashboard. Thanks to it, the system provides an administrative dashboard for system administrators to manage user accounts, access controls, and system settings, ensuring smooth platform operation.
Admin dashboard example for logistics company created by Cleveroad. Source: Dribbble
Multi-modal transportation support. Due to this module, the software can support multiple modes of transportation (sea, air, rail, road), allowing users to select the most efficient and cost-effective routes.
Real-time notifications and communication. It sends automated notifications and facilitates communication among various stakeholders, enhancing transparency and collaboration.
Notifications functionality for logistics software built by Cleveroad
This is not the entire list of functionality to integrate: the list of features can vary according to your particular business requirements. If you want to get help with your functionality list creation, feel free to contact us. Our Logistics specialists will provide you with advice you need, and answer any questions concerning the cargo solution's feature set.
Freight Forwarding Solution Demo
Planning to create freight forwarding software for your logistics company, you may want to see it in action to understand its capabilities better. We offer you to try our demo version of freight management software designed by the Cleveroad team.
Build Freight Forwarding System and Implement It Into Your Workflow
Freight forwarding software plays a critical role in streamlining logistics operations for businesses involved in global trade. Our given algorithm outlines the steps to create an effective freight forwarding software solution.
Develop a business strategy
For starters, you should define the requirements and goals your cargo tracking product should satisfy. For example, you may need to optimize shipments and better control your fleet park, at the same time cutting costs for load and route planning enhancements.
To do this, you can identify your potential target market and user personas, think out key features and functionalities based on market research and user needs. Moreover, you should determine revenue models (subscription, transaction fees, etc.). The scalability is also important: think out the possible ways of your product expansion.
Select a skilled Logistics IT partner
In order to start working on your product creation, you should find a tech partner with sufficient skills in logistics software building. Working with a remote team to develop freight forwarding solution is a beneficial variant for today. While looking for such an opportunity, pay your attention to outsourcing companies with an extensive expertise in logistics. For instance, the Central and Eastern Europe (CEE) region is known for a perfect quality-price ratio, and you can pick a vendor to collaborate with from there. Before establishing a freight forwarding software development partnership, evaluate their expertise, client testimonials, and case studies for credibility.
You're welcome to review the testimonials left on Clutch from our satisfied customer, the owner of a logistics company, about their successful cooperation experience with us.
First contact
After you've found a vendor to entrust your concept of cargo forwarding system, you should apply to them. For example, to start collaborating with the Cleveroad team, you can submit an application on our website. The application should contain a brief description of your platform idea. Our Logistics Business Delivery manager will analyze it, and contact you back within 24 hours.
Solution design stage
The Solution Design team evaluates your requirements, identifies goals, and resolves concerns. We may request a call for further clarification. Once analyzed, we will provide a rough estimate of your freight forwarding solution and form a proposal .
Discovery phase
Our Discovery Phase Services aims to turn your freight forwarding system requirements into a clear implementation plan, focusing on development speed and product quality. We'll consider your platform preferences, features, and integration with other business systems like (e.g., ERP, warehouse software, transportation system, etc.) as well as business intelligence tools.
Additionally, the UI/UX designers begin developing the interface for your upcoming logistics software, starting with the creation of prototypes. They also work on designing a concept and a UX map.
Development and QA
At Cleveroad, we use Agile software development, specifically Scrum, to create your cargo forwarding platform in 2-week sprints. During these sprints, the team aims to complete a predetermined amount of work.
If you plan to create freight forwarding software from scratch, our developers will approach to their workflow iteratively. They will start from the Phase 1 resulting in freight forwarding system version that contains only features necessary for seamless work. At the same time they'll create the second extended version of this software during the Phase 2.
In case you need to update your legacy freight forwarding software, our team will modernize your existing cargo forwarding system, and take care of secure data migration from the old solution to the new platform.
Integration with other systems (if required)
The developers also deal with integration of your cargo forwarding system with other business and logistics systems. It can be:
Enterprise Resource Planning (ERP) software
Transportation Management System (TMS)
Electronic Data Interchange (EDI) protocol
System consolidation automates processes and reduces manual data entry, leading to increased efficiency and accuracy in handling shipments, invoices, and other logistics tasks.
Staff training
If necessary, our team will offer a comprehensive training program to your staff, teaching them on how to succeed in dealing with the freight forwading software. The training program will be tailored to your organization's specific needs covering everything from the basic functionalities of the freight forwarding software to advanced features that can streamline your operations and enhance productivity.
Our experienced trainers will ensure that your staff becomes proficient in using the software effectively, enabling them to optimize processes, reduce errors, and make the most of the technology investment.
Tracking performance metrics and user reviews
The vendor's team will also help you check whether the created software is successful. For that, they implement tracking mechanisms for key performance indicators (KPIs) like shipment efficiency, cost-effectiveness, and customer satisfaction. Moreover, they gather user feedback through surveys, reviews, and support interactions as well as analyze data to drive continuous improvement efforts.
Support and maintenance
Support and maintenance services might be required for your freight forwarding software. Our logistics software experts will oversee the software for any bugs and implement enhancements (e.g., add new functionality) based on your customers' and employees' input. They also update the operating system, add features, and optimize the code. This keeps your cargo forwarding solution flawless and updated.
How Much Does It Cost to Create Freight Forwarding System?
The cost of the freight forwarding platform is a complicated thing to calculate it at once. When the IT specialists make detailed project estimates, they typically think out the following factors as:
Scope and complexity of your future solution
Customization of visual design
Development approaches applied (e.g., Agile methodology, prototyping, etc.)
Third-party integrations
Type of cooperation
The salaries of the software developers, etc.
If to sum up these factors, the price of the cargo forwarding platform will vary from $30,000 to $250,000+.To answer the question on how to develop a logistic solution cost-effectively, you can apply to an outsourcing partnership with a logistics software development company.
We've made for you a map with the most widespread IT outsourcing destinations and their hourly wages for software developers' work.
Logistics IT outsourcing hourly wages by regions
As you can see the hourly rates to build freight forwarding software vary across different countries. For instance, North America and Australia are known for having higher wages for software engineers. However, higher prices do not always indicate better quality. It is possible to find a product of good quality at a more affordable price.
The Central and Eastern Europe region is widely recognized as a sought-after outsourcing destination due to its favorable cost-effectiveness. For example, Estonia is known for providing high-quality software development services at a good value for money. Their IT experts have skills in developing and launching logistics software solutions of various complexities.
Estonian developers possess exceptional English skills, which facilitates seamless communication with the outsourcing IT vendor. The data protection laws and software quality standards of Estonia are strong, ensuring security and meeting industry benchmarks.
How to Choose the Right Logistics Software Development Company? [Checklist]
If searching for a tech partnership in logistics software development, you'll need not only the vendor's experience in freight forwarding software development but also how the software development provider will offer you a qualitative and successful product. Outsourcing is the perfect option to find such a logistics software development provider entrusting your project to them, asking for outstaffing services or hiring a dedicated solution building team.
While looking for a tech partner, you should be aware of the following points:
The potential partner's experience. You should ensure that your tech partner has experience in rendering Logistics Software Development Services – it's vital for future cooperation. Moreover, check that the vendor's designers and developers understand your project goals and have the expertise to make them a reality. You can verify their level of expertise by conducting technical interviews.
The reputation of your future vendor. Check previous customers' testimonials on professional sites like Clutch to understand what to expect from your cooperation. Contact the vendor's clients directly to clarify the details you're interested in. Thus, thinking out the logistics software development cooperation with Cleveroad, you can look through our clients' reviews on Clutch, and analyze them to make your choice.
Their tech proficiency. Apply to the vendor directly or come to their company yourself (it is especially easy when you choose nearshore software development). During the direct conversation, you can ask all the questions you are interested in, particularly concerning the latest technologies they use (e.g., integration of IoT in supply chain and logistics to track operations, data analytics to optimize freight forwarding processes, etc.) and how they can meet your specific requirements.
Security and privacy of the data they are operating. Partnering with a company that prioritizes data security and complies with data privacy regulations (GDPR, HIPAA, etc.) will ensure confidence from stakeholders and maintain the confidentiality and integrity of your logistics operations. Protecting your data is important for legal compliance (e.g., environmental regulations, transportation safety regulations, customs regulations, etc.) and maintaining trust and reputation in your business.
Their project management and maintenance reliability. A freight forward software solution's successful completion and maintenance depends on effective project management and dependable support. When choosing a logistics IT partner, evaluating their project management techniques and the support they provide throughout and after the development process is essential.
For example, at Cleveroad, we ensure project flow transparency by establishing meetings with clients, demo calls, and sprint reviews, as well as delivery reports with the list of the completed tasks and time spent for them.
When looking for an appropriate tech partner, you should realize that every challenge in the logistics domain is unique and should be solved by delivering appropriate software. We at Cleveroad have enough experience to create logistics solutions that are robust and tailored to your needs. We are fully equipped to enhance your cargo forwarding operations and ensure competitiveness in the industry with the latest technologies.
Cleveroad — Your Reliable Partner in Freight Forwarding Digitalization
Cleveroad is a logistics software development company with 11+ years of experience in creating logistics software to enhance the workflows of transportation business as well as optimize cooperation between shipping businesses, their clients, and partners. We have competence in building logistics and supply chain digital solutions like platforms for Enterprise Resource Planning, Transportation Management Systems, Warehouse, and Asset Management Software, Last mile delivery software, and others.
By collaborating with us you'll receive a row of benefits, such as
Qualitative automation of the freight forwarding processes through the creation of the corresponding software to speed up cargo shipping and provide accuracy
The full-scale IT services: creating logistics systems from scratch, UI/UX creation services, IT consulting with Logistics Tech experts, legacy software update, support and maintenance services, etc.
Proficiency in integrating logistics software with different third-party services (like Google Maps, Xero, Shiptify, Asset Panda, etc.)
The team of experienced logistics software creation professionals agile-minded and ready to build a product of any complexity for your business needs
Signing a Non-Disclosure Agreement (NDA) before starting to work on your project
Optimization of the supply chain processes through the created logistics software implementation
Now, we want to share our experience in building logistics software with you.
Our client is a US-based company specializing in warehousing and long-distance cargo delivery. Their main purpose was to deliver a Transportation Management System (TMS) for efficient shipment control , automating route planning, and reducing manual labor. Furthermore, they needed the new TMS software to integrate with their existing business systems.
We have created and delivered for our client a tailor-made, adaptable, comprehensive solution that simplified automated route planning while allowing manual adjustments. Additionally, our team designed a driver's application to ensure smooth navigation along customized routes.
During the development of the Transportation Management System, we implemented the following modules:
Route Planning Module for planning the quickest and most convenient routes, leading to more efficient deliveries, cost savings, and improved customer satisfaction.
Fleet Management Module intended to ensure precise fleet management by organizing vehicle groups and adjusting as needed to adapt to changes in the business process flow.
Delivery Points Management Module to let users track fleet locations in real-time, enhancing visibility and monitoring capabilities.
Jobs for Delivery Module to help companies assign, track, optimize, and manage these tasks more effectively.
Access System for Company Staff. We implemented a Role-based Access Control (RBAC) system to manage access levels for company personnel efficiently.
We also ensured the seamless integration of the created TMS with other systems without any data loss or duplication.
As a result, the custom transportation management system empowered our client to minimize occasional shipment losses and optimize delivery times. Furthermore, operating within a unified TMS environment enabled them to meet all their requirements with reduced time, resources, and financial investments, ultimately leading to increased gross profits.
With experience in logistics solutions, successfully created and delivered, we are equipped to create a freight forwarding system also for your business. All you require is to tell us more about your project concept. Let's start optimizing your logistics workflows together through the building and implementation of a cutting-edge freight forwarding platform!
Frequently Asked Questions
Freight forwarding software is a digital tool that logistics experts and freight forwarders use to track and share cargo information, improving efficiency compared to manual processes. It enables accurate monitoring of incoming and outgoing goods.
You can deploy an online freight forwarding platform like independently functioning Software-as-a-Service (SaaS) platform or a component of a Transportation Management System (TMS).
When making detailed estimate of the logistics software cost, IT experts take into account various price-forming factors like tech stack to use for development, scope of your future solution, customization of the visual design, etc. Considering the said aspects, the approximate price of the cargo forwarding platform will range from $30,000 to $250,000+.
While looking for a tech partner, you should be aware of the following points like the potential partner's experience, their reputation and tech proficiency, security and privacy of the data they are operating, etc. You can also find an IT vendor on professional platforms like Clutch, that give information about the company, clients testimonials and other information. Thinking out the logistics software development cooperation with Cleveroad, you can look through our clients' reviews on Clutch, and analyze them to make your choice.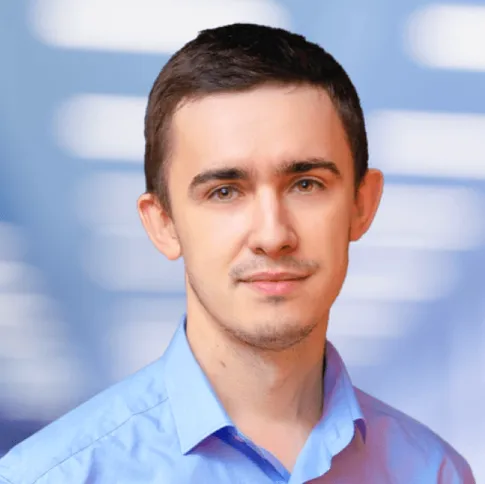 About author
Evgeniy Altynpara is a CTO and member of the Forbes Councils' community of tech professionals. He is an expert in software development and technological entrepreneurship and has 10+years of experience in digital transformation consulting in Healthcare, FinTech, Supply Chain and Logistics
Rate this article!
91 ratings, average: 4.58 out of 5
Give us your impressions about this article
Give us your impressions about this article