Embrace the Benefits of Custom Order Management Software for Your Business
As companies within the retail, e-commerce, and logistics sectors experience growth, the volume and complexity of orders usually increase accordingly. This is where the benefits of Order Management Software come into the picture. Custom order management solution acts as a centralized platform to handle higher order volumes and streamline the order management process. Additionally, eliminating the need for manual order entry with the digital solutions reduces errors and improves order accuracy.
As an IT provider with 11+ years of experience in Logistics and Retail software development, we at Cleveroad are ready to tell you everything about the significant advantages of custom order management software for your business and explain essential features, development cost, critical integrations, and compliance with regulatory requirements.
What Is Order Management System, and How Does It Work?
An Order Management System (OMS) is a comprehensive software solution retail enterprises use to optimize and automate various client order managing processes. Order management software serves as a central hub for order processing, tracking, and fulfillment.
Below, you can see the workflow diagram of the order management system. It illustrates the end-to-end process of managing customers by means of OMS. It also visually represents the various stages, steps, and interactions involved in processing orders, from the moment an order is placed to its successful fulfillment and delivery.
Order management system workflow diagram
The workflow diagram of OMS can vary based on several factors that influence how orders are processed and managed within an organization:
Industry and Business type
The complexity of products and services being offered can impact workflow
Customer segmentations
The location of customers and distribution centers can impact shipping, taxes and regulations
Order channels
Payment processing
Specific regulatory requirements
With this business diagram as our foundation, we move forward to explore the various aspects of the OMS solution.
What Businesses Can Benefit From Custom Order Management Software
Let's look at how various business domains can benefit from implementing custom order management software. The gains are manifold, from e-commerce giants seeking unprecedented scalability to niche manufacturers looking to optimize their operations.
Our Cleveroad team has defined a list with the key essential details of the OMS business, providing a clear understanding of its importance, functionalities, and contributions to the organization, which is presented below.
OMS benefits for various industries

Business
Order Management System Functions

E-commerce

Online retailers use OMS to manage orders, inventory and customer data
Helps streamline the order fulfillment process for e-commerce platforms

Retail

Manage both in-store and online orders
Helps maintain consistency in inventory levels and order processing

B2B commerce

Manage large-scale orders and complex pricing structures
Support ordering and invoicing

Marketplaces

Manage orders and seller relationships
Support multivendor order processing

Manufacturing

Manage orders for configurable products
Helps ensure that materials and components are available for production

Subscription services

Manage recurring orders and billings

Healthcare

Manage prescription orders and medical supplies

Wholesales distribution

Facilitates order processing and inventory management
Understanding these businesses and their interconnections is pivotal to define the full scope of features for your potential OMS system.
List of Business Roles
Turning our focus to business roles, which can be presented in OMS, our Cleveroad team outlines the key business roles that play essential functions within the context of an OMS. Each role is associated with specific responsibilities that contribute to the effective management of orders, inventory, and overall order fulfillment process. Understanding these roles is crucial for establishing a well-coordinated and streamlined OMS workflow. We've explored roles such as:
OMS business roles

Role
Functions

Customer

Places orders through the OMS system
Tracks order status
Checks shipments details

Sales representative

Provides product recommendations and information

Order processor

Processes incoming orders for validation and fulfillment
Ensures accurate product selection and pricing

Warehouse manager

Oversees the physical handling and storage of products in warehouse

Inventory manager

Manages stock availability
Monitors inventory restocking
Coordinates with suppliers

Financial manager

Uses OMS data for financial reporting and accounts managing

Reporting analytics

Uses OMS data for financial provides insights intro order and inventory performance

Shipping coordinator

Arranges shipping logistics and ensures cost-effective delivery of orders

Tech support

Provides technical assistance to users of the OMS system

Customer representative

Handles customer inquiries and order status updates
It's important to note that the list of business roles may vary depending on various factors such as the size and type of business, industry, technological capabilities, and specific organizational needs.
Custom Order Management vs. Ready-Made Software
When it comes to optimizing your order management processes, you face a fundamental choice:
Custom solutions tailored to your business needs
Off-the-shelf software designed for widespread use
Each approach has its merits, but the decision you make can have a significant impact on your business and competitiveness.
While off-the-shelf OMS solutions offer quick implementation, custom order systems provide adaptability and efficiency that can give your business a significant advantage. Let's take a closer look at the key differences between custom order management software and off-the-shelf counterparts:
Ready-made solutions
Off-the-shelf order management systems are software developed for a wide range of users. As a rule, it contains limited predefined functionality and cannot be heavily customized to meet the needs of the e-commerce business. You can access such order management systems by purchasing a license.
Nevertheless, many businesses that rely on order management choose off-the-shelf solutions because, in modern business, efficiency and adaptability are paramount. To stay competitive and meet the growing demands of customers, organizations are continually seeking innovative solutions to optimize their processes and operations. Our team introduces the most popular ready-made software options for those who are seeking a quick OMS solution:
Ready-made OMS examples

OMS
Pros
Cons

SAP order management

Automates order processing, reducing manual errors and increasing efficiency Order fulfillment process improving SAP provides robust analytics

High price Implementation failure or delays Once your company have invested in SAP, it can be challenging to switch to another system

Oracle order management cloud

OMS incorporates machine learning and artificial intelligence (AI) capabilities to predict issues Provides a unified platform for monitoring and management

Challenging to switch to other solutions in the future Implementation complexity especially for organizations with diverse IT environments

Microsoft Dynamics 365

Dynamics 365 is available as a cloud-based solution The platform can scale to accommodate the needs businesses It seamlessly integrates with other Microsoft products

Training employees to use Dynamics 365 can be resource-intensive and time-consuming Migrating existing data from current systems to Dynamics 365 can be a challenging and time-consuming process

NetSuite

Automate everything from initial order processing to returns handling

Add and manage multiple channels from a single platform

Drop-shipping and split shipment capabilities

You'll need a solid technical team to get set up on NetSuite

If you're a smaller brand, the full ERP capabilities of NetSuite might be a bit overwhelming, and the software package may be beyond your budge

Orderhive

User-friendly interface Inventory management features Orderhive offers automation features like order routing, order processing

Limited customization Security concerns Orderhive may have limitations in terms of scalability

IBM Sterling Order Management

Efficient order orchestration Enhance order visibility and control IBM Sterling Order Management supports various sales channels, including e-commerce, in-store, call center, and marketplace

Implementing and maintaining IBM Sterling Order Management can be expensive Integrating SOM with existing IT systems, such as ERP, CRM, and e-commerce platforms, can be challenging

Zoho inventory

An easy-to-use solution for smaller brands Has pre-built integrations with multiple shipping companies, so you can get real-time pricing and timetables inside the Zoho interface

Too lightweight for companies with ambitious and big scaling plans Mobile app limitations Zoho Inventory requires regular updates and maintenance

Kibo Order management

User-friendly interface, making it accessible to users with varying levels of technical expertise

Kibo supports integrations with a wide range of e-commerce platforms, payment gateways

The pricing structure may not be suitable for all businesses

Setting up and managing integrations can be complex and may require technical expertise
Custom order management software
Custom order management software is designed to fit a retail, logistics, or ecommerce company's specific business needs and processes. When building such a system, developers consider the industry, company size, required functionality, etc. Custom order management solutions offer many advantages over off-the-shelf solutions, for example, higher flexibility, increased ROI, and seamless integration.
Here are some key reasons why choosing a custom OMS is often more beneficial:
Precise alignment with business processes. A custom order management system is designed to meet the unique needs of your retail, e-commerce, or logistics company. It means that the system integrates perfectly with your current business processes, taking into account all nuances and peculiarities.
Maximum flexibility and scalability. A custom order management solution provides flexible functionality and can easily scale as your retail, e-commerce or logistics business grows. You are not limited to standard features as you may be with off-the-shelf solutions.
Higher control and reliability. You have complete control over your custom OMS's architecture, security, and updates. Higher control reduces data security risks and ensures reliable system performance.
Long-term cost reduction. Developing a custom order management system may require a significant initial investment. However, it can significantly reduce operational costs and improve the efficiency of your order management processes in the long run.
Integration with other systems. You can easily integrate a custom order management software with other systems, such as CRM, ERP, or inventory solutions, which increases the efficiency.
Improved customer experience. A custom order management solution allows to implement enhanced customer experiences, including real-time order tracking and user-friendly ordering interfaces.
Regulatory and standards compliance. A custom order management software can be easily customized to meet your industry's specific regulatory requirements and standards, for example Competition law, Consumer rights law, or Data protection law.
Choosing between a ready-made OMS and developing a custom OMS for your own company's needs is a critical decision that requires careful consideration. Several key factors should be taken into account for each approach:
Custom OMS vs off-the-shelf

| | | |
| --- | --- | --- |
| Factors | Custom solution | Ready-made solution |
| Cost | Can be more expensive initially, but offers the long-term cost-effectiveness and better ROI | Require less initial investments, but can be more expensive in the long-term and offer lower ROI |
| Development time | Typically takes longer to complete | Takes less time to implement |
| Integration capabilities | Seamlessly integrates with any other software you use (e.g., ERP, CRM, e-commerce platforms) | Have limited integration capabilities |
| Flexibility and future-proofing | Can be designed considering furter business growth and scale | Is tailored to your current business size and cannot be expanded later |
| User-friendliness | Considers the ease of use for your staff, including user interfaces and accessibility | May not be user-friendly enough for your staff as it is designed for widespread use |
| Support and updates | The company implements only the updates you need, when it is convenient to test and accept them | Providers can roll out an upgrade at any time, regardless of whether your business needs it or not |
What Key Features Should Be Added in a Custom Order Management System?
Custom order management software can vary in functionality depending on the industry and the needs of each business. However, there are several basic features that each solution includes. Let's take a look at the main features of custom order management systems:
Creation and processing of sales orders
The order creation and processing function is the main feature of the custom order management software. It includes automated multichannel order capturing (from online and offline sales channels). It also supports manual order creation, e.g., based on a call from a customer. This module involves entering the necessary information about the order, such as selected products, quantity, price, and terms. OMS automatically checks stock availability and manages order statuses from creation to completion.
Order processing feature example (Source: Salesforce)
Sales order fulfillment
Custom order management system allows you to configure rules for automatic order fulfillment, such as automatically approving an order for shipment if the items are in stock and the order is fully paid for. The system also routes orders to the optimal warehouse for fulfillment, optimizes inventory booking, and allows customers to modify or cancel orders on demand through various communication channels. In addition, OMS supports partial order fulfillment, allowing customers to get available items even if some are out of stock or distributed to different storage locations.
Sales order fulfillment feature example (Source: Shopify)
Returns management
This feature of the custom order management system ensures that returns are processed and accounted. It includes configuring returns policies, allowing you to authorize returns, exchanges, and warranty cases. The system automatically retrieves related order details to create a return request and calculates the refund amount according to the return policy. OMS determines where to send returned items and supports automated BORIS (return of items purchased online, in-store) transactions.
Returns management feature example (Source: Shopify App Store)
Shipping management
This feature provides optimization and control of the order shipping process. The system supports various shipping methods and types, including BOPIS (order and pay online, pickup in-store), dropshipping (shipping items directly from the supplier), shipping to and from the store, same-day delivery, and more. Custom order management software also facilitates combining orders into a single shipment when multiple orders arrive at the same address over several days, as well as splitting an order into multiple packages if its weight or size exceeds the capacity of a single package.
Shipping management feature example (Source: Monday)
Analytics and reporting
This component of the custom order management system provides the business with analytical information and reports to make informed decisions. The system provides customizable infographic dashboards that display current and pending orders, customer inquiries, and related key performance indicators (KPIs). It also generates sales reports, including sales data by product, sales channel, and customer. This information helps businesses evaluate performance, identify successful sales strategies, and identify potential improvements in the order management process.
Analytics and reporting feature (Source: IBM)
Going Through the Steps of Creating a Custom Order Management System
Developing a custom order management software requires a careful approach and following several vital steps. Let's look at the process of creating an OMS on the example of our Software Development Life Cycle (SDLC):
First contact
Communication begins at the moment you leave a request on our website. Your personal manager with expertise in your domain will contact you within 24 hours to clarify the details of your request. Also, a specialist will answer your questions and schedule a meeting with the Solution Design team to continue working on your product. Upon your request, we will sign a non-disclosure agreement (NDA).
Solution Design stage
In this stage, you meet with a Solution design team consisting of a Solution Architect, Business Analysts, and a designer. The team clarifies your requirements for your custom order management software and defines what problem you want to solve by building custom software. Based on this information, we work with the client to create a scope of work with a high-level feature list and define software architecture. The team considers the business goals and constraints that the client may have (development time or any specific deadlines, budget constraints, cooperation peculiarities, etc.). We provide a project cost estimate and present our proposal based on the collected data.
Discovery Phase
The Discovery Phase is the most crucial preparatory phase to turn your requirements into a clear development plan. During this phase, the team works closely with you, getting into the details of your company's processes and specifics to update software architecture, specify the feature list, and approve the optimal tech stack. The design team develops a design concept and approves it with you. In addition, designers will create a UX map or prototype, depending on your individual needs. After identifying all the details, we provide a more accurate project estimate based on the discovery results and artifacts obtained at this stage.
Below is an example of order management system architecture. It provides a clear overview of how the system is organized and how various parts work together to achieve its objective:
Order management system architecture example
The composition and complexity of an custom order management system architecture architecture can vary significantly based on several factors, especially when specific requirements are not provided. Here are some key causes of variability:
System type: for instance, a software application's architecture will differ from a hardware system or a hybrid system combining both
Scope: can vary based on what aspects of the system it needs to depict.
Architecture style: different systems may follow various architectural styles (client-server, monolithic, microservices), each requiring a unique diagram representation
Project budget, time and resource constraints may limit the depth of the architectural diagram
Technology stack: choice of programming languages, frameworks and tools used in the system can influence the diagram's content. For example, a cloud-based application will differ from one for an on-premises system
The development team selects a tech stack based on your solution's requirements. Here's a preliminary example of technologies and tools for custom order management software development that our team can use to build such a solution:
Programming languages: Java, C#, Python, Ruby on Rails, JavaScript (Node.js), PHP
Frameworks and libraries: Spring Boot (Java) or ASP.NET (C#), React, Angular or Vue.js
Databases: Relational (e.g., PostgreSQL, MySQL, SQL Server), NoSQL (e.g., MongoDB, Cassandra)
Caching: Redis or Memcached
Runtime environments: Docker and Kubernetes
Version control and build systems: Git, Jenkins, Travis CI, or CircleCI
Monitoring and logging systems: Prometheus and Grafana, ELK Stack (Elasticsearch, Logstash).
Security: OAuth 2.0 and JWT, Firewalls and WAF, Data Encryption (SSL/TLS)
Note: this technology stack for custom order management solutions may vary depending on your business needs and selected functionality.
Success in implementing an Order Management System (OMS) hinges not only on the technology you choose but also on the expertise and composition of the team behind it. We gathered some insights from subject experts at Cleveroad, renowned for its expertise in OMS implementation:
Alyona Kostenko

Certified industry expert

OMS is the bridge that connects the overall business strategy with day-to-day operations. In the meantime, owing to OMS, the company can definitely improve its profitability and save costs by minimizing human error and reducing transport costs. As a result, the OMS will strengthen your business relationship and make it agile and highly personalized
Development and testing
At Cleveroad, we use the Agile software development methodology, namely the Scrum framework. We work in sprints that last, on average, 2 weeks. Each sprint begins with thorough planning and ends with delivering a stable piece of your custom order management software. The project manager maintains the sprint backlog, and our diverse development team implements the functionality.
QA engineers thoroughly test the functionality, generating reports to resolve issues. At the end of the sprint, they perform regression and, if necessary, stress testing to ensure software stability and reliability under high loads.
Product release
Our team gears up for the software's release after thorough regression testing and resolving any identified QA issues. The QA team initiates smoke tests to gauge the product's stability. We actively participate in the release process of your custom order management software, deploying the solution in your business environment and embedding it in your business processes. We also carefully integrate order management software with your existing systems. We meticulously hand over all project deliverables once you are content with the final result.
Support and maintenance
Our commitment to your project extends beyond the software's launch. We continue to improve your order management software based on end-user feedback and provide ongoing maintenance.
Our project maintenance encompasses critical aspects, including bug fixing, optimizing stability and performance, and refining code for efficiency, among other considerations. This ongoing partnership ensures that your solution remains robust, reliable, and capable of evolving with your changing needs.
Custom Order Management System Related Integrations
In the context of OMS, integrations refer to the various software and systems that OMS can connect with to enhance its functionality and streamline operations. Let's explore such market-related integrations in more detail.
Order Management System integrations

| | |
| --- | --- |
| Related integrations | What does it allow you to do? |
| Business intelligence (BI) | Such integration allows OMS to access data for reporting and analytics, aiding performance tracking |
| Transportation management system (TMS) | Integration with TMS optimizes shipping and logistic processes |
| Customer relationship management (CRM) | This Integration allows OMS to access customer data which in turn aids to improve customer service |
| Enterprise resource planning (ERP) | Allows to improve and optimize collaboration between order management and other business processing (finance, inventory management, etc) |
| Supplier relationship management (SRM) | This integration streamlines supplier and procurement processes |
| Electronic data interchange (EDI) | Simplifying order processing and communication |
| Marketplaces | Integrating OMS with these platforms (Amazon, eBay) streamlines order management and inventory synchronization |
| Payment gateway | Provides secure and efficient payment processing within the OMS |
| Mob app integration | Enables on-the-go access for order tracking, inventory management, and customer communication |
| Social media | For better tracking of the impact of marketing campaigns on order volumes and customer engagement |
The variation in market-related integrations of OMS can be attributed to numerous factors, reflecting the unique needs and circumstances of different businesses and companies. For example:
Business model
Geographical reach
Product complexity
Legacy systems
Customer experience
Regulatory factors
Market trends
Challenges of Building Custom Order Management System
Building a custom order management system involves technical and regulatory challenges. We have gathered information about the main challenges of custom OMS development so you can successfully deal with those issues:
Technical requirements for custom OMS
OMS serves as the central system of modern businesses, orchestrating the complex flow of orders, inventory, and customer interactions. However, no two businesses are alike, and each operates within a unique domain, be it e-commerce, manufacturing, retail, or services.
Let's outline the tech requirements which Cleveroad team applied to OMS:
Privacy and data protection
Includes obtaining proper consent for data processing, ensuring data subject rights to protect personal data
Access control
Proper access control should be implemented within OMS to ensure that only authorized users can access sensitive data
Secure data transmission
To ensure secure data transmission with other systems' encryption protocols (such as HTTPS) should be implemented
Vendor's management
Integration with third-party vendors require data protection and security standards from their side
Payment card security
Ensure compliance with payment cards security standard if your OMS handles payment card data
Data retention
You should ensure that personal data should not be retained longer than necessary
Data localization
Consider and carefully plan where certain data should be stored and processed
Employee support
Employees should be provided with regular training about data protection and cybersecurity awareness
Data subject rights
Ensure that access, rectification and deletion of personal data are in place
It's evident that defining and prioritizing domain-specific tech requirements for your OMS is not just a necessity but a strategic advantage. These requirements serve as the schema for building an efficient OMS.
Compliance with specific local regulations
Let's examine the specific regulations relevant OMS implementation you should take into account because compliance with local regulations is a primary concern:
OMS regulatory requirements

| | |
| --- | --- |
| Regulation type | Description |
| E-commerce law | This law governs electronic commerce, including provisions related to electronic contracts, consumer rights, and online transactions |
| Intellectual property | Copyright law to protect intellectual property rights Regulations for protecting trademarks |
| Tax regulations | Tax codes outline regulations for individuals and businesses |
| Competition law | To prevent anticompetitive practices and promote fair competition |
| Consumer rights law | This law outlines the rights and responsibilities of consumers in country and includes provisions for consumer protection in commercial transactions |
| Data protection law | Personal data protection law regulates the processing of personal data |
| Environmental protection law | Regulations related to environmental protection, waste management and environmental impact assessments |
| Food safety and quality | Related to the safety and quality of food products, including production, storage, and distribution |
| Financial services | Payment services and electronic money issuance |
| Real estate law | Regulations related to property rights and real estate transactions |
Ultimately, the view of all regulations and limitations empowers all OMS users to maintain compliance with local laws, reduce legal risks, and ensure the system's smooth operation across diverse domains. These regulations will guide the development team to ensure legal adherence.
Cost to Build Custom Order Management Software
The cost of developing custom order management software can vary from $80,000 to $200,000+. Such an extensive range is explained with a variety of factors affecting the final price: number and complexity of features, platforms you want to cover, time spent on development, developers' hourly rates, etc.
Additionally, the location of your software vendor and team composition are essential factors determining the final cost of creating a custom order management system.
The team composition of custom order management solution development includes the following specialists:
Business Analyst: Responsible for gathering and analyzing customer requirements, formulating user stories, and validating them.
Solution Architect: Responsible for architecting the solution, defining the system structure, and integrating key components.
UI/UX Designer: Creates the user interface and optimized the user experience.
Developers (Front-end and Back-end): Responsible for creating and integrating functionality, making sure the system works.
QA Engineers: Responsible for testing the app identifying and tracking bugs and performance issues.
Project Manager: Coordinates the team, plans timelines and resources, and ensures communication with the customer.
Tim Lead: Responsible for leading and organizing the development team, ensuring tasks are completed and standards are met.
DevOps Engineer: Responsible for deployment automation and infrastructure management for the reliable operation of the app.
Please note that the team composition can vary depending on your product requirements, systems complexity, and chosen technologies.
As we said earlier, the development team location also matters. Hourly rates of IT specialists in different regions vary significantly. We have collected for you the salaries of the leading members of the development team worldwide. These rates are complied from such platforms as Clutch and UpWork:
Software development hourly rates

| | | | | |
| --- | --- | --- | --- | --- |
| Specialist | United States | Latin America | Central/Northern Europe | Asia |
| Business Analyst | $110-$205 | $45-$55 | $40-$63 | $30- $42 |
| Solution Architect | $198-$292 | $60-$72 | $50-$77 | $35-$48 |
| UI/UX designer | $79-$163 | $40-$50 | $36-$56 | $25-$36 |
| Developer | $105-$187 | $35-$61 | $25-$70 | $18-$42 |
| QA engineers | $77-$169 | $30-$50 | $25-$63 | $15-$36 |
| Project Manager | $133-$233 | $55-$66 | $45-$70 | $35-$48 |
Also you should take into account the influential factors that can impact your project team's composition. These factors encompass the scale and scope of your OMS product:
Budget constraints
Timelines
Existing technological ecosystem within your organization
Now, how long will it take to estimate the software development time? The current norm for OMS pilots is 6-12 months from the project kick-off to the activation of order orchestration capabilities and a few days to a few weeks to complete the roll-out.
To calculate the time spent on order system development, we at Cleveroad involve a Solution Architect, who estimates how much effort each team member will need to put into implementing a particular feature depending on its complexity. Also specialists take into account interdependencies to determine the load between team members. Thus, the involvement of one role affects the participation of another position. In addition, the team considers a lot of other factors that can vary depending on your needs and, as a result, affect an estimate with an explanation of the project duration and involvement of each role in the course of the project (for example, in some phases, some specialists can be involved on a part-time basis, while other stages require the simultaneous involvement of two or more specialists).
Software development time estimation by sprints
The timeline and roadmap for implementing OMS can vary significantly based on several key factors. It's highly important to consider these factors when planning your OMS implementation to ensure a realistic and successful project timeline:
Scope
Complexity
Budget constraints
Availability of skilled team members
Quality assurance
Changes in market conditions
Vendor-related issues
Organization needs to adapt to new processes and workflows
Delays in communication or support
The volume and quality of data should be transferring from legacy systems
Compliance with industry-specific regulations
Cleveroad Experience
Cleveroad is a software development company with over 11 years of experience in Logistics and Retail. We help startups and businesses of different sizes solve automation problems and create opportunities to gain competitive advantage by building custom software. Our team has experience in various industries like Logistics, Retail, Healthcare, FinTech, Education, etc.
Our client, an e-commerce company in the US, needed a reliable SaaS solution to provide retail operations management tools. We built a retail operations platform from scratch using the SaaS model to address client business needs. The solution included a number of management tools, including Purchasing, Catalog and Product Management, Marketplace Integration, Distributed Order Management, and warehouse and inventory management.
As a result, our client received a custom system that allowed them to provide retailers with reliable tools to manage their business processes. Well-structured solution allowed the customer to quickly engage their target audience and increase their relevance through the SaaS business model.
Here's our clients opinion about their successful cooperation with Cleveroad on e-commerce operations management system development:
Daniel Norman

CTO at RetailOps, USA

It was a productive cooperation. Cleveroad team was very attentive to details and managed to fulfill the project requirements. Team members were really responsive throughout the product development process.
Now, let's see what benefits you can obtain by cooperating the Cleveroad team:
In-depth consultation from our domain subject matter experts on the development and integration of your custom order management software
IT services on demand: order management software development from scratch, legacy systems modernization, cloud app development, UI/UX design, etc.
Experience in integration with 3-rd party services, including Salesforce CRM, Netsuit CRM, SAP ERP, Oracle ERP Cloud, Zoho Inventory WMS, Skuvault WMS, etc.
Flexible cooperation models per your request: Staff Augmentation, Dedicated Team, Time & Material, and Fixed Workscope
Thoughtful Discovery Phase to identify your order management systems functionality and architecture and create a detailed development plan for fast and smooth delivery
The full team of specialists available for custom order management system development: software engineers, project managers, business analysts, solution architects, UI/UX designers, DevOps, and QA engineers
If you plan to enhance your retail business operations and order processing, our team is ready to build custom order management software tailored to your business needs.
Start developing custom order management software
Our team with 11+ years of experience in Retail software development is ready to build for your custom OMS to streamline your order processing
Frequently Asked Questions
OMS development refers to creating and customizing an Order Management System, a comprehensive software solution businesses use to optimize and automate various processes related to customer order management. It involves the design and implementation of a centralized platform that streamlines order processing, tracking, and fulfillment tailored to a company's specific needs.
An Order Management System (OMS) is a central hub for efficiently managing customer orders. Its primary functions include:
1. Order Creation and Processing: Facilitating multichannel order capture, automating checks, and managing order statuses.
2. Sales Order Fulfillment: Configuring rules for automated order fulfillment, routing orders to optimal warehouses, and supporting partial order fulfillment.
3. Returns Management: Processing returns, authorizing exchanges and warranty cases, and tracking return status, including automated BORIS (return of items purchased online, in-store) transactions.
4. Shipping Management: Optimizing the order shipping process, supporting various shipping methods, real-time tracking, and generating pick and pack slips.
5 .Analytics and Reporting: Providing customizable dashboards for real-time visibility into orders and sales reports to inform decision-making and enhance customer experiences.
While both OMS and inventory management systems deal with aspects of order processing, they serve different primary purposes. OMS focuses on the end-to-end process of managing customer orders. On the other hand, inventory management primarily deals with tracking and managing the quantities and status of products in stock.
Developing an Order Management System involves several key steps. First, you should find an experienced software provider with expertise in your industry. Next, with your vendor, you will pass through planning stages, development and implementation. Your software provider can also offer you support and maintenance services to update and improve your custom order management system. The timeline and roadmap for OMS development can vary based on factors such as scope, complexity, budget, team composition, and organizational needs.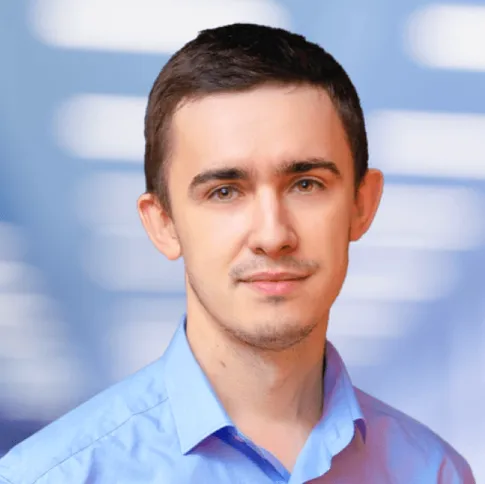 About author
Evgeniy Altynpara is a CTO and member of the Forbes Councils' community of tech professionals. He is an expert in software development and technological entrepreneurship and has 10+years of experience in digital transformation consulting in Healthcare, FinTech, Supply Chain and Logistics
Rate this article!
185 ratings, average: 4.98 out of 5
Give us your impressions about this article
Give us your impressions about this article