What Is a Supply Chain Management System: Essentials, Benefits, and More
Different logistical activities become more effective when the supply chain management systems come into play. Digital solutions help the clients and managers automate operations, track their performance in real-time mode and get improved results of SCM activity.
In this article, we'll discuss what a supply management system is, its benefits, development trends, and other essentials you should get acknowledged with building a solution for supply chain running.
What Is Supply Chain Management, And How Does It Work?
Supply chains have existed for so long ago; however, the majority of companies recently acknowledged them as a valuable addition to their business flows, and the necessity to manage these chains. So, what is supply chain management?
Supply chain management (SCM) is the business process of running data, items, and funds concerning the particular goods or services, from receiving raw materials to the product's delivery. The operations are performed through a row of suppliers that serve as peculiar chain links conveying the resources for a new product to manufacturers and then to direct interaction with end-users. A supply chain management system is a piece of software that helps you coordinate various processes of the supply chain most beneficially for you.
Why is a supply chain management system important? Every item launched on the market results from cooperating with different supply chain participants performing manufacturing, load dispatching, and allocation activities. That's why Dave Waters mentions:
Dave Waters

Senior Supply Chain Manager in STERIS Corporation, UK

Supply chain is like nature; it is all around us.
For quicker deliveries to customers, the supply chain should be appropriately managed and controlled. To duly provide such management, you should dig deeper into the supply chain management definition, namely its constituents and working principles.
Typically, the items passing through the supply chain overcome the following parts:
Planning. When the chain is formed, the logistics experts should assess KPIs to define supply management effectiveness and reliability. Moreover, the number of materials required to gain the set purposes of the company should also be estimated.
Sourcing. It obliges the SCM management experts to find the vendors capable of delivering the resources required for a future product building. Then, they should organize the set of activities (e.g., requesting, getting, inventory maintenance, vendors' payments approval) required for heading and tracking the vendors' work.
Production. All the manufacturing activities, like resource acceptance, item manufacturing, quality testing, shipping & schedule package, should be appropriately coordinated.
Transportation & shipping. This stage is required to coordinate customer activities, such as invoicing and payments, orders, load dispatching, etc.
Returning. It's required in case the delivered product is damaged or unwanted.
Major activities in a supply chain
All these parts must be woven together and function sequentially, maintaining centralized collection of supply chain management information. This is the primary task of SCM experts.
What does SCM do in its turn? It coordinates supply chain activities making them function as a single organism. The unity of the supply chain running work is possible due to the SCM key qualities described below. So, what is a supply chain management system essential feature set that makes it critical for the chain participants?
Data comprehensiveness is another quality required for a proper SCM supply platform's functioning. The supply chain managers should have access to different information sources (such as large amounts of IoT structured data or unstructured info from social networks).
Better vendor collaboration is quickly enabled by cloud-based corporate networks that make multi-enterprise communication and engagement possible.
The cyber protection of SCM systems should be one of the top priorities for every logistics organization. The supply chain management solutions should be protected from any cyber threats, and the data they contain has to be duly encrypted.
Tech-savviness of the SCM platform allows it to be a command center, which gathers data, organizes workflows, and makes business decisions. Furthermore, most of the current supply chains are self-learning and computerized, enabling automatic improvements in working operations.
The supply chain management IT systems should be easily scalable in real-time, with datasets offering complete and accurate information.
Supply chain management system: key features to know
Answering the question of what is a SCM system, it should also be mentioned that the supply chain and logistics system are not the equal things as many people suppose. Logistics, which is an essential part of the supply chain, responds for holding and shipping items. The supply chain, in its turn, contains all operations the product passes through: from searching for materials and producing to delivery. All the said activities require adequate management to obtain better working results and profit increase.
Supply Chain Management: Why Is It Required?
What does supply chain management means for a chain of supplies? This process assists SCM managers and business owners in running different supply chain activities performed on the chain's sections. The SCM management also unites these activities in one flow for better coordination. Moreover, the experts can get more information to analyze and understand the weak points of their business to improve.
The management, essential for the proper functioning of the SCM system definition, gains popularity among the clients and business owners. So, Allied Market Research proves that SCM was invested a lot in 2020: a supply chain market share reached $18,699.45 million. It's projected to increase to $52,632.37 million, higher than the pre-pandemic estimates.
The Logistics Bureau remarks about the SCM effectiveness in the following way: companies with successful supply chains increase profit quicker than the industry average in 79% of cases.
An appropriately managed chain of supplies may boost productivity at every step of the workflow, lowering the company's operational costs and increasing profits. The other common reasons why your company should apply to systems of supply chain management explained below:
You need to have more opportunities for risk management and risk assessment.
Your business needs to enhance customer interactions as well as improve internal collaboration links.
You plan to increase the sustainability and prospects of your company.
Your logistical business operations require optimization.
You need to provide your personnel and customers with transparency in your company's supply chain operations.
Let's look at what benefits the customer supply chain management solutions can bring and consider how they can help you in your particular business case.
Cost-efficiency
Companies may cut operating costs by reacting more rapidly to customer requests, which can be accomplished by integrating suppliers and digital innovations use. For example, on-demand supply chain management includes helping companies avoid overproducing, saving money on personnel, resources, inventory control, and delivery.
Better movement of the material
Supply chains always work to shorten the time it takes to create a product and deliver it to the customer who ordered it. Deliveries must be made more quickly to do this, which requires a number of components to be performing at their peak levels.
Improved communication
Supply chain management meaning is that it provides flawless data sharing, giving the business owners a broad picture of what happens in different supply chain sections. That's why they can build better working relationships with suppliers and control the vendors' activity. Moreover, modern technologies allow companies to effectively contact suppliers even at a distance.
Enhanced dispatch
Contrary to your competitors, you may be able to preserve a more strong cash flow and profitability by reducing the number of alternative distribution routes and enlisting the assistance of logistics professionals.
Risk reduction
Proper SCM system is essential for logistic businesses because it assists in finding issues in the particular supply chain and supply chain management on the whole as soon as possible. By analyzing the received information, company owners can develop plans to prevent such problems and lower the fixing expenditures.
Higher incomes
The SCM systems definition also includes monitoring every chain section the item passes through to the end customers. Using the collected data, the companies can grow incomes and bottom line.
A Look at The Modernity of SCM Systems Definition
SCM systems definition includes boosting effectiveness and cutting costs as well as improving user experience. For more accurate job performance, which is the purpose of supply chain management, supply chain running systems should always be up-to-date. The essential characteristics of the modern SCM platform are given below.
Resilience
Typically supply chain management systems are described as ones adequately responding to any disruptions and recovering after them. This feature will help the supply chain managers economize the funds needed for possible systems' repairing.
Flexibility
Businesses should provide their consumers with different ways of purchasing, online or offline, opportunities to personalize the business flow settings (e.g., delivery timetables, order parameters). Moreover, the flexible SCM systems will better solve the manufacturing issues, such as searching for suppliers or resources.
Lean manufacturing
Supply chain management includes the integration of this feature, due to which the businesses may reduce wastes (e.g., time, money, materials) production without losing performance. In addition, lean manufacturing can also help companies work on the continuous improvements of their production flows.
Demand management
The modern supply chain management system definition also contains the following: the solution should be able to predict demand for a company's items/services to satisfy users' needs better and plan how to act further. Such a strategy enhances the interaction between business flows and advertisement.
Trust & traceability
This must-have feature is required to provide transparency of every action performed in the supply chain. It needs a traceability mechanism to be able to put everything under control.
All these characteristics can be provided by implementing cutting-edge technologies during logistics app development. This way, companies are better prepared to meet consumers' expectations, function in different business circumstances, and remain sustainable in the ever-increasing market.
What is a supply chain management solution's development trend pack?
Internet of Things
The IoT algorithms can enhance logistics and shipping control, fleet monitoring, even creating totally smart warehouses and transport. That will also improve your supply chain's performance and reliability. Moreover, you can combine IoT-based devices with other technologies to get more valuable results.
5G wireless networks
What changes will be made to supply chain management in the future as 5G networks start to spread throughout the globe? Networks with the capacity to handle massive numbers of devices are required as IoT-enabled products flood the market.
The change in network density between 4G and 5G is astounding. 10,000 devices can be supported by 4G networks per square mile, whereas 100 times as many can be supported by 5G networks. As digital changes spread, a robust network is required to provide swift and flawless communication between processes, machines, and users.
Blockchain-based solutions
The Blockchain is a technology that will completely change your supply chain and take it to a new level. The easy shared and transparent transaction ledger will make SCM use by several organizations possible. Such use is secure, waste-eliminating, and profitable for your business.
Cloud systems
Your business can use Software-as-a-Service (SaaS) solutions to stay competitive. Saas is quite a protected and convenient model that allows you to save your data in clouds and access it at any time.
Circular supply chain
This trend helps you find additional resources for producing your items, recycling the existing materials that are unnecessary, and even defected products. Thanks to a circular supply chain, you can re-use additional resources and save more funds, as the worldwide raw material sources are limited, and their price grows higher. That's why you should include it in supply chain management system.
AI & automation
Supply chain activities are complex and time-consuming, as a rule, so specialists constantly look for technologies that boost productivity. For example, you may delegate more manageable tasks to AI-based machines, allowing you to be entirely concentrated on functions that can only be completed by humans.
The Crucial Functionality of The SCM Software
The required functionality for an SCM solution should be considered in terms of the supply chain components. The logistical experts say there are 14 SC parts; however, we'll look at the most vital parts of the supply chain management in simple words and features that should be implemented.
Resources acquisition
While you get materials for your business running, you have to perform a set of various activities, like choosing resource providers, invoicing, or ordering. The specialized software can help you automate the above-listed activities.
These are some of the features useful at the start of the supply chain activity:
Contract creation & running. It offers contract templates, generates signatures, and speeds up approval procedures.
E-search. This feature helps you conduct your own supplier research before ordering raw materials. Thanks to e-search, you can find and analyze data about various suppliers to choose the best one.
Procure-to-pay (P2P) actions. They are responsible for a set of money operations unique for each item. But the core of such processes is unchangeable, including purchase requests, order creation and management, and invoicing.
Provider running. Due to such a feature, the SCM system will be able to collect all available information about the resource vendors, offer the evaluation of their activity, and frequently update the provided data.
How to make your supply chain efficient after analyzing SC analytics? Our article will tell you more about analytics in supply chain!
Stock management
Stock (inventory) management is all about finding the optimal balance between holding too many materials and spending on various supply chain nodes. Several company departments might resolve this issue, but the SCM system implementation will facilitate such a process.
The most common features required for stock management activities are the following:
Multi-location stock monitoring & low stock alerts. It lets you track the resource locations, define stockouts and excesses, etc. You'll also be informed if the number of materials reaches the earlier pre-defined level.
First-in first-out (FIFO) functionality. It helps you identify the obsolete inventory that needed to be sold long ago. Due to this information, you can plan your sales more precisely.
Continuous replenishment. This feature cares about frequently repeated purchase orders, creating them automatically and sending them to suppliers.
Reporting. It provides you with automatic real-time reports containing data about the actual stock level and other essential parameters.
Demand scheduling and predicting
Implementing a modern SCM chain management platform helps you bring predictability and transparency to your supply chain flows. Moreover, it is perfect for scheduling processes optimization to facilitate this kind of task.
The essential features you can integrate into your SCM solutions for demand scheduling and predicting activities are:
Collective predicting. Different supply chain participants may develop collaborative business forecasts, planning various business activities together.
Demand perception. This functionality provides piles of data for you to define SCM demand tendencies and quickly resolve possible unexpected issues.
Materials organization. Such a feature helps you define enough resources for fulfilling customers' needs in case of a particular item's production.
Logistics management
Logistics is an integral part of supply and chain management, containing all the business flows (e.g., making purchase orders, storing products, managing fleet, performing reverse logistics activities) connected with items and materials flow, as well as data interchange between manufacturers and customers.
The vital logistics aim is to satisfy client needs as quickly as possible with the lowest expenditures. Smart technologies will be reliable helpers in solving this problem, offering you the cutting-edge instruments to effectively deal with various logistics processes.
Advanced features
All the modules mentioned above include only the basic supply change management functionality. But you should keep in mind that such a functionality implementation won't be enough if you require a distinctive solution that attracts more customers by its uniqueness and multifunctionality.
Thus, you can find out what are supply chain management systems additional features:
Advanced planning. Consumer records are evaluated using complex algorithms and consumption analysis. It may be invaluable to many businesses looking for assistance in improving production performance and preparing for the future.
Vendor-managed stock functionality allows all business partners to see what's going on. For example, vendors reply with new shipping alerts and invoices, and purchasers may generate sold items reports.
Sourcing functionality ensures that the organization receives the most satisfactory service/product at the best price. It is often used before the supply process.
Integrations. Your SCM (supply chain management) system, no matter how good it is, can never be a complete solution if it has few or no integrations with online shopping carts, payment terminals in supermarkets, or other logistics solutions like CRM, ERP, or custom order management software. SCM software owners can give their services to e-retailers that open storefronts on shopping platforms by establishing a link with them.
How to Create a Supply Chain Management System That Fits You?
Building an SCM platform that precisely fits your business needs is a key to the success of your company activity. So let's learn how to do that.
How to create a perfect SCM system?
Gather business requirements
Starting your SCM system creation and having found out what's supply chain management, you need to make some preparations. Define the aims you want to gain by the project development, find the stakeholders and contact them. Among different questions about supply chain management to ask and solve, you can offer them the following ones:
What is the end purpose of the upcoming system?
What features do you require to include in your wishlist for the solution's proper upgrade and further attractiveness?
What mainly are you interested in concerning the future system?
Whats supply chain management toolset you need to lead this product to success and why?
What upgrades can ensure you recommend the system to other users?
According to your stakeholders' propositions, prepare project requirements and put them into a document to respond to what is supply chain management (SCM) particular purpose.
Choose a skilled outsourcing IT provider to collaborate with
If you want to quickly and efficiently develop a SCM and implement it into your supply chain flows, outsourcing will be a vital tool for your business. So, you should find and choose an outsourcing software development vendor to collaborate with.
This vendor will be responsible for your SCM project from its very beginning till the system delivery. The IT professionals will provide you with extended answers to all of your tech questions, conduct business researches your product may require and care about many other things.
Choose the solution type
The next step should be the definition of the future system's type. You should identify whether it will be an off-the-shelf solution or a customized one. Bear in mind that both variants have their advantages in particular business cases.
For instance, if you need cost-efficient supply chain management (SCM) software as soon as possible, off-the-shelf solution development is the best in this situation. Nevertheless, you should consider that such a solution should be customized and compliant with your existing business platforms. Otherwise, you can lose performance speed.
In its turn, a custom SCM solution is more expensive than an off-the-shelf one; however, it is designed considering your unique company needs. Furthermore, custom software development represents a competitive advantage over other companies in the logistics domain.
What does supply chain management means for businesses? This question can be responded best of all by the well-known SCM IT providers offering their platforms to solve the critical needs of companies. We give some prominent examples below.
Basware has developed the SCM platform responding to payment issues solutions and offering various services to deal with funds essentially.
HighJump provider strives to answer what is supply chain management system that can satisfy clients' needs most of all. They deal with warehousing, retail, and shipping issues.
Oracle offers SaaS SCM solutions that assist companies in reorganizing their supply chain running flows. Clients can learn more about what is supply chain management systems essential benefit that can help them satisfy their needs while obtaining order management, SC planning, and other services.
Start a project development
After all the preparations are finished and the details are clarified, you can choose a software development vendor and apply to them for collaboration. The experienced IT provider will give you the best supply chain management explanation, recommending how to solve your particular issue in the most beneficial way for your company. They'll also advise you on what architecture type to choose and what API (supply chain management) to integrate.
The vendor's solution architects will help you define the supply chain management process essential points vital for the proper feature list creation and tech-stack choice. Then, the future system's design will be carefully prepared, starting from prototyping the upcoming solution's interface and its wireframing. The vendor will also be responsible for writing the system's code, the solution's quality control, and its deployment. Moreover, they will train your personnel to use the developed custom functionality.
Pass the maintenance and support step together with vendor
The outsourcing cooperation won't be finished after your SCM platform is released. The vendor's experts will continue taking care of your created solution due to the system's complexity and interconnection. How will it be?
They will update the supply chain management system with additional functionality your employees may need to seamlessly perform their work. Moreover, they will continue checking the already built SCM software for bugs and make hotfixes.
How to Choose a Supply Chain Management System Vendor?
Selecting a supply chain management systems provider is essential because SCM solution development is quite an extensive and complex task, and only the skilled vendor can properly deal with it knowing all the ins and outs.
So, how to choose a reliable vendor? We've prepared essential points you should pay attention to.
What to consider choosing an SCM vendor
Verify their skills and competence
Looking for a trustworthy SCM solution provider needs deep research. First off, you should ensure they've got enough skills and competence to handle your project. Logistics competencies, such as experience and understanding of shipping routes, acquaintance with warehouse equipment, and knowledge of freight rates and fuel prices, are valued highly by SCM supply chain experts.
SCM consultancy these days has expanded to include logistical support between enterprises and worldwide supply chain management. Business continuity basics and strategies are essential for professionals in this field. They should also be familiar with IT and supply chain management tasks, including transportation, warehousing, inventory management, and production planning.
Accreditation level
Professional accreditation in supply chain management is obtained by completing an assessment issued by a third-party certifying authority. It's necessary to ensure that you have a particular degree of industry knowledge (gained from college classes, domain events, written information sources, etc.).
Feedback-proven expertise
Having checked the special knowledge level, look at hiring platforms. Typically, they also provide the feedback from previous clients together with relevant information about the company. Thorough analysis of clients' reviews will help you obtain more information about the quality of potential vendor's work, their operational flow, and other essentials.
Portfolio cases
If you're interested in a particular vendor's services, look for their website and accurately learn it, especially the portfolio section. Such learning is essential to understand whether the vendor is deep into the subject and has enough experience to help you develop a new SCM system.
All the peculiarities of choosing an IT company revealed! Learn more in our article!
Cleveroad as your reliable helper in SCM solution development
Making a choice among numerous vendors, pay your attention to Cleveroad. This is why you should do that: it's a skilled logistics and supply chain software provider headquartered in Estonia, Central and Northern Europe with 10+ years of relevant experience and 170+ successfully accomplished projects in a portfolio.
We are skillful in building SCM, LMS, ERP and Transportation Management Systems development, and other domain solutions. We'll help you reduce operating costs, optimize supply chains, and streamline storage, transportation, and freight delivery operations.
Collaborating with us, you may obtain a bunch of benefits (including, but not limited to):
Initial project estimates from our Sales Managers
Comprehensive consultations with our Business Analysts or Project Managers: they'll discuss supply chain management issues with you in detail
Non-Disclosure Agreements (NDA) signing per your request
Top-quality software development from scratch as well as upgrading
Working with certified and high-skilled team professionals
Quality control on each stage of your project development
Support, maintenance and advertisement services after release, etc.
There are a lot of software projects brought into life by our team. One of them we'd like to tell you about is a Transportation Management Solution offering logistics and warehousing services.
TMS system designed by Cleveroad
This flexible and customized solution successfully resolves the shipping, fleet tracking and delivery issues arising during supply chain operations. Among various use benefits, it optimizes the cargo delivery time, minimizes losses, leading to the total profit increase while performing transportation activities.
Working with us, you'll obtain a full-fledged custom SCM solution compliant to all the best supply chain management definitions and fully suitable to your business needs. Moreover, we will comprehensively answer all your disturbing business questions and provide you with all the information you require. Let's collaborate and improve your supply chain experience together!
Skilled IT vendor can help you
Message to Cleveroad, and we'll build SCM solution completely solving your supply chain needs
Frequently Asked Questions
Supply chain management (SCM) is the process of running data, items and funds concerning the particular goods or services, from receiving raw materials to the product's delivery. The operations are performed through a row of suppliers that serve as peculiar chain links conveying the resources for a new product to manufacturers, and then, to direct interaction with end-users.
SCM use gives consumers the following advantages:
Cost-efficiency
Better material circulation
Enhanced communication
Better dispatching
Risk reduction
Higher incomes
These benefits are what is the supply chain management about: comfort in use, continuous improvements and total business enhancement.
Resilience
Flexibility
Lean manufacturing
Demand management
Trust & traceability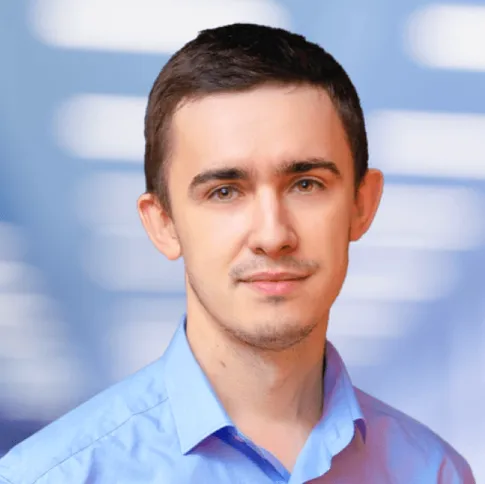 About author
Evgeniy Altynpara is a CTO and member of the Forbes Councils' community of tech professionals. He is an expert in software development and technological entrepreneurship and has 10+years of experience in digital transformation consulting in Healthcare, FinTech, Supply Chain and Logistics
Rate this article!
1109 ratings, average: 4.51 out of 5
Give us your impressions about this article
Give us your impressions about this article