How to Make Tinder App and How Much Does It Cost?
12094 Views
|
05 Oct 2018
|
9 min
Modern technologies have changed not only man-machine relations but also significantly impacted the interpersonal relationships. Can you remember when you last sent a hand-written letter or notified anyone about the upcoming meeting personally? Today we hardly use such means of communication due to the abundance of electronic tools.
More and more people are going online to find a life partner. That is why creating apps, chats, sites of a dating background have become extremely popular these days. If you're going to develop one you should definitely pay attention to one of the brightest representatives of such services - Tinder app. This is a mobile application that allows searching for people who are ready to meet and communicate within a certain area.
Are you interested in how to make a Tinder app and how much it costs? Go ahead and check this video and article below.
How much does it cost to make app like Tinder?
In short, the cost of a Tinder-like app depends on the complexity of its functionality and the development company you choose. Roughly, the basic Android or iOS app will cost you $50-55K at average Eastern Europe hourly rates of $50. If you want to build apps for both platforms simultaneously, your budget will strike and exceed $100K.
Let's move forward to find out the details.
Algorithms behind Tinder success
The aspiration to build a Tinder clone doesn't fade over the years. Obviously, that's due to its stunning popularity. Just take a look at the figures below:
The statistics are quite impressive. So you may be interested what makes the dating app like Tinder so in-demand. First of all, Tinder functionality is really simple for users. Actually, it lies in swiping right and left for liking or skipping a particular person respectively. In case the other person returns the affection, Tinder creates a match.
Tinder is open for the integration with Instagram. Users can access the Instagram profiles of their matches. Note that Tinder supports logging in with user's Facebook account. So users can see whether they have common friends, common interests and favorite places.
Techniques that make a Tinder app popular
Despite the fact that the Tinder functionality may seem very simple at first glance, it hides fairly complex algorithms invisible to users. Consider the following peculiarities when you create Tinder-like app:
Users can see only one person at a time but there are thousands of users swiping left and right simultaneously;
Each user (or, at least, particular groups of users) sees people in a different order. It means that the developer's task is to structure the profiles into different groups;
Attractive and unattractive people are intentionally mixed up and shown to diverse users with non-repeatable frequency;
A specific algorithm must be in charge to define who, when, and to whom should be shown to create a match in applications like Tinder.
The logic described above should be implemented on the server side of the application. The backend can be made with a help of PHP, .NET, Java, Python, or other server-side technologies. In this matter, you should approach with a great care to the choice of the server-side Tinder app developer.
Tinder app features and Technologies in use
The above algorithms are not the only points which you should pay attention to when considering the cost of creating an app. Tinder has many other functions. Their implementation requires a certain amount of time and money. Let's look at them one by one.
1. Authorization and user profile
To build an app like Tinder, you should use a Facebook authorization engine. It is usually implemented via an open authorizations protocol, like OAuth. The registration is implemented so that the app itself does not remember the login and password of the social media account (in our case - Facebook). However, it uses these credentials to create a new account within the application. Another way to log in is using the phone number. To make your own Tinder app, you can go further and use any of the existing kinds of user authorization. Our specialists will eagerly help you choose the best.
After the user has authorized, it's a good idea to introduce your app functionality to them. The best way to do it is sliding tutorial like the one we have created.
Profile editing is implemented via the client-server sides of the application. On the client side, the user enters/edits the data (gender, bio, photos). On the server side, appropriate records are saved. Tinder has invented something unusual, check it out!
Tinder allows creating a Web profile so that it could be found even by the users beyond the application. When clicking 'Like me on Tinder' button the user is redirected directly to the application or to the Google Play Market / Apple App Store in case the application is not installed.
The mechanism of the implementation is as follows: the client side sends a request to the server. The server remembers that the user wants his photo to be seen when clicking the link. The server generates the link and shows the photo to everyone who clicks it.
This is how Tinder works with users and their profiles. Try to use the same approach when you create an app like Tinder.
2. App settings and notifications
Like any other app, Tinder allows adjusting the appropriate setting for the convenience of usage. For example, you can enable or disable the notifications as for the creation of new matches, receiving messages, likes, super likes. You can also choose preferable units of measurement for displaying a distance (km or mi).
Receiving notifications can be implemented via the interaction of your application with Apple / Google servers. The device where the app is installed is registered on the appropriate OS server and gets a certain ID. Afterward, the app server supplies the app with the push notifications if they come. To enable push notifications in your Android app use FCM (Firebase Cloud Messaging). For iOS app refer to APN (Apple Push Notifications).
Along with usual settings described above you can adjust Tinder-specific settings, like enable/disable discovery so that the others could or could not find you, choose to show men, women, or both, specify the search distance and the age range of the users to be found. So, when you make an app like Tinder, ensure users to get notified properly.
3. Geolocation and Communication
Geolocation is the basis of the application. Without it, the app would be useless since it is all about finding people near you. Use Google / Apple Locations and Maps services to integrate the geolocation into your Tinder-like app. For Android, you are going to employ the classes of android.location package and the MapView class, for iOS - the CLLocationManager Class and Map Kit framework.
In Tinder users can chat with each other only when they have mutual likes. Otherwise, the chat is disabled. As a rule, this function is implemented via the RESTful API or through HTTP. Permanent socket connections are not involved in order not to overload the server. The polling interval is set up depending on the frequency of the messages being sent.
Users can connect their Tinder profiles with Instagram so that the recent Instagram photos to be available on Tinder as well. Tinder content does not go to Instagram, though.
4. Monetization: In-app purchases
Users can buy a paid subscription and get more functions on Tinder, like change their location, rewind the last swipe, and turn off ads. In-app purchase is integrated via the In-app Billing API for Android applications and Store Kit framework for iOS ones.
Now you have an imagination of how to make an app like Tinder. However, the list of app features cannot display the whole list of costs needed to build Tinder app. Visible options are just a tip of the iceberg. Do not forget that you should implement such important things as the database structure, data access object (DAO) layer, Rest API, etc.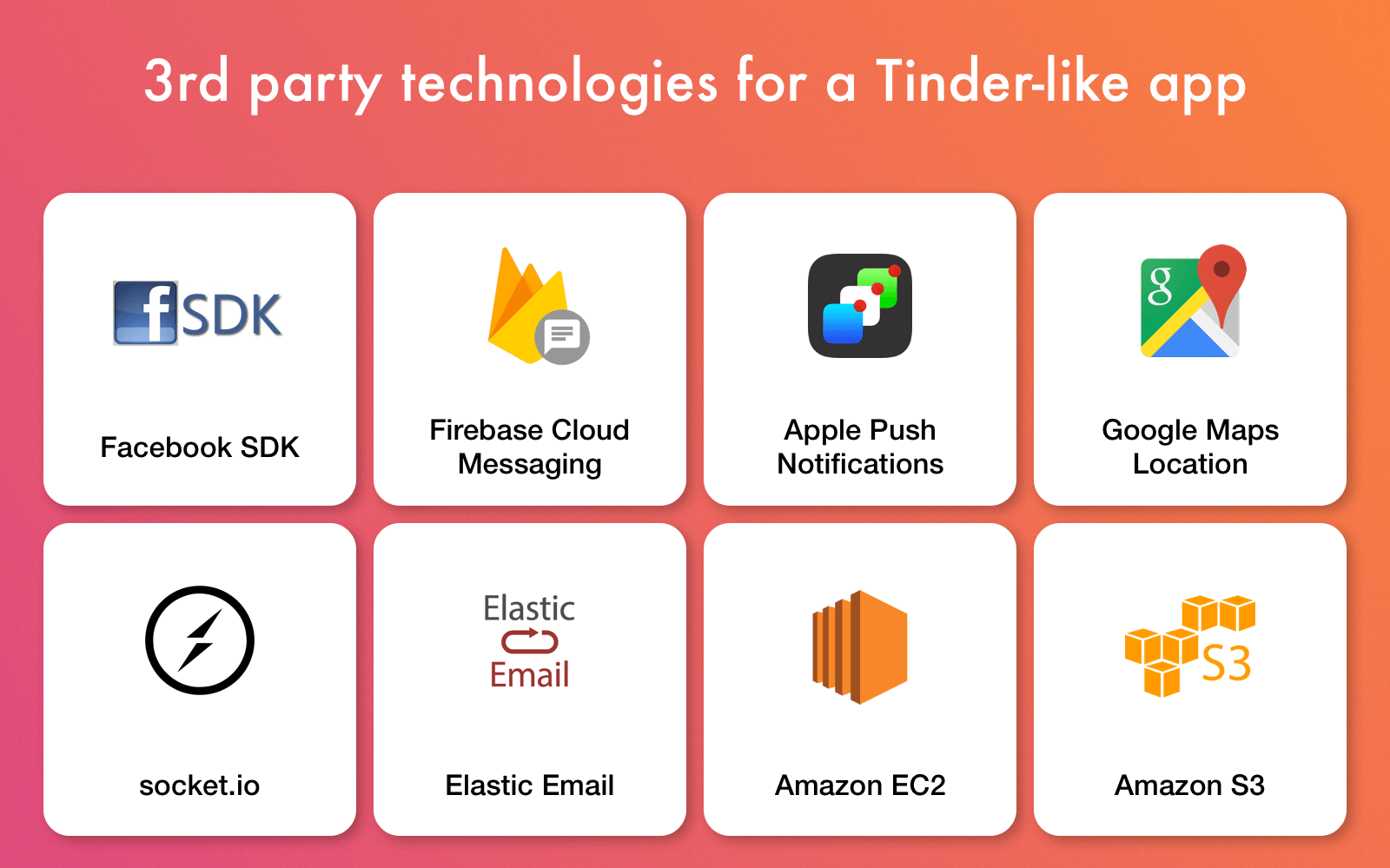 Technologies for an app like Tinder
Expensive Simplicity: Tinder app design
Quality and, at the same time, simple design are, probably, the main things which attract customers in Tinder. The users do not want to spend a lot of time trying to find out how to deal with your app. They expect it to be intuitive and easy to use. In this regard, Tinder is a great example of the user-friendly interface. Not only lies it in a nice facade but also in a thought-out placement of options and buttons which provides a highly rated user experience. All this refers to the UI/UX design. Consider it as one of the biggest parts of your investments when calculating the Tinder app cost.
How to create an app like Tinder: Development Team
Pay a great attention to the location of your team. If you are going to hire someone to build an app in the USA or Western Europe, be ready to double the costs of the project. However, the Eastern Europe developers can do the same or even more for much less money. For example, average Ukrainian developer charges 50 dollars per hour.
So, if you want to build Tinder clone, the project team will most likely consist of:
2 backend developers
1 designer
2 Android developers
2 iOS developers
1 project manager
1-2 QA engineers
Taking this into consideration, let's find out how much it costs to create a dating app like Tinder.
What is the cost of Tinder app made up from?
All the listed above features require a certain time for development. Take a look at the table below to know how many hours iOS and Android developers need to deliver the basic functionality of a Tinder-like dating app.
Authorization - 22 hours
GPS location - 7 hours
Settings - 60 hours
User profile - 85 hours
Matching functionality - 90 hours
Notifications - 25 hours
Communication - 125 hours
3rd party services integration - 30 hours
However, it's never enough to know the time of development. The project delivery process covers the points that significantly add up to application cost.
Underneath, we've estimated an approximate time required to build a Tinder-like app. The total price is based on an average hourly rate in Eastern Europe (Ukraine) — $50/h.
Project development time
| Type of work | iOS | Android | iOS & Android |
| --- | --- | --- | --- |
| Web (back-end, admin panel) | → | → | 670h (equal for one and two platforms) |
| Mobile development | 619h | 622h | 1241h |
| DevOps and meetings | 122h | 122h | 244h |
| Demo preparation | 90h | 90h | 180h |
| Release to production | 22h | 22h | 44h |
| Design | 100h | 100h | 180h |
| Total time | 1623 hours | 1626 hours | 2559 hours |
| Total cost | $81,150 | $81,300 | $127,950 |
Please note that quality assurance time isn't included to this estimation and should be calculated additionally.
To create a Tinder-like app and learn the approximate budget required for its development, you should decide on the set of features. It's impossible to estimate the time to build an application without knowing its functionality in details. By the way, if you want to pick up your own features for the app and get them estimated — try our app cost calculator.
Ready to create your Tinder app?
Our Business Analyst will make a free custom estimation of your project covering cost and man-hours.
Rate this article!
Bad!
Strange!
Boring!
Good!
Love it!