How to Build LMS System: The Ins and Outs
Elearning is on the rise now, and according to the latest projections, the value of the eLearning market will reach $400B by 2026. These astonishing numbers and overall industry profits generate many questions from those who want to join in with their own digital solution (namely, a learning management system development for business needs).
The most frequently asked question amid the industry's success is how to build your own learning management system. We at Cleveroad are here to share our expertise and give a comprehensive response to them. Particularly, in this article, we will analyze such points as the types of LMS systems, vital features, and list all the stages of creating a learning management system step-by-step.
Before You Create Your Own Learning Management System: The Basics
Before we start discovering how to create your own learning management system, it is worth delving into the basics and understanding what exactly LMS is.
LMS or Learning Management System is software that allows educators to create, share and manage various training courses and programs. To provide this functionality, LMS includes various tools that simplify the creation of educational content such as scripts, presentations, audio, and video materials, as well as establish the entire learning process through thorough pacing, various assessments, grading systems, and much more.
Usually, building an LMS consists of two parts:
CMS & Administration. Through this interface, educators conduct all interactions with the learning management system. This interaction includes managing existing courses, creating new courses, adding students, analyzing progress, communicating with students, and much more.
User interface. This interface may look different depending on which device it is launched on, but all platforms have one thing in common. Through this interface, students enroll in the course and interact with the educator's content.
What purposes does LMS solve?
If you build your own LMS, it would be a beneficial way to achieve your corporate learning purposes. Let's consider the main reasons you may want to build learning management systems.
Managing partner training is a wonderful approach to enhancing affiliate programs and offering higher value for counterparties. Partner training is also an effective strategy to improve affiliate programs.
Client education. The management of customer learning results in increased product value and helps to reduce the loss of users. So, companies that seek to attract customers successfully may look into receiving training of this type.
Staff training is used to increase the significance of educational workflow by centralizing training materials and promoting employee involvement via digital learning. In addition, given nowadays, the implementation of a distance learning system for personnel working in remote locations has become an absolute must.
Assessing and certifying employees. Receiving mandatory training and testing one's knowledge, tolerances, regulatory documentation, and certificates are common uses for a learning management system.
Tools for HR. This is a once-in-a-lifetime chance to convert paper files and records into digital ones, develop employee-centric software, and automate as much as possible mundane tasks typically performed by human resources.
Types of Learning Management Systems
When your business requires a unique LMS solution and thinks on how to create a learning management system, you must choose one of several types. Each of them has its own distinctive features and satisfies the different needs of the customers.
All types of LMS and well-known examples of each type.
Learning Sites. These platforms are similar to an online store in which various suppliers can post their materials. In addition, users have access to various courses that they can access after paying with the integrated payment system. The most famous examples are Udacity, Udemy, Coursera, and edX.
Traditional LMS. Such services allow you to create and edit courses, create accounts and keep records for each student. In addition, TLMS can be used for internal training (for example, for universities) and a broad audience. Examples: Abara, LearnPress, Learn Dash.
Open-source LMS. Such platforms imply free to use by users and increase their involvement. They allow course creators to post their content and update and edit it later. Examples: Moodle, Sakai.
Modern LMS. This type is aimed at users of a specific domain and allows you to determine the target audience accurately. The courses of such an LMS will differ in a narrower specialization. Such platforms enable creators and consumers of learning materials of certain specifications to interact more effectively. Examples: Lessons, People Fluent.
Learning Management Ecosystems. Creating such a platform is quite complex, but it provides many opportunities. So, it can be an open-source platform while offering users reporting, verification, e-commerce stores, and other features. Examples: Abara, NeXus.
Tailor-Made Learning Platform. This type of LMS is the most profitable. By researching the market, you can choose and combine the most valuable features in a custom-made solution. Particular attention is also paid to UI / UX design, which allows users to interact with LMS in a quality way and increase their satisfaction. Examples: HBX, Moodle.
As you can see, some of the examples fall into two categories simultaneously, as they combine the best features of each. You can also create a custom solution of high quality and rich functionality.
Now, when we've dealt with the basics, it's time to proceed to the most interesting part of our article on how to make LMS. Let's discover a step-by-step guide of what to do for getting a learning management system which will become a reliable assistant for you and your company employees.
How to Create LMS: 8 Steps to Consider
The process of how to create LMS is a multistep process including the following steps as:
Analyzing and refining your idea. It means you should think out your project idea and make it more accurate to be realized.
Choosing a skillful vendor. This step implies you find a skilled tech partner with deep expertise to develop your LMS.
Coming up with features. Go through the Discovery Phase with your chosen team to plan your project and prepare a feature list for your future LMS.
Thinking through responsive design. The vendor's UI/UX designers will work on your future app interface to make it attractive and easy to navigate.
Packing all information into specification. The specialists create a project specification plan according to earlier received project data from you.
Development process. The previously built list of features is brought into life by the vendor's developers.
Release sequence and marketing campaign. After development and QA testing the specialists make the platform available for its future users. The vendor will also care about marketing and promotion services for your newly created software.
Feedback-based support. Provider's specialists continue working with you monitoring your app performance and upgrading the platform or bughunting.
Knowing these steps, you will be able to prepare for successful learning management system development. We will talk about each step in detail to provide you with a complete picture of how to create an LMS system for your business.
Step 1. Analyzing and refining your idea
This is one of the most important steps that serve as the foundation for all subsequent development decisions. At this stage, the future shape of your LMS is outlined.
To determine a project idea, you should ask yourself the following questions:
Why do you need to create your own LMS?
What problems of the organization do you want to solve with the help of the developed LMS?
Who will develop and implement the LMS?
What resources are you willing to spend on creating and developing an LMS?
You may have noticed that users often face problems such as complex systems. Therefore, it is worth carefully considering the interaction between the student and the platform so that it is as comfortable as possible. Another problem is that learning can be tedious – so UI-UX and gamification are essential aspects of an eLearning platform to help keep users engaged and satisfied.
Besides that, while drawing the shape of the future LMS, one should not forget about the monetization model. Often, many LMS systems are paid to exclude any advertisements and banners that may distract students from the learning process.
However, let's take a closer look at the possible monetization options when thinking out how to create LMS:
Paid software with a trial period. Even though paid LMS systems are widespread, they compete fiercely in the market with free systems. In order to for users to start buying your platform, you must build your own LMS system which will be high-quality product that will offer users unique solutions that no competitors have.
Freemium software. At its core, this software is free. You offer certain functionality for free, but to unlock any other useful things, the user will need to make a purchase. For example, your LMS might have chat functionality for basic communication, but video calling with screen capture might be a premium feature requiring purchase.
To draw up a thorough plan you better use examples. To make a perfect project plan, take a look at our canvas example
Step 2. Choose a skillful vendor
A proper LMS platform development requires deep experience to have all the necessary features implemented adequately for a flawless user experience. You can choose to outsource your product to an experienced education app development company to collaborate with. They will consult you as to all the tech issues you can have and guide you through a software development process carefully, from idea validation to development and support.
Step 3. Coming up with features
You can't start creating a learning management system without knowing what features will be in it. So you need to define all functionality beforehand.
We can highlight several must-have features that should be implemented, and no LMS can deliver a proper learning experience:
Course management
One of the most important functions of LMS systems, which is the basis of everything. Thanks to it, educators can manage existing courses (change tags, description, hide or add ready-made courses to the list) and create new ones. A convenient editor should be built into the course management to allow educators to create a course of any format and any complexity from scratch. To do this, it is worth implementing tools that allow you to work with text, images, audio, and video files.
User and group management
This feature is vital for building a clockwork learning process. It allows teachers to organize students into groups, assign assignments to entire groups or individual students, send private messages and notifications to students, and much more. Thus, interaction with the platform will become complete and convenient.
Reporting and analytics
Without detailed analytics, it is impossible to find out the results of training and its success. This feature is represented by a student progress journal and teacher report. In addition to providing superficial data such as final grades and credit counts, analytics can provide vital data for course improvement. Keep track of which assignments are taking too long for students, the overall results in specific topics, and much more. Analyze the situation to understand what aspects of the course or teaching material can be improved.
Gamification
Classic online learning can be boring, especially if you're targeting a younger audience while create LMS website or app. Gamification solves this problem and makes the learning process more interactive and fun. For example, you can create a simulated transition to the next levels, introduce a system of prizes for the successful completion of tasks, and so on. Thus, user engagement will increase.
Testing and assessment
Assessment is the most important stage of training, as it allows you to find out how the students learned the new educational material. This module should have the tools to create various assessments, ranging from simple tests with one answer to multi-answer quizzes and tasks requiring a detailed answer. Besides, it is worth introducing tools for setting deadlines and time limits for a particular test.
Reminders and announcements
These features are the basic way of communicating with the course students. Through notifications, you can inform students about the new course material that has appeared, the assigned assignment, the nearest deadlines, and the test results that can be checked.
User roles and permissions
Safety comes first. User roles and permissions allow editors to customize access to certain course blocks, information and functionality to ensure data security. This will give you a high degree of user confidence in your platform.
Step 4. Thinking through responsive design
When developing a learning management system, you should have a well-thought-out design of the future system since half of the user experience depends on it. Therefore, in addition to the correctly selected color scheme and block design, the system should look flawless on all existing devices. Responsive design, which implies automatic adaptation to any device, is critical for such solutions.
The ability to use the platform on mobile devices is vital today, as it makes the learning process smooth. Thus, it is crucial to create a responsive web resource or mobile application design. So users can have quick access to educational materials from anywhere. Also, remember that the LMS should be intuitive for all participants, whether teachers, students, or administrators. A professional software provider will consider all these details and help you create the perfect solution.
Step 5. Packing all information into specification
The next step in building a learning management system is a specification. A specification is a document in which all information about the business, business goals, the idea of ​​the LMS system, the requirements for it, its features and technologies, on which future development will be based, is described in detail. This document is compiled by your software vendor under your supervision. After you approve all the details, you can proceed to development stage.
Cleveroad provides first-class Discovery Phase services for businesses of all domains. With more than 10 years of market experience, our skilled Business Analysts made hundreds of detailed specifications, starting from small startups to large enterprises.
In this phase, you will communicate with representatives of the company who will organize information-gathering meetings to find out all the details of the project, the goals of your business, and the requirements for the project. Also, this phase includes the creation of wireframes, which are a schematic representation of the future LMS interface. The final stage of the phase is a detailed estimate that will give an accurate answer on the final cost of creating an LMS.
Step 6. Development process
When all preparations are set and done, the project proceeds to the development stage answering how to develop a learning management system. During this stage, UI/UX designers begin to create screen mockups for the future LMS based on specification and wireframes. Once the design process is finished, designers transfer all layouts to the development team. Developers use their technical expertise to turn attractive layouts into a working product. The development process consists of sprints. During each sprint, which usually lasts two weeks, developers must implement a certain part of the product's functionality.
The above process is the same for whatever path you choose, whether it's development with your in-house team or programming outsourcing. The only difference is that when creating a learning management system with your own team, you manage the entire development process, while an outsourcing company takes on this task for itself.
Step 7. Release sequence and marketing campaign
When all the features are developed and LMS is polished, it's time for a release stage. However, do not expect that millions of students worldwide will immediately start using your product after the release. Without the most basic advertising, your release will go unnoticed. To avoid such a scenario, you should conduct a marketing company.
For the best effect, the company should be launched about a month before release. You can start by promoting your brand's social networks by creating publications about the upcoming release of your product (e.g., a healthcare learning management system), in which you advertise your LMS in detail and tell how your solution is better than the competitors. Also, do not forget about buying contextual advertising. It will help make your product visible, and you will be visible to Internet users for a long time. On the day of release and after it, you should not stop your marketing. Announce the release on social media, purchase advertisements where you invite to try your product and submit posts in prereleases.
All of these methods will help you get your first users. The work with marketing does not end there either, since now the main task is to monitor the campaign results constantly. You should monitor how users behave, whether users go through your business funnel, whether they find your LMS useful, and much more.
Step 8. Feedback-based support
Your product has been launched live and is generating income. Now you can start thinking about LMS support and improvements. User reviews will help you with this. Analyze user reviews to understand what you managed to implement at a good level and which aspects of the LMS require certain improvements. This will help you plan for future updates.
In addition, now you can start implementing additional features that will expand the functionality of the platform and make the user experience even more enjoyable. Cleveroad team offers technical support and software updates to keep your product up with all modern technologies. In addition, our experts can help you expand the functionality or develop LMS from scratch.
So, after we've decided how to create your own learning management system step-by-step with a skilled vendor, let's pay attention to the peculiarities of how to find such a vendor for effective cooperation. Concerning our experience in this sphere, we'll readily tell you about all the outsourcing ins and outs.
How to Choose a Reliable LMS Development Contractor?
Before you plan to create learning management system, you must decide how you are going to develop it. Many factors depend on this, from the complexity of the development process to its price. You can choose between three ways, which we will talk about next.
Among all cooperation types including freelancing and in-house team, one of the easiest ways to create an LMS system is to outsource the development to a professional IT company. In this case, you will receive top-level services at a reasonable price. This option does not force you to hire employees, rent an office, or incur other unnecessary expenses. Most IT companies already have the recruitment of professionals needed to get started with any project. Also, suppliers take responsibility for team management and product delivery.
In this case, you can choose from two options:
Fully outsource team — Hire a team that will create a complete turnkey project for you. Your outsourcing provider completely controls all stages and provides you with a quality result.
Team augmentation — another option where you hire specific professionals who join your team remotely to complete specific project tasks.
Both options have many advantages, and you can choose based on your current capabilities and expertise. So, if you want to outsource project management completely, you should select the first option. On the other hand, team augmentation is a perfect choice if you lack specific technical experts and want to manage the project.
So if you have a limited budget, you can entrust the development of LMS to an experienced foreign company. You can choose any company from the world's most popular outsourcing regions that match your resources and requirements.
For example, Central Europe is considered one of the most famous outsourcing regions due to the high quality of IT professionals and low development rates. Estonia is one of the most popular outsourcing destinations in this region.
You should also think about the other common advantages of outsourcing to Estonia, such as:
Cost-cutting and time-saving opportunities. Top tech talent employment is not quite a cheap thing. So, entrepreneurs often apply to IT outsourcing concerning the following fact that such services' hourly wages are tied up to a geographic location (e.g., outsourcing IT projects to Estonia, you may pay $50 to developers, which is lower than, say, American IT services but don't lose in quality). Moreover, the chosen outsourcing vendor will care about hiring issues so that it will save the time required for other projects on your business way.

Access to hiring a large talent pool. The employment of in-house team personnel is often constrained by location requirements. This essentially amounts to saying that you may only choose from the greatest talent that is readily accessible in your area. If you want to outsource, though, you may forget about these restrictions, as you may find experts from all over the world and put together a development staff with certain skills.

Faster time to market. The creation of software is a time-consuming process that must be carried out with meticulous care at each stage. You can shorten the amount of time it takes to bring your product to market by seeking out an outsourcing partner that combines flexible development methodologies with strong project management expertise and, ideally, offers a single point of contact for each project.

Effective communication. The ability to communicate clearly and fluently is critical to passing through all the possible project difficulties. A skilled software development provider always has the means to overcome a language barrier or a time zone difference. For instance, all our developers know English sufficiently for smooth project communication, understanding of requirements, and delivery of a seamless project responding to your business needs. We also plan our meetings with clients in advance, choosing a comfortable time for us both to solve critical project issues or have consultations.
Top reasons to outsource software development to Estonia
When you've decided on the selection of the skilled outsourcing educational software development provider, it's the high time to talk about the service costs concerning LMS creation in order to properly plan your budget.
What It Will Cost You to Create Your Own LMS
Let's sum up and see how much it will cost you to build a learning management system.
Custom learning management system cost

| | |
| --- | --- |
| Core features | Approx development time (hours) |
| User and group management | 144 h |
| Course management | 640 h |
| Reporting and analytics | 368 h |
| Gamification | 280 h |
| Testing and assessment | 200 h |
| Reminders and announcements | 72 h |
| User roles and permissions | 144 h |
| Total | 1848 h |
In general, the LMS system costs may vary from $40,000 to $300,000 and up. The price depends on many factors, such as project scope, features complexity, third-party integrations, etc.
Below, there are other cost aspects to consider while deciding on your LMS creation:
Third-party services integration. Connecting your LMS to Grammarly, Amazon or other online services will require expenditures.
Hosting expenses. Publishing an LMS on a hosting site makes it accessible to users. There may be an additional expense if a larger repository is required to hold all of the media files.
Strict deadlines. There is a possibility that a larger staff will be necessary for completing the project within the stipulated amount of time, which would result in an increase in pay.
Methodology of software development chosen by vendor. If your technology partner is using Agile development strategy, like Cleveroad does, you'll be able to work together with the whole team, which might lead to greater room for negotiation.
The average salary of software developers across the globe are as follows:
Hourly wages of IT specialists according to their geographic location

| | |
| --- | --- |
| The most common outsourcing region | The price ($/hour) |
| North America | 50-200 |
| Central/North Europe | 50-60 |
| Western Europe | 75-200 |
| Asia | 20-40 |
| Africa | 20-45 |
Custom eLearning Solutions From Cleveroad
Learning management systems let businesses provide their staff, clients, and other stakeholders with the information they need to succeed in their roles. To implement such one into your business, you need to gain the support of a knowledgeable vendor that will help you build a powerful platform for a qualitative education of your employees.
As an outsourcing software development vendor with deep expertise in educational digital solutions creation, we offer our help and would like to tell you more about us.
Cleveroad is a CEE-located outsourcing software development company with many years of work experience in the education industry. Our team of certified software developers consults on how to build an LMS system and provides educational solutions of any complexity for all-sized businesses related to different domains (such as education, logistics, healthcare, and so on).
Collaborating with us, you will benefit from:
Enhancing your corporate learning flow through the creation of powerful mobile LMS platforms
Providing your LMS concept security through Non-Disclosure Agreement (NDA) signing
Upgrading the existing learning systems according to the latest standards of EdTech
A team of qualified professionals studying your business processes to deliver software totally responding all the learning demands of your company
QA services to make your LMS flawless, etc.
One of our recent projects tied with education is a learning mobile app for DJs, and we'll represent this project for you to share our expertise.
The solution consists of an iOS application, a web application, and an administrative control panel that allows users to generate and add educational materials. Moreover, the Crossfader platform includes a library of training resources where users may learn how to DJ and become a member of the community of DJs.
We developed a brand-new Admin panel with the intention of simplifying and accelerating the process of providing advanced (paid) content. The information about the previously bought courses is transferred to a new database and accessible to the app customers. We upgraded the online application in order to eliminate the inflexible WordPress platform. The learning content is also available offline to give the users an opportunity to learn whenever they need it.
So, how to develop LMS which will be as functional as Crossfader? Such a powerful solution can also be delivered for your own business. All you need to start our cooperation is to contact our Delivery Managers and tell them about your project. They will give you the necessary consultations. Our project team will do their best to digitize your corporate learning process in the most accessible and comfortable way for your business.
Get your own LMS now
Our team will deliver an LMS solution meeting the latest tech trends as well as your business needs
Frequently Asked Questions
LMS can help establish a seamless e-learning process for businesses of all sizes thanks to powerful features both for educators and learners. Educators can create any kind of courses, assessments, grading systems and so on, while students have an unlimited access to knowledge.
LMS or learning management system is software that allows educators to create, share and manage various training courses and programs. To provide this functionality, LMS includes various tools that simplify the creation of educational content such as scripts, presentations, audio, and video materials, as well as establish the entire learning process through thorough pacing, various assessments, grading systems, and much more.
To create LMS for your business needs you follow this sequential steps: draw up a project plan, come up with features, think through responsive design, pack all information into specification, start development process, launch marketing campaign and release the product.
There are six types of LMS systems: free LMS, commercial LMS, enterprise LMS, individual LMS, SaaS LMS, on-premise LMS.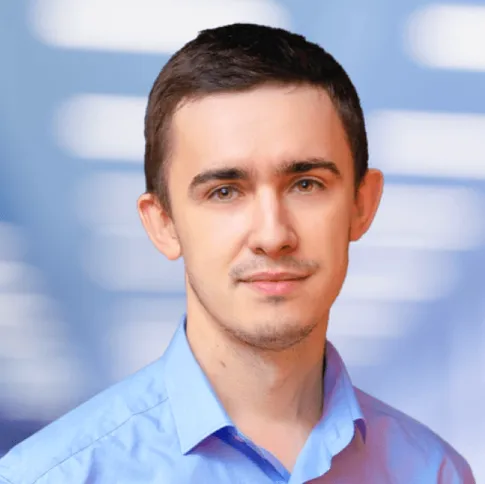 About author
Evgeniy Altynpara is a CTO and member of the Forbes Councils' community of tech professionals. He is an expert in software development and technological entrepreneurship and has 10+years of experience in digital transformation consulting in Healthcare, FinTech, Supply Chain and Logistics
Rate this article!
2089 ratings, average: 4.80 out of 5
Give us your impressions about this article
Give us your impressions about this article
Dinesh
10.11.2021 at 09:07
Hi, Thanks for sharing the detailed article on building LMS from the scratch. Could you please share some more details on which software development tools or coding languages are used to support the architecture of an LMS.

Yuliya Melnik
29.11.2021 at 14:06
Thank you for your interest in our articles! We plan to delve deeper into this topic, so stay tuned!