How to Create a Healthcare Learning Management System: Complete Guide
The healthcare domain constantly boosts forward. That's why medical personnel should complement their knowledge to be skillful enough for a successful duties accomplishment. A unique healthcare learning management system (LMS) will help medical establishments gain this purpose and keep their knowledge current.
This article will discuss the essence of LMSs for business, how to build them, increase business value by their implementation, and more.
Learning management system and the values it offers
What is LMS in Healthcare: System's Concept and Examples
Learning management systems for hospitals and other healthcare establishments are tightly integrated into the everyday life of modern people. You can apply to them as a user but don't need to understand their operating principles and mechanisms. As a business owner, you should know more about their essence to look deeper and find new opportunities to increase profit.
The Essence of LMSs
A learning management system (LMS) for healthcare is a software solution for doctors' offices, clinics, and other medical facilities. A solution like this assists medical business owners in providing regular training courses to their workers, as well as accreditation and continuing education. This is necessary for sticking to new healthcare requirements and keeping up with rapidly changing technology and operating processes.
Learn more about LMS essence
Cleveroad professionals will give you in-depth consultation for proper medical LMS implementation!
Simply put, LMS serves as a pocket school for all personnel as well as their instructors. Every school starts its training process with a theoretical overview of the course, followed by practical exercises to reinforce the previously learned theory. Finally, the students are given examinations to assess their knowledge.
LMS uses a similar method to offer an educational process in a simple and accessible format for everyone who wants it. Training with the help of a health learning management system leads to more fruitful results in future activities. Michael W. Allen proves it as follows:
Michael W. Allen

American writer, educator, and software developer

When training is done well, doors open, skills develop, and performance excellence yields personal and organizational rewards. People grow in ability, confidence, motivation, and happiness.
But having decided on a healthcare LMS development and implementation, you should understand the peculiarities of such a system. So let's look at them closer.
Healthcare LMS — What's Its Difference From Others?
A hospital learning management system has a set of features that help them become unique and advantageous. It is essential for physicians, clinical staffs, and other employees of the sphere. This way, learning management systems in healthcare domain offer:
You should study how to become pci compliant and other regulations (e.g., HIPAA, OSHA, ACTM) for healthcare platforms development. These legal and privacy regulations set a strict standard for medical establishments to obey, providing enhanced security. Noncompliance with them leads to heavy fines and difficulties for businesses; thus, healthcare institutions strive to be compliant with HIPAA (actual for the USA), PIPEDA (for Canada), IEC 62304 (internationally essential), GDPR (for European countries), etc.
Fulfilling the need in continuous and remote classes. The everyday work in medical establishments implies tense activity, and the doctors can hardly find spare time for anything else. Here healthcare LMS comes to aid, allowing medical personnel to study when they need it the most and choose the most comfortable place for the educational process.
Essential accreditation implementation. The healthcare LMS systems development for continuous studying also needs to be accredited by the relevant state body. For instance, if you develop a software system for US-based consumers, you can apply to the Accreditation Council for Continuing Medical Education (ACCME).
Well-planned hospital LMS can be an indispensable, secure, and comfortable learning resource for every physician, popularize online education in the medical sphere, and increase working quality, particularly in your healthcare institution.
Well-Known Healthcare LMSs
During the last decade, world medicine stepped forward, representing various inventions to facilitate patients' lives. For example, a unique robot, the Telemedicine System, may deliver needed care to people who are not sufficiently served during the visits by maintaining patient files and vitals. In addition, the MelaFind optical scanner helps clinicians decide whether or not to perform invasive biopsies.
These are just two examples of dozens in the medical sphere. The doctors need to know how to efficiently deal with such new instruments for bringing high-grade care to their patients. However, they always have a pretty tight schedule for planning activities other than working ones, and the innovative digital assistants perfectly handle such a task.
Learning management systems are required to teach medical personnel how to deal with the newest equipment and more. Let's discuss the most prominent LMS examples from leading healthcare e learning companies.
The healthcare LMS examples
GyrusAim LMS is a versatile and feature-rich health learning management system available in different languages. It perfectly matches major healthcare businesses and meets state and federal regulatory regulations for online training (e.g., HIPAA). Moreover, GyrusAim is compliant with different remote education standards like TinCan or SCORM. The system users remark that GyrusAim is user-friendly, interactive (due to gamification elements implemented), and available to use through different communication tools, such as Google Meet, Skype, or Adobe Connect.
Escalla LMS means modern healthcare education according to the latest practice recommendations. It gives you access to a library of eLearning healthcare courses: you can use them, create your own ones or distribute them among your learners. Escalla also offers instructions for course authors, helps them analyze the success of the prepared materials (through providing accurate ROI reports), and so on.
EthosCE is a comprehensive learning management system for healthcare workers in medical associations, academic medical centers, medical education corporations, etc. This platform offers social learning with the help of online discussion boards, P2P social networks, and other valuable instruments.
What Needs of Healthcare Organization Can Be Covered By LMS?
Every healthcare establishment is concerned about their employees' education as it is vitally necessary to improve quality service, keep the staff informed of the changes and requirements inside the organization. The medical organizations' owners clearly understand that if even the separate personnel members sharpen their skills via the LMS healthcare courses, they can benefit the whole establishment. Let's view such advantages in detail.
The LMS may minimize your demand for in-person education, saving your time, finances, and energy. Moreover, such solutions let your organization teach several employees simultaneously, which is especially beneficial for companies with various staff shifts.
LMS allows trainers to organize educational processes everywhere and at any time. The physicians' activity is quite challenging, and they don't have time for any other one. So, the traditional classes are not an appropriate alternative for them as they need to set their own timetable. Moreover, they'll be able to pass training and educational programs themselves or under a mentor's guidance.
Healthcare LMS software offers knowledge in accordance with the newest market demands. Healthcare workers are responsible for the health and well-being of the individuals they serve daily; thus, they must learn new skills to give excellent care to patients. Using a learning management system allows you to build constantly updated courses to match changing industry demands.
The LMS content is always available both for teachers and students. The traditional learning materials — copybooks, learning tables, maps, and posters are undoubtedly valuable; however, they're inconvenient or risk being lost or damaged. Instead, LMS offers data to learners in podcasts, URLs, PDF files, and others. This increases engagement and lets people find any part of the material whenever they need it, as all data is located on the clouds, which are always available to view.
Poor training may have disastrous effects, especially in the healthcare domain. Fortunately, if you utilize an appropriate healthcare learning management system that meets your organization's demands, you can quickly build and manage healthcare learning and training programs. You will also boost your company's workflows by increasing employee engagement and satisfaction. This way, you'll lower turnover rates and communicate with your staff members as much as possible.
How Can Healthcare Benefit From Single LMS?
Full-fledged LMS creation will be advantageous for businesses as it makes their profit grow, and the clients become more satisfied. We'll enlist the most common reasons why you should develop a top healthcare LMS and implement it into your personnel training process and company workflow.
Benefits of a healthcare LMS implementation
Customized materials. Create learning courses that respond to your company goals and objectives. Moreover, you can adapt the existing materials to your business purposes to increase your employees' level of knowledge and their service quality as a consequence.
Enhanced monitoring. Receive information about your employees' training completion in the most comprehensive way for you: intuitive dashboards and reports with multiple charts will help you track your personnel's learning performance.
Different course types. Run different kinds of events and training through one LMS, economizing your time and efforts. The employees, in turn, can get knowledge in the most comfortable way for them.
Appointing & registering. Assign educational classes for one or another employee based on comprehensive information you've got about their previous success and drawbacks.
Easy implementation. You can quickly deploy top healthcare learning management systems and start using them without delays. Typically, such systems are developed compliant with the essential learning standards (like xAPI, SCORN, and others).
Program authorship. Make use of the information that your company and team have already developed. You can do it without effort by turning the content into learning courses.
Core LMS Healthcare Features For Training and Learning
How to make a healthcare LMS useful for different kinds of customers? First, you should care about a set of functionality. Here we'll talk about the essential learning management system's features.
Flows and materials management
You can simplify and arrange learning materials according to the current needs of your staff. Moreover, the content will always be available from each gadget whenever the learners require it.
Smart planning tools
It is critical that the training system offers current capabilities for planning and arranging meetings, courses, and training sessions, allowing users to select a convenient day and time.
Social learning functionality
Users can engage with one another within the LMS for healthcare training using tools like course sharing and commenting, live chat, content ratings, email and text reminders, and personalized learner blogs.
Evaluation tools
The LMS should provide capabilities for quickly analyzing any form of assignment and the ability to get feedback. It's also critical that the LMS includes metrics that may assist instructors in tracking student engagement and assessing student retention to identify how well they understand and participate.
A great example of such an evaluation tool may be a real test simulation for medical students. They can pass it before the real test to have additional training. Moreover, such a simulation will assist them in gaining confidence in their qualification and obtaining a permit for work after a real test.
Security tools
Any platform, especially a healthcare one, should have a high level of security to encrypt the information of its clients. So, it's critical to implement security protocols that safeguard your company's and users' private information.
UX enhancement
An effective educational system should process learners' data to improve UX based on each user's activity.
It's not a complete list of features you need to add to your system. For a comfortable functioning, you may also add offline success trackers, system notifications for better user informing, course authoring, and mobile learning. However, for a more accurate feature list definition, you should apply to a vendor's solution architect, and they'll give you enough information.
How to Choose an LMS Software Development Vendor
Medical LMS development is complex to perform as it needs a solid knowledge base and understanding of peculiarities. You can try it yourself or simplify your job and entrust it to an outsourcing software development vendor with profound expertise in building digital healthcare products.
Let's find out how to choose healthcare learning management system vendors and work with them successfully.
How to choose an healthcare LMS vendor for software development?
Analyze different hiring platforms. To begin with, you can look through hiring systems that offer a list of outsourcing companies to collaborate with (such as Clutch, GoodFirms, ITFirms, Glassdoor, etc.). These sites provide the applicants with brief company data like location, staff quantity, approximate hourly wages, etc.
Check the feedback. The above-listed resources have another advantage — they provide potential consumers with reviews of earlier firm clients. You should also thoroughly learn them to find more details about the company you're planning to collaborate with and make your first impression.
Study portfolios. Find and accurately study a potential vendor's website, especially its portfolio section. This way, you can get acknowledged with their current expertise and understand whether it fits your future custom LMS project (built during healthcare web development or another solution building process).
Make a partner list. Don't stop at choosing one company. It would be better for you to prepare a list of potential healthcare LMS vendors. Compare the data you know, plan the questions you'd like them to ask, and prepare for the last part of your searching process.
Conduct interviews. Start contacting companies. Focus on those who offer to set up a meeting with experts (at Cleveroad such a phase is called solution design workshop). Ask questions you'd like to have a response to. You can divide your question list into tech and non-tech parts.
The outsourcing healthcare LMS vendor should provide you with:
Enough tech support to reasonably launch and grow your upcoming platform raising its performance after development
Opportunity to provide you with enough features to develop not only the basic app version but an advanced one. It will help you a lot, especially if you constantly increase educational goals for your learners.
Robust analytical instruments to perform an adequate data management as well as its collection in real-time
More capabilities to develop a cutting-edge product (e.g., providing your solution with primary onboarding, in-depth instructional pages, video tasks, podcasts, webinars, animation elements, etc.)
After choosing a vendor, let's go to the development process of the upcoming best LMS for healthcare and talk about it.
How to Create an LMS That Perfectly Fits Your Business
Medical software development needs serious preparations even before the building process. Your software development partner should take into account the following aspects:
A type of your future LMS depending on your goals (e.g., staff development, training, etc.)
A portrait of your prospective learners (their age, education, and other essential data)
Necessary third-party integrations
Ways of user interaction with LMS
Type of courses you need to develop
Configuration to choose (e.g., a separate system integrated into the existing company platform)
Having planned such data, you can apply to an outsourcing IT service provider, discuss future project details with them, and sign an NDA if you need. This is how the work upon your future LMS will start.
Solution Design Workshop
The company will message you back to answer the initial questions, identify the major goals, and schedule a meeting with the Solution Team. This meeting will be more detailed to talk more about your project.
Your application and preliminary information are processed by the Solution Design team (containing business analysts, a solution architect, a designer).
During this stage, the following points are defined by the team:
Business aims
A scope of future work
Main concerns
Basic quality attributes
Discovery phase
The discovery phase essential purpose is to learn more about your project requirements. This way, Business Analysts study them more, create new documents, or elaborate on the existing ones. The Solution Architect verifies your feature list and advises on what functionality for healthcare learning management systems to add or remove.
While an approximate time estimate, team composition, and project specification are prepared, the designers also care about visual concepts, style guidebook, and wireframes creation.
LMS Design and Development
UI/UX designers start their part of the work with prototyping based on the wireframes. Then they build the app's interface, screen by screen, with the possible variations essential for flawless future work.
When the UI/UX interface is ready, the designers hand the project to the developers. It's time to work on the implementation of the core functionality. During the development of LMS systems for healthcare, you can cooperate with Android, web, or iOS developers.
LMS Testing
QA engineers examine the functionality generated during each sprint and work on a project until release. They test the backend and the frontend, then provide reports for coders to use in debugging to build the best learning management systems for healthcare.
After the upcoming LMS software healthcare functionality is developed, the QA engineers perform the regression and the stress testing to check how the system may work in different OS and under a heavy load.
Integration and Deployment
The team is ready to deploy the product after regression testing and resolving all QA concerns. To begin, the QA team conducts smoke tests to determine whether or not the product is stable. Developers must create hotfixes if serious issues are discovered.
The developers implement a prepared LMS for healthcare into your corporate platform. In case you're satisfied with the results, the project materials will be sent to you.
Summing Up
During highly customized systems (like medical learning management system) creation, the vendor's experience and competence have a crucial meaning. In this case, Cleveroad is a perfect choice. This is a software development company with headquarters in Estonia, Central Europe and profound expertise in healthcare solutions building.
Working with us, you'll get:
In-depth software development experience in healthcare, and other domains
Innovative development approaches and a cutting-edge tech stack
Comprehensive consultancy on your project with one of our specialists (BA, PM, etc.)
Signing non-disclosure agreements (NDAs) per request
Creating & updating software from the ground up, modernizing legacy systems
A project team rapidly adaptable to new requirements and modifications
Assurance and control of product quality at all stages
A team of highly qualified and certified QA engineers
A thorough collection of input requirements for a further realistic task scope
Post-release support, maintenance, and advertising services.
Agile-minded, highly trained, and certified IT specialists
One of our latest developments in the medical sphere is a project for the UK-located client — telemedicine appointments management system.
Our purpose was to create turnkey software to offer online healthcare consultations, highly flexible and comfortable both for customers and the personnel.
The system is GDPR, MHRA, and CQC compliant. Its well-thought architecture lowers the necessity of manual operations and reduces paperwork; moreover, we constantly work with it even after the platform is developed to prevent bugs and upgrade functionality according to the latest medical standards.
We are also ready to build a perfect healthcare learning management system for you. The expertise we have will assist in building an excellent and user-friendly solution enough sustainable and profitable on the market.
Need an LMS building assistance?
A competent software vendor with deep healthcare expertise is ready to help you!
Frequently Asked Questions
A medical learning management system (LMS) is a software solution for doctors' offices, clinics, and other medical facilities. A solution like this assists medical business owners in providing regular training courses to their workers, as well as accreditation and continuing education. This is necessary for sticking to new healthcare requirements, as well as keeping up with rapidly changing technology and operating processes.
Creating LMS for healthcare institutions is beneficial for an organization's enhanced functioning. Among the most popular benefits, we can note the following:
Customized materials use
Enhanced monitoring
Different course types
Appointing & registering
Easier implementation
Program authorship
The outsourcing healthcare LMS vendor should provide you with:
Enough tech support to reasonably launch and grow your upcoming platform raising its performance after development
Opportunity to provide you with enough features to develop not only the basic app version but an advanced one. It will help you a lot, especially if you constantly increase educational goals for your learners.
Robust analytical instruments to perform an adequate data management as well as its collection in real-time
More capabilities to develop a cutting-edge healthcare learning management system (e.g., providing your solution with primary onboarding, in-depth instructional pages, video tasks, podcasts, webinars, animation elements, etc.)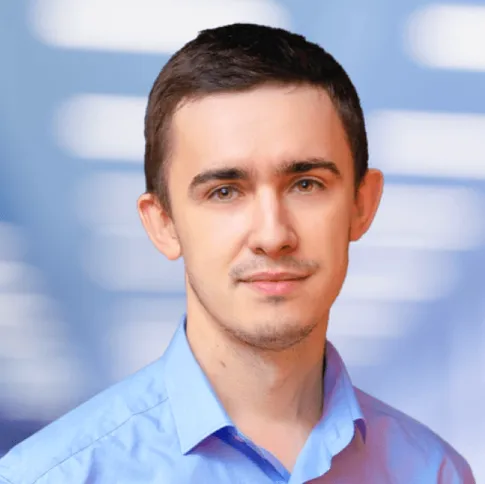 About author
Evgeniy Altynpara is a CTO and member of the Forbes Councils' community of tech professionals. He is an expert in software development and technological entrepreneurship and has 10+years of experience in digital transformation consulting in Healthcare, FinTech, Supply Chain and Logistics
Rate this article!
1101 ratings, average: 4.82 out of 5
Give us your impressions about this article
Give us your impressions about this article