How to Create Pharmacy Management System: The Utter Roadmap
In the pharmaceutical industry, managing the complexities of day-to-day operations has become increasingly challenging. Such activities as inventory management and prescription processing, as well as regulatory compliance and patient care, require efficient and streamlined approaches. This is where a pharmacy management system proves to be indispensable.
As an experienced IT provider with 11+ years of experience in healthcare, we will guide you on how to create pharmacy management system to be a valuable asset and how it can benefit your pharmaceutical company in managing its operations effectively.
This article carries valuable information for those who:
Seek to optimize their pharmaceutical company's inventory management and ensure timely availability of medications
Strive to enhance patient care and medication adherence, streamline prescription processing, and offer medication reminders
Need assistance in meeting industry regulatory requirements, maintaining meticulous record-keeping practices, and safeguarding patient information.
Why You May Need a Pharmacy Management System
A pharmacy management system is a software solution designed to streamline and automate various tasks and processes within pharmacies or healthcare facilities. It serves as a central platform that integrates and manages different aspects of pharmacy operations, enabling pharmacists and healthcare professionals to efficiently handle tasks related to medication dispensing, inventory management, patient records, billing, and more. It can offer a myriad of solutions to address the challenges faced by pharmaceutical companies. Before answering how to create pharmacy management system, let's take a brief look at its benefits.
Inventory management
One primary challenge that such software can help with is inventory management. Keeping track of various medications, their quantities, and expiration dates can be a complex task. Aiming at this problem, a pharmacy management system streamlines this process, ensuring optimal stock levels, reducing wastage, and preventing stockouts.
Precise e-prescribing
Another critical aspect where pharmacy management software development proves beneficial is in enhancing efficiency and accuracy in prescription processing. By digitizing prescriptions and automating order fulfillment, pharmacy systems minimize manual errors, improve order accuracy, and expedite the dispensing process, leading to better service and patient satisfaction.
Compliance adherence
These systems can also aid in complying with regulatory requirements and maintaining robust record-keeping practices. The software facilitates precise documentation of sales, inventory movements, and patient information, which is essential for audits and regulatory inspections.
Enhanced insurance claiming
Answering how to create a pharmacy management system, you should remember that it can integrate seamlessly with health insurance providers and facilitate easy claims processing. This integration reduces administrative burden, minimizes paperwork, and accelerates the reimbursement process for pharmaceutical companies, leading to smoother financial operations.
Medication adherence
Another challenge that such healthcare solutions can address is medication adherence. By providing patient profiles, medication reminders, and refill alerts, the software encourages patients to follow their prescribed regimens more diligently, ultimately improving treatment outcomes and reducing healthcare costs.
Refined analytics
These systems can support data analytics and reporting, allowing pharmaceutical companies to gain valuable insights into their business performance, sales trends, and customer preferences. Armed with this data, companies can make informed decisions, identify growth opportunities, and optimize their product offerings.
Solid security
Security is a significant concern in the pharmaceutical industry, given the sensitive nature of patient information and prescription data. Pharmacy management software development prioritize data security through encryption, access controls, and regular backups, safeguarding against potential breaches and ensuring data privacy.
What Features to Implement into Pharmacy Management Software?
When it comes to developing comprehensive and efficient pharmacy management software, enterprise-level solutions often consist of various interconnected modules that cater to different aspects of pharmacy operations. These core modules collectively ensure seamless functionality and streamline essential processes. Let's consider the key modules that should be implemented into pharmacy management software:
E-prescription management
This feature allows healthcare providers to electronically submit prescriptions directly to the pharmacy, eliminating the need for paper-based prescriptions. The system securely receives and stores electronic prescriptions, enabling pharmacists to process orders quickly and accurately.
Stock handling
The stock handling functionality plays a central role in managing medication inventory. It monitors stock levels, tracks expiry dates, and automatically generates alerts for low-stock items. This ensures that the pharmacy always has the right medications available for patients while minimizing the risk of stockouts or wastage.
Automatic dispensing systems
Integrating automated dispensing systems within pharmacy management software can significantly enhance efficiency. These systems accurately measure and dispense medications, reducing human error and enabling pharmacists to focus on patient care and consultation.
Document and data management
This module centralizes all documents related to pharmacy operations, including supplier information, purchase orders, invoices, and customer records. It simplifies document retrieval and improves workflow organization.
Electronic Patient Records
The electronic patient records module is integral in pharmacy management software development, as it securely stores patient information, medication history, allergies, and any relevant health data. This enables pharmacists to make informed decisions, identify potential drug interactions, and provide personalized care.
Billing and insurance processing
This feature streamlines billing processes, allowing pharmacists to generate accurate invoices and process insurance claims electronically. It ensures smooth financial transactions and reduces administrative burdens.
Reporting and pharmacy analytics
The reporting module within pharmacy management software development provides comprehensive insights into performance, sales trends, and inventory turnover. Analyzing these data-driven reports helps in making informed business decisions and identifying opportunities for improvement.
Alerts and notifications
This feature sends real-time alerts and notifications to pharmacists and patients. For example, it can remind patients to take their medications on time or alert pharmacists about potential drug interactions or low-stock items.
Integrations
Integrating pharmacy management software with other healthcare systems is crucial to enhance data exchange, improve patient care coordination, and facilitate regulatory compliance. You should consider merging your system with Electronic Health Record (EHR) systems, health insurance databases, and lab information systems.
Short-Story Cases On How Cleveroad Successfully Delivered Healthcare Projects
To demonstrate our solid expertise in healthcare software development, we would like to introduce the two medical projects our team has worked on:
Online therapy services ecosystem
Our client is a mental healthcare services provider based in the United States, specializing in online consultations. They were already using a SaaS solution (Kareo EHR system) but needed a custom platform for their online services. The new platform had to be seamlessly integrated with their existing EHR system and support referral management in alignment with their specific business model.
Our team successfully developed telemedicine software from the ground up, with all the functionality required to provide and receive mental healthcare services to patients. The system's architecture was designed to be compliant with HIPAA laws.
We seamlessly integrated the software with the current Kareo EHR system to ensure proper data synchronization (appointments and patients' records). The outcome was a powerful and reliable telehealth platform that enables the delivery of mental health services online. By automating existing business processes, our solution empowered the company to excel in the healthcare niche and provide efficient, secure, and convenient therapy care delivery.
Find out more about the Online Therapy Services Ecosystem case
Online therapy ecosystem built by Cleveroad
Healthcare web application
Our client, a UK-based Health Tech business specializing in dietary supplements, partnered with the Cleveroad team to develop a modern healthcare solution.. The customer needed the web app that allows users to monitor their biological indicators by analyzing data results from laboratories.
This innovative web app is currently in progress. Our team designs the product to enable users to obtain valuable insights into their health. By analyzing data results received from laboratories, the app generates a comprehensive list of personalized recommendations on how to improve specific biomarkers using dietary supplements. Moreover, the app takes user activity levels into account by seamlessly integrating with wearable devices like watches and bracelets.
The solution was compliant with HL7 standards to ensure secure data sharing. To merge the data, the app was integrated with Laboratories and 3rd-party services:
Haut.AI (skin health analysis)
Eurofin, Lighthouse Labs (Laboratories)
WeFitter API (wearable device data retrieval)
DecisionRules.io (recommendation engine after analysis)
The system provided allowed the client to expand their range of services in the healthcare sector and achieve substantial business profit growth.
Here's the opinion of our client left on Clutch on the successful health project delivery.
Edward Van-Harmelen

Owner of a tech health company, OptimallyMe

Cleveroad has met our expectations and works in a professional way.
How to Create Pharmacy Management System: Development Flow
Let's move on to learning the core steps you should take to successfully go through pharmacy management software development. Still, you should be aware that the process can't be executed properly without the assistance of a reliable healthcare vendor. That is why, the following stages are described when the IT provider is already selected.
Once you have found an experienced provider for pharmacy management software development, the process can be broken down into several key steps, ensuring a successful and efficient implementation. Let's discover how to create pharmacy software on the example of our SDLC (Software Development Life Cycle) process:
First contact
This step implies primarily connecting to your tech vendor. When your request is submitted on our website, it is directed to our Business Development Department. A personal manager with expertise in your business domain will reach out to you within 24 hours to proceed to the next stage. We understand the importance of confidentiality, and if needed, we are ready to sign a Non-Disclosure Agreement (NDA) to protect your information.
Solution design stage
In this initial phase, you collaborate with the development team to define the scope, requirements, and objectives of the pharmacy management system. Understanding your specific needs, we can tailor the solution to meet your pharmacy's unique requirements.
Discovery phase
The discovery phase involves in-depth research and analysis of the pharmacy's workflow, existing systems, and processes. Our business analysts research your requirements, workflow, and end-users to gain insights into pain points and identify opportunities for optimization.What's more, at this stage you and your tech vendor decide whether you need a standalone pharmacy management software or an integrated solution into your existing healthcare management system.
Development
This stage involves the actual coding and pharmacy management software development based on the agreed-upon requirements and tech stack. Depending on your needs, you may consider developing a standalone solution or integrate the system into your existing business infrastructure.
This stage involves the actual coding and pharmacy management software development based on the agreed-upon requirements and tech stack. Depending on your needs, you may consider developing a standalone solution or integrate the system into your existing business infrastructure.
If you decide to build an autonomous pharmacy management software, it's better to start with MVP engineering. An MVP allows you to test essential functionalities and gather user feedback before implementing the full-scale system. It is a streamlined version of the pharmacy management system that focuses on essential functionalities. This approach allows for rapid testing and gathering user feedback to validate assumptions and make data-driven decisions. By delivering a basic working prototype, the MVP accelerates time-to-market and enables iterative improvements based on user needs.
In case you need to integrate pharmacy management software into your existing business environment, the team makes a proof of concept (POC). This approach validates the concept's technical feasibility and proves the new module's interoperability within the existing healthcare infrastructure. In practice, POC may demonstrates how the pharmacy management system can integrate with other medical systems like:
Electronic Health Records (EHR)
E-Prescribing systems, telehealth platforms
Accounting and billing systems
Drug information databases
Health Information Exchange (HIE) networks
Interface for medical solutions (patients' side.) Source: Cleveroad Dribbbe
The optional tech stack for pharmacy management software development may incorporate the following technologies (based on our experience):
Frontend: HTML, CSS, JavaScript, React or Angular (for web apps) or React Native or Flutter (for mobile apps).
Backend: Python (Django or Flask), Java (Spring Boot), or Node.js (Express.js).
Database: PostgreSQL, MySQL, or MongoDB for data storage and management.
Cloud services: AWS or Azure for hosting and scalability.
Integration: HL7, FHIR, or other healthcare data exchange standards.
Release and deployment
After the testing and quality assurance, the pharmacy management system is ready for release and deployment. During the release and deployment phase, the software provider takes care to ensure a smooth and seamless rollout. This is one of the final steps within the development journey, where the focus shifts from development and testing to the actual implementation and use of the software in a real-world environment. Aside from the seamless release, the vendor provides necessary training to your team.
Ongoing support
A reliable software development partner will continue to offer support and maintenance services after the system's deployment. This service may be integral due to the complexity of the pharmacy management solution. This includes bug fixes, functionality and security updates, enhancements to keep the system running smoothly and up-to-date, and help adapt it to the changing needs of your business. This ensures stable system performance and provides effective pharmacy management and quality patient care.
Points to Consider Before Creating Your Own Pharmacy Management System
The pharmacy management software development is a multistep procedure that implies careful planning and consideration of a range of factors. Before proceeding to this process, there are some critical points to take care of:
Security and measures to implement
Given the sensitive nature of patient data and medication information, security should be a top priority. Thus, you should ensure that your pharmacy management system complies with industry security standards such as HIPAA (in the United States) or GDPR (in the European Union). Implement the following measures to safeguard against data breaches and unauthorized access:
Data encryption
Access controls
Regular security audits
Secure user authentication
Regulatory compliance
Different countries have specific regulations and standards for healthcare and pharmacy operations. Before developing the system, thoroughly research the regulatory requirements in your business area.. Ensure that pharmacy management software development system adheres to all relevant regulations, such as those governing electronic health records (EHR), drug dispensing, and privacy policies. Let's take a look at the essential regulations in different countries:
United States: HIPAA, FDA, HITECH, etc.
European Union: GDPR, MDR, IVDR, etc.
Canada: PIPEDA, CMDR, etc.
Australia: TGA, Privacy Act, etc.
United Kingdom: MHRA, Data Protection Act, etc.
Our team has practical experience in creating healthcare software solutions compliant with various industry regulations such as HIPAA, HITECH, HL7, SNOMED CT, CCDA, FDA, DICOM, and more.
Custom vs. ready-made solutions
Decide whether to build a custom pharmacy management system tailored to your needs or opt for a ready-made solution. While ready-made solutions may be quicker to implement, custom systems offer greater flexibility and address unique requirements specific to your pharmacy business.
Choosing the right partner
Pharmacy management software development requires a skilled and experienced team. Consider partnering with a software development company that specializes in healthcare solutions and has expertise in pharmacy management systems. Outsourcing or outstaffing to a reputable partner, especially in countries like Estonia, offers greay value-for-money. It is known for its strong tech talent pool, can be a cost-effective and efficient option. Yet, it's also critical to understand which model is suitable for your project:
Outsourcing
This option, in contrast, entails delegating the entire development process to a third-party provider. In this model, the software development company takes care of all aspects of the project, including development, testing, and deployment. This approach is beneficial for businesses that want to focus on their core competencies while leveraging the expertise and experience of a specialized software development team.
Outstaffing
It involves hiring remote developers or a dedicated team to work exclusively on your project under your direct supervision. The outstaffing model allows you to retain full control over the development process, with the advantage of having skilled developers as part of your in-house team. This model is suitable for businesses that have the resources and expertise to manage and lead the development process themselves.
Cleveroad Experience in Developing Healthcare and Telemedicine Systems
Cleveroad is a reliable healthcare software development company possessing over 11 years of experience. We help businesses of various scales by delivering our full-cycle tech services. The Cleveroad team will smoothly implement clinic and pharmacy management systems, e-prescription, telehealth, and electronic patient record solutions, complying with all of the essential industry regulations.
What benefits will you get by cooperating with Cleveroad?
Custom healthcare software development from certified tech engineers with a guaranteed high level of protection for patient data and help pharmacies, complying with medical standards and regulatory rules (e.g., HIPAA, GDPR, HL7, HITECH, CDA, etc.)
Smooth integration of your pharmacy system with other internal and third-party programs (such as Kareo, Bluestream Health, MedlinePlus, etc.) to ensure seamless data exchange
NDA signing per your request to secure your unique concept and guarantee the full confidentiality of your project data
Top-tier user experience and design of intuitive interfaces, ensuring that healthcare professionals and patients find software easy to use and navigate
To make the cooperation as suitable and efficient for you as possible, we offer three cooperation models to meet your specific software development needs: Time and material, dedicated team, and oustaffing.
Time and material
With Time and Material, we prioritize transparency and flexibility, planning each sprint in advance and accommodating changes in scope for dynamic projects. Here, you have full control over the development process while we handle quality, timeline, and delivery tracking. The price is based on actual time spent and materials used, paying for the hours worked and related expenses.
Dedicated team
Our dedicated team model offers a skilled team of software developers, architects, QA engineers, designers, and more, tailored to your needs. They become an extension of your team, ensuring seamless integration and delivery of complex projects. With fixed monthly pricing, you have complete control over the team while leveraging our technical expertise across industries.
Outstaffing
Outstaffing is a cooperative model where Cleveroad provides skilled professionals to work as part of your team. You have full control, scaling the team as needed. Save time on hiring with ready-made specialists. Ensure confidentiality with an NDA. Within this option, payment is based on a specified period, often monthly.
Successful development of pharmacy management software system requires the assistance of an experienced healthcare vendor. We, at Cleveroad, have a deep understanding of the needs of medical and pharmaceutical enterprises, and will assist you in taking your business efficiency to the next level.
Automate your pharmacy business
Get a tailored pharmacy management system from experts with 11+ years of experience in healthcare
Frequently Asked Questions
A pharmacy management system software is a digital solution that helps pharmacies streamline their operations, manage inventory, process prescriptions, handle patient information, and track sales. It simplifies the overall workflow and enhances efficiency.
Creating a pharmacy management system is a complex task that requires expertise in software development and a deep understanding of pharmacy workflows. It is wise to apply to a reliable tech vendor with experience in developing such systems. A reliable vendor will have the necessary skills to gather requirements, design, develop, test, and deploy the software effectively. They will also provide ongoing support and ensure that the final product meets your business needs. By choosing a reliable tech vendor, you can ensure the successful creation and implementation of a pharmacy management system tailored to your specific requirements.
Businesses need a pharmacy management system when they face challenges in organizing inventory, tracking sales, processing prescriptions, or managing patient information. It becomes necessary as the business grows and manual processes become cumbersome.
The cost of creating a pharmacy management system can vary depending on factors such as the complexity of features, technology used, team size, and development time. Generally, it can range from a few thousand to tens of thousands of dollars. It's recommended to get a customized quote from a software development company based on your specific requirements.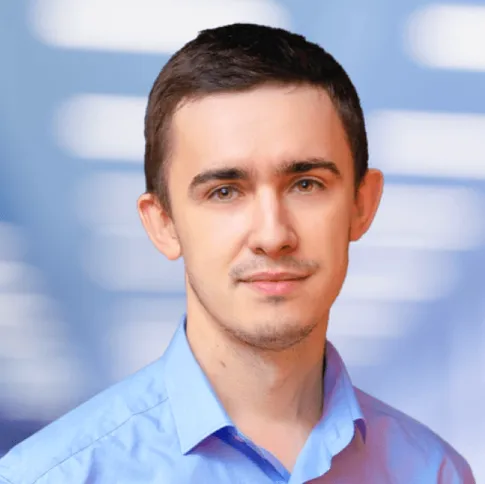 About author
Evgeniy Altynpara is a CTO and member of the Forbes Councils' community of tech professionals. He is an expert in software development and technological entrepreneurship and has 10+years of experience in digital transformation consulting in Healthcare, FinTech, Supply Chain and Logistics
Rate this article!
170 ratings, average: 4.84 out of 5
Give us your impressions about this article
Give us your impressions about this article