How to Build a Food Delivery Website: Business Models, Features, and Cost
4303 Views
|
19 Jul 2020
|
16 min
We've updated this article to keep it up-to-date.
Food delivery websites or mobile apps are convenient, especially for modern people in a hurry. They are developed to save time, let customers choose from a variety of restaurants, and pay for the orders easy and fast. According to Statista, the online food delivery revenue worldwide is projected to reach $136 billion in 2020.
Moreover, GloriaFood claims that 86% of consumers use delivery services at least once per month.
The key to your success is a user-friendly website. So, it's essential to know how to create a food delivery website or app for your customers' needs.
In this article, we'll discuss how to create a food ordering website and consider exciting examples.
How to Build a Food Ordering Website: Business Models to Choose From
Business models of food ordering platforms can vary according to the project aims and requirements.
Your food delivery service can be local or worldwide. According to McKinsey&Company, the worldwide food delivery market stands for €83 billion, so it takes only 1% of the total turnover. Such services as UberEats or Delivery.com can be called worldwide because they operate across several countries.
On the other hand, there is a local or traditional model. It stands for common food delivery from nearby places. A lot of restaurants, especially in urban areas, now offer delivery. So local food delivery service usually works only within one country or even city.
Food delivery gives many opportunities to start your own business. How to make a food delivery website? First of all, you need to choose an appropriate business model.
Below we discuss the common business models.
Food Delivery Business Models For Startups
The order only model
This model is used by Grubhub and other delivery services that provide an opportunity to order food from many independent restaurants. How does it work? Such platforms connect clients with local restaurants, and the restaurants deliver orders on their own. Usually, restaurants pay the platform a commission from 7% to 15% per each order received.
The order and delivery model
The main representatives of this model are UberEats and DoorDash. Such platforms provide both order and delivery. It's beneficial for restaurant owners who cannot or don't want to buy a fleet of vehicles and organize couriers' work.
The fully integrated model
The last business model consists of three services — ordering, cooking, and delivering. It means that the company prepares food itself. This business model is common for chain restaurants like Domino's Pizza. However, such a business requires a lot of additional expenses like salaries for chefs, refrigerated trucks, heaters, and so on.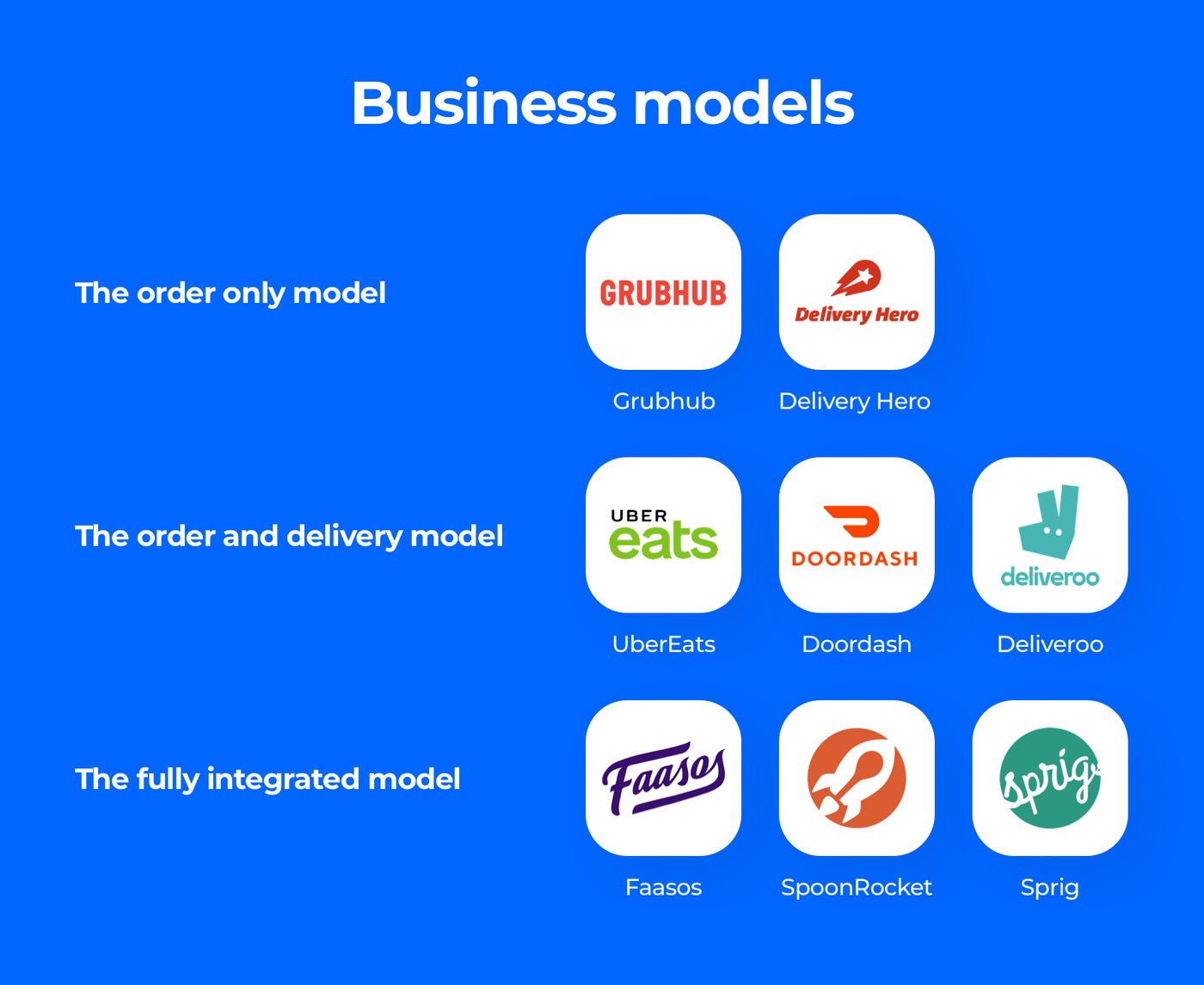 Business models of a food delivery website
What You Can Learn From Popular Food Delivery Services
It's always a good idea to study competitors first. If you want to create a food delivery website, it's better to consider details. We've prepared five popular online food ordering platforms for you to review.
A lot of people trust Uber to drive them around the city. So, the company decided to conquer new peaks and become successful in the food delivery market. In 2018, UberEats was available in 200 cities all over the world. Also, UberEats covers approximately 50 percent of the US population, delivering food from more than 100,000 restaurants.
UberEats has functionality similar to Uber like cashless transactions, real-life GPS tracking as well as order scheduling.
This service is available in 1,200+ cities in the USA and Canada. DoorDash is one of the biggest food delivery services. It has more than 110,000 restaurant menus and over 30 different cuisines. DoorDash provides a chance to select 'popular items'. For example, visiting the restaurant for the first time, you can see the most demanded food.
If you want to deliver from the local restaurants in the US and Mexico City, the Postmates website is the best option. Just like many food ordering websites, Postmates lets users make an order in local fast food chains and restaurants. This service can also bring you groceries, alcohol, gifts and so on. You can consider including other delivery options except for food while creating a food ordering website.
How Much Does It Cost to Develop a Delivery App Like Postmates?
Like the previous service, Delivery.com is accessible in many American cities. It delivers food from different restaurants along with groceries and even laundry. One more interesting feature is the suggestions. If you don't know what food you want to have, Delivery.com can provide you with the list of the most popular restaurants near you.
Last but not least is Grubhub that can be installed on both iOS and Android. The service is available in the United States and it lets users order and deliver meals from fast food chains and restaurants across 1,700 cities.
Grubhub provides 24/7 customer support and real-time delivery tracking that makes this process very convenient.
How to Make a Food Delivery Website: Essential Features
Before getting into the development process, let's single out the crucial elements of a food delivery business. Every food ordering platform has three different stakeholders. So there are four different solutions to make every part of the business work together:
User-facing solution
Restaurant solution
Courier solution
Admin panel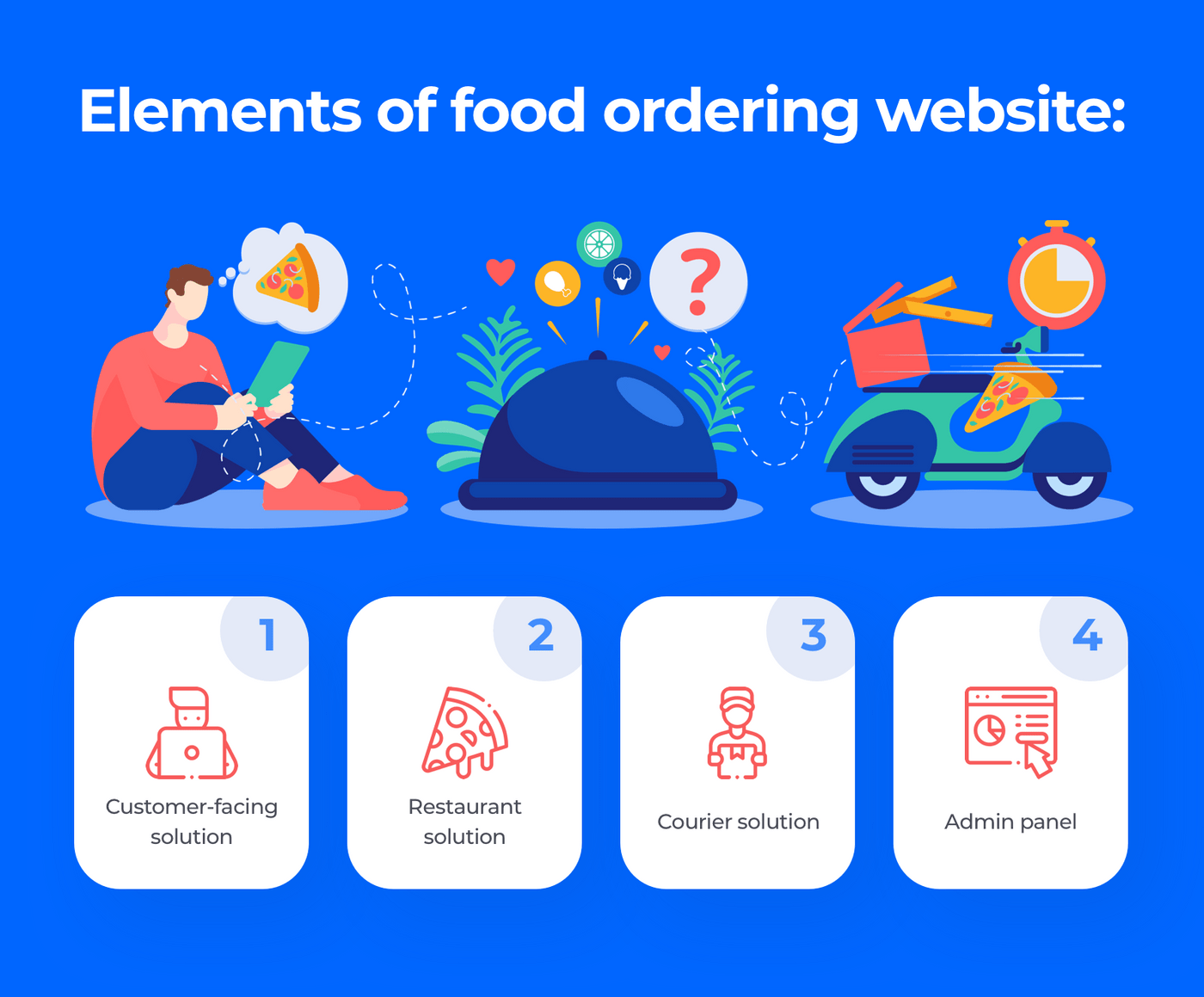 What are the parts of food ordering website?
Each part of the platform has a list of required features. The functionality can be basic and advanced. Basic or MVP features stand for functions that are needed to satisfy the basic user needs. As for advanced, they add some exciting options and make the user experience better.
How to make a food ordering website? It's common to create the MVP version and release it to the market. After getting some feedback from the users, you can develop more advanced features.
So, let's find out the details of each part of the food delivery website and features required for each solution.
Users can make an order with its help. Before ordering, users need to sign up. So, it's better to integrate such registrations options as email and password or phone number and password. To develop a signup feature, developers can use Amazon SES and Amazon SNS.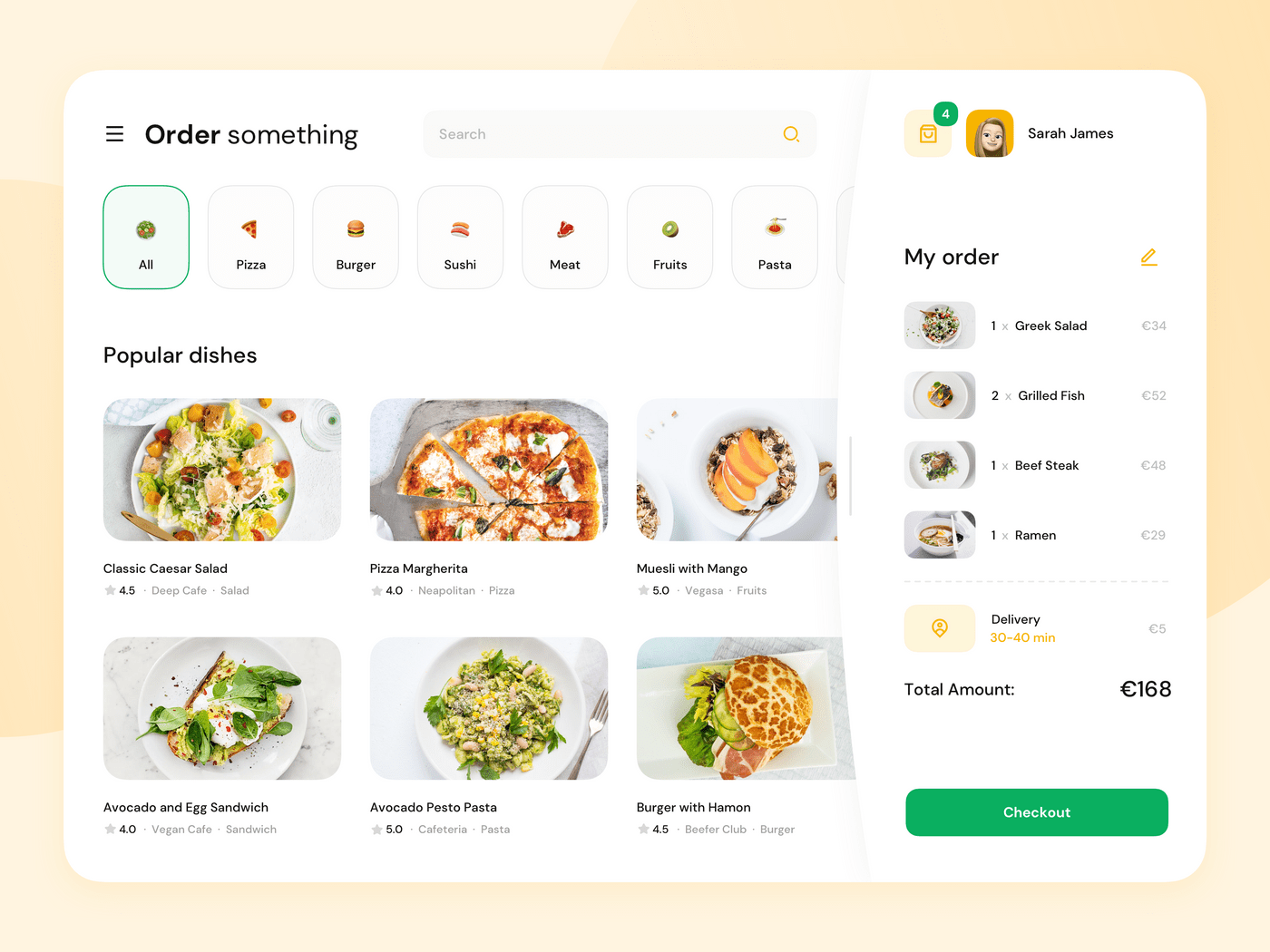 Ordering page of a food ordering website (Source: Dribbble)
Customers need to choose a restaurant and dish from the menu. To make a food ordering website more user-friendly, you need to add a flexible search system. Users also need an opportunity to pay for the order using the service. You can add such payment methods as PayPal, Stripe, and Braintree.
Below, you can find the MVP features of a user-facing solution along with required development time.
Features and development time of customer-facing solution
Feature
Development time
Required technologies

Registration and login

11 hours

Amazon SES, Amazon SNS

Enter delivery address (map included)

64 hours

Google Maps, Google Places

Order confirmation

73 hours

-

Send email with order details

4 hours

-

User profile

19 hours

-

Payments

20 hours

PayPal, Stripe

Rate and feedback

10 hours

-

Settings

8 hours

-

Order details

24 hours

-

Push notifications

16 hours

FCM

Total time

249 hours
This solution lets restaurants join the food ordering service and manage the order. For example, they can see and manage all the received orders. Restaurants can add information like name, location, working hours, contact details, and more. Restaurant solution offers to manage orders and look for a free courier. The page can show the order status like canceled, completed, or delivery.
Also, it's required to add a menu with photos and descriptions of the dishes. It's good to offer customers promo codes to engage more users.
Features and development time of restaurant solution
Feature
Development time
Required technologies

Authorization

10 hours

Amazon SES, Amazon SNS

Menu management

86 hours

-

Requests management

40 hours

-

Reports page

28 hours

-

Total time

164 hours
This part of the food delivery website is available for couriers. To use the service, they need to sign up. Here, you also need to offer at least two options: using email and phone number.
Utilizing this solution, couriers can fill in their personal information like photo, phone number, name, and others.
Courier can look through the order details like delivery address, time, and order size. After that, they can accept the order.
It's better to integrate a chat feature to make a food ordering website more comfortable. So, couriers can discuss the order details with the customer or restaurant manager.
It's better to create a mobile app for couriers since it's more convenient for them to use an app on the go.
Features and development time of courier solution
Feature
Development time
Required technologies

Accept order

75 hours

-

Chat

145 hours

socket.io

User profile

144 hours

-

Total time

364 hours
The admin panel offers a bunch of cool features for management. It lets product owners and their teams manage users, restaurants, and couriers. For example, it's possible to edit, ban, or delete users.
Additionally, using the admin panel, it's possible to manage the revenue by weeks, months, and years. The dashboard shows the most profitable restaurants and the most popular dishes.
You need an admin panel since it's impossible to manage a lot of users manually. To create an admin panel for a food ordering website, developers need at least 255 hours.
Features and development time of admin panel
Feature
Development time
Required technologies

Authorization

10 hours

Amazon SES, Amazon SNS

Dashboard

28 hours

-

Customers management

46 hours

-

Restaurant management

109 hours

-

Payment management

26 hours

PayPal, Stripe

Couriers management

36 hours

Google Maps

Total time

255 hours
Other Things to Consider Before Creating a Food Ordering Website
Of course, to create an online food ordering website, you need to get ready. Some points that need to be considered before building and launching your food ordering platform.
1. Choosing Between Custom-Built and Ready-Made Website
Let's be realistic, buying a ready-made solution isn't an option for serious business. Modern users are quite spoilt. They want originality, convenience, speed, and robust features. All this is hardly achievable without investing in a custom website development.
Let's build food delivery website
Tell us about your project and get a cost estimation for FREE.
It's very important to start with a good set of features and security to make the customers trust you. That's why creating a website that will follow all your requirements and objectives is vital for your future outcome.
2. Define Your Target Audience
How to make an online food delivery website and not to fail? You need to define your target audience.
There are three main target audiences among busy people — students, parents, and working professionals. Each of them has specific needs that you have to follow. Speaking about students, their main fuel is fast food. So, if this is your target audience, it's better to cooperate with local fast food restaurants to deliver faster.
As for parents, they tend to eat healthily. This type of target audience may also want to order groceries with home delivery. After that, they can cook on their own. If you've defined this group as your target audience, it's necessary to consider the freshness of food and delivery speed.
Working professionals are people who work a lot and don't have much time to plan their meals. As they prefer ordering well-cooked meals from eateries, delivery is extremely popular among them.
As you can see, each group needs something special. It's better to define your target audience beforehand to think about how to market your product and draft an appropriate value proposition along with features.
It's always preferable to start a project with a focus on a limited area and then expand. For example, you can start delivering groceries, then continue with restaurants, and so on.
3. Get a Great UI/UX Design
Starting to make a food ordering website, you need to consider the platform design. Сustomers want to surf websites that are as simple and clean as possible. So nothing should distract their attention from the key action — food ordering.
A quality UI/UX design requires a lot of effort from the designer. The process is often divided into multiple stages to understand what is needed to reach effortless user experience. For example, in companies like Cleveroad, designers research the market, study your competitors, and target audience to create a user-friendly food website design that works.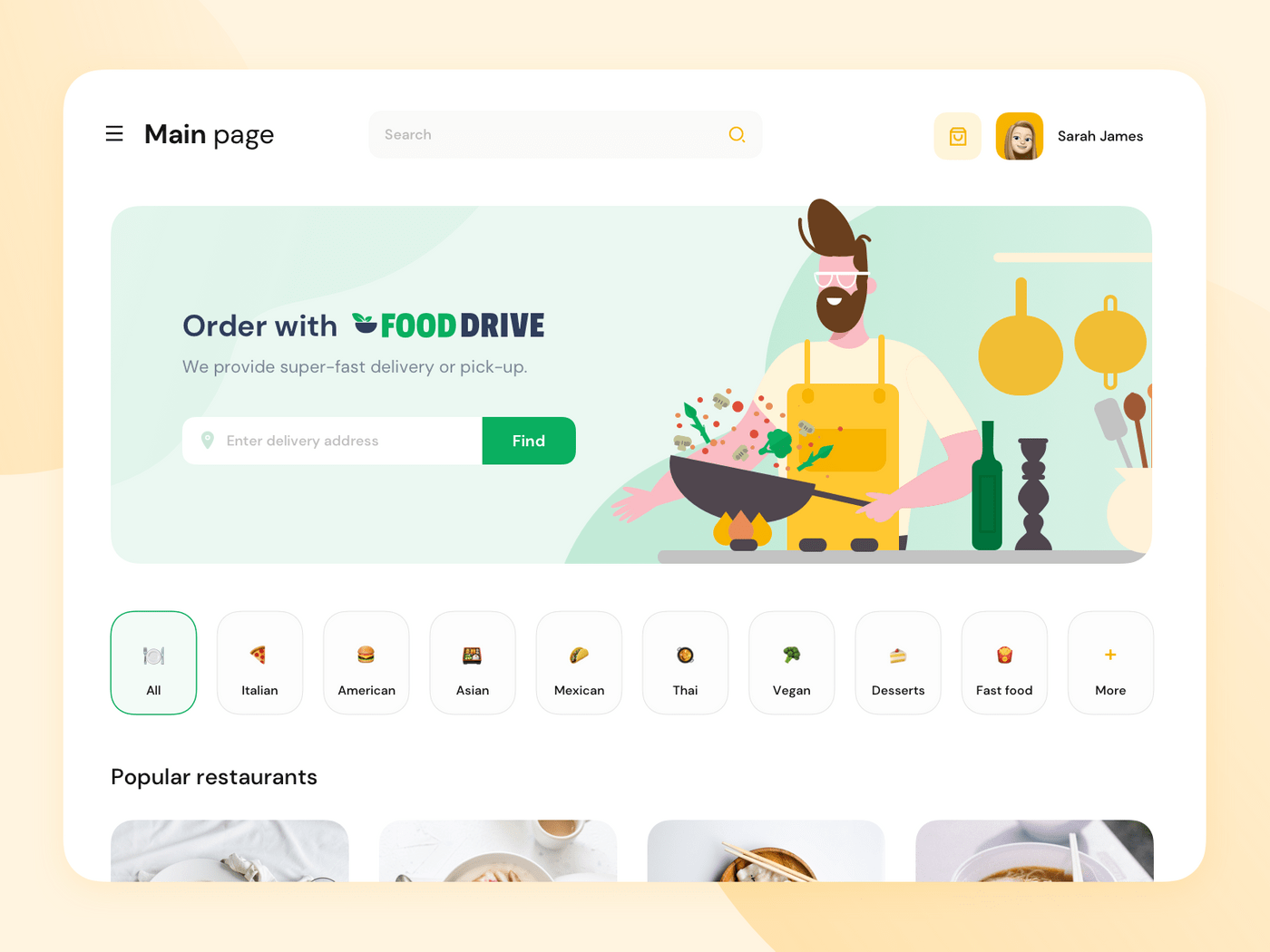 Main page of a food delivery website (Source: Dribbble)
4. Tune SEO and Social Media
SEO or Search Engine Optimization isn't a new concept. You need to make sure that your website has SEO elements like user-friendly URLs, manageable meta tags, image alt tags, etc. So make sure your web development service provider is experienced in delivering SEO-friendly solutions.
It's impossible to forget about social media when speaking about marketing channels. Every business is active on social media these days, so you should stand out to get your users' attention. In addition to creativity, you need to focus on your users' needs. It's always good to reply quickly to visitors' comments and post some offers or loyalty programs on social media.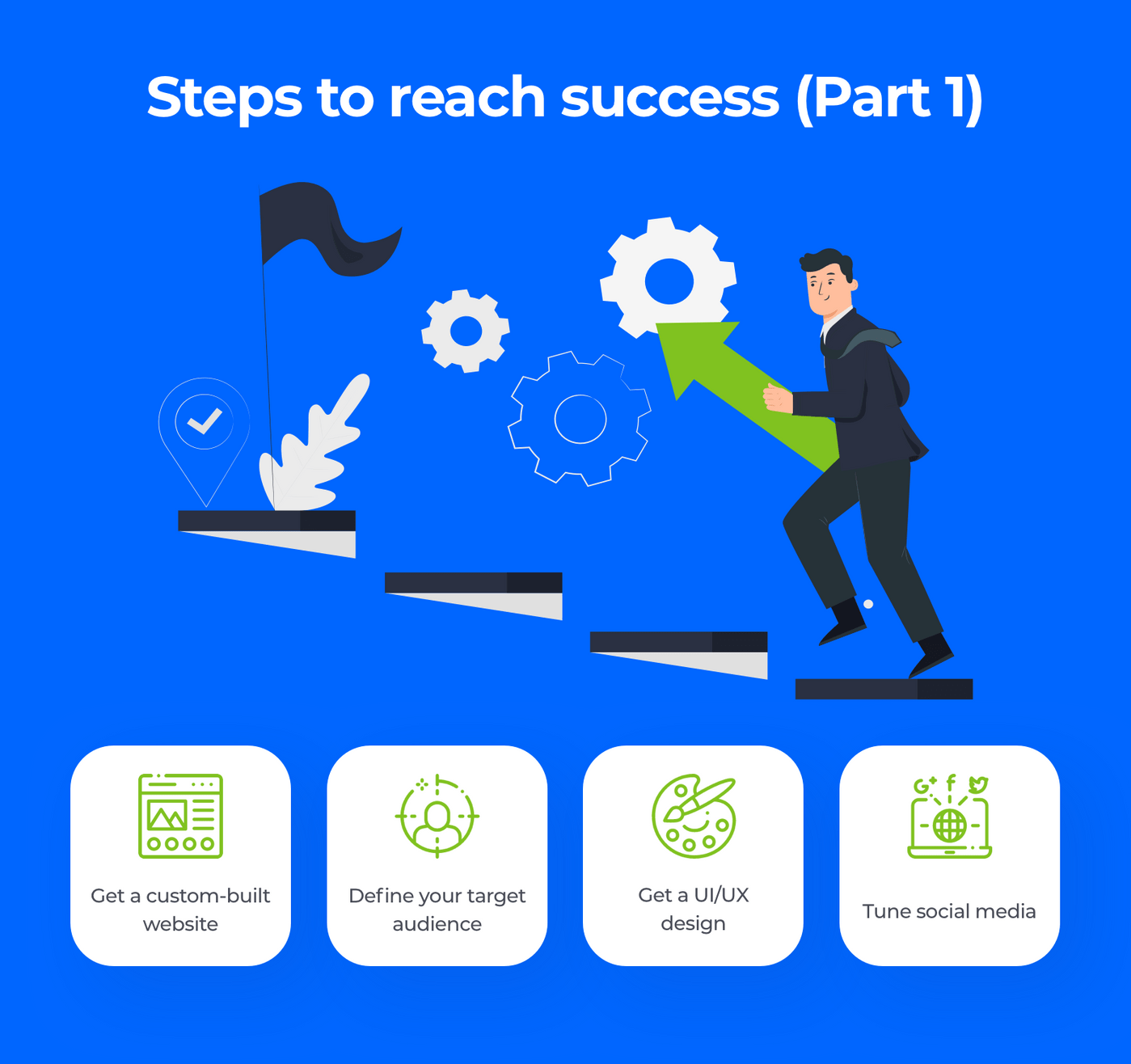 How to reach success during developing food ordering website?
5. Adapt Your Website to Local Demands
Such services as FoodPanda and GrubHub are successful because they deliver food locally. So, there are some essential ideas from these food delivery services:
Form your business according to the local environment and different types of customers. It's important to remember that what works in one city might not work in another.
Categorization can vary depending on the local cuisine preferences.
Payment options should be various. People need to have a choice between credit cards, cash on delivery, eWallet, etc.
6. Think of Additional Revenue Sources
A money question can be a struggle when you build an online food ordering website. So, alternative revenue streams can be lifesavers for your project.
There are some ideas:
Advertising is one of the leading monetization types that is widespread all over the world. You just offer 3rd parties to place their ads on your website. It's profitable for both sides. For instance, UberEats offers restaurants to promote on the platform charging a fee for this service.
Selling gift cards for a certain amount of money that you customer can buy and give to their friend. GrubHub provides two gift card options — eGift cards and physical gift cards.
Offering additional services like delivering medicine may let you attract more users. Delivery.com offers to bring laundry, groceries, and more.
7. Pay Attention to the Mobile Version
Everybody has a smartphone. Fewer people tend to use PCs for simple everyday tasks. Of course, developing both a mobile app and a website simultaneously can be expensive. But there is an opportunity to optimize your website for mobile phones with a responsive design. It'll surely increase the number of users.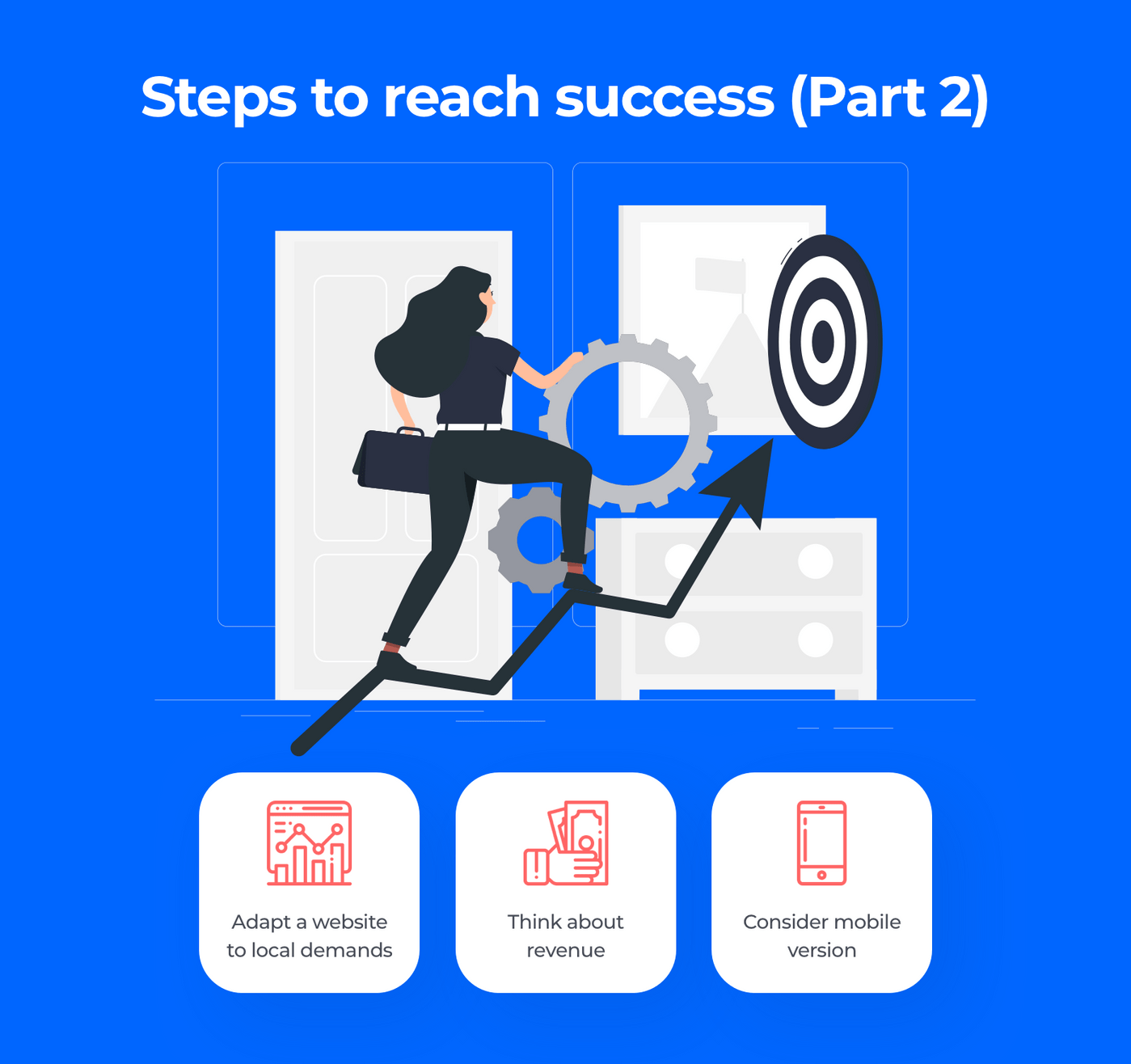 How to make a food ordering platform and reach success?
Cost to Make a Food Delivery Website
So, let's find out the final price to create a food delivery website.
!
Below, you can find APPROXIMATE time and cost to develop a food ordering website. To calculate the final price, we need to know the project requirements.
All the estimates below are based on the average rate in our region (Eastern Europe, Ukraine) — $50 per hour.
Final time and cost to create a food ordering website
| Type of work | Required time | Cost |
| --- | --- | --- |
| Customer-facing solution | 249 hours | $12,450 |
| Restaurant solution | 164 hours | $8,200 |
| Courier solution | 364 hours | $18,200 |
| Admin panel | 255 hours | $12,750 |
| Frameworks and libraries integration | 64 hours | $3,200 |
| UI/UX design | 60 hours | $3,000 |
| Quality assurance | 350 hours | $17,500 |
| DevOps services | 30 hours | $1,500 |
| Project management | 80 hours | $4,000 |
| Total | 1,616 hours | $80,800 |
How did we calculate the final price to make a website for food delivery? We added development and non-development time. After that, we multiplied the time by the team's hourly rate.
So, to build a food delivery website, you need at least $80,800. We calculated the MVP version of the service. If you want to add more advanced features, you'll likely pay more.
Additionally, the final price can vary depending on the team's location. For example, developers from North America have higher rates in comparison to software engineers from Eastern Europe.
To give you a hint, we've estimated the approximate cost to make a food ordering website in different regions:
Eastern Europe. $80,800 (based on $50/h)
North America. $161,600 (based on $100/h)
Western Europe. $145,440 (based on $90/h)
Australia. $161,600 (based on $100/h)
Discover food ordering website cost
We'll check your project requirements and calculate the price for FREE.
Cleveroad Is Your Assistant in Making a Food Delivery Website
This search-and-discover service was created for the Polish market. Foodito provides users with fast real-time searching for interesting restaurants.
Google Maps APIs allow placing all the restaurants from Foodito's database on the map. So, users can choose the appropriate place for eating out based on the location. Additionally, using the platform, clients have an opportunity to make an order. Clients look through the menu and order dishes without waiting for a waiter.
AYIO is a social business platform that allows everybody to offer their services to others and become self-employed.
The primary purpose of AYIO is to find a required specialist to do some work or service. The platform provides various services, so it's easy to hire a professional. AYIO is focused on European users.
Additionally, the service has a custom-made payment account that we've integrated using Stripe. User needs to create an account, after that all the funds are sent to the banking account automatically.
If you want to create a custom food delivery service, you need to hire an experienced team of web developers. Fortunately, there are a lot of companies, including Cleveroad, ready to assist you in creating an online food ordering website.
Have any questions left?
Write us and we'll contact you back as soon as possible to provide project estimation at no charge.
Frequently Asked Questions
🍕 How to make a food ordering website?
📎🍔 How do I start a food delivery website?
☝ Why do you need a website for food delivery?
🤑 🍟 How much does it cost to make a food ordering website?
💻 What are the food delivery business models?
Rate this article!