Finternet Of Things: Strong Reasons Why IoT Can Revolutionize Financial Sector
1742 Views
|
07 Mar 2018
|
10 min
Internet of Things industry is developing rapidly and it provides people with a range of digital devices and sensors all around the world. According to predictions of Gartner consulting agency, about 6,5 billion of connected 'things' will be available by the end of 2018. And, by the way, this figure has grown for 30% comparing to 2016. It is expected that we will get almost 20 billion IoT devices by 2020.
As IoT is surrounding us in all fields of activity, banking area is also striving to make use of IoT and get some benefits. The niche of the IoT web or mobile app development is growing, so let's see main reasons why you need IoT in banking and other financial services.
Why you need IoT in your financial business
Usually, when you start dealing with something new, you need to see strong reasons why you need it. That is why before you start developing your own the IoT solution for banking or any other FinTech service, you need to see advantages of IoT in this field. How has the Internet of Things impacted business? In this section, we will pay attention to 5 benefits why ioT can be beneficial for financial business.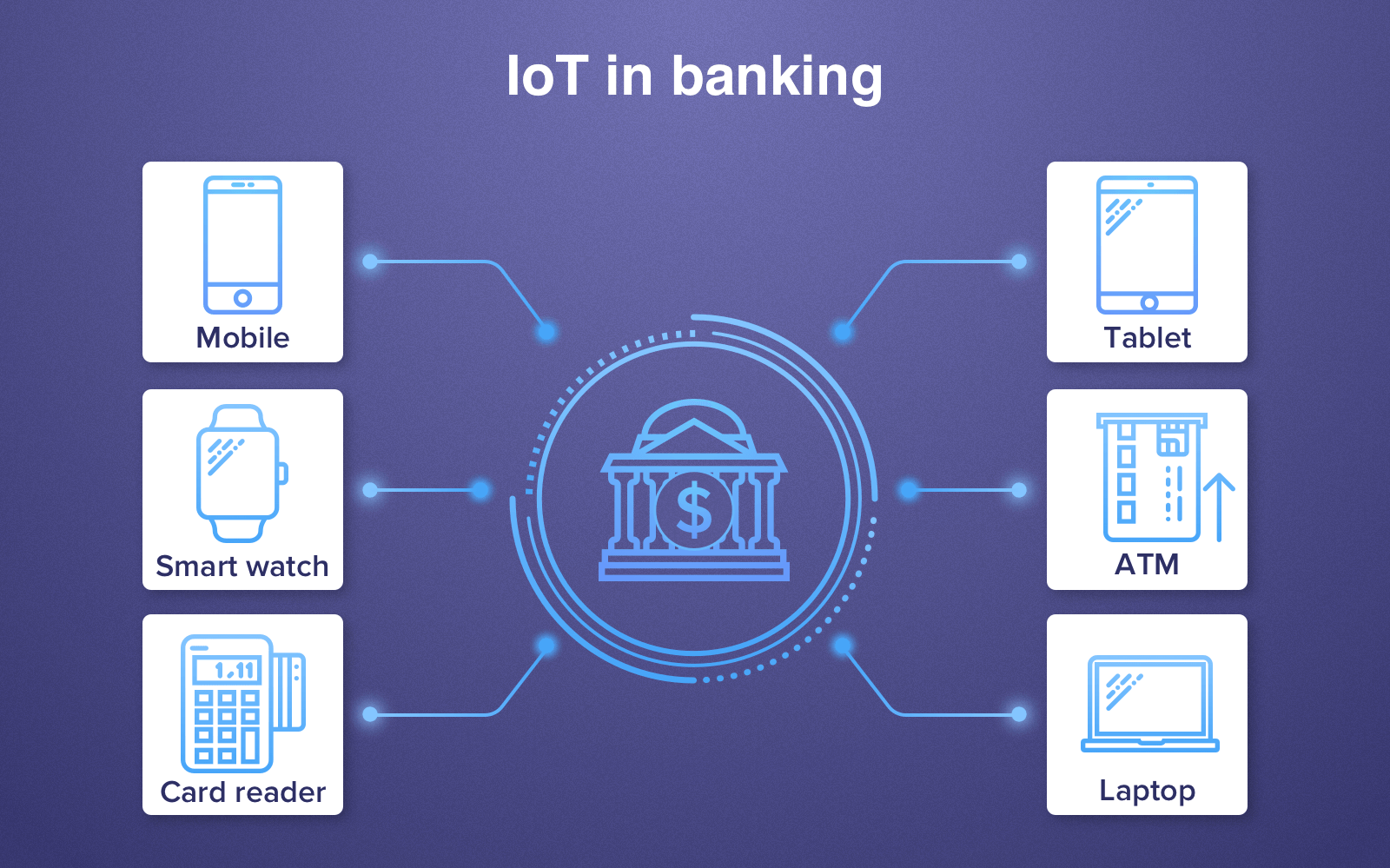 How IoT can be used in banking
Collect all data in real-time mode continuously
For example, when individuals want to insure car or house, using the IoT, they can always get access to the up-to-date information regarding patterns of using the insured product. If they insured the car, they can see all regulations and rules concerning all insurance cases gathering sensor data from any point - whether it be their home or car. And, yes, it is just one example of thousand other possible options that IoT solution providers can offer.
Personalized customer service
Considering that preferences of the customer change very fast, financial institutions along with other fields simply cannot ignore new digital innovations and they need to engage in the development of new solutions. Today customers can always stay in touch with their bank using a tablet, smartphone or laptop. That is why banks see perspectives in the development of IoT apps that make it possible to gather more data about customers, their behavior, and preferences. The IoT connections facilitate a widescale data collection about users. This data helps banks understand their customer better and offer them more interesting and personalized experience, useful target tips. It leads to the new level of interaction between bank and customer and to the great future of banking technology.
Example: imagine that your customer came to your bank and they just enter the main door. You can use the network of sensors and beacons with appropriate software to authenticate the customer with the biometrics like facial recognition. This customer every day withdraws a certain amount of money in ATM of your bank, and thus ATM will prepare money for the customer, and when the user enters his PIN, cash will be prepared to withdraw. By the way, you can find more benefits of facial recognition software in our article. As you see, IoT and banking area can be mutually beneficial.
Enhancing the decision-making process
If the bank learns more information about their customers getting the data from the IoT devices, it helps improve decision-making process with better customer service and product strategy. For example, using data from social media or buying preferences of the customer, banks can build the picture of potential credit risk for each customer and then make commercial offers to the potential customer. Here you need the development of analytical software that will help implement it, and our company can assist in it. Thus, IoT in financial services can help specialists understand the general condition of other fields. Up-to-date data will give the current situation in retail or agriculture that is very important in the process of new markets analysis.
Communication between various devices
Combination of sensors and software will help make cashless payments automatically, without even touching user's phone or banking card. This financial solution can become widespread one day. As an example, users go to the cash register in the supermarket, and there is a sensor installed that detect the number of products in their cart and the type of these products. Then it calculates the total sum for all products and connects to their mobile wallet. The payment is done automatically. But of course, this FinTech solution should undergo governmental approval to meet all financial regulations.
Customer smart interaction with the Internet of Things
For today, capabilities of the IoT in banking sector and other financial areas are not revealed in a full manner. The Internet of Things is just starting entering in FinTech. But it is expected that the IoT will play a very important role in banking strategies.
Experts predict also the development of the niche where customers will be able to connect their banking account to the range of smart devices. For example, smartwatches will give their owners a signal when they exceed the limit of planned expenses. Today banking apps already can give you notifications about all financial transactions, but this algorithm will be modified to the new level.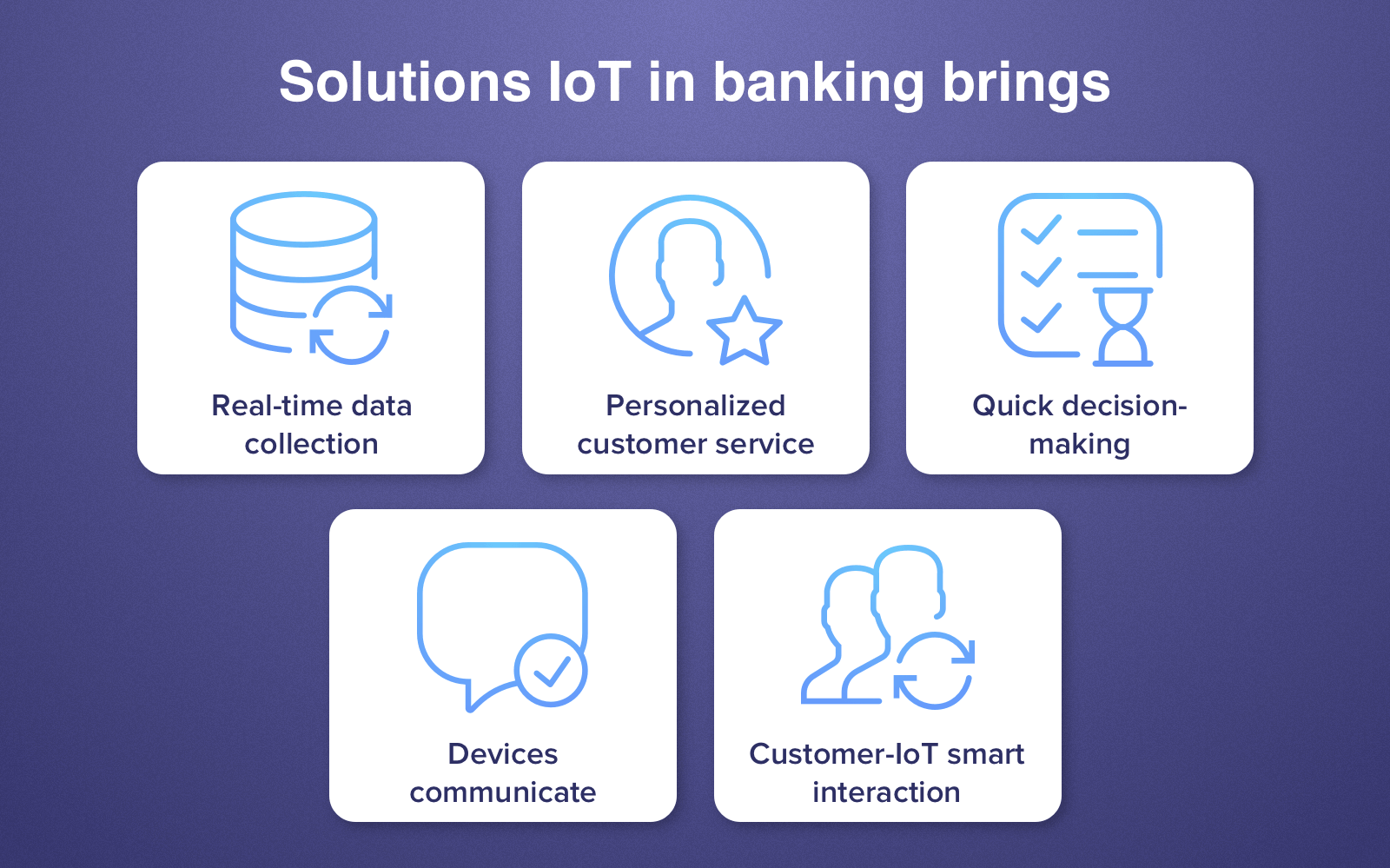 5 benefits of IoT in financial industry
As a result, we can show a simple example of what capabilities IoT in banking and finance area has, but this list will grow as innovations appear. And if you have any idea on the development of your own banking software - do not hesitate to contact us.
Ways how IoT can be used in financial sector
Banks from all over the world are trying to use IoT capabilities in their industry to get more customers involved. Starting from mobile banking apps that today are used by the majority of all world banks, since apps help monitor preferences of customers, to the range of sensors that make it possible for financial institutions to gather information from their branches and sensors in wearables that can track how customers use banking products. The Internet of Things and financial services create a beneficial combination.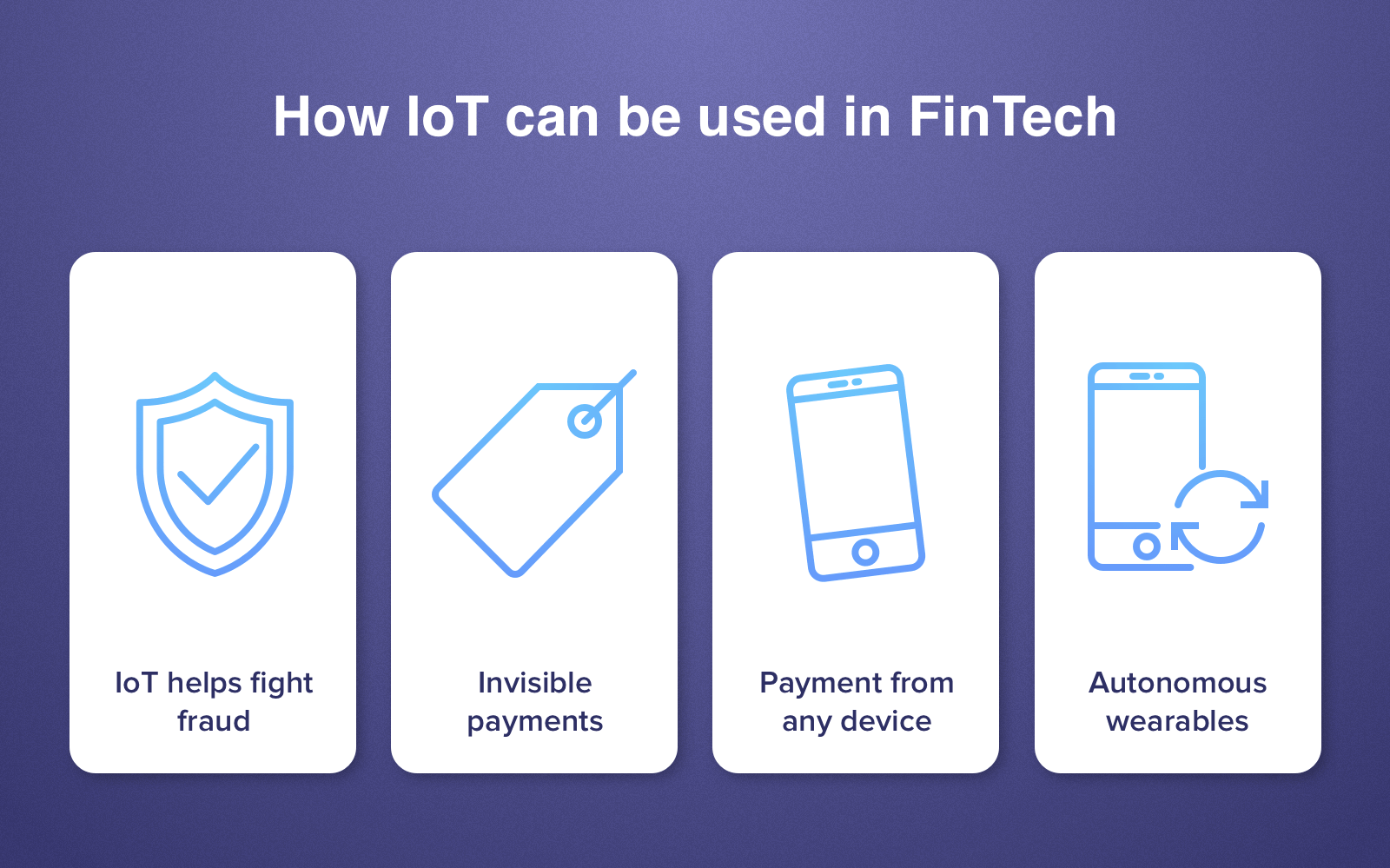 Ways of IoT application in FinTech sector
IoT vs fraud
If you are a faithful fan of our blog, then you saw our article concerning the prevention of fraud in FinTech app using artificial intelligence. Well, IoT and AI can become the symbiosis can enhance and improve the process of fighting the cybercrime. IoT FinTech devices and software with integrated AI can collect more data about financial transactions made by their customers that will help improve the security level and make financial processes easier and more secure.
Invisible payments
As we mentioned above, the combination of sensors and software facilitates the development of invisible payments and other main financial procedures using wearables like smartwatches, voice-recognition devices, special RFID sensors in Uber cars and restaurants to make automated payment without taking the phone out. A 22% of world financial organization CEOs predict the payment from cars to become a reality in the next two years, according to PwC.
Payments from everywhere
Let's not forget about smart refrigerators and other home appliances that also allow users to make payments for food delivery, like an example. IoT in finance industry can let you create an ecosystem for the optimization and acceleration of payment process. Pay from everywhere - wherever you are. Cleveroad can give you a hint on how to create an advantageous IoT app.
Autonomous wearables
As for statistics, 60% of world-leading financial institutions plan to make wearables the main payment device within a couple of years, it is a kind of IoT business strategy. Moreover, it is highly possible that new generation of wearables will be created - wearables that function without a smartphone. Rings, VR devices, and even hi-tech clothes will replace common smartwatches one day.
Do you want to know more about the Internet of Things technology? Watch our video:
What Is the Internet of Things (IoT)?
In fact, IoT banking use cases can be unlimited. However, mind that hardware cannot function in a proper way without an appropriate software. The development of software for your IoT can be led by such companies like Cleveroad.
Main challenges you may face adopting IoT in financial sector
Never forget about the main rule - all coins have two sides. And IoT technology has it's second side that will show you some pitfalls IoT brings to humanity. Especially if it concerns finances where accuracy and security are highly important. All benefits shown above will bring some problems related to confidentiality and security of customers' personal data. The financial field that uses IoT connections should make sure the safety of personal data to their customers. Let's see main weak sides of IoT in FinTech.
Privacy and security
That is the main danger that can be ahead when people use the Internet of Things in finance. Since IoT is the whole network of devices and various software, the risk of hacking is increasing exponentially. And in case of financial industry, the privacy and security are the most important issues to be taken into account when thinking about protection. When the financial and personal information is being transmitted through the IoT network, all this data can be breached and hacked. So the privacy and security concern means a lot and rapt attention should be paid to it.
No common standards
Different devices require different maintenance approach. Unfortunately, there are no common standards for maintaining IoT equipment. It seems to be impossible for today to resolve this issue. The matter is that all hardware used in IoT can be manufactured by different suppliers and they cannot have one common maintenance standard. And even if all hardware manufacturers in the world will agree to use one specific standard, technical issues will still remain. Only if there will be one monopolistic manufacturer of all equipment, but it is unreal since it will damage economic situation in the whole world. So, the lack of common standards can be the reason for failures in the functionality of IoT devices.
Complex system
As we mentioned above, the longer and bigger system is, the higher the probability of any failures in the system. But considering that this is a financial field, failure in IoT network can become the reason for total malfunctioning in the whole system and lead to huge losses. IoT can be represented as the chain where each link plays an important role in proper connection. Break one link - all chain will be broken as well. And it concerns both hardware and software part. That is why you should choose high-quality hardware manufacturers and experienced software development companies. So IoT in banking industry and other financial services is a technology that is rather difficult to deal with.
Higher unemployment rate
IoT helps automate working processes that required human brain before, and it means that some employees would simply lose their work positions, especially if these are young and not so skilled workers yet. Banks and other financial institutions will have to cut more jobs with the advent of IoT technologies in the financial industry. Unemployment growth will damage economic and social situation not only in one specific country but also in the whole world economy.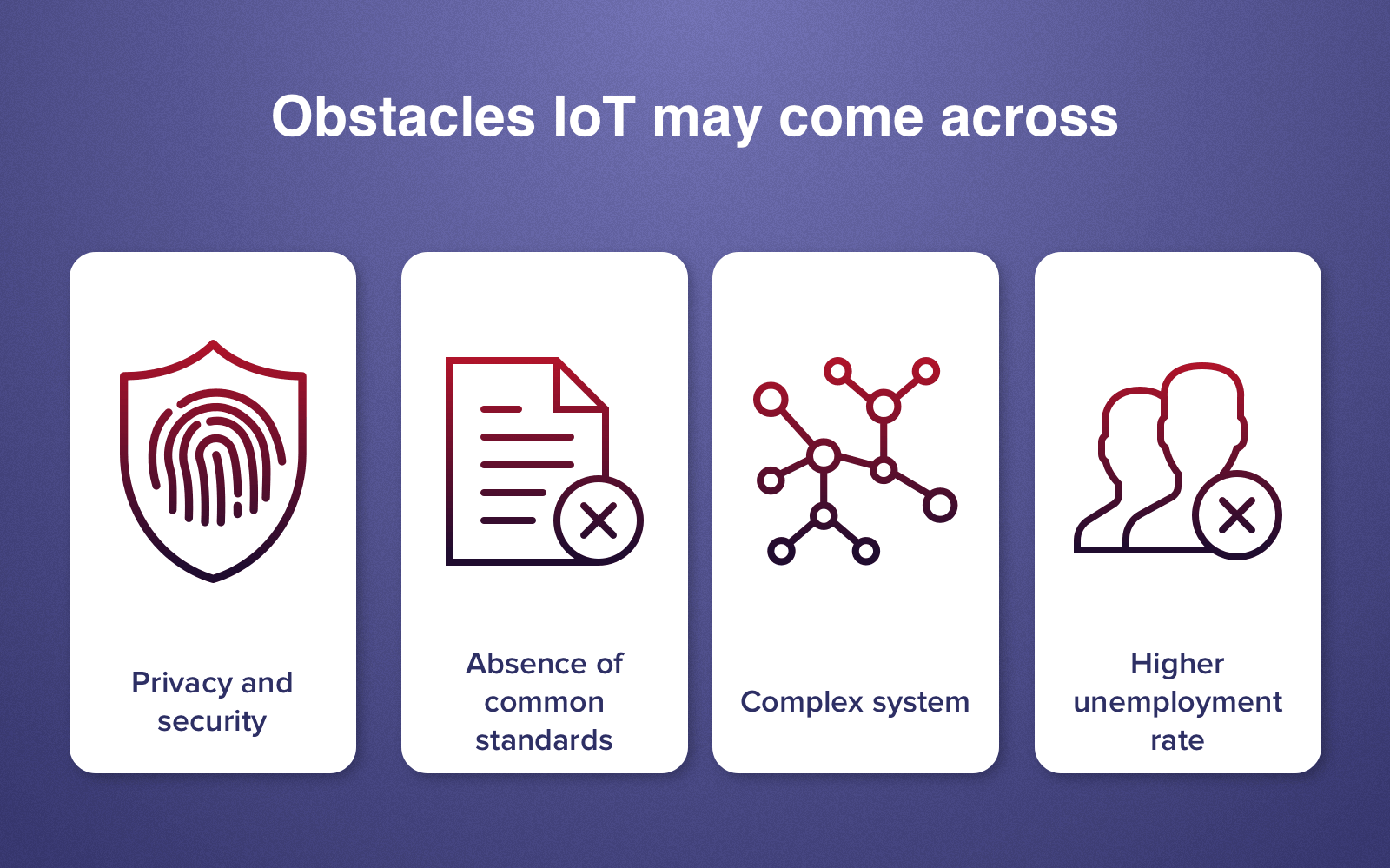 Pitfalls Internet of Things hides in financial sector
IoT has a great potential in FinTech area and it's future is really promising. But you should elaborate this process to implement it wisely, without bugs and failures. Despite the fact that there are certain disadvantages shown above, more and more financial organizations start integrating IoT technologies into their business.
As now FinTech and IoT meet their heyday, you shouldn't waste your time, and think about the development of your own software for financial IoT connections, if you are working in the banking industry. Don't know how? Contact us to find out everything you need. And click a Subscribe button on the right side to get our newsletters.
Rate this article!