IoT In Education: 5 Solutions For Schools And Colleges To Modify Learning Process
3363 Views
|
06 Apr 2018
|
10 min
Almost 100% of US-based public schools have access to the Internet. Moreover, Internet has already gone further and it is used as connecting link in the whole ecosystem of devices that connect to each other called Internet of Things. And education field is the one where IoT brings a lot of benefits.
The role of this article is to explain to you how the Internet of Things is used in education and how it enhances education process with examples of available EdTech projects for IoT. And how hardware and software development symbiosis can modify education field completely.
Potential IoT has for all education actors
First, let's divide all actors that participate in the education process to understand strong sides of IoT for each of them.
Student definition includes pupil, scholar, learner. A student is one of the main chain links in the education process. We can study out benefits of IoT in higher education and how students can make use of them.
Personalized learning that can be adaptive according to student's needs;
Learn everywhere - due to the availability of gadgets and relevant software like personal assistant;
The growth of student's engagement in the learning process;
Improved learning results;
College professors or school teacher - they are all referred to instructors. They also get a lot of benefits from the IoT in education as follows:
Modern digital tools to explain new material in a better way;
Improved attendance tracking;
New tools to assess how students perceived new material;
It gives an opportunity to experimentalism with educating process.
Here we can speak about principal, dean, provost. Those ones who manage educating processes and facilities. What can they get from IoT capabilities?
Smart monitoring of the building including HVAC system, lighting, locks etc.;
The increase of the security;
LMS content can be modified;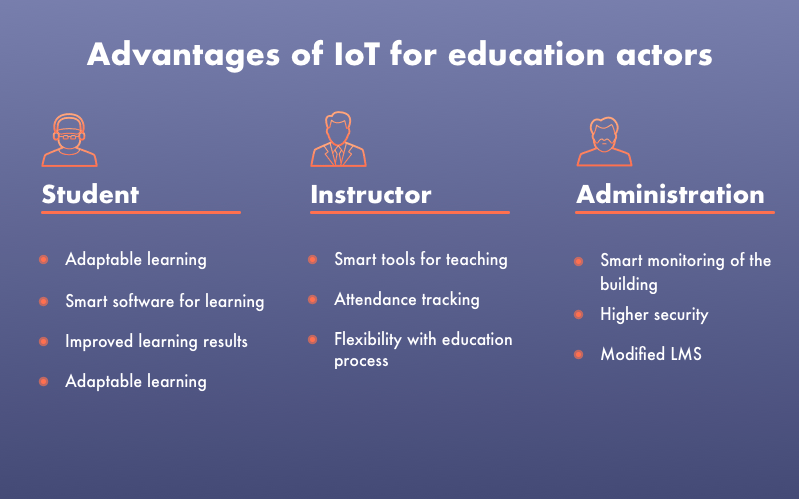 Potential IoT brings in education
This is simply a short list of IoT practical examples and now we will proceed to the more detailed analysis of solutions and benefits Internet of Things can boast about in education.
Solutions Internet of Things brings in education
Education field still has some challenges that IoT is meant to solve. Check it out.
Communication network
Teachers and mentors can communicate with their students online using messengers or web cameras to organize education process. But it cannot allow two parties to imitate personal interaction as if they are sitting in class. But with the help of the Internet of Things in university or school, teacher and student can communicate using connected devices like digital pens and interactive boards that display all information in a real-time mode. All text or pictures can be sent to smartphone or tablet of mentor/student and it speeds up the process of new material assimilation and teaching process. Moreover, it simplifies the learning process since it saves a lot of time.
New generation of textbooks
I think many of you visited old school libraries where large and long racks with books stand in a spanless hall. Well, educational books bring a lot of advantages since they give skills and knowledge to the student. But today paper books become the thing of the past since it is much convenient to have a bunch of digital books on your smartphone or tablet. Today modern public schools and universities offer students list of QR codes where each code is referred to a specific book. A student just needs to scan QR code and get a textbook on his or her device.
Do you need an advanced way to communicate with your partners? Then find out why you need a Telegram:
Telegram for Business: 10 Reasons You Need It
Data collection
Not all students attend all lessons regularly and not all of them are excellent students. It is necessary to do a roll call on each lesson to find out who attends a class and who is absent. Also, teachers need to track of learning performance of all students, it is not so easy process. But IoT applications in education are changing it. It makes it possible to use special wristbands with RFID tags that read the information about each user. A teacher can see promptly how many students attend the class today using his or her tablet/smartphone. Moreover, using such devices, a teacher can mark the level of performance of each student to understand weak sides of each student.
Also, improved data collection process can be performed due to beacons that can be installed near each room. These beacons send information to the device of each pupil about the lesson when they enter a math room or chemistry laboratory.
Advanced security
Security comes first in all education facilities no matter where they are located and how large they are. As usual, a security guard is on duty at the entrance of each facility. But this security guard simply cannot be present in all blocks of the school to keep order. That is where biometrics system come to the rescue. Facial recognition system at the entrance to detect all strangers, beacons, and wristbands on all students can prevent intrusion and disorders. It concerns not only schools and colleges but also campuses where students live and relax. Using special ID cards to enter to campus will also lead to the decrease of possible intruders. So, Internet of Things and education can be mutually beneficial fields. Also, school buses today in many schools are equipped today with GPS trackers and parents as well as school managers can always see where children are right now.
Advanced school management
As we told above about school and college administration, they need to control everything including equipment and learning environment. Automated attendance tracking, a roll call is included in this field as well, but also it is necessary to watch for inventory like whiteboards, computers, desks and so on. RFID tags also can help here and they can send all information to the server. Also, as in the case of a smart home, IoT helps reduce energy costs using smart technologies.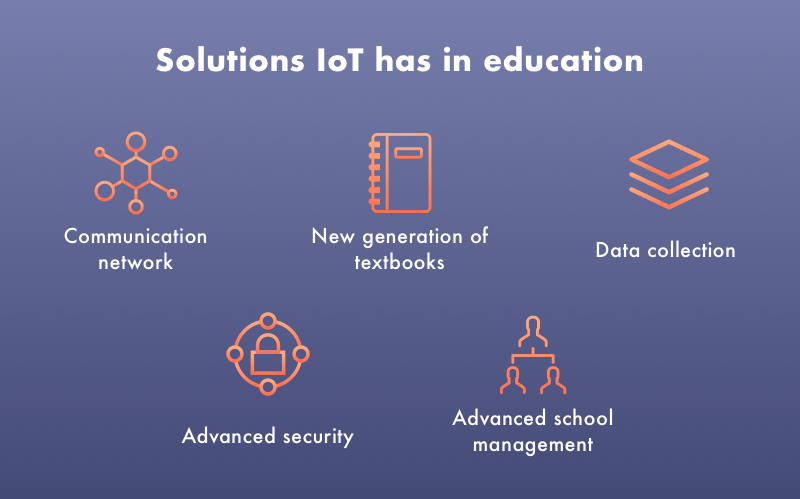 Advantages of IoT in education
Technologies can work wonders and application of IoT education proves it. In fact, IoT is a technology that has many ways to make use of, so everything depends on requirements of government or educational institution administration.
IoT projects for education
Here we would like to list some projects that take their high position on IoT market in the education field. Internet of Things projects for students can simplify their learning process and improve teaching process as well.
This EdModo platform is designed for parents, teachers, and students and it is oriented for schools and colleges predominantly. It offers communication, collaboration, and the coaching capabilities. This is a kind of network where teachers can share information about a new material, tests, questionnaires. Also, teachers can communicate with parents and students as well as other teachers.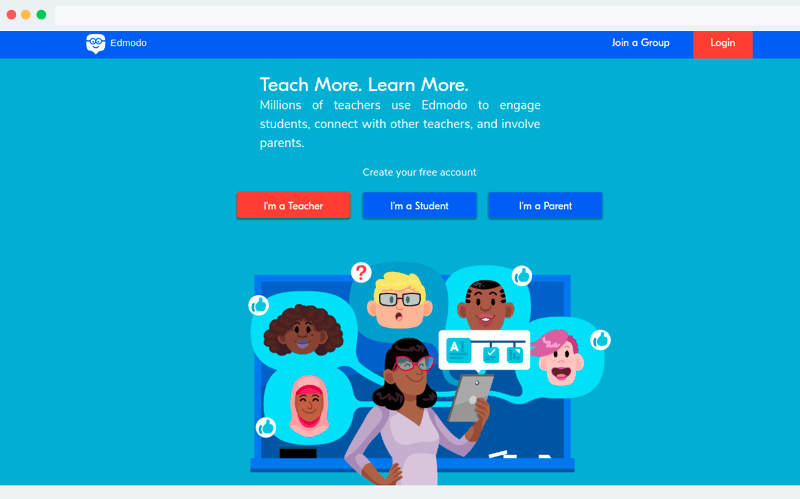 EdModo platform for teachers and students
EdModo platform is designed for teachers first: parents can join the system by invitation from a teacher. The system was founded in 2008 and it is a great example of how IoT in schools can work.
C-Pen brand represents portable scanners that are aimed at students and instructors. Using C-Pen scanner, you can scan text with a button click and then send this text to your smartphone or teacher's/student's device. It uses optical character recognition and also C-Pen devices can be enhanced with an appropriate software from a manufacturer.
C-Pen is a digital pen that connects to your mobile devices
Digital scanners can work with both all mobile operating systems and desktop OS as well.
One of the most advanced and successful IoT projects for today - Nymi wristbands. Some US-based schools already started integrating Nymi wristbands into their practice.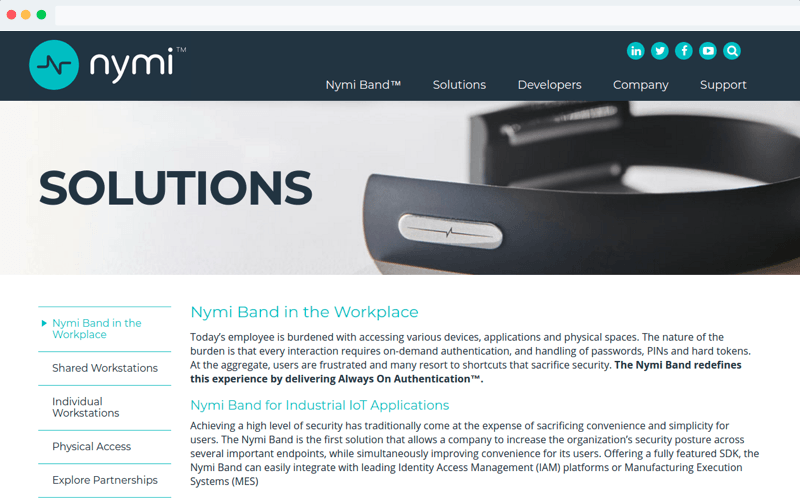 Nymi wristband for tracking students' authentication
The project was developed by Bionym company. Such wristband can recognize unique heart beating model of each user. So, it means Nymi wristband can be used for authentication of a user. The device helps simplify roll call since teachers can see information about all students in their tablet. A signal from wristband goes to a tablet when a student enters school or class.
In addition, since wristband detects an identity of the user, one student won't be able to substitute other students when writing test. Nymi wristband is one of the most successful IoT implementation examples in the education field.
Pitfalls Internet Of Things integration bears
Considering all strong sides of IoT in education sector, we should tell about imperfections and difficulties in IoT and why it cannot be integrated everywhere right now.
Low financing
A government cannot invest a lot of money in IoT projects in education since IoT requires a special hardware in addition to software. But wearable devices like beacons and wristband together with interactive whiteboards are not cheap at all. But it doesn't mean that this problem will remain unchanged forever. A growing interest in IoT shows that situation will change for better in the following few years.
Integration
This is a common problem for IoT entirely. No matter whether it is education or healthcare field, there is a problem of compatibility of one device with other. Their software also can have malfunctions in working with each other. There is no one single standard for all IoT participants that is why such problem exists.
Security issue
As there is a lack of security standards as well, you should now that IoT network is huge and it consists of many gadgets and devices that connect to each other. As a result, it is much easier for hackers to breach the security of one device, and it will lead to failures in the functioning of the whole network. The situation can be improved if each device will be secured properly with authentication tools and strong firewalls. But all service providers must take care of it.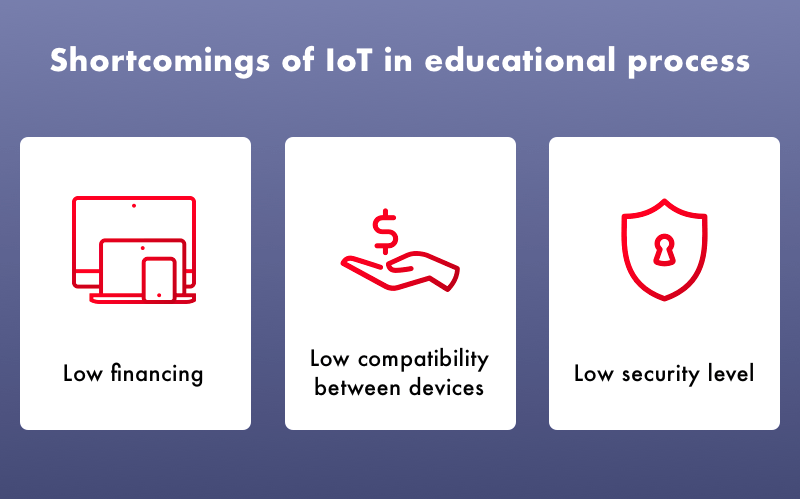 Drawbacks Internet of Things has in educational process
How Cleveroad can help you make money with IoT
Although the Internet of Things sector is very complex and it requires the availability of hardware in addition to software, not all IoT platforms can provide users with high-quality software solutions. Devices used in IoT usually go along with it's relevant custom software, but some IoT projects offer an open-source software that can be customized according to the needs of each user.
That is where Cleveroad comes in. You can come to an idea that one or another IoT project has imperfect capabilities and it should be modified to bring real advantage to users. Our developers can create a custom IoT solution based on your idea, make it proprietary and you can multiply your revenue with new software product.
Considering that the Internet of Things is gaining popularity and the future of IoT should be fantastic, it is the right niche for you to occupy. A wise approach with a first-rate software will help boost your business. Our developers are experienced enough to implement it, so we are looking forward to your requests!
Did this article open more new information for you? I am sure it did. You saw main ways and opportunities to use the Internet of Things in higher education or in schools. The education system can really make use of IoT technology to improve the learning and teaching process as well as administrative tasks.
Our company is engaged in the development of software for IoT projects in different fields. If you need to get our advice or you have a project idea - drop us a line and our sales managers will share with you a few tempting tips. Subscribe to our blog - it will help you get our hot newsletters.
Rate this article!