Outsourcing IT: Pros and Cons, Pitfalls, and All You Need to Know in 2023
The process of choosing software development vendors has utterly changed in recent years. Companies received an opportunity to bring to life the more complex IT solutions choosing specialists from a vast talent pool worldwide. Thus, software development outsourcing became a key trend for businesses.
In this article, we'll cover IT outsourcing cons and pros, the pitfalls to avoid, and everything you need to know to use this collaboration model successfully.
What is IT Outsourcing in 2023?
Simply put, IT outsourcing is a business approach to creating software, consisting in transferring separate responsibilities, tasks, or even a whole development workflow to specialists from other software development companies (located abroad, as a rule). This practice is essential for quicker results, with fewer expenditures, using all the benefits of outsourcing software development to third-party vendors.
The Types of Outsourcing Software Development Services
Outsourcing can be divided into two general types: location-based and relationship-based. Their basics will be clarified below.
Location-based outsourcing is defined by the distance between the client and the service provider. In its turn, it has the following classification.
Onshore/domestic outsourcing means the customer applies to a partner company from the same country.
Nearshoring software development outsourcing means transferring software building to a region near the customer's one.
Offshore outsourcing implies moving a development workflow to a vendor far away from the client's location. It should be mentioned that such a kind became very popular due to its significant profitability.
The common types of outsourcing
Relationship-based outsourcing is divided into types according to management and project realization peculiarities. You can use the below outsourcing models considering the advantages and disadvantages of outsourcing relevant to your situation:
Project-based approach means the team working on the solution development from the beginning and to the end.
The team-based approach entails the outsourcing staff being occupied by several simultaneous projects (for instance, web and mobile app).
Learn more about IT outsourcing types and define which one is the most appropriate for you!
IT Outsourcing Statistical Survey
The recent statistics prove that the choice between IT collaboration models is made in favor of outsourcing.
The Statista report proves the outstanding popularity of outsourcing IT services. According to its data, the global market share of software development outsourcing amounted to $92.5 billion.
Clutch statistics state that 8 of 10 small companies (80% approximately) had in mind to outsource their businesses at the beginning of 2021 due to different benefits of IT outsourcing. Among them, 27% of businesses plan to outsource software development services.
The NASDAQ stock market, the world-known stock exchange from the US, forecasts that more than 90% of purchases will be online by 2040, which will increase the income growth of various industries, and information technology is one of them.
Moreover, according to the Deloitte investigation 2019-2023, 71% of worldwide clients using outsourcing and shared services (also known as OSS) think technological inventions would overshadow the location issue arising during the decision-making process concerning software development outsourcing.
When to Turn to the IT Outsourcing
Companies rely on the advantages of outsourcing IT services to effectively gain their purposes and stay competitive, especially in today's ever-changing technical environment.
This collaboration model will fit you the best if:
You are a startup/SMB owner with a limited budget. Moreover, your company lacks an appropriate recovery plan or funds to solve the data safety and security issues
You understood you've got a lack of competent personnel to solve the appearing issues
The company's client support isn't skilled enough to overcome the arising difficulties
New personnel recruitment and adaptation is too labor-intensive, requiring much money and time.
All these obstacles can be resolved if you apply to experts for help. What benefits of outsourcing IT cooperation will you obtain? Let's consider.
Benefits of IT Outsourcing and Reasons for Its Popularity
Due to outsourcing's popularity and relevance, its market size will grow in the future. For example, Techavio predicts that the global outsourcing market share will reach $97.51 billion by 2024. According to the report of Grand View Research, the total business processes outsourcing (BPO) market size was estimated at $232.32 billion in 2020, and this mark is predicted to grow with the registered compound annual market growth (CAGR) of 8.5% to 2028.
This growth is due to the most common pros of outsourcing that are the following:
Cost reduction
The vast pool of talented specialists
The broad set of technologies to choose
Scalability and flexibility
We'll discuss them in detail below.
Costs Reduction
You can easily hire an in-house team for software development — at first sight, this option would be pretty cost-effective and comfortable. However, if you consider the additional charges (like sick leaves, office rent, etc.), outsourcing software development will seem a more appealing collaboration alternative to you.
Deloitte mentions that 70% of companies outsource their app development for cost reduction. Many outsourcing software development businesses are offering cost-effective services worldwide. For example, Central Europe is becoming increasingly popular due to different reasons like a pool of talented individuals, low taxation, and government backing for the IT sector. It also displays the ideal balance of low hourly wages ($35-100 as a rule) and the constant high quality of the software services provided.
Estonia is one of the outsourcing leaders on the Central European destination due to its well-developed infrastructure and wide pool of specialists. Moreover, the software development industry of Estonia is in third place due to its export activities. On the other hand, Estonian hourly wages for IT services are the lowest among the countries of Central Europe ($35-50).
| | |
| --- | --- |
| Outsourcing destination | Average hourly wages (in $/hr) |
| Eastern Europe | 35-100 |
| Western Europe | 50-200 |
| North America | 49-210 |
| Latin America | 28-105 |
| South Asia | 21-82 |
| Southeast Asia | 21-61 |
Vast Pool of Talented Specialists
Access to a wide pool of qualified tech experts is one of the biggest outsourcing pros. It allows you to choose a specialist even for complex projects.
The hiring process may be completed in a matter of days rather than months, so you can hire as many people as needed. Start with choosing one specialist by considering different technical talents from all around the world.
Let us give an example. Google, well-known for its numerous products and services for many people, is one of the largest American technological companies using outsourcing services. For instance, they had more than 1 000 outsourced specialists from different countries in 2011. Such outsourcing experts were occupied with projects like Virtual Assistant or AdWord, while Google's in-house teams focused on their essential tasks.
Wide Set of Technologies to Choose
Advantages of IT outsourcing also include open access to hiring IT specialists skilled in various technologies, even the rare ones.
To keep up-to-date with the newest IT technologies, most organizations demand their personnel to attend frequent tech training. This permits them to maintain their sharp ability to provide greater customer service.
Considering Estonia's outsourcing, we can see that the state cares about frequent training programs and IT-related education. This way, about 15,000 IT specialists graduate from Estonian universities annually, and this number is expected to grow to 20,000 by 2024, according to recent statistical predictions. Most students find their first job in IT organizations in 20 years and then gather more and more experience.
Business Scalability
Growing companies meet the challenge of finding goods and services that can scale with them. Managing an internal IT department becomes more expensive and time-consuming when your company grows. To meet your company's expanding demands, you'll need to hire more employees.
Outsourcing enables a variety of cooperation models, ranging from specialized teams to staff augmentation, in order to provide organizations with the most efficient and cost-effective solutions. So, you can scale up or down quickly adapting to the current business situation: reduce the number of specialists if you don't have any jobs for them to work on, or expand your team if you need to speed up the development process.
IT Outsourcing Cons, Risks, and Ways to Avoid Them
Regarding outsourcing cooperation to fulfill your potential, you should also be aware of possible risks and methods to avoid or mitigate them. For you to consider, the most typical negative effects of outsourcing are described below, along with their possible solutions.
IT outsourcing risks and ways to avoid them
Selecting the Reliable Vendor
It can be tricky to find a service provider trustworthy enough and meeting your expectations. A bunch of outsourcing software development companies represent their services on the Internet and promise to build software as soon as possible. How not to be hooked on a one-day company or an unreliable partner with a horrible service quality?
This is one of the serious outsourcing negatives which can be solved with the help of a thorough investigation.
First off, check an outsourcing vendor's website and pay attention to every detail you've noticed. The high positions in Search Engine Result Pages (SEPR) mean the company's willingness to cooperate; the intuitive UI/UX and clear navigation may prove the focus on customer convenience.
You can also look through the company's portfolio to learn more about the expertise and domains they worked in. Moreover, take into consideration the number of employees and years of experience: it's better to trust the firm with at least one year of hands-on experience and enough employees to implement your IT concepts.
Furthermore, you can check the platforms like GoodFirms or Clutch to get acknowledged with the reviews of the vendor's previous customers and draw your own conclusion. Follow your vendor's page on social networking sites, monitoring how active they are in the IT community. And finally, set up a face-to-face meeting in order to get to know each other better.
At Cleveroad, for example, we're always ready for such communication, considering honesty with our customers, employees, and partners as a basis for excellent software building. A wide range of our services and attention even to small details help us gain more extraordinary results during cooperation with our clients.
Communication Issues
Outsourcing your software development to another company, you make it from a distance — especially the long one if you use offshore development services. That's why contacts between you and the rest of the team can be limited (which is one of the severe drawbacks of outsourcing), giving you no way to get the current data at the appropriate time.
To avoid this problem, you can plan your meeting time beforehand. For example, Cleveroad staff arrange a meeting calendar and stick to it for staying in touch with the customers and having video calls in time suitable for our clients.
Another widespread communication problem to solve is your future team's level of English which may also cause communication barriers. If you are unsure about it, you can discuss this question with a company representative or check it during the video call or face-to-face contact. We can reassure you that all our specialists at Cleveroad won't have any obstacles in communication because they are highly proficient in English speaking and writing.
Security Problems
Working with an outsourcing vendor means presenting them with private and/or commercial data. Here is one of the core negatives of outsourcing, as the data breach can cost a fortune for companies. Let's view how you can secure yourself.
Start with Non-Disclosure Agreement (NDA) signing — it may help you protect your potentially profitable idea and save your ownership rights untouched. At Cleveroad, we always offer this option per the request of our customers.
You can also discuss whether their built solutions comply with personal data protection legislation (e.g., GDPR, CCPA, etc.); otherwise, you'll have to pay a hefty fine. Finally, ask them if they use data encryption algorithms, user privacy policies, private information storage, and other methods to protect the entrusted IT concepts.
Product's Quality Control
While the distance separates you from the outsourced team, it's hard to control the quality of the developed product. To avoid such an issue, you should monitor the development process of the outsourcing team and establish frequent checks of the accomplished work scope.
You should keep in mind that outsourcing software development companies can help you build perfect software concerning your business needs, but you should also be interested in this process. Only this way you can obtain the best results in developing a profitable solution suitable for your company.
How to Get All From the Benefits of IT Outsourcing?
We've analyzed the most widespread outsourcing pros and cons; however, the above picture would be incomplete without understanding how to handle all this information and benefit from it. So, let's go from theory to practice.
The Tips on Cooperation Enhancement
Before starting the outsourcing cooperation, you should think out every step of yours and its possible consequences:
What do you require for that?
How to use the pros and cons of IT outsourcing beneficially?
How to gain effective cooperation with your outsourcing partner?
Analyze the market situation and business needs
Even if your impressions concerning the project are overwhelming, try to control them as much as possible. At the very beginning, your task is to evaluate the viability of your idea, looking at it from your future clients' point of view. This way, you'll be able to correctly answer what are the advantages and disadvantages of outsourcing and benefit from them.
How to do such a check? First of all, you need to find out the working mechanisms of the market you're planning to enter. Then, analyze your future competitors and leaders of the market, think about your target audience, and find their pain points that can later be turned into your product's functionality.
Look thoroughly for an outsourcing partner and interview them
After understanding business needs and purposes, as well as the market situation, you need to find an outsourcer you'll collaborate with. This issue needs a thoughtful approach. You can find outsourcing service providers on different hiring platforms, thoroughly analyzing the feedback left by previous customers, and getting acknowledged with their company sites or related resources (such as Glassdoor, ITFirms, etc.).
Then, make a list of companies you're interested in the most, and start contacting them. You should plan in advance what you'll ask them to clarify. It can be questions about:
Company workflow details (e.g., methodologies and instruments, QA techniques)
Communication organization (e.g., the most essential tools for staying in contact, the team's English level)
Meeting schedule, management peculiarities, etc.
Sign an NDA to maintain your concept security
You've found a software development vendor you can trust and come to them with your thoroughly analyzed app concept, ready-made prototypes, or design alternatives. At this spot, you need to manage the number of people having access to your concept and protect it from unexpected shares monitoring the data flows. A Non-Disclosure Agreement (NDA) would help you in this case.
What is it? NDA is an authoritative document that sets up all the possible conditions of data exchange, describes how the entrusted data can be used, etc. Signing such a document would be great for a product of a startup or a small staff.
Plan your cooperation and aim for a continuous one
Once you've decided to cooperate with a particular software development vendor, you need to establish collaboration through communication channels (like Skype, Telegram, or Facebook Messenger) to stay in touch with your team and effectively track their flows. For example, the Cleveroad team uses Jira, Confluence, Slack, Google Meet, or Zoom for these purposes.
You can also contact the project managers (as a rule, the outsourcers have such specialists) and ask them all you need to know, clarifying the pros and cons of outsourcing IT services you plan to use. However, remember: your cooperation isn't finished after the product is built.
Tight connections with your software development provider guarantee quick improvements realization or bug fixing in case something goes wrong. Moreover, the team previously worked on your solution knows it from A to Z and can offer the best fitting solutions to the problems arising. That's why we always recommend long-term cooperation to our partners.
What's Next?
After all preparatory stages are finished and all the negatives of outsourcing are avoided, you can build your software with the outsourcing vendor's assistance. What steps would the concept pass through, turning into a full-fledged solution? Let's find it out on the example of the Cleveroad software development lifecycle (SDLC).
Software development stages at Cleveroad
After weighing all pros and cons of outsourcing IT services, you can leave a request on our website to initiate the dialogue with the company. This request should contain a short summary of a solution you need along with your contact data. The managers will get in touch with you within 24 hours to make an appointment to gather more information about the project you'd like to outsource. Then the initial estimates are made up, and you can sign an NDA if needed.
2. Discovery stage
It's represented as a series of meetings with specialists who delve deeper into your provided information making approximate timeframe and detailed price estimations of the upcoming app. Moreover, you may get advice from our Solution Architect concerning the functionality list (if it needs correction). The Business Analysts prepare the product specification, and the designers work on wireframes.
3. Product design
At this stage, the future app interface starts being built. Designers make prototypes based on the wireframes built earlier during the discovery stage. Then, they come over to the following outsourced IT services as interface development, making it screen-by-screen in several possible conditions. The style guide with your corporate colors and fonts is also being prepared. After the ready-made design gets your approval, the UI/UX designers hand it over to a development team.
4. Development and QA
The software is built in sprints, which are two-week intervals for the team to finish a particular work. Each sprint begins with a planning meeting and concludes with delivering a stable, functional product or feature.
After all the code lines are written, the QA testing process is started: engineers examine the functionality generated during each sprint and work on a project until release. They test the backend and the frontend and then provide bug reports for software engineers.
5. Release stage
When the product is ready to be deployed, the QA team conducts complex tests (e.g., smoke ones to check the product's stability). Developers must create hotfixes if they discover any severe flaws.
Then, we assist with launching your software on AppStore or Google Play. If it is a web project, we move it to the live server on the day of release. Once you're satisfied with the outcome, the team will hand over the project materials to you.
6. Maintenance and support
When the software is released, our collaboration does not terminate. We may keep working on the program to make numerous modifications based on user input and maintain your solution with new features and upgrades. This way, effective collaboration helps you use outsourcing advantages, and disadvantages won't affect you.
Cleveroad — Your Reliable Partner in IT Outsourcing
Cleveroad is a specialized IT outsourcing company. Since 2011, we've been assisting startups and organizations of all kinds in acquiring cutting-edge technologies and bespoke software solutions. They improve workflow efficiency, address business issues, and aid in acquiring competitive strategy.
We are located in Estonia, Central Europe. Estonia ranks the third popular outsourcing destination in the region for IT employees. According to the most recent statistics, the number of software development specialists will grow to 242,000 by 2025.
Estonian IT experts have extensive knowledge of various software technologies and possess diverse hard and soft skills. Estonian IT clusters bring together premier IT businesses, local governments, and universities to help the region's IT industry grow.
We are also qualified outsourcers that develop turnkey mobile and web solutions for different business industries such as FinTech, Healthcare, Logistics, Retail, Education, Media, etc., offering to our clients:
Proven expertise in outsourced web development and software across various sectors
Deep understanding of pros and cons of outsourcing and ways to benefit from them
Working on your project in a group of highly qualified and certified professionals
Innovative development approaches and a cutting-edge tech stack
Three cooperative models available: time and resources, a dedicated team, fixed price
On-demand services: creating and upgrading software from scratch, as well as modernizing legacy systems
An initial project estimate from our Sales team for free, with no hidden costs or fees
A complimentary consultation with one of our Project Managers or Business Analysts
Signing non-disclosure agreements (NDAs) per your requests.
Our outsourcing workflow is established at all stages, with guarantees provided. We are ready for long-lasting and practical cooperation with you, so let's start gaining new aims and find benefits in outsourcing IT services pros and cons with our software development specialists.
Bottom Line
Outsourcing software development is a serious business choice. A complex project realization needs weighing all the pros and cons for outsourcing collaboration before entrusting it to an IT partner. However, the thorough analysis shows that outsourcing is a reliable and cost-effective cooperation variant from a short and long-term perspective.
Frequently Asked Questions
This is a business approach to creating software, consisting in transferring separate responsibilities, tasks, or even a whole development workflow traditionally performed by in-house staff to specialists from other software development companies (located abroad, as a rule). This practice is essential for quicker results, with fewer expenditures, using all the benefits of outsourcing software to third-party vendors.
Like any other collaboration method, outsourcing has its own pros and cons that every customer should consider. The essential benefits of outsourcing are the following:
Costs reduction
The vast pool of talented specialists
The broad set of technologies to choose
Scalability and flexibility
The most common risks of outsourcing can lie in:
Selecting the reliable vendor
Communication problems
Security issues
Product's quality control
Analyze the market situation and business needs
Look thoroughly for an outsourcing partner and interview them
Sign an NDA to maintain your concept security
Plan your cooperation and aim for a continuous one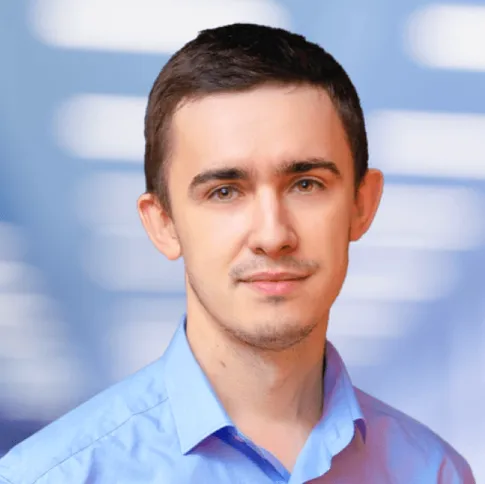 About author
Evgeniy Altynpara is a CTO and member of the Forbes Councils' community of tech professionals. He is an expert in software development and technological entrepreneurship and has 10+years of experience in digital transformation consulting in Healthcare, FinTech, Supply Chain and Logistics
Rate this article!
1087 ratings, average: 4.80 out of 5
Give us your impressions about this article
Give us your impressions about this article