IT Outsourcing to Ukraine: Why Consider It and How to Nail It
Outsourcing may be a perfect option if you plan to save money and get high-quality web or app development services. The only thing you need is to choose the country. Ukraine is the one where outsourcing services are provided on a high level, and I will explain to you why. This article will describe all the benefits, reasons to outsource to Ukraine, well-known projects, and steps to start your software development outsourcing. Let's go!
Why Ukrainian IT industry is a perfect arena for outsourcing
First, it is worth noting that Ukraine provides other countries with a range of professional services concerning software development and related issues. This section will show you clearly how the Ukrainian IT industry is developing and how it can be helpful for you. To start IT outsourcing, Ukraine is a perfect place to do it.
Regions that outsource to Ukraine predominantly
According to the report, drawn up jointly by AVentures Capital, Aventis Capital and Capital Times, the IT segment became one of the fastest-growing in the country's economy. For example, in 2017, IT industry revenues exceeded 3,6 billion US dollars. These figures speak for itself, and it means that Ukrainian specialists have high development skills. More details below.
Tech education in Ukraine
The majority of IT specialists in Ukraine have technical degrees in science, technology, math, and engineering areas. There are more than 400 universities in the country, and over 40,000 tech students graduate every year. Moreover, there are also IT specialists who work as developers, but they don't a specialized degree since they got IT skills with the help of self-education.
The vast number of skilled professionals means that you can always find excellent services on an affordable hourly rate (which is $35-50 in Ukraine), and, besides that, all advanced technologies will be used for the development of your software.
Skills of Ukrainian IT specialists
Ukrainian developers may boast about the knowledge of a large number of programming languages including even the most complicated ones which require a lot of time and experience to learn it.
IT specialists in outsourcing Ukraine build software for all breakthrough sectors like artificial intelligence, blockchain, Internet of Things, and so on.
Below you may find the list of a few the most popular programming languages Ukrainian developers are skilled at:
Java
JavaScript
C++
Scala
Kotlin
Swift
Unity3D
PHP
Node.js
Python
Ruby
ASP.Net
By the way, Ukraine ranked 24th position in the list of 50 top IT service providers in 2018, whereas in 2019 it moved up four positions in this year's GSLI (Global Services Location Indexes) to 20th position, according to ATKearney.
Besides, 18 software development companies from Ukraine were included in the Global Top-100 Best IT Services Providers by The International Association of Outsourcing Professionals (IAOP) in 2018, according to outsourcingreview.org. In comparison with 13 companies in 2017.
Thus, you may find any specialist in Ukraine for your project, even if this project is complicated and requires the use of many tools and technologies.
Apart from software development processes, you will also get a full range of services like quality assurance services, UI/UX design, DevOps, marketing services. That is, you may order the development on a turnkey basis in Ukraine.
At the moment, there are about mid-sized 5 thousand software development companies with a staff number that doesn't exceed more than 100 employees.
Benefits of outsourcing to Ukraine
Now let's review the main advantages of software development outsourcing to Ukraine in detail. And you will see how many good options you may get during the outsourcing process.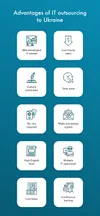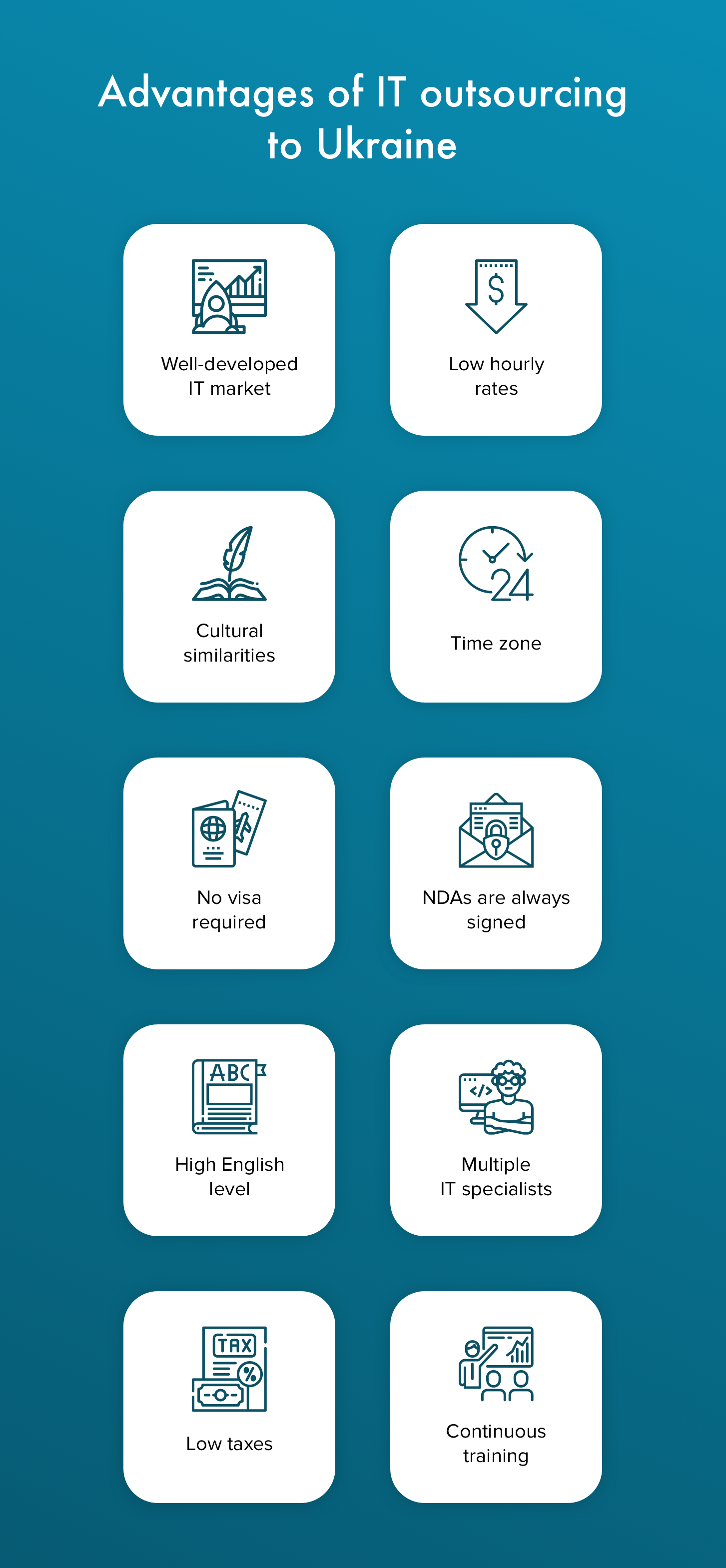 Benefits of software development outsourcing to Ukraine
Well-developed IT market
Well-developed IT market. As I already mentioned above, Ukraine has moved up its position in the list of top outsourcers, and it speaks about the experience and maturity of the Ukrainian IT market. In Ukraine, outsourcing companies of various sizes offer high-quality services and multiple developers who are experienced in many IT technologies and may handle it easily.
Low hourly rates
The less you pay for your app development, the better it is for you, of course. So entrepreneurs are looking for more appealing prices, but price should be combined with quality. That is where Ukraine comes to rescue. An average software development hourly rate in Ukraine is $50. Eastern European countries provide very good rates keeping a top-notch quality level.
Cultural similarities
I mean that mentality in Ukraine is similar to any other European country. If you are nervous about some discrepancies in culture and business approach, then your fears are groundless. Ukrainian style of doing business is not different from the one in the USA or the rest part of Europe. So you can start collaborating with Ukraine without any concerns.
Time zone
Ukraine is an excellent arena for outsourcing if you live within the framework of Europe, the Middle East, and other nearby regions. Time difference usually doesn't exceed two hours. It is very convenient to cooperate with the development company, hold meetings and Skype conferences without the necessity to work at night when it is daytime in Ukraine.
Visa free country
Ukraine invites entrepreneurs from all over the world. That is why the country opens its doors to more than 50 countries. If you plan to visit the country for a 90 days-term, a visa is not required. So you can quickly fly to Ukraine and visit the company you plan to outsource the development to, to know everyone better and discuss all the details.
Non-disclosure agreements are signed
Your idea is appreciated, and in Ukraine, IT outsourcing companies keep up strictly with property rights. And to protect your idea from being stolen and copied, NDA (non-disclosure agreements) are signed from the very beginning, so the information about your project will not be handed over to a third party.
High level of oral and written English
All software development companies that are outsourcing providers pay great attention to the English language skills. They hire an English teacher for their employees to improve their written and oral English skills and communicate with customers efficiently. Therefore, communication won't be a problem for you. For example, at Cleveroad, all project managers along with software development specialists speak English fluently. It is a must-have skill.
The vast number of IT specialists
As I also noted above, there is a wide range of specialists who may handle various IT technologies. Java, JavaScript, Kotlin, Swift are the first four languages which are the most popular since all websites, Android, and iOS mobile apps are built with these languages. However, other essential languages and frameworks like .Net, C#, Node.js, Python are also popular, and you will find a specialist for your project quickly. On the whole, it is difficult to pick up a tool that is out of our developers' league.
Permanent self-development
Well, I am sure that not only Ukrainian developers continuously learn something new, but IT specialists in Ukraine focus on their experience level, and they strive to improve it. They always visit conferences and various training programs to learn more and get new skills. It helps them keep an eye on things and stay tuned.
Low taxes
The taxation system in Ukraine for IT business owners is simplified and affordable. IT specialists have low tax rates, and that is why hourly development rates are also not high. This advantage is distinct, and it is an appropriate country to start your business as well.
Well, I think these advantages are enough to help you make the right decision concerning Ukraine outsourcing.
Influential projects built by Ukrainian development companies
Apart from a high skill level of IT specialists, Ukraine has also something more to boast about. Some projects that became famous, and they are used in many other countries successfully. Here I will review a few of them.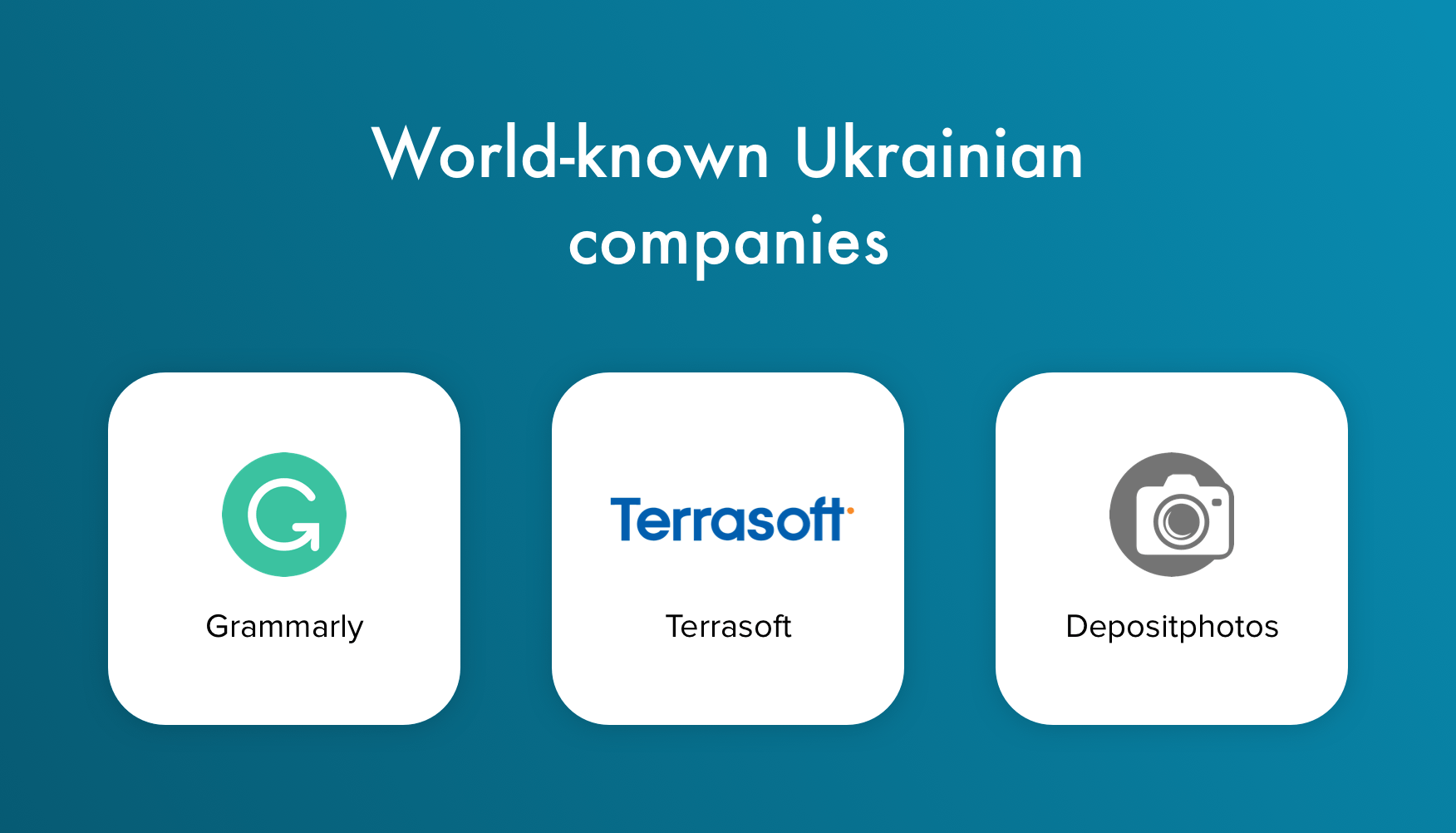 Ukrainian projects that surprised the world
Grammarly. This is an online service that makes it possible to check grammatical and syntactical mistakes. Also, it checks the text for similar words and offers to enrich it with more synonyms. And you can use it to find plagiarism in your text. Grammarly uses machine learning to improve editing and checking quality. The project was created by two Ukrainian developers Alexey Shevchenko and Maxim Litvin in 2009, and it is being improved to date.
Terrasoft. A company that creates CRM, BPM, and Service Desk systems. Also, the company is engaged in IT consulting services and implements the projects on how to launch CRM strategies and automate enterprises. Alexander Popov developed the first version of Terrasoft CRM in 2001. The company has offices in 6 countries.
Depositphotos. An international photobank and one of the leading platforms for sales and purchase of photos. It includes more than 75 million photos, customers from 192 countries use it, and online support is available 24/7 in 20 languages. Ukrainian entrepreneur Dmitry Sergeev created it in 2009. To post your photos, you need to pass the exam loading the required photos and submit your ID.
Well, this list is not full, and there are more projects made by Ukrainian developers. However, I wanted to cover the most popular ones and show that in Ukraine IT outsourcing is mature and full-grown.
Steps to start IT outsourcing to Ukraine
If you plan to outsource software development, you should undertake a few steps to organize this process wisely. Check them right now.

Steps to start software development outsourcing
Choose a reliable service provider
First, you should find a company that will help you create your software. To find a reliable company, you can check such trustworthy services like Clutch or Goodfirms. They make it possible to filter companies by their age, the number of reviews, the country, and so on. Thus, you will be able to find a company that meets your requirements and expectations.
Check the portfolio
What is the company you chose known of? What projects did it create? You should review the company's portfolio, find out what types of projects the company was involved in, their complexity, and other factors you may be interested in. But don't hesitate to ask the company's managers about other projects they have created since the portfolio usually doesn't include the whole scope of software that was developed. Many projects are created for internal use, and the development company has no right to disclose any data about it.
Communicate and arrange the meeting
You should always hold a detailed meeting with the company's managers to discuss each nuance and detail. Also, it would be better for you to know the development team, check their soft skills because you work with humans, not with machines. And hard skills are not everything you need. So personal qualities are also important. Ask questions, feel free to know everything about IT service provider. For example, requirements managers at Cleveroad always strive to earn the trust of customers first.
Pick your pricing model
And finally, you need to choose the pricing model that will be more appropriate for you. There are three main models, as follows:
Fixed price
This model is viral. It means you and the company approve the budget before the development starts and it will remain unchanged until the end of the development process. The executor bears all risks for deadline violation.
Time and material
You pay for the hours spent on the development process. You discuss with project managers all approximate estimation to understand how much time the development may take. The process is divided into sprints, and you pay for staff-hours and the working process, not for the result. This model gives you maximum flexibility.
Dedicated team
You hire the whole team for your project that will be engaged in the development of your project only. You communicate with a team, set tasks, and so on - they are all at your disposal. It is a good option if you plan long-term cooperation and project requirements are unstable and can be changed often.
Thus, if you follow these steps, you will be able to organize efficient cooperation with IT outsourcing in Ukraine, and your project will be created according to your vision and instruction.
Outsourcing services at Cleveroad
Cleveroad IT outsourcing services have a solid ground due to the experience of the company. Cleveroad is working on the IT outsourcing market for more than 5 years, so our company knows how everything works, what services customers want to get first, and so on. Almost all our customers cooperate on different outsourcing models with our company.
To know more, don't hesitate to contact our managers and explain to them what you need. We will help you pick the right model for your project, provide with estimations, and other relevant services. Feel free to surf our website, check our services, portfolio, and exciting articles. Just follow the right road!
Frequently Asked Questions
Businesses prefer to outsource software development to Ukraine for a number of reasons. Some of them are:
High level of tech education
High English level
Low hourly rates
Large talent pool
Companies outsource to Ukraine for economic reasons. Ukrainian developers provide quality services for a reasonable price. Besides, Ukrainian software vendors are known for their reliability and customer service. In Ukraine, your idea is appreciated, and companies protect it from being stolen with NDAs (non-disclosure agreements).
To find a reliable company, you can check such trustworthy services like Clutch or Goodfirms. They make it possible to filter companies by their age, the number of reviews, the country, and so on. Thus, you will be able to find a company that meets your requirements and expectations.
Then, you should review the company's portfolio, find out what types of projects the company was involved in, their complexity, and other factors you may be interested in.
As one of the most popular outsourcing destinations, Ukraine has no significant disadvantages in the IT outsourcing sector. Business partners from abroad trust Ukrainian vendors for a reason. However, the only disadvantage is that the Ukrainian time-zone may be less convenient for clients from the US. However, they won't notice the difference because vendors' project managers will keep in touch with the client at any time.
The greatest advantage of software outsourcing to Ukraine for EU and UK-based companies are minor time-zone difference. Ukraine has a difference of 1-2 hours with all European countries. That's why it's easy to communicate with project managers and make physical visits to Ukraine.
US companies get the same product quality as if they've hired an in-house team. However, Ukrainian developers charge almost four times less than the US developers. The price difference inspires companies to hire outsourced development teams.
As funny as it is, the main reason why companies are afraid of outsourcing to Ukraine is low hourly rates. Businesses compare developers' rates in their regions and consider Ukrainian rates too low and suspicious. However, the rates are formed according to the cost of living in the country. Besides, thousands of clients cooperated with Ukrainian software development companies and got quality software for a reasonable price. So, there's nothing to be afraid of.
Rate this article!
868 ratings, average: 4.62 out of 5
Give us your impressions about this article
Give us your impressions about this article