Offshore Mobile Application Development: How to Make It Work in 2023
If you have landed here, you might want an offshore mobile application development team to jump-start a new project. There are multiple examples of corporations using offshoring solutions successfully, such as Google, Facebook, Amazon (Ring), Lyft, and more. This model is prosperous because it has many advantages, including cost-effectiveness, access to a large amount of talent and technology, and a wide choice of companies to work with.
For more than 10 years now, the Cleveroad team has been providing IT services for businesses across the globe in multiple domains. We understand all the features of offshore mobile development, and in this article, we'll talk about them, so you can know whether this cooperation model suits you.
What Is Offshore App Development: Specifics and When to Appeal to It
Offshore mobile app development is a cost-effective way for businesses and startups to launch their app. It involves delegating non-core tasks, such as mobile development, to remote software providers. Thus, you can get all development services at a fair price. Moreover, when choosing offshore mobile developer, you are not limited to a specific city and country; you can select a company from anywhere in the world.
When is it better for a business to choose offshore mobile development?
Offshore mobile software development is a great way to onboard experienced experts with the required technical background and competence to support your product creation. In addition, there are several other situations where offshoring will be the best choice for you:
Selecting and hiring an in-house team is costly. If your app development budget is limited, offshore mobile development will be the most cost-effective method to implement your mobile app idea. By exploring the available options worldwide, you can find a company that will create an app for you within your planned budget.
By partnering with offshore mobile app developers, changing your development plan and scaling your team will be easier. In addition, outsourced vendors can quickly respond to any changes without losing your time or money.
Any mobile app requires technical support and periodic updates for new OS versions. However, maintaining an in-house development team for these purposes is expensive. By choosing an offshore mobile app development company, you can negotiate the terms of maintenance, significantly reducing the costs.
What mobile development tasks can be delegated to offshore mobile developers?
Offshore mobile software development includes the full cycle of application development services, from the planning stage to post-release support. So let's see what tasks you can outsource so you can focus on your core business activities:
Mobile app development
The main job of outsourced software vendors is to provide software development services. Experienced IT vendors provide technical skills required to implement your app idea as it should be.
UI/UX design services
It's essential to provide a user-friendly app design to ensure that users have a satisfying experience when interacting with your product; otherwise you risk losing your customers. . An offshore mobile app development company has skilled UI/UX designers on board so you assure you bring intuitive app design to your audience.
Quality Assurance (QA) services
Every app should be thoroughly tested to identify and fix any possible bugs. Offshore mobile app developers include testing as part of their obligatory app development service.
Legacy systems modernization
If you already have outdated software and need to meet modern standards, an offshore software provider can help you upgrade it. Specialists will bring a new product to life by implementing the latest technologies, adding advanced functionality, ensuring enhanced security measures, and performance.
DevOps services
Offshore developers will help you with cloud infrastructure, continuous integration, and automation. The main goal of DevOps services is to increase an organization's speed and efficiency in delivering services and applications.
Qualified offshore mobile developers can also assist you in the initial development stages, such as market research and discovery phase as well as full post-release support.
Why Should You Deal With Offshore Mobile App Developers?
Cooperation with an offshore mobile development company has many advantages and allows you to improve development process and company's overall performance. For example:
Suppose you have decided to turn to a local software provider. The cost of mobile development is likely to be too high. To optimize costs, you may consider offshore app development. In some regions, for example, Central and North Europe, the hourly rates of software developers are much lower due to high government support of the IT sphere. So offshore will allow you to save a lot of money. Moreover, you can consider establishing and offshore development center, distributing your companies reputation and services all over the world.
Suppose you have decided to create a mobile app for NFT. This technology is relatively new, so finding the right expertise in the local market may be challenging. In this case, consider hiring offshore mobile developers to receive the needed expertise per your case. By researching several companies, you can find a team with relevant experience and get the best quality final product.
Faster time-to-hire establishing
Imagine you decide to create your own app by assembling your own team. However , recruiting necessary specialists can take a long time, pushing back the release. In this case, offshore mobile application development is an excellent alternative as it allows you to start working on your application immediately and reduce time-to-market.
Opportunity to focus on the main tasks
Imagine that you need to create a mobile solution for your business in-house. You will spend much time researching technical issues, analyzing the market, hiring experts, etc. This will distract you from the main functional tasks, which can have a negative impact on the company's performance. By outsourcing mobile development, you free yourself from the need to get into technical details by entrusting the work on your software to qualified professionals.
Reduced maintenance costs
Suppose you've assembled a team and created a mobile app. Now you face a new problem: you need to maintain developers permanently, whose work will only be required for short periods. The alternative is to fire some employees, but if the need arises, you will need to find the right person quickly. Mobile development offshore comes to the rescue in this case. The vendor company will allocate the necessary number of specialists on request to keep the software running smoothly for as long as needed.
How to Select Offshore Mobile App Development Company to Make the Things Done
Choosing an experienced offshore mobile application development team with advanced expertise is critical to launching the application successfully. Let's explore some tips to help you make the best choice.
How to select offshore software provider
Learn about communication strategy
As it is more difficult to control an offshore team due to the long distance and time difference, ensure your vendor knows how to address communication issues. For example, the Cleveroad team provides project transparency conducting weekly client meetings, (at a convenient time for clients), sprint reviews, demo calls, etc. Thus, you will always be aware of the work done and ultimately control the development process.
Explore the vendor's portfolio
You should check the portfolio of the selected software vendor and study the solutions they delivered before. That way, you can evaluate the skills and expertise of the chosen team and make sure they are suitable for you.
Make sure the vendor has relevant expertise
For your app to succeed, the software vendor must have not only experience in mobile development but also relevant expertise in your domain. For example, if your business is in finance, make sure that the chosen IT company has experience in FinTech software development services so you can get a solution meeting your specific requirements.
Signing an NDA
Working with offshore mobile app developers, you may find it more challenging to control the team and the security of your data. To protect yourself, ensure the chosen software provider signs an NDA upon request.
Consider team's flexibility and adaptability
Look for an offshore mobile application development team that adapts quickly to changing conditions. It is also crucial that your vendor has the ability and courage to challenge requirements and suggest improvements when needed. These team qualities will help to get the best possible result.
Short Story-Cases on How Cleveroad Successfully Delivered Offshore Projects
We would like to present you with some examples of offshore projects we successfully built and delivered for our clients.
Telemedicine Solution for US Healthcare Provider
Our customer is a US-based provider of mental healthcare services focused on giving them online. The company came to us with the SaaS solution in use (Kareo EHR system) and required a bespoke platform for online consultation and services. The system also had to be integrated with the existing solution and support referral management according to the client's business model.
Our team developed a HIPAA-compliant telemedicine software from scratch, considering its integration with the Kareo EHR system and became a long-term technical partner for our customer. As a result, our client received a robust solution for delivering mental health services online. The newly built platform allowed the company to automate existing business processes and master the healthcare niche.
We helped our customer, an Australian company, to deliver a mobile platform to bring together everyone who wants to play team or one-off games. Our client wanted to build two mobile apps for such activities and a joint solution to develop one brand and needed a reliable tech partner who could take over all stages of the project.
To meet the client's requirements, our specialists developed two mobile apps that should be an environment for easy participation in teams and searching for leagues to play sports with. Guided by the client's brand vision, we also designed a concept for the future merger of two projects. The new solution aims to strengthen and develop the company's brand and align the value streams.
As a result, our client got a well-designed mobile platform that allowed the company to offer ongoing service to users, reach a new audience, and raise income within the Subscription business model.
Web Platform for Searching Travel Activities
Our customer, a Singapore company, set out to connect travelers looking for accommodation and experiences with activity and hospitality providers. This required a platform allowing users to find such services. Our customer needed a technical partner to develop it, implementing searching algorithms.
To address all customer's requests , our team created a web-based platform with three sophisticated proprietary algorithms of searching and ranking to calculate the Personal Value (PV) score and improve user choice.
As a result, the client got a full-fledged platform with unique searching algorithms. They allow users to get the most relevant search results that increase the platform's customer satisfaction rate. .
How to Start Offshore Mobile App Development: 5-Point Checklist
It is necessary to go through several important steps to help you start offshore mobile software development and succeed. We have collected for you a checklist of 5 points which are extremely important for increasing efficiency. Let's consider them in detail:
1. Define your business goals
Firstly, you need to determine the objectives of your product. What do you hope to achieve with your app? Did you know what problem you are solving with your app? What users' needs does your mobile app address?
2. Plan your budget
It's critical to determine how much money you can allocate to mobile software development and plan your budget carefully. Hence, you must understand what costs you are going to face. This includes expenses for market research, development and design, software maintenance and support, marketing and promotion services, etc. Remember that your IT partner is here to help you. You can send the company a request and its team will provide you with a personalized mobile app estimate so you can plan your investments properly.
3. Choose software provider
Once you've decided on your business goals and planned budget, you can look for offshore mobile app development company. When searching, you can follow the tips presented in the section above. You can use popular tech platforms like Clutch to list preferred IT companies. Then, review if they have relevant expertise to create a mobile app for you. Also, paying attention to security measures is crucial: find out if the chosen company signs NDAs.
4. Choose a cooperation model
You can choose a collaboration model with your IT partner based on your needs. For instance, if you want to control all the processes yourself and have outsourced experts become a part of your team, staff augmentation is a good choice for you. On the other hand, consider the project-based model if you want to avoid getting into technical details and want all the processes managed by an offshore provider. Your software vendor will help you find the best way to cooperate based on your needs.
5. Contact the selected vendor
To move on to development, contact the offshore mobile app development company by leaving a request on their website. Your personal manager with the necessary experience in your business domain will contact you within 24 hours to discuss your project requirements and answer all your questions. To keep confidentiality you can sign an NDA by request.
6. Monitor key KPIs
Finally, you should set and monitor specific KPIs so that you can assess the effectiveness of cooperation with offshore mobile developers:
Customer-focused KPIs. These metrics focus on customer retention and satisfaction and allow you to evaluate changes in your customer base.
Operational effectiveness KPIs. These metrics will enable you to determine whether your remote staff is advancing your goals or preventing them from achieving them.
Resolving disputes KPIs. Tracking internal conflict resolution lets you see how well your offshore mobile application development team copes with difficulties and how well the communication is built. The better these metrics are, the faster and more efficient your app development will be.
Performance KPIs. These metrics allow you to track your processes' strengths and weaknesses and encourage open communication and transparency within the business.
Now, let's see how the software development process goes at Cleveroad, so you can be aware of the stages your project will go through.
How do we work at Cleveroad
Top Regions for Offshore Mobile Development
There are a lot of countries around the world that offer offshore app development services. But, there are some regions that remain the top outsourcing destinations for businesses.
Central and Eastern Europe (CEE region)
Many companies from all over the world turn to specialists in this area for offshore mobile app development. This region is one of the leading due to the vast number of talented professionals, low taxes, and high state support of the IT sector. So contacting an offshore mobile application development company, you will get excellent quality for a relatively low price.
This region is also quite famous, and many businesses choose it because of the minor time zone difference. However, the offshore app development in this region will be more expensive than in the Central Europe due to higher taxes.
Asian countries have been actively offering offshore application development services in recent years. They compete in the market due to low prices but cannot always provide customers with the best quality, so finding an experienced vendor may be challenging.
This offshore option is also quite popular, especially among US businesses, because the time zone difference with South American software providers is minimal, which makes cooperation more comfortable. In addition, offshore mobile app developers from South America often offer low prices, but you may have to spend more time finding a responsible IT service provider.
We have analyzed the hourly rates of prominent IT specialists from different regions so you can determine in which direction you should start your search. The numbers are taken from Upwork, Clutch, and GoodFirms platforms.
Offshore app development rates

| | | | | |
| --- | --- | --- | --- | --- |
| Specialist | CEE region | Western Europe | South America | Asia |
| Business Analyst (BA) | $45 - $70 | $72 - $133 | $45 - $55 | $30 - $42 |
| Solution Architect (SA) | $50 - $77 | $129 - $190 | $60 - $72 | $35 - $48 |
| UI/UX designer | $36 - $56 | $51 - $106 | $40 - $50 | $25 - $36 |
| Developer | $25 - $70 | $68 - $122 | $35 - $61 | $18 - $42 |
| QA | $25 - $63 | $50 - $110 | $30 - $50 | $15 - $36 |
| Project Manager (PM) | $45 - $70 | $86 - $151 | $55 - $66 | $35 - $48 |
Why Choose Cleveroad as Your Reliable Offshore App Development Partner
Cleveroad is an outsourcing software provider with over 10 years of experience in IT. We provide web and mobile development services for clients worldwide - among them are clients from USA, Australia, UK, France, Nordic regions, and others. Our specialists provide solutions for any-scale businesses in different domains, including FinTech, Travel, Logistics, etc.
We offer three types of outsourcing models for our clients:
This model allows you to augment your team by hiring several outsourced professionals. Instead of a long search for personnel, you only need to contact our managers and share the project details and the necessary specialists. We will provide you with the right experts for the duration you need. This solution is the most effective if you need a short-term collaboration.
How to pay: The experts' 8 working hours per day are multiplied by their hourly rate.
This model implies hiring an entire development team to do some work. The specialists do not cooperate with your in-house team directly but report on the job done to your Project Manager (PM) or Service Desk. This approach is excellent when you have large-scale and complex projects.
How to pay: 8 hours per day multiplied by the hourly rate.
You fully delegate all development processes from planning to release to the outsourced team. This model is the most common. In this case, the team works with predefined requirements (specifications) and reports to you on the work done.
How to pay: 1. Fixed workscope. The number of hours required for development (calculated in advance) is multiplied by the hourly rate 2. Time & material. The number of spent hours is multiplied by the hourly rate
If you doubt which type of cooperation suits you, share your project details with us, and we'll advise the model that suits you best.
To prove our competence, let us acquaint you with one of our successful projects:
Breanne Butler, Project manager at Prime Path Medtech™ gives feedback about cooperation with Cleveroad
Rely on our trusted offshore team
Get assistance in mobile app development from professional team with 10+ years in the field
Frequently Asked Questions
Offshore mobile app development is a cost-effective way for businesses and startups to launch their app. It involves delegating non-core tasks, such as mobile development, to remote software providers.
Consider some critical points to select the best offshore mobile development team:
Learn about communication strategy
Explore the portfolio
Study reviews
Make sure the vendor has relevant expertise
Protect your data with NDA
Choose flexibility, adaptability, and proactivity skills
Offshore mobile development provides many benefits, including:
Lower development cost
Wide variety of companies to choose
Access to talents and technologies worldwide
Better flexibility
Reduced time-to-the-market
Lower maintenance cost
Ability to focus on main business tasks
Offshore mobile development cost may vary according to vendor's location and hourly rate, app's complexity and number of platforms to cover. On average, offshore software development may cost you $15 - $150 per hour, depending on region you choose to cooperate with.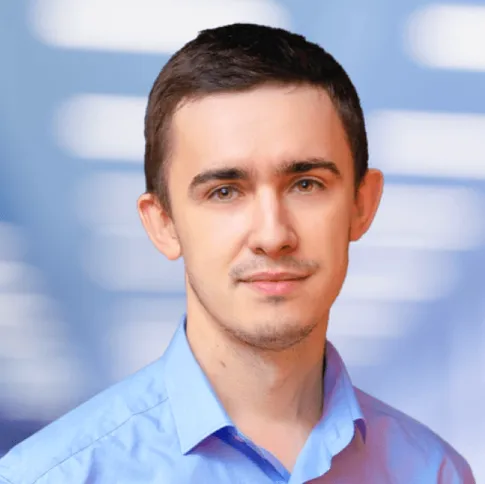 About author
Evgeniy Altynpara is a CTO and member of the Forbes Councils' community of tech professionals. He is an expert in software development and technological entrepreneurship and has 10+years of experience in digital transformation consulting in Healthcare, FinTech, Supply Chain and Logistics
Rate this article!
475 ratings, average: 4.96 out of 5
Give us your impressions about this article
Give us your impressions about this article