How to Choose Offshore Software Development Company in 2023: The Complete Guide
The worldwide space is pierced with digital communication these days. For being noticed and heard, the companies should keep pace with technological progress, developing their own business solutions despite the pandemic measures and other obstacles. So, here rises the question: how to boost business digitization without limits?
The Internet allowed companies to work remotely, minimizing the distance between clients and vendors. On such a background, offshore software development services move to the forefront, helping the providers stay in touch with customers and continue the relationships.
For a deeper understanding of a situation, let's apply to the stats. According to Avasant data, one of the most widespread outsourced functions is app building, and more than 60% of companies use it, fully or partly outsourcing their projects. Grand View Research also predicts the future of the worldwide outsourcing market positively, pointing at its growth with a compound annual growth rate (CAGR) of 8% during the period 2020-2028.
This article will enlighten more about offshore software development (as a part of the IT outsourcing business), how to choose an offshore outsourcing provider and cooperate with them, what to keep in mind while selecting a vendor, and other things necessary to know.
What is an Offshore Software Development Company, and How Does It Work?
To understand how to choose the offshore development company for the best cooperation, let's start discussing the question from the very beginning and talk about IT outsourcing. It means transferring some services, like software development, UI/UX building, IT consulting, QA, etc., or a whole software development project from one company (client) to another (vendor). Such an approach lets the businesses quickly hire IT professionals with the required expertise for working during a project.
The clients typically hire third-party companies according to different factors (e.g., location, contract type, or relationship are average ones). Other factors can be classified due to the company requirements.
Outsourcing contains various forms, such as innovation outsourcing, business processes outsourcing, or system services one. There are also location-based outsourcing types (e.g., onshore, nearshore, and offshore outsourcing).
Location-based types of outsourcing
Onshore (onsite/domestic) outsourcing refers to delegating duties to offshore development companies based in the same city as the customer. This outsourcing approach provides faster results: the client company gains access to IT infrastructure, technologies, and expertise unavailable before. Moreover, having transferred some tech responsibilities to a reliable vendor, the customer can concentrate on other company activities requiring careful attention.
Nearshore outsourcing implies transmitting responsibilities or the entire project to the third-party provider located in the adjacent region. The client company representatives can visit the vendor due to its geographical closeness and fewer expenditures for traveling.
Offshore outsourcing is the practice of employing aт IT vendor located far away (e.g., a different country or continent). The client companies apply to it while they want to get top-quality IT services, for example, offshore app development, quickly at an affordable price.
The cooperation with an outsourcing provider is performed remotely but efficiently as if you collaborate with an in-house team without actually hiring it. The offshore outsourcing vendor can offer you the following types of IT cooperation:
Full-cycle software — the IT staff of offshore development firm takes responsibility for the whole software development lifecycle, from gathering requirements to maintenance and support activities.
Team augmentation — the client's personnel is staffed by the vendor's professionals for quickly gaining the set business aims.
Outstaffing — the vendor's specialist(s) can be hired by a client to accomplish their tasks. The client fully controls their activity.
Though, you should keep in mind that outsourcing is a very flexible thing with different collaboration approaches. We listed only the most common ones.
Why Choose Offshore Software Development Companies?
Let's take a detailed look at offshore IT outsourcing and discuss its benefits and development trends for 2023.
Offshore IT outsourcing is a type of software development outsourcing when the vendor's organization renders IT services to a foreign client's company. It's an optimal alternative for entrepreneurs desiring to extend their businesses with little funds.
Who can be an offshore outsourcing vendor? It may typically be an IT company with more than one year of hands-on experience, offering services the particular client requires and having enough personnel to gain these purposes. This vendor can provide the customers with mobile development services, web development services, QA ones, UI/UX building, solution maintenance and support, etc.
The Most In-Demand Offshore Development Trends
Ordering custom software development services of an offshore IT provider, you save your time and resources and get top-class software, effectively solving your business problems. We'll look at development trends the offshore teams use to achieve perfect results.
The most in-demand offshore development trends
Artificial Intelligence. AI is widely used for testing flow enhancement. AI technologies like machine learning (ML) or natural language processing (NLP) will help IT teams create better offshore software development solutions for a shorter time.
Blockchain technology. Almost every company from different business industries (e.g., telecommunications, healthcare, finance, or media) wants to invest in blockchain technology to improve their business strategies. Blockchain has a number of advantages, including increased flexibility, faster digital transaction speeds, and a lower risk of data duplication.
Clouds. Each offshore software development company will enhance their work using cloud computing, as it lets the developed solutions be more flexible, scalable, and secure. Businesses will be able to keep the piles of data well-organized, safe and intact, for example, with the help of the private clouds. They can also use public clouds whether they need scalability for their IT product.
Enterprise workflow automation will be helpful for companies that require integrating innovations seamlessly, quickly adapting to fluid business needs, and becoming more competitive with less administrative expenditures. Moreover, automation technologies will reduce the percentage of human errors and let people save time and resources for other critical tasks.
Virtual employment takes the lead more while the business becomes globalized and therefore, remote. Employers more often engage remote personnel, as they can use the specialists' unique expertise and skills without a need to offer more workplace resources (like office hardware, parking spot, telephone, etc.).
Offshore Outsourcing Advantages
It's typically difficult for companies to decide whether to hire in-house staff for building software or apply to an IT vendor which will offer the best offshore software development services. However, the advantages of a second variant help to make a choice in its favor.
Cost-effectiveness
In-house team services can be related to high money spending, which is inconvenient for companies with a tiny budget. But outsourcing vendors open more prospects for such businesses. For example, applying to Central European IT providers, you'll get top-quality software at reasonable prices. This destination is also famous for its low taxes, a bunch of tech talents, and IT sphere governmental support, which makes Central Europe the most attractive place for IT outsourcing.
Joint responsibility
The majority of non-IT businesses typically overlook risk-management necessities. But if they outsource the project, such responsibility is shared between the client and vendor. The offshore IT company will better minimize the software development risks as it's one of their primary activities.
An accessible talent pool
Outsourcing offers you various hiring options to choose from a wide pool of experts with profound tech expertise in different business spheres. Furthermore, your hiring process will be reduced to several days rather than months.
A skilled software development provider will help you flawlessly accomplish projects of any degree of complexity and give you an in-depth consultation (if needed).
Rapid project accomplishment
As the time required for personnel recruitment is reduced, the project time to market is decreased, too. Moreover, by entrusting your solution development to certified professionals, you can modify even the workflow speed. Custom offshore software development services allow you to clarify all the project details and sit tight, as all the processes of a skilled vendor are well-established.
More technologies to select from
If you lack expertise for the project, you may hire a competent professional (team) with the help of the outsourcing vendor. The employed team will allow you to create a product, simple in use, modern, well-scalable and competitive.
Scalability
Outsourcing provides organizations with the most efficient solutions. For this purpose, you can scale up or down, increasing your team size to accelerate the development process or reducing the number of staff members if there are no assignments for them to complete.
This is not the entire list of advantages offshore IT outsourcing gives to companies. We singled out only the vital ones. Now, let's have a closer look at the activity of offshore software development companies.
What Does An Offshore Software Development Company Offer?
Offshore IT teams offered by a vendor work remotely. If you fully outsource a software development project, they take responsibility for all the stages of the software development lifecycle (SDLC), from gathering requirements to post-release maintenance and support.
You can also outsource only software solution parts or separate modules to experienced offshore software development staff who will eagerly help you with the entrusted parts using their soft skills and technical knowledge.
Offshore software development vendors may typically assist you with the following offshore software outsourcing services:
Talent acquisition
Software development
Deployment and maintenance
IT consulting
Personnel training, etc.
Dealing with an offshore provider, you can select the cooperation model the most appropriate for you. For example, the customers working with Cleveroad can choose the following:
A dedicated team model allows the customer to hire distant but qualified specialists supervised by your chosen IT services provider. The dedicated developers will be able to solve a lot of technical problems from the client's side and the vendor's one, being deeply engaged in the project. However, you should understand that there would be a part of decisions requiring your direct involvement during and after software development flow.
IT outstaffing is considered the perfect option for a staff expansion by many entrepreneurs. The provider helps you choose the software development specialists for temporary work with your team. Such professionals managed by the vendor act upon the agreement with a well-defined list of tasks and services to render.
Project-based outsourcing services are the best choice for businesses having decided to outsource their projects fully. If your flows do not require 24/7 surveillance, you can entrust them to an offshore company for software development. But keep in mind that your possibility to make changes or send queries is a little bit limited.
How to pay for software development services rendered by an outsourcing vendor? The final price is based on the IT hourly rates for Europe and other popular outsourcing destinations. You can see the most popular outsourcing destinations together with their hourly wages in the table below.
Hourly service rates of offshore providers

| | |
| --- | --- |
| Outsourcing destination | Average hourly wages (in $/hr) |
| Eastern Europe | 35-100 |
| Western Europe | 50-200 |
| North America | 49-210 |
| Latin America | 28-105 |
| South Asia | 21-82 |
| Southeast Asia | 21-61 |
When Should You Apply to an Offshore Outsourcing Vendor?
Offshore software development might be helpful for companies in many cases. The most common of them are enlisted below.
Having a limited budget, you need to cut costs for a project. Partnership with an offshore IT vendor is less expensive, but benefits are the same as if you collaborate with an in-house staff (or even better).
Strict deadlines to accomplish the project disturb you? Offshore software programming is the very thing able to help you receive the final results more rapidly and duly meet the deadline.
Need in consultation and tech support is your case? The offshore experts will give you comprehensive answers to the most disturbing questions and help you solve the business problems.
Complex projects requiring rare expertise. Outsourcing partners get acquainted with different technical know-how, which allows them to bring even the complex and challenging IT concepts to life.
When to apply to a vendor?
Leading Providers of Offshore Software Development Services
How can companies become and stay effective and competitive? The answer is simple — they should increase their presence in a digital space. Offshore outsourcing can help develop an IT product seamlessly fitting your business needs.
Simplifying your search for a reliable IT partner, we compiled TOP-10 companies providing their clients with offshore software development services and the best quality-price ratio:
Cleveroad
BairesDev
Belatrix
ValueLabs
Intellectsoft
Altoros
QBurst
Eleks
Amadeus
SpiralScout
Let's look at them in detail.
Cleveroad
This qualified offshore programming company from Central Europe offers cutting-edge IT services for 10+ years. Cleveroad staff is highly experienced in such business industries as healthcare, logistics, education, streaming, e-commerce, and many others. Applying to this company, you'll obtain unique and modern custom software solutions created by a goal-oriented and agile project team.
If you outsource software building to Cleveroad, you'll obtain top-class full-cycle development services (e.g., discovery services, UI/UX building services, QA services, Project Management ones, etc.). The company also works with startups and SMBs assisting them in building competitive and cost-efficient IT products based on various advanced technologies, like AI, AR, or ML.
BairesDev
BairesDev, founded in 2009, is an outsourcing company headquartered in Latin America and USA. Software development, staff augmentation, testing, maintenance, operational support, etc., are among the services this software development firm offers.
BairesDev specializes in solutions for Real Estate, Banking, Supply Chain, Healthcare, Logistics, and other business industries. This offshore software company works with startups, SMBs, and also a part of large companies from the Fortune 500 list.
Belatrix
This outsourcing IT business with offices in Peru, Colombia, and Argentina, offers IT services (e.g., software building, automation, testing, consultancy, etc.) to Fortune 100 organizations.
The company's portfolio contains projects in Hi-Tech, Energy, Fintech, Entertainment, Healthcare, and other areas. Their solutions are developed with the help of various popular IT technologies.
ValueLabs
Next in our rating of TOP offshore development companies, ValueLabs is a data technology, product development, and associated digital services company based in India with development centers in Europe, Latin, and North America. Some of their services are software development, modernization, QA, cloud services, automation, business intelligence, and analytics.
The company's solutions are created for Fintech, Insurance, Real Estate, Logistics, E-Commerce, Telecom, Banking, and other industries.
Intellectsoft
This offshore software outsourcing company has extensive experience in the construction, healthcare, retail, and e-commerce business fields. The services of Intellectsoft include quality assurance, software development, cybersecurity, and UI/UX design, and they span all aspects of the product building process.
The company assists clients with creating and upgrading technological solutions. They also offer digital transformation consulting in addition to software development.
Altoros
Launched in 2001, Altoros creates new solutions for various sectors of all sizes. Custom software and product development, cloud-native development, blockchain solutions, artificial intelligence, and machine learning are among their offered services.
The offshore software development firm has a track record of creating specialized financial software solutions for the finance and healthcare industries and a technological stack.
QBurst
QBurst is a full-cycle digital product firm based in the United States, the UK, Singapore, Japan, and OAE. The essential offshore programming services of QBurst include app development, design, quality assurance, cloud technologies implementation, and so on.
This offshore software development provider builds solutions for healthcare, retail, renewables, manufacturing, education, engineering, and financial business industries.
Eleks
Eleks is an offshore outsourcing software development company from Eastern Europe, focusing on logistics, fintech, retail, agriculture, and healthcare. The firm has offices in seven countries, including the United States, the United Kingdom, and Eastern Europe.
Eleks provides the following services: data science, mobility, QA, R&D, consulting, blockchain, AI, UI/UX design, the Internet of Things, ML, etc.
Amadeus
Amadeus is a software outsourcing services provider in the travel sector, with headquarters in Spain, North, and Latin America, Africa, Europe.
Amadeus' team provides APIs, platforms, big data, cloud, mobile, and open source solutions, as well as smart city ecosystems for traveling businesses all over the world.
SpiralScout
Spiral Scout, located in San Francisco, has been designing and building online and native mobile apps for businesses large and small for over ten years.
The firm specializes in putting together tech teams of developers, designers, project managers, and software testers who collaborate to create native mobile apps, responsive websites, enterprise solutions, custom e-commerce integrations, and more.
Leading offshore software development providers
What to Keep in Mind When Choosing Offshore Software Company
Various offshore IT providers offer their services for companies, along with their unique views for the project's further development. How not to confuse such a broad choice and select a trustworthy offshore software development services company for cooperation? What to check before signing a contract and agreeing to work together?
We've compiled a short advice list for you to consider.
Check the communication
Pay attention to communication evaluating it due to criteria of transparency and seamlessness. For that, you should check whether your future team will know English (or any other language) fluently for better understanding between each other. Care about tools for easy conversation; moreover, check their working hours, if they coincide with yours.
For example, here, at Cleveroad, we use different communication tools to stay in touch with our customers (e.g., Jira, Slack, Facebook Messenger, Google Meet etc.) and choose the most comfortable time to do that negotiating beforehand.
Furthermore, all Cleveroad experts know English high enough to talk to you without obstacles.
Pay attention to business feedback
Positive working experience is highly appreciated for building tight relationships with one of the best offshore software development companies. How to check it? First off, find your upcoming provider's page on such hiring platforms as Clutch, Glassdoor, or ITFirms, and get acquainted with reviews left by previous firm's clients.
Don't limit checking by hiring platforms. Learn more about the company's accomplished projects and business domains they work in from the portfolio. Carefully read the business information presented on their official site.
Care about solving security problems in advance
While contacting a company representative, ask them how they solve security issues. Determine if it's possible to sign a Non-Disclosure Agreement (NDA) with them for your concept's safety and secrecy. Ask them if they use encryption algorithms to protect the collected data, privacy policies, private information storage. Don't forget to discuss whether the vendor's solutions are compliant with international regulations (e.g., GDPR, CUI, CCPA, etc.).
Cleveroad will always allow you to sign NDA per your request. Our experts will also care about your data security and offer you the best decisions on how to duly protect your future offshore software development solutions from cyberattacks, as well as other Internet dangers connected to security.
Read our article to discover how to duly protect your software concept from being stolen!
Check your hour zone difference
We talk again about this issue, as it's too crucial while choosing an offshore partner able to contact you seamlessly. Nevertheless, you shouldn't make decisions based only on this aspect. Many offshore companies undertake measures to synchronize with their customers for continuously staying in touch.
For instance, at Cleveroad, teams always have meeting calendars with the most appropriate time for video calls with our customers agreed beforehand. It helps the professionals continuously be on the line with clients when they need it.
The Process of Cooperation With Offshore Outsourcing Vendor
For your better consideration, let's find out what happens after you start collaboration — directly, a software development flow. We'll talk about it in the example of Cleveroad software development lifecycle (SDLC).
Offshore software development at Cleveroad
First Contact
After you've finished a choice of a vendor rendering the offshore application development services and turned to us, you can start cooperation by leaving a message request that shortly describes your project goals and requirements.
Delivery experts contact you within 24 hours and agree on a further meeting for a complete discussion as to your project. After analyzing the project needs and business goals, the rough estimate is generated, and then, you can sign an NDA to maintain secrecy (per desire) and go on to the next level.
Discovery Phase
The vital purpose of a discovery stage is to collect your requirements (e.g., platforms to cover, feature list, third-party services to integrate, etc.). You may also have consultations with different tech professionals who assist you in risk assessment functionality list creation/correction.
At Cleveroad, we have an initial in-depth discussion about the project, which is essential for further project specification, team composition, and other organizational moments. At the same time, our designers start making wireframes — the basis for your future product design, which will have to be approved or changed by you.
Our offshore development company team also creates a detailed estimate of product building expenses by platforms as well as estimate the software development time. We will sign a contract if you agree with the figures and terms.
Product Design
UI/UX designers produce a prototype before coders work. It's based on the wireframes drawn up throughout the Discovery phase. The design team starts with a design concept and then builds the user interface for a product screen by screen.
Our UI/UX designers prepare all screens and display possible user actions. In addition, a style guide containing your corporate colors, gradients, fonts, and other parameters, is also created at this stage.
After you've approved this work, the UI/UX designer hands over the project to the developers for rendering further custom offshore software development services.
UI/UX design process — how does it happen at Cleveroad? Look through our article to learn about that!
Software Development and QA
At Cleveroad, we use the Scrum framework as part of the Agile development approach. We build software in sprints, which are two-week intervals when a team must finish a specific amount of work.
The development team implements the needed functionalities. You may work with various tech professionals, such as iOS, Android, or web developers, depending on the project (front-end and back-end experts).
After that, QA engineers examine the functionality generated during each sprint and work on a project until release. They test the back-end and the front-end and then provide bug reports for software engineers to troubleshoot. QA also starts conducting regression testing after all the sprints are completed. Moreover, they conduct stress testing if necessary, examining how the program performs under tremendous pressure to identify its stumbling blocks.
Release stage
When the team is ready to deploy the product after regression testing and resolving all QA concerns, the QA team also checks the solution stability by smoke testing. Developers must create hotfixes if they discover any severe flaws.
We assist with launching your software on the AppStore or Google Play, or, if it's a web solution, we move it to the live server. Once you're satisfied with the results, the team will hand over the project materials (project plans, change requests, test plans, additional project files, etc.) to you.
Maintenance and support
Our collaboration does not end after solution deployment. We may keep improving it for the better UX or maintain your solution by adding new features and upgrades. It means performance and stability enhancements, code optimization, further bug fixes, etc.
Software Development Services From a Leading Offshore Company
Cleveroad is a professional offshore software development services company from Central Europe. Since 2011, we've been assisting startups and organizations of all kinds in acquiring cutting-edge technology, improving their workflow efficiency, addressing business issues, and aiding in achieving competitive advantages.
We specialize in various IT services and bespoke software solutions in logistics, healthcare, fintech, education, travel, media, and other business domains. More than 120 certified engineers work on the various projects we receive from our clients. 170 of such projects are already successfully implemented, and you can get acquainted with them in our portfolio.
Collaborating with us, you'll get:
Comprehensive initial project estimation from our Sales team
In-depth consultation with one of our Business Analysts or Project Managers as to your business ideas
Software creation from scratch, upgrading, legacy systems' modernization, etc.
Highly qualified staff of professionals seamlessly fitting in the existing business flows and positively adapting to changes
Full quality control at all the stages of the development process
After-release support and maintenance
Cutting-edge solutions implemented with the help of the innovative tech-stack and modern development methods, etc.
Offshore software programming is a complex instrument that should be appropriately handled. Experienced software development professionals will help you create the best software product fitting your requirements. We are always ready to answer all your business and tech questions and assist you in the realization of your projects.
Start offshore project with us
Book a call, and Cleveroad experts will contact you within 1 working day to discuss the details!
Frequently Asked Questions
Outsourcing means transferring some services (e.g., software development, UI/UX building, IT consulting, QA, etc.) or a whole software development project from one company (client) to another (vendor), chosen from various offshore outsourcing software development companies. Such an approach lets the businesses quickly hire IT professionals with the required expertise for working during a project.
It is an IT company with more than one year of hands-on experience, offering services the particular client requires and having enough personnel to gain these purposes. This vendor can provide the customers with mobile development services, web development services, QA ones, UI/UX building, solution maintenance and support, etc.
Check the conversation issues
Pay attention to business data
Care about solving security problems
Check the hour zones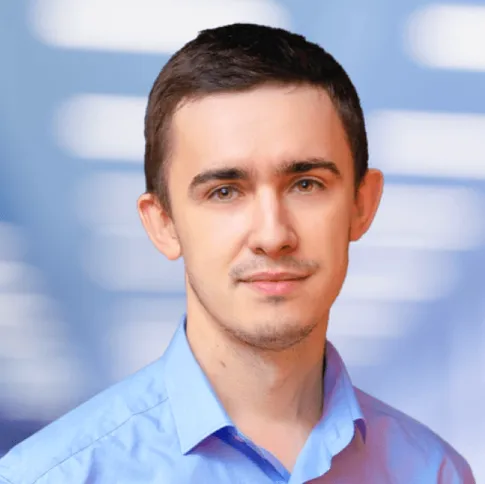 About author
Evgeniy Altynpara is a CTO and member of the Forbes Councils' community of tech professionals. He is an expert in software development and technological entrepreneurship and has 10+years of experience in digital transformation consulting in Healthcare, FinTech, Supply Chain and Logistics
Rate this article!
1190 ratings, average: 4.79 out of 5
Give us your impressions about this article
Give us your impressions about this article