Doctor Appointment Mobile App Development: Necessity, Functionality, and Cost
When the patients are ill, they strive to schedule a doctor appointment timely. However, it's not as easy a task as it seems: the Medical Economics research mentions that the approximate time the people typically wait for a prior medical consultation is about 18 days. It's not fatal, but uncomfortable, and can lead to more problems in the future.
Doctor appointment app development can be a perfect instrument to satisfy your customers and the personnel of your medical establishment. As an experienced IT provider with 11+ years of experience in healthcare software development, we will enlighten you on the peculiarities of building the doctor appointment app, like its must-have functionality, use benefits and challenges, development steps, and more.
What Is a Need for Doctor Appointment App Development Solution?
Some people may have memories associated with hospitals. This is a place of work for the physicians and medical personnel. Patients may experience discomfort due to long queues and congested environments, especially in particular institutions. This may be frustrating.
The simplest way to prevent this is to have an app that allows you to book an appointment in just a few clicks. This way, you, as a patient, may save time and energy. It is also advantageous for medical establishment managers and physicians since they can save time and budget to retain additional employees to answer phone calls for appointments.
The doctor appointment booking app development results for patients in:
Manage appointments scheduling
Pay online bills for medical services
Get in touch with physicians whenever required, etc.
The medical appointment app integration also significantly facilitates the lives of physicians. Notably, it assists hospital staff with the following:
Digitization of the appointment booking processes that are challenging to be handled manually
Enhancement of clinic-patient communication
Offering high-quality services to patients, and so on.
How does the appointment scheduling process pass? After succeeding with the login process, the user will have the following sequence of actions:
The functioning process of the doctor appointment app
The functioning mechanism of the appointment scheduling solution has shown to be a dependable and trustworthy option for many people all around the globe. If you are still unsure about the necessity for doctor appointment application development at your medical facility, we invite you to profoundly assess the facts we give below.
Why do you need doctor appointment app for your hospital?
The doctor appointment application development can enhance a hospital's operations and patient experience. This technology offers convenience and streamlines the appointment scheduling process for patients.
Based on Cleveroad's practical healthcare software development expertise, we have made TOP-4 reasons to assure you of the necessity of the scheduling app creation.
Service quality enhancement and profit increase. A doctor appointment scheduling app improves patient accessibility and satisfaction, leading to more referrals and new patients.
Performance boosting. Implementing a doctor appointment scheduling app can improve the efficiency of hospital operations, cutting down manual labor, and reducing errors.
Improving patient experience. According to

stats collected by Zippia

, 67% of patients prefer online booking of medical consultations. This is because the specialized software facilitates patients in finding available appointments with their preferred doctors.
Showing competitiveness.

Zippia stats

also mention that more than 80% of patients use mobile gadgets to schedule an appointment. So developing a doctor appointment mobile app is necessary when you want to reach your customers as far as possible.
To accomplish high business results and fully use the doctor appointment smartphone solution's benefits, you should carefully choose the feature set for your upcoming app. We'll give you a hint on how to do it by offering a list of core functionality for the doctor scheduling app development.
Essential Functionality Set Found in Doctor Appointment App
Planning your doctor scheduling app development, you should include in your core functionality list the below features.
New patient registration and KYC procedure. The doctor appointment app allows new patients to register their account. For that purpose, the patients should give their personal data and medical records. The app should also include a Know Your Customer (KYC) process for identifying patients and ensuring their safety.
KYC procedure in software developed by Cleveroad
Doctor Search and Profiles. The search function lets users locate doctors by considering their specialty, location, availability, and patient feedback. The patients can also reach the detailed doctors' profiles. These profiles typically include data on qualifications, experience, areas of expertise, or additional certifications.
Calendar Integration. It helps users synchronize scheduled appointments with their personal calendars, including Google or Apple Calendar. Moreover, this feature allows for a unified view of healthcare appointments and minimizes the likelihood of scheduling conflicts.
After you login to your app account, you can look through available doctors profiles and use calendar to schedule appointments (Source: Cleveroad)
Appointment Booking. The app enables users to schedule appointments with their preferred physicians by specifying the visit's purpose and desired dates and times. The system will then confirm the charge, verify the doctor's availability, and send reminders to the user and the doctor.
Appointment booking functionality built by Cleveroad
Reviews and Ratings. Patients can provide feedback and rate their experiences with healthcare providers. These reviews and ratings aid in building trust among the community and assist users in making informed decisions when selecting suitable healthcare providers based on past patients' experiences.
Reviews and ratings functionality designed by Cleveroad
Video Consultations. The online doctor appointment app development should provide video consultations between doctors and patients, reducing the necessity for in-person visits. This enhances accessibility and convenience for patients and medical professionals, allowing remote healthcare services.
Video consultations developed by Cleveroad
Integration with Electronic Medical Records (EMR). Integrating electronic medical record systems allows seamless access to patients' medical history and records within the app. This feature gives doctors a comprehensive view of users' health information, aiding in accurate diagnoses, treatment planning, and continuity of care.
Prescription and Medication Management. Patients may easily access and manage digital prescriptions that doctors create using the app. Managing prescriptions and drugs involves quick prescription refills, monitoring medication adherence, and reminders for taking pills.
Prescriptions management functionality from Cleveroad
Payment Functionality. The app has a secure payment channel that enables users to pay for appointments, medications, and other healthcare services within the app. This option guarantees a simple and hassle-free payment method for both customers and physicians.
Payment functionality in Cleveroad healthcare solutions
Integration with other healthcare management systems. The doctor appointment app can be integrated with other healthcare administration programs like lab or hospital information system.
Please be informed that this is not the ultimate list of features, but it can be changed and added according to your healthcare business needs. We've only given you the functionality skeleton you can use.
Short-Story Cases On How Cleveroad Successfully Delivered Appointment Management System
Our team has implemented a bunch of successful healthcare projects during our years of dedicated working to satisfy the tech needs of our clients. We have also got experience of cooperating with clients as doctor appointment app development company, and we want to share it with you.
A Telemedicine appointments management system is one of the software cases we have brought into life for our customers. Our client — a healthcare consultations provider from the UK, required a turnkey telehealth platform capable of helping them automate their appointment scheduling and giving processes.
The client looked for a skilled healthcare software development vendor for:
Development of the online healthcare appointment system for consulting with certified UK doctors and clinicians.
Building of the convenient telemedicine platform allowing 24/7 online access to general practitioners and clinicians, video and audio consultations, and easy appointment booking.
Creation of the medical software following GDPR, UK KYC, and healthcare regulations (e.g., MHRA and CQC).
To solve the above challenges, our professionals have built a flexible SaaS platform from scratch containing a powerful functionality allowing physicians and patients quicker schedule appointments and connect with each other. Moreover, the system is compliant with UK KYC, GDPR, and healthcare regulations such as CQC and MHRA.
As a result, our client received a ready-to-use telehealth platform for providing and receiving healthcare services online. The business processes automation allowed the customer to decrease manual operations, improve performance discipline, and reduce paperwork by 5-20%.
Telehealth platform created by Cleveroad
We've also cooperated with a US-based customer offering online mental healthcare services. They required a custom online platform for better appointment management for all parties: patients, physicians, and system's admins. The system had to be integrated with their existing Kareo EHR system and manage referrals.
The company chose Cleveroad, as a trusted vendor with solid expertise in healthcare software development, to solve the following challenges:
Receive a telemedicine platform for scheduling and establishing virtual appointments and a direct chat feature for communicating with service vendors.
Get a robust and fault-tolerant platform that integrates smoothly with Kareo's EHR system and allows for synchronizing appointments across various solutions.
Deliver a system with a user-friendly interface to streamline collaboration with partners. A partnership module was implemented to oversee the referral program.
Our team created a telemedicine system from scratch that complies with HIPAA regulations to provide online mental health services. As a result, the customer got:
A customized system designed for efficient telemedicine management. The platform enabled the automation of business processes, including appointment management. It facilitated remote care for patients and their therapists and partners within a single digital environment, thereby enhancing the healthcare niche.
Excellent feedback and quick adoption by users. The company improved client satisfaction by offering easy-to-book mental healthcare services.
The service meets HIPAA standards and has a synced database. The newly-created solution ensures HIPAA compliance and provides patients with privacy and therapeutic assistance.
How users schedule appointments through the online therapy ecosystem developed by Cleveroad
Telemedicine Software With Appointment Booking Module: App Demo
Our team has developed a demo version of the Telemedicine app, allowing you to see an example of how the appointment booking process can be organized from the patient's perspective.
Benefits of Doctor Booking App Development for Better Patient Care
The doctor appointment app is a great help if you need medical attention as soon as possible. Let's discuss the significant benefits of online doctor appointment app development for patients.
Easy choice from a wide range of options. Doctor appointment solutions offer convenient booking options, with timely availability for urgent appointments. Users can choose from multiple local doctors and schedule meetings within a few hours or a day, depending on the urgency.
Physicians' comparison and more accurate choice. When using the doctor appointment app, comparing doctors based on various factors, including education, qualifications, reviews, and consultation fees is essential. This enables you to make an informed decision before scheduling an appointment and even switch doctors if necessary.
More effective planning of appointments. Patients can schedule appointments based on their availability with different doctors. Appointments can be scheduled 24/7. Many healthcare appointment booking apps offer membership services, allowing regular customer discounts on bookings and meetings.
Canceling a scheduled appointment booked offline can make it challenging to plan a new meeting. The Doctor Appointment App offers convenient schedule cancellations and allows for last-minute emergency changes.
The apps for scheduling medical consultations are also effective and successful for physicians. Let's research how exactly the scheduling software helps medical establishment personnel in their workflows.
More convenient management of working schedule. The app provides features such as appointment scheduling, availability management, and real-time notifications for physician scheduling.
Profitable time and resource use. The doctor appointment app development solution provides doctors with automated appointment management to efficiently use resources and reduce time usage. The app has the added benefit of reducing missed appointments and cancellations made at the last minute.
Integrating electronic medical record (EMR) systems allows physicians to easily access patient information, including medical history, test results, and treatment plans. Accessing this information could lead to better clinical decisions, more accurate diagnoses, and more effective treatment planning.
Enhanced communication with patients. The app enables secure messaging, video consultations, and remote guidance to enhance communication and collaboration between physicians and patients. Improved connectivity enhances care coordination, remote monitoring, and strengthens the relationship between patients and physicians.
The doctor appointment app development and integration has a lot of benefits for people and their physicians, and we only enlisted the most significant of the advantages. Moreover, this software will be an ideal helper for healthcare insurance companies (they can also think out software creation for healthcare insurance) as well as for medical administration and staff.
Challenges of On-Demand Appointment Apps for Patients and Doctors
Planning a doctor on demand app development, you should clearly understand not only the benefits, but also the challenges this process may cause. We've analyzed the common issues you may face, and offered our very particular solution.
Regulatory compliance
Healthcare apps are subject to strict regulatory requirements, including HIPAA in the US and GDPR in the EU. Non-compliance can lead to significant penalties and legal ramifications.
You can implement data access controls, audit trails, and consent mechanisms. Perform routine compliance audits to detect and resolve any potential gaps or non-compliance concerns promptly.
Security
Sensitive patient data, such as personal information and medical records, must be managed during doctor appointment booking app development. To avoid unauthorized access, breaches, or cyberattacks, it is crucial to put in place robust security measures.
Encryption, safe data transfer, and user authentication should all be used to maintain industry-standard security measures. Apply timely updates and patches to fix any vulnerabilities and stay informed about the most recent security risks. Observe privacy laws and regulations, such as HIPAA compliance, to provide the best possible data protection.
Data integration
The integration of healthcare systems, including EMR and laboratory systems, can pose challenges due to variations in data formats, standards, and protocols. Furthermore, achieving accurate and consistent data integration can be a significant hurdle.
Interoperability can be prioritized by utilizing standardized data formats and protocols such as HL7 integration or FHIR, which can aid in the seamless integration of external systems. Additionally, strong healthcare APIs can be developed to ensure secure and controlled data access, while testing and validating data exchange can ensure accurate and reliable transfer between systems during doctor scheduling app development.
Video quality
Video plays a critical role in doctor appointment apps, but maintaining high-quality video calls can be challenging due to factors such as network stability, bandwidth limitations, and device compatibility.
For smooth performance, video streaming should be adapted to network conditions and its quality should be optimized. To ensure the best video call experience, test compatibility and performance on different devices and networks and then enhance network and device settings.
As you see, the solution of all these issues foresees you have got a profound technical expertise. However, you can facilitate your task, applying for help to a skilled IT vendor having a deep expertise in rendering healthcare software development services.
Online Doctor Appointment App Development in 6 Steps
The healthcare scheduling app building is a complex thing to realize: there are a lot of technological aspects to consider. So, the help of the skilled healthcare software development partner will never be superfluous. Let's discover how to find such a partner, and the peculiarities of mobile app development flow assisted by a vendor.
Step 1. Find an experienced tech partner
First off, the doctor appointment app development starts with finding an experienced IT vendor with in-depth expertise in healthcare business domain. But how to find such a tech assistant? Our advices will simplify your search:
Choose tech partner with expertise in telemedicine software development, has experience with regulatory compliance and security, and can adhere to budget and timeline requirements.
Check the vendor's portfolio and case studies to evaluate their work. See if they have made doctor appointment or healthcare-related apps. This shows if they can make applications for the healthcare domain.
Read real client reviews to learn about vendor's reputation, communication skills, and client satisfaction. You can look through

Clutch

or the company website to look through customers' feedback.
Make sure the vendor is qualified and experienced in data integration, UI/UX design, security, and mobile app creation. Ask about post-launch support for upkeep, bug fixes, and future upgrades.
Good communication and collaborative project management are also necessary for successful cooperation. Choose a vendor that respects your opinions, keeps you informed, and involves you in decision-making.
As a skilled healthcare software development vendor, we, at Cleveroad, are always eager to provide you with our assistance. You need only to submit an application on our website after you decide to collaborate with us. Our staff will accept your application and process it. Then the process will go as given below.
Step 2. Solution design stage
The Solution Design team, comprised of business analysts (BAs), solution architects (SAs), and designers, processes your application and preliminary information. They establish your aims, the extent of the work, the key issues, and the fundamental qualities.
Step 3. Discovery phase
Cleveroad's Discovery Phase services aid in transforming project requirements into a concise plan, resulting in accelerated development and enhanced product quality. The services entail documenting previously gathered requirements such as desired platforms, features, and third-party services like Stripe or Google Calendar.
The company's specialists oversee the creation of a detailed feature list, with the business analyst in charge of completing the document with the client. This involves a thorough examination of project requirements, as well as meetings to address business needs and mitigate risks.
Protecting patient data is crucial for doctor appointment apps, and strong security measures must be implemented to ensure privacy and comply with regulations. Implementing secure authentication, encryption, and data access controls are crucial considerations during doctor appointment application development.
Step 4. UI/UX design stage
When developing doctor appointment software, the interface should prioritize intuitiveness and user-friendliness to accommodate a diverse user base, including patients and healthcare providers. The software should feature easy navigation, straightforward functions, and efficient capabilities, such as appointment booking, doctor search, and medical record access.
Our UI/UX designers will create interfaces based on agreed-upon requirements, taking into account elements like fonts, colors, and styles. You can request changes as needed and give final approval to ensure the product meets the desired aesthetic.
Step 5. Development and quality assurance
At Cleveroad, we utilize the Scrum framework as part of our Agile development methodology.delivering a stable, working item of a product or functionality. It means the development is broken down in sprints. When working upon doctor appointment mobile app development, developers often use a modern tech stack. A common example of such a tech stack is provided below.
Programming Languages: JavaScript, TypeScript, Node.js, Python
Mobile App Development Frameworks: React Native, Flutter, etc.
UI Design Tools: Adobe XD, Sketch, Figma
Backend Development: Express.js (Node.js), Django (Python), PostgreSQL, MySQL, MongoDB, Express.js, Django REST Framework
Real-time Communication and Video Conferencing: WebRTC for video and audio communication; SimpleWebRTC, Twilio, Agora
Cloud Services and Hosting: Amazon Web Services (AWS), Google Cloud Platform (GCP), Microsoft Azure; AWS Elastic Beanstalk, Heroku, Firebase
Data Integration: Payment gateways, SMS gateways, Email services
The responsibilities of QA engineers include working on a project throughout its entire development cycle until its release. They meticulously verify the functionality developed during each sprint, testing both the backend and frontend. Then they create reports for developers to fix problems.
After the doctor appointment app development you may need the integration with other healthcare systems, such as:
These integrations will help to streamline the medical establishment workflows, and give the opportunity to exchange information among physicians.
Step 6. Release and support
After finishing doctor appointment app development and addressing any quality assurance concerns, the team is ready to release the software. We assist with releasing your doctor appointment app app on AppStore or Google Play. After completion, we hand over all project materials to you. But our partnership doesn't end when the software is launched since we can make adjustments based on user feedback and maintain your solution with updates and new features.
Doctor Appointment App Development Cost: Rough Estimate
Let's sum up and see how much does it cost to make doctor appointment app.
The price is based on the average hourly rate of $50 in Central Europe, as the most popular outsourcing destination.
Cost to build custom doctor appointment app

| | | |
| --- | --- | --- |
| Core features | Approx time (hours) | Approx cost ($) |
| New Patient Registration and KYC procedure | 12 h | $600 |
| Doctor Search and Profiles | 20 h | $1000 |
| Appointment Booking | 22 h | $1100 |
| Calendar Integration | 16 h | $800 |
| Reviews and Ratings | 12 h | $600 |
| Video Consultations | 21 h | $3050 |
| Electronic Medical Records (EMR): integration with | 80 h | $4000 |
| Prescription and Medication Management | 61 h | $3050 |
| Payment Functionality | 45 h | $2250 |
| Integration with other healthcare management systems (time for 1 integration) | 90 h | $4500 |
| Total | 419 h | $20950 |
Here are the key factors influencing the app cost:
Feature set. It is important to evaluate features that will effectively meet your goals and target audience.
Mobile OS. Creating a doctor appointment app for one platform is often less expensive than creating it for both iOS and Android at the same time.
UI/UX design. To develop a doctor booking app, UI/UX design is necessary. The process involves creating a mobile app wireframe, followed by a prototype, and finally the interface. The cost increases as the wireframe and prototype are developed.
Hourly rates for app developers can be influenced by multiple factors such as technical skills, employment background, and geographic location, including that of the development team.
Taking into account all the said factors means the approximate cost of doctor appointment app development will be from $40,000 to $85,000+. To cut costs and save time, it is advisable to outsource the development of such a healthcare application to CEE region (particularly, Estonia).
IT outsourcing to Estonia is also recommendable because of the following reasons:
Developing a doctor appointment app in Estonia can save money without sacrificing quality. Skilled development teams are available at more cost-effective hourly rates ($50-70) than in other outsourcing destinations.
Estonia is a great place to outsource IT services. It has a transparent legal system and a supportive government. Moreover, this country is known for its advanced e-governance and data protection regulations. It's secure and private, making it a top choice for outsourcing healthcare products development.
Estonia is a tech-savvy nation with a thriving IT sector. Estonian developers are experts in software development, especially mobile apps. They use the latest technologies and innovative approaches to create cutting-edge solutions.
Summing up our research, let us tell you more about us, as a skilled healthcare software development vendor with an extensive expertise in doctor appointment solutions creation, and tell you more about our services.
Cleveroad Expertise in Healthcare and Telemedicine App Development
The selection of a technology partner can impact the cost and quality of a future solution, particularly in healthcare mobile app development. Cleveroad is an IT vendor with extensive knowledge and sufficient capabilities in developing digital products for the healthcare industry.
Let us get you acquainted more with our company. We are a healthcare software development provider headquartered in Estonia. Our aim is to provide medical practitioners, clinics, and healthcare facilities with software solutions of any complexity for medical purposes, and we have been doing it for 11+ years.
Collaborating with us, you'll get a bunch of benefits (including but not limited to):
Qualitative healthcare software development services for different types of medical institutions from an experienced medical IT provider
Practical experience in building robust telehealth software compliant with the leading regulations of the destination country, such as GDPR, HIPAA, PIPEDA, etc.
A team of agile-minded, certified engineers deeply skilled in a healthcare and telemedicine web and mobile app building
Modern tech stack to digitize your healthcare processes and make them a unified organism
Post-release support and maintenance services to ensure your healthcare solutions' continuity and performance, etc.
We offer several models of cooperation, so you can pick the one that align with your budget and specific needs:
The time and material model estimates project scope and initiation based on a defined concept and task scope. This contract type allows for modifications to the project's scope or team effort during the development phase.
The dedicated team is excellent for challenging projects. We assist clients by providing developers to aid with software development flow organization. Clients can monitor tasks, schedules, and teams.
Staff augmentation provides the flexibility to customize your workforce according to your requirements. It enables you to add or reduce staff as required.
The fixed workscope contract includes defined timelines, estimates, and criteria. It is commonly utilized during the Discovery Phase. This option is practical for individuals or companies with limited funds and smaller projects or startups.
The reviews from our clients are very effective proof of our specialists' qualification and the quality of our work. You can get acquainted with the video review from one of our clients to make your own decision.
Video feedback about working experience with us from our client
Think out appointment app build?
Order top-quality appointment software from a team of healthcare experts with 11+ years of expertise
We have made TOP-4 reasons to assure you of the necessity of the scheduling app creation.
Service quality enhancement and profit increase
Performance boosting
Improving patient experience
Showing competitiveness
New patient registration and KYC procedure.
Doctor Search and Profiles.
Appointment Booking.
Calendar Integration.
Reviews and Ratings.
Video Consultations.
Integration with Electronic Medical Records (EMR).
Prescription and Medication Management, etc
Regulatory compliance
Security
Data integration
Video quality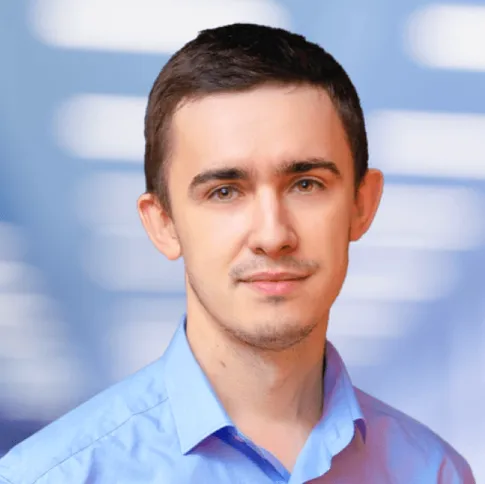 About author
Evgeniy Altynpara is a CTO and member of the Forbes Councils' community of tech professionals. He is an expert in software development and technological entrepreneurship and has 10+years of experience in digital transformation consulting in Healthcare, FinTech, Supply Chain and Logistics
Rate this article!
313 ratings, average: 4.82 out of 5
Give us your impressions about this article
Give us your impressions about this article