How to Create a Shopping App for Your Business: Features, Cost, and More
4243 Views
|
26 Oct 2018
|
17 min
Let's face it: web presence is no longer enough to attract and retain new customers. It happened so that modern consuming habits gave rise to the shopping on-the-go and mobile experience became as important as never. That's the main reason why you should create online store app for your business.
In this article, I'll be covering multiple interrelated topics you need to be aware of to create a shopping app that converts and increases the profitability of your business.
So let's start learning how to make a shopping app of your own!
A Deep Dive Into the Shopping App Market
Before we start discovering different aspects of how to make your own shopping app, an in-depth market analysis is needed. In fact, it's a must for building any kind of digital product. Otherwise, the chances are it won't be able to sustain the competition.
Native Shopping App or Mobile Website?
The first question is what to choose: a native mobile app or mobile website? The answer is both of them.
From one hand, 52% of worldwide internet traffic is generated through smartphones while the rest is distributed between desktops and tablets. This means that if you already own an e-commerce website (and I suppose you do), you have no choice but to adapt the store for mobile devices since most of your customers are likely to do shopping via their smartphones.
On the other hand, if you want to build a shopping app it's more reasonable to focus on native app development. Why? Users simply spend much more time in native apps than mobile browsers.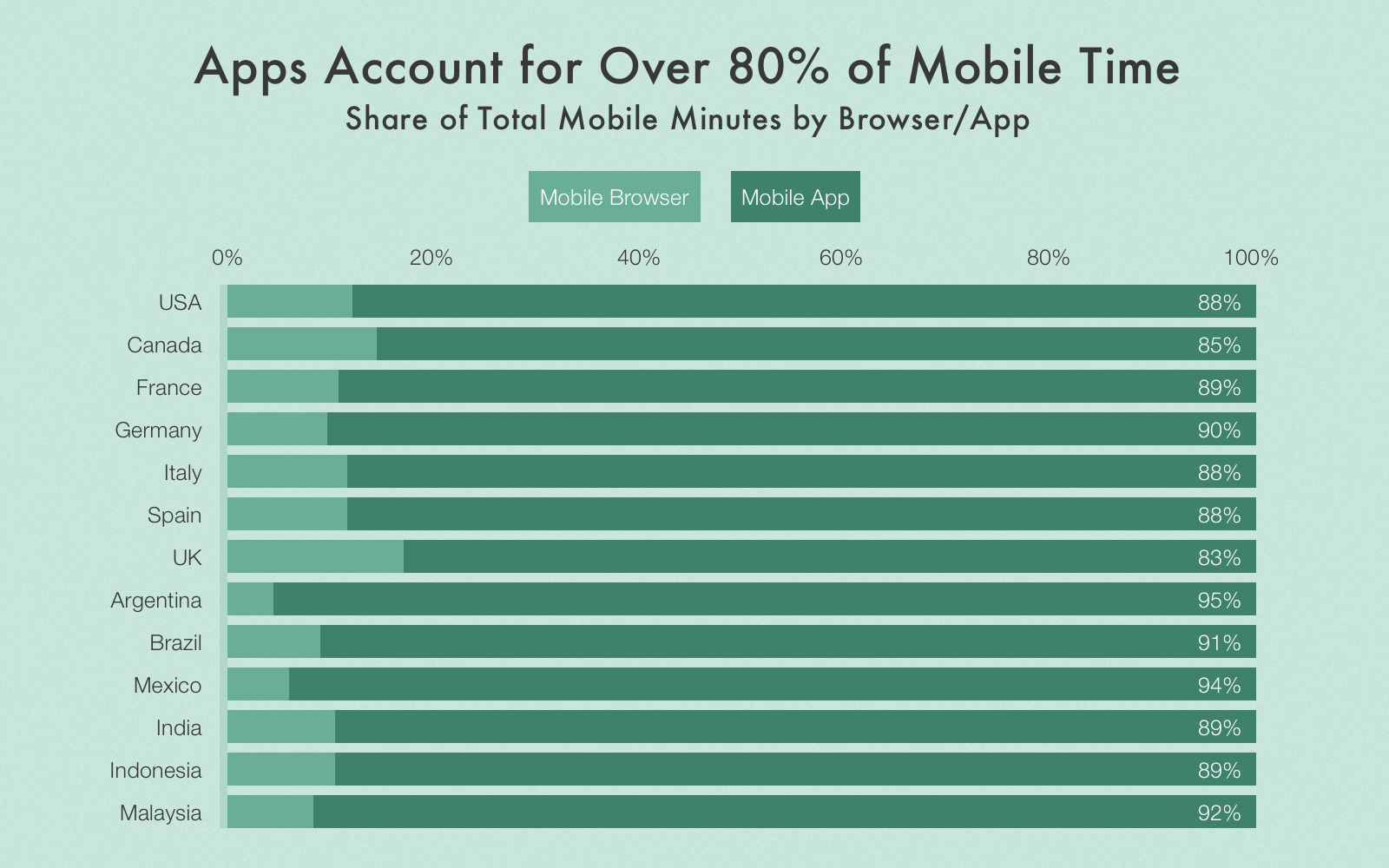 Why create a shopping app for iOS and Android: Statistics on the total mobile minutes by mobile apps and browsers (Source: comScore)
So what decision is it better to take? Adapt your existing website for mobiles and start thinking over how to make an online shopping app for one or every popular mobile platform (Android, iOS). This will give customers an opportunity to choose how to do their shopping and eventually turn into a benefit for your business.
!
Please note that the rest of the article sheds light on creating native shopping app and NOT a mobile website.
Overall State of the Shopping App Market
The entire e-commerce market shows a stable annual growth of 17% on average. At the same time studies suggest that the mobile share of e-commerce is expected to reach 45% of the overall market capacity by the year 2020. It's a huge growth meaning there is plenty of fish in the sea.
It's also a clear sign for you as a business owner to create online shopping app and let your customers do shopping with convenience. Customers get a better shopping experience while you're increasing your revenues. A win-win strategy.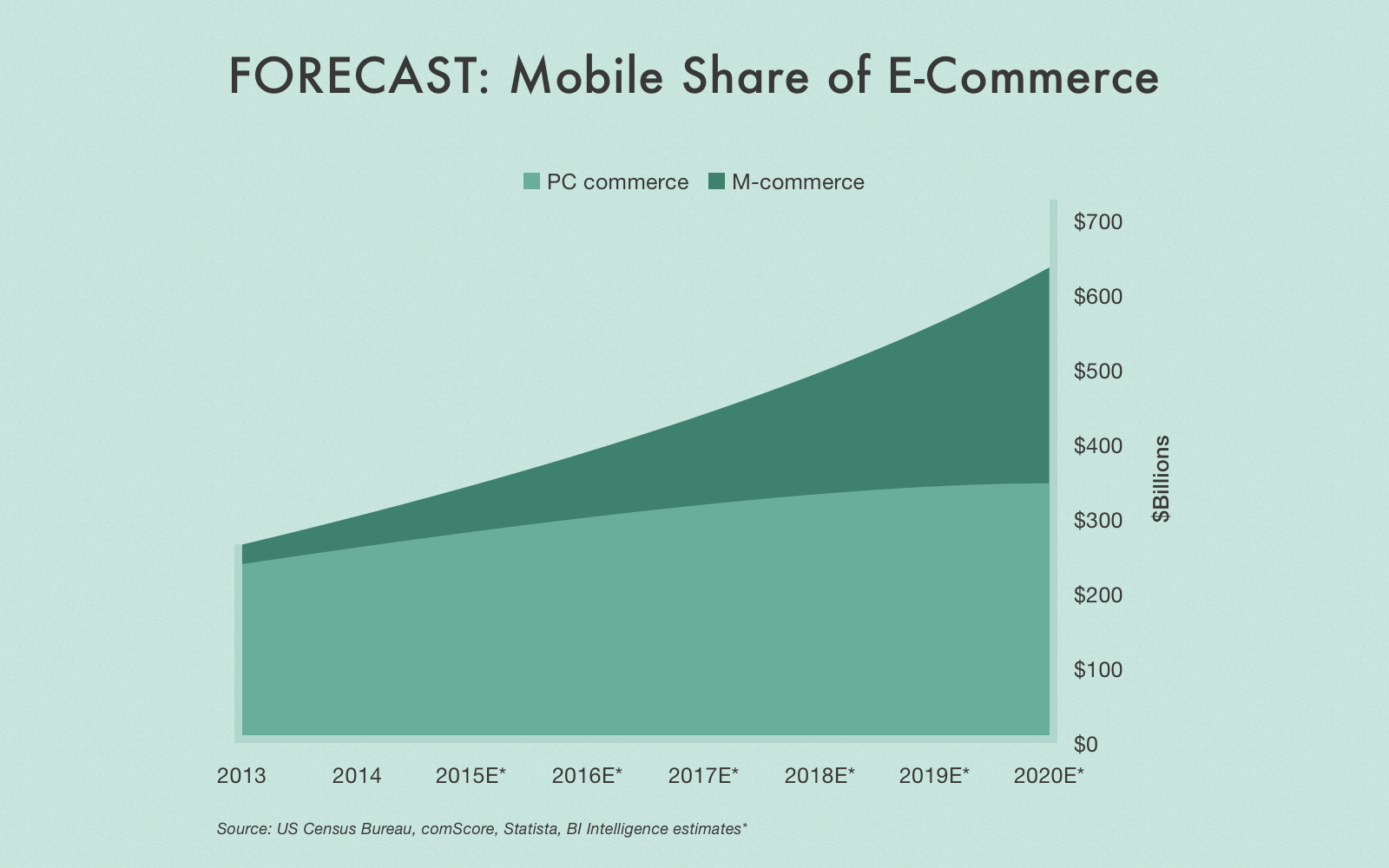 One more reason to create a shopping app: Statistics showing a huge growth in the mobile share of e-commerce
What concerns mobile e-commerce sales, they are growing year over year too. By the end of 2018, they are estimated to be $1.80 trillion while by 2021 they will grow to $3.56 trillion.
Best Online Shopping Apps You May Learn From
Top 12 online shopping apps that you can analyze to make a shopping app of your own
| Top shopping apps | Availability |
| --- | --- |
| Shopstyle | iOS and Android |
| Poshmark | iOS and Android |
| Zara | iOS and Android |
| Amazon | iOS and Android |
| Rent the Runway | iOS |
| ASOS | iOS and Android |
| Etsy | iOS and Android |
| GILT | iOS and Android |
| Shopbop | iOS and Android |
| Spring | iOS |
| The Real Real | iOS and Android |
| Keep Shopping | iOS and Android |
The best way to determine the right strategy on how to build a shopping app for your own store is to consider several existing apps on the market that seem successful enough.
Even though most of the above-mentioned solutions are marketplaces, there are still a lot of things you can learn from them. Analyze their design, how they engage with customers, figure out the way their payment process is arranged, etc.
Such a small competitive analysis might provide you with tons of insightful data you could use for your own shopping app development.
How to Make a Shopping App Starting With a MVP
Follow these steps in the checklist to approach the creation of a shopping app:
Step 1. Analyze the shopping app market.
Step 2. Create a list of 2-5 main competitors.
Step 3. Define the strengths and weaknesses of their shops/shopping apps.
Step

4. Decide on MVP features for the shopping app.

Step 5. Create a development budget.
Step 6. Pick additional shopping features if the budget is enough.
Step 7. Get professionals to consult you.
Step 8. Hire a reliable software development team to create an app for you.
Step 9. Attend regular meetings to deliver on your vision of shopping app.
Step 10. Integrate it with the online shop you own (if applicable).
Step 11. Get a ready and working product.
Step 12. Promote it among your customers.
Step 13. Maintain your shopping app and add new features over time.
!
That's the skeleton you might stick to if you don't know where to start from.
It's high time to dive deeper into the main topic of this article and unveil you how to create an online shopping app. For this, let's find out essential features that can be a good fit for your app's skeleton that's also called a Minimum Valuable Product.
Although this feature may seem obvious for most of you, it hides a plethora of details you should be aware of to make authorization as user-centric as possible.
First
Don't force users to sign up an account immediately. This is pretty irritating and has a bad influence on the overall user experience. It's more beneficial to let users browse your app as guests and ask them to register only at the moment of making a purchase or other target action. Pull&Bears' app is a good example. During the first launch, it offers customers to choose a country and gender to set the app up for displaying relevant clothing. No forced attempts to register.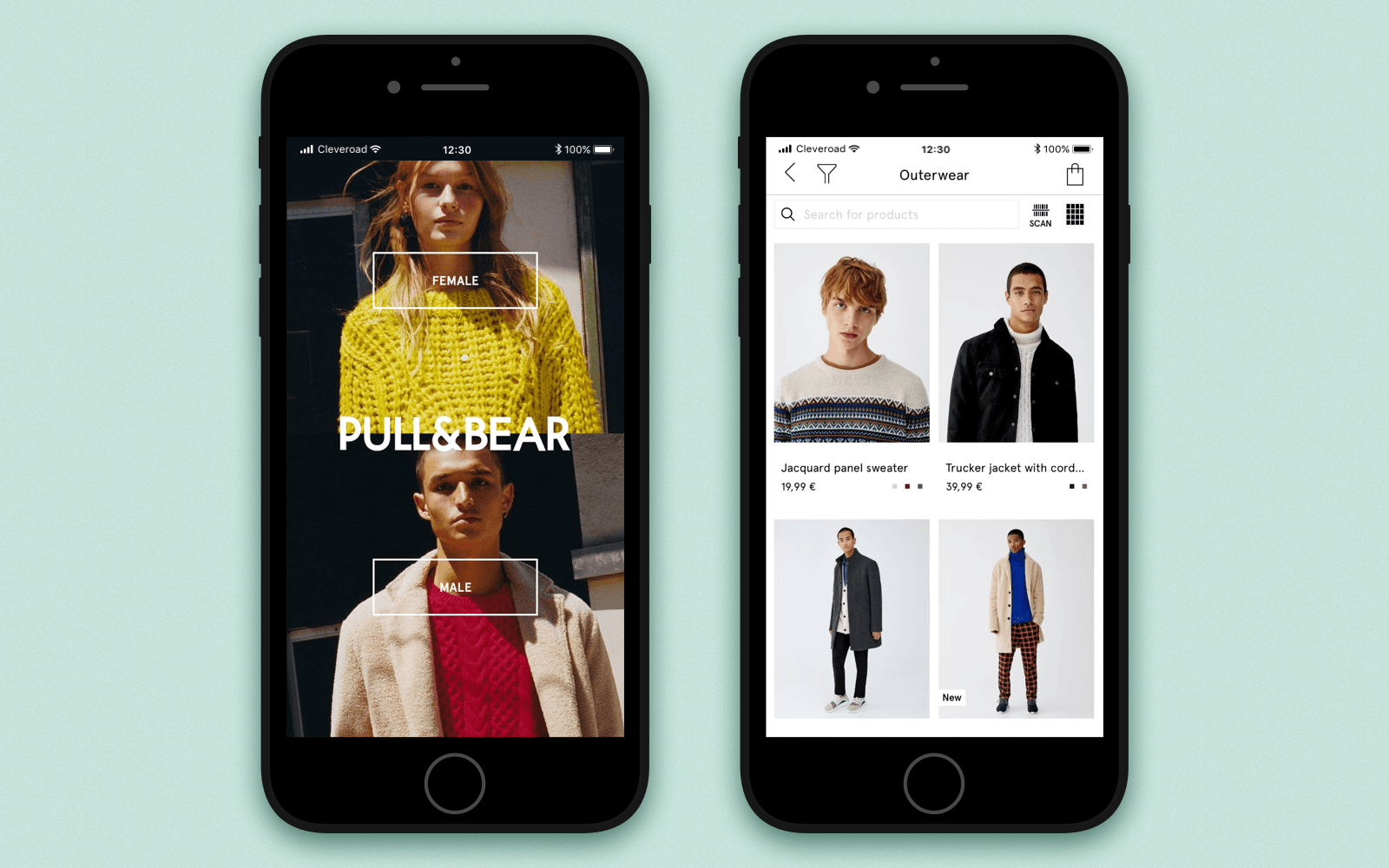 Make online shopping app that doesn't force users to register: Example of Pull&Bear
Second
Such a detail as social login (e.g. via Facebook, Twitter) might give you a small competitive advantage over competitors. ZARA, Pull&Bear, Forever 21, Mango All of them don't provide for this type of registration and ask users to fill in a lengthy form to continue with their shopping experience.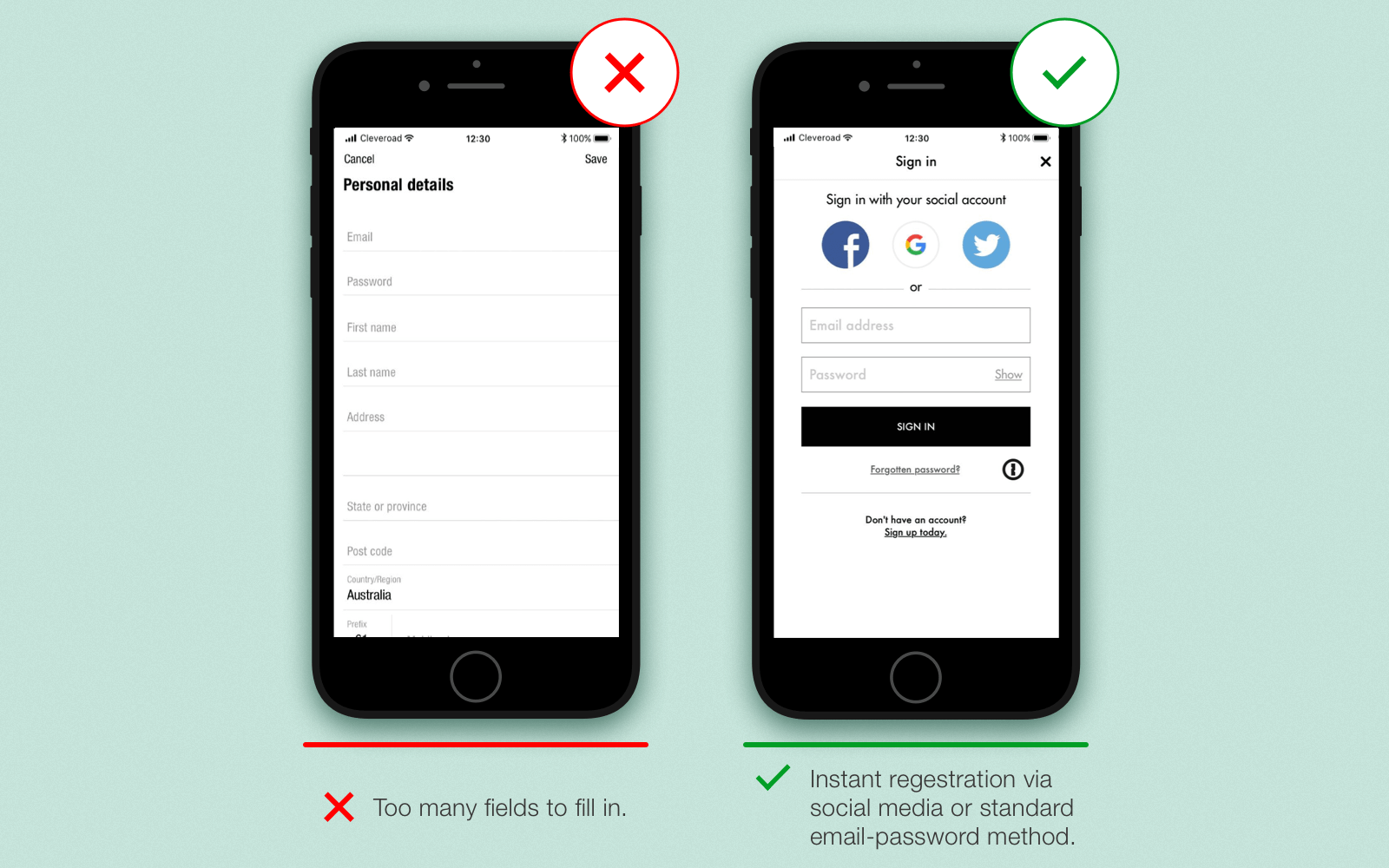 Example of a lengthy registration form vs. simplified registration form in mobile shopping apps
2. Customizable Push Notifications
A push notification is the ultimate way to boost your sales. If you're intended to make an app for your online store, you should think over the opportunity of interacting with customers through push notifications.
What are the use cases for customizable push notifications? There are literally dozens of them:
Remind customers about items left in a cart.
Inform about upcoming sales.
Notify about items on a wish list that just went on sale.
Engage users that haven't run the app for a long time by offering discounts, coupons, and so on.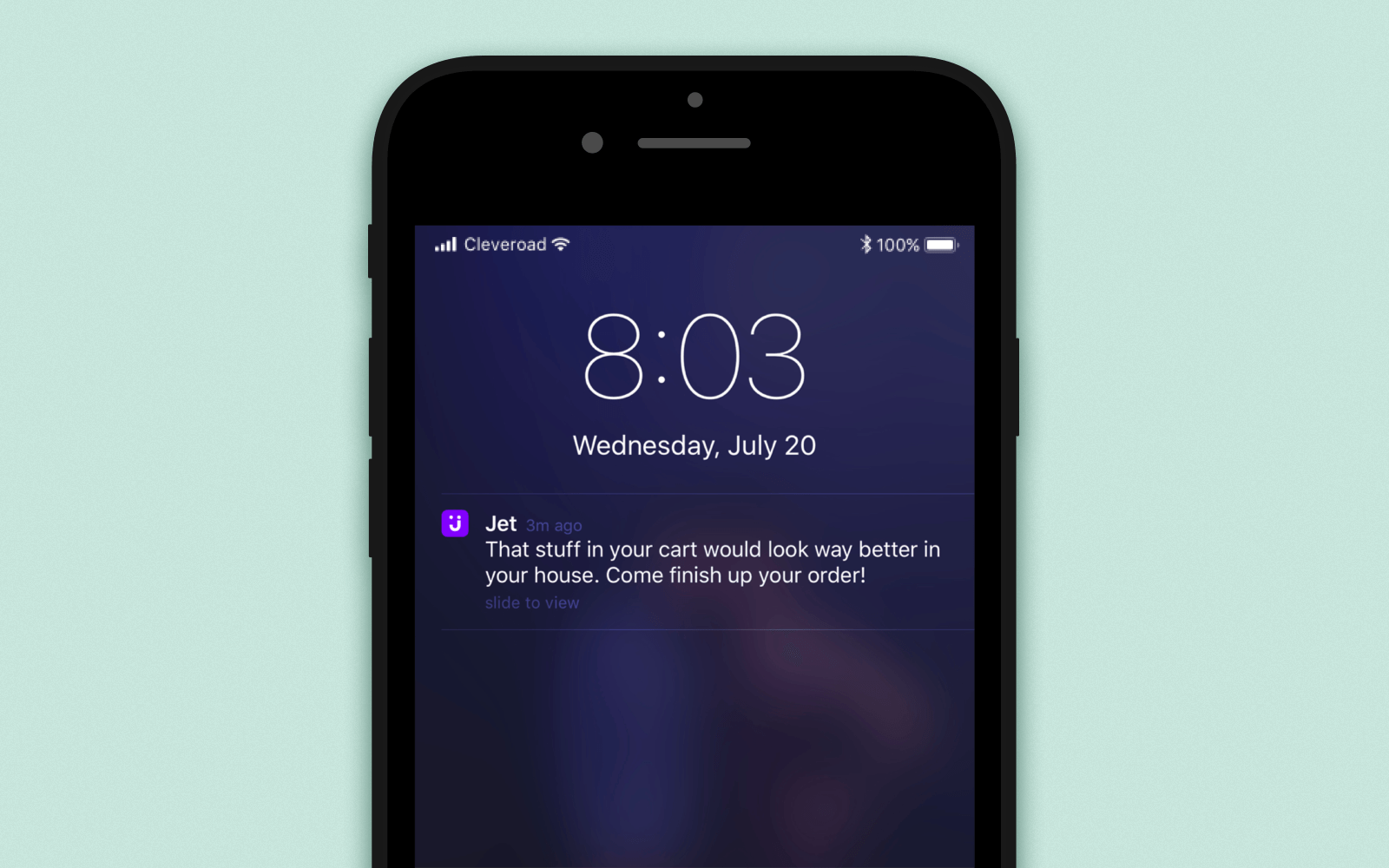 Shopping app design: Flexible and customizable push notifications fitting any purpose
Push notifications are vital for shopping app development since they help both remind customers of your store and drive additional sales.
This is another important aspect to think through during online shopping app design phase. Firstly, make sure it's fast enough and displays user's queries in seconds. Secondly, the in-app search should be flexible so consider adding appropriate filters.
The ASOS company went ahead and implemented the capability of searching by photos. A user uploads a photo with a clothing they would like to purchase and the app is looking for matches.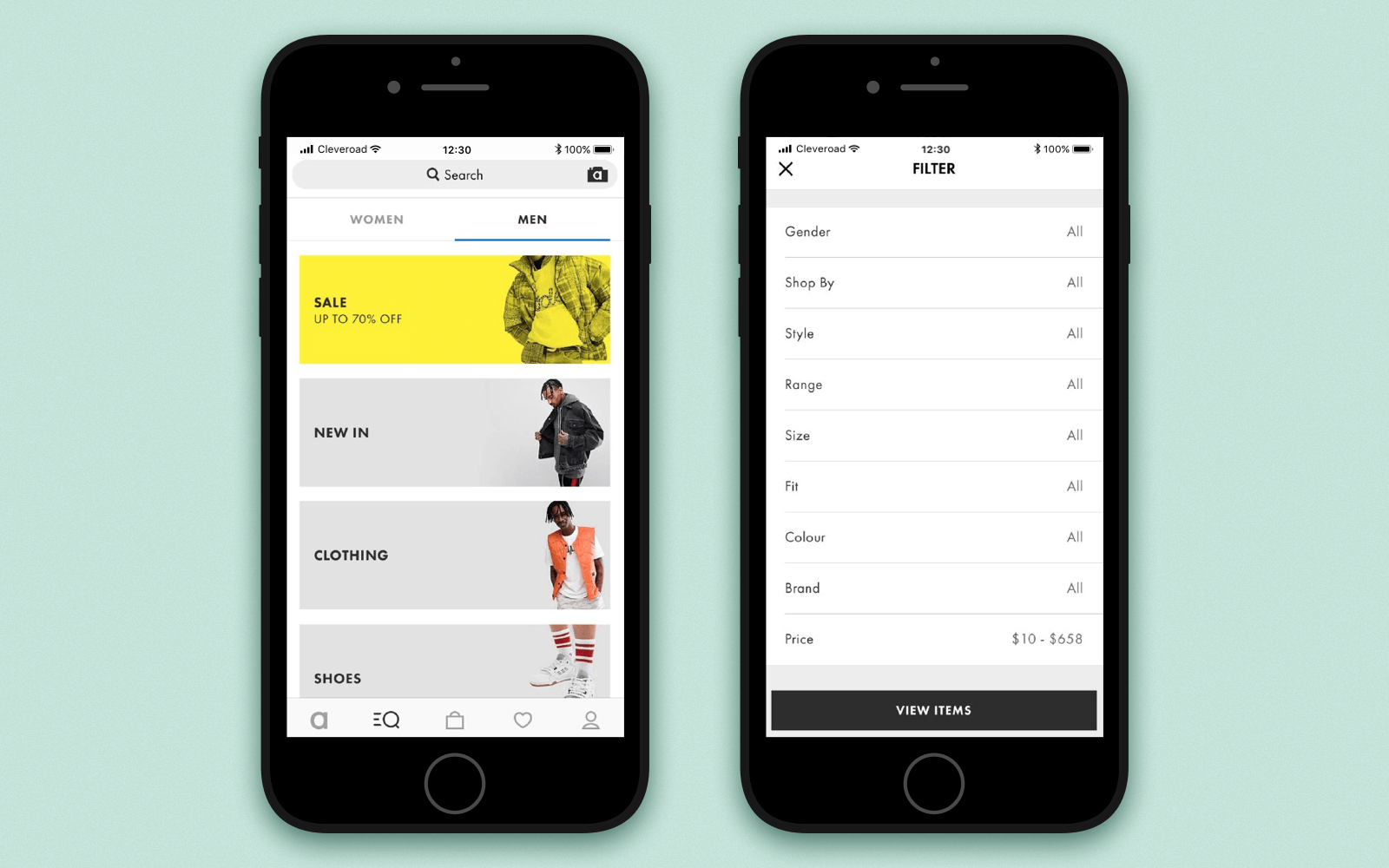 ASOS shopping app search screen with categories, the opportunity to filter search results, and search by photos
Let your customers leave their feedbacks by assessing and reviewing the products they purchased. This will increase the level of trust to your store as well as motivate other users to finalize their decision and purchase an item faster.
Multiple studies show that 71% of customers abandon their carts due to high shipment fees. In order not to exacerbate the situation, the checkout experience has to be fast and contain several payment options (e.g. Apple Pay/Android Pay, PayPal, Visa, MasterCard, etc.)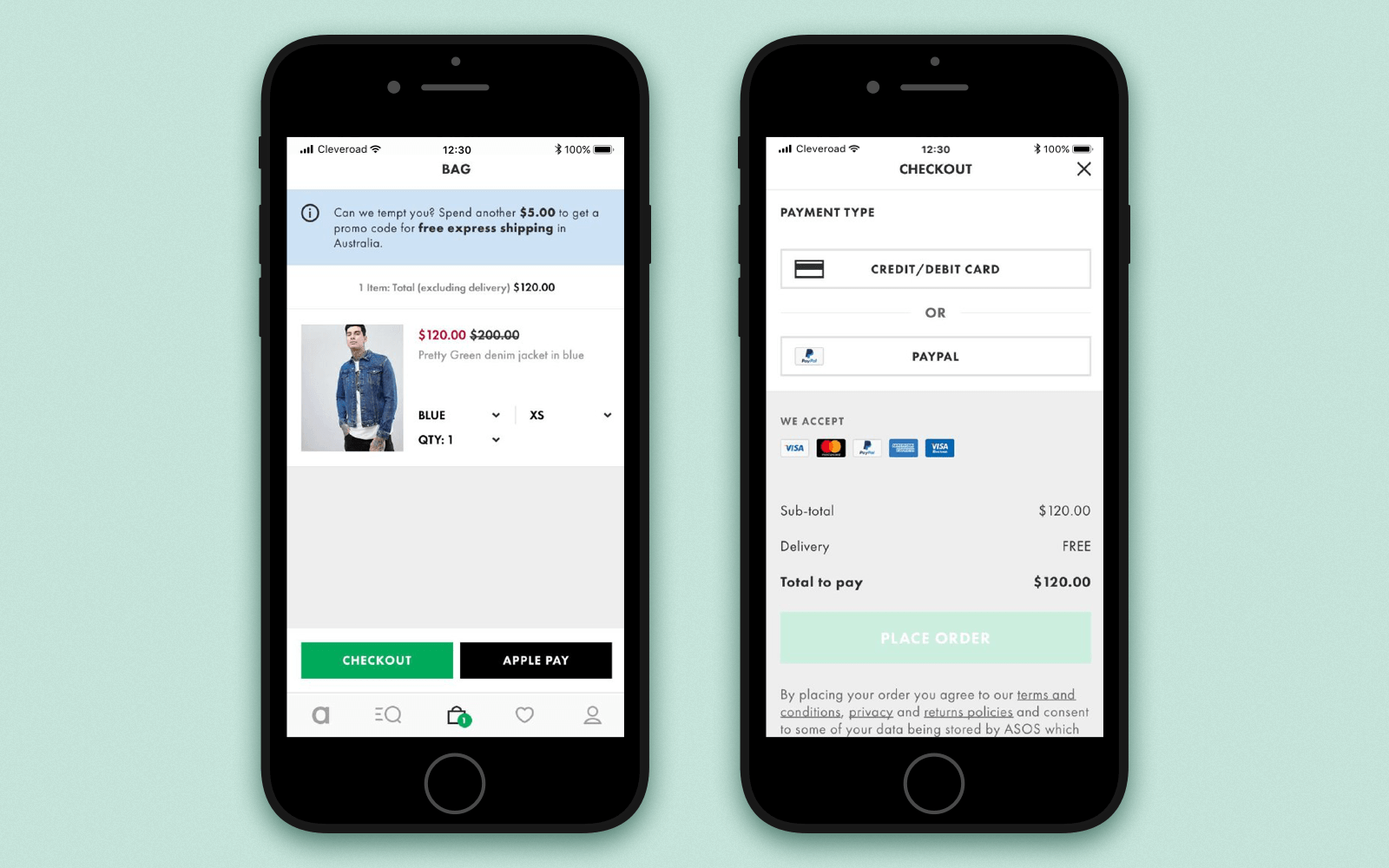 Use various payment methods to create a shopping app and decrease the number of abandoned carts
You can also fight the problem of abandoned carts with the following:
Allow users purchasing goods without registration

. Modern consumers are used to quick shopping on-the-go and such time-consuming actions as entering login and password may scare them off of buying the goods.

Implement sign-in via social media accounts

. If the purchasing process isn't possible without registration, you should at least simplify it. As I've already mentioned, the best way to do so is to allow for signing in via Facebook and other social media platforms.

Illustrate the checkout process step-by-step

. Consumers tend to exercise more patience when they see what happens next and are able to estimate how much more time the process will take. So, show them what steps they're going to go through to finalize their purchase.

Keep it simple

. Don't overload the checkout screen with unnecessary elements and options. This may confuse customers and make them abandon the cart.
6. Reliable Payment Gateway
In fact, a payment gateway is a mediator between your online store and financial institution or system that processes the transaction. Payment gateways deal with extremely sensitive information and so they must be very secure.
How to Integrate a Payment Gateway Into an App?
Software developers at our company prefer working with time-tested payment gateways. PayPal, Stripe, and Braintree are among them. All of them are pretty flexible from the technical point of view and price policy.
When you'll be picking up a team to create online store app, make sure the software developers you intend to hire have a due expertise in architecting the technical background for payment gateway integration.
Good customer support service is important for any industry while e-commerce is in desperate need for it. The inability to ask a question regarding goods, shipment details or whatever can influence negatively on your sales and reputation.
You should at least provide users with such basic information as:
Page with FAQs;
Contact details (email, phone number, social media page);
Dedicated customer support managers.
If you want to create online shopping app that delivers a great experience in terms of customer support, you may consider the following options:
In-app chat

. The vast majority of mobile shoppers prefer communicating with company's representatives without leaving the app. A built-in chat is a perfect problem-solver for this case.

Chatbots

. They are pretty laborious in terms of development but may serve a great replacement of in-app chat or a nice addition to it. Let's say you want to cut expenses on customer support staff: chatbots can work instead of humans in the night time.
Build a shopping app with excellent customer support by means of a built-in live chat: Pull&Bear example
Create Online Store App With More Features
Now you have a food for thoughts concerning a set of features for the MVP. But what about additional features?
If you find that the listed functionality isn't enough for your online shopping app, I've prepared several features you may add to the basic set.
By suggesting customers clothing similar to the one they're looking at right now, you won't only increase engagement and improve the user experience but boost your sales too.
Typically, this feature is AI-based and so it's laborious to implement. However, if you want to create online shopping app delivering a top-notch experience and your budget is above medium -- suggestions are exactly what you need.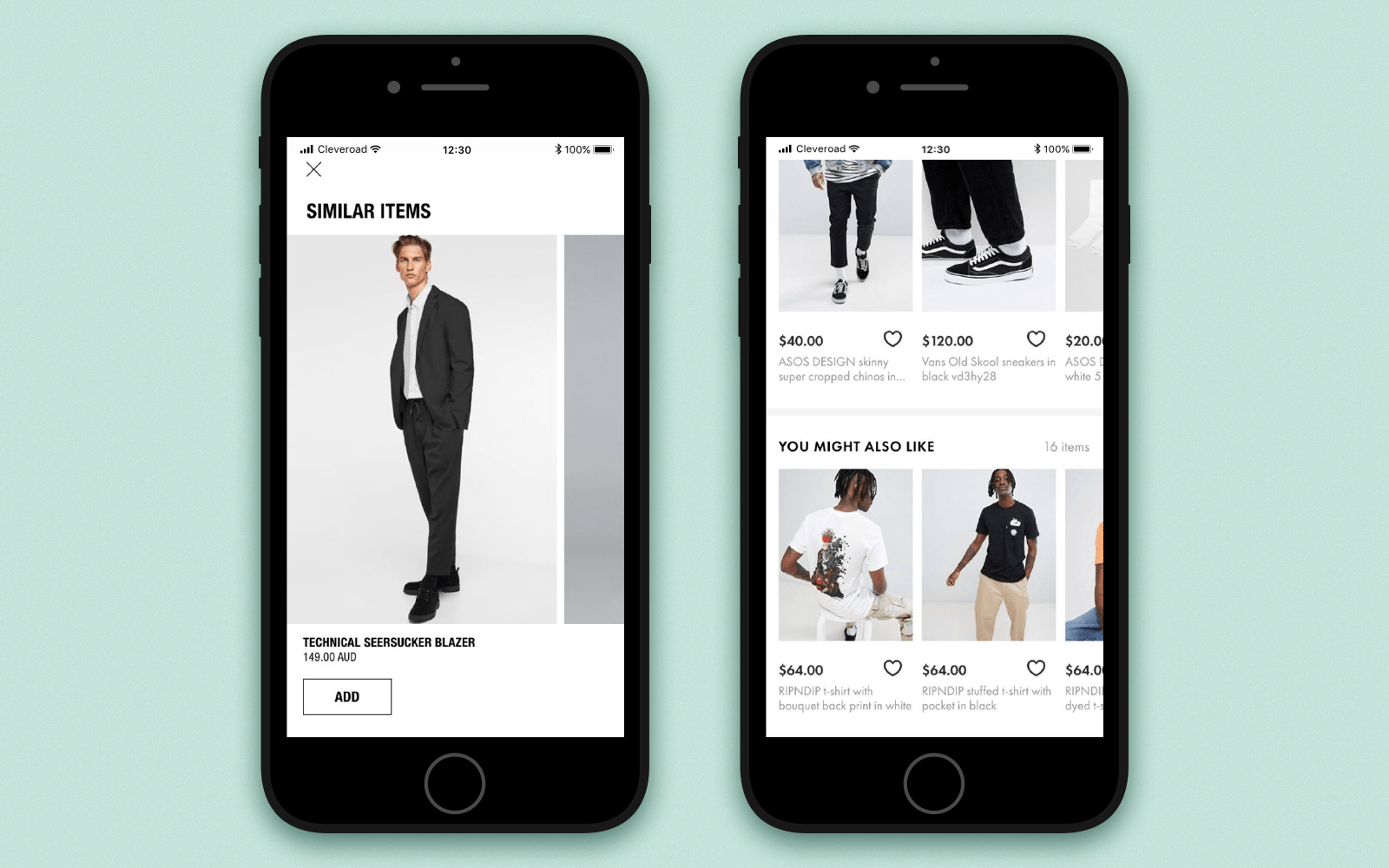 Build a shopping app that suggests users similar items or items they might like: Zara and ASOS examples
If you're wondering how to make a shopping app that converts -- wishlist is the answer to this question. A lot of consumers use mobile applications to browse products on-the-go and purchase items later when they'll have some spare time for this.
Note that since most users are likely to save the viewed items on-the-go, it's necessary to allow them doing it as guests.
While the wishlist feature isn't necessarily a must-have for the basic functionality, it's a perfect fit for the additional feature set.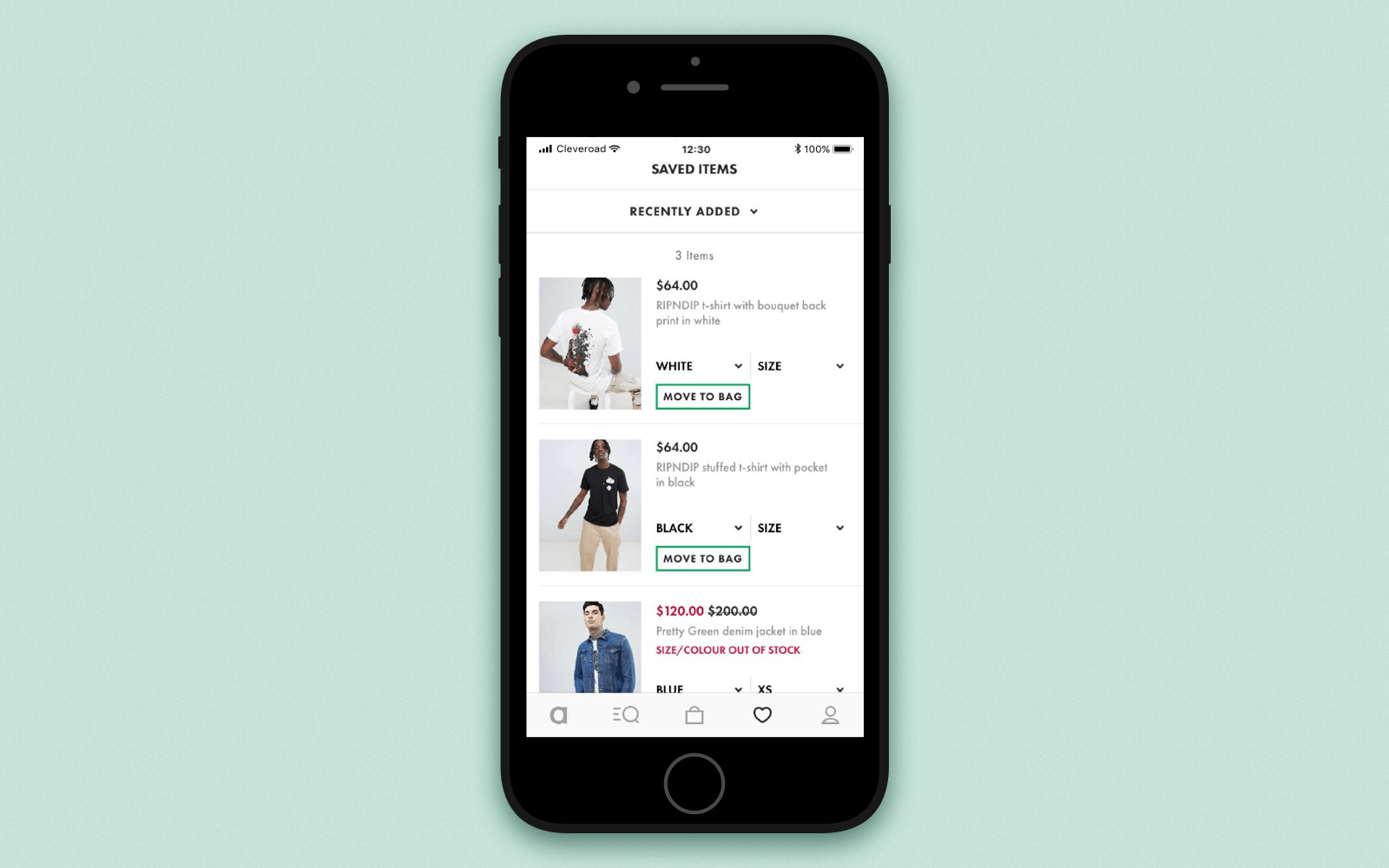 Make a shopping app with saved items or wishlist: ASOS example
Build a shopping app that encourages users to share anything they might want with their friends. Wishlists, items, screenshots, whatever. It's a free advertising for you.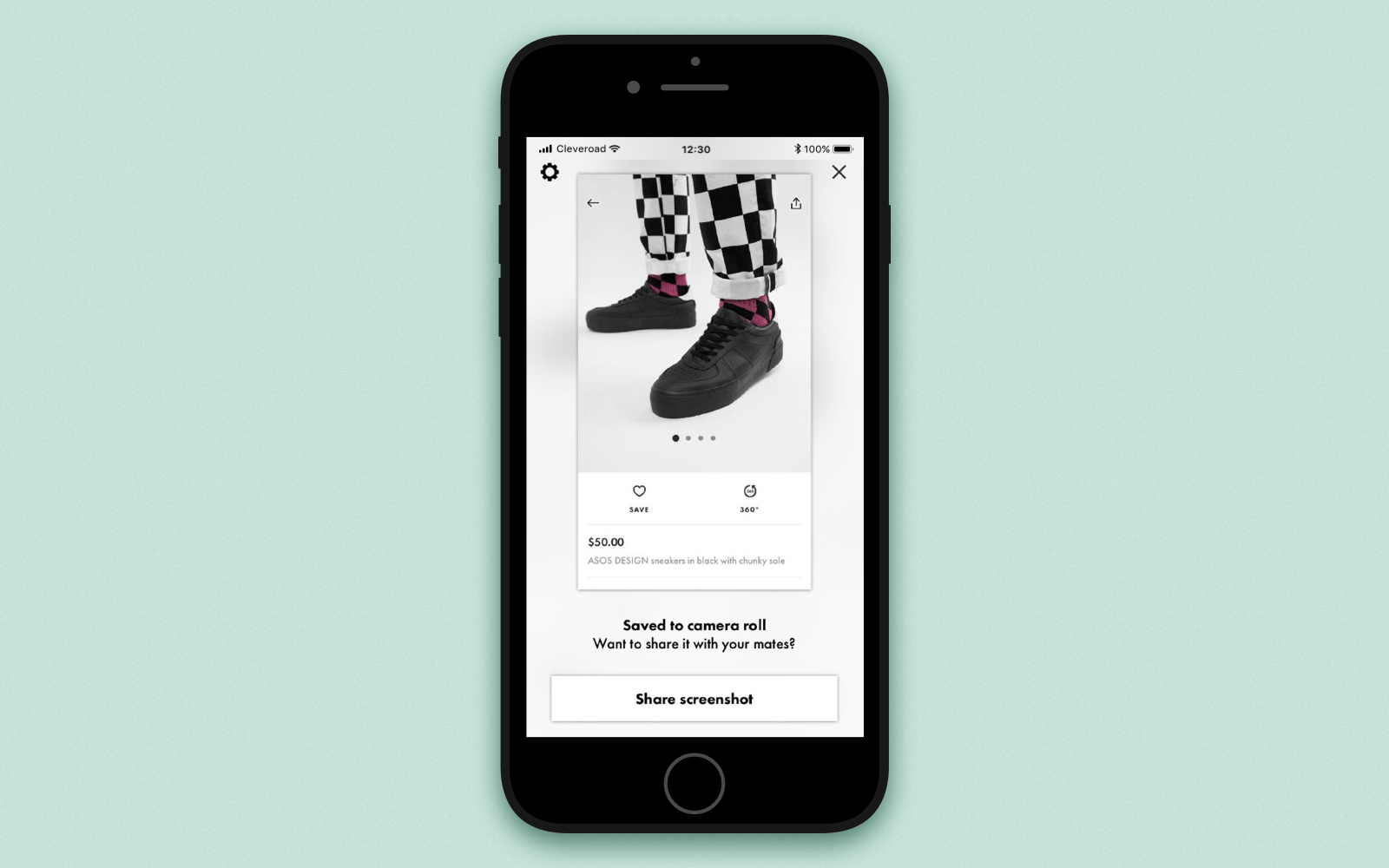 How to create online shopping app encouraging users to share: Example of sharing screenshots taken in the ASOS app
Augmented Reality Shopping
With ARKit 2, Apple made a move towards the e-commerce market. Now, every store owner is able to make online shopping app with the support for previewing goods in 3D and AR.
Depending on your needs, you can hire specialists to build this feature or use a ready-made solution from Shopify that allows creating 3D models with ease.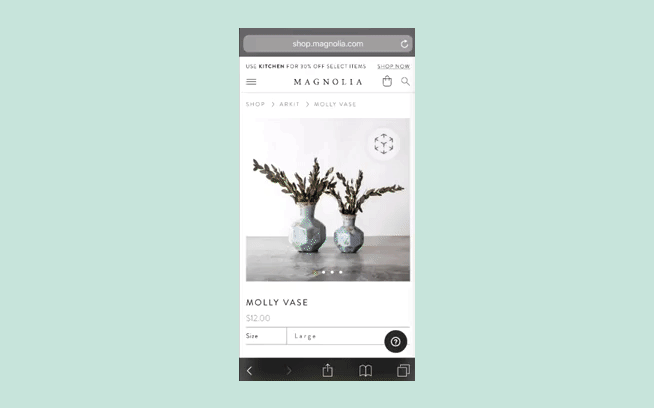 How to build a shopping app that stands out: Example of AR experience based on Shopify AR
If you have offline shops, you might want to allow app users to find one nearby and notify them when the clothing they are looking at will be in stock. This can help you stimulate offline sales and drive more customers to your business.
Basically, it works the same as in the real world but with a virtual assistant instead of a person. Imagine, you are looking for a new pair of jeans. You type a query into the app and it gives you a few different options conforming with your size, preferable style, color, brand, and available budget. The application analyzes the clients' feedback and suggests the best options.
The convenience of such a feature is obvious. The user can automatically perform online purchases, so they now save time and money. The app helps them to keep all purchases organized, monitor orders, keep an eye on prices and consequently pay less.
And this feature can be applied to more than the retail sphere! A personal assistant can offer you a vast range of goods in such areas as music, books, furniture, home appliances, wellness, and beauty.
Personal Assistant can be used in different apps
Shopping App Design Tips and Tricks
Rich functionality isn't enough to conquer the market. A beautiful and convenient UI/UX design is a must to make an app for your online store. That's why I'll list several essential tips and tricks you should follow when designing your shopping app.
Craft a Logo That Stands Out
Just in case some of you have no logo. It's something users see even before they launch the app, so you should make a good first impression as there are no second chances. That's why it's necessary to ensure the logo's recognizability and attractiveness.
Even if you already have the logo, you have to make sure it looks good as an icon on a home screen of mobile devices. If it's not -- ask designers to optimize it or consider redesigning it.
Simplify Navigation and Feeds
In-app navigation has to be simple and clear the same as feeds. It's a bad practice to design complicated navigation interfaces and overload feeds with unnecessary information that users don't actually need when they browse through the goods.
The pictures underneath represent a good practice of designing the clear-cut feed with no unnecessary elements (on the left) and an easy-to-use navigation menu that shows customers all the categories and subcategories they might be looking for (on the right).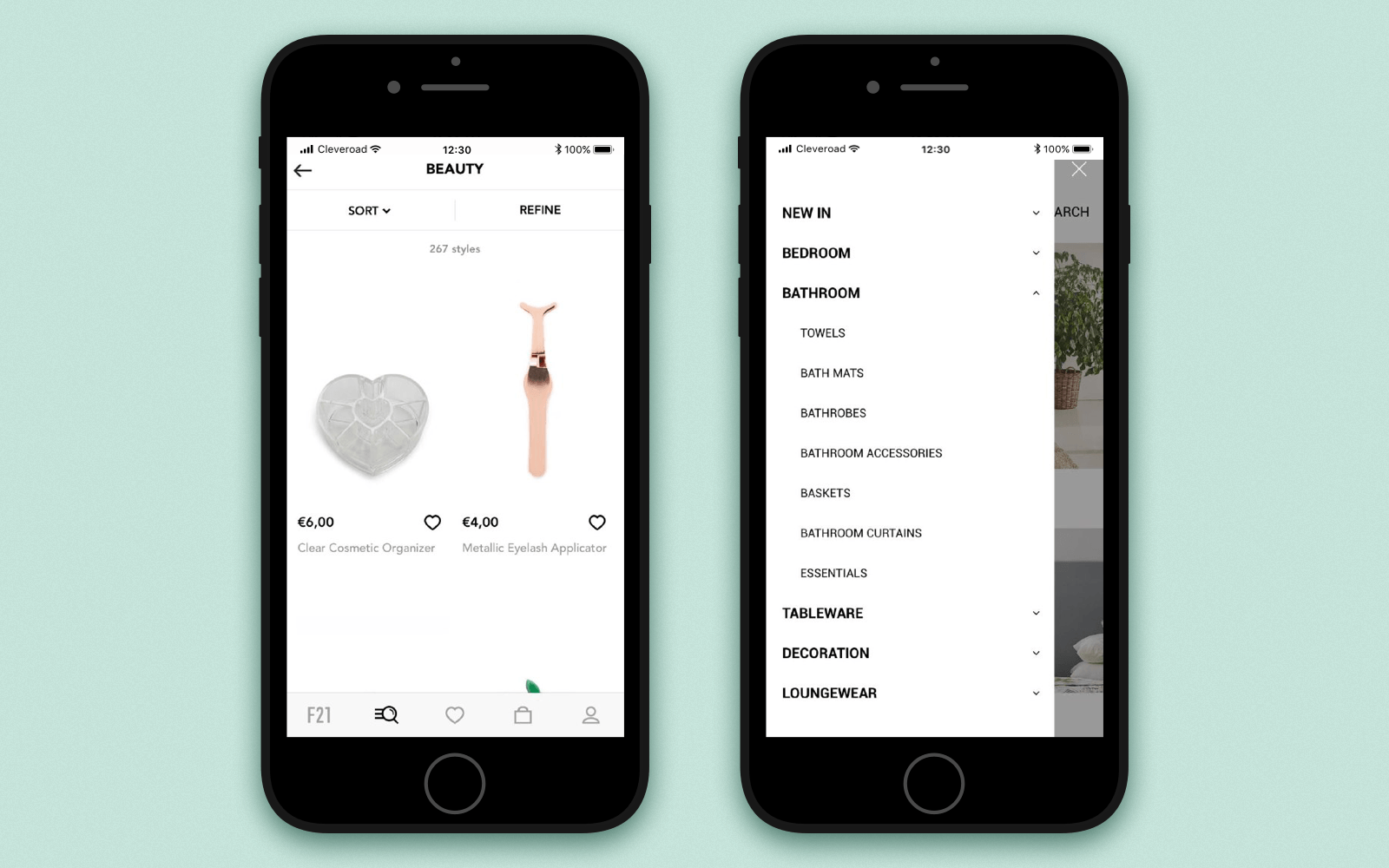 Shopping app design: Example of Forever 21 app's goods feed and Zara Home app's navigation
Make the 'Add to Cart' Button Noticeable
There are already lots of pieces of advice on how to make your own shopping app. The 'Add to cart' button is another small yet important detail you should consider.
First, make sure the button can be easily noticed by customers and they won't have to look all over the screen to understand where it is.
Second, ensure that users can finalize their purchase with ease wherever they are in the app. Shoppers making more than one purchase at a time should clearly see where their cart is during browsing other goods and be able to successfully finalize the purchase. Otherwise, the chances are some of them will abandon the cart.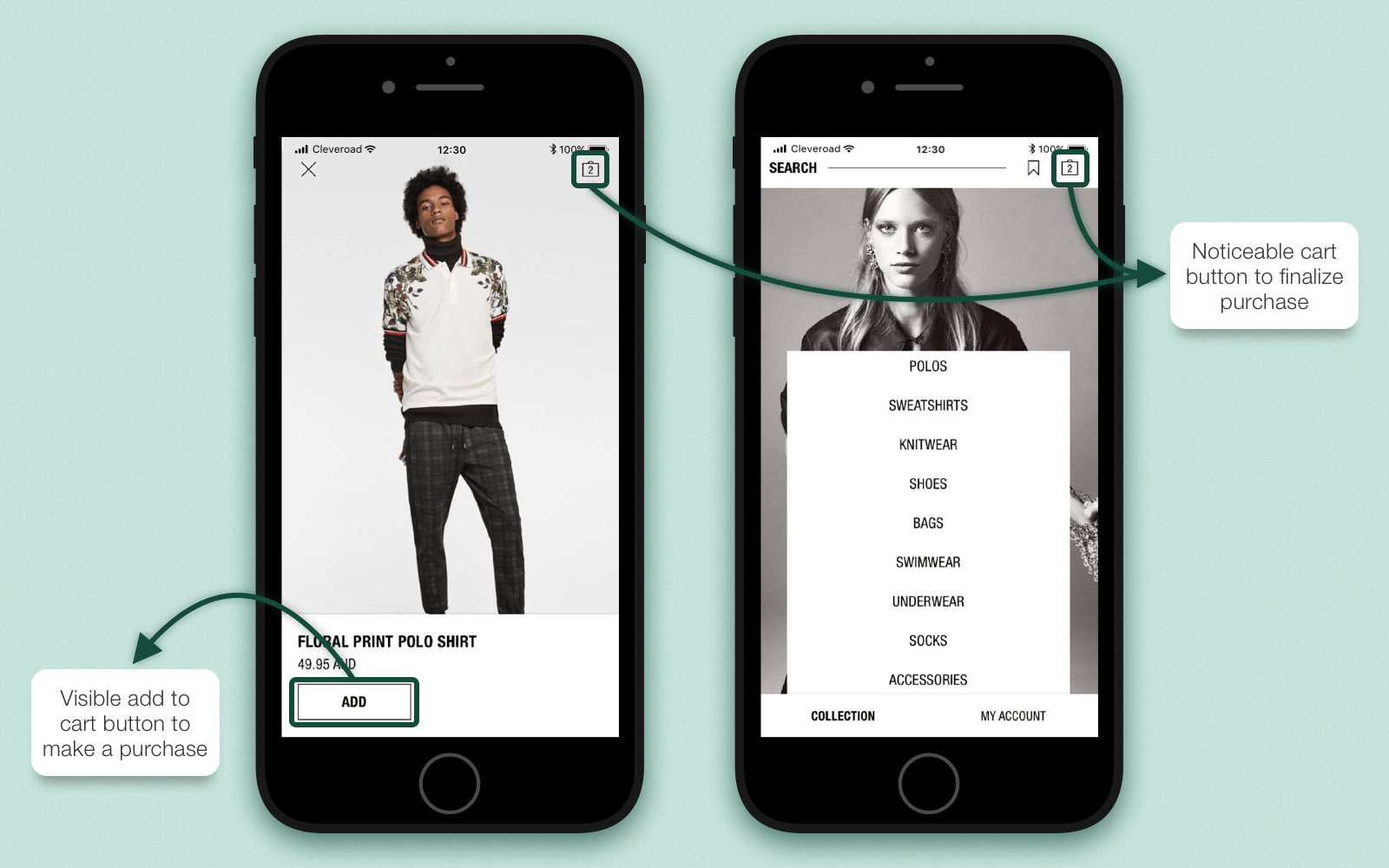 Shopping app design: Example of 'Add to cart' button in shopping app by Zara
The last detail to mention in terms of shopping app design is making the app's layout thumb-friendly. Underneath, you can see how the thumb-friendly zone looks like.
Technologies Required to Create a Shopping App
Let's consider technologies your software development team should be experienced with to know how to make an online shopping app with due functionality.
Suggestions and Improved Search
Machine learning is typically required to implement suggestions that show customers related items or, let's say, pick appropriate accessories for the clothing users are currently browsing.
Besides, ML-powered algorithms are able to improve the search experience by analyzing previous search queries and selecting the most relevant results.
There are several time-tested and reliable payment gateways we can recommend to use:
PayPal
Stripe
Braintree
Dwolla
Authorize.net
Keep in mind that all of them have different fee policies and technical capabilities. If you want to learn which one is a perfect pick for your project -- better consult with specialists.
Customized Push Notifications
To create online store app with customizable push or email notifications the following services can be used:
Batch
Sparkpost
OneSignal
Amazon SNS
To implement a built-in chat for real-time communication between clients and the company's representatives, software developers can make use of the following tools:
Socket.io
Fabric.io
Apple Push Notification Service (APNS)
Google Cloud Messaging (GCM)
To create a shopping app that's able to track user location and show the nearest offline shops (if any) the following technologies can be used:
MapKit framework for iOS
Google Maps SDK for Android
!
The scope of technologies may vary depending on your needs and technical requirements.
The Time and Cost to Build a Shopping App
Approximate time required to create a shopping app for one platform
| Feature | Mobile app dev time | Back-end dev time |
| --- | --- | --- |
| Registration via email & password | 13 hours | 5 hours |
| Login screen (forgot password, log out, etc.) | 19 hours | 13 hours |
| Main screen (list of products, popular products, last purchases, add to cart, search screen, etc.) | 44 hours | 49 hours |
| Catalog screen | 20 hours | 9 hours |
| Product details screen (share product, add review/rate, etc.) | 38 hours | 19 hours |
| Cart screen (purchase item, checkout screen, checkout by PayPal/credit card, etc.) | 107 hours | 83 hours |
| Profile screen (edit, list of orders, repeat order, etc.) | 54 hours | 27 hours |
| Help screen (feedback form, terms and conditions, etc.) | 18 hours | 8 hours |
| Push notifications | 14 hours | 14 hours |
| Total hours | 327 hours to build an app for one platform | 227 hours to build a back-end |
The calculations above are approximate and based on building a mobile app for one platform. The features listed aren't necessarily taken from the article and added to calculate the cost of a full-fledged shopping app that's able to perform it's main goals: sale and convert users.
!
Note that these estimations are added for acquaintance only and can't be considered as the final price/scope of the project.
If you want to learn the cost of building a shopping app in dollar equivalent, you should multiply those numbers by an hourly rate of your software developers.
Taking our company's hourly rate ($50/h) as an example, you will get the following price to create a shopping app:
Approximate cost required to build a shopping app for one platform
| field1 | Time | Cost |
| --- | --- | --- |
| Mobile app dev (one platform) | 327 hours | $16,350 |
| Back-end dev | 227 hours | $11,350 |
| UI/UX design (one platform) | 114 hours | $5,750 |
| Basic admin panel | 355 hours | $17,750 |
| Total (iOS / Android) | 1024 hours | $51,200 |
| Total (iOS + Android) | 1465 hours | $73,250 |
iOS engineer
Android engineer
Back-end engineer
Quality Assurance engineer
UI/UX designer
Project Manager
Contact our managers to get a more descriptive version of the estimation, request the estimate of features described in the article, and discuss your own project details.
Also, check our video devoted to the cost of software development services in Europe.
The Cost of Software Development in Europe
Mobile apps are gradually becoming a must for retail business to successfully compete with other players on the market.
However, the shopping app cannot be built overnight. The answer to the question 'how to make a shopping app' is a matter of complex analysis of your business, infrastructure, and requirements.
Looking for a reliable software development company to build a shopping app for you? Our software engineering team has an extensive expertise in building shopping apps for customers from all over the globe and businesses from small to enterprise level. Drop us a line to learn cooperation details, ask your questions and get a FREE, custom project estimate.
Rate this article!