17 Best Real Estate APIs and Other Tools to Help You Build Great Products
The real estate field is one of the most rapidly growing ones. Tech startups have changed the way consumers used to buy and sell a property. Their influence is obvious, 51% of homebuyers in 2017 purchased the house they found on the internet. What does it mean for developers? As competition is on the rise, you have to be ready for delivering more complicated products in tight time frames using real estate data APIs and other related tools.
Real estate APIs come to the rescue to save your time and help you meet those deadlines! In this article, we list the most useful of them and shed some light on how to deal with real estate databases.
It All Begins With Data
Before we start talking about real estate APIs, we should mention that much of the article rather covers the US housing market, but it's still useful for software developers working on real estate projects with the focus on any country in the world.
Where Does Real Estate Data Come From?
The data source is the first thing you should consider before you start developing a product. As any real estate application or website demands certain kind of information ranging from an available property for sale/rent to neighborhood details, you should definitely answer the question 'Where can I get that data from?' We're here to help you, though. And the answer depends on how you or your client is going to distribute the product: locally or worldwide.
Such US-based company as Zillow gets the data from various feed sources which you can see below:
Listings manually posted by users and marked as 'For sale by owner'.
Listings manually posted by agents.
Zillow gets listings directly from an MLS in some cases.
There are some more variants when listings are sent directly to Zillow by:
Partners;
Brokers;
Agents;
Third-party 'feed' providers (as the company calls them).
Let's stop on MLS for now. This acronym stands for Multiple Listing Service. It's used by a group of real estate brokers to see each other's listings of available properties for sale. Brokers benefit from sharing this information as both parties get not only the commission but important data as well.
As you understand, MLSs are a valuable source of information. With their help, the app or website you develop will have something to offer to customers right off the launch. The trick is, they can be quite hard to access even though some MLSs allow big real estate portals, like aforementioned Zillow, republishing their feeds. Luckily, we've found several real estate listings APIs that may help you address this problem and will discuss them a bit later.
What about other countries except for the US? You're likely to face the same options for accessing the real property data. Additionally, you might have to work with legal institutions in some regions.
However, MLSs seem the most convenient option as they are present in some European countries like Germany (e.g. Immowelt, Immobilienscout 24).
How to Integrate MLS Database Into Your Product?
To implement an exchange of data between your product and MLS, you first have to set up the Internet Data Exchange. There are several ways to do so:
#1
Use the FTP protocol. This is a very inefficient approach which requires transferring complete datasets. In other words, the entire set of data has to be downloaded and then compared with a local duplicate to generate a certain query.
#2
Use the Real Estate Transaction Standard. This is a framework created to facilitate the exchange of MLS data. In contrary to FTP, REST is more effective and convenient solution that comes with a variety of open-source tools supporting various languages which is definitely a plus for software developers.
#3
Use third-party services like real estate MLS APIs and plugins that can help your product normally interact with listing services. As we'll discuss real estate APIs a bit later, here are a couple of WordPress plugins you can use for a website: WordPress IDX ($39-$69 a month + $99 for a setup), IDX Broker ($39-$69 a month + $99 for a setup).
How MLS integration works
Remember, you'll need a powerful server-side for your software solution to manage this data and provide stable work. That's why consider hiring a dedicated software developer to your team in case you don't have one yet.
Best Real Estate APIs for Software Developers
The following real estate APIs and tools can help you solve most of the technical problems:
Rets.ly
SimplyRETS
Rets Rabbit
Property API
Zillow
Realtors Property Resource API
Data.gov
Zillow Neighborhood Boundaries
Area API
Points of Interest API
Community API
Walk Score
SchoolDigger API
Google Maps API
Yelp Fusion
Zillow Mortgages APIs
DataNerds Property API
Hopefully, we've sorted out all this data mess. It's time to provide you with a more detailed description of this list of real estate APIs. We've divided them into categories so that you could easily navigate through them using the Content menu on the right (for desktops) or jumping between the headlines.

Real Property Information and Listings
This section is devoted to real estate MLS listings API that can help you get detailed information about properties as well as cope with the listings.
Rets.ly (Bridge API)
This startup was acquired by Zillow and united with the company's another acquisition Bridge Interactive. The platform serves as a middleware allowing software developers to access a myriad of MLS listings and the public records containing real estate data. With the help of this real estate listing API, software developers can access and work with normalized data which is delivered through RESTful API.
In addition, this real estate API facilitates dealing with licenses for both software developers and data providers due to a standardized approach.
SimplyRETS
Pricing: $49-199 per month
This platform is focused on both agents and software developers. It helps build real estate apps and websites by using listing and market data from an MLS. It has the support for the following languages:
This RESTful real estate MLS listings API is designed to simplify manipulations with real estate data and speed up the software development process. It also supports a variety of queries to provide smoother work with any kind of searches, be it a basic or advanced one.
Rets Rabbit
Pricing: $150-699 per month
Rets Rabbit real estate listings API takes care of importing photos and listings from ListHub or REST. All the data will be stored on the Rets Rabbit's database and cloud image server. This way, you'll be able to connect your app or website to the REST API provided by this solution and integrate there all the data you need.
So, Rets Rabbit is a kind of real estate cloud MLS API that lets you import and store all the data on their servers.
How Rets Rabbit MLS real estate API works
Property API
This real estate API gives access to nearly 150 millions of real estate records. This massive dataset can be used to implement different experiences from landing pages to complex apps and websites.
Property API provides software developers with details on various real properties, home valuation, sales history, and school data. For instance, this property data API can provide not only basic property information but, in some cases, specify materials a roof or walls are made of.
Zillow
This real estate giant not only grabs 70% of online property searches but gives software developers an access to a fleet of real estate APIs for various use cases.
We've already mentioned the Restly startup company that was acquired by Zillow. However, Zillow also has a variety of commercial real estate APIs developed in-house:
GetDeepSearch-Results API
This real estate API helps software developers implement a property search by address and provides other data like size, year of construction, details on the last sale, and more.
GetDeepComps API
With this API, software developers can get a list of recent sales for a certain property.
GetUpdatedPropertyDetails API
This real estate API returns all the editings that were made by the agent or owner of a property.
Realtors Property Resource API
This database stores an impressive amount of data related to real estate all over the US. The creation of comparable properties and adding more property details are among dozens of use cases for this solution. RPR real estate data API uses XML and SOAP for requests and responses.
The main drawback is that the full documentation for this real estate API isn't available for the general public.
Data.gov
It is not exactly API but a portal where you can find tons of sources which may be useful for your project (including various APIs of course). Data.gov contains only publicly available US government data. There are over 7,000 real-estate-related datasets like demographics, crime data, and much more.
If it's not enough and your project demands more precise information by cities, then you'll be glad to know that almost all the cities in the USA have their own data portals where you may find more details. For instance, here is the open data portal of New York City.
Just type your request in the search line and make use of filers if it's necessary.
The way to find more useful real estate APIs on Data.gov
Neighborhood and Related Data
For this section, we've selected various real estate data APIs that can help you deliver neighborhood and other related data to your application or website. It can be demographics data, education data, crime data, and more.
Zillow Neighborhood Boundaries
Pricing: Free (distributed under the Creative Common license)
This is not an API but a database containing more than 17,000 neighborhood boundaries of the largest US cities. Any software developer can use this database and contribute to it's development.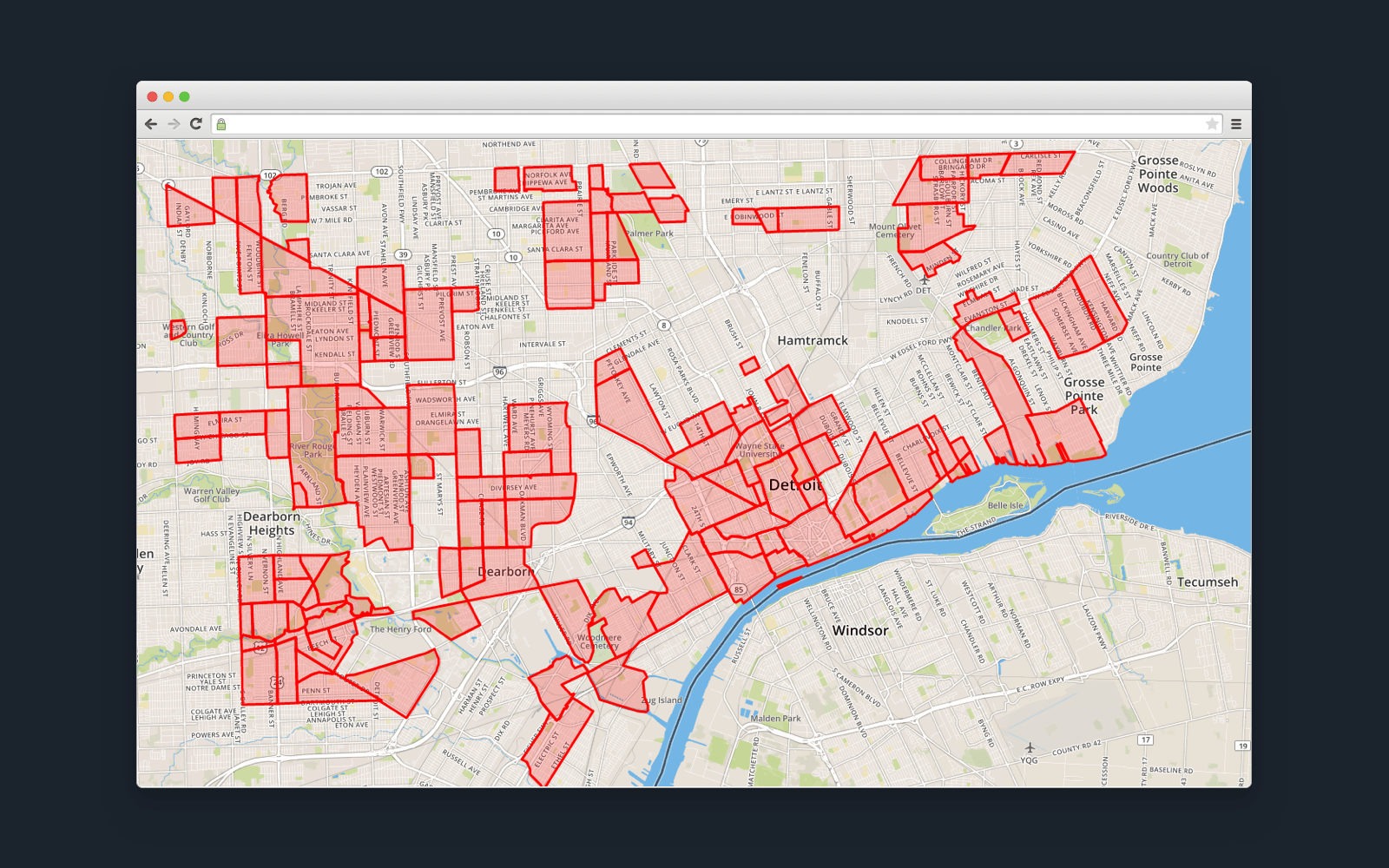 That's how Zillow's neighborhood boundaries look like
Area API
The Area real estate data API is intended to help software developers deal with the boundary data. What does it mean? Customers often look for a property within a specific region. Correspondingly, it's important to define the boundaries of every region and keep them up to date.
That's what this real estate API is designed for! It lets you easily provide your real estate app or website with the well-defined and up-to-date boundaries.
Points of Interest API
POI real estate data API lets your users understand what businesses function in the area they're moving to. This way, you can give them such valuable information as the number of supermarkets or coffee shops nearby.
Community API
This is an extremely useful API for real estate as it helps you build community insights for a certain region. With it's help, you can deliver such local data as income, education, crime, etc.
Walk Score
Pricing: Free to $100+ per month
The Walk Score real estate API uses a RESTful interface. With it's help, software developers can implement such features as travel time from a property to nearby facilities, provide details on local public transport, neighborhood, and more. The API can be used by both web and mobile developers.
SchoolDigger API
Pricing: Free to $399 per month
This real estate data API opens real estate software developers an access to K-12 data collected from more than 123,000 schools. The data includes ranking, demographics, test score, etc.
Google Maps API
Pricing: $200 free monthly credit
It's a powerful API from Google that powers hundreds of thousands of apps and websites all over the world. Google Maps API works perfectly with both mobile devices and browsers. In addition, it comes with localization for more than 50 languages as well as region localization and geocoding. As for enterprise software developers, they have an opportunity to utilize this API within the intranet.
Yelp Fusion
This RESTful API gives software developers access to millions of user reviews for businesses from over 32 countries. This means you can provide your end users with more information for a particular region they intend to buy a house in.
Yelp Fusion can be a good alternative to the US-focused services with similar functionality as it works outside of United States as well.
Mortgage Rates and Property Valuation
One of the most vital parts for many real estate project is property valuation. We've found several real estate APIs that will ease the implementation of mortgage calculators and property valuation features for you.
Zillow Mortgages APIs
Well, again Zillow on the stage! This is another pack of APIs that's designed to help real estate software developers integrate Zillow's tools into their products. For this purpose, the company has developed four different APIs with different functionality.
However, there is one catch. If you want to use these real estate APIs you first have to become a Zillow partner.
You might also find useful the following solutions from Zillow API Network to cope with property valuations and mortgages:
DataNerds Property API
This is a feature-rich platform providing software developers with data of different type. What concerns property valuation, DataNerds enables access to such data as:
Ownership history
Sales history
Tax history
Also, the company plans to launch it's own Automated valuation model (AVM) powered by machine learning.
Apart from that, software developers can find different area information (e.g. demographics, crime) on the DataNerds platform.
Wrapping Up
It was the list of real estate APIs. We hope you've found something worthy for your project. You can subscribe to our newsletter to get more articles like this right to your inbox. No spam, just one letter a week with the content corresponding to your interests.
Looking for a tech partner?
Our developers can help you integrate real estate APIs or assist with product development.
Before you go, you may also check our video that's dedicated to code repositories and the matter of choosing the most suitable host.
Top 3 Source Code Repository Hosts
Frequently Asked Questions
To exchange data between your product and MLS, set up the Internet Data Exchange. Here's how:
Use the FTP protocol.
Use the Real Estate Transaction Standard.
Use third-party services like real estate MLS APIs and plugins like WordPress IDX or IDX Broker.
You have to choose between three Zillow APIs and implement it.
GetDeepSearch-Results API. Offers property search by address, provides data like size, year of construction, details on the last sale, and more.
GetDeepComps API. Helps to get a list of recent sales for a specific property.
GetUpdatedPropertyDetails API. Returns all the editings made by the agent or owner.
API is a set of tools used to transfer lists of available property from an MLS to an agent software.
The best option is to use MLS (Multiple Listing Service). It's used by real estate brokers to see each other's listings. Brokers benefit from sharing this information as both parties get not only the commission but important data too.
If you have little to no tech background, it's better to contact a tech vendor. Drop us a line if you need help with implementing an API to your software.
The most popular real estate APIs are:
Rets.ly
SimplyRETS
Rets Rabbit
Property API
Zillow
Realtors Property Resource API
Data.gov
Rate this article!
20255 ratings, average: 4.96 out of 5
Give us your impressions about this article
Give us your impressions about this article
Josh Fraser
12.05.2021 at 06:54
Zillow API is shut down, Data Nerds is now Estated, and the Property API is not live either! This could use an update but great blog!