What Are Telematics Systems and How They Can Help Your Fleet?
Picture this: transportation businesses get a vast amount of data from their fleet that helps them track the condition of their vehicles. It is possible due to the complex telematics systems daily generating data reports.
What is a telematics system? This digital solution is commonly referred to as fleet tracking or GPS vehicle tracking and is widely used as a management tool in both commercial and government fleets. More and more shipping companies find it useful and apply it, which is proved by statistics; thus, Reports and Data mentions that the global telematics market size will gain $109.89 billion by 2032.
In our guide, you will learn how and why telematics systems are used in transportation, functionality modules to include, challenges you may face, and implementation steps. You'll also find real-life success stories of transportation companies that adopted telematics systems.
What Is a Telematics System and How Is It Used in Transportation?
A telematics system (aka GPS fleet tracking) is a tool integrating telecommunication and informatics to gather, transmit, and receive information from vehicles in real-time. It encompasses a suite of hardware and software components installed in vehicles, enabling the collection and analysis of various data points such as location, speed, engine diagnostics, and driver behavior. This data is then relayed to a central platform where it can be processed, interpreted, and utilized for various purposes.
Applying to telematics, fleet managers, operators, and logistics companies can benefit in the following ways:
Through analyzing driving behavior and vehicle performance, telematics systems can identify opportunities for fuel savings, leading to substantial cost reductions for fleet operators.
The operators can get information about real-time tracking and monitoring of vehicles. This gives precise information about fleet location, status, and activities to the persons in charge.
Telematics systems can monitor driver behavior, alerting managers to unsafe practices (e.g., harsh braking) to promote safer driving habits and help companies comply with industry regulations.
By analyzing traffic patterns, road conditions, and historical routes with the help of telematics systems, companies can enhance routes, reduce fuel consumption, and increase overall operational efficiency.
Telematics systems generate a wealth of data that can be used for strategic decision-making. This includes insights into driver performance, vehicle utilization, and operational trends.
We've listed only the most essential advantages telematics systems bring to transportation companies and fleet management specialists. But before properly using such a helpful tool, it's important to understand its sophisticated functioning mechanism.
Operating principles of telematics system
A telematics system works as a smart device controlling your vehicle and reporting your speed, fuel consumption, idle, and other essentials. Knowing this information, you can better control your cars and trucks, leading to lesser maintenance expenditures or fuel efficiency enhancement because of learning more about driving habits.
How the telematics mechanism works
You can see the telematics operating scheme in the above image. Its components' work is intended to collect, transmit, process, and provide actionable insights from telematics data, ultimately improving fleet management, safety, efficiency, and overall performance in the transport industry. Now, let's discover its key components for your better understanding.
Core Elements of Transportation Telematics System
We'll look precisely at the essential components of the telematics system for your better understanding. They're the following:
Telematics Control Unit (TCU)
Telematics cloud server
Telematics apps
Global Navigation Satellite System
Let's talk about the enlisted telematics system elements in detail.
The Telematics Control Unit (TCU) is a device embedded in vehicles. This device gathers data such as the truck's performance, position, speed, and other necessities. The information is collected from GPS, the CAN bus port, and onboard diagnostics through different interfaces (e.g., LTE, cellular networks, etc.).
TCU also responds for conveying information by handling two-way communication with the Telematics cloud server. Moreover, the control unit communicates with the HMI device and user dashboard.
From the hardware side, TCU is represented by:
Bluetooth module
UI device
Central Processing Unit (CPU)
Global positioning system
Accelerometer, etc.
Its software side is defined by a security and data analytics module, boot loader, module for data storage, custom application, and so on.
The Telematics Cloud Server is a cloud infrastructure consisting of a web and an application server, and database. It is responsible for data decapsulation, hosting, and database query handling. Information is transformed into MQTT messages before reaching the cloud telematics server. Message Queuing Telemetry Transport (MQTT) is lightweight protocol for messaging in IoT platforms. End users can access data stored in the cloud through a web or mobile application.
Telematics applications (particularly web and mobile apps) let users access data from a telematics server and use it for fleet management and advanced analytics through APIs. The applications also work on transferring the gathered telematics data into third-party systems. It's essential for boosting the customer experience.
The flawless functioning of all the elements in the vehicle telematics system is possible owing to the global Global Navigation Satellite System (GNSS). This system offers positioning, navigation, and timing services.
Now, let's revise all the discussed components and their responsibilities with the help of the below table.
Telematics components: all you should know about

| | |
| --- | --- |
| Component | Responsibility |
| Telematics Control Unit (TCU) | Gathers data on truck's performance, position, speed, etc. |
| | Handles two-way communication with Telematics cloud server |
| | Communicates with HMI device and user dashboard |
| Telematics Cloud Server | Responsible for data decapsulation, hosting, and database queries |
| | Transforms information into MQTT messages |
| | Allows end users to access data through web or mobile application |
| Telematics Applications | Helps users access data from telematics server |
| | Enables fleet management and advanced analytics through APIs |
| | Integrates telematics data into third-party systems for improved UX |
| Global Navigation Satellite System (GNSS) | Offers positioning, navigation, and timing services |
| | Enables flawless functioning of all telematics elements |
What kind of data is processed in telematics systems?
Telematics data connects vehicles and management teams by converting each car into a data gateway. Data the telematics system works with is diverse and originates from multiple sources, consistently flowing quickly.
There are three primary categories telematics data falls into:
Basic data records
It is the overall data from a particular vehicle (e.g., the trip status or purpose, driver ID, time and date, etc.)
Behavioral data
This kind of data characterizes how the chauffeurs drive the vehicles (e.g., considering characteristics like braking, speeding, idling time, or harsh acceleration.)
Diagnostics data
These are reports on vehicle condition, including tire pressure, malfunction, fuel consumption, etc.
Now, when we discover what elements telematics consists of and the kinds of data it operates, it's high time to disclose the core feature set you should include in your telematics solution.
What Features Should Be Included in Vehicle Telematics System
Vehicle telematics systems can vary in functionality based on the needs of each logistics business. But, there are several key modules that each solution includes. Based on our experience in building transportation systems and fleet management solutions, we've prepared a list of the must-have functionality for you to consider where to start.
Route planning
Modern telematics technology allows efficient route planning considering driver shifts, delivery addresses, and vehicle sizes. The system can generate optimal routes for drivers and efficiently allocate loads to vehicles. So, the route planning feature saves time and fuel by efficiently monitoring and assigning orders, mapping out future trips, and optimizing deliveries.
Example of route planning feature built by Cleveroad
Tracking of driver behavior
Responsible driving positively impacts productivity, accident rates, and brand image. That's why qualitative telematics systems should have features for monitoring and measuring driving behavior. What's more, it is possible to add advanced functionality, such as assigning specific training content to drivers having particular driving problems.
Vehicle maintenance and condition tracking
The telematics systems send automatic alerts for diagnostic check-ups, helping drivers and shippers keep track of service records. Managers can make informed decisions about routine fleet maintenance by analyzing a vehicle's history. Moreover, this module can also give drivers info on nearby repair centers.
You can also offer a remote monitoring feature as the advanced for the vehicle maintenance module. It allows for data gathering, such as fault codes, to perform diagnostics and preventive maintenance from a distance, thereby addressing the issue of unplanned downtime.
Vehicle condition monitoring: source (Youtube/Fleetio)
GPS vehicle and freight monitoring
The devices use GPS navigation to track the fleet's vehicles in real time. Due to that, the entire journey, including stops and idle times, can be monitored. Additionally, the drivers can access a telematics system for current information on hazardous areas and to choose a secure route.
The devices deployed in your fleet provide access to precise real-time position and movement data for each car. It lets you track the route from departure to destination, including pauses and downtime, in real time.
GPS vehicle monitoring: source (Youtube/Fleetio)
Fuel efficiency management
In today's technological landscape, modern vehicles come equipped with an Engine Control Module (ECM) that provides crucial insights into miles per gallon or kilometers per liter and signals when it's time for a refill. Leveraging this data, companies can embark on a journey to calculate and enhance the average fuel consumption for specific vehicles and routes.
Moreover, this versatile module of the telematics transport software plays an integral role in the battle against fuel theft: fuel cards can be meticulously assigned to trucks, vehicles, or individual drivers, facilitating a vigilant watch over fuel usage.
Fuel management feature: source (Youtube/Fleetio)
Planning the feature list for your future telematics solution, you should also realize that choosing particular modules and functionalities depends on your business requirements and needs. So, asking the advice of an experienced vendor is recommended for proper feature choice and implementation.
Cleveroad is eager to help you with the functionality choice for telematics software for your vehicles. Contact us and get qualified help with creation of your modern system for fleet management. We can make a solution feature set that will help you cut costs spent for fuel and vehicle maintenance and effectively assist you in route management to deliver your cargo on time.
How to Implement Vehicle Telematics System into Your Fleet Management: Key Steps
After discovering all the essence you need to know about telematics system creation for your fleet, let's discuss how to integrate it into your fleet and transportation management processes.
Define your business goals
When you figure out your transportation business needs a telematics system, you should first identify your business goals that this solution will fulfill. So, conduct research and decide on the kind of data you should monitor, as well as what aims you will accomplish by this tracking.
Ask yourself why you need such a system to integrate with your particular solution. Analyze your company's needs today (e.g., improving fuel efficiency, enhancing driver safety, reducing maintenance costs, or optimizing route planning).
Evaluate your current fleet
Take stock of your current fleet, including the number of vehicles, their types (e.g., trucks, vans, cars), and their age. Identify and analyze any existing telematics or tracking systems in place. It is crucial to evaluate your current fleet and plan in detail how to implement a telematics management system.
Think more about data points essential for your current fleet performance enhancement. This may include GPS location, vehicle diagnostics, driver behavior (e.g., speeding, harsh braking), fuel consumption, etc.
Choose a skilled logistics provider to collaborate with
Telematics software creation is a complicated thing requiring extensive experience in logistics solution building. That's why you should find a tech partner with hands-on expertise in logistics software creation.
Looking for such an assistant, you have three options to choose from:
You can apply to freelancers – independent IT specialists who can perform the logistics app building you need. But keep in mind that telematics system creation requires expertise in various domains such as hardware, software, and data analytics, as well as a deep understanding of the specific challenges for your industry. In such a case, you'll need to hire and manage several freelancers simultaneously, which can be tricky and unreasonable.
You can gather an in-house team uniting the IT experts under the roof of your office. However, this option is okay when you've got enough time to find and hire experts, budget to pay for salaries, office rent, sick leaves and other. You can also face the problem of having no specialists with the logistics tech expertise. So, what to do in this case?
Outsourcing telematics development to a 3rd-party IT vendor experienced in logistics software development services will solve your problems. You will be able to order a robust telematics software for fleet management, get help in its maintenance, and cut your expenditures by choosing an outsourcing tech provider from the region with the best value for money.
For instance, the Central and Eastern Europe (CEE) region is known for such advantageous characteristics. Cleveroad experts located in this region, particularly Estonia, are ready to offer you qualified assistance in modern telematics system creation regarding your transportation business needs and offer the necessary tech response for them.
Decide on off-the-shelf vs. custom vehicle telematics solution
After weighing out your logistics business needs, you should also think about what kind of telematics system you would like to get – off-the-shelf or custom one. The first option is okay, when your fleet and transportation company is small with particular corporate needs. But as soon as you scale, the business needs grow too as well as your fleet size, and the off-the-shelf telematics won't be able to meet them all.
That's why you should pay attention to the customized telematics software that will remain efficient in the long run. Moreover, a custom telematics system for better fleet management can provide unique features and functionalities that can meet the needs of your transportation business potentially leading to reduced operating expenditures and better fleet control.
Pass the Discovery phase with your vendor
After you choose an outsourcing company to collaborate with, you can start discussing and planning telematics system building with them during the Discovery phase. It aims to turn your telematics software requirements into a clear implementation plan, focusing on development speed and product quality.
For example, the Cleveroad logistics software development team will consider your platform preferences, features, integration with other business systems (e.g., fleet management software, transportation system, etc.), and business intelligence tools, security and regulatory compliance requirements. We'll also think out a robust architecture choice, and care about your vehicle telematics system data protection from any third party penetration.
At the same time, the UI/UX designers start working on the interface for your upcoming telematics software, starting with creating prototypes. They also work on designing a concept and a UX map.
Wait for telematics deployment and integration
Now, it's high time to work with your software development team on a telematics system creation using the earlier chosen instruments and frameworks to meet your particular company's needs. There are many services of third-party providers (e.g., FleetComplete, GPSInsight, GeoTab, or Samsara) that can assist the software engineers in creating a telematics product.
The vendor's team will also care about the quality control of your system while building it. After that, they'll help you deploy a telematics solution and integrate it with your existing business systems (e.g., TMS or Fleet management software).
Staff training, maintenance, and support
When the system is implemented, you should think out the onboarding practices and establish learning processes, because it is essential to teach your employees how to work properly with the newly implemented telematics software. You should ensure that they are ready to work with such a solution and that all the related processes would be properly arranged.
Due to the telematics system complexity, you may need support and maintenance services after the solution is ready to use. So, the team will keep caring about the system, making performance enhancements, optimizing code, adding new functionality, etc.
As a skilled tech provider with 11+ years of experience in Logistics, we at Cleveroad, are ready to help you pass the steps of creating and implementing your telematics system. Message us if you have any concerns to ask about this solution for fleet management, and we'll eagerly consult you.
Challenges of Applying Telematics Systems to Transportation Infrastructure
Let's discover the major difficulties you may face while integrating a vehicle telematic system into your processes.
Data security and privacy
Implementing telematics systems in transportation infrastructure involves collecting and transmitting sensitive data, such as vehicle locations, routes, and driver behavior. Ensuring the security and privacy of this data is a paramount challenge. Unauthorized access or information breaches can lead to severe consequences. Robust cybersecurity measures and data encryption protocols (e.g., TLS, AES encryption, IPsec, and others) are essential to address these concerns.
Cleveroad experts pay special attention to logistics software security. Our team is proficient in making supply chain and logistics solutions that meet domain regulations and standards, such as GDPR, Regulation (EU) No 165/2014, Regulation (EC) No 561/2006, Regulation (EC) No 2135/98, etc.
Telematics integration complexity
Many transportation systems have legacy infrastructure and technologies in place, and integrating new telematics systems seamlessly can be complex and challenging. Compatibility issues, data synchronization, and the need for retrofits or upgrades can create hurdles. Effective project planning, testing, and software modernization services can help you overcome integration challenges.
Lack of qualified specialists
Developing, implementing, and maintaining telematics systems require specialized IT expertise. The shortage of qualified specialists in telematics technology can hinder the successful deployment of these systems. IT outsourcing is a perfect solution of this problem. Such an approach allows access to a pool of skilled professionals, ensuring the systems are handled effectively.
As an outsourcing logistics provider with a hands-on experience, we are ready to help you avoid the challenges while implementing telematics software into your workflows. Just apply to us, and you will receive a qualified answer from our domain specialists!
Real-Life Success Stories of Transportation Businesses That Adopted Telematics Systems
Let's talk about the success stories of logistics companies that implemented telematics solutions and benefitted from that.
Porr AG
Porr AG company is headquartered in Vienna specializing in manufacturing construction machinery, vehicles, and equipment. When Porr AG started looking for a custom telematics solution from the wide-area provider, the employees had limited experience in this area. The Viennese utilized telematics for various reasons, including the reliability of equipment and vehicle maintenance, as well as effectively managing the workload of maintenance centers.
The Porr AG telematics information system now includes automatic maintenance reminders, improving planning, and ensuring intervals are not exceeded. This contributes to cost savings. Monitoring fuel and maintenance expenditures per operating hour or kilometer is also valuable for them to reach budget saving.
Merlin GmbH
The Merlin Group, a wholesale distributor of durable goods based in Herrieden, utilizes telematics technology. However, their current telematics system lacked the capability for remote data transfer and real-time data acquisition.
The existing company system in Herrieden recorded vehicle data but did not send it. Instead, the data was stored in the vehicles themselves. To access the data, the fleet manager had to read it from a chip in the vehicle and transfer it manually. This method was an improvement from handwritten information but not as advanced as today's capabilities.
A new Merlin telematics system they've implemented can remotely access data. This includes information on driving and working times, as well as vehicle positions, all in real-time. Web interfaces of the new system also play a crucial role in achieving efficient fleet management.
LogServ
LogServ company is responsible for managing internal logistics and operating a fleet of vehicles for various modes of transportation including land, road, rail, and water. The company owns over 2,000 vehicles, with some of the largest machines being incorporated into a new project within the company.
Logistik Service GmbH has chosen to install a telematics system in order to better analyze their special fleet and identify maintenance needs in a timely manner. The higher costs and time required for maintaining their large machines, compared to normal truck fleets, have driven their decision. That's why they started the vehicle telematics system integration (including sensors) in their slag and slab transporters, special tractors, special semi-trailers, and track excavators with the solution.
Looking at the examples of the logistics companies' success with telematics system, you can gain the same for your company. Start your path to benefits in fleet management through the choice of a skilled provider.
Cleveroad Tech Expertise For Logistics and Transportation Business
Cleveroad is a logistics web and mobile app development provider specializing in creating software for boosting the workflow performances of transportation businesses. Our digital solutions also enhance collaborations between shipping organizations, their partners, and customers.
What can you achieve by collaborating with us?
Practical expertise in logistics software development embodied in Transportation Management and Fleet Management systems, Enterprise Resource Planning software, Asset Management solutions, Last Mile Delivery systems, etc.
Proficiency in integration of logistics and transportation software with third-party services or external systems, such as SAP ERP, Salesforce, Google Maps, LogistaaS, Xero, UpKeep, etc.
In-depth consultation with one of our logistics experts (e.g., Project Managers, Business Analysts, or Solution Architect) as to the telematics system creation and integration
On-demand IT services: logistics software building from scratch, integration with IoT devices (e.g., GPS trackers), software modernization services, DevOps services, etc.
Signing Non-Disclosure Agreement (NDA) per your request to protect the uniqueness of your telematics system concept
Convenient range of collaboration models for you to pick up from: Time&Material, Staff Augmentation, Dedicated Team, etc.
We would like to demonstrate you our experience in building logistics software solutions.
Our client is a US-based company that specializes in warehousing and long-distance cargo transportation. The business needed to build a Transportation Management System (TMS) to elevate their control over shipments, automate the planning of routes, and optimize supply chain operations. Additionally, it was essential for our client to have seamless integration with their existing business systems, namely warehouse management system and CRM.
Our team created and implemented a customized transportation management platform for the client. This solution improved route planning and allowed for manual adjustments. Additionally, we developed a driver's application for easy navigation along personalized routes.
Here are the core modules included in Transportation Management System:
The Route Planning Module is designed to help plan the most efficient and convenient routes, resulting in cost savings, improved deliveries, and increased customer satisfaction.
The Fleet Management Module is designed to effectively manage fleets by organizing vehicle groups and making necessary adjustments to accommodate changes in the business process flow.
The Delivery Points Management Module allows users to track every day locations in real time, which enhances visibility and monitoring capabilities.
The Jobs for Delivery Module arranges integration with customer's WMS. It answers for getting Jobs/Delivery lists and establishing a clear information flow.
Company Staff Access System. A Role-based Access Control (RBAC) system was implemented to manage access levels for company personnel efficiently.
Our team successfully integrated the TMS with other logistics systems, ensuring data integrity and avoiding duplication.
As a result, the custom transportation management system effectively reduced shipment losses and improved delivery times for our client. By operating within a unified TMS environment, they could meet all their business requirements, efficiently increasing profits.

Transportation Management System created by Cleveroad
Telematics solution from domain experts
With 11+ years of experience of delivering logistics projects, we're equipped to build and integrate telematics software for you to enhance visibility into your fleet operations
Frequently Asked Questions
A telematics system (aka GPS fleet tracking) is a tool integrating telecommunication and informatics to gather, transmit, and receive information from vehicles in real time. It encompasses a suite of hardware and software components installed in vehicles, enabling the collection and analysis of various data points such as location, speed, engine diagnostics, and driver behavior.
These are route planning, driver behavior tracking module, vehicle maintenance and condition tracking module, GPS maintenance and freight monitoring, and fuel efficiency module.
Basic data records – the overall data from a particular vehicle (e.g., the trip status or purpose, driver ID, time and date, etc.)
Behavioral data – characterizes how the chauffeurs drive the vehicles (e.g., considering characteristics like braking, speeding, idling time, or harsh acceleration.)
Diagnostics data – reports on vehicle condition, including tire pressure, malfunction, fuel consumption, etc.
To get qualified help with telematics system development, you can look for a tech partner to collaborate with. Start looking for such a vendor through professional websites (e.g., Clutch). Make your decision based on the clients' reviews, get acquainted with the potential vendor's portfolio cases to understand the level of expertise they have and find out whether it fits for your solution development.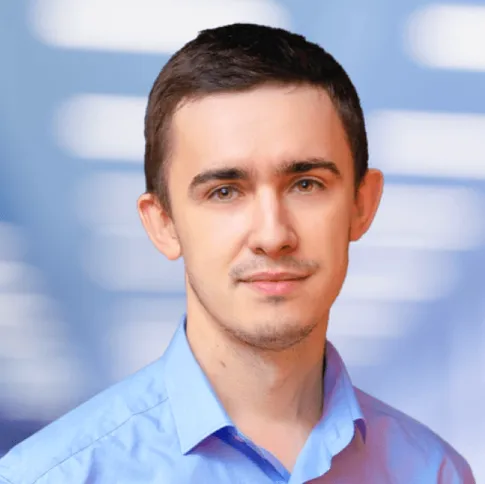 About author
Evgeniy Altynpara is a CTO and member of the Forbes Councils' community of tech professionals. He is an expert in software development and technological entrepreneurship and has 10+years of experience in digital transformation consulting in Healthcare, FinTech, Supply Chain and Logistics
Rate this article!
218 ratings, average: 4.85 out of 5
Give us your impressions about this article
Give us your impressions about this article