Design for mobile and web products
Creating the same distinct style and brand identity for all platforms using best-proven
Mobile design
Creative and modern design for all screen sizes and platforms: iOS, Android, tablets, watches. We follow guidelines, provide native look and feel and ensure smooth interactions
Web design
Client-centered web design for laptops, tablets and mobile devices in FullHD quality. We help your shape your Brand identity, ensure page load optimization, and responsiveness of your site
Our UI·UX approach
User experience and user interface are inseparable and form an overall impression of your product
UX process

Scenarios
User research
Information architecture
Wireframing
Prototyping
Interaction design
UI process

Visual design
Colors
Graphics
Layouts
Typography
Branding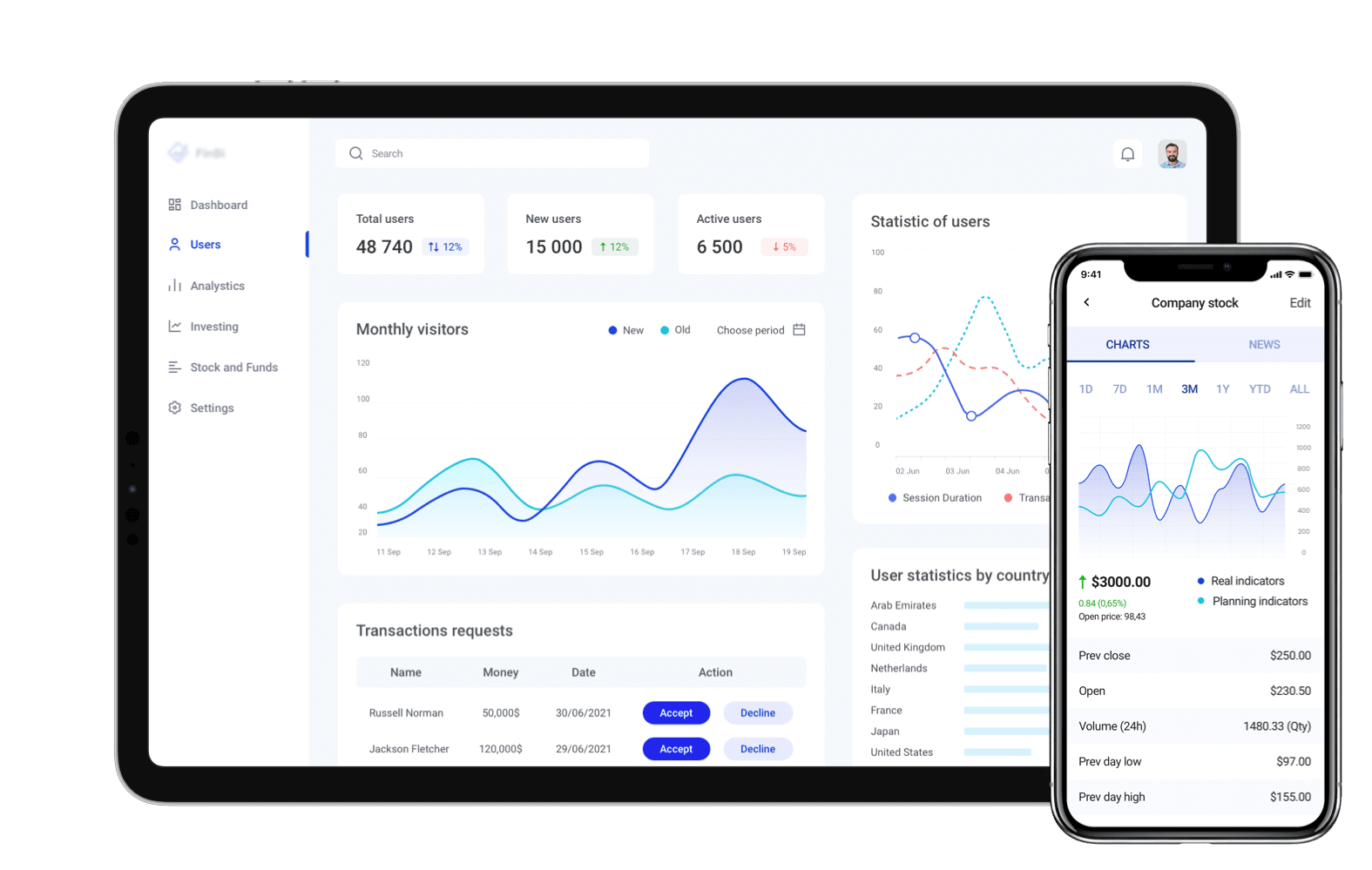 Micro-investment platform
A turnkey solution for managing micro-investments and savings for the Middle East market
Core Tech
Flutter, .Net, React.js, Redux

TMS for a logistics company
Transportation management system with automatic route planning module.
Team Size
varied from 10 to 13
Core Tech
Flutter, Node.js, React.js, Redis

Video-on-demand platform
A large online video streaming service offering thousands of movies and TV series.
Team Size
varied from 9 to 12
Core Tech
Kotlin, Swift, Node.js, Graphql
Learn about Cleveroad's expertise.
Our UI·UX design process
Strong experience in design creation allowed us to establish and follow the most efficient process of delivering web and mobile design. Take a look at how we deliver UI·UX design services.
Immersion. First off, designers immerse into your business and study its goals, revenue model, target audience, and other aspects.
Competition. After those two steps, designers analyze similar products on the market and study their layouts, colors, and so on.
User behavior. The next step is to study how users interact with similar products to increase retention rates and meet customer needs.
Visual and interaction design tools
Using these proven design tools, we make sure our clients receive the result they expect within the set timeframe.
Questions you might have
Learn more about our UI·UX design workflow.
By opting for web design services, you get a high-quality product tailored to your specific business needs. It's cost- effective, fast, and you get a great result: a client - centered web design, page load optimization, responsiveness, and many more.
Because it's a good investment.A well- designed and mobile - friendly website will stand out and get more conversions, and that's how you can grow your business.
Our mobile app design services include a user interface (UI) and user experience (UX) designing. We create the overall style of the app, including logo, colors, fonts, and other graphic elements.

First, we make wireframes, then develop 2-3 visual concepts, design the app screen by screen, and create a clickable prototype.
Because professional designers do the job better and faster. They have more experience, expertise, know possible pitfalls and how to avoid them. They can raise your web design quality, making your site more attractive and engaging.
First, we study your goals and gather requirements, analyze user behavior, and look through existing solutions on the market.

Next, we create wireframes – layouts that show where elements are placed – in Sketch and InVision.

Finally, we develop two or three visual concepts you can choose from, design the website screen by screen, and present its clickable prototype.
It depends on how complex your app is: how many features it has and how many screens we must design, whether you need native-made or custom design, want to include animation, and so on.
The best way to figure out the cost is to
contact
our BA team.
Start growing your business with us